Celebrate the holiday season with these Free Christmas SVG Files that make great Cricut Christmas crafts!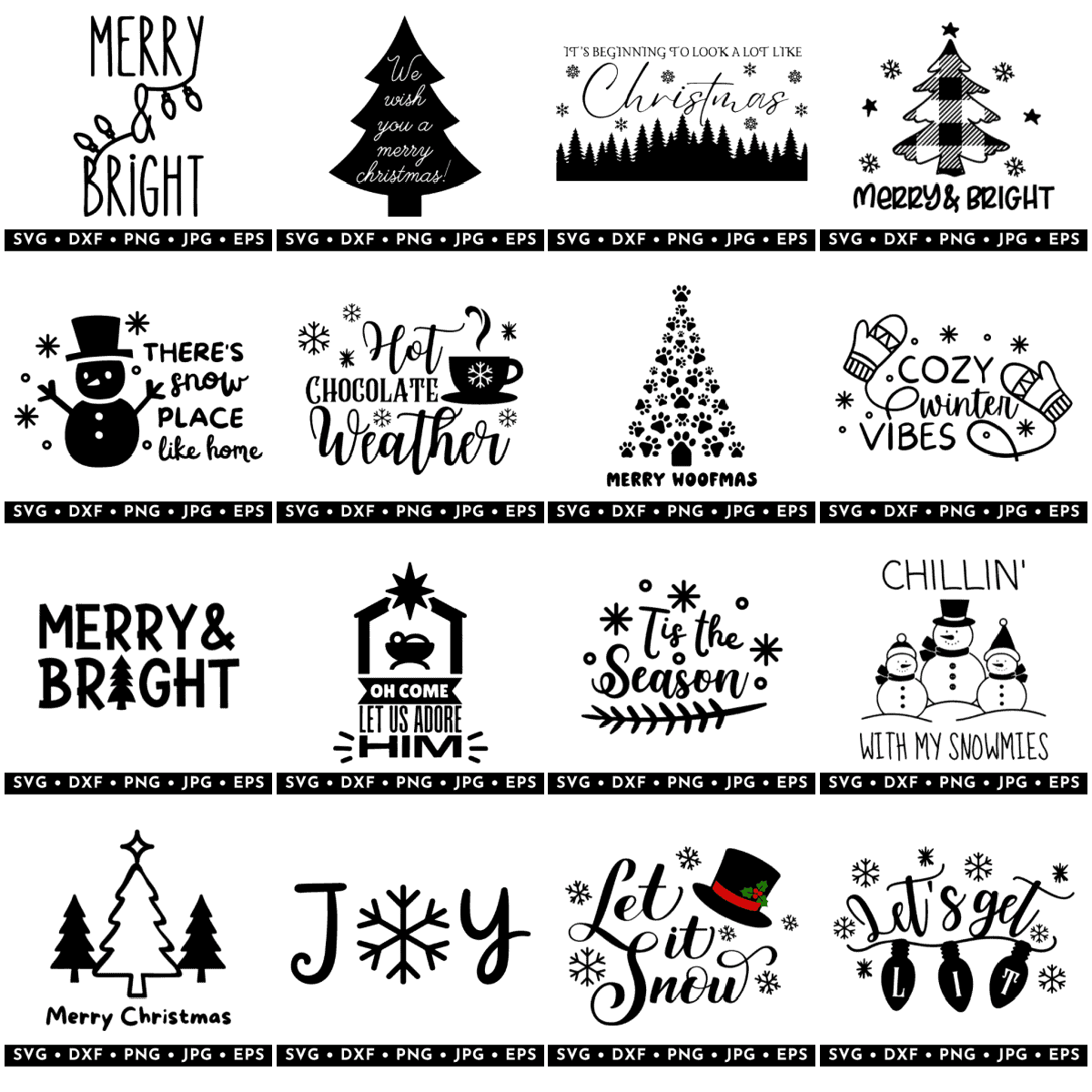 From Christmas tree SVG files to snowman SVGs, there are Christmas cut files for every type of style and project.
Whether you want to make custom t-shirts or mugs, there are plenty of files to choose from that would make thoughtful and festive homemade DIY Christmas gifts for friends, family, coworkers, and neighbors.
They also make excellent DIY Christmas decorations for the home. You can make festive signs, wall art, throw pillows, doormats, and much more with these free SVG files.
Jump to:
How to Use these SVGs
To use these free SVG cut files, you need:
A cutting machine (either Silhouette Cameo or Cricut Explore)
Corresponding software installed on your computer (either Cricut Design Space or Silhouette Studio)
Vinyl – There are many different colors and types of vinyl. The type you choose will depend on the material you plan to add to your design. For example:

For clothing, you will want to choose iron-on vinyl
Regular premium vinyl should work fine for signs, decor, and art.
What's Included
These cut files are available to download for free in the following file types:
SVG
DXF
PNG files
JPG
EPS Files for Adobe Illustrator
Please note that these free SVG designs are for PERSONAL USE ONLY.
Christmas SVG Blank Ideas
t-shirts
hoodies
sweatshirts
fleece
tote bags
mugs
porch signs
wood blanks
tote bags
throw pillows
doormat
gift tags
gift bags
aprons
Christmas tiered tray signs
vinyl decals or stickers
wood door hanger
and much more!
canvas art
onesies
tumblers
beanies or hats
beer or wine koozies
tank tops
cookie jars
wine glasses
pajamas
kitchen towels
Cricut Design Space Tutorial
Open Cricut Design Space (the directions for silhouette studio will be different).
Click "New Project."
Select "Upload" from the bottom left toolbar.
Choose your Fall SVG file.
Click "Add to Canvas."
Depending on if your design is going to be all one color or not, you can optionally select "Attach" to make the design stay in place. If you are using multiple colors, only "Attach" the same colors together.
Click "Make It."
The software will send the information from Design Space to your Cricut machine.
Follow the prompts to continue to cut.
Make sure to select "mirror" on the cut screen if you are using iron-on vinyl.
If you are using an EasyPress, here is a guide to help you. It will tell you what settings to use for your press depending on fabric type, adhesive vinyl type, and more.
Silhouette Machine Instructions
To add the SVG design to your Silhouette Studio library, select File –> Library–> Import to Library.
Select the "Send" button on the top right once your design is ready to cut.
Follow the prompts to choose the right materials for your particular project.
Free Christmas SVG Files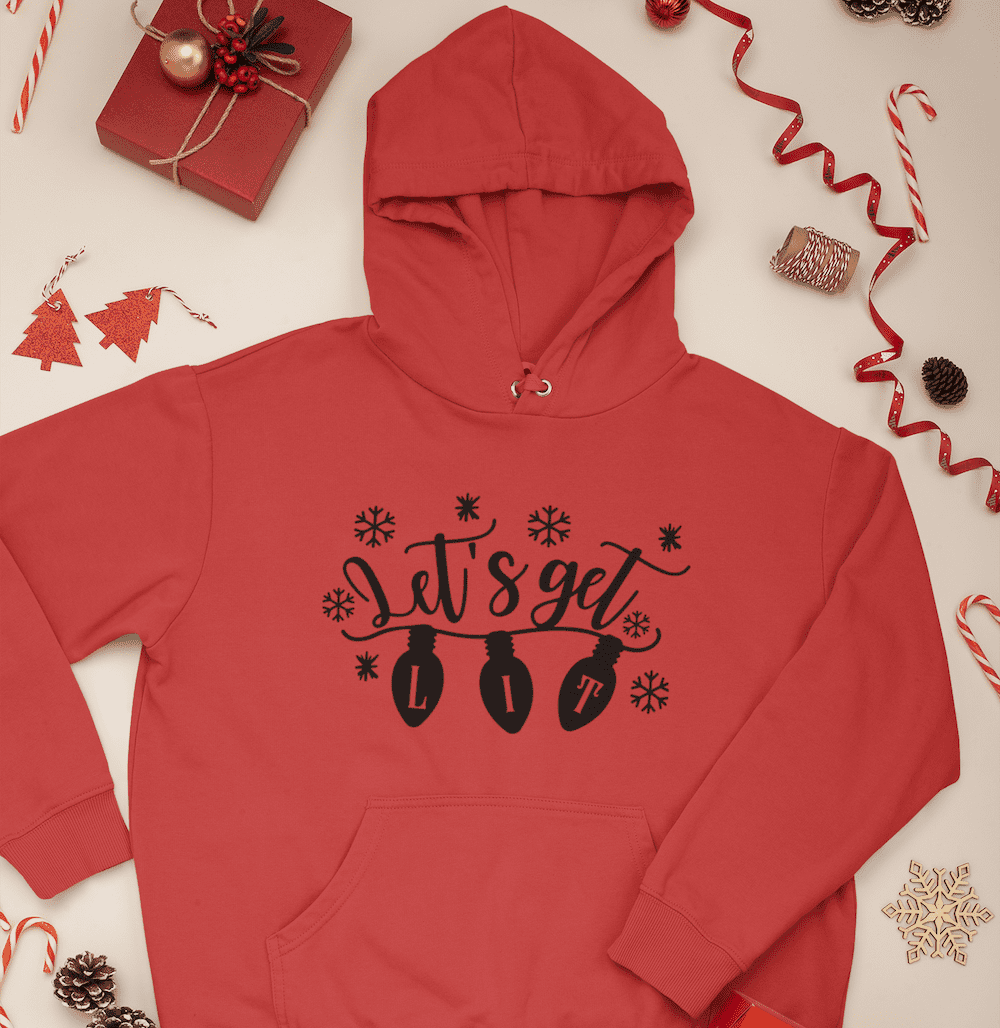 Let's Get Lit
Be the life of the Christmas party with this funny t-shirt that is sure to be a conversation starter. It's a great choice for all different types of apparel.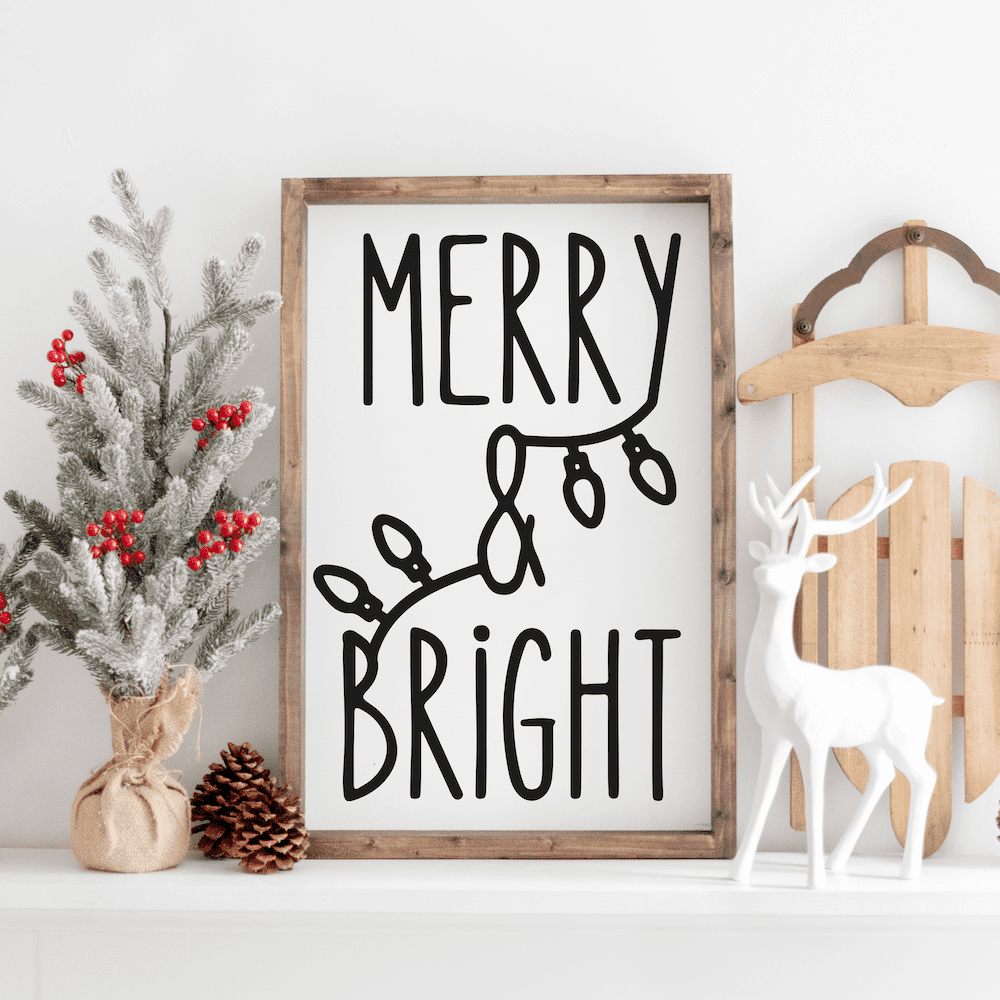 Merry & Bright
Make your home merry and bright with this cut file that would look good as a decor piece. Whether you use it on a throw pillow or wall art, it will give your home some festive cheer.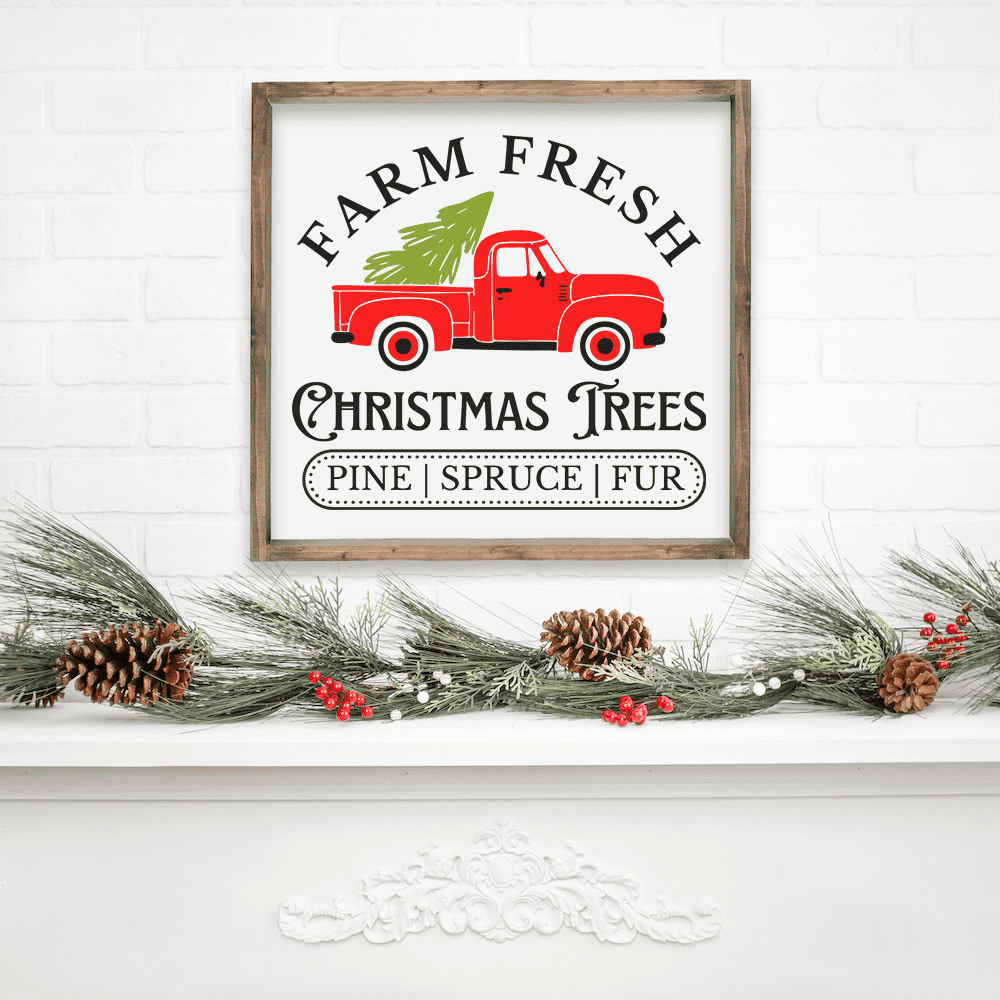 Christmas Vintage Truck SVG
This timeless vintage Christmas truck will add a classic, antique feel to your home decor and make you nostalgic for the good old holidays!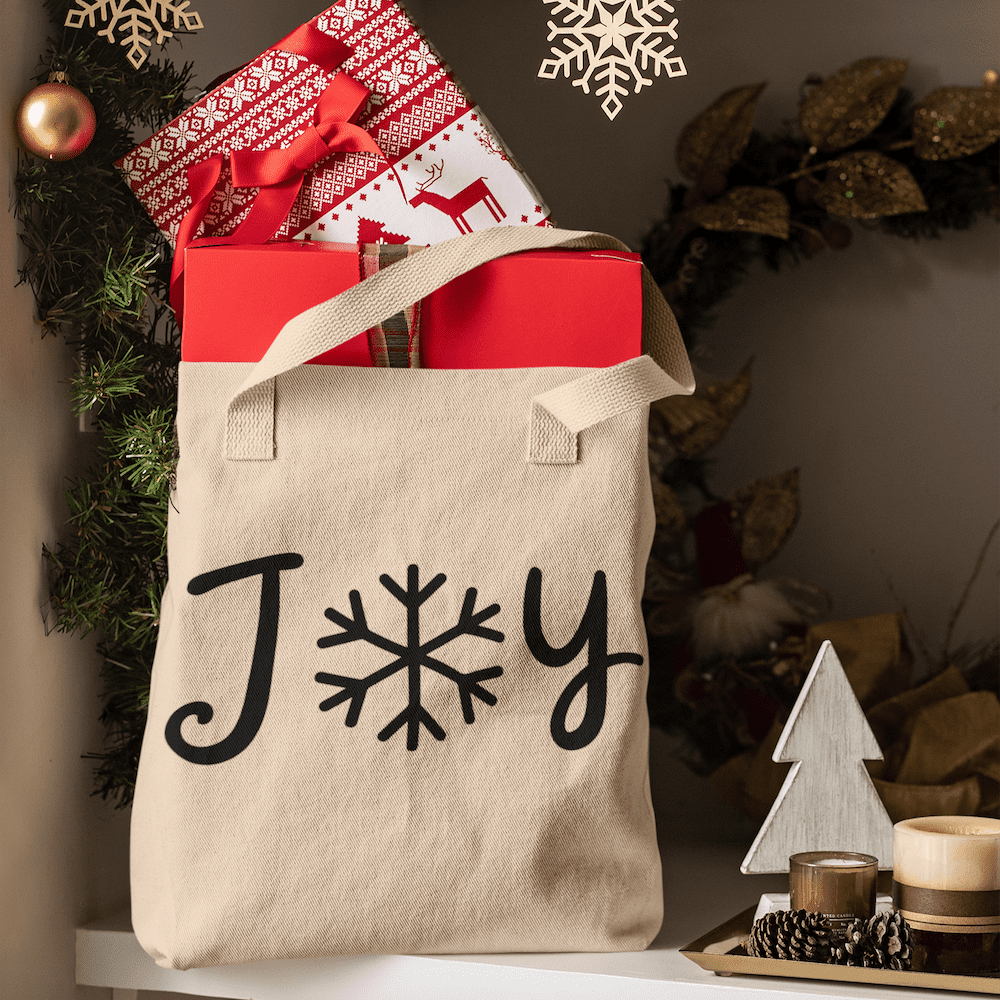 Christmas Joy
Spread some holiday cheer wherever you go with this festive joy tote bag. The nice thing about this one is that it's versatile and would work well for pretty much any Cricut project.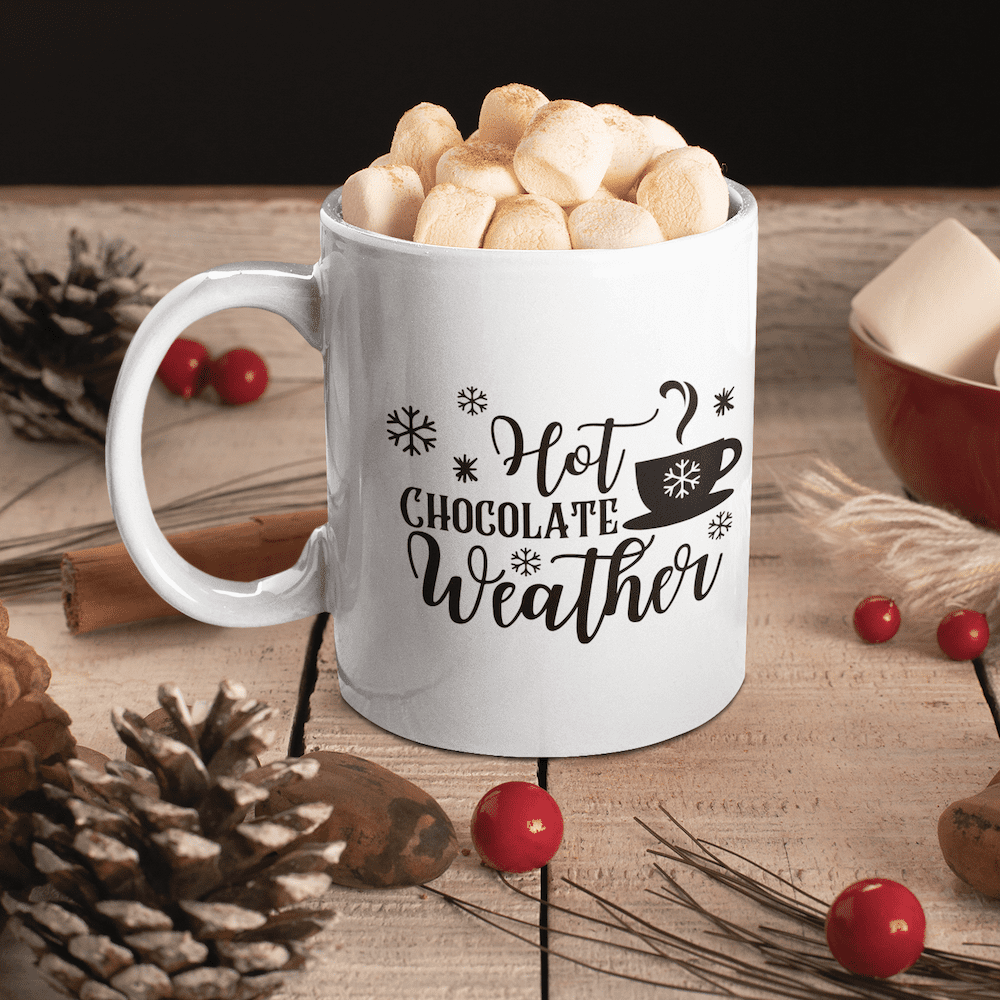 Hot Cocoa Weather
Stay warm and cozy for the holidays with this cute hot chocolate mug SVG! It would be a great gift for friends, neighbors, or coworkers.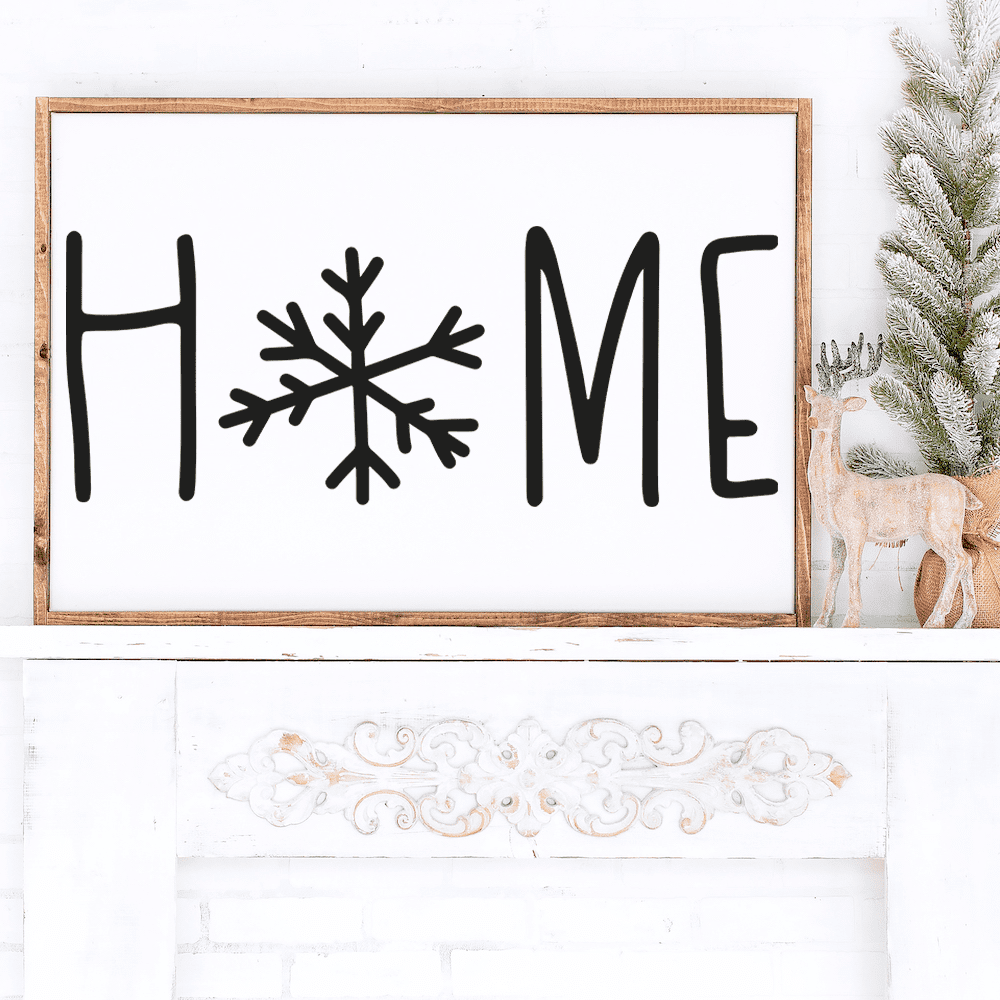 Home for the Holidays
Give your home a festive flair with this snowflake home design that would look fantastic as Christmas decor for the mantel or wall.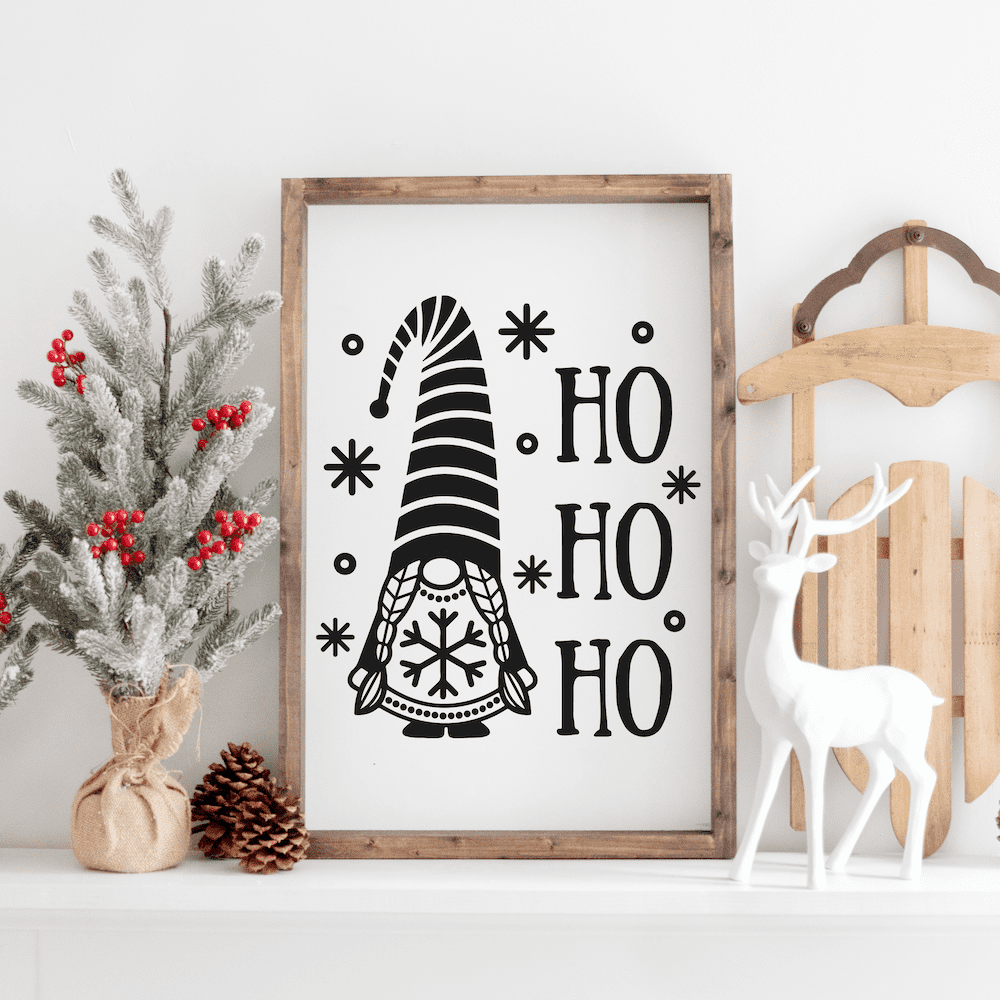 Cute Winter Gnome
Add some whimsy to the holiday season with this adorable gnome. Whether you want to use it as home decor or wear it on a shirt, it will surely bring a fun and folksy touch to the season.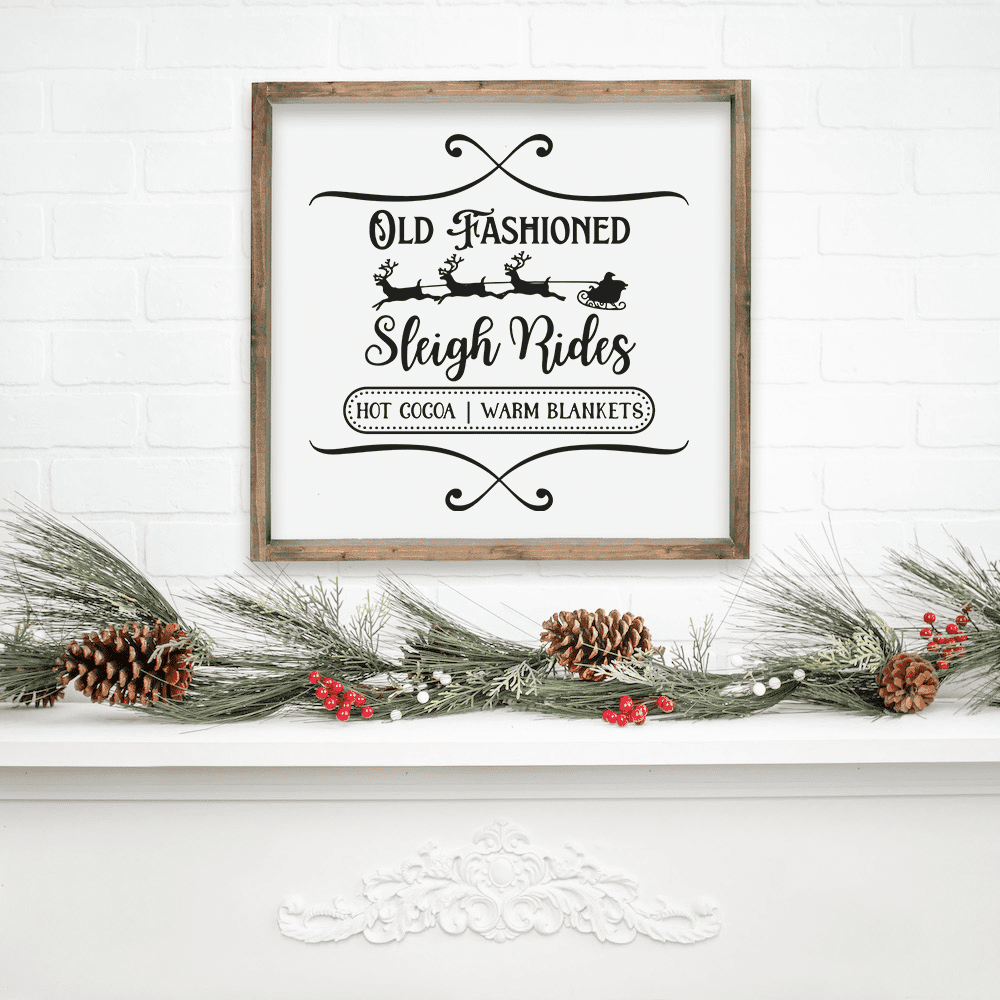 Old Fashioned Sleigh Rides
Fill your home with old-fashioned charm with this Santa sign that gives off a vintage, nostalgic vibe! It would make an excellent wall decoration and look good on an apron for some holiday baking.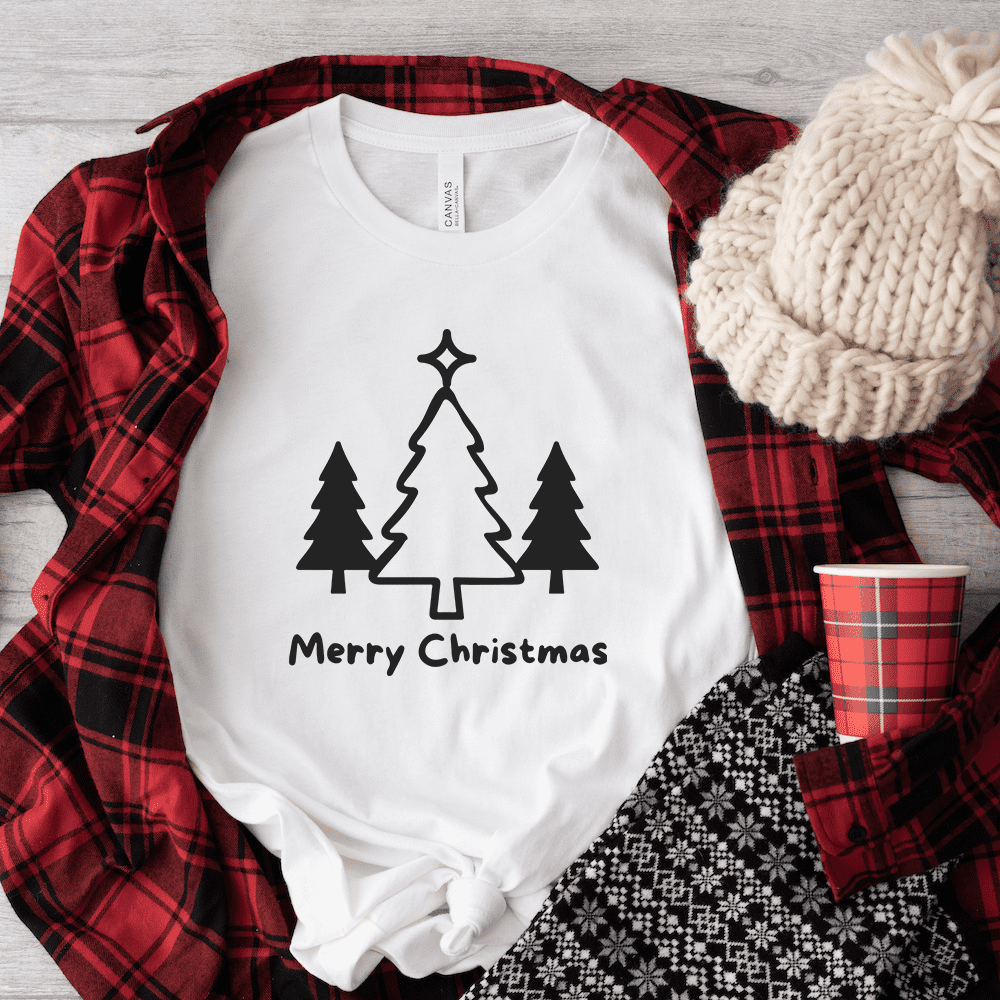 Christmas Trees SVG
This cut file will get you into the spirit of the season. Whether you want to make it into a shirt or hoodie, it is a festive choice to wear to a holiday party!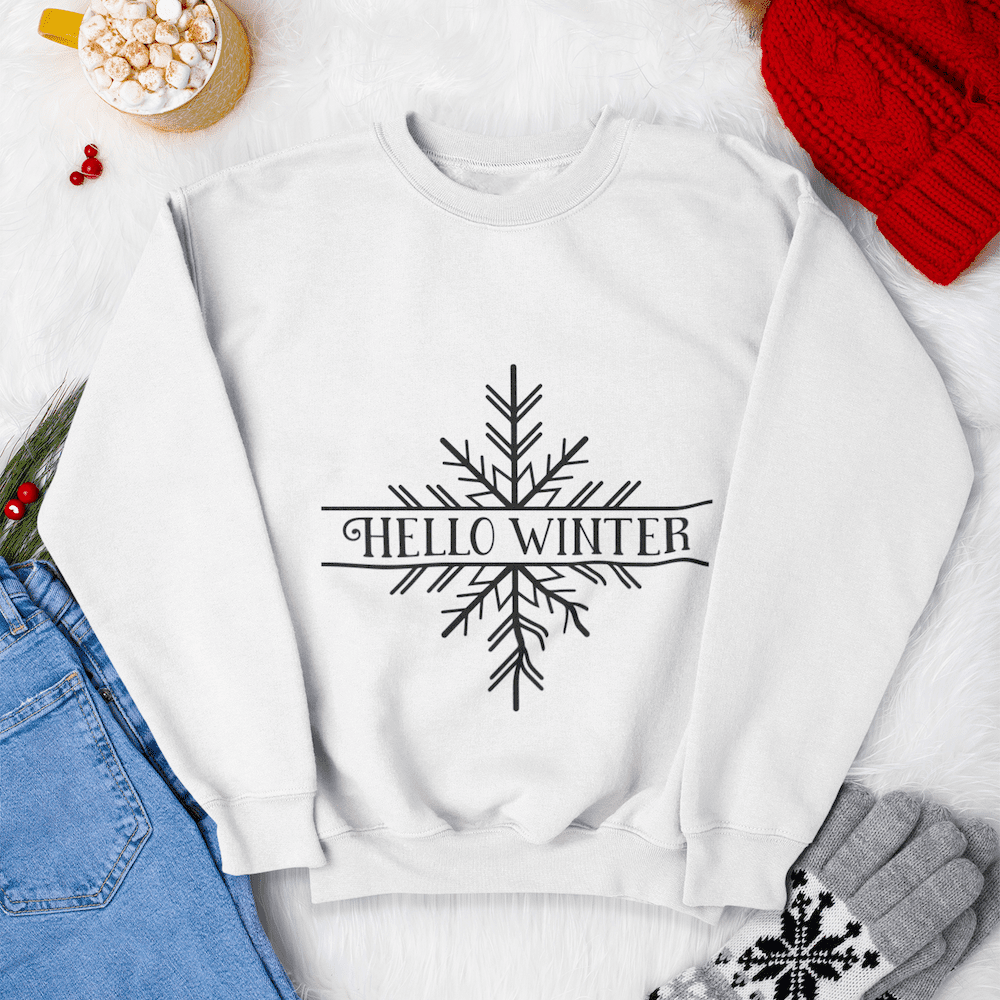 Hello Winter
Stay warm during the chilly, cold weather days with this cute hello winter hoodie SVG file for your Cricut or Silhouette machine. It would work well on a cozy beanie too!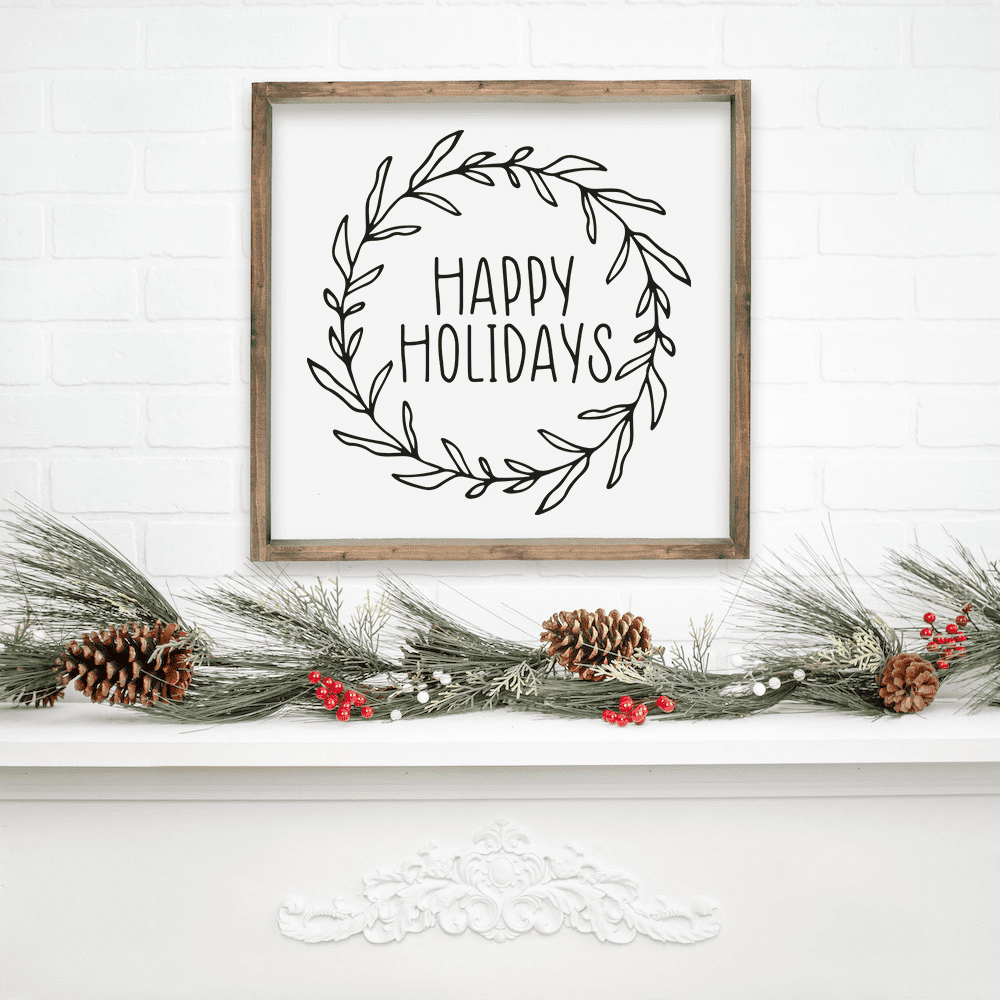 Holiday Wreath
Add some Christmas cheer to your decor with this Happy Holidays wreath. It would look especially good with some farmhouse-style decorations!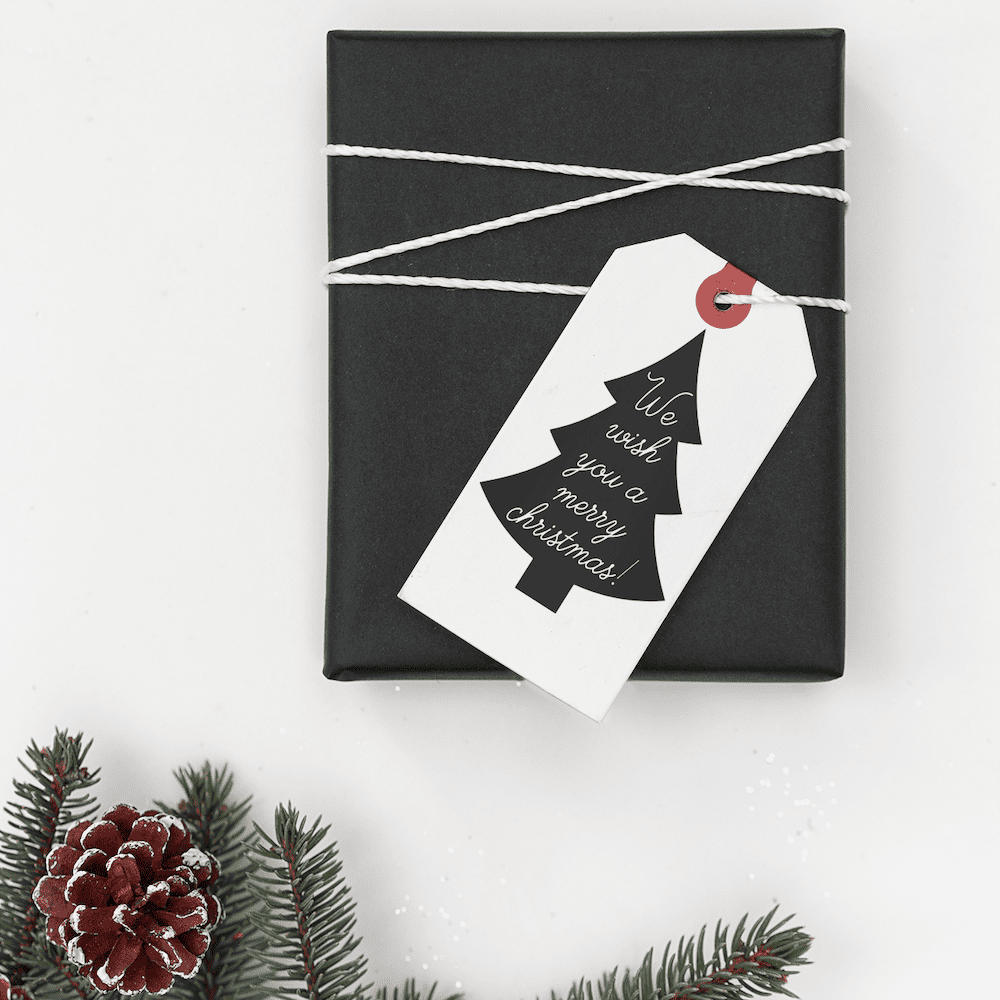 Christmas Tree SVG
This one is a great choice for a gift idea for anyone on your Christmas list. Whether you want to make it into a gift tag, a tumbler, or something else, it's a good way to wish your loved ones happy holidays!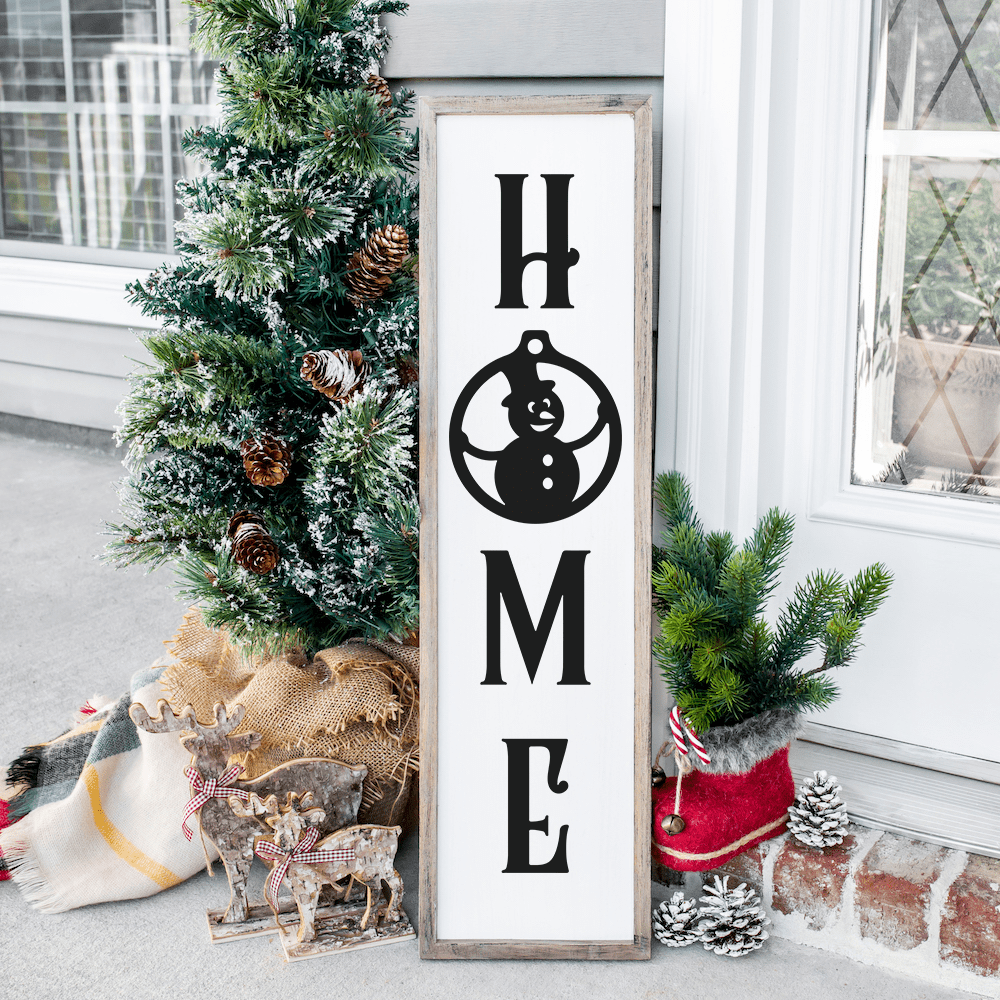 Home Porch Sign
Give your porch a festive makeover for winter with this adorable porch sign that would look wonderful paired with some potted plants or small pine trees.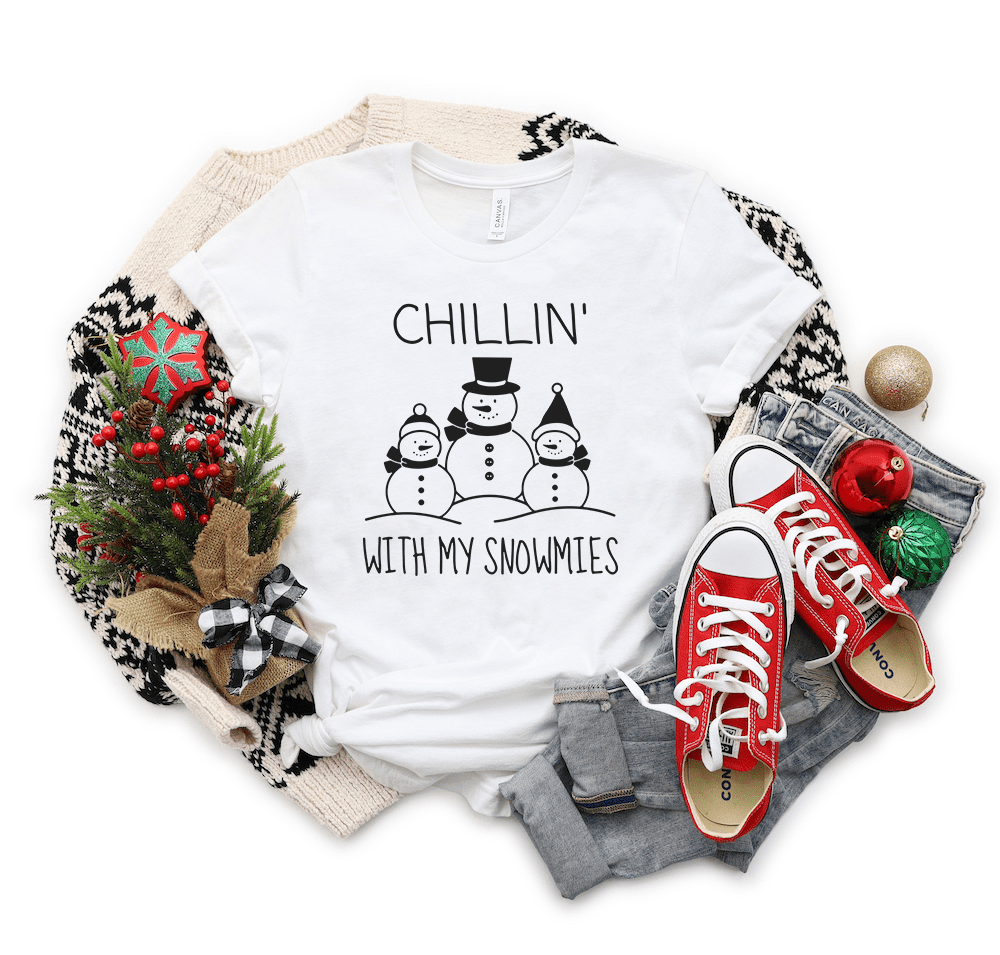 Chillin with my Snowmies
This funny one is a perfect choice for a holiday party and is fantastic for any apparel option that you choose (sweatshirts, t-shirts, aprons, fleece, and more).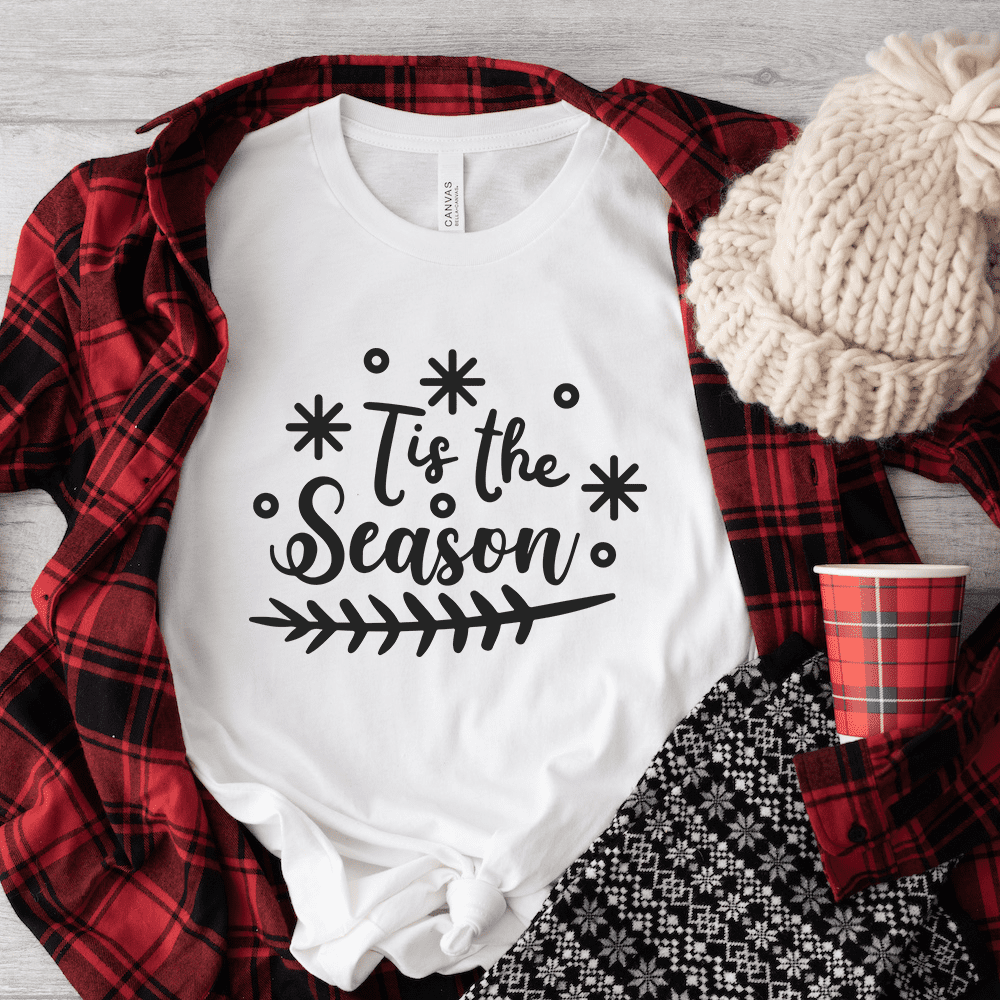 'Tis the Season
'Tis the season for all things Christmas! Holiday lovers will enjoy receiving anything with this cute design on it! You can make it into a mug, hoodie, wall art, and more.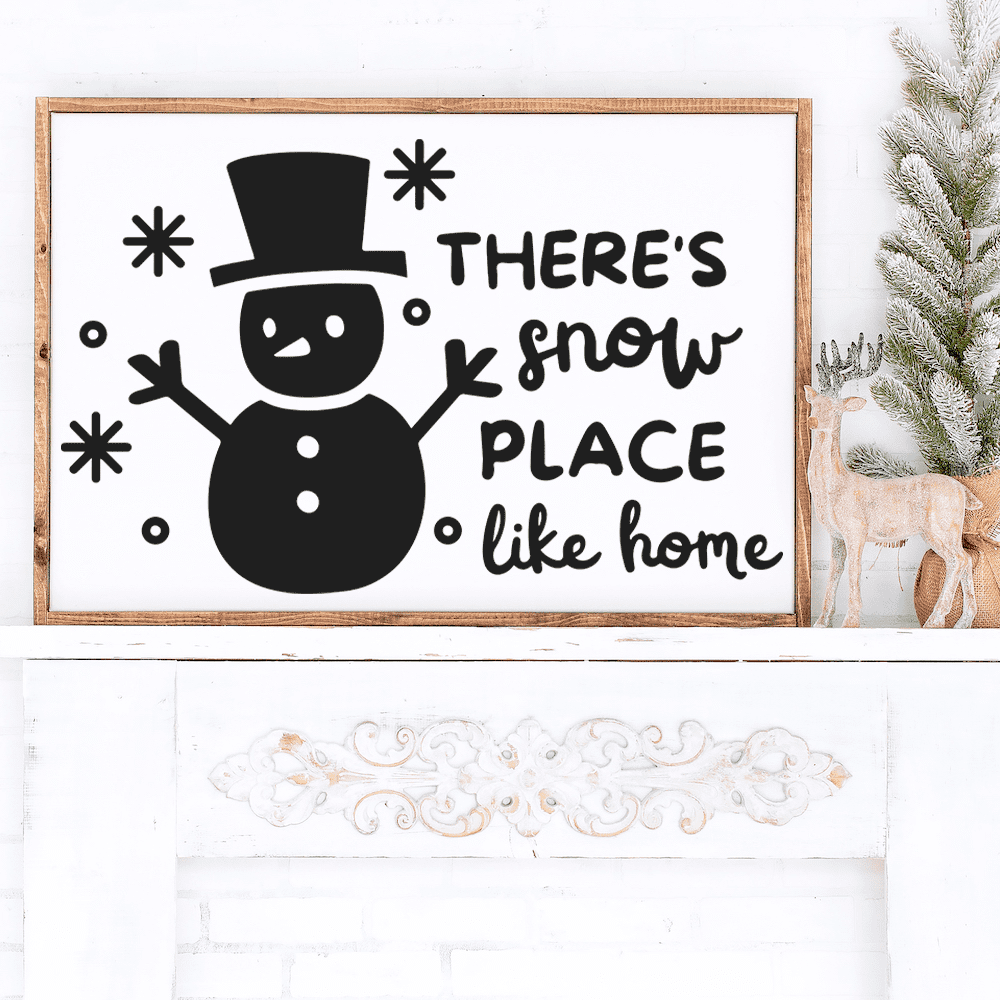 There's Snow Place Like Home
Get into the holiday spirit with this adorable snowman SVG that makes wonderful wall art or decor for the home!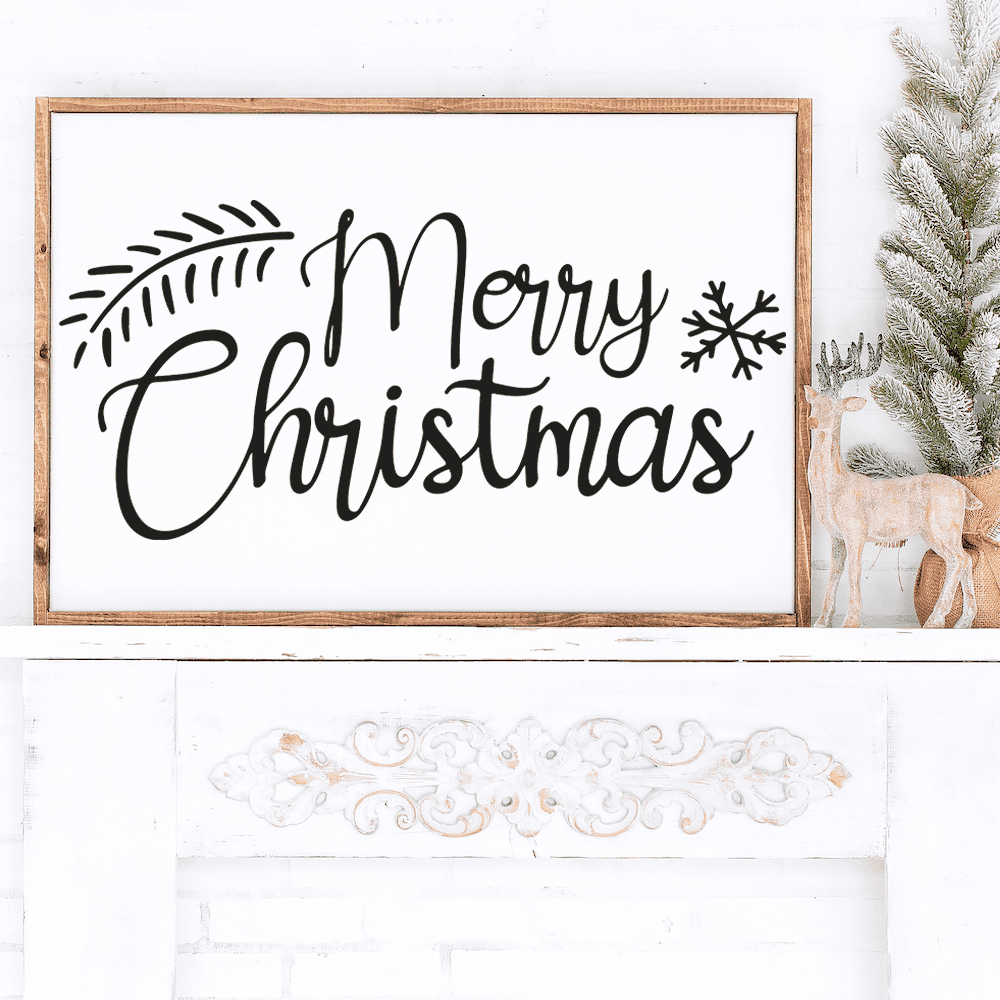 Merry Christmas Cut Files
Welcome your guests and visitors with this merry Christmas sign. It would also make a great doormat as well!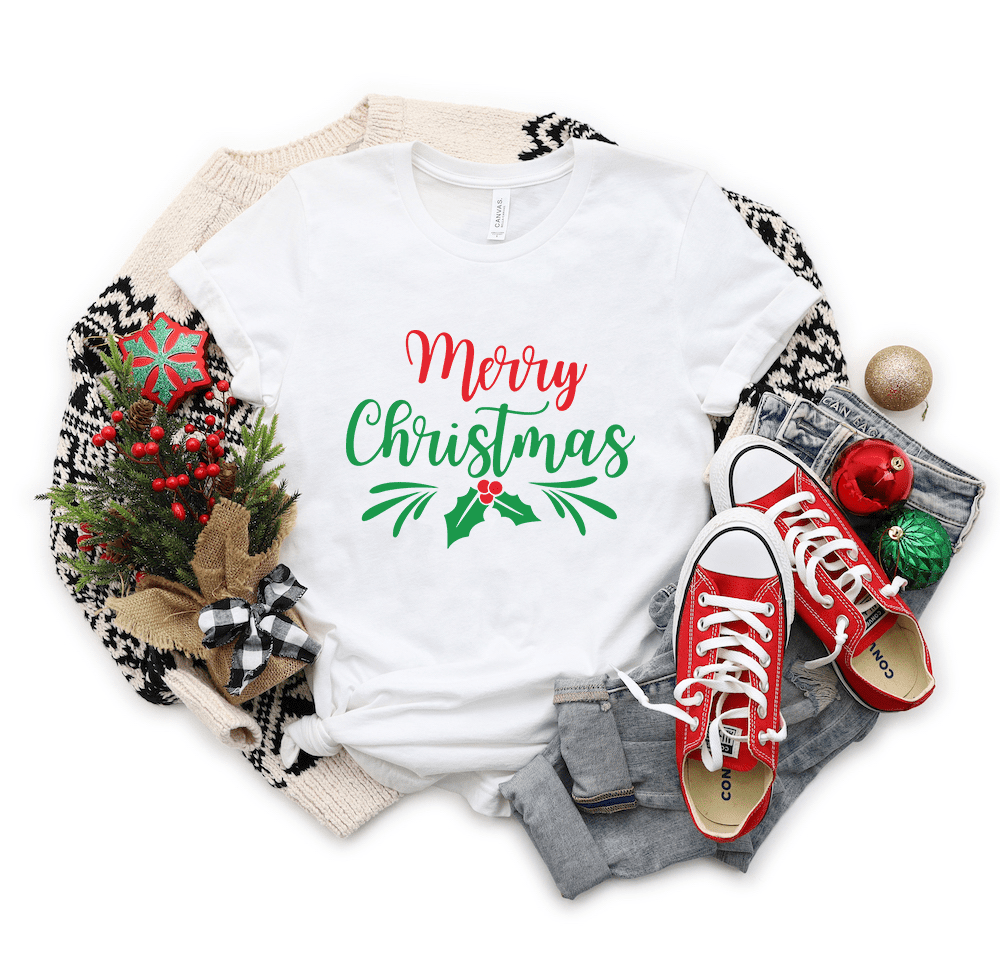 Merry Christmas SVG File
Celebrate the season with this bright and colorful one that would be good for any craft project that you use to add it to.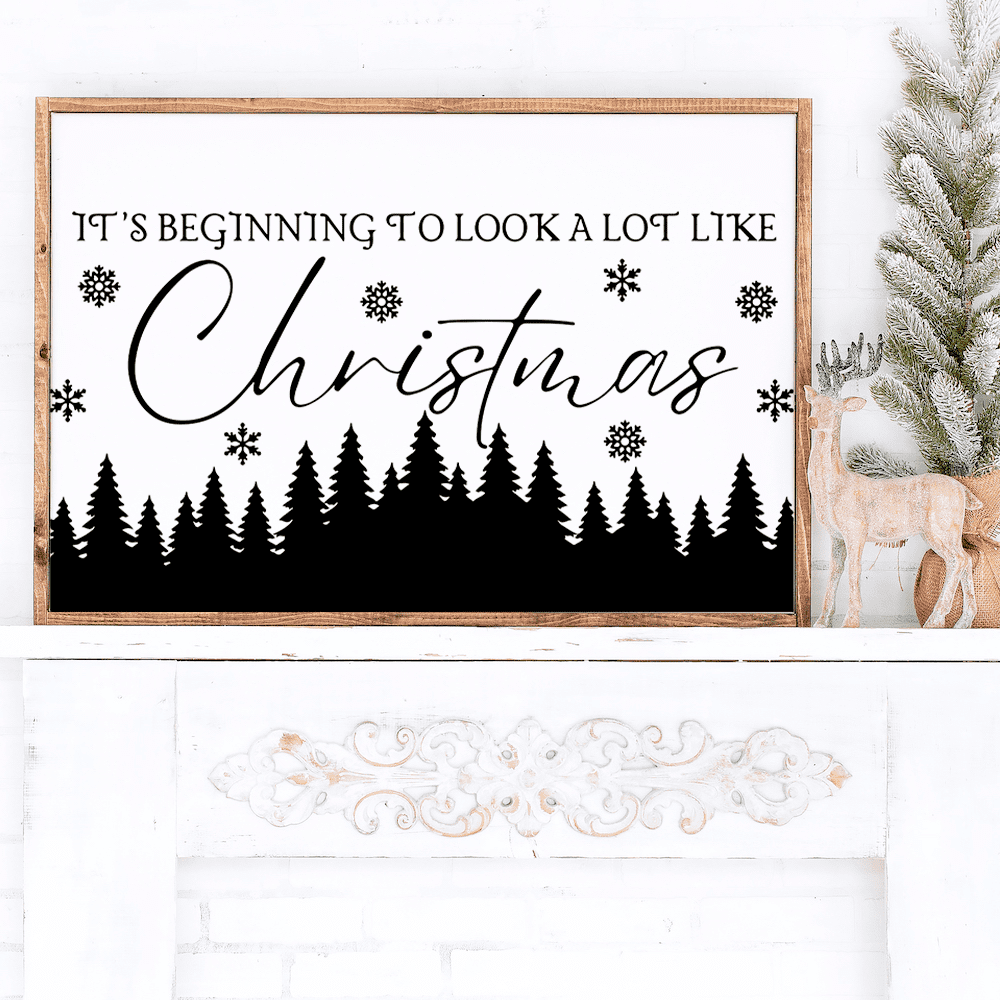 It's Beginning to Look Like Christmas
Decorate your home for the holidays with this DIY sign project. You can add it to a canvas, a wood blank, or any other art medium that you would like to.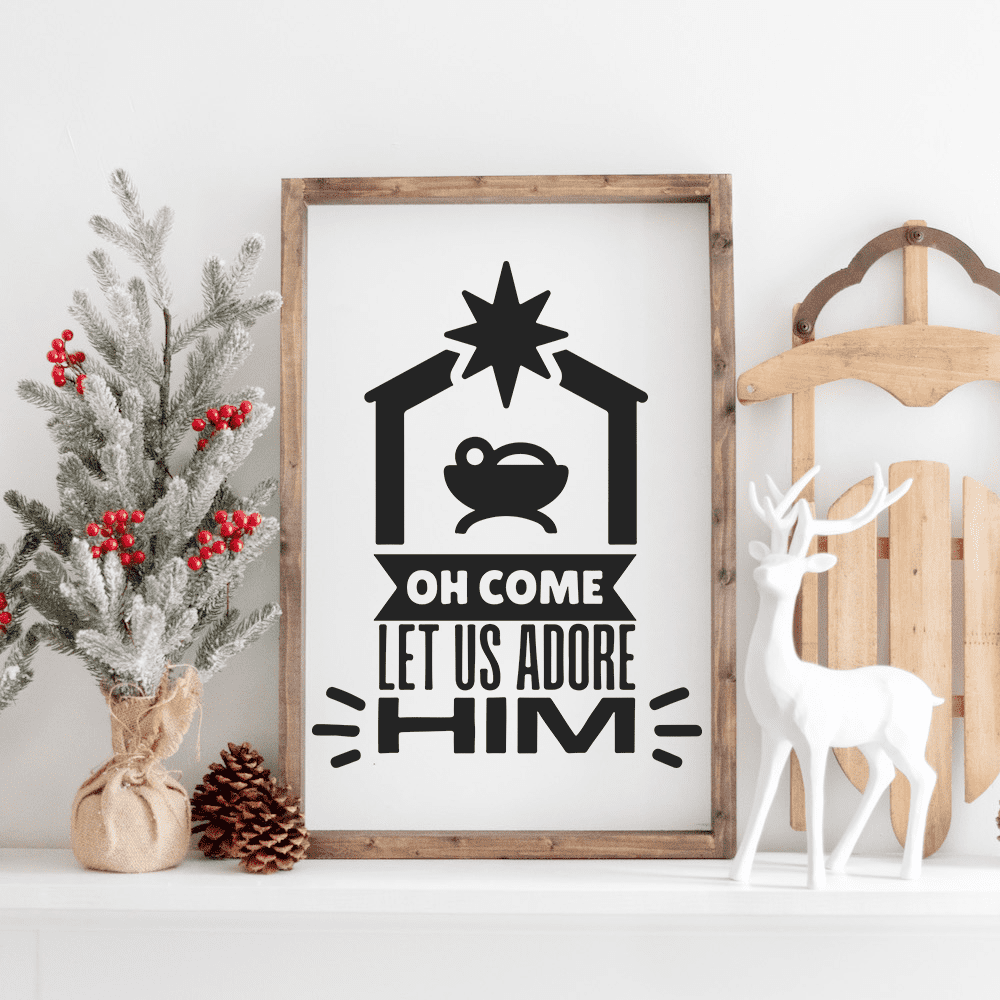 Let us Adore Him Cut File
Don't forget the reason for the season with this Christian SVG. It's a perfect option for decorations of all kinds, including signs, ornaments, and more!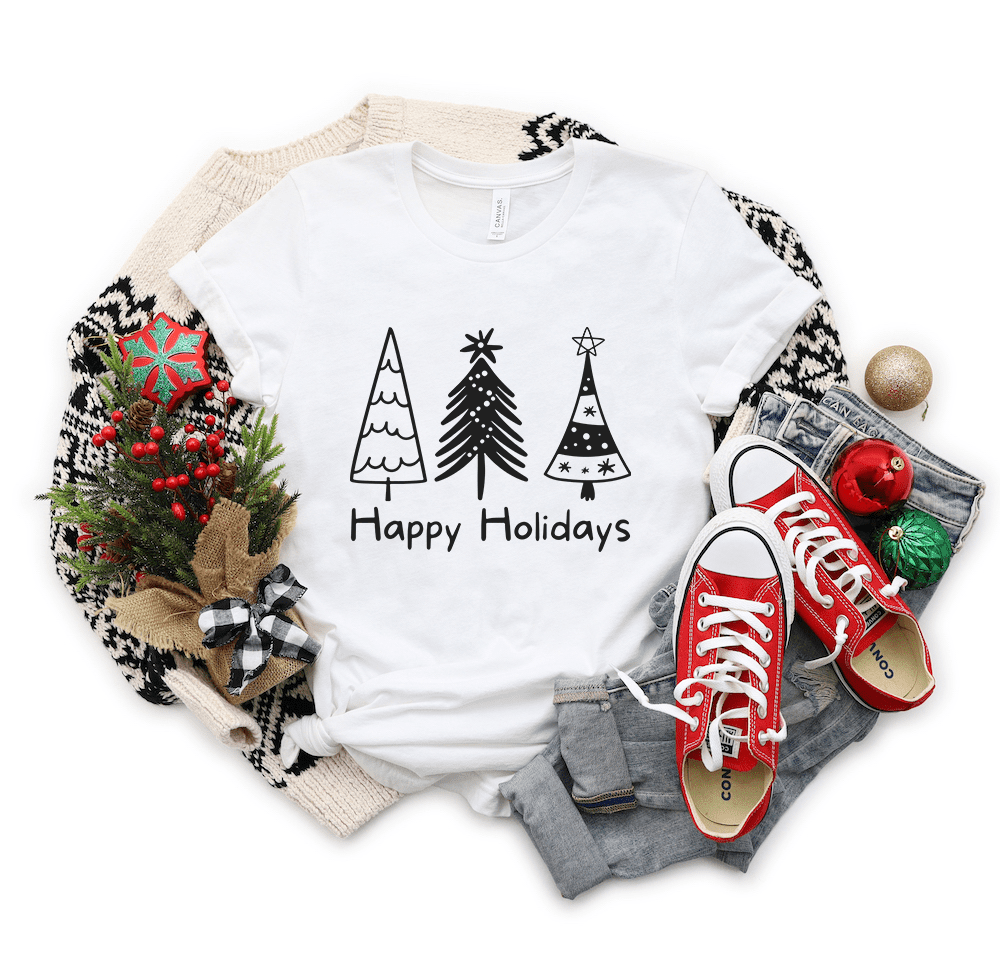 Happy Holidays SVG File
Spread some holiday cheer wherever you go with this cute, happy holiday shirt design that would be an excellent idea for any sort of Christmas apparel, even pajama shirts!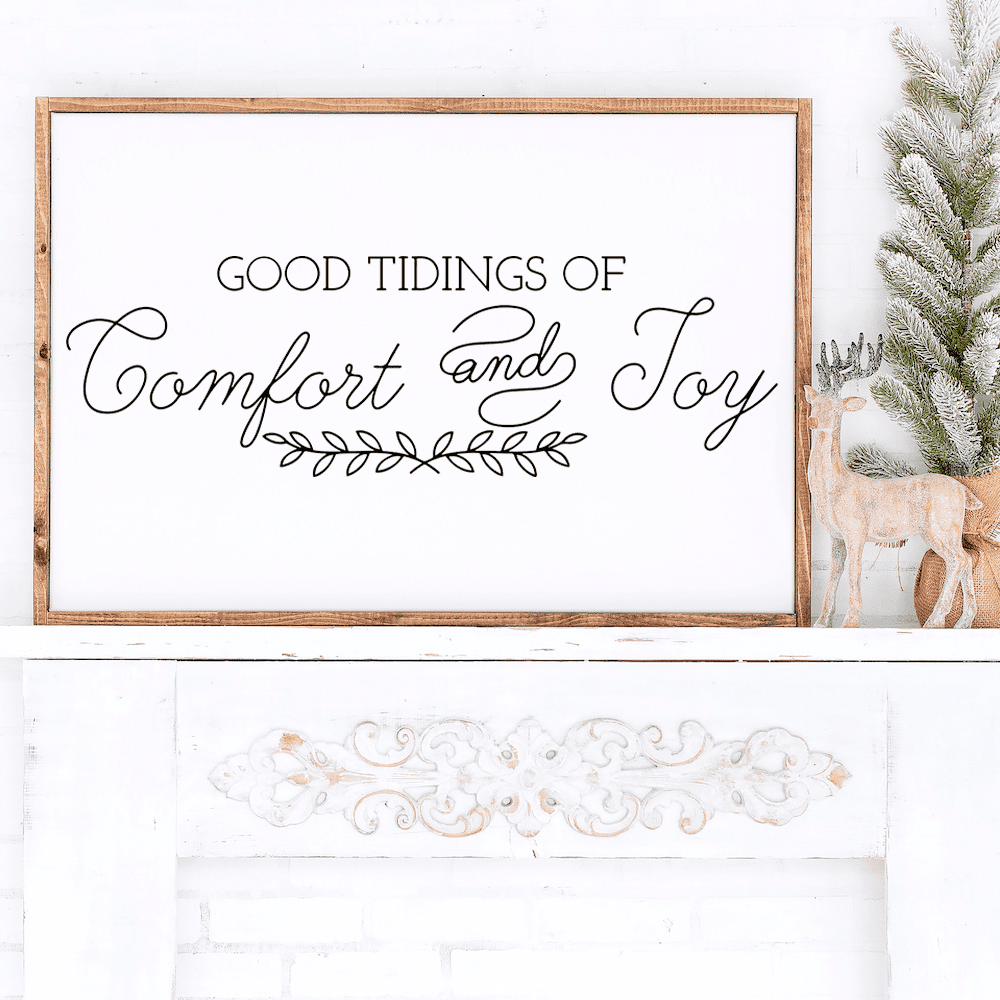 Good Tidings
Give your home a cozy yet minimalistic touch for the season with this sign that would look great as a focal point on the wall or mantle.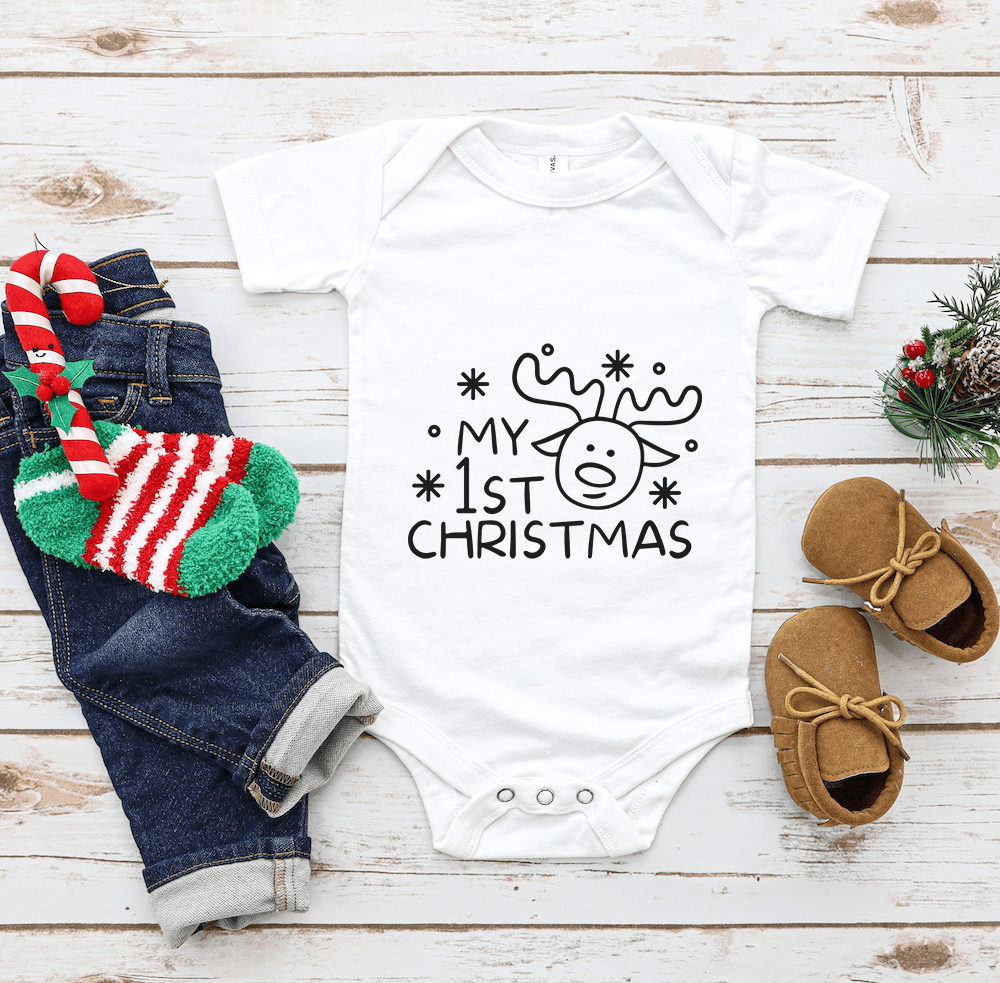 First Christmas
Celebrate your baby's first Christmas with this adorable onesie cut file idea that features a hand-drawn reindeer and snow.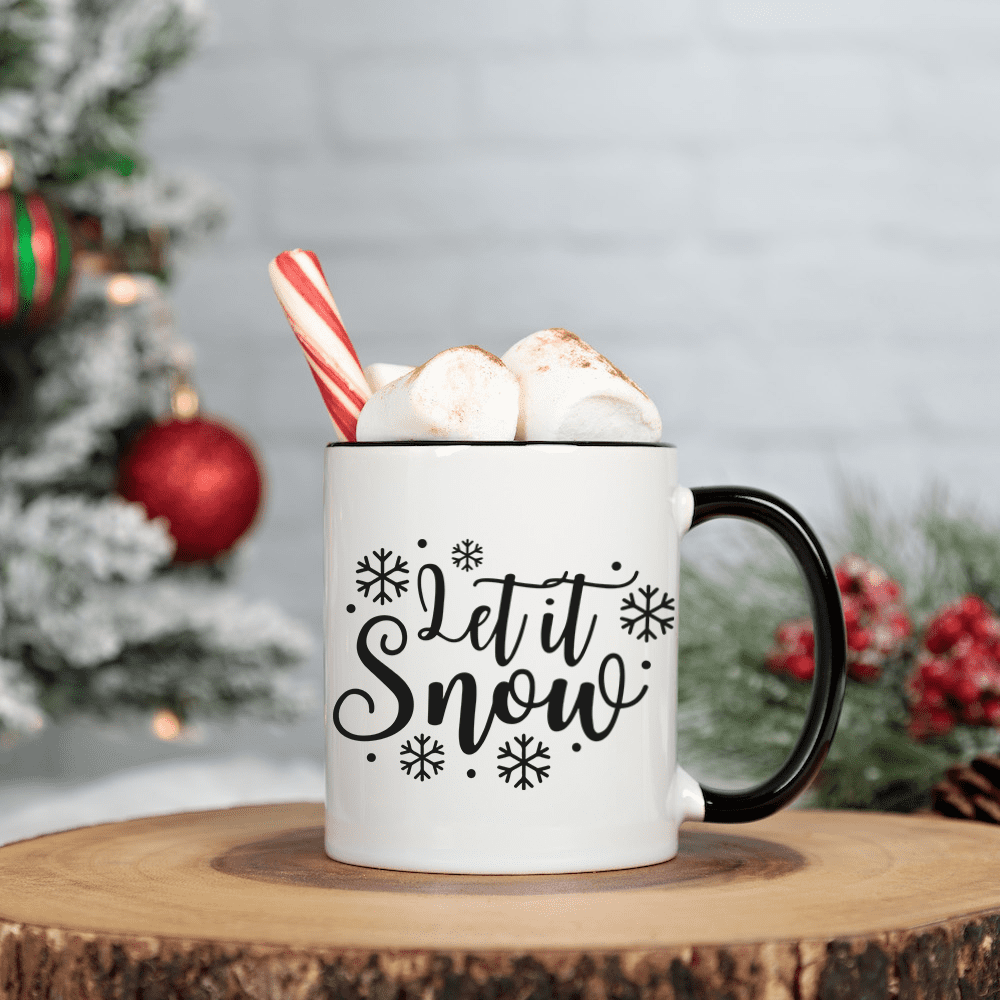 Let it Snow Christmas SVG
Sip your peppermint mocha coffee and keep cozy during chilly weather with this free snowy mug design that is great for winter lovers and makes a wonderful gift for any loved ones (add a little hot chocolate kit inside your mug gift for an extra special touch!)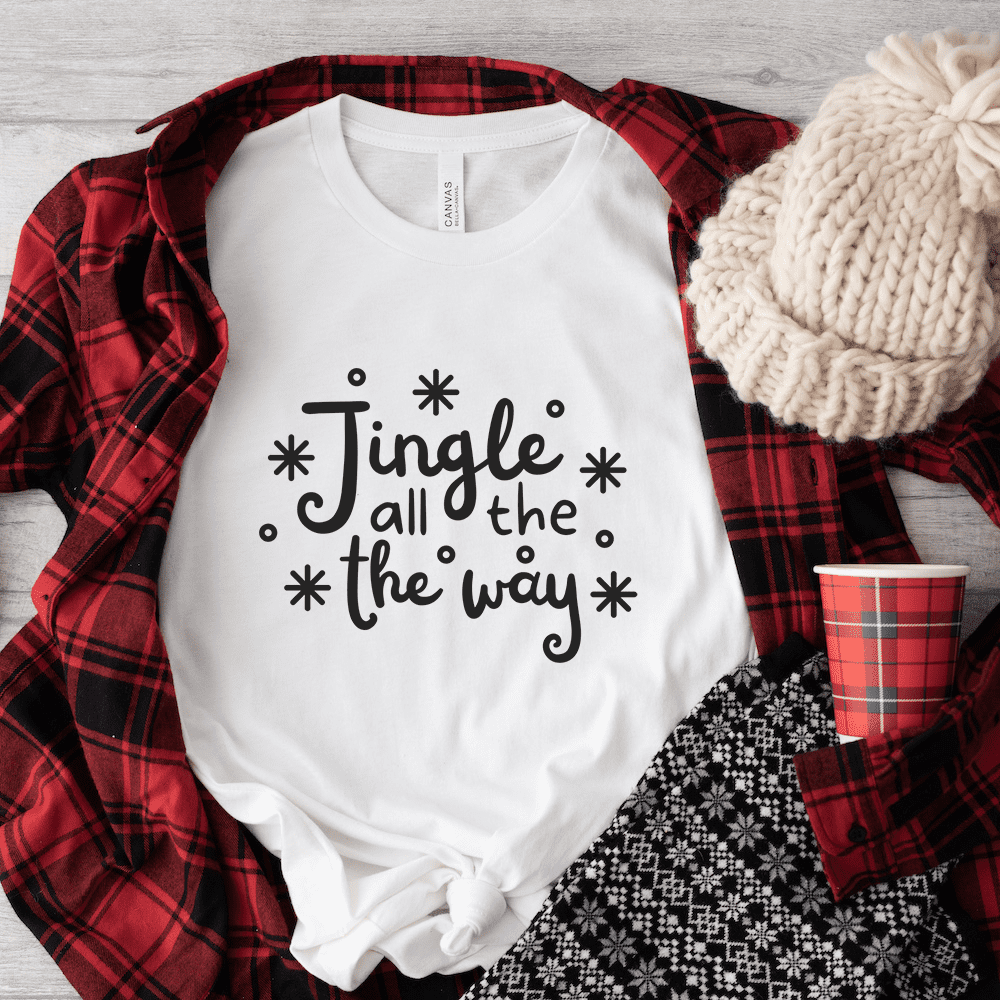 Jingle All the Way
Look festively stylish with this "Jingle All the Way" apparel option. No matter what you add the free design to, it will look fantastic!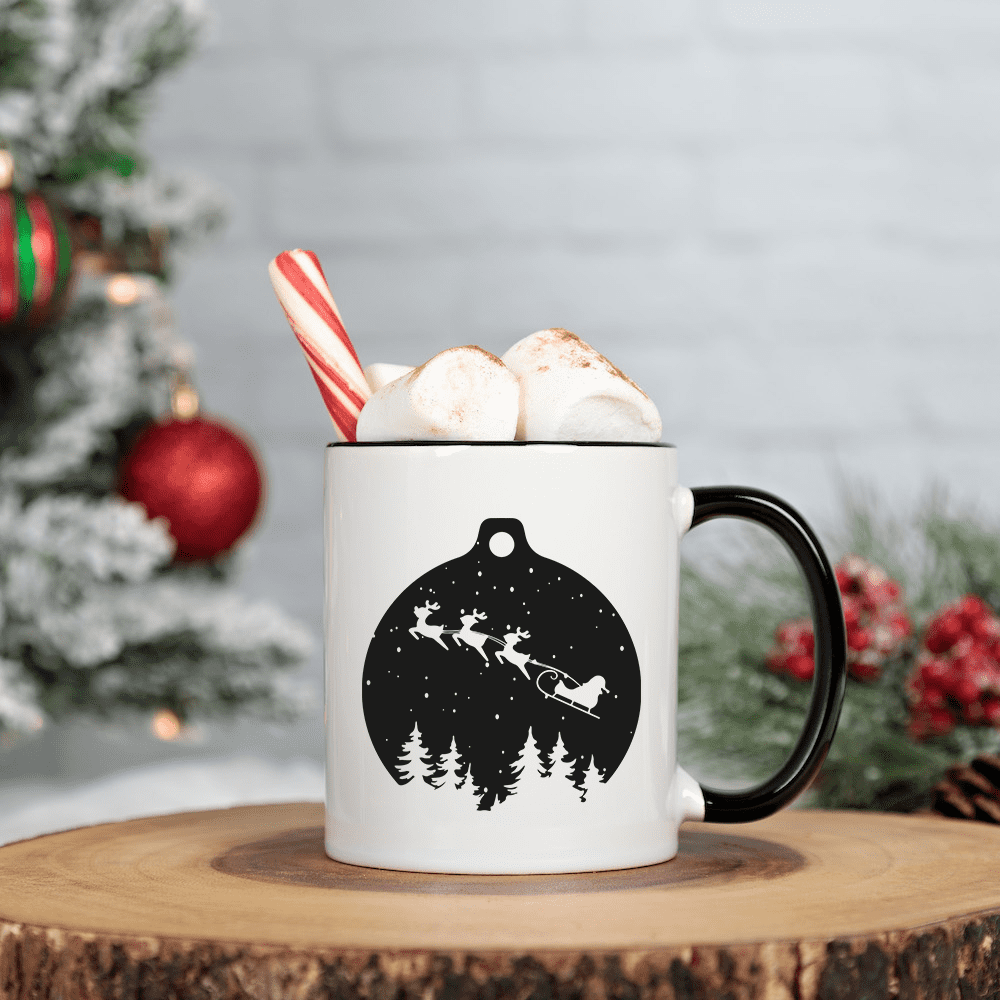 Santa Ornament Design
Get into the holiday spirit with this festive Santa ornament Cricut design. It can be used on almost anything and would look great as a Christmas ornament.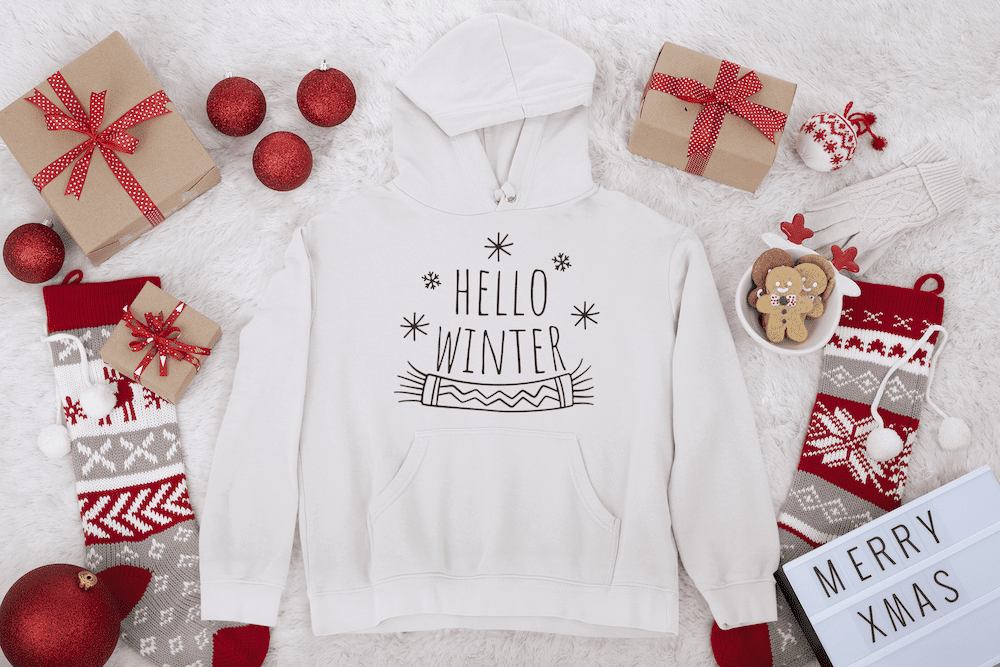 Hello Winter Scarf SVG
Keep cozy during the winter season with this cute Hello Winter hoodie idea. This cute one will certainly bring a smile to everyone's face when you wear it.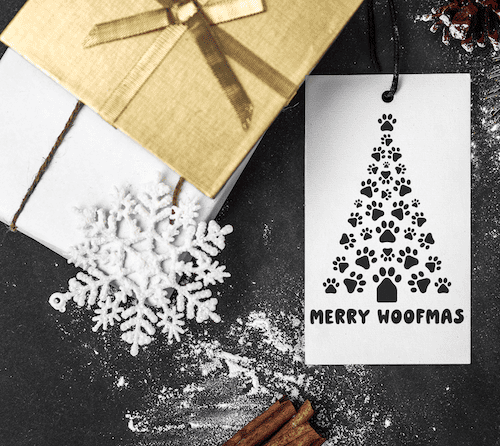 Merry Woofmas
"Merry Woofmas" design adds a fur-tastic twist to the classic Christmas tree, crafted entirely from the cutest paw prints you've ever seen. It's the perfect way to infuse some puppy love into your festive decorations or to create a heartwarming present for that special dog enthusiast in your life.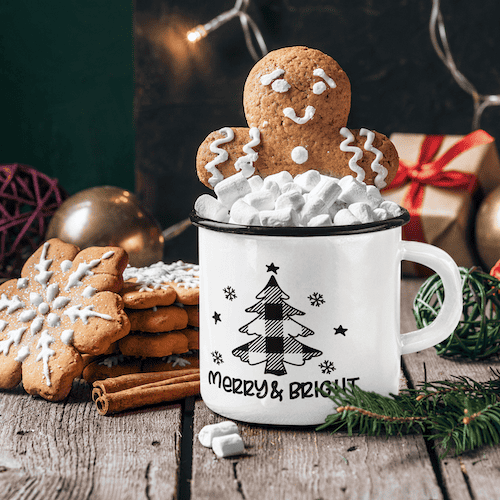 Buffalo Check Tree
Spruce up your holiday decor with a dash of country charm using this cozy buffalo plaid farmhouse-inspired design! Whether you're crafting decorations, a seasonal mug, or some festive wall art, this design is the ideal choice for anyone looking to bring a little country flair to their holiday celebrations!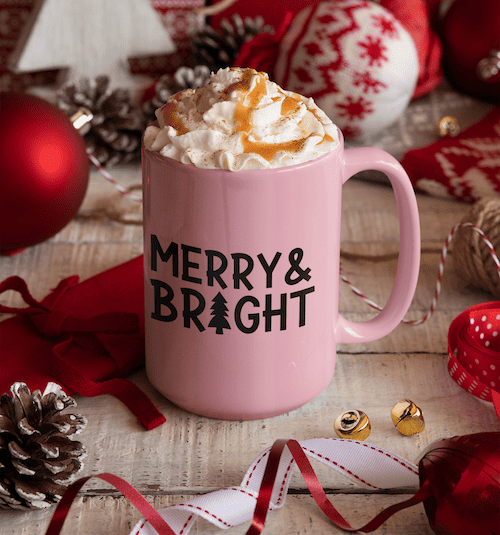 Merry and Bright
This "Merry & Bright" SVG sparkles with festive fun and is all set to add a splash of festive cheer to any project – be it jazzing up your holiday mugs, decking out your decorations, or giving a merry makeover to your apparel.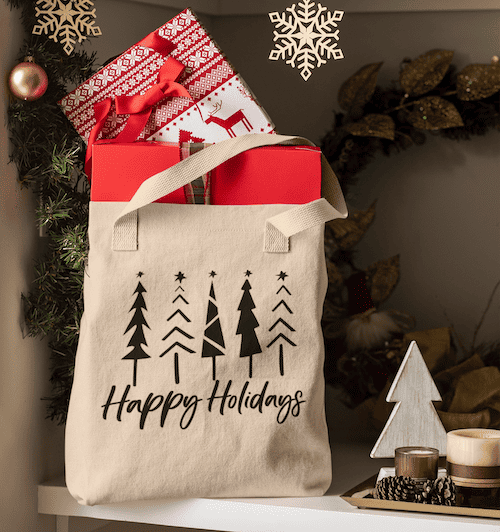 Modern Christmas Trees SVG File
These five trees have a minimalist modern-styled design. Each tree is hand-doodled, and the designs range from a continuous zig-zag pattern to simplistic triangular shapes. It is perfect for holiday greeting cards, gift tags, or a kitchen towel.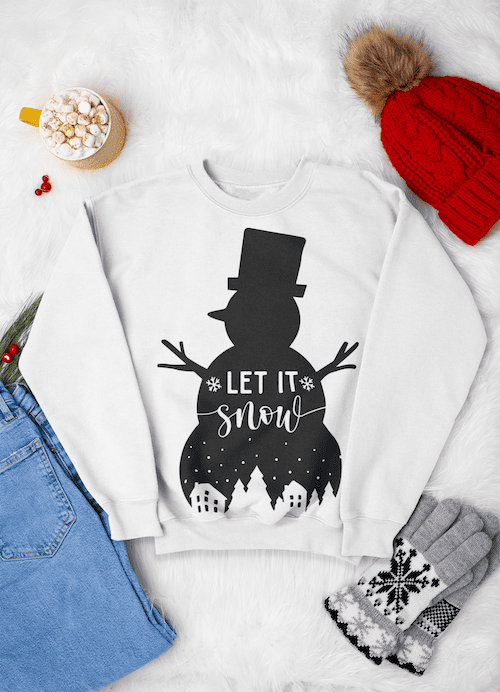 Snowman Silhouette
This one features a snowman silhouette with the phrase "Let It Snow" and a quaint snowy village scene. This design is perfect for creating a winter wonderland in for home or apparel, whether it's on a snug sweatshirt, a festive wall hanging, or a holiday greeting card.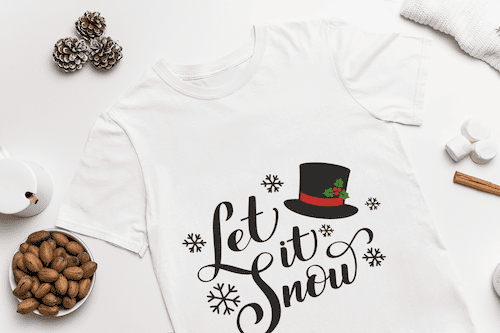 Snowman Hat
Embrace the winter season with this "Let It Snow" SVG. The whimsical script dances playfully around a classic snowman's top hat with flurries of delicate snowflakes falling. This SVG is perfect for creating heartwarming holiday cards, cozy seasonal apparel, or enchanting home decor to celebrate the most wonderful time of the year.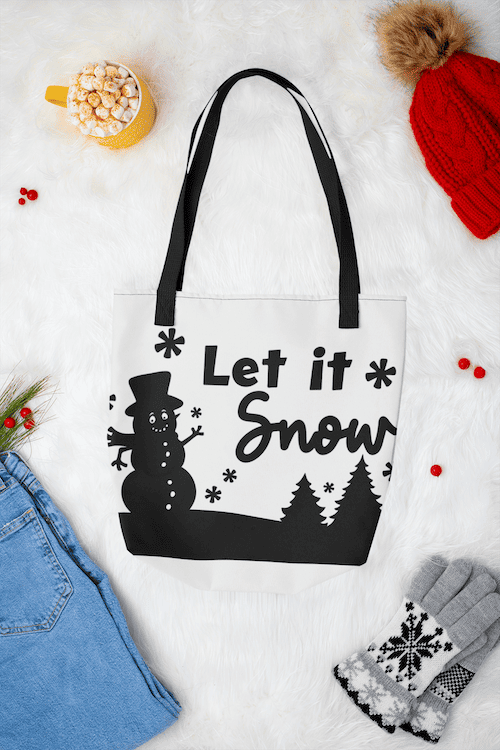 Let it Snow
This one shows a snowman with a winter scene of evergreen trees and snowflakes in the background. Perfect for adding a touch of wintertime joy to any project, this design is sure to be a hit for holiday crafts, festive garments, or decorating your home with a merry, snowy vibe.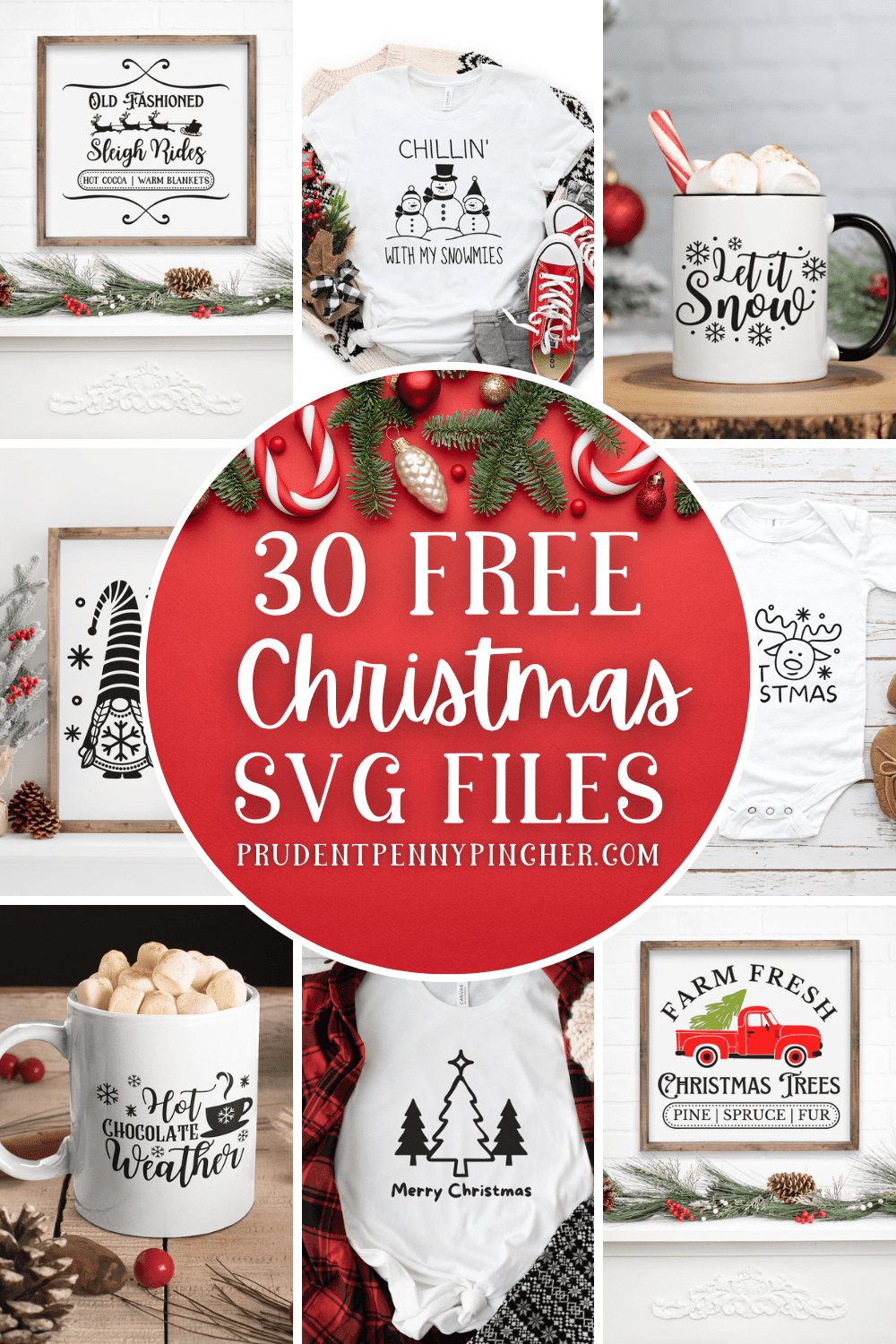 More SVG Files
More Christmas Crafts