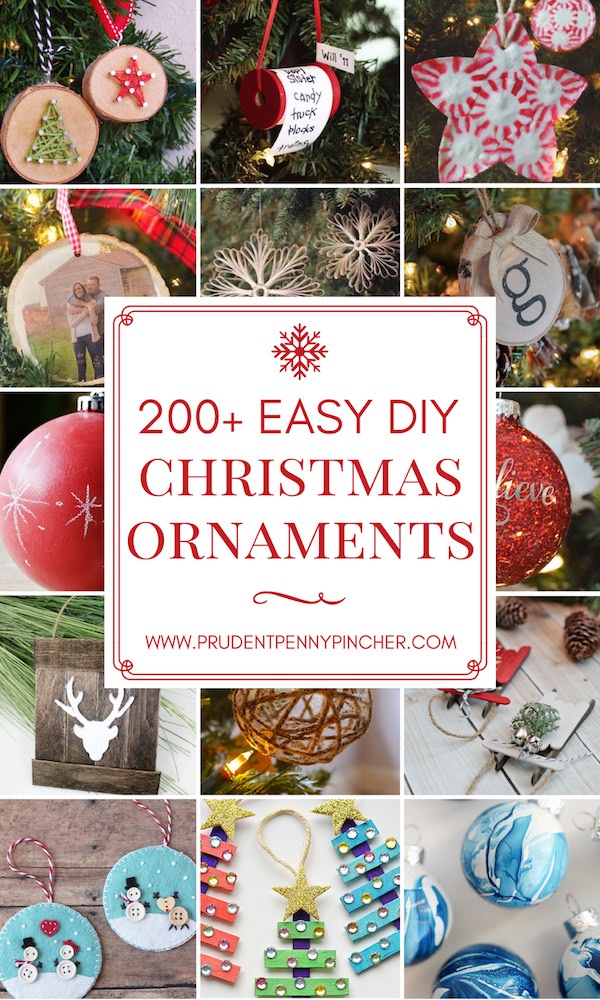 These easy and creative DIY Christmas ornaments are beautiful, inexpensive and unique. So skip the store-bought Christmas ornaments and add your own personal touch for a lot less money!
This blog post is broken up into three pages to improve readability and user experience. Please click on the page links at the bottom to see all of the DIY Christmas ornaments.
Most of the supplies needed for these DIY projects can be found at Dollar Tree. Some examples include:
Twine (jute, cotton, baker's twine, red and green twine)
Ribbon (They have a large assortment of Christmas ribbons!)
Foam Balls
Christmas Ornaments
Clear Ornaments
Ornament Hooks
Craft Supplies: chenille stems, googly eyes, craft sticks, etc.
Mod Podge
Spray Adhesive
Glitter
and much more!
Materials You May Need:
Mod Podge with Foam Brush
Tacky Glue
Hot Glue Gun & Glue Sticks ($3- Walmart)
Scissors
Tape
Paint Brush ($0.50 – Walmart)
X-Acto Knife
Ruler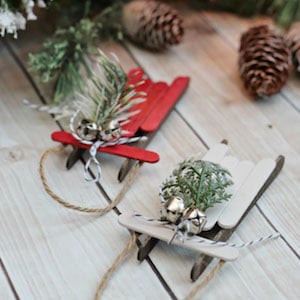 Popsicle Stick Sleds
popsicle sticks + wood glue + wood stain + paint + twine + glue dots + embellishments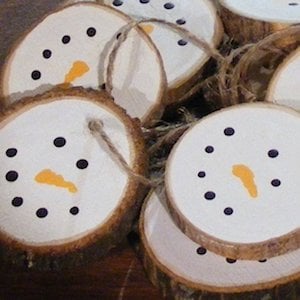 Rustic Log Slice Snowman Ornaments
wood slices + white, black and orange acrylic paint + twine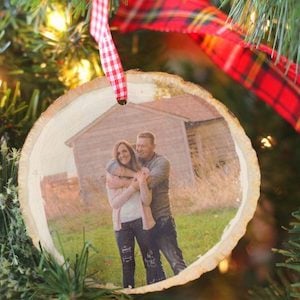 Wood Slice Photo Ornaments
photo + wood slice + medium of choice (Mod Podge, Wax Paper, etc.)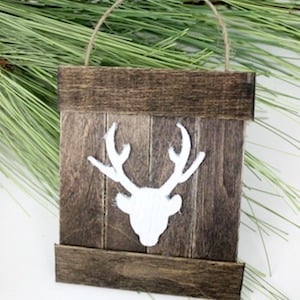 Mini Deer Pallet Ornament
white leather + stencil + popsicle sticks + wood stain + tac glue + twine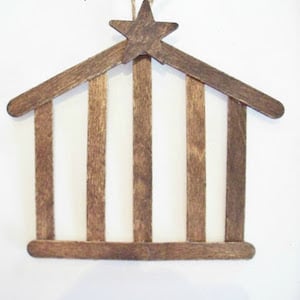 Stable Ornament
crafts sticks + wooden star + hot glue + twine + wood stain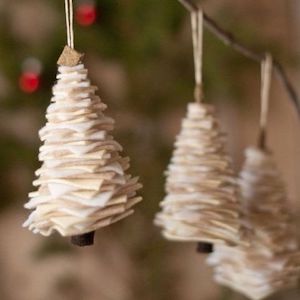 Felt Christmas Tree Ornament
felt + embroidery thread + needle + glue gun + gold paint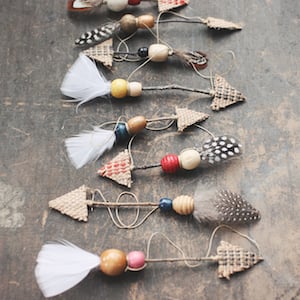 Rustic Twig Arrows
twigs + feathers + Wood beads +. Hemp twine + jute upholstery webbing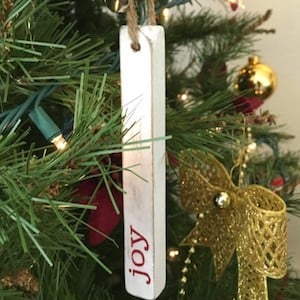 DIY Rustic Christmas Ornaments
scrap wood dowels + paint + stencils + twine + bells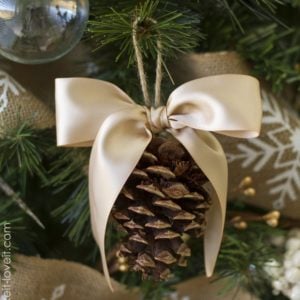 Pinecone Ornament
satin ribbon + twine + pinecone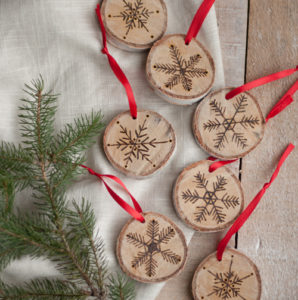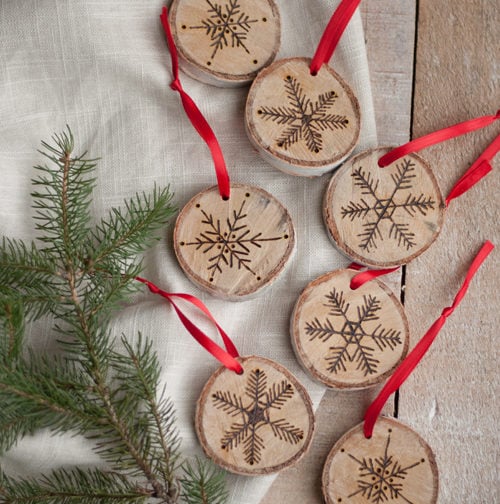 Etched Snowflake Ornament
etching tool + bow saw + drill and small drill bit + ribbon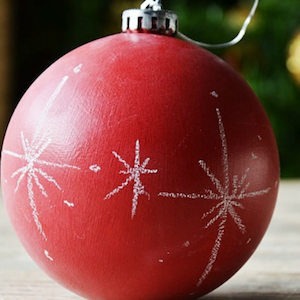 Chalkboard Ornament
Paint + Chalkboard Coating + Smooth Surface Ornaments + Chalk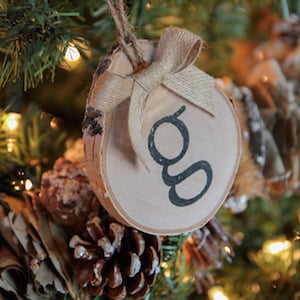 DIY Birch Initial Ornaments
birch slices + rubber stamp + ink pad + drill + burlap ribbon + twine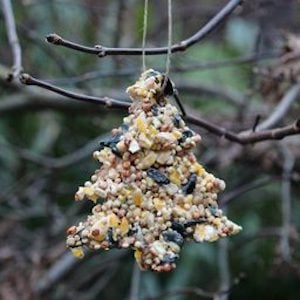 Bird Seed Ornaments
birdseed + flour + unflavored gelatin + corn syrup + lard + cookie cutters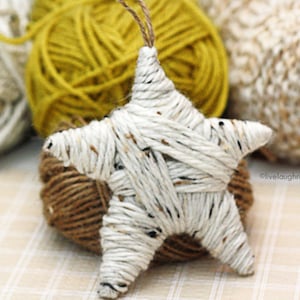 Yarn Wrapped Star Ornament
Cardboard + Glue Gun + Yarn +Twine + Printable Star Template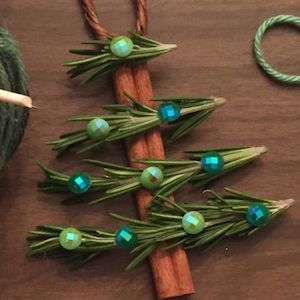 Cinnamon Stick Christmas Tree Ornaments
pine clippings + small gems + cinnamon stick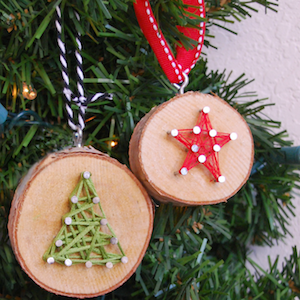 Wood Slice String Art Ornament
Wood Slices + hammer + nails + thread + small eye hooks + twine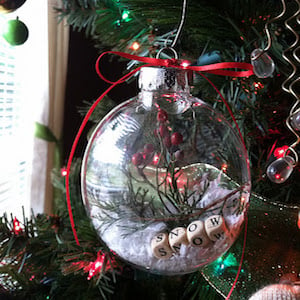 Christmas Ornament Looking Glass
clear ornament + fake snow + berries & greenery +block letters + glue + ribbon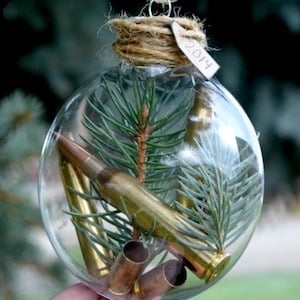 Tactical Ammo Ornament
clear ornament + twine  + pine clipping + EMPTY bullet bass + glue gun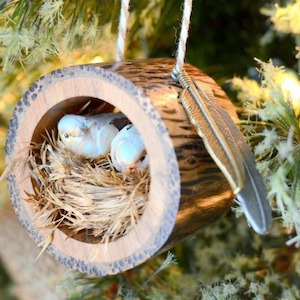 Rustic Log Bird Nest Ornament
wood slice napkin holders + small birds in nest + bakers twine + gold metallic paint + blue acrylic paint + feather charms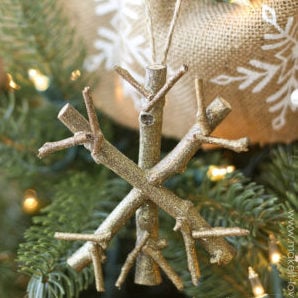 Twig Ornament
twigs + jute string + glitter spray (optional)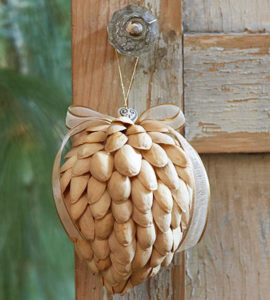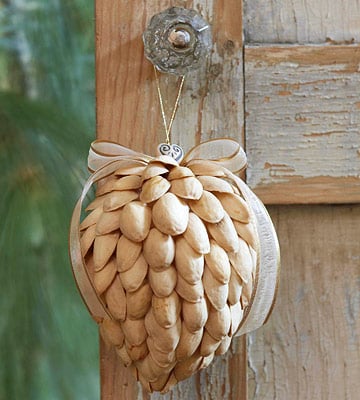 Pistachio Ornament
medium egg-shape foam + pistachio shells + eye pin + bead + ribbon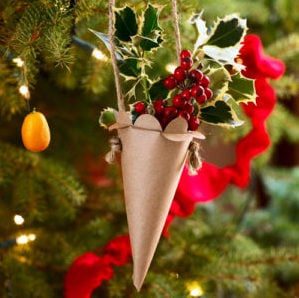 Cornucopia Ornament
brown grocery bag + twine + Christmas pick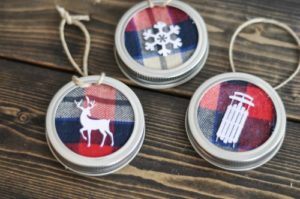 Mason Jar Lid Ornaments
mason jar lid and screw ring + fabric scraps + twine + sticker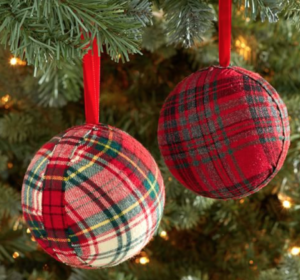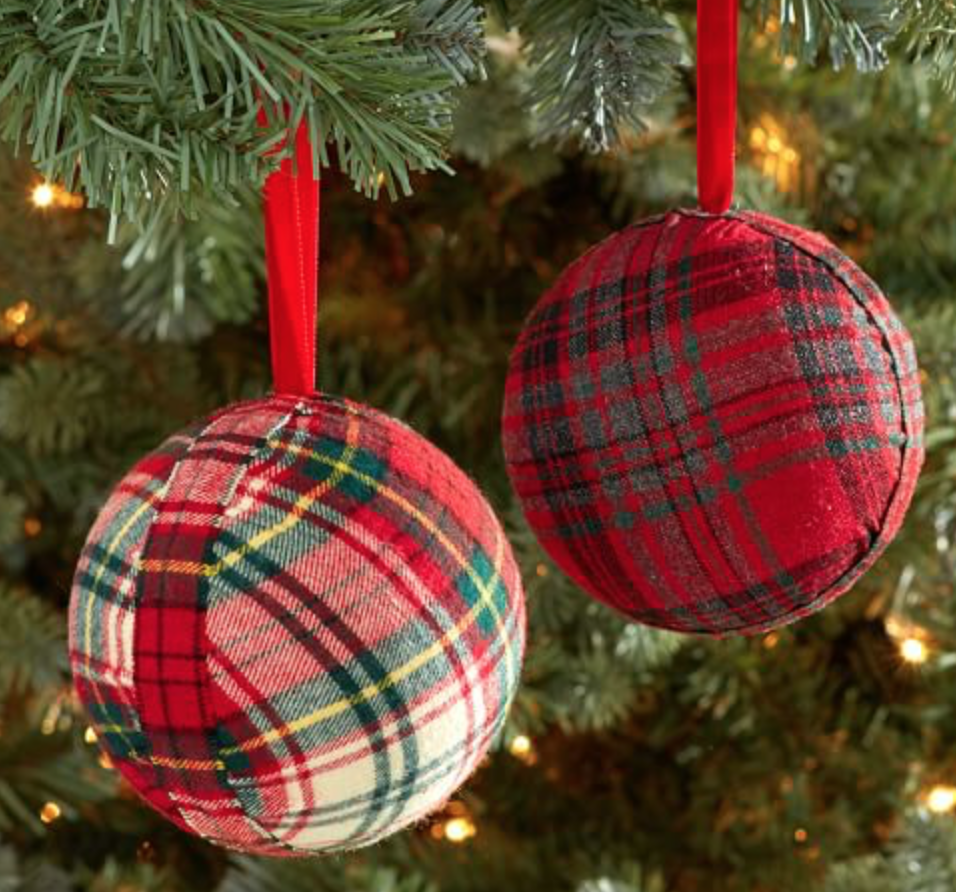 Plaid Ornaments
plaid fabric scraps + foam ball + pins + red ribbon for hanging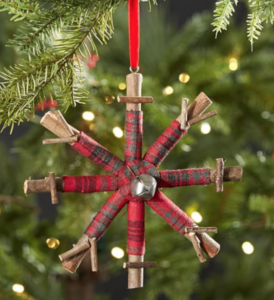 Plaid Wrapped Twig Snowflake Ornament
twigs + thin strips of plaid fabric + small jingle bell + red thread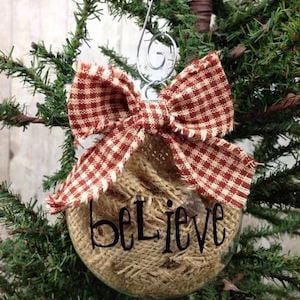 Burlap Christmas Ornaments
clear ornament + burlap ribbon + letter stickers + plaid ribbon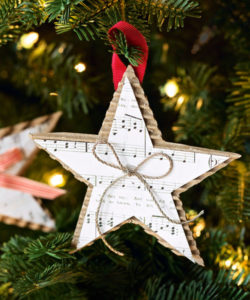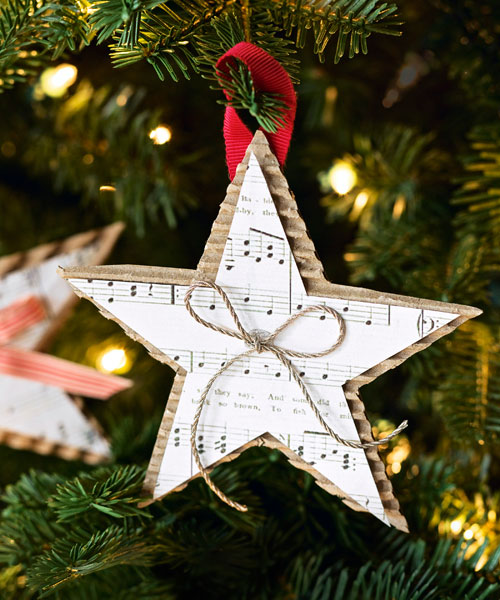 Cardboard Star Ornament
corrugated cardboard + printable + twine + ribbon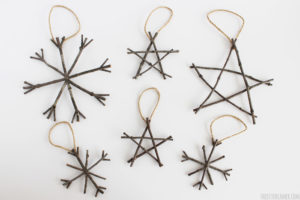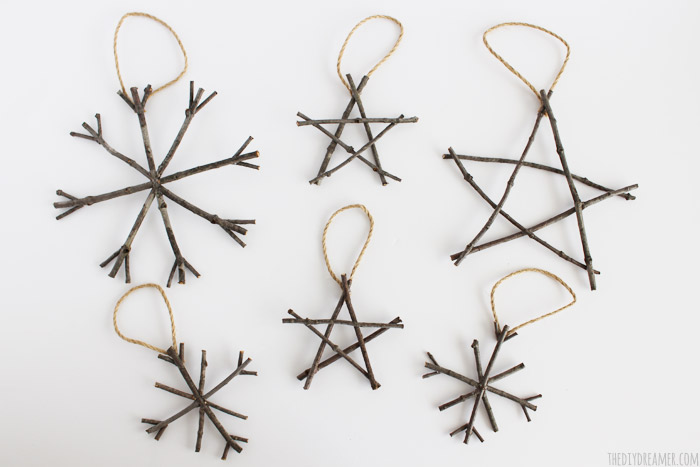 Rustic Twig Ornaments
twigs + branch cutters + jute twine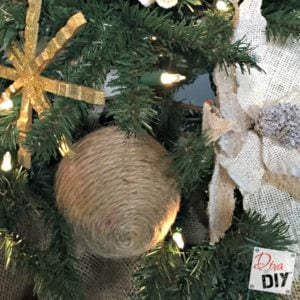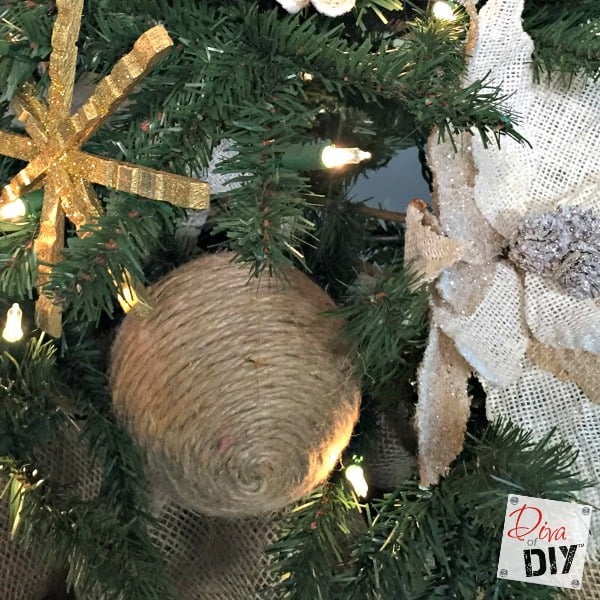 Twine Ornament
ornament + jute twine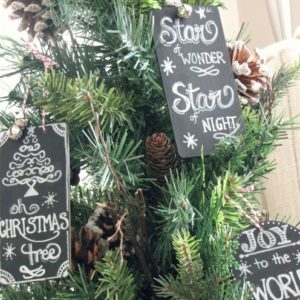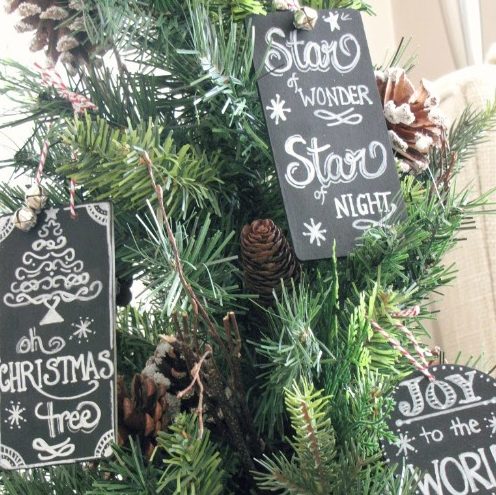 Chalkboard Ornaments
chalkboard spray paint + wood pieces + baker's twine or ribbon + chalk pen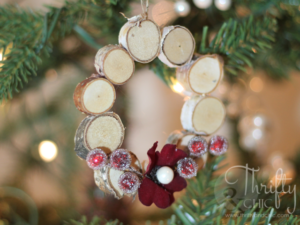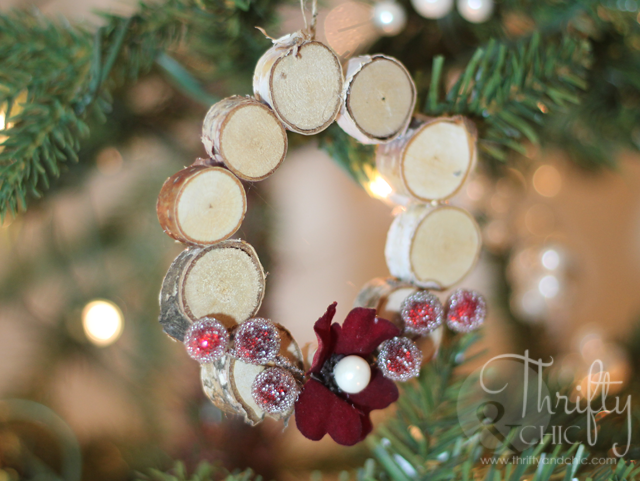 Wood Slice Wreath Ornament
birch discs + accents + twine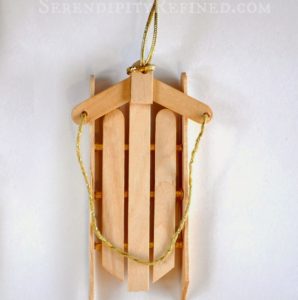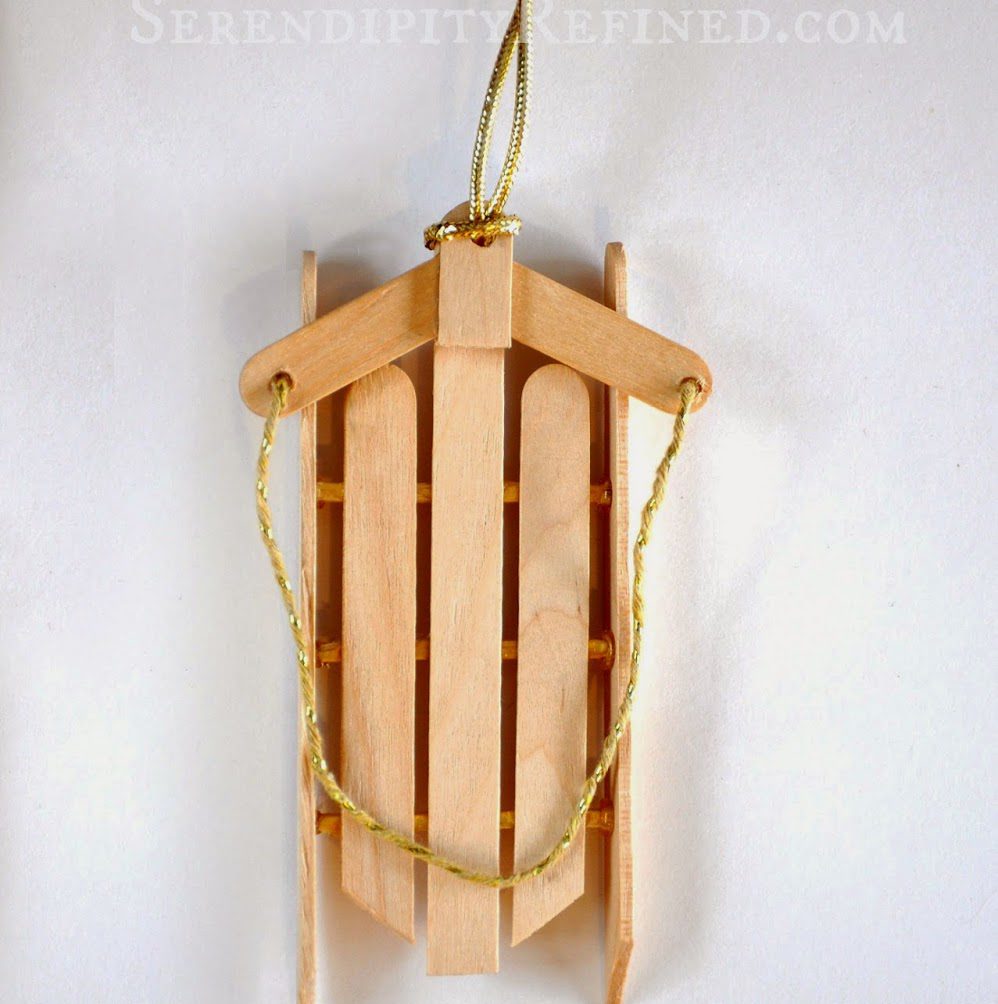 Simple Wood Sled Ornament
 twine +  stick matches + popsicle sticks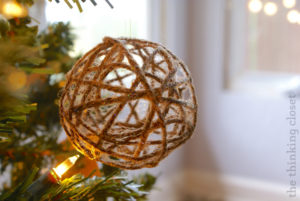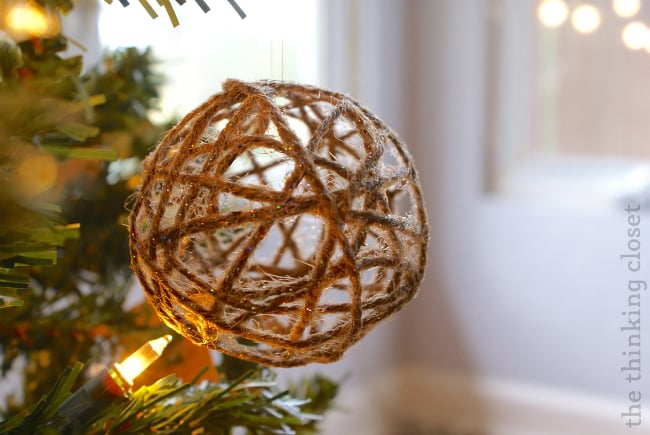 Twine Ball Ornament
balloons + jute twine + cling wrap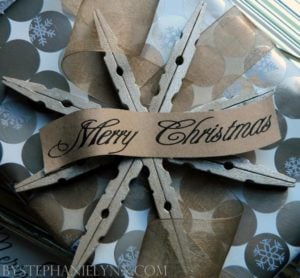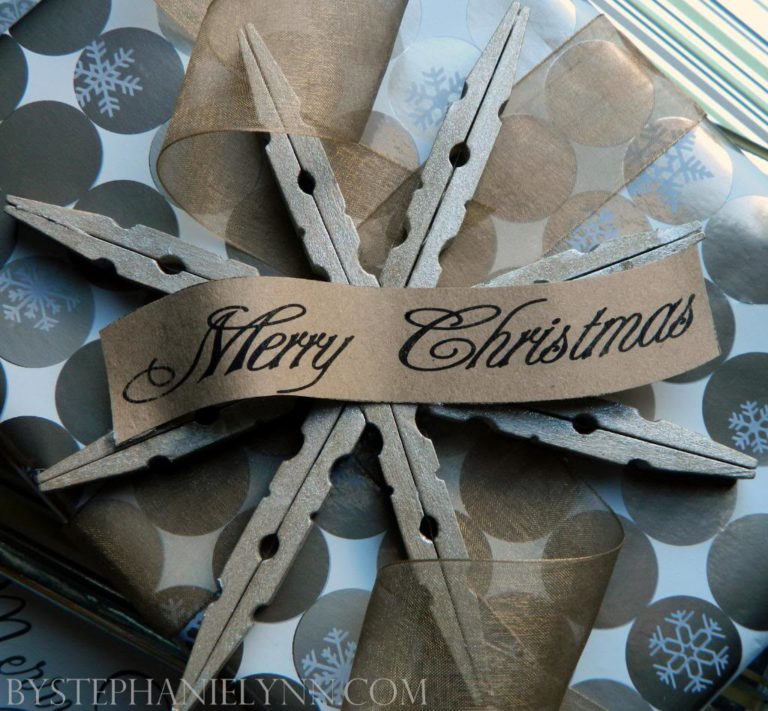 Clothespin Snowflake Ornament
wooden clothespins + embellishments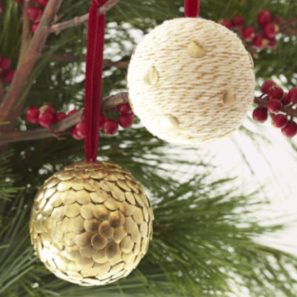 Baker's Twine and Tack Christmas Ornaments
baker's twine + tacks, ribbon + foam ball + paper clip + all-purpose adhesive
All of these supplies can be found at the Dollar Tree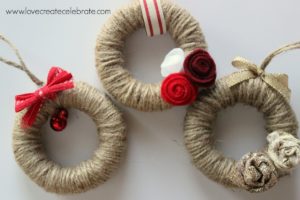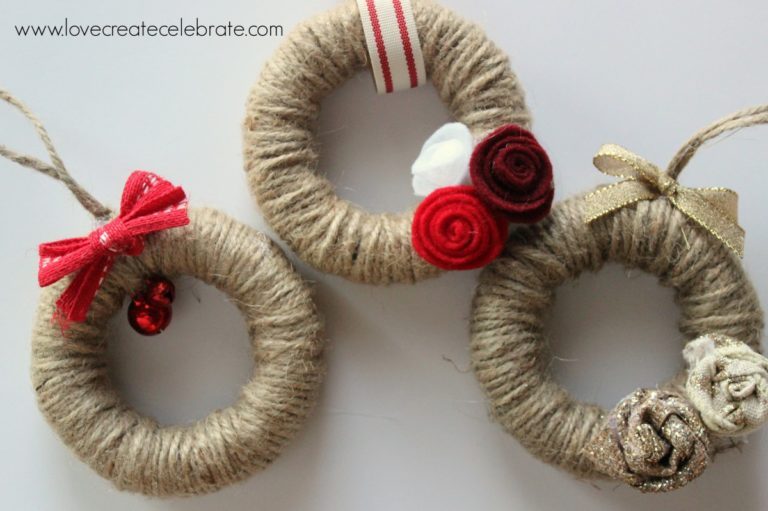 Twine Wreath Ornaments
jute twine + styrofoam wreaths + accents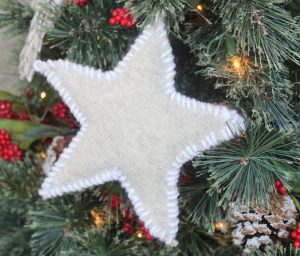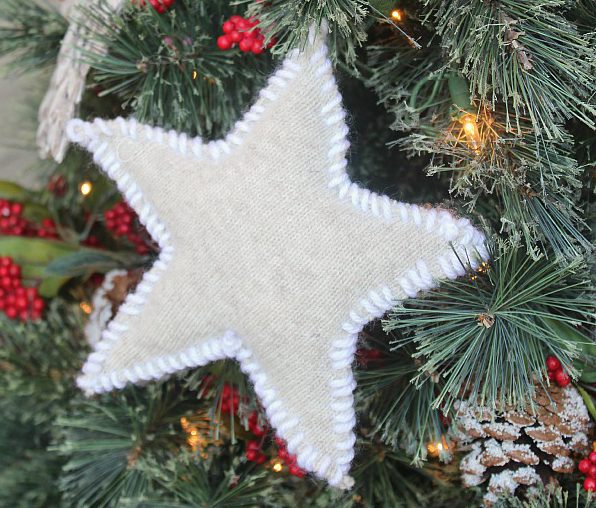 Rustic Sweater Star Ornament
old sweaters + thread + pins + yarn + stuffing + star template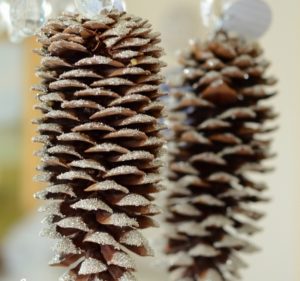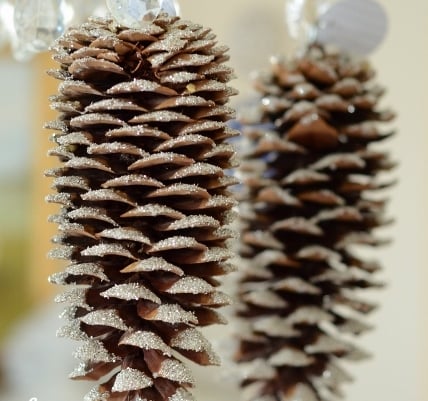 Frosted Pinecone Ornament
glitter + pinecones + small screw eye for hanging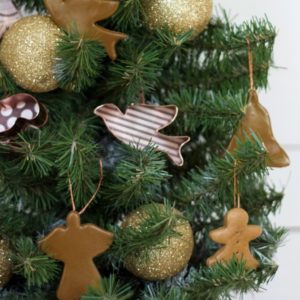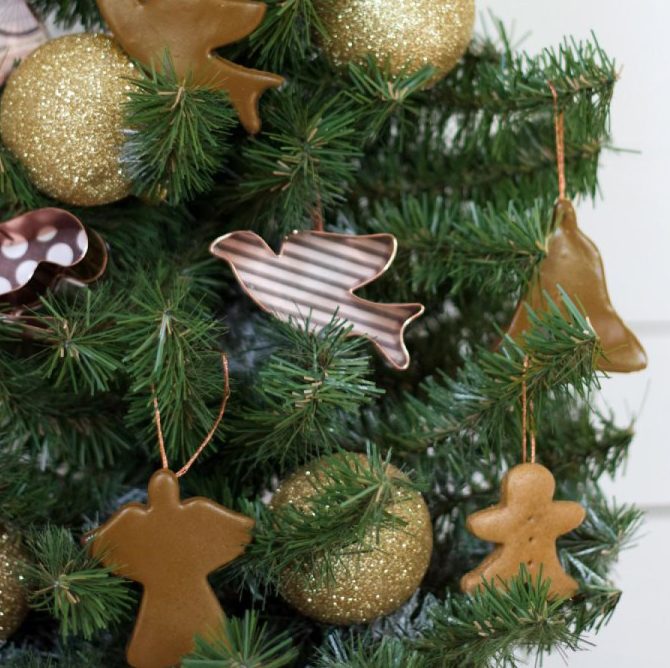 Cookie Cutter Ornament
cooke cutters + Christmas scrapbook paper + twine
Just cut the scrapbook into the shape of the cooke cutters and glue onto the back of it.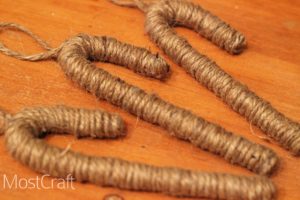 Twine Candy Cane Ornaments
twine + candy candy ornament
Wrap a candy cane ornament in jute twine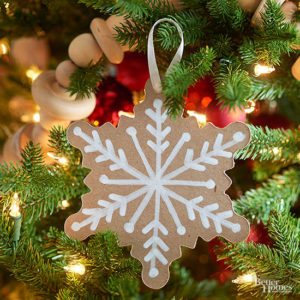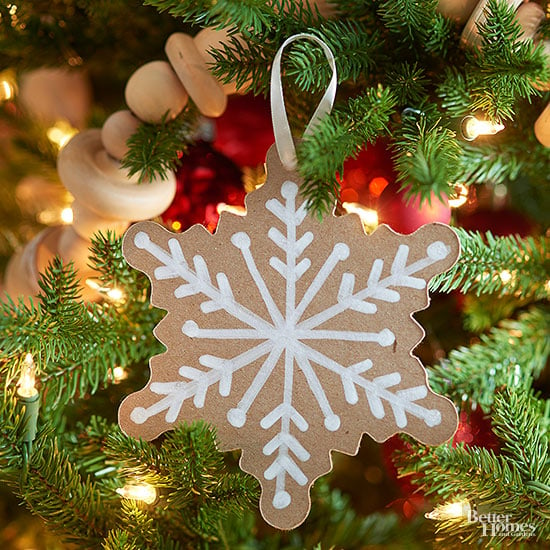 Cardboard Snowflake Ornament
cardboard or Kraft paper + white Sharpie + snowflake template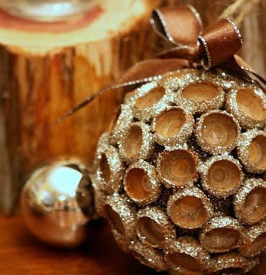 Acorn Cap Ornament
acorn caps + Burnt Umber craft paint  + styrofoam ball + twine + floral wire + ribbon + silver glitter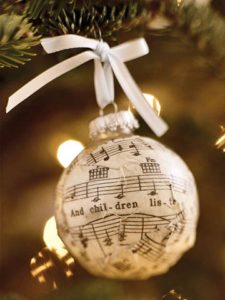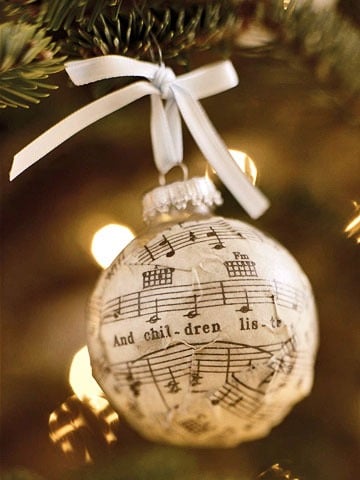 Sheet Music Ornament
Print music on parchment paper and glue onto ornament with Mod Podge.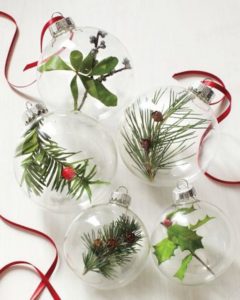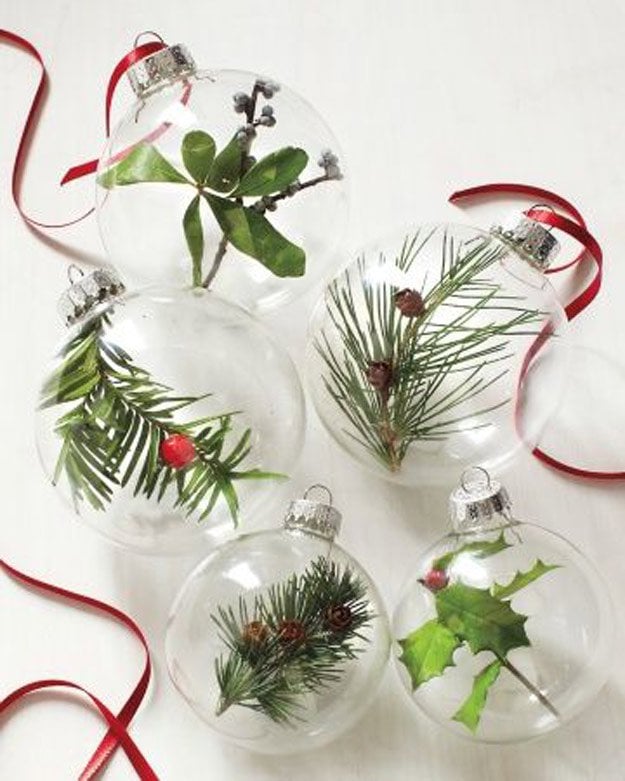 Natural Ornaments
clear craft ornaments + evergreen sprigs, holly berries, etc.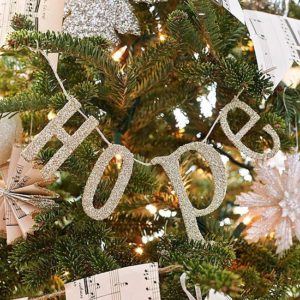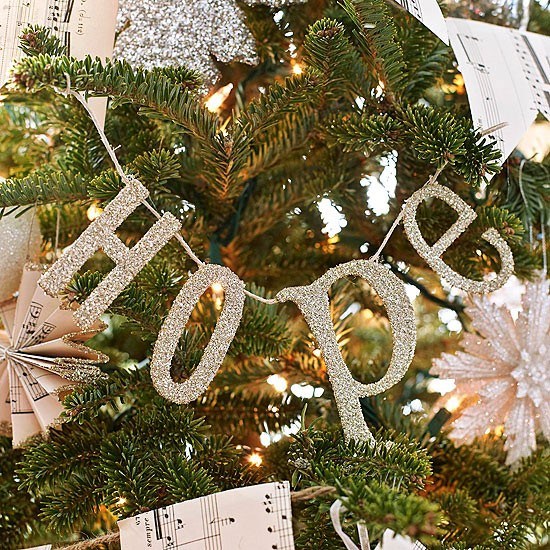 Hope Ornament
Glitter Letters + Twine
You can get the words pre-glittered at Walmart for $0.97 each and glue them across jute twine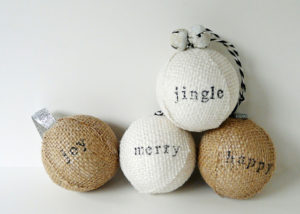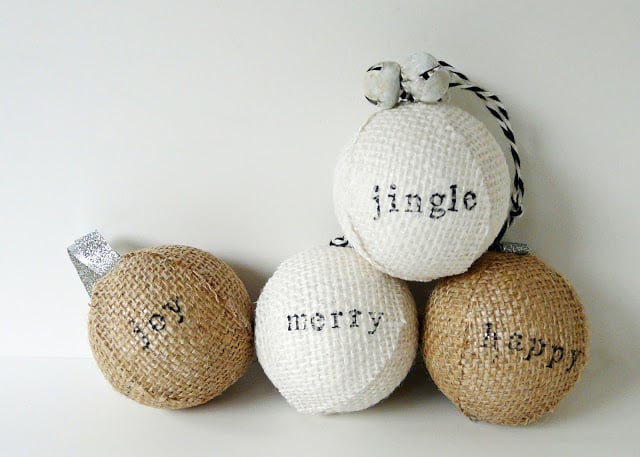 Stamped Burlap Ornaments
burlap ribbon + alphabet stamps + stamp pad + foam balls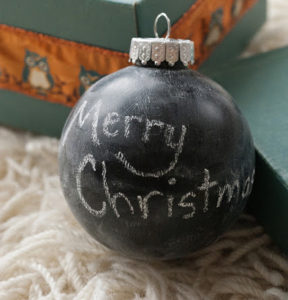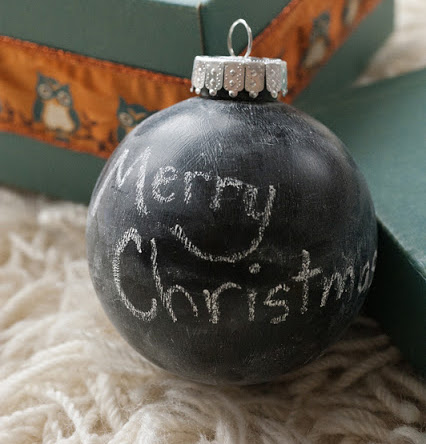 Chalkboard Ornament
clear ornament + chalk paint + chalk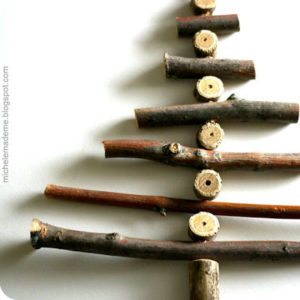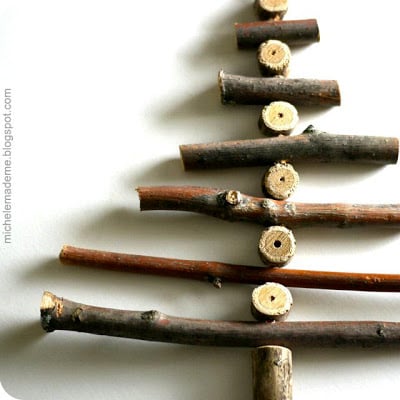 Twig Christmas Tree Ornament
twigs + drill + saw + sandpaper