Give your outdoor space a makeover for autumn with these creative DIY fall yard decor ideas.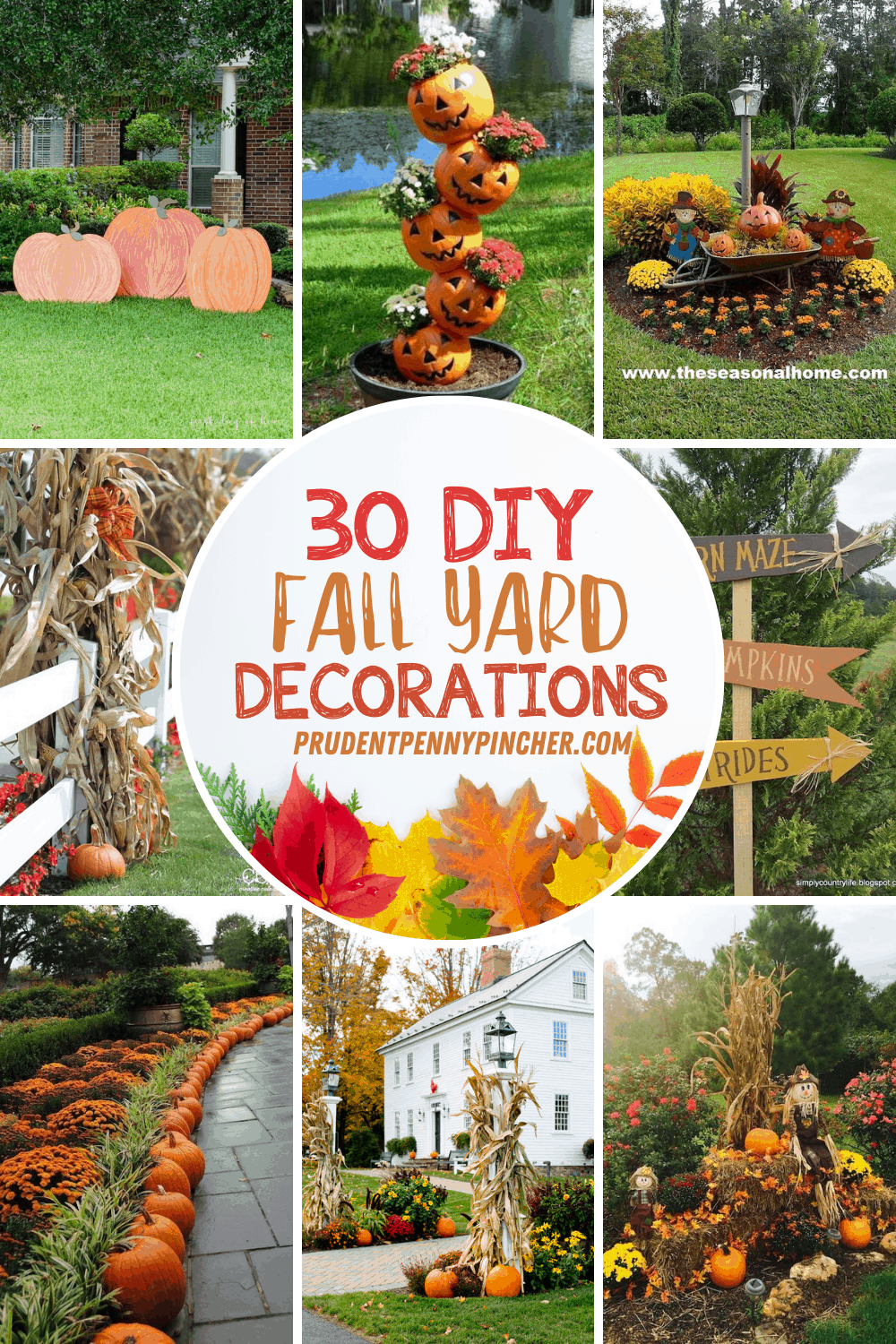 As the leaves begin to change and the air turns cooler, transform your yard into a cozy, autumnal retreat that reflects the season's beauty. These yard ideas will turn your space into a harvest haven that will welcome your guests and neighbors.
From hay bale displays to DIY signs, there are plenty of DIY outdoor fall decorations for your yard to choose from. Most of these decorations utilize natural elements like cornstalks, hay bales, pumpkins, mums, and more to make them more affordable.
These DIY fall decor ideas will give you plenty of inspiration to suit your style and budget. From rustic pumpkin displays to farmhouse fall decor with galvanized planters, these ideas will transform your outdoor space into an autumn paradise.
These fall yard decorations will give your home some curb appeal on a budget. There are fall landscaping ideas, autumn yard ideas, DIY garden ideas, and more for inspiration. These DIY projects will give your home a cozy, welcoming look for the autumn season.
Looking for more outdoor decorating ideas for autumn? Check out these fall porch decor ideas, DIY fall wreath ideas, and fall front door decor ideas.
If you are looking to add a spooky touch to your DIY outdoor Halloween decor, be sure to take a look at these DIY Halloween yard decorations, too!
Jump to:
DIY Fall Yard Decor Ideas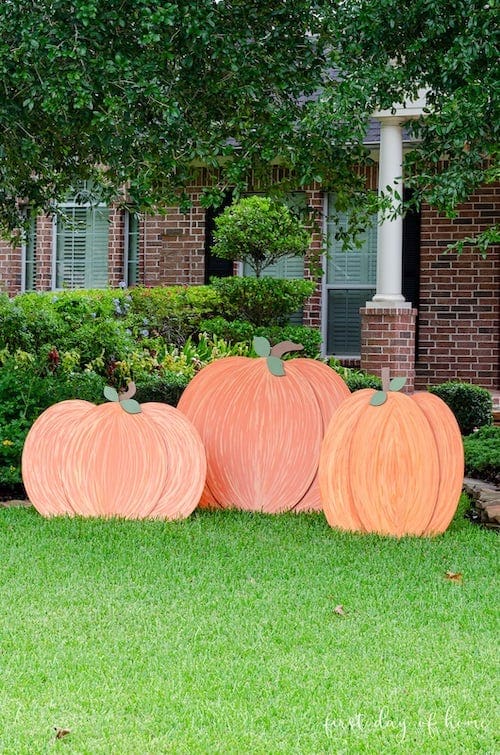 DIY Wooden Pumpkin Yard Decorations from First Day of Home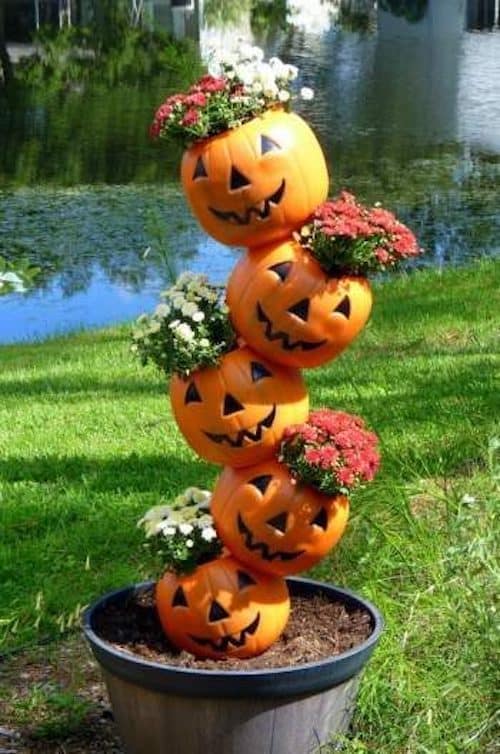 Tipsy Pumpkins from Birds and Blooms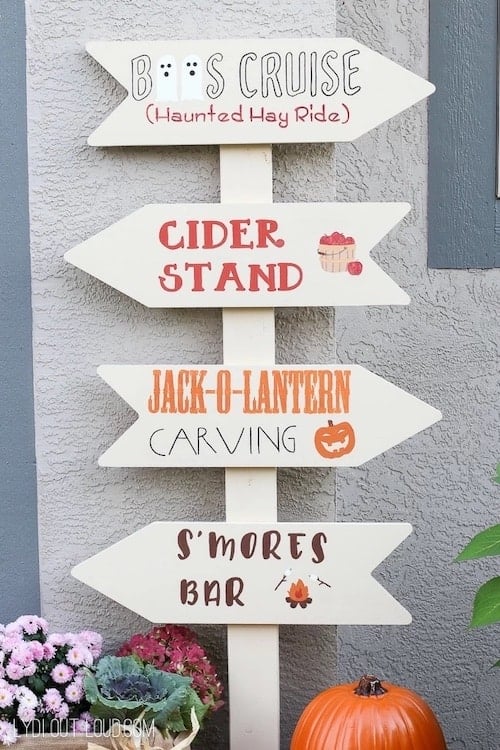 DIY Autumn Festival Sign from Lydi Out Loud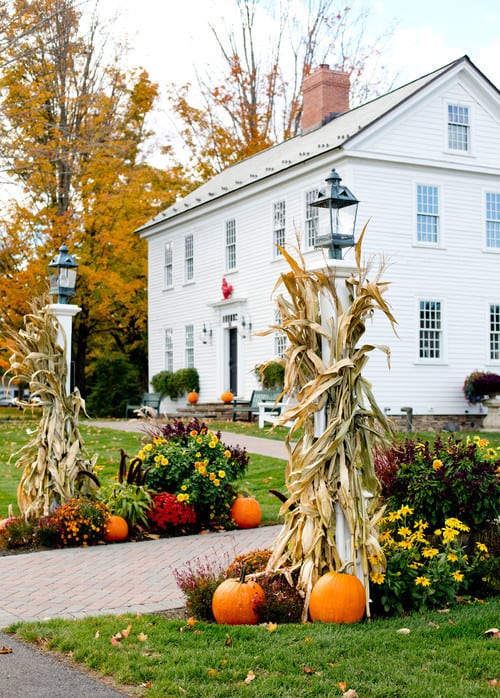 Yard Autumn Decorating Ideas from Town & Country Living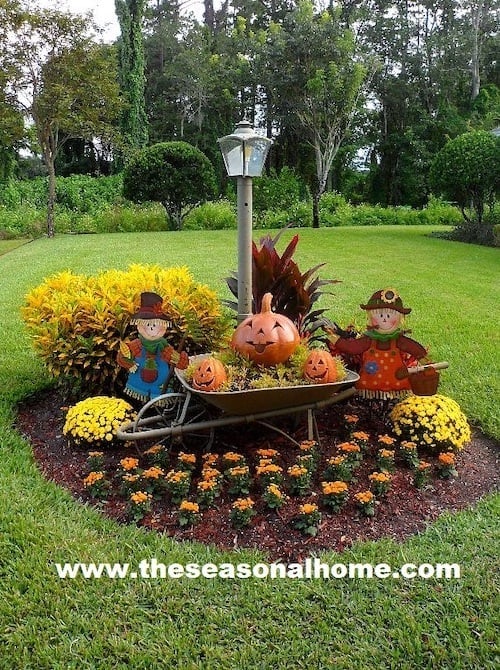 Autumn Outdoor Decorations from The Seasonal Home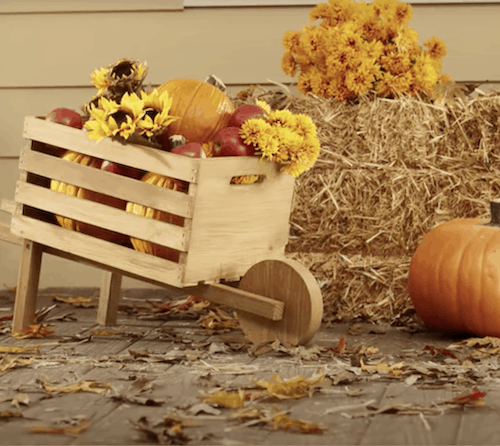 DIY Rustic Wheelbarrow from Home Depot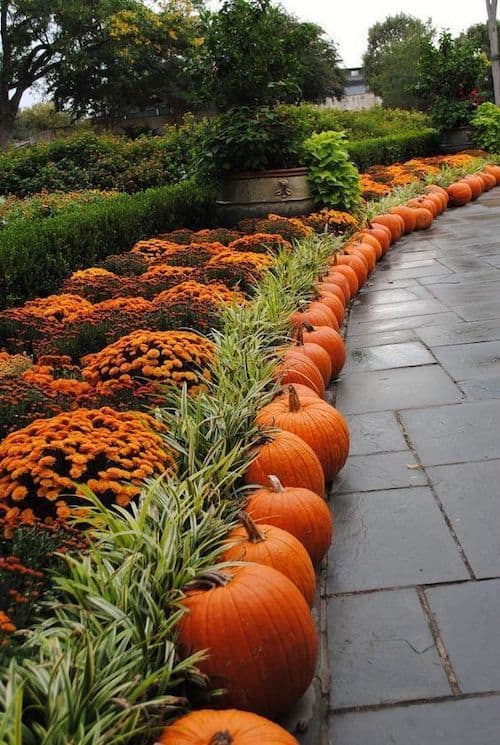 Fall Landscaping from Better Homes and Gardens (via Pinterest)
DIY Scarecrow from 2 Little Hooligans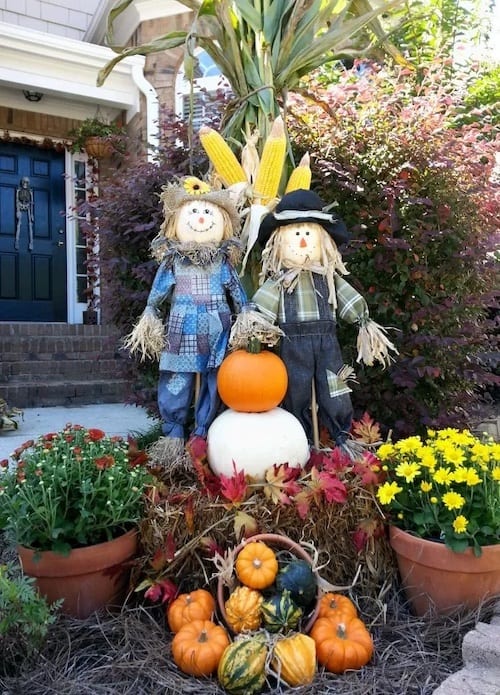 Yard Harvest Display from Hometalk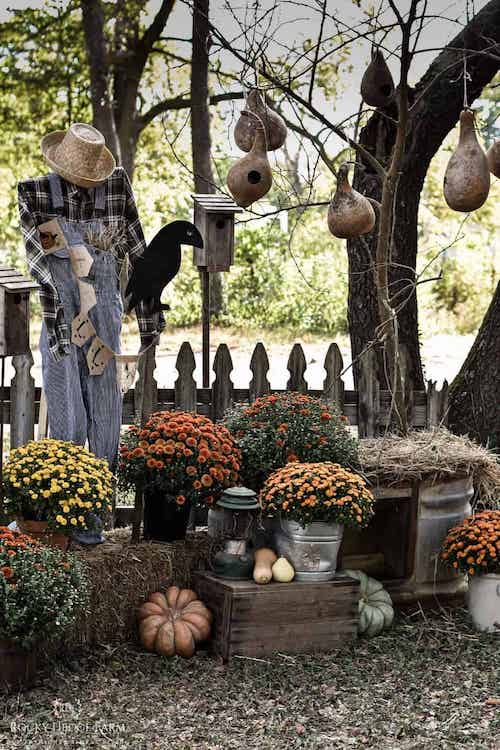 Country Farmhouse Decor from Rocky Hedge Farm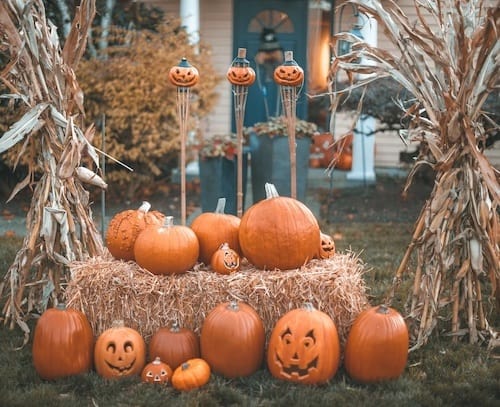 Outdoor Halloween Decorations from FamilyApp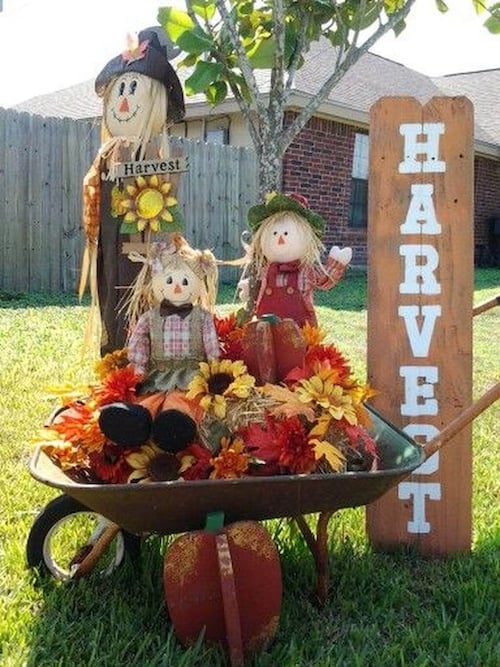 Harvest Wheelbarrow Fall Yard Decor Idea (source unknown)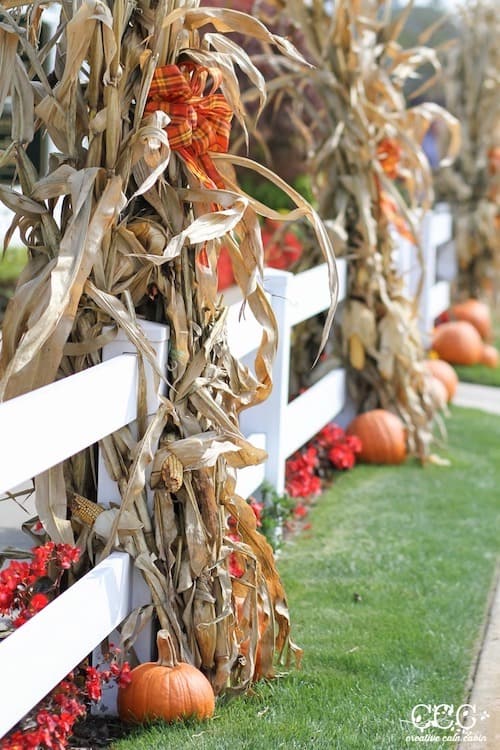 Fence Decorations from Creative Cain Cabin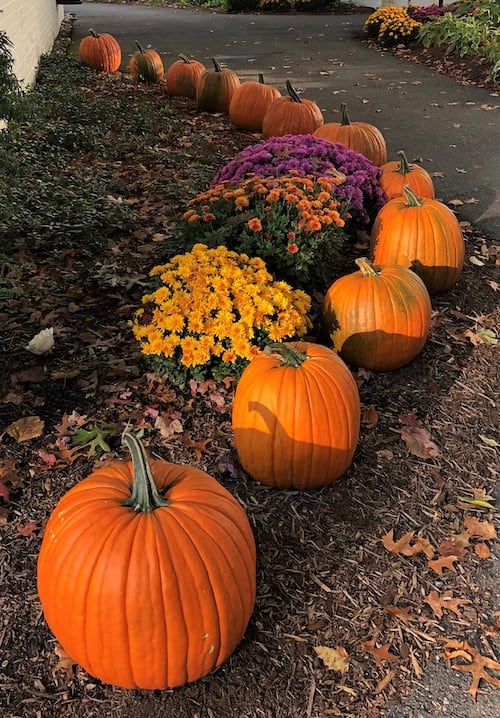 Pumpkin Lining Autumn Flowers from Virginia Sweet Pea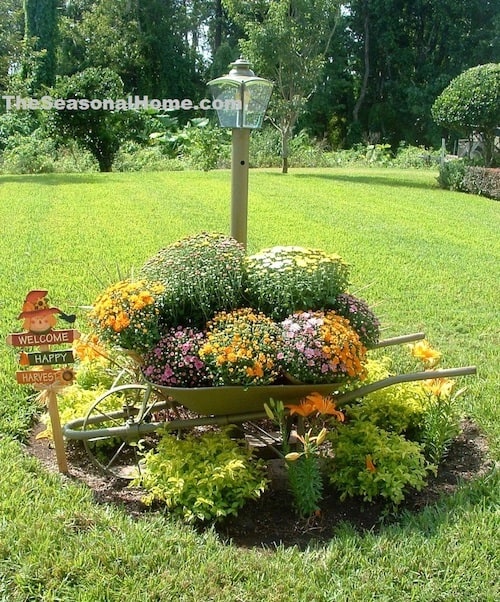 Autumn Wheelbarrow Display from The Seasonal Home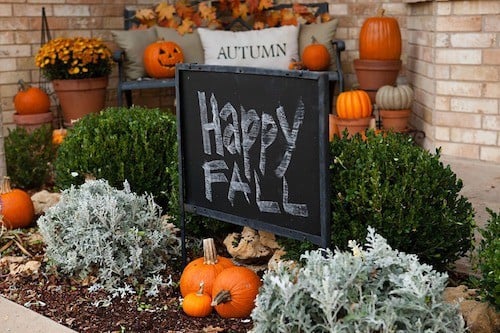 Autumn Flower Beds from Tracy's Trinkets and Treasures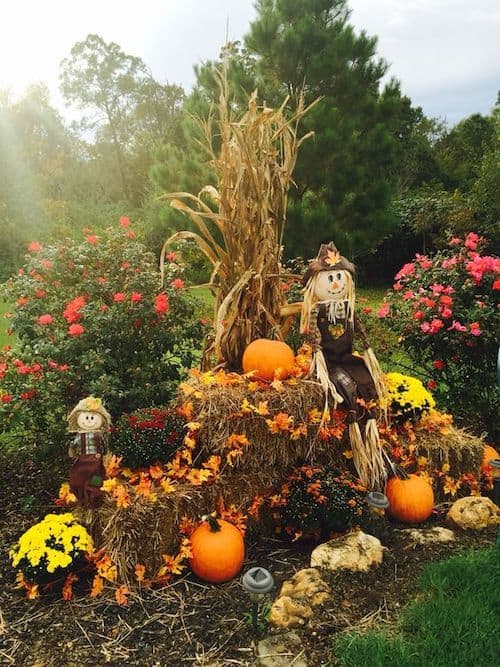 Harvest Yard Display from Pinterest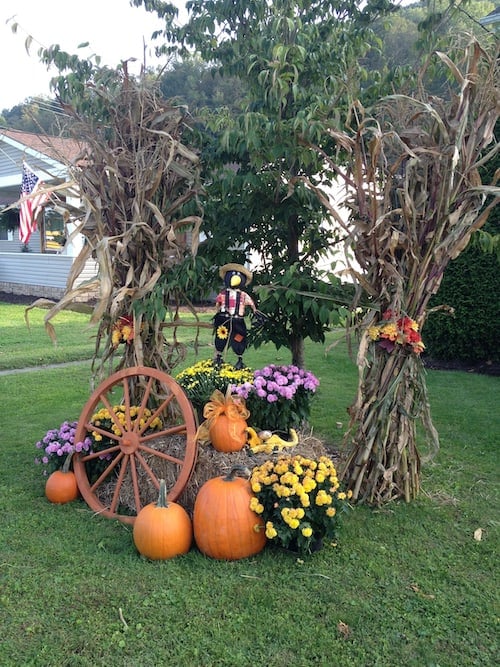 Autumn Yard Decor with Cornstalks, Haybales and Mums (source unknown)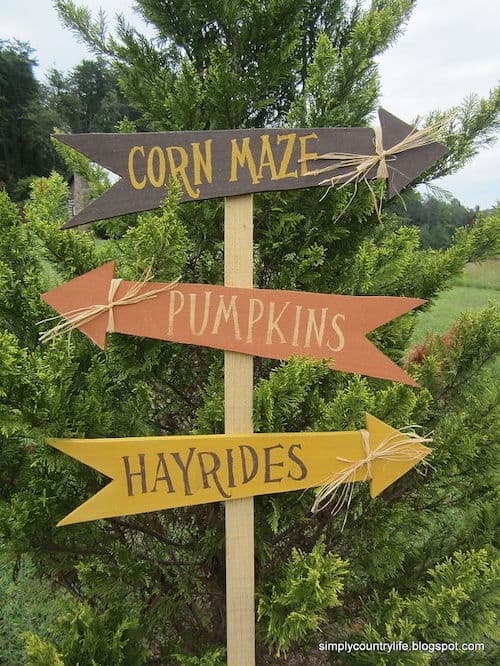 Scrap Wood Yard Sign from Simply Country Life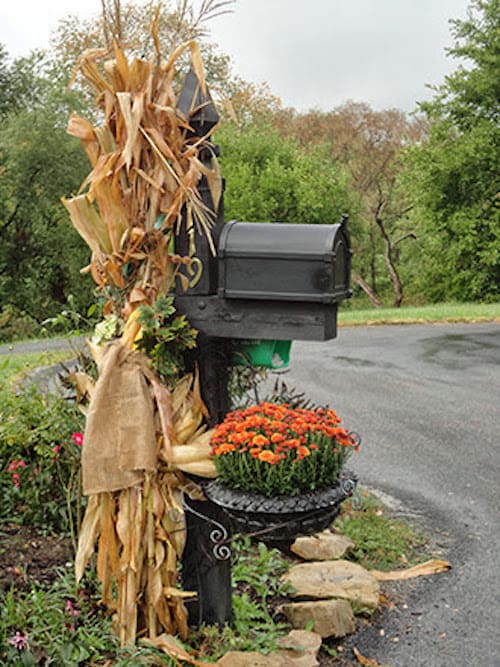 Decorated Mailbox (source unknown)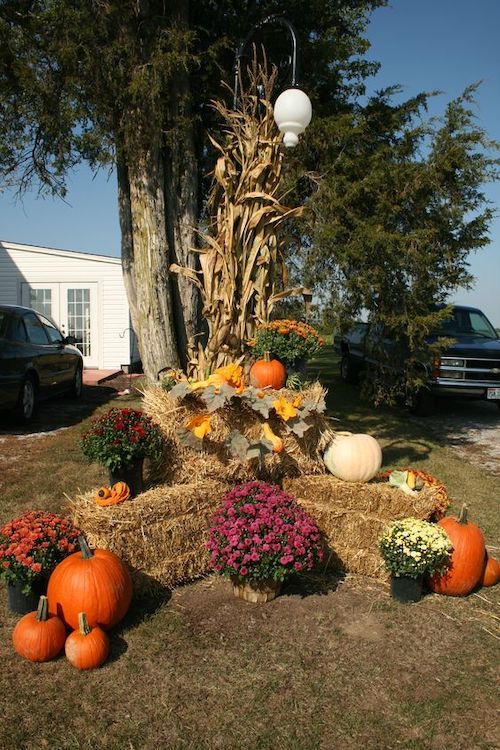 Hay Bale Fall Decor from Southernly Splendid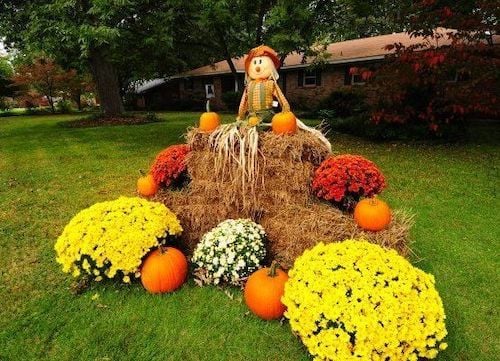 Hale Bay Display with Mums and Pumpkins from Pinterest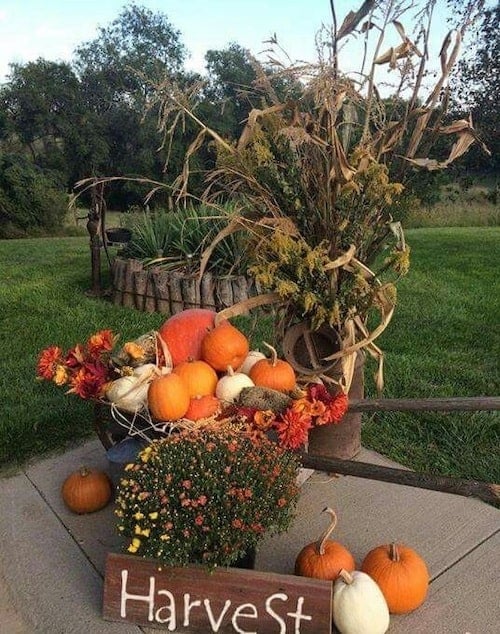 Harvest Decorations (source unknown)
FAQs
How can I decorate my lawn for fall?
Start by choosing a color scheme that complements the warm hues of autumn, like oranges, yellows, reds, and browns. Utilize fallen leaves, hay bales, mums, and cornstalks for a natural touch. You can create DIY scarecrows and pumpkin displays, or even make wooden signs. For a cozy evening ambiance add some outdoor fairy lights or orange string lights. The key is to embrace the season's bounty and your own creativity, making it uniquely yours.
What is the best fall decoration for outside?
The best fall decoration for outside depends on your style and budget, but an easy and popular choice is a pumpkin display. You can combine them with lanterns, hay bales, cornstalks, and mums to create a welcoming autumn yard without breaking the bank!
If you tried one of these DIY projects or any other DIYs on my website, please leave a 📝 comment below and let me know how it went!
More Fall Decor Ideas
Follow me on Pinterest, Facebook, or Instagram for more inspiration on crafts, DIY, free printables, and recipes!