Looking for a spooktacular Halloween activity for your kids? Try these free haunted house coloring pages for kids of all ages.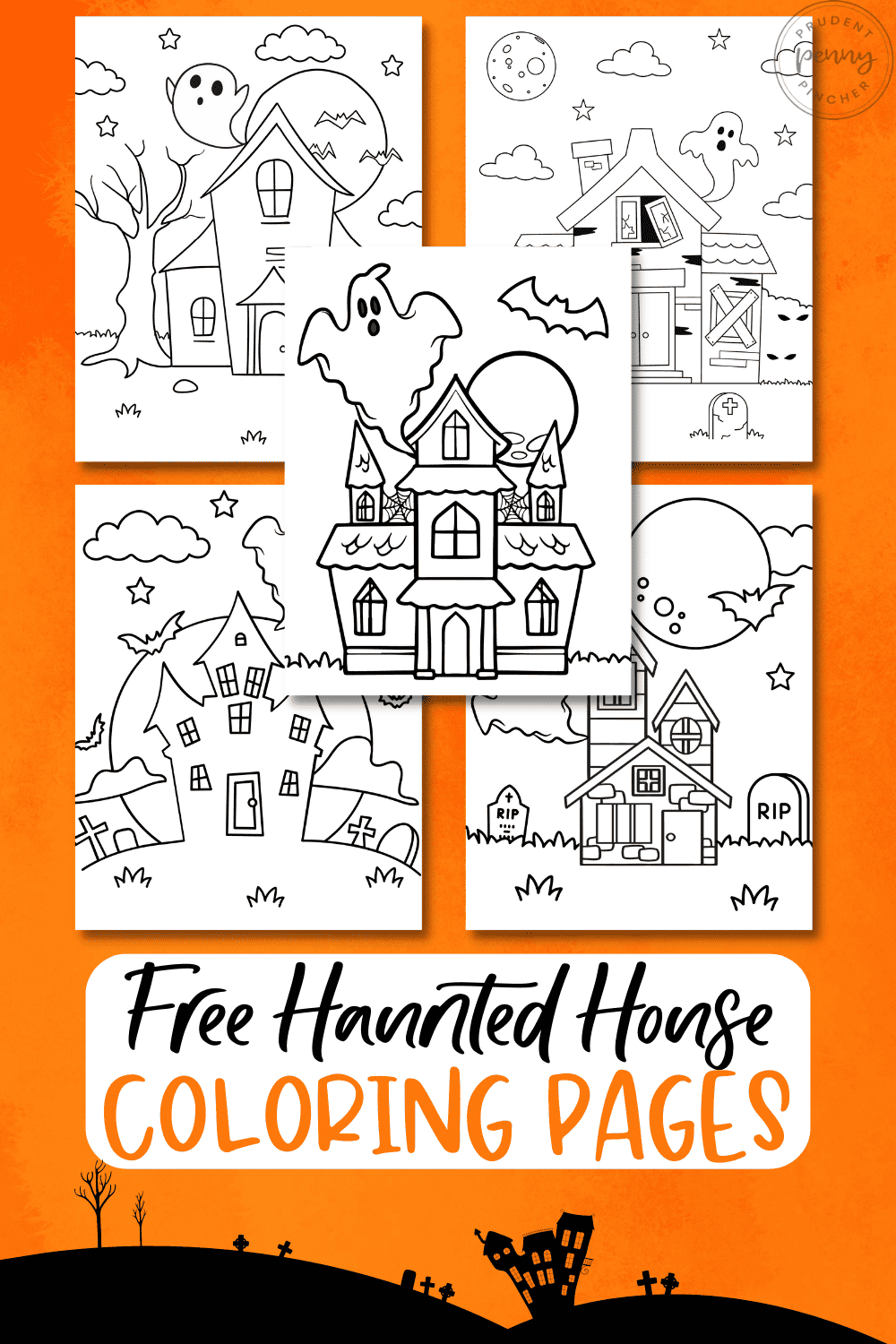 There are free haunted house coloring sheets for all ages and skill levels, which include toddlers, preschoolers, older kids, teens, and even adults. From elaborately detailed haunted mansions for older kids and teens to simple haunted house designs that younger kids can color, there are various designs ranging from easy to complex so that everyone can enjoy these free coloring pages. On these pages, you will find other Halloween themes like ghosts, bats, full moon, graveyards, cobwebs, and more.
These free printables make a great activity before trick-or-treating to get kids into the Halloween spirit. They also act as an educational tool because they help children improve their creativity, fine motor skills, and hand-eye coordination.
Whether you want to use these haunted mansion coloring pages in a classroom setting, at home, or a Halloween party, they make great coloring activities for the month of October.
Looking for Halloween coloring pages? Check out these free printable ghost coloring pages, pumpkin coloring pages and witch coloring pages!
Jump to:
Also, here are some more fun Halloween activities for kids: Halloween crafts, Halloween bingo, or Halloween word search printables.
Supplies Needed for These Haunted House Coloring Pages
art supplies of your choosing

crayons
markers
colored pencils
watercolors/paint
glitter

printer
printer paper or cardstock
downloadable PDF files
How to Download and Print
To Download
Click the download link.
Save the file to your computer.
To Print
Open the file in Adobe Acrobat or another PDF software.
Go to File —> Print.
Set the page sizing to "Fit."
Click the printer button at the bottom. A printer setup dialogue box will open. Under media and quality, set the quality to "Best."
Press the print button. Your pages should now start printing.
Haunted House Coloring Pages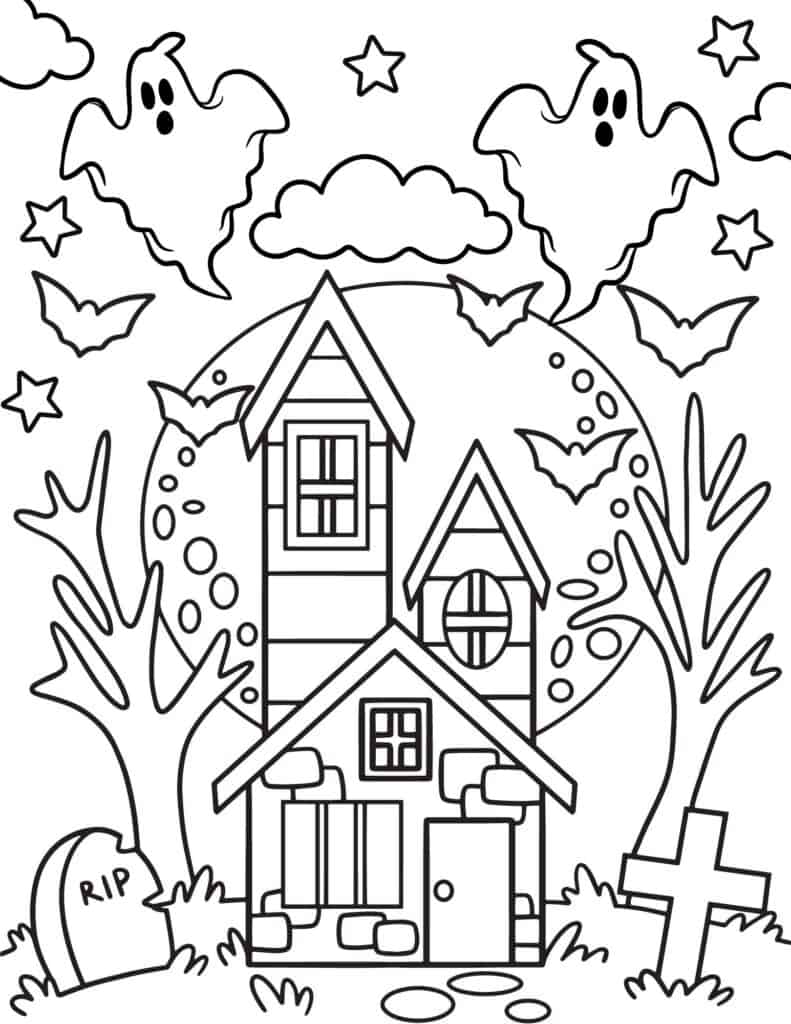 Go on a spooky artistic adventure with this haunted house coloring sheet, complete with an eerie graveyard and a pair of scary ghosts soaring above the nighttime sky.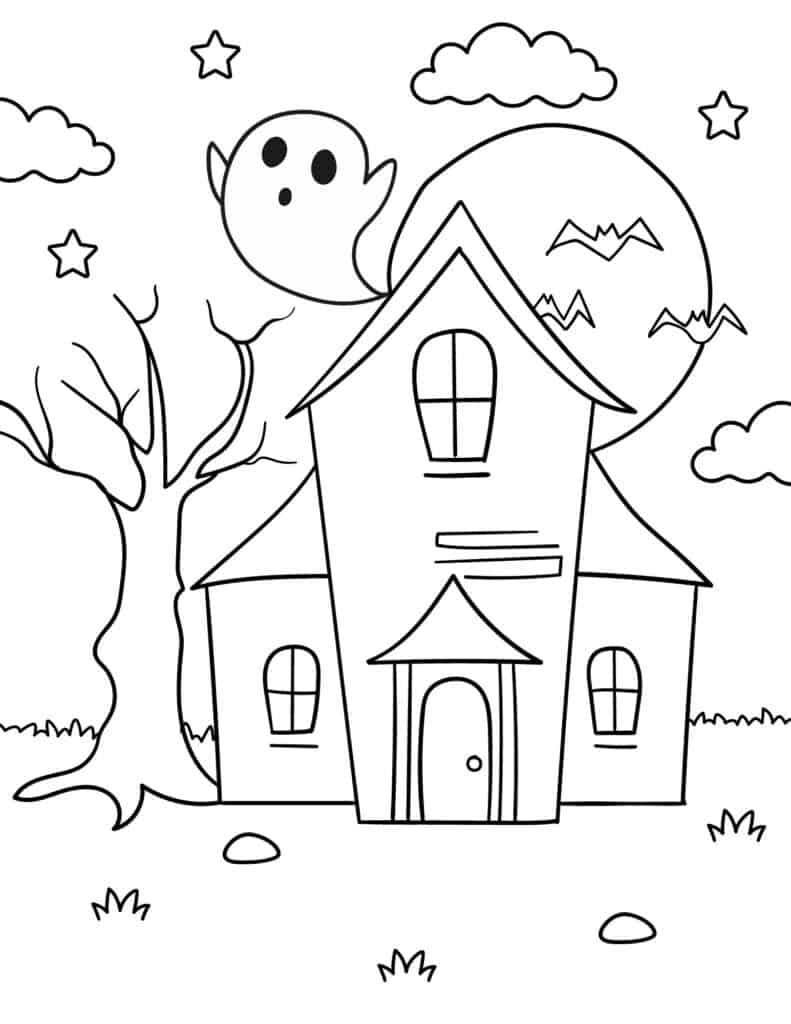 A cute ghost floats above a simple haunted house, adding a spooky touch to the scene. It's a great choice for young kids because of its large and easy-to-color design elements.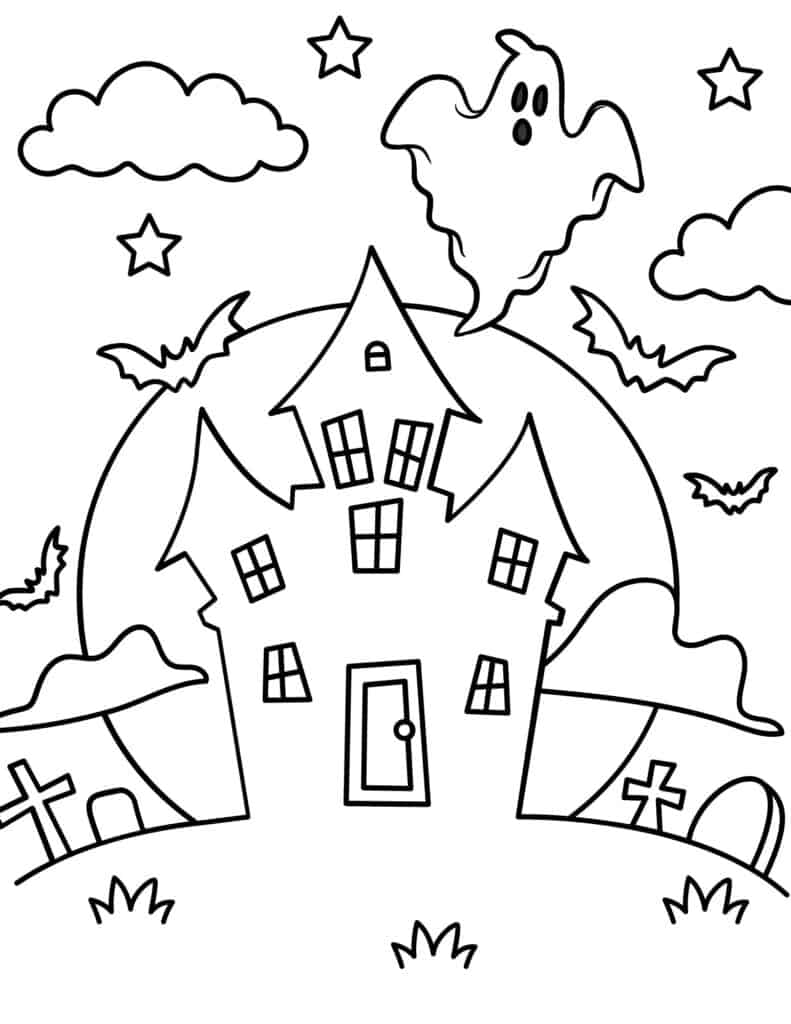 This haunted castle is next to an eerie graveyard, setting the stage for a spooky scene. With a large full moon and lively bats soaring in the backdrop, it provides an engaging canvas for young artists to bring to life with dark shades like blue, grey, and black.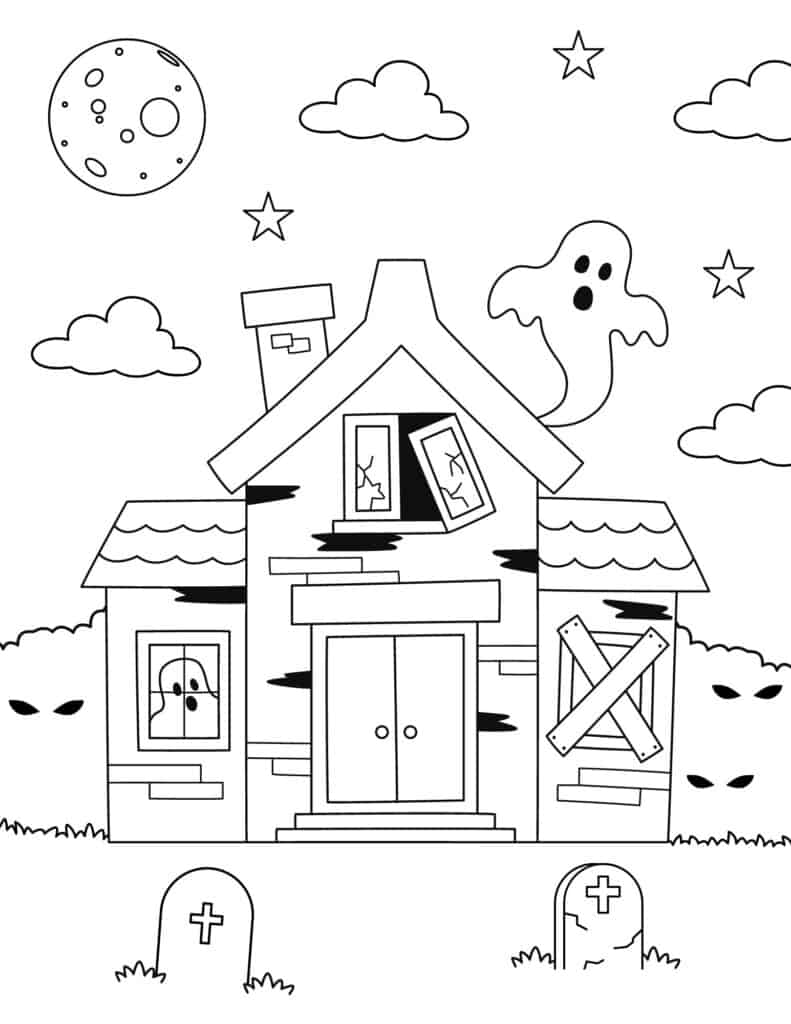 This one features a mysterious abandoned haunted house with a ghost peering through one of the broken windows. The spooky eyes lurking from the bushes on either side of the house add an extra eeriness to the scene.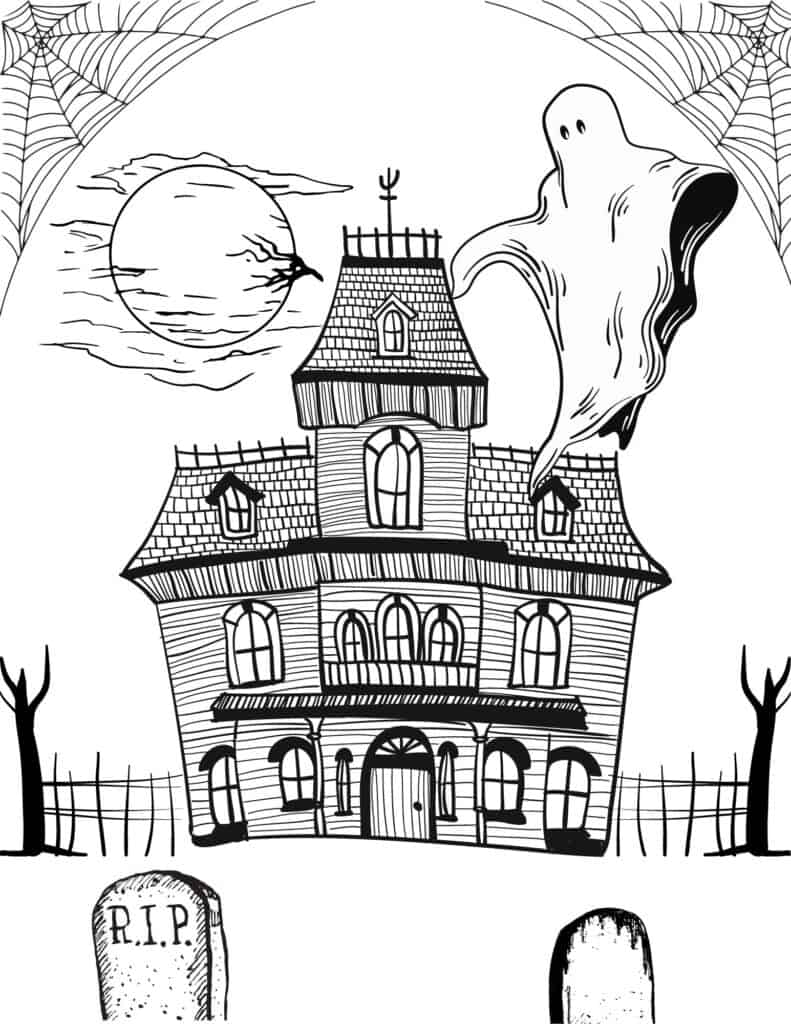 This sketch-style haunted mansion features a friendly ghost taking flight from the house. The scene is completed with creepy trees and tombstones dotting the landscape, offering a spooky touch of the macabre. With all the little details here, it's a perfect choice for older kids and teens.
This easy haunted house has a little bit of everything — a trick-or-treater in a ghost costume, a full moon, bats, ghosts, and more! It will keep your little one busy for a while!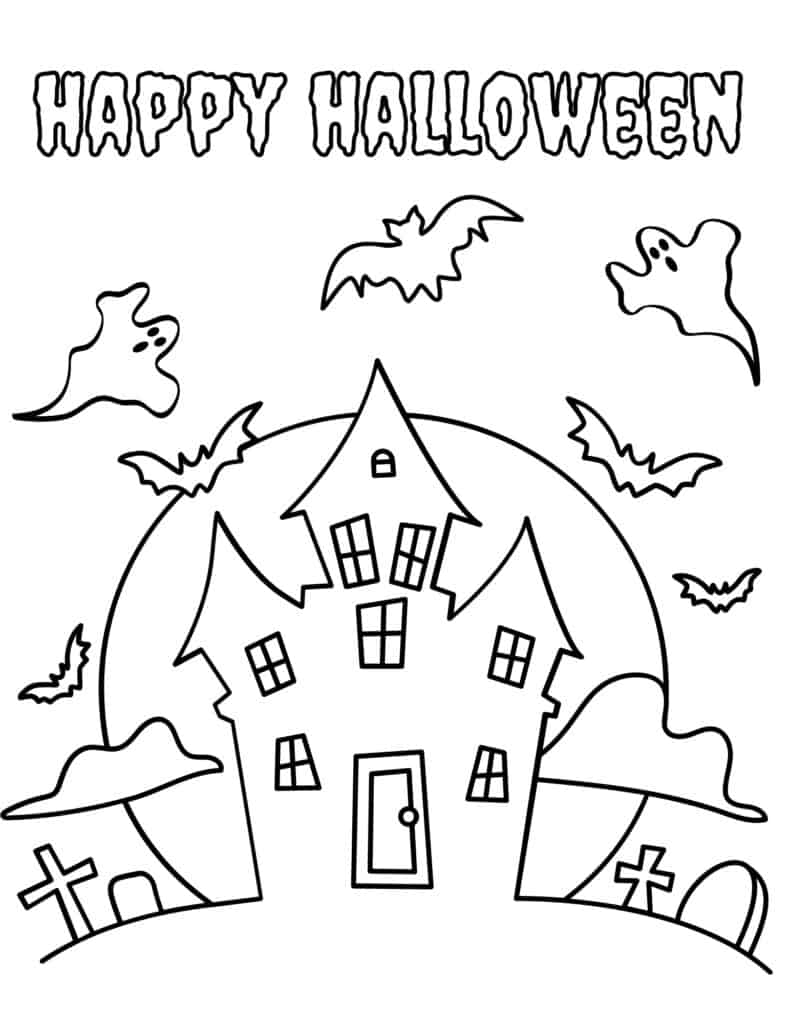 This spooky haunted castle coloring page looks like somewhere where Dracula would live! It's a great choice for elementary school students.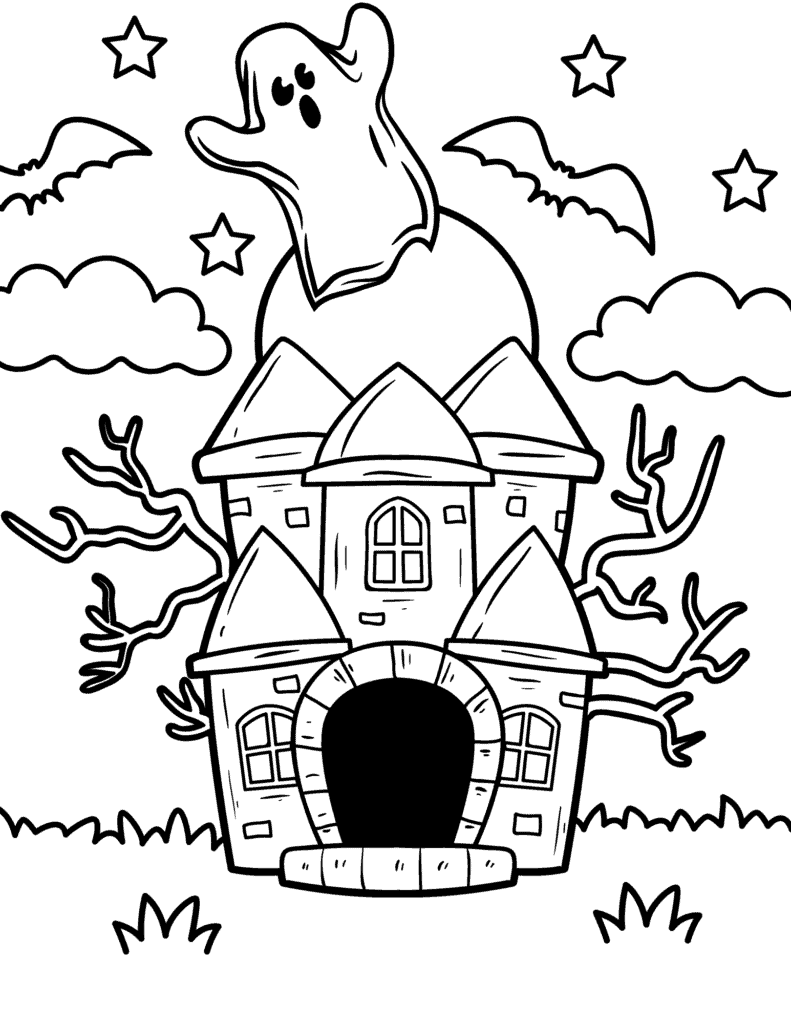 Unleash your creativity on this eerie haunted castle with turrets. It is set against a background of a full moon, ghost flying overhead, twinkling stars, and fluttering bats. It is a great choice for kids who love a spooky thrill.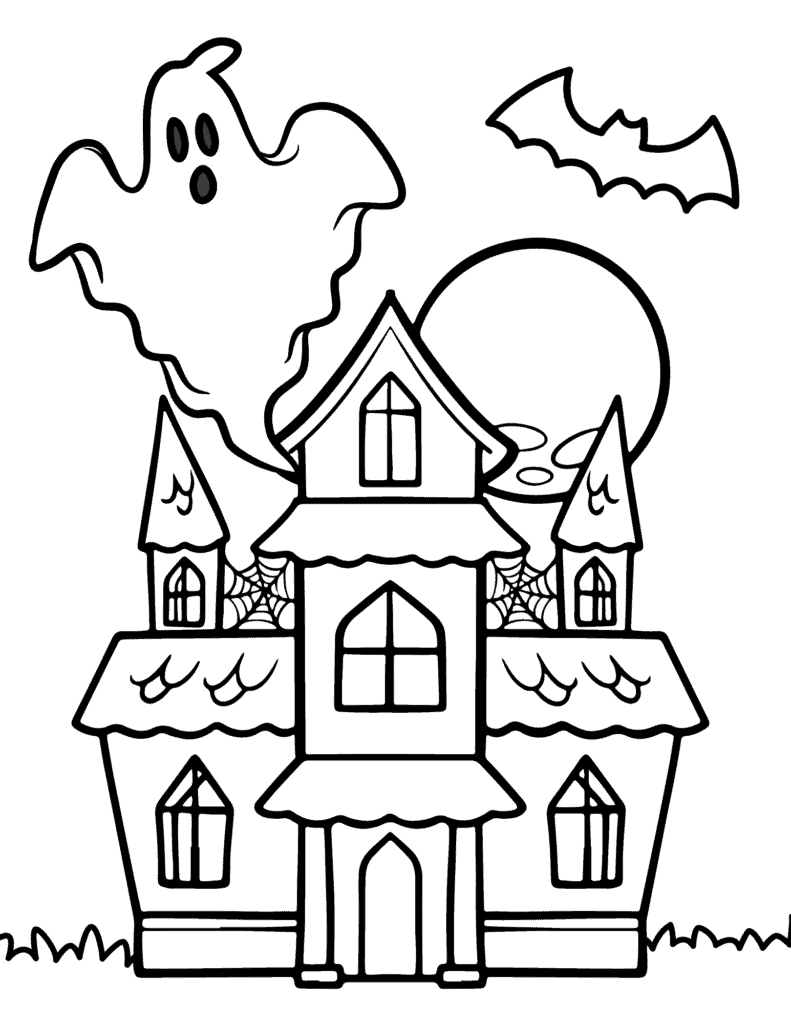 This easy coloring page is an excellent option for preschoolers and toddlers. The house would look great in dark shades like gray and black. There's also plenty of background space to create your own little drawings, like stars in the sky or more bats.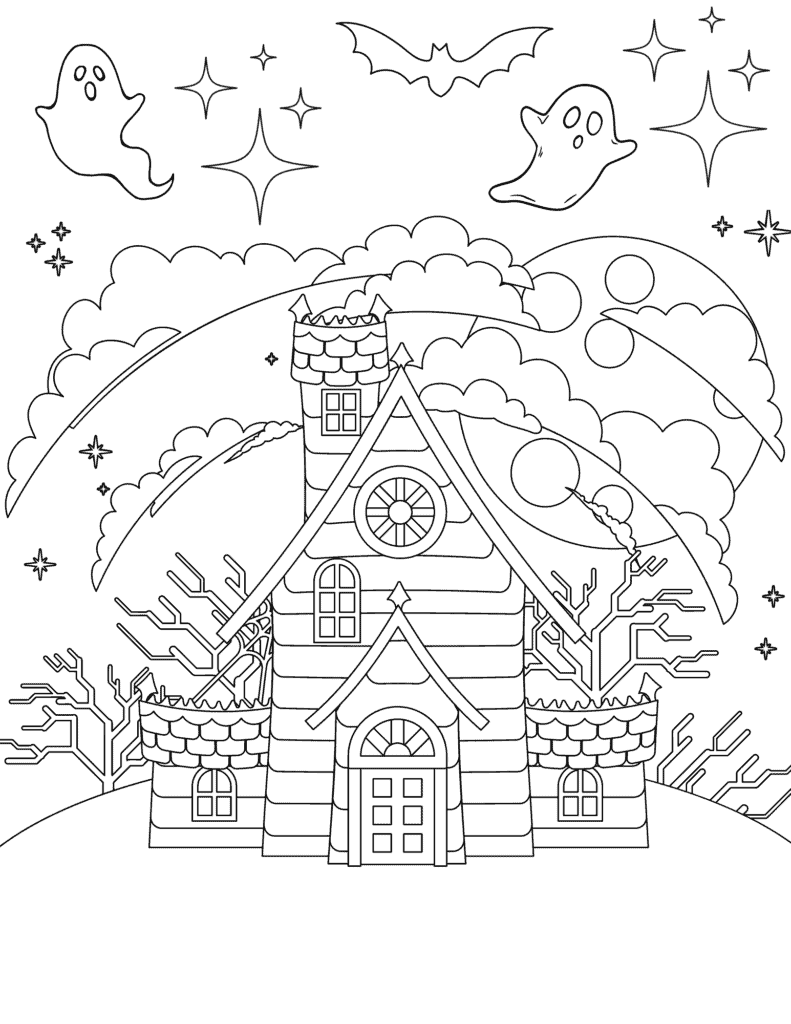 This detailed castle design is best for older kids like middle school students and teens. The house's facade would look great with shades of orange and black! There are also plenty of design elements in the background to color in, such as the bare trees, clouds, full moon, ghosts, bats, and stars in the night sky.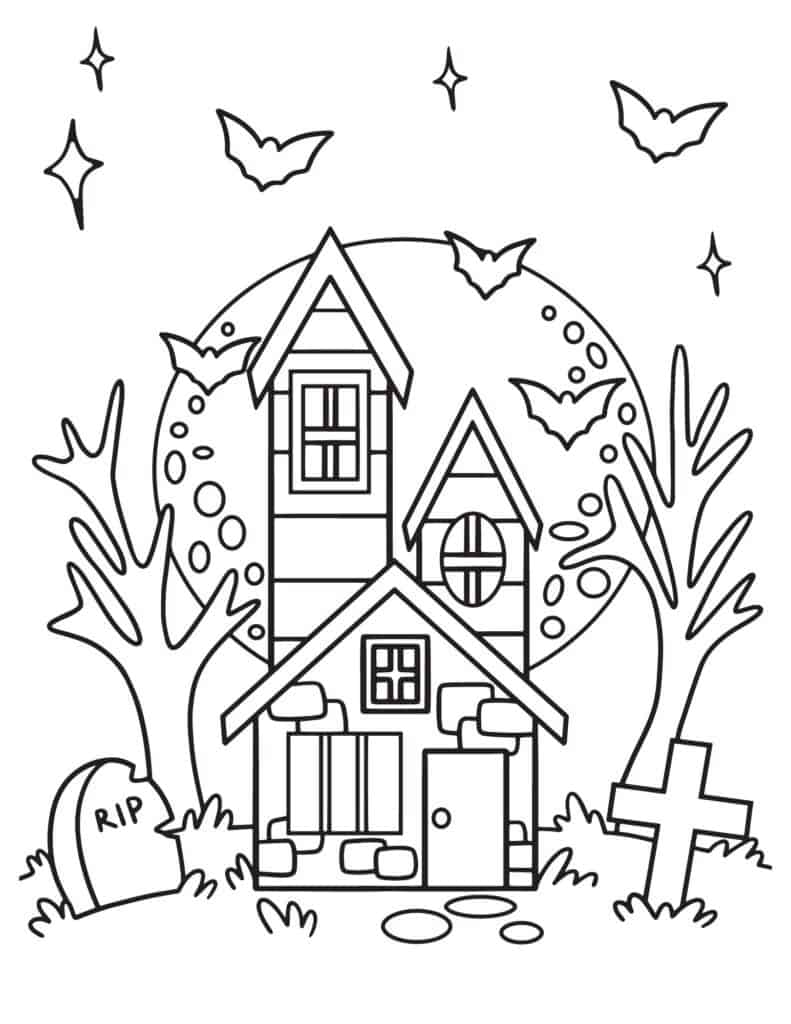 Have a spooktacular time decorating this spooky haunted house and graveyard. Since there's a lot of detail here, it will keep you busy for a while! It would make a great DIY halloween decoration to hang on your fridge or frame as art.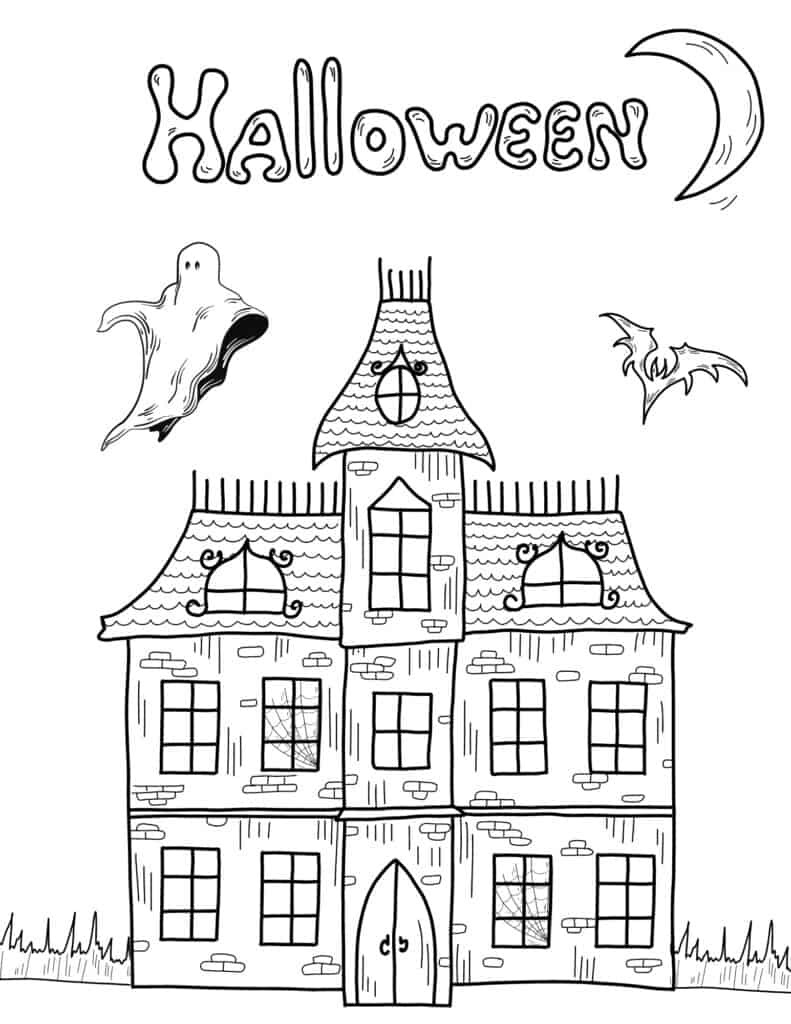 This imposing haunted mansion sets a thrilling Halloween atmosphere along with the ghost, bat, and crescent moon. The bricks would look amazing in dark colors like red and brown.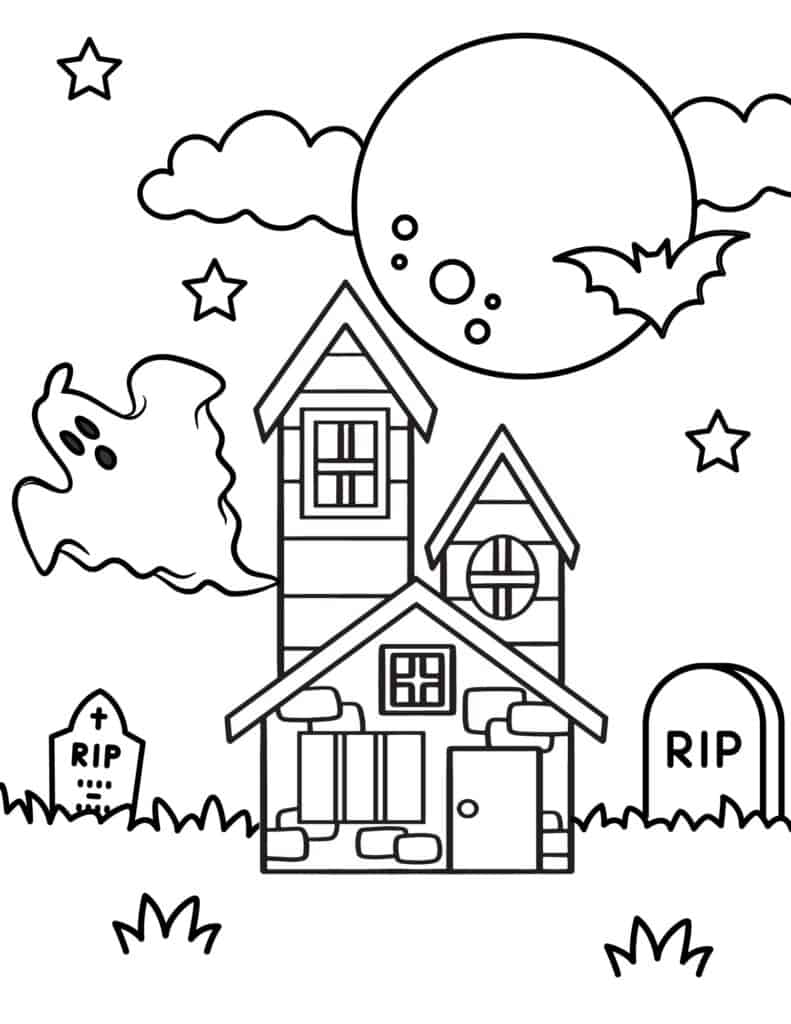 This easy-to-color spooky house is a fun way for younger kids to celebrate the thrills and chills of Halloween. It presents an excellent canvas for young artists to explore various colors and shading techniques.
More Coloring Pages
More Halloween Fun for Kids
Free Halloween Printables
If you tried one of these haunted house coloring pages or any other coloring pages on my website, please let me know how it went in 📝 comments below!
Follow me on Pinterest, Facebook, or Instagram for more inspiration on crafts, DIY, free printables, and recipes!