Looking for a fun winter activity to keep your kids busy on snow days? Download and print these free winter coloring pages for kids of all ages!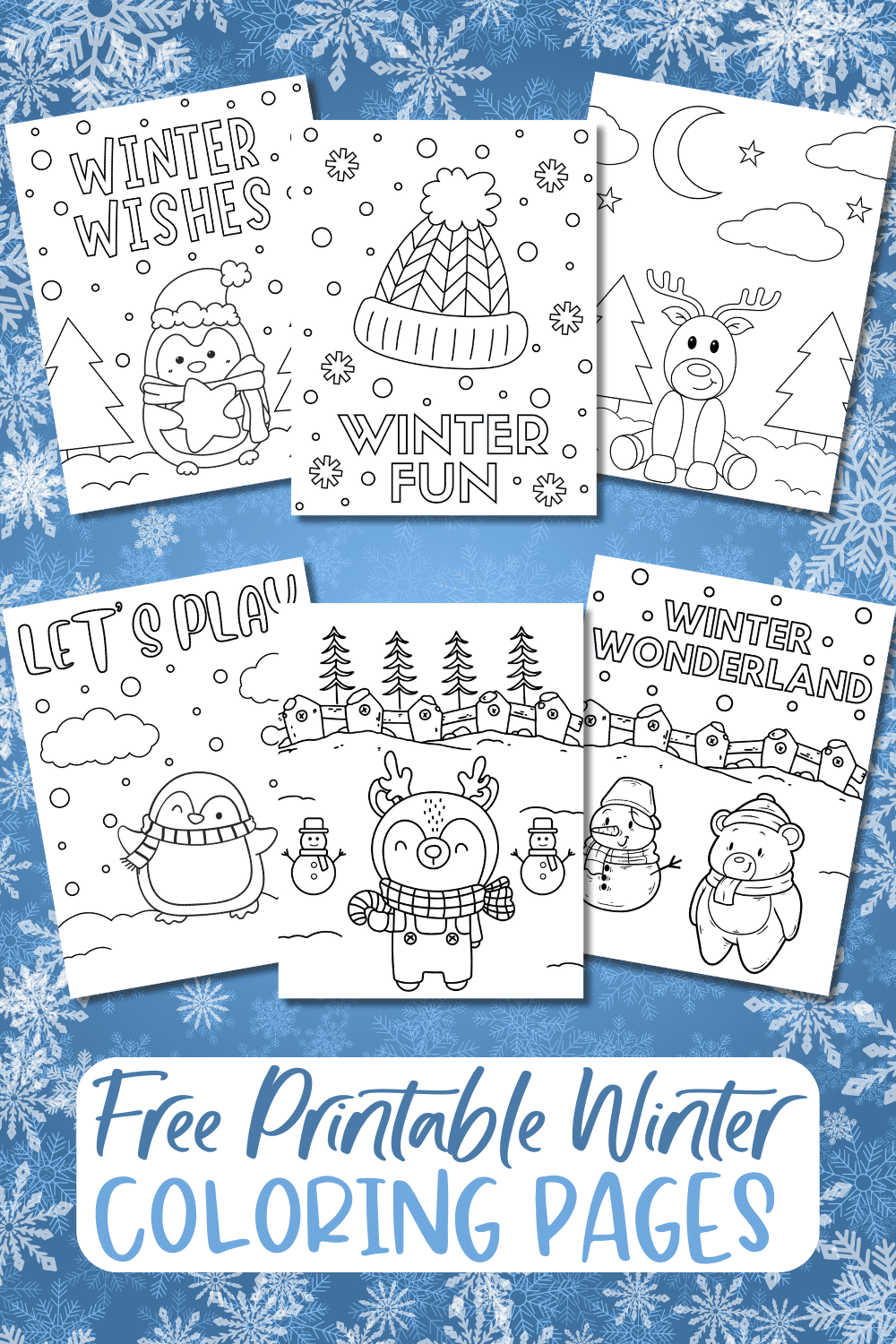 Winter is starting to settle in, and you know what that means: cozy sweaters, hot cocoa, and more indoor time with your kiddos. These free printables are the perfect solution to entertain your kids for hours on snow days!
Whether you are looking for Christmas coloring pages for toddlers, preschoolers, or older kids, there's something for everyone! These free coloring pages are not only tons of fun for your little ones, but they are also educational because they improve fine motor skills, creativity, and hand-eye coordination.
Whether you plan on using these winter coloring sheets in the classroom, at a holiday party, or just as an at-home activity during the colder months like December and January, these free Christmas printables are the perfect activity for the winter season. You will find fun winter-themed designs like snowflakes, snowmen, penguins, reindeer, mittens, polar bears, kids in winter clothes, and much more!
Pair these fun winter activities with these snowman coloring pages, snowman crafts, or gingerbread house coloring pages for hours of fun!
Now, grab your box of crayons, colored pencils, or markers, and let's bring these winter wonderland scenes to life with your colors!
Jump to:
Winter Coloring Pages for Younger Kids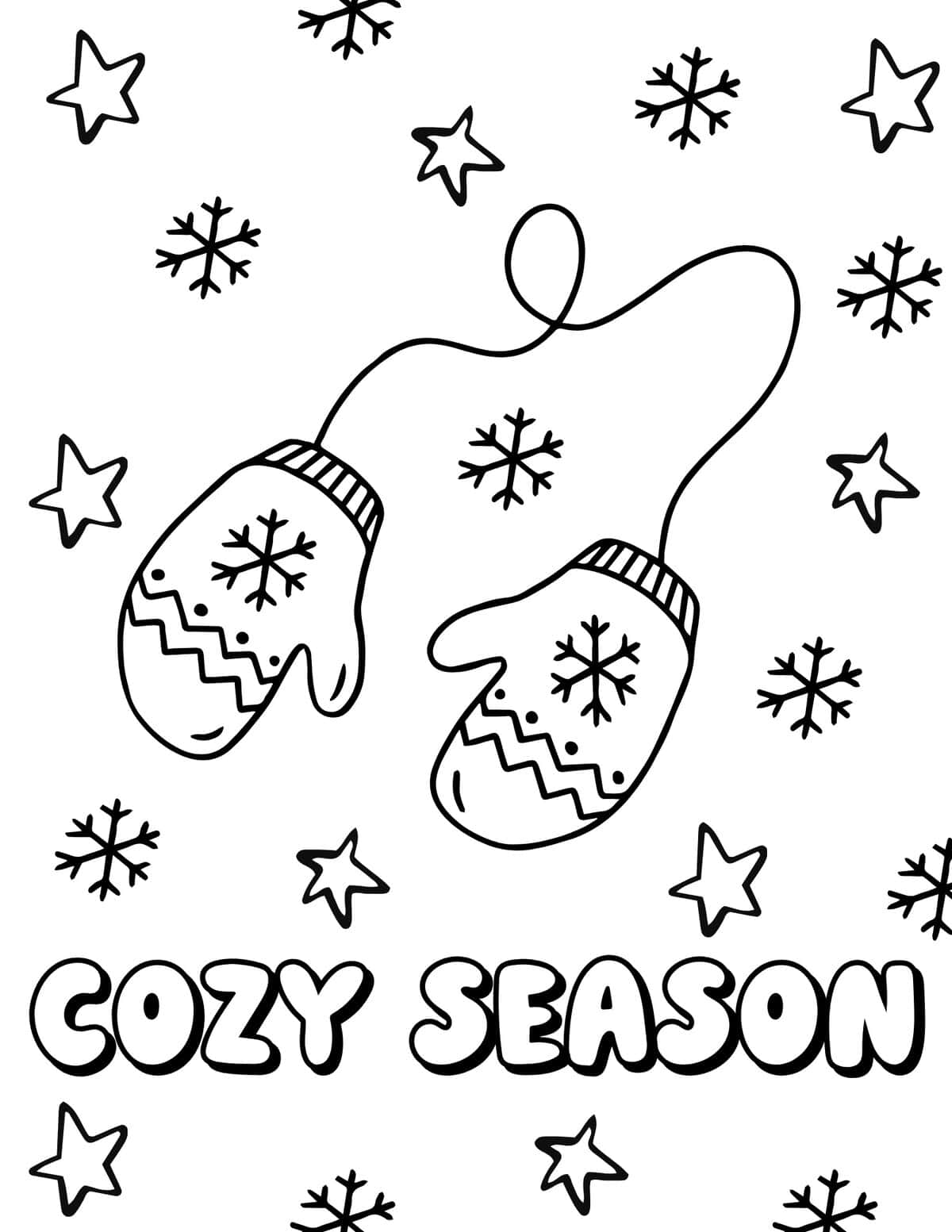 The cozy season has officially arrived! This one is the perfect indoor activity for younger children to celebrate all things warm and cozy during the chilly months.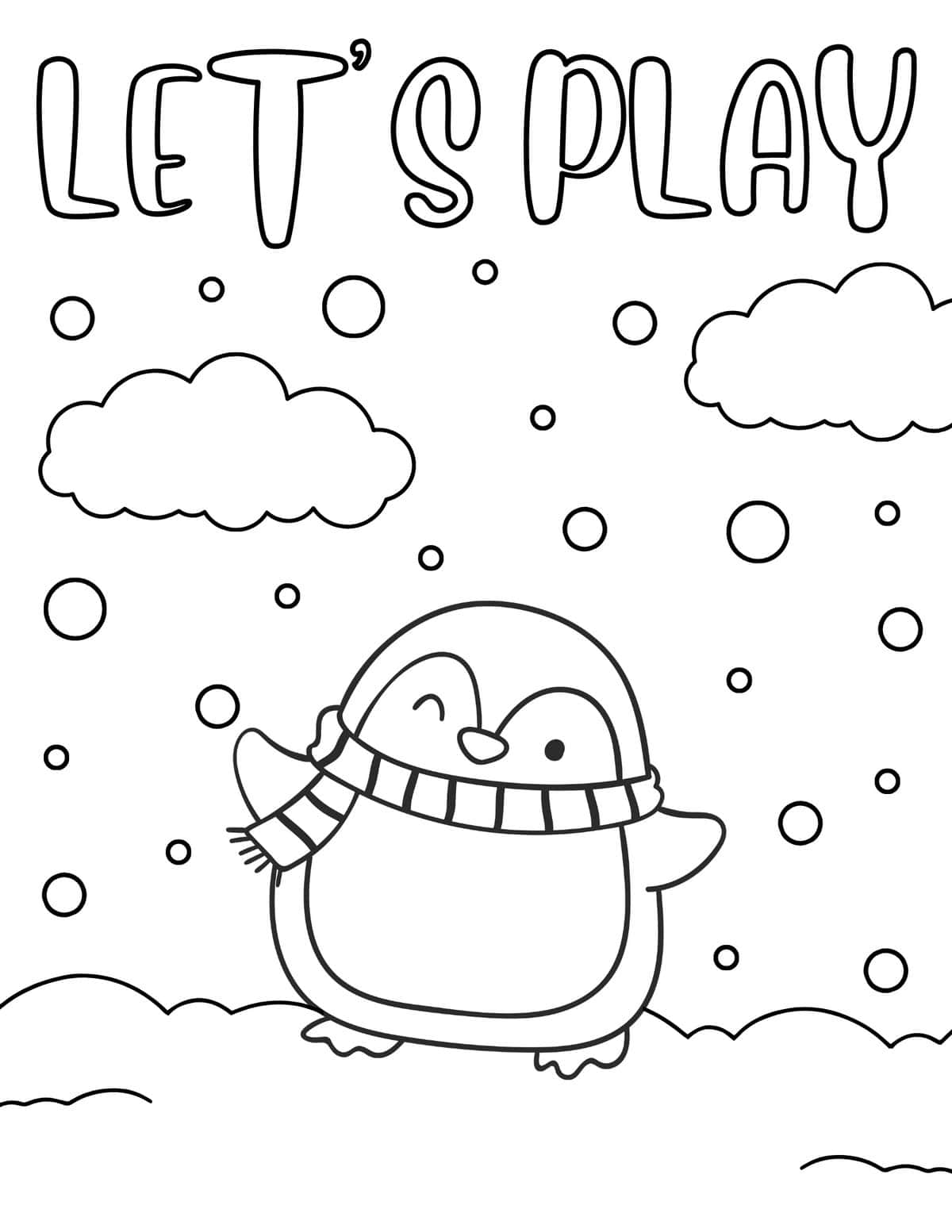 This cute, winking penguin scene perfectly captures the whimsical fun of winter. It's a great way to get your little ones excited about wintertime adventures.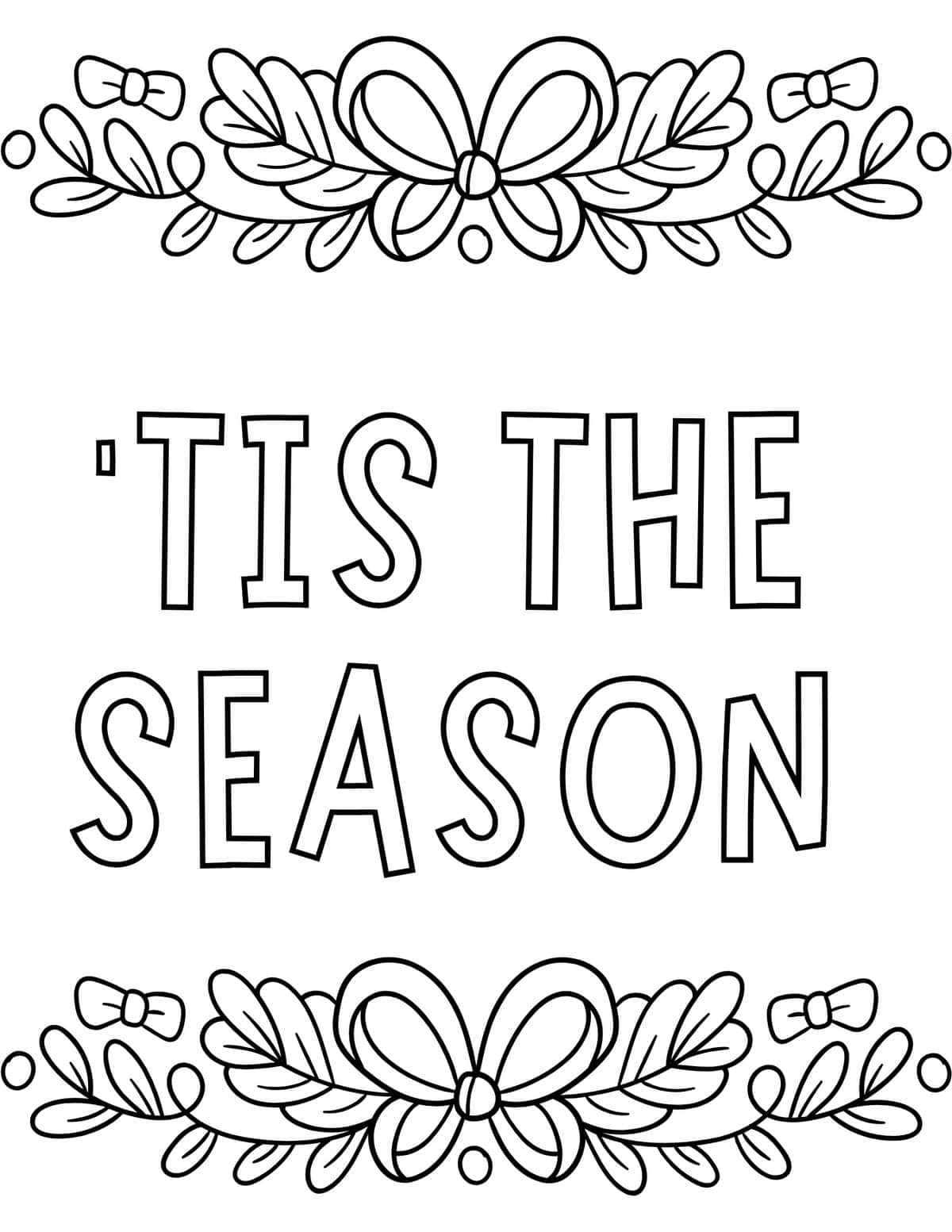 'Tis the season to deck the halls with color! This coloring page doubles as a beautiful DIY Christmas card for your kids to color in, personalize, and give to family and friends!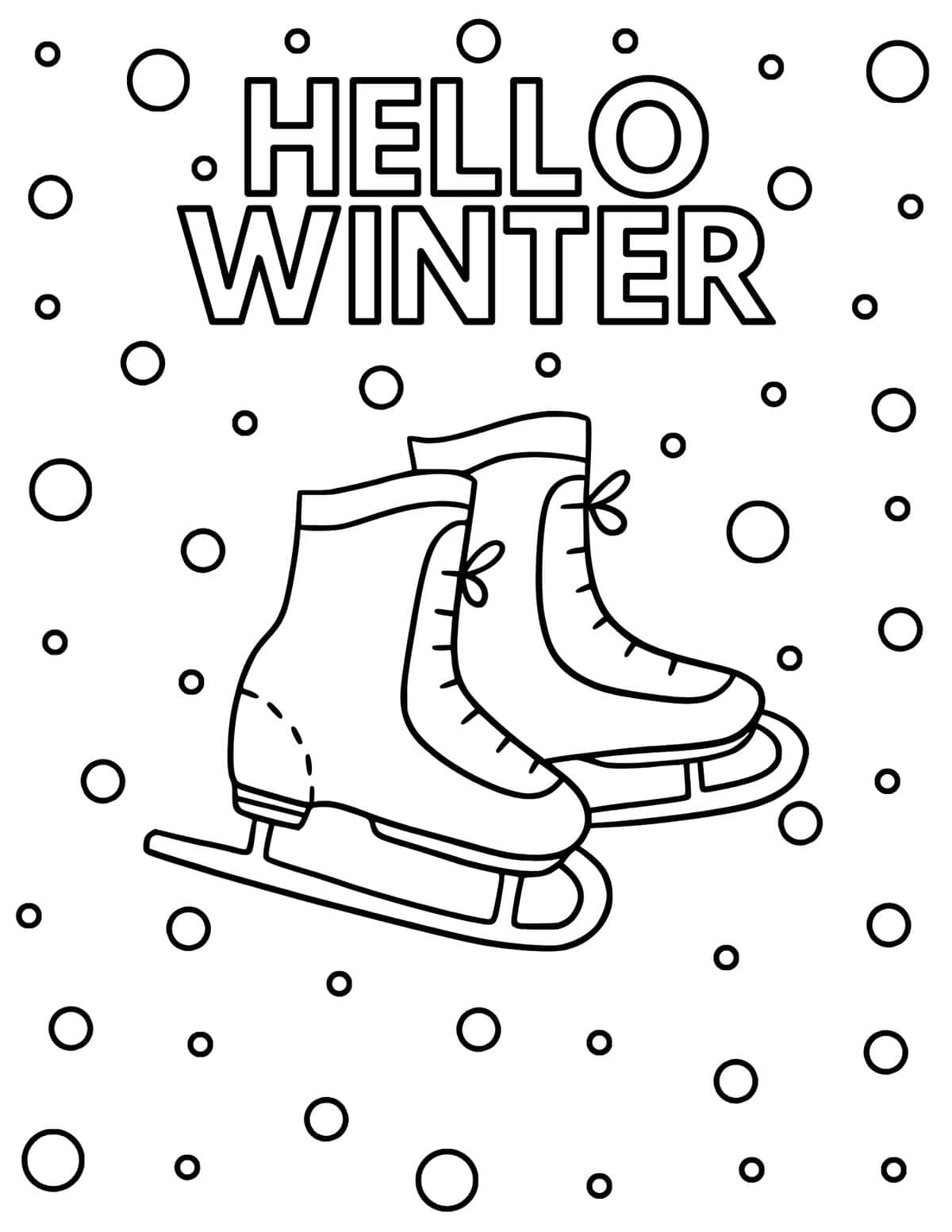 Say hello to winter with this snowy scene! If your children love ice skating, this one is the perfect choice for them to color in.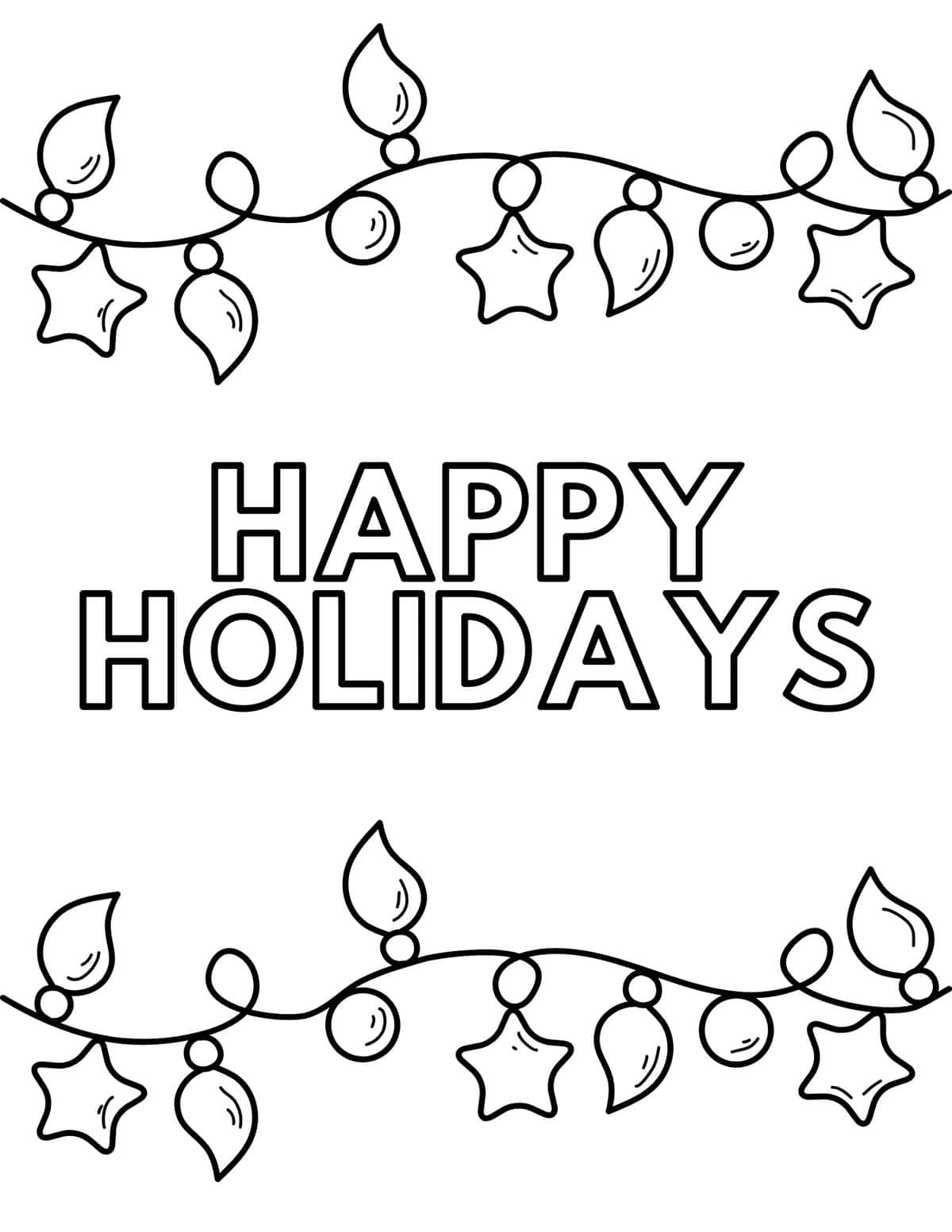 Not only is this one a fun and festive Christmas coloring activity, but it also makes a great holiday greeting card for family and friends!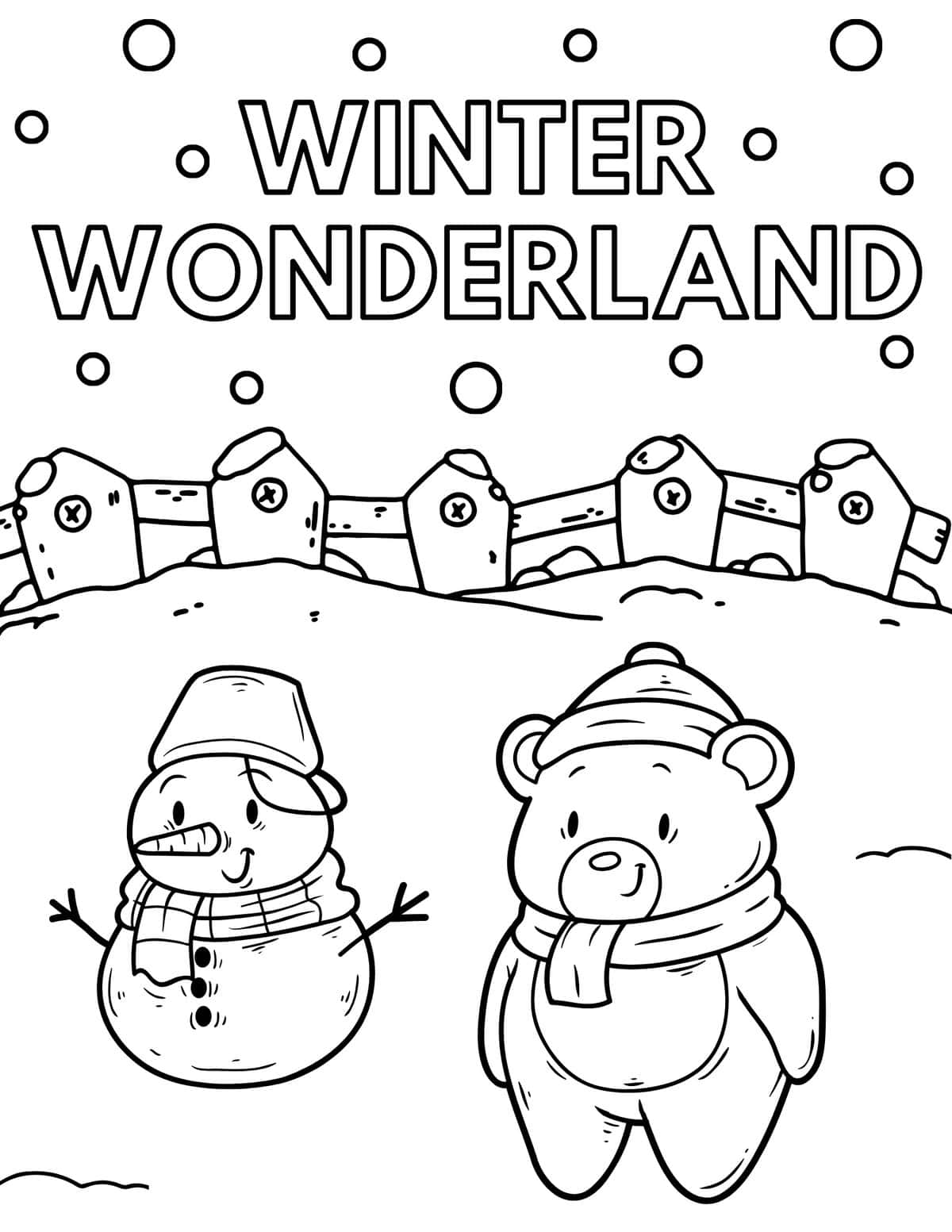 Bundle up and bring some wintertime magic to your little one's coloring activities with this scene that has a cute snowman and a polar bear enjoying the wintery scenery.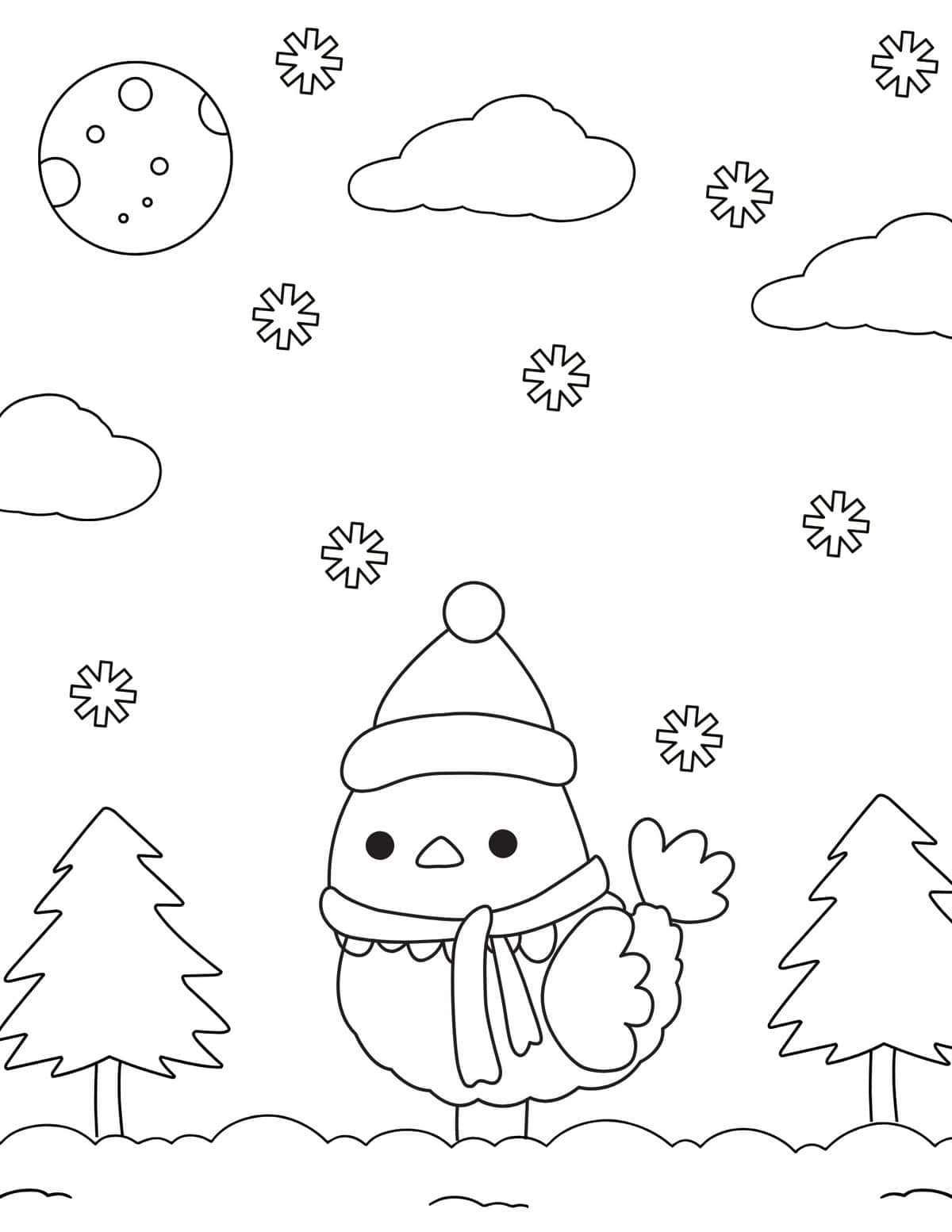 This little chick is all bundled up in winter clothes, ready for the snowy season.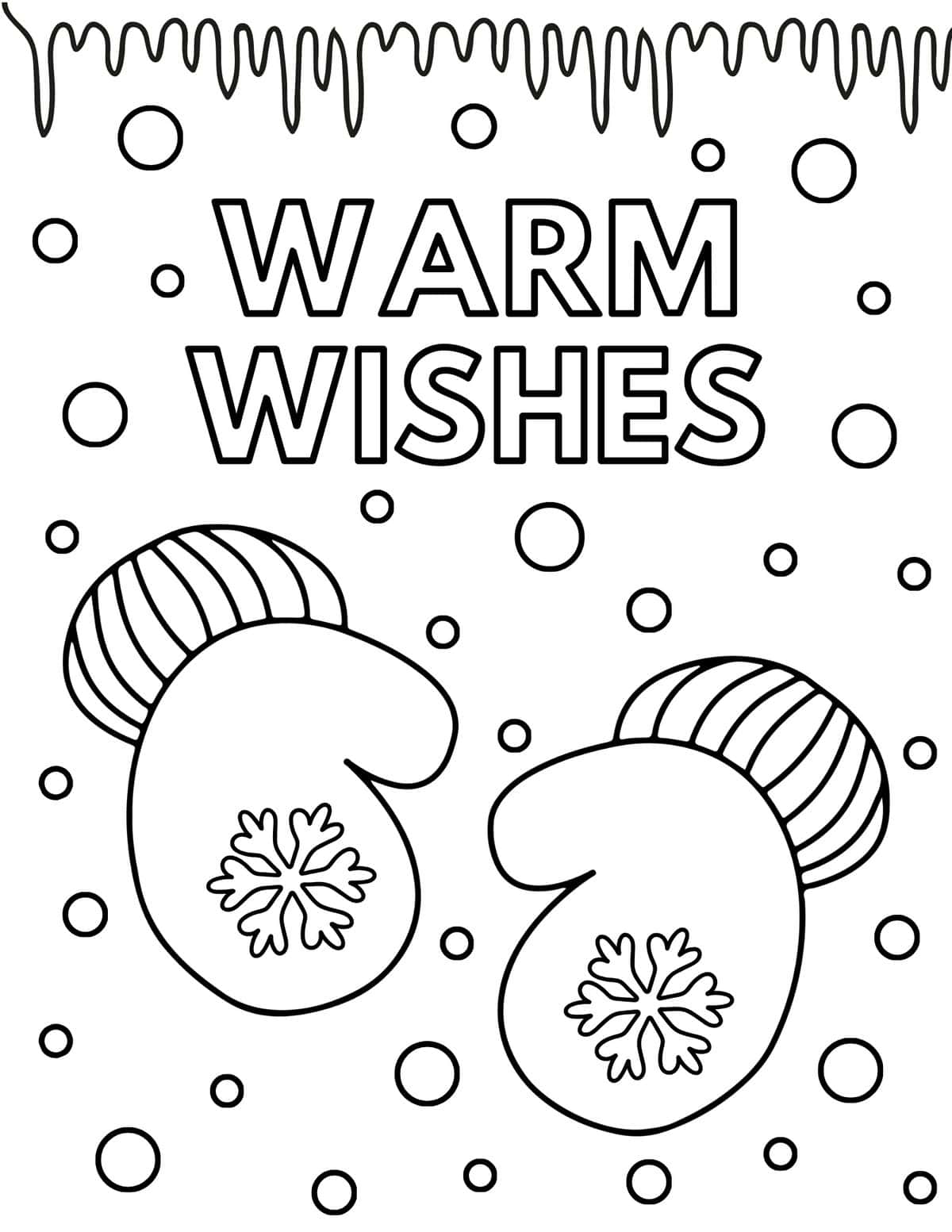 Snuggle up because this coloring sheet gives off a cozy winter vibe! It is decorated with fluffy snow and icicles in the background.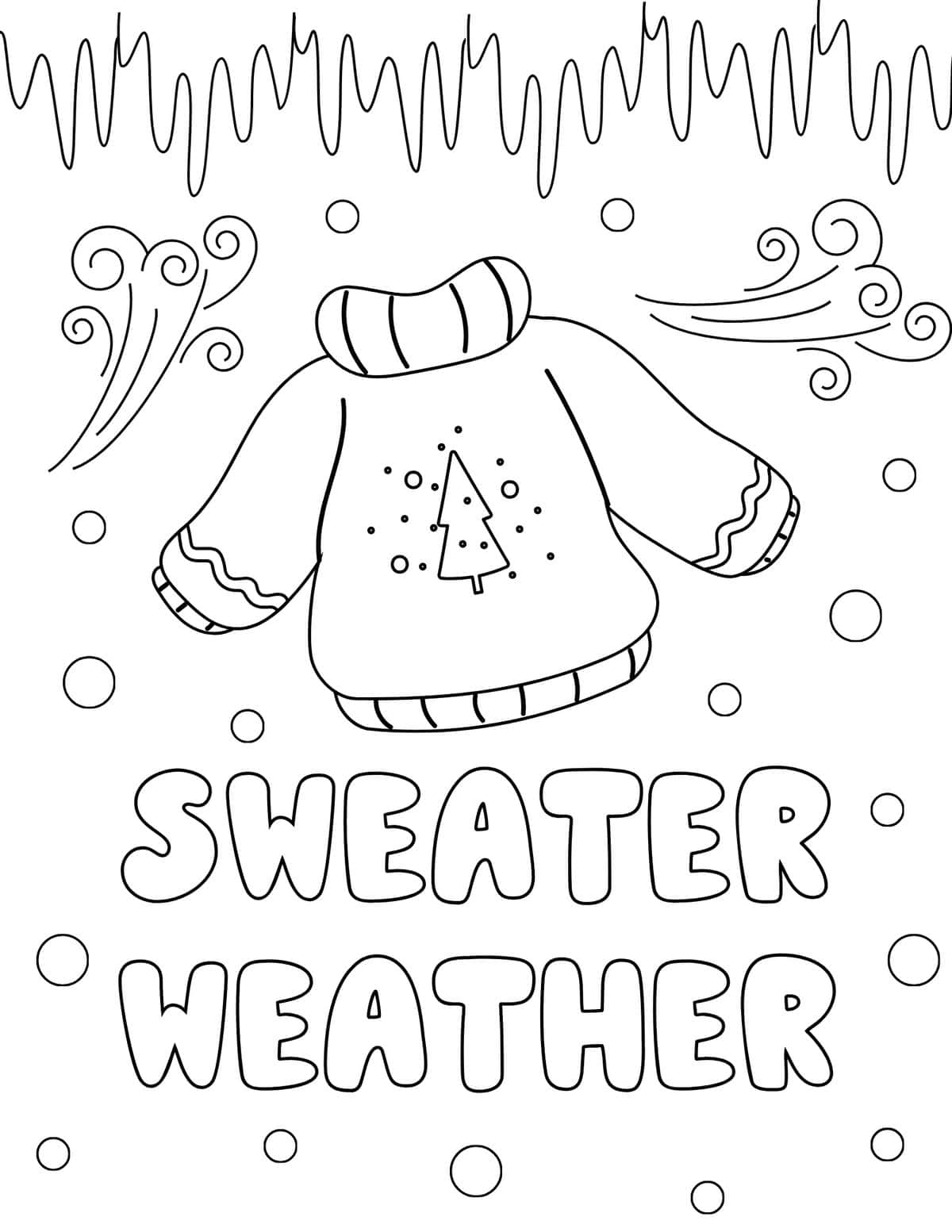 It's officially sweater weather! This one has a cozy Christmas sweater, icicles, chilly breezes, and snow swirling around in the background.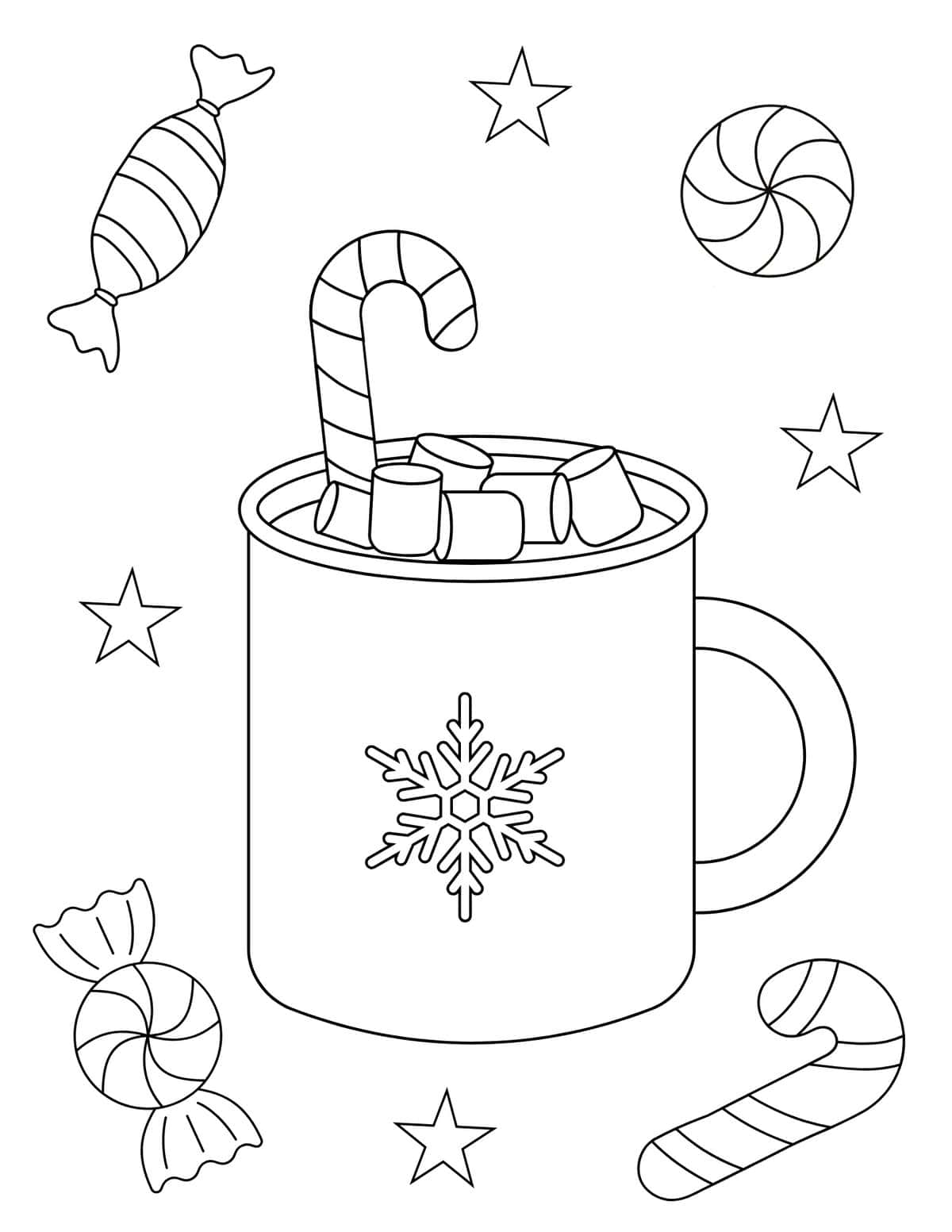 This page is a sugar rush on paper! It features a delicious cup of hot chocolate with marshmallows and a candy cane stirrer.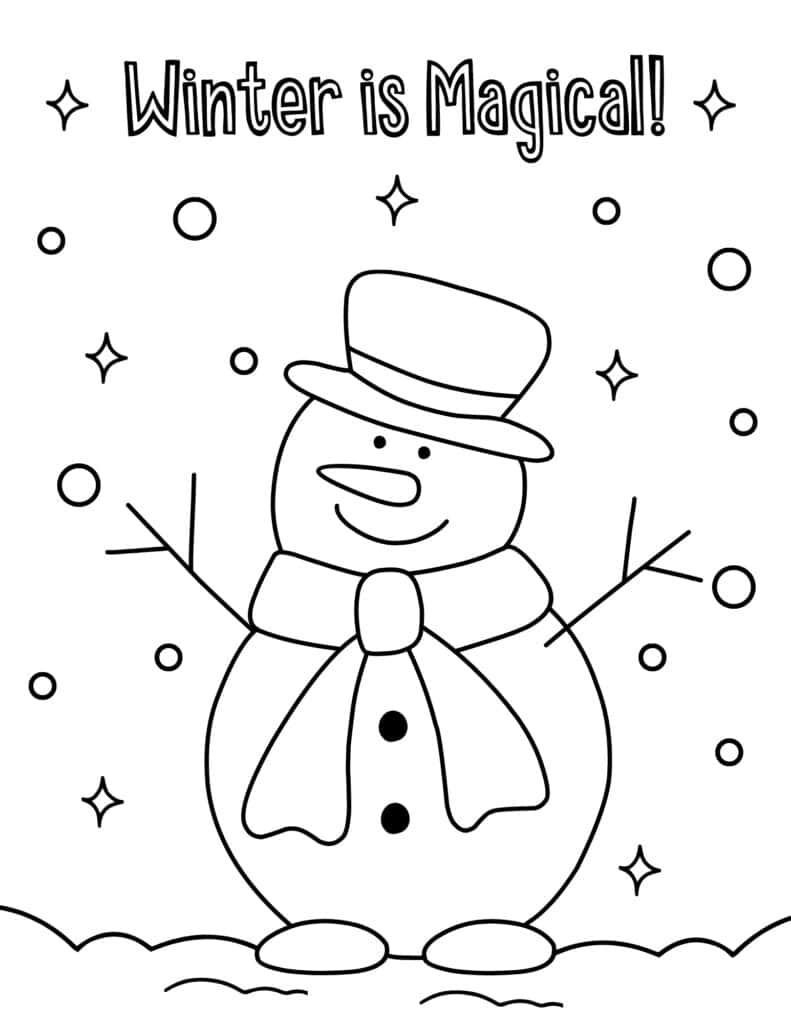 This simple snowman page is perfect for younger children like preschoolers or toddlers!
Winter Coloring Pages for Older Kids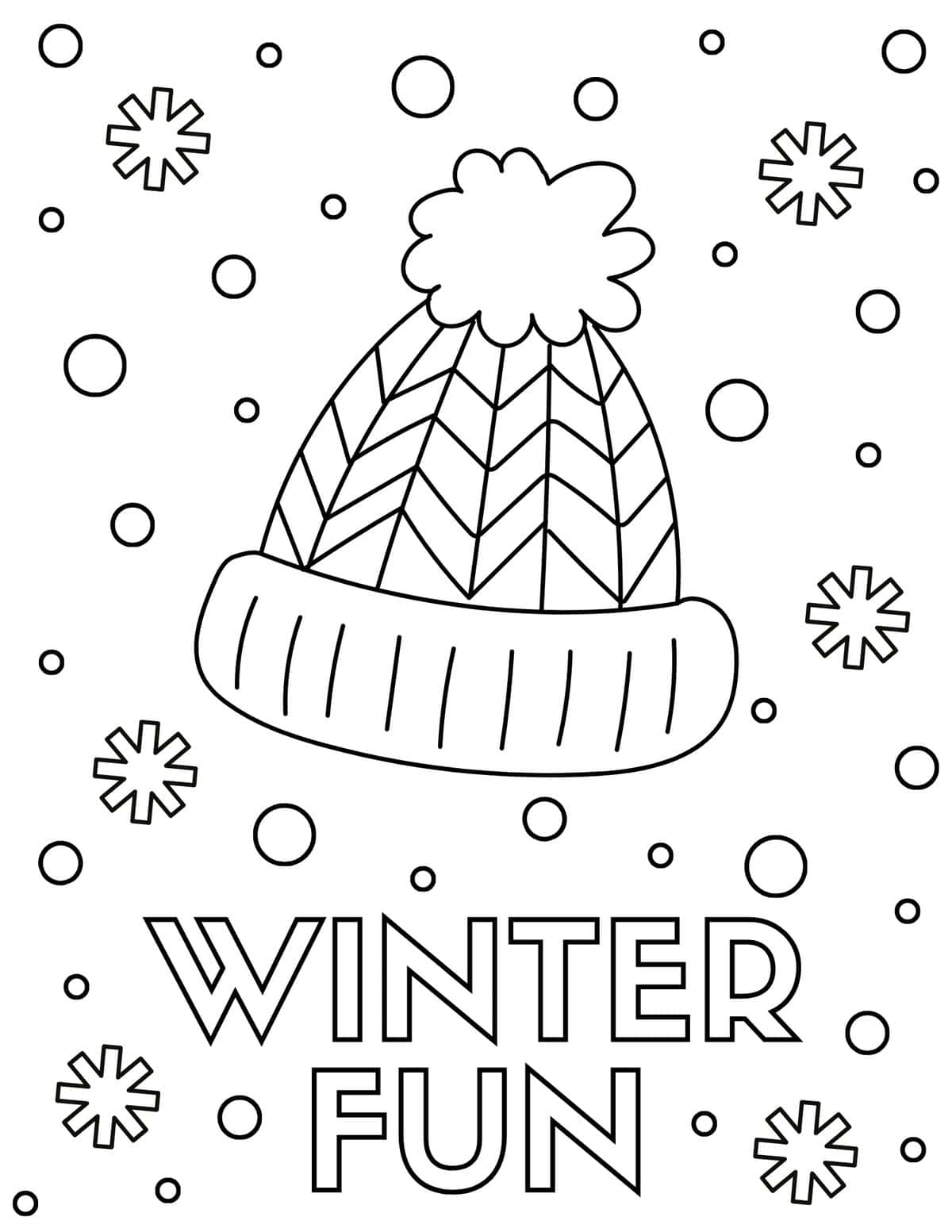 Get your little ones excited about all the chilly adventures this season has to offer with this sheet, featuring a winter cap surrounded by falling snowflakes and fluffy snow.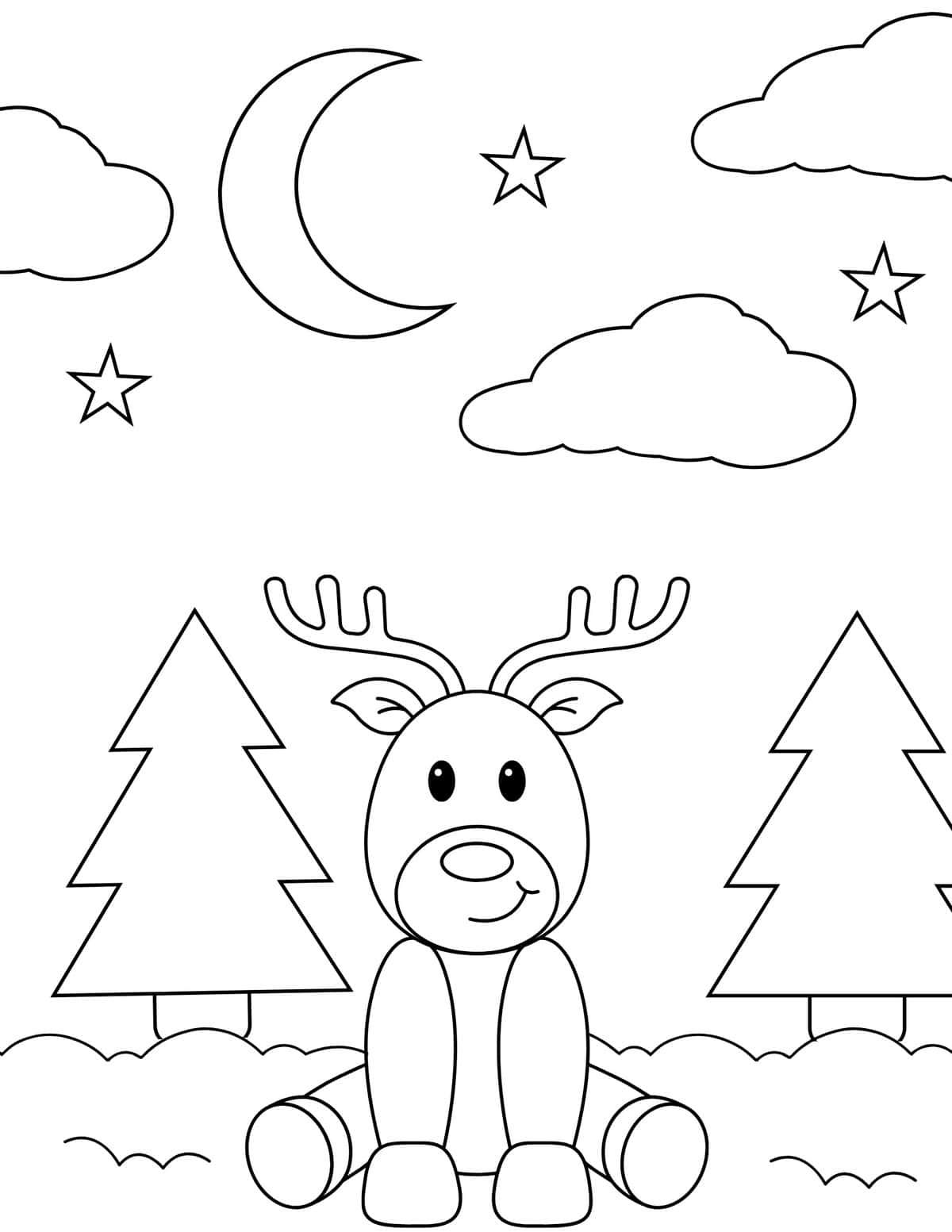 This winter scene has a smiling reindeer sitting in the snow, set against a backdrop of a star-studded night sky with pine trees in the distance.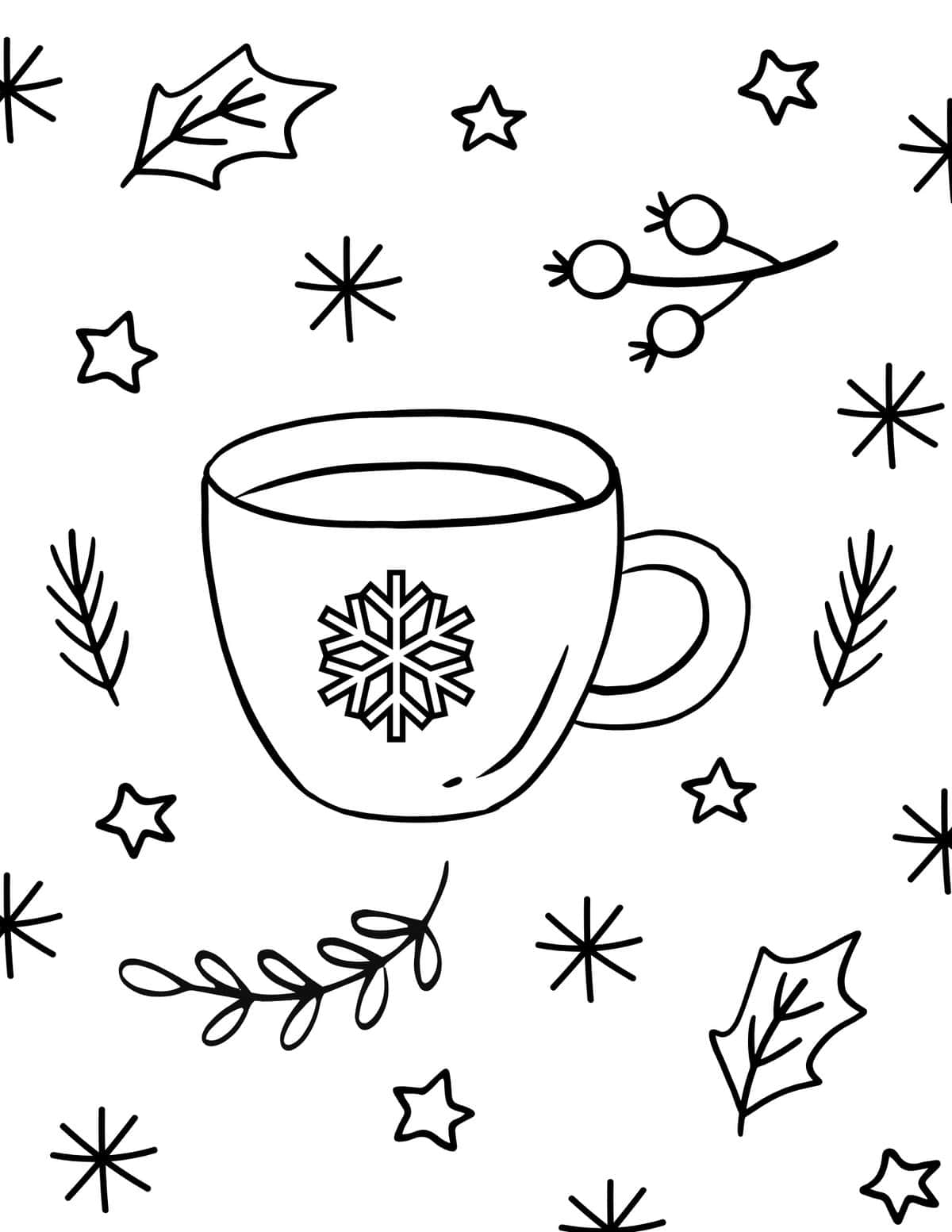 Enjoy a warm cup of hot cocoa while adding color to this page. You can even draw some marshmallows or a candy cane sticking out of the cup for added detail!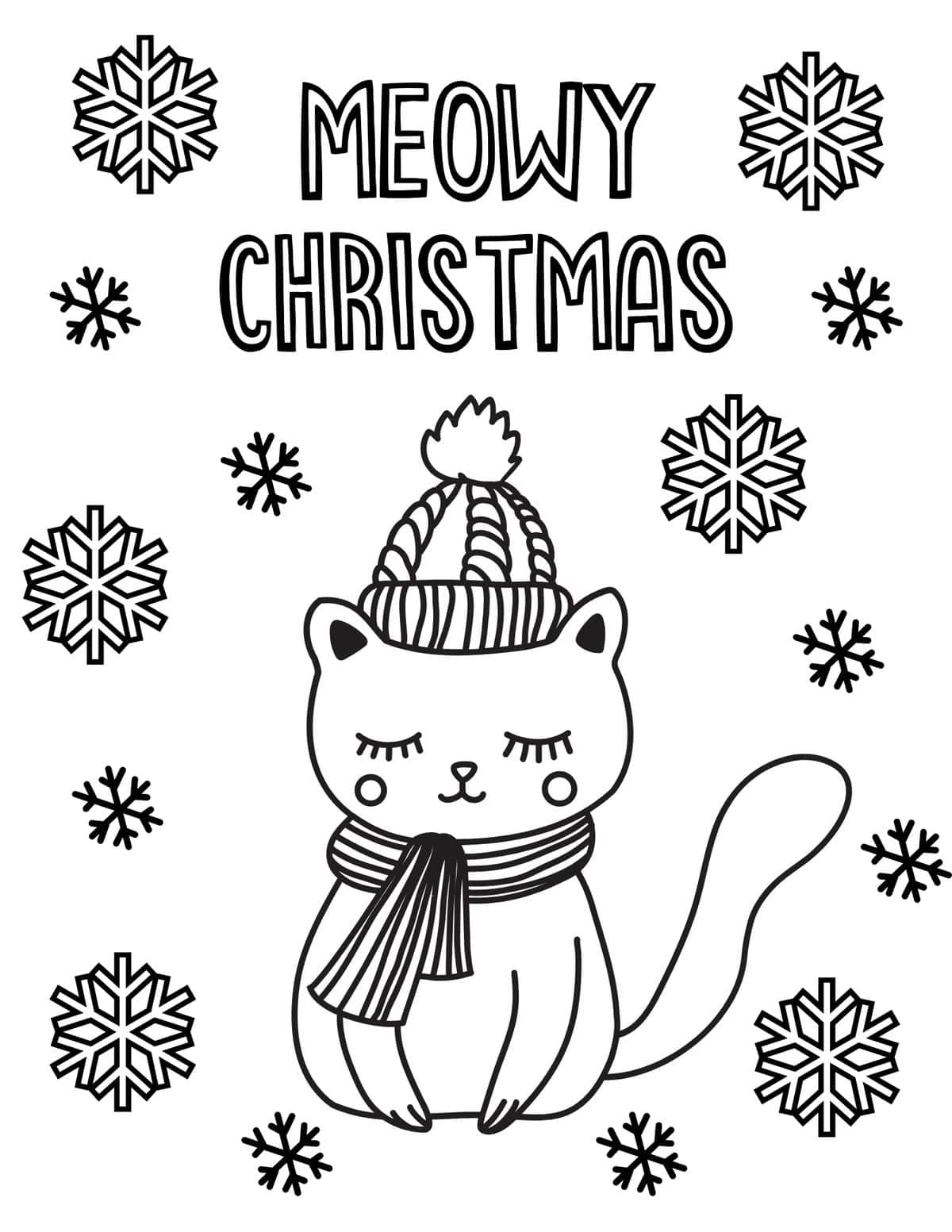 This purr-fectly festive coloring sheet has a cute little cat all bundled up in a winter hat and scarf. It's a perfect choice for kids who love both cats and the holiday season.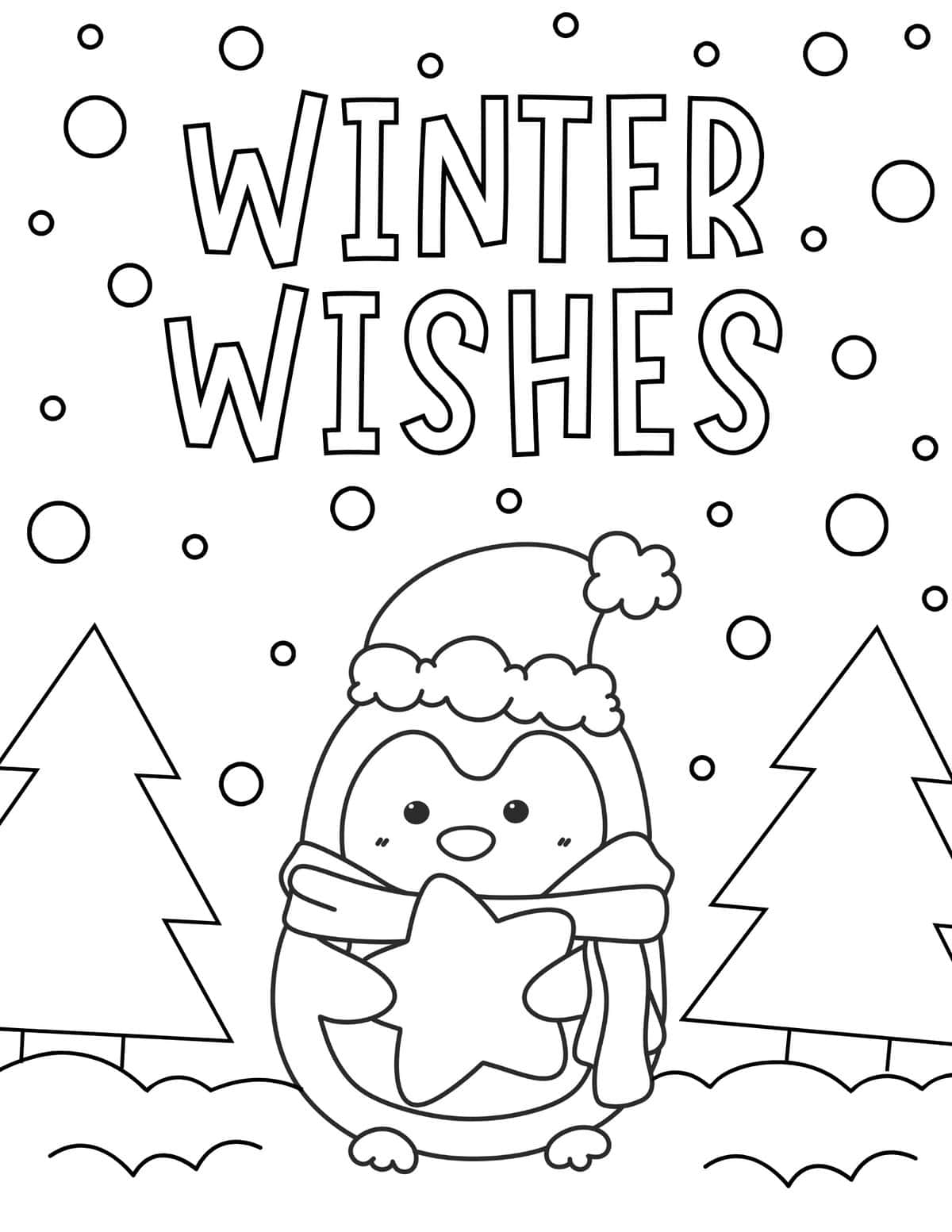 Here, a penguin holds a star with the words winter wishes above. It's a great way for your little ones to make a wish and add a splash of color to the season!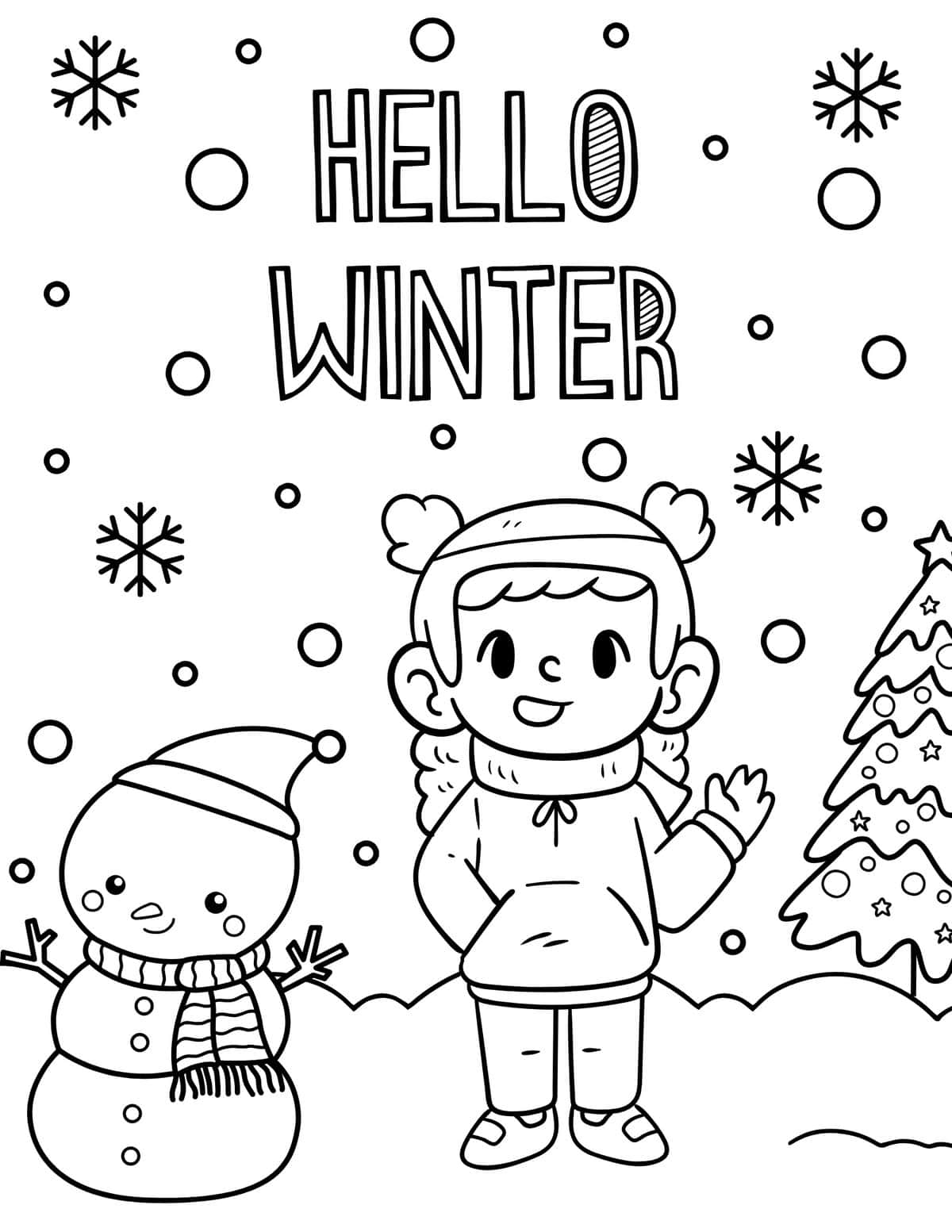 Wave hello to winter fun with this winter coloring page! It shows a girl all bundled up in her winter clothing, waving beside a jolly snowman.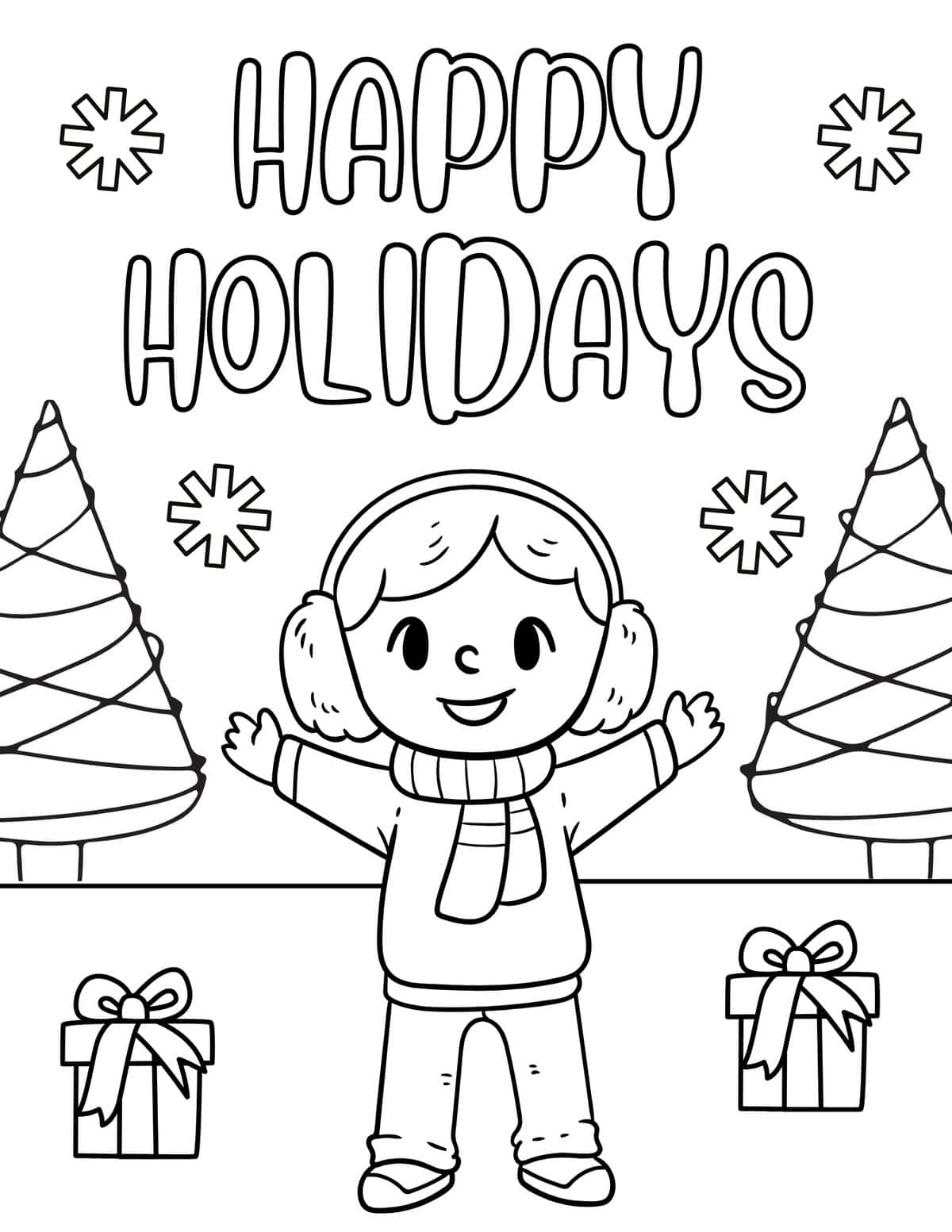 Spread some holiday cheer with this one, which has a delighted girl with her arms outstretched, proudly showing off her Christmas trees and wrapped gifts.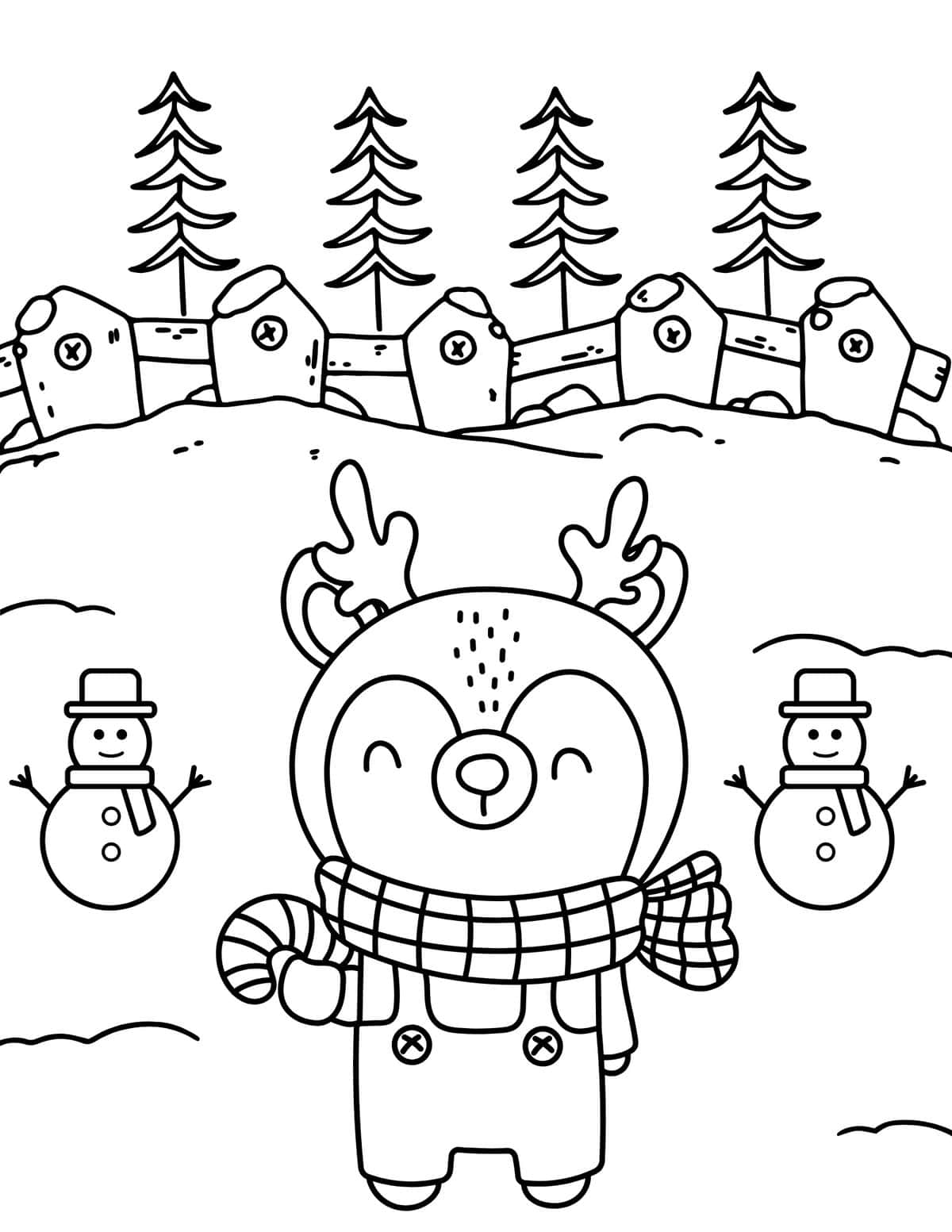 This reindeer is wearing cute winter attire next to two friendly snowmen with a backdrop of snow and trees.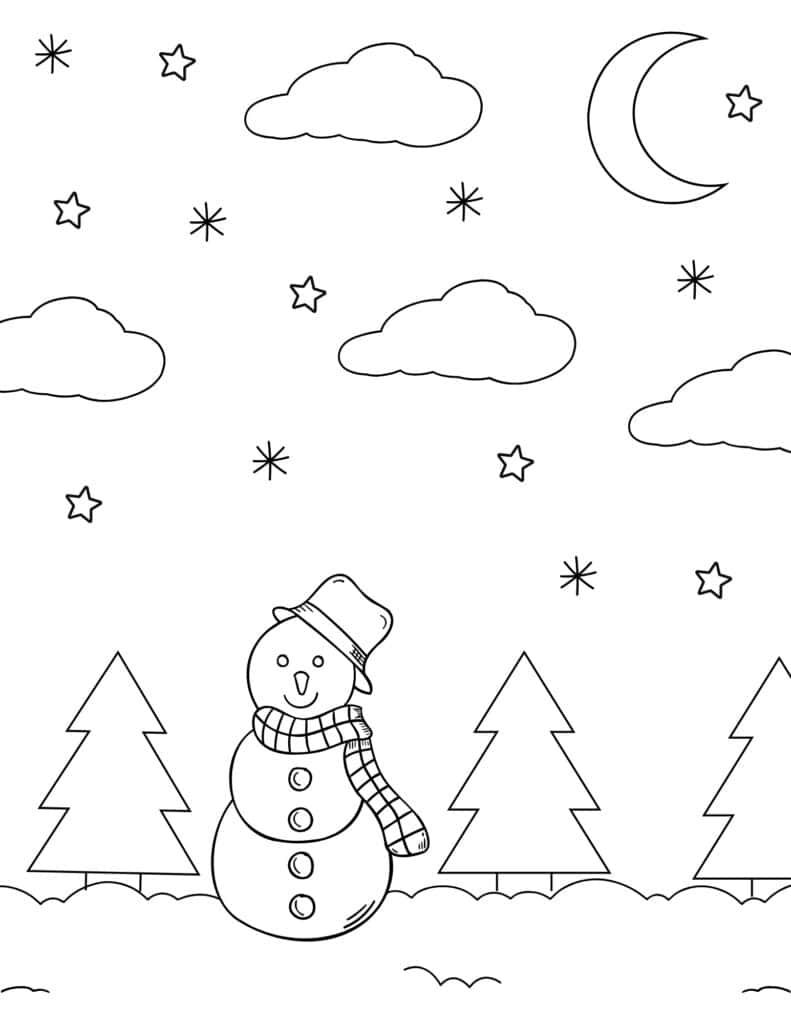 This features a radiant snowman under a twinkling night sky, surrounded by trees in the background. Feel free to add decorations to the trees, like lights and ornaments!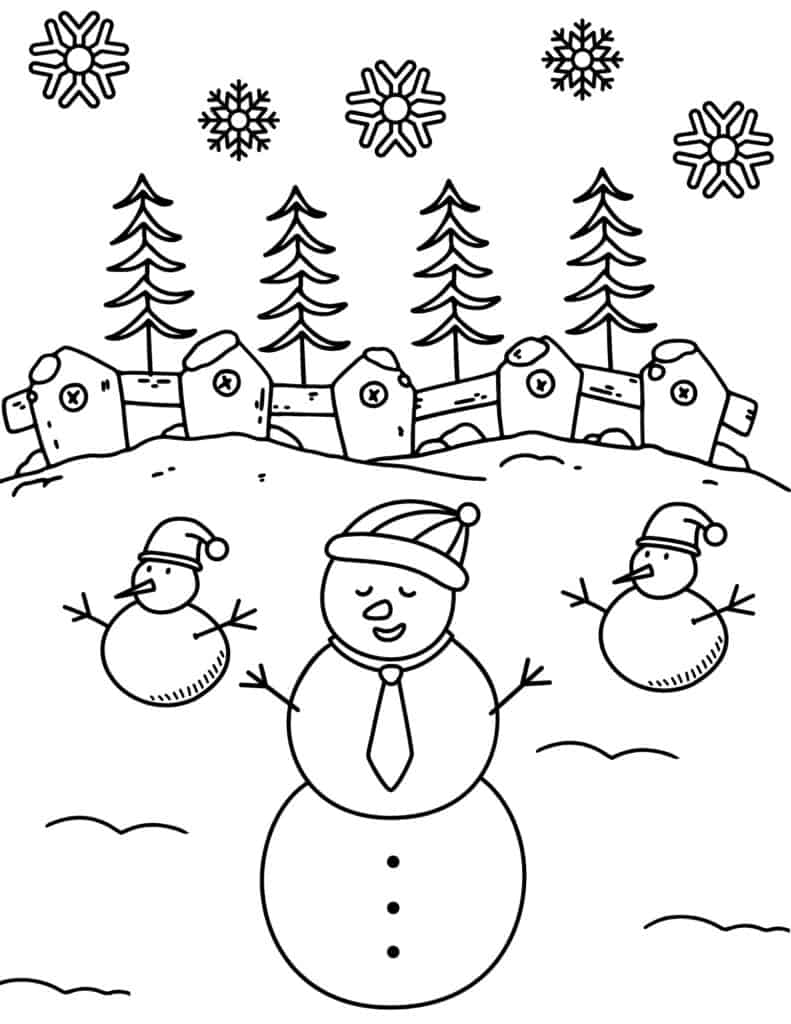 Get your crayons ready for this frosty trio and bring this winter wonderland to life!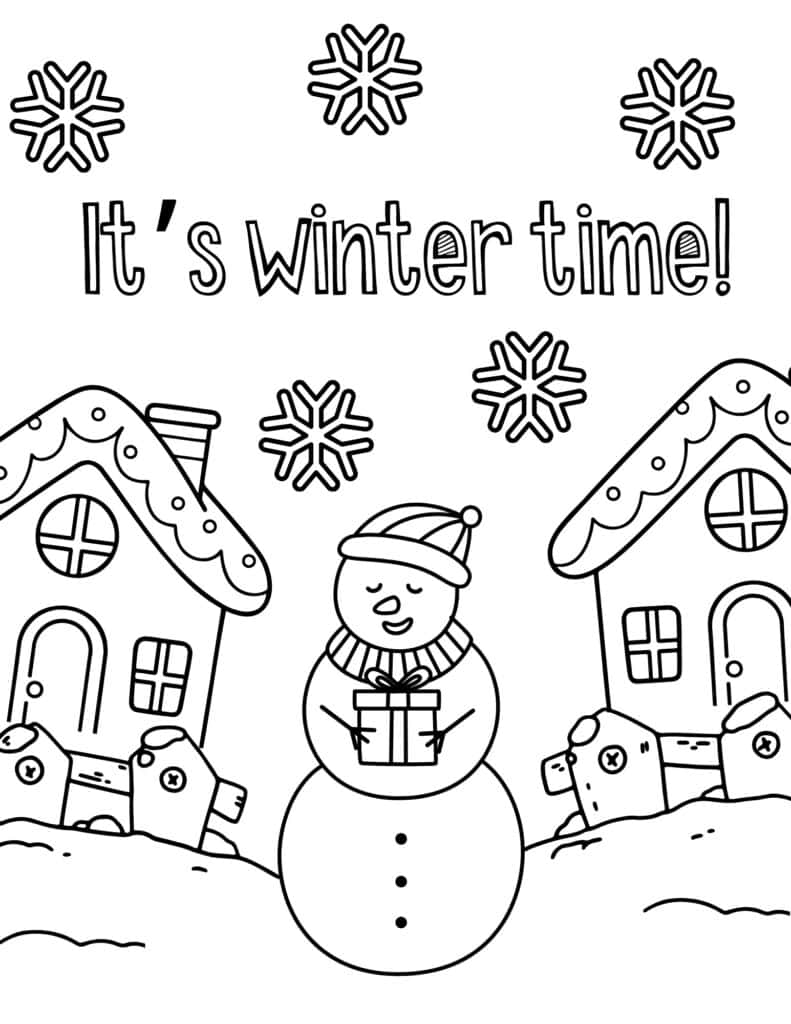 Wintertime is here! On this page, there's a snowman holding a Christmas gift and standing in front of a row of cute snowy houses.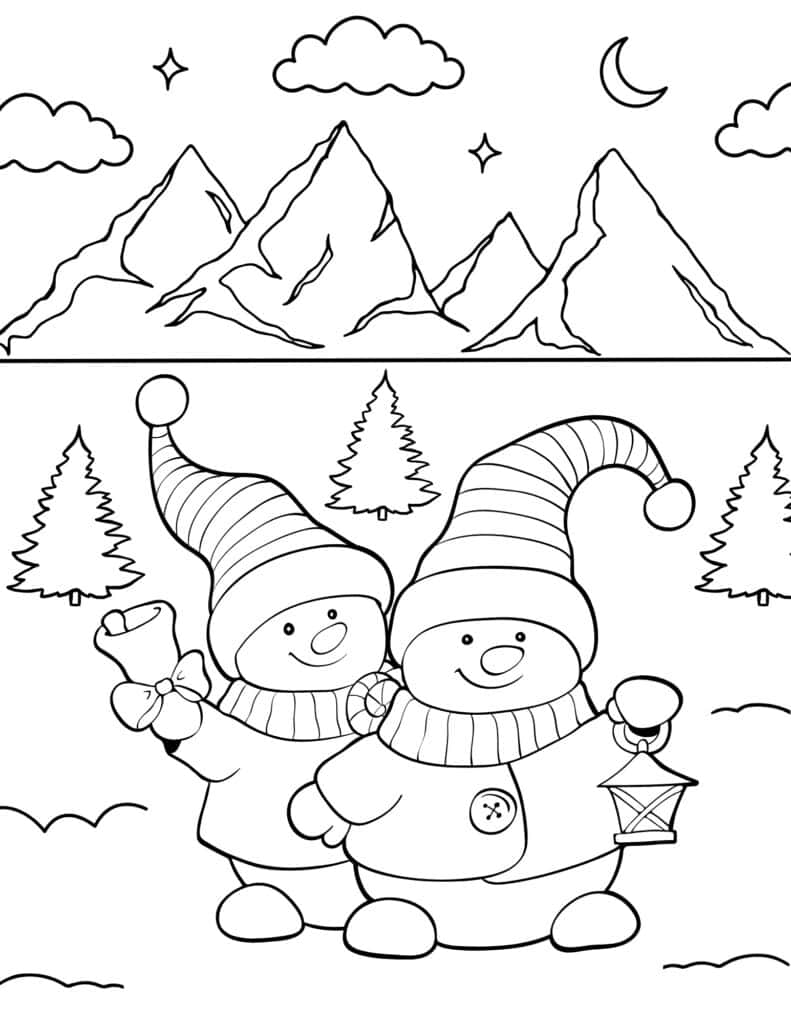 Go on a wintery mountain adventure with this sheet, featuring two snowmen traveling through a snowy mountain landscape.
More Coloring Pages
More Winter Crafts
Follow me on Pinterest, Facebook, or Instagram for more inspiration on crafts, DIY, free printables, and recipes!