Ready for a sprinkle of holiday fun that won't break the bank? Download and print these free gingerbread house coloring pages for kids!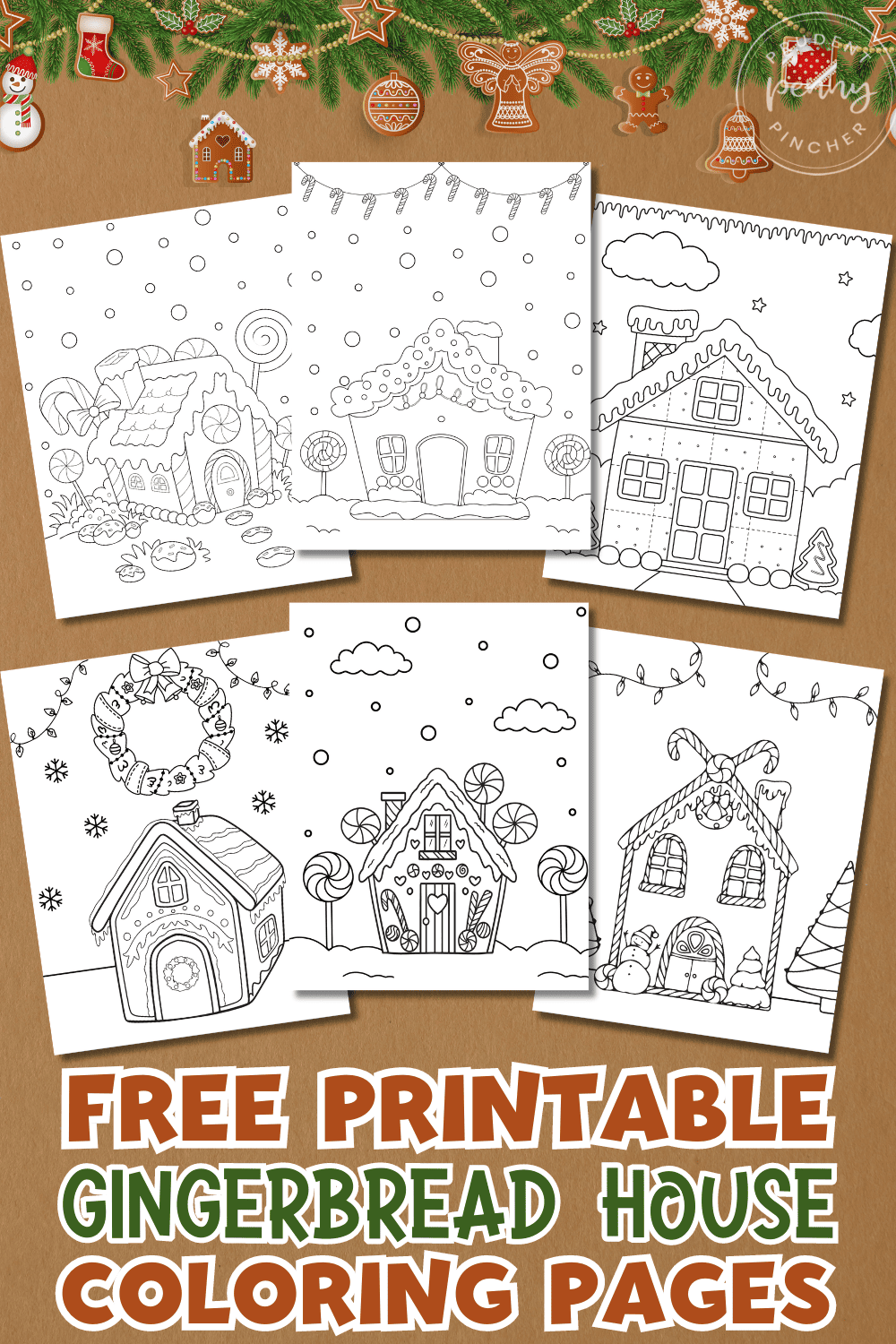 These adorable gingerbread house designs are perfect for kids of all ages and skill levels—from toddlers just learning to color inside the lines to older kids who want to add their artistic flair. These free Christmas coloring pages will keep those little hands busy this holiday season while improving their fine motor skills, hand-eye coordination, and creativity.
These gingerbread coloring pages feature tons of delicious-looking gingerbread house ideas with candy canes, lollipops, gingerbread man cookies, Christmas treats, peppermints, Christmas candy, and much more!
These free printable coloring pages are fantastic for school classroom Christmas activities, holiday parties, or some at-home fun on snow days. You can print a bunch for a kids' group activity at your next Christmas party. They also make great DIY Christmas cards that will spread some holiday cheer to friends and family and add a personal touch to your gift-giving.
So, whether you're a teacher, a parent, a caretaker, or simply someone who loves the holidays, these free gingerbread house coloring sheets are a great holiday activity for everyone!
Get those crayons, markers, or colored pencils ready, and let's make this Christmas season the most colorful one yet!
For hours of holiday coloring activities, pair these Christmas printables with these Santa coloring pages, elf coloring pages, Christmas tree coloring pages, and snowman coloring pages.
Gingerbread House Coloring Pages for Younger Kids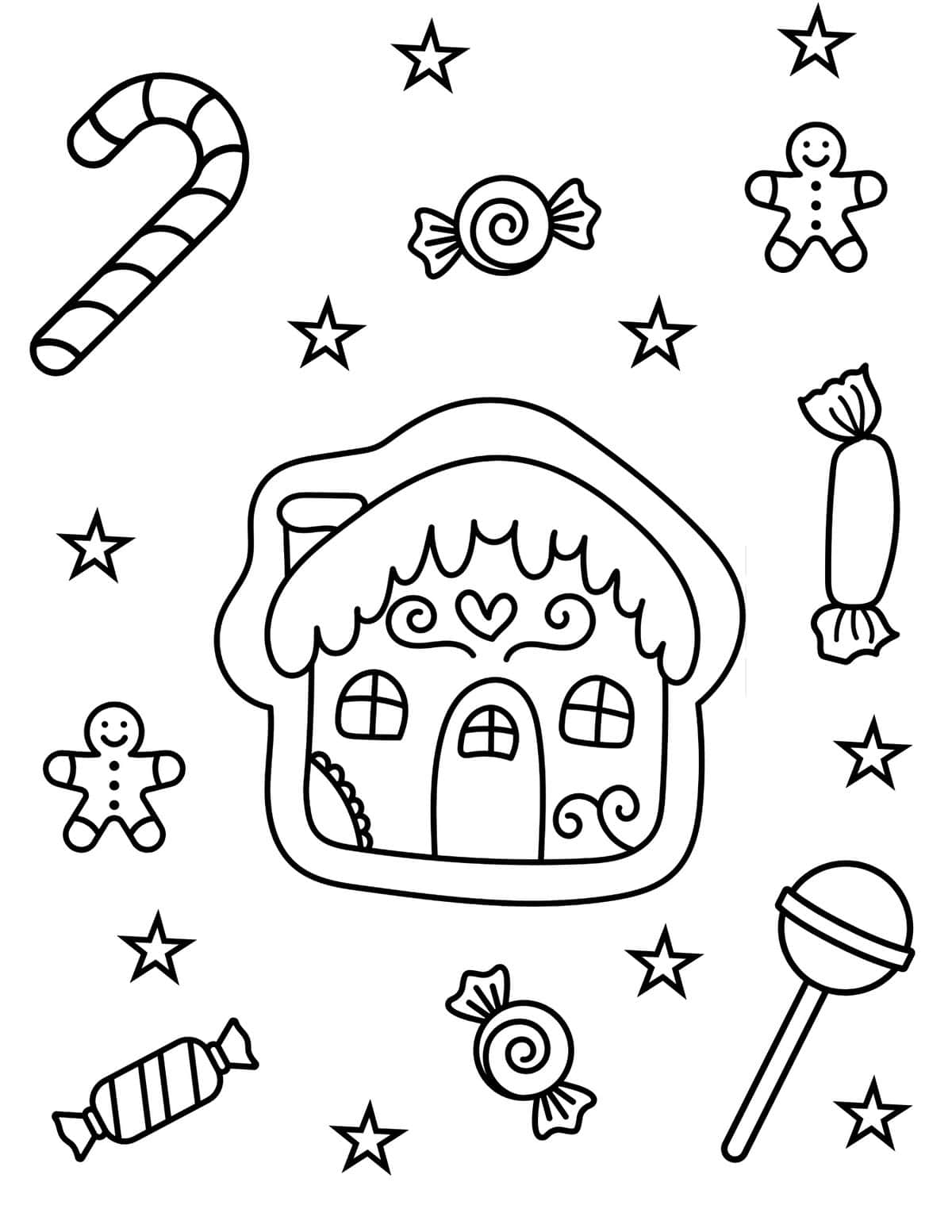 Gingerbread Cookies and Christmas Candies
Your kiddos with a sweet tooth will love adding color to these assorted candies and cookies! It's designed with simple designs and big spaces, making it perfect for those tiny hands still mastering their coloring skills.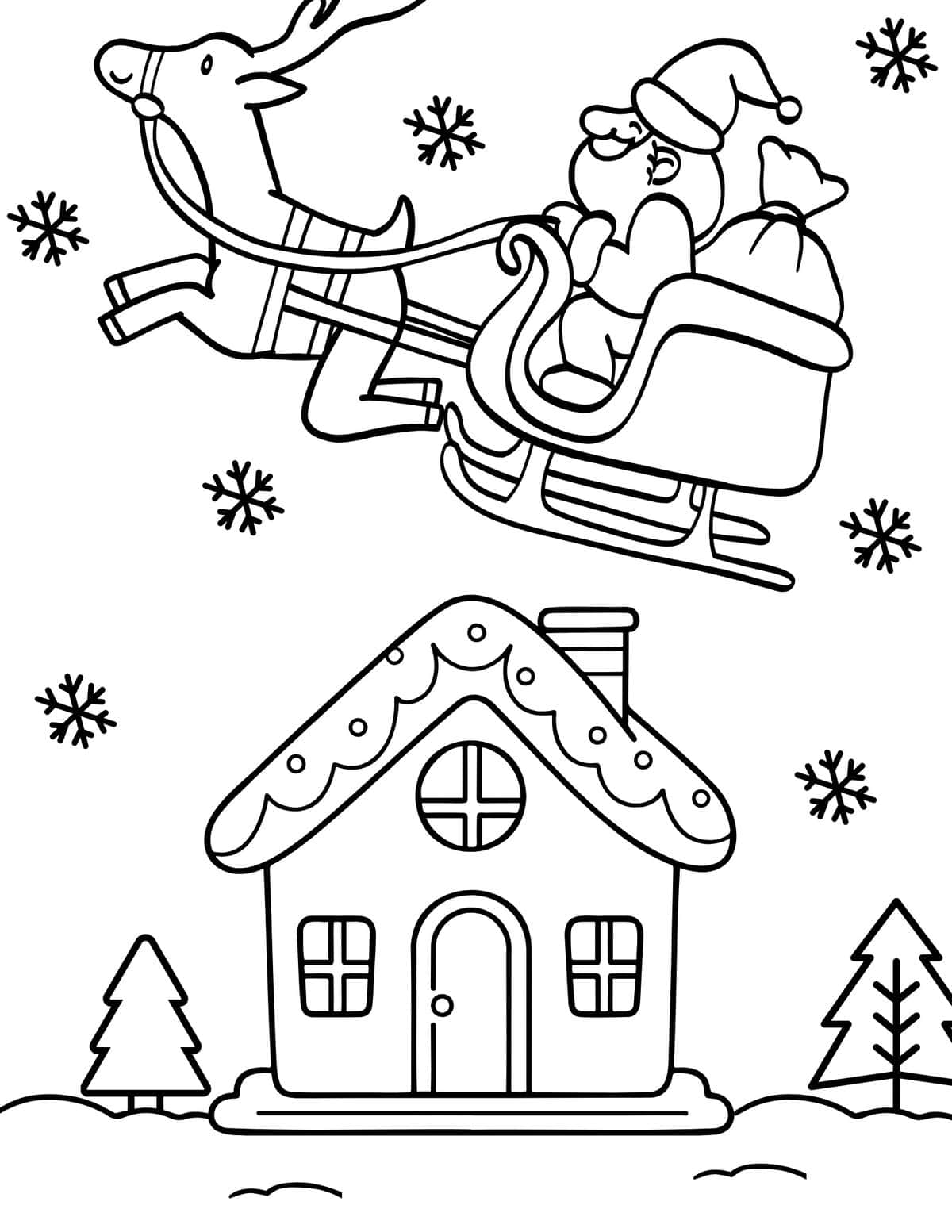 Santa and his reindeer are flying above this frosting-topped gingerbread house! It's a snowy scene that younger kids will enjoy adding color to because of it's easy-to-color design elements.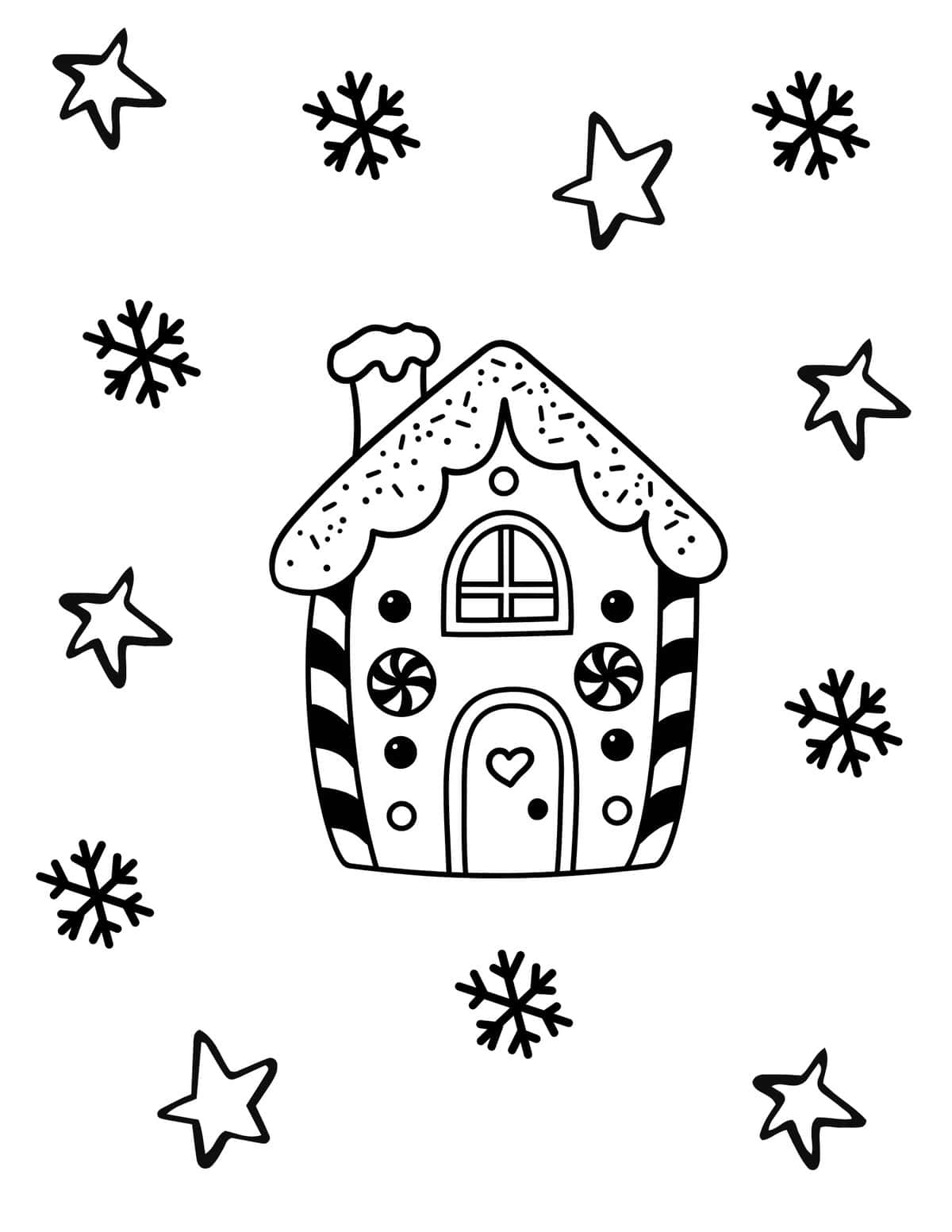 This Christmas cookie page is set against a festive backdrop of twinkling stars and falling snowflakes. There is ample space for your little ones to add their favorite colors and designs in the background.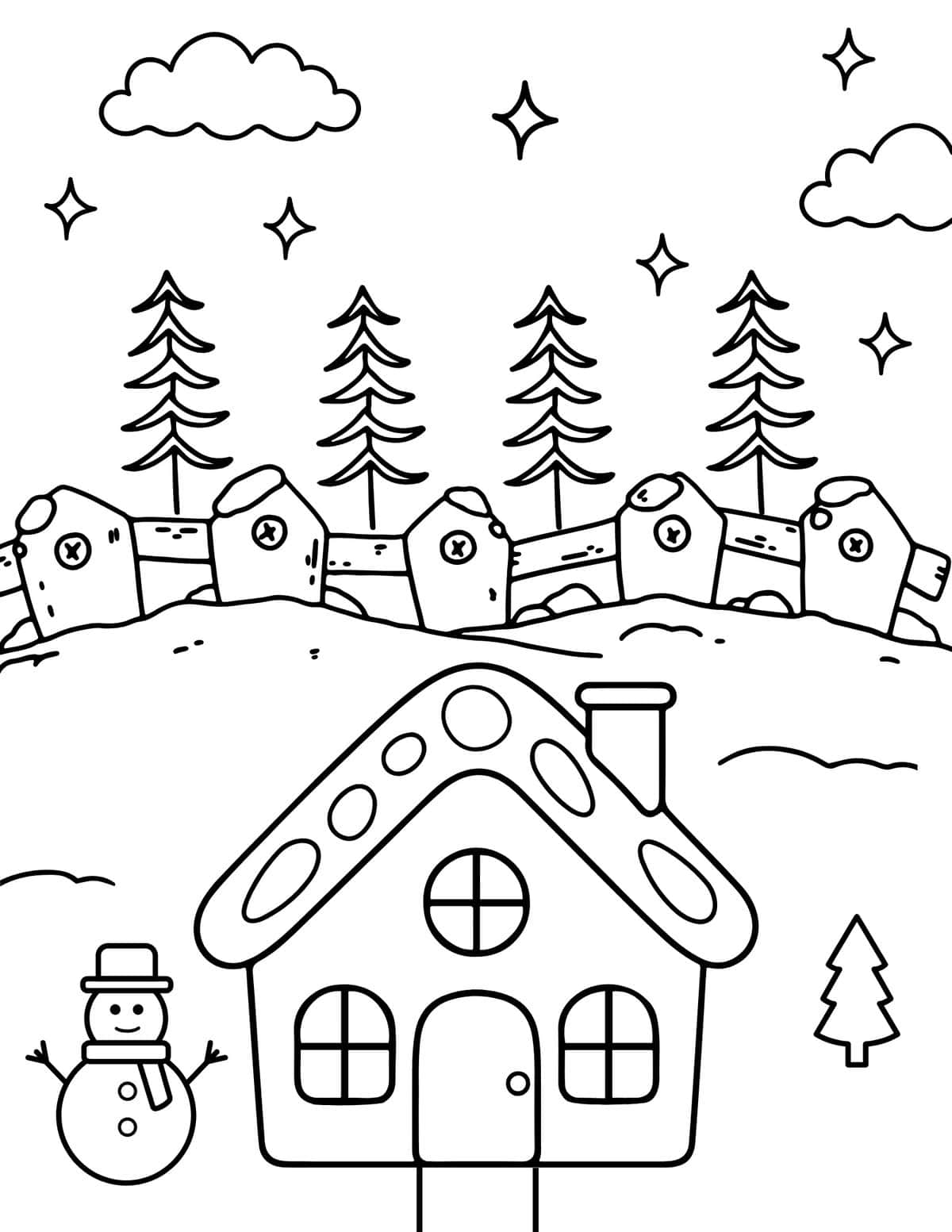 Bring this snowy scene to life with your colors! This gingerbread house has a cute snowman and evergreen pine trees in the background.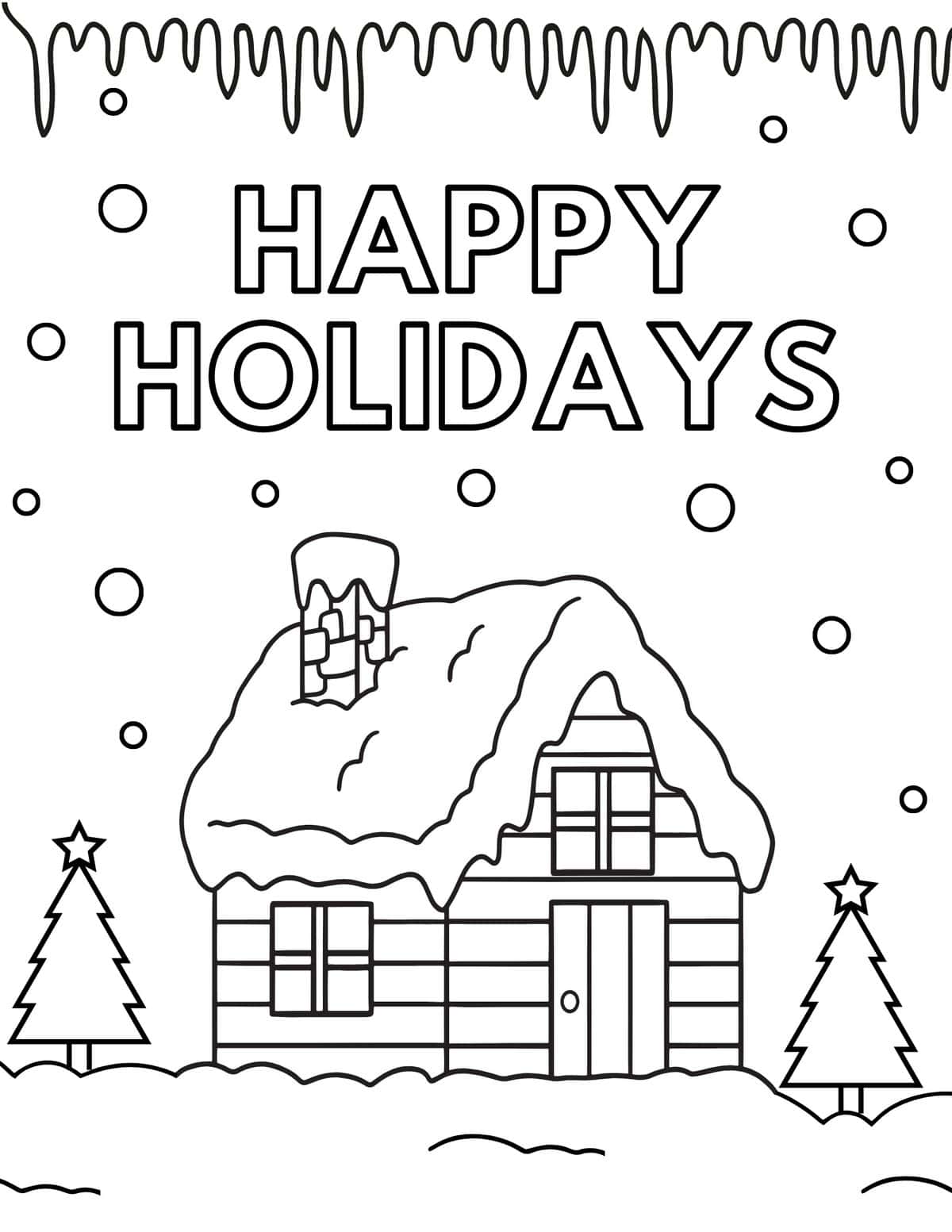 Happy Holidays Gingerbread Cabin
This coloring sheet offers your children a cozy and simple-to-color wintery scene that will get them into the holiday spirit! Just add some shades of blue to transform this into a frosty masterpiece.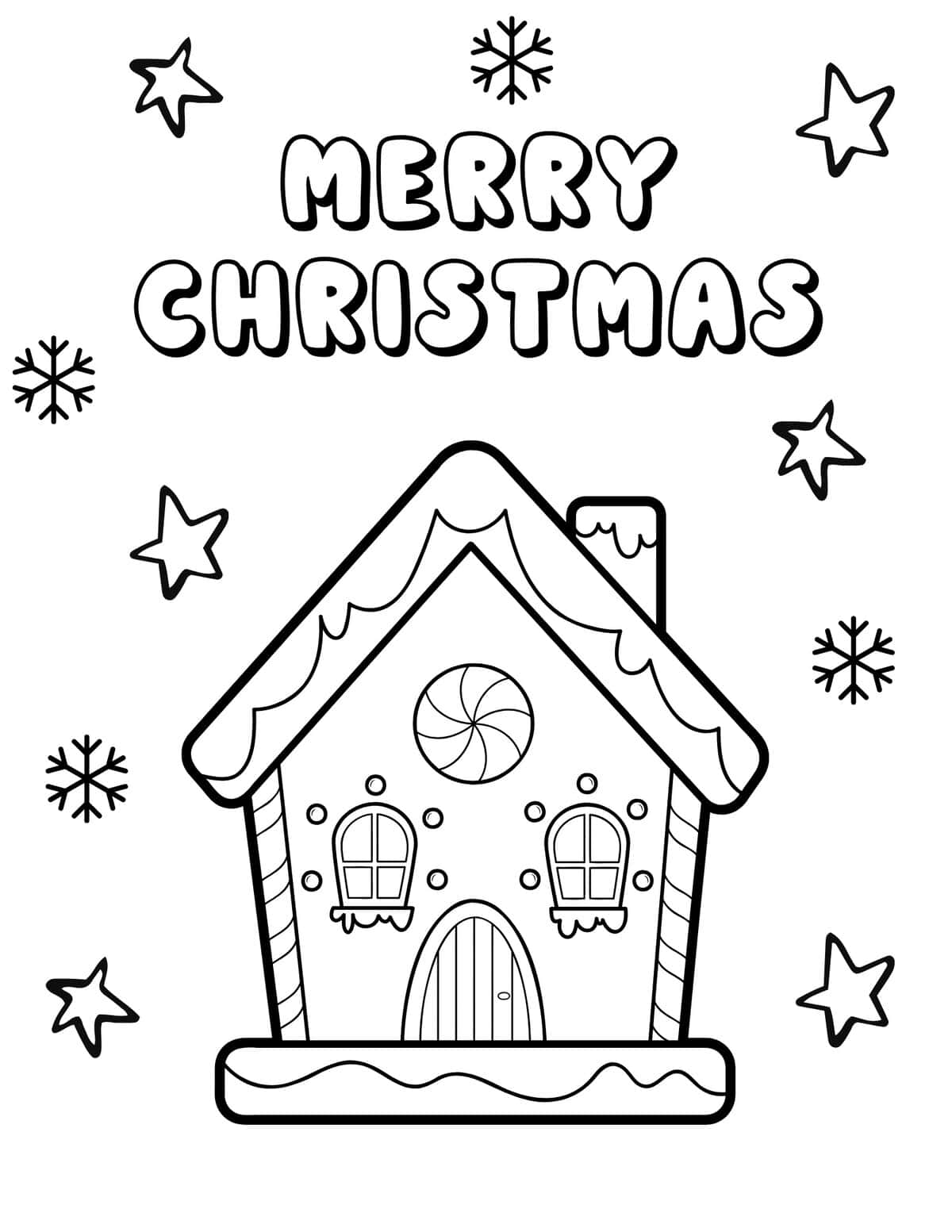 Merry Christmas Coloring Sheet
This simple design will be an instant hit with younger kids. They will be eager to bring this festive house to life with hues of browns, tans, and reds!
Add a dash of homey Christmas cheer to your holiday festivities with this one. This gingerbread house is perched on a table in front of a cozy backdrop of a Christmas wreath and Christmas lights on the wall. It's a welcoming and basic holiday scene that's easy for younger kids to color.
Gingerbread House Coloring Pages for Older Kids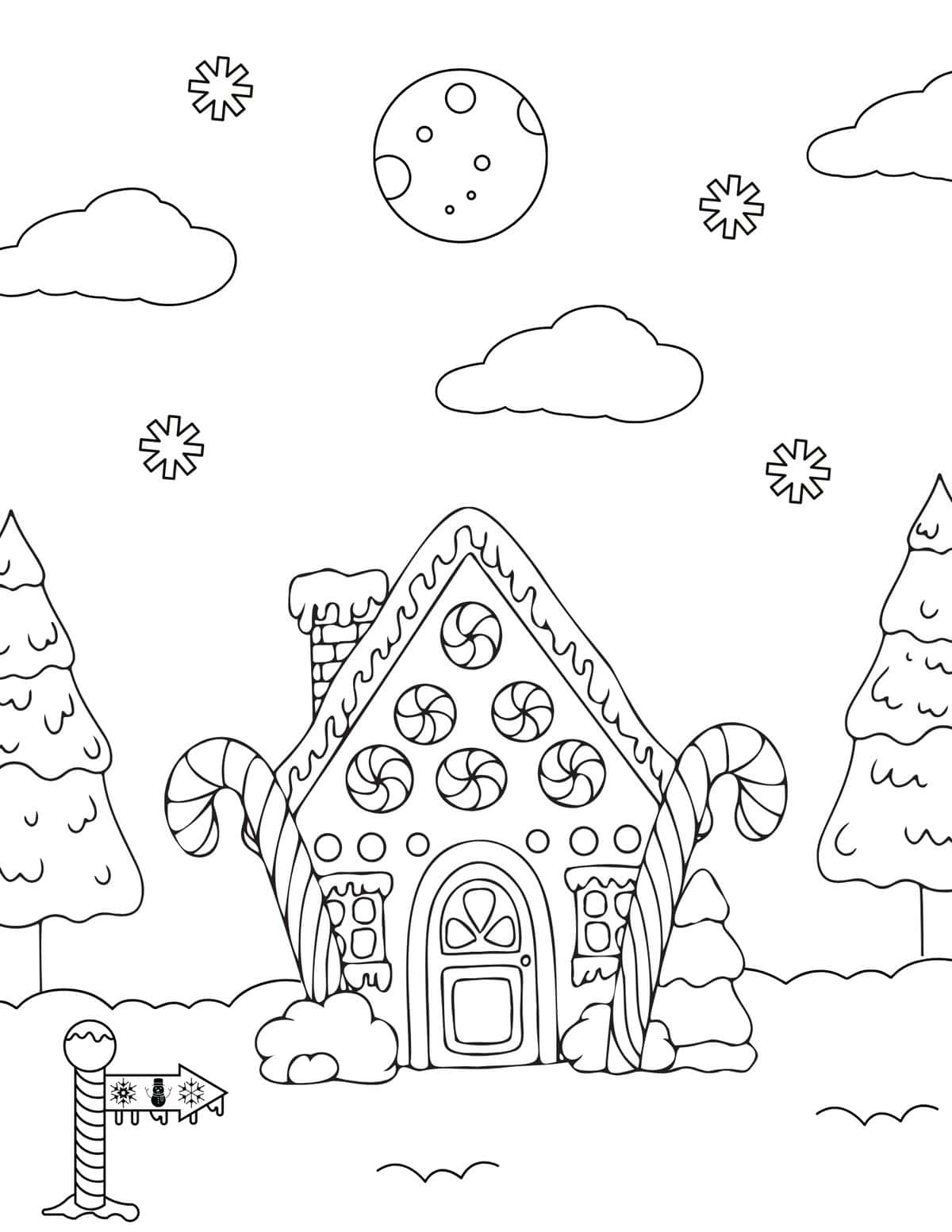 Gingerbread House with Peppermints and Candy Canes
This mouthwatering masterpiece just waiting for your child's artistic touch! It has intricate details like peppermints, frosting dripping, and candy canes.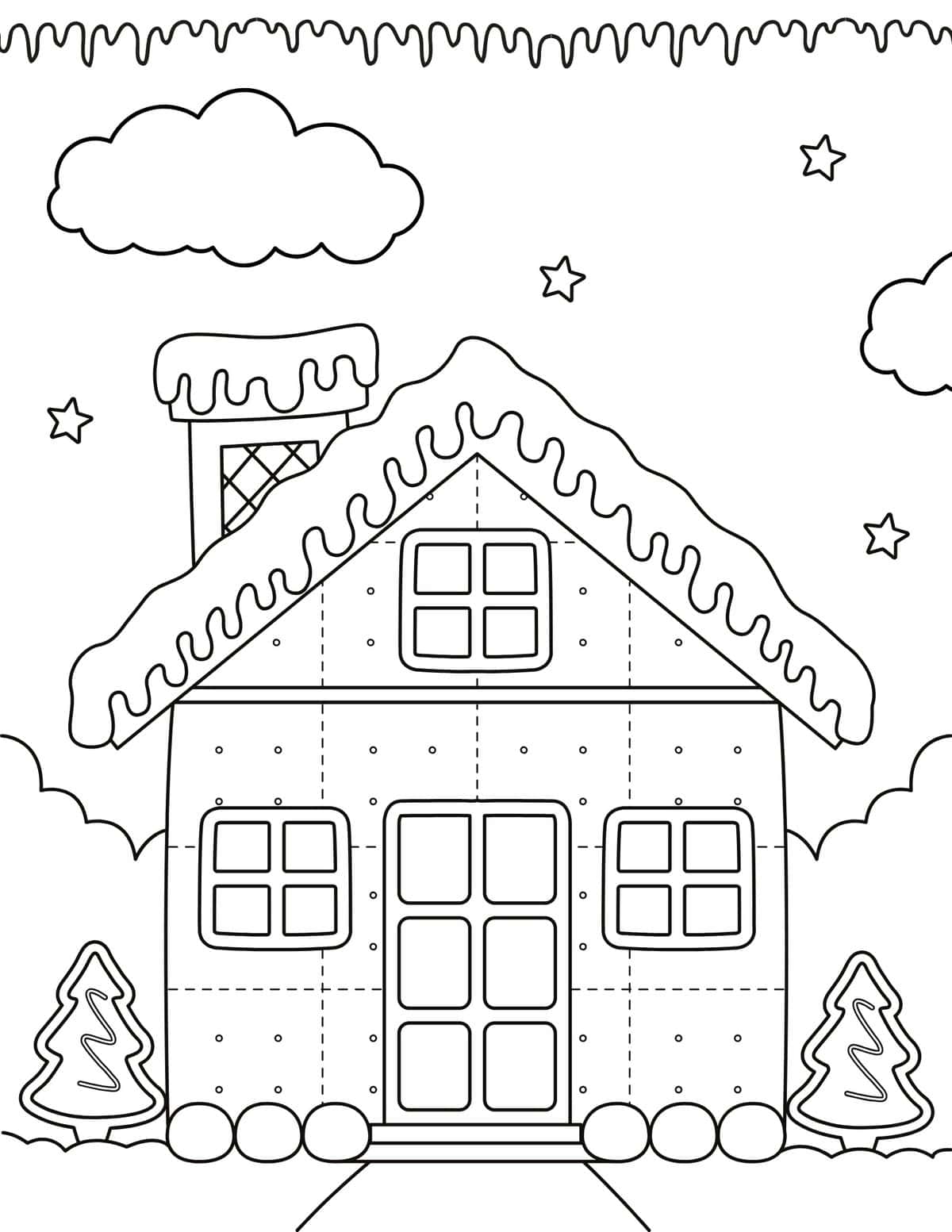 Graham Cracker House with Frosting Drip
You're in for a treat with this delicious-looking Graham Cracker House page with icing dripping from the roof and charming Christmas tree cookies on both sides.
Cute House with Candies and Icing
This adorable gingerbread house is set in a snowy backdrop! With detailed candy designs and assorted lollipops, this page offers a colorful blend of complexity and whimsy.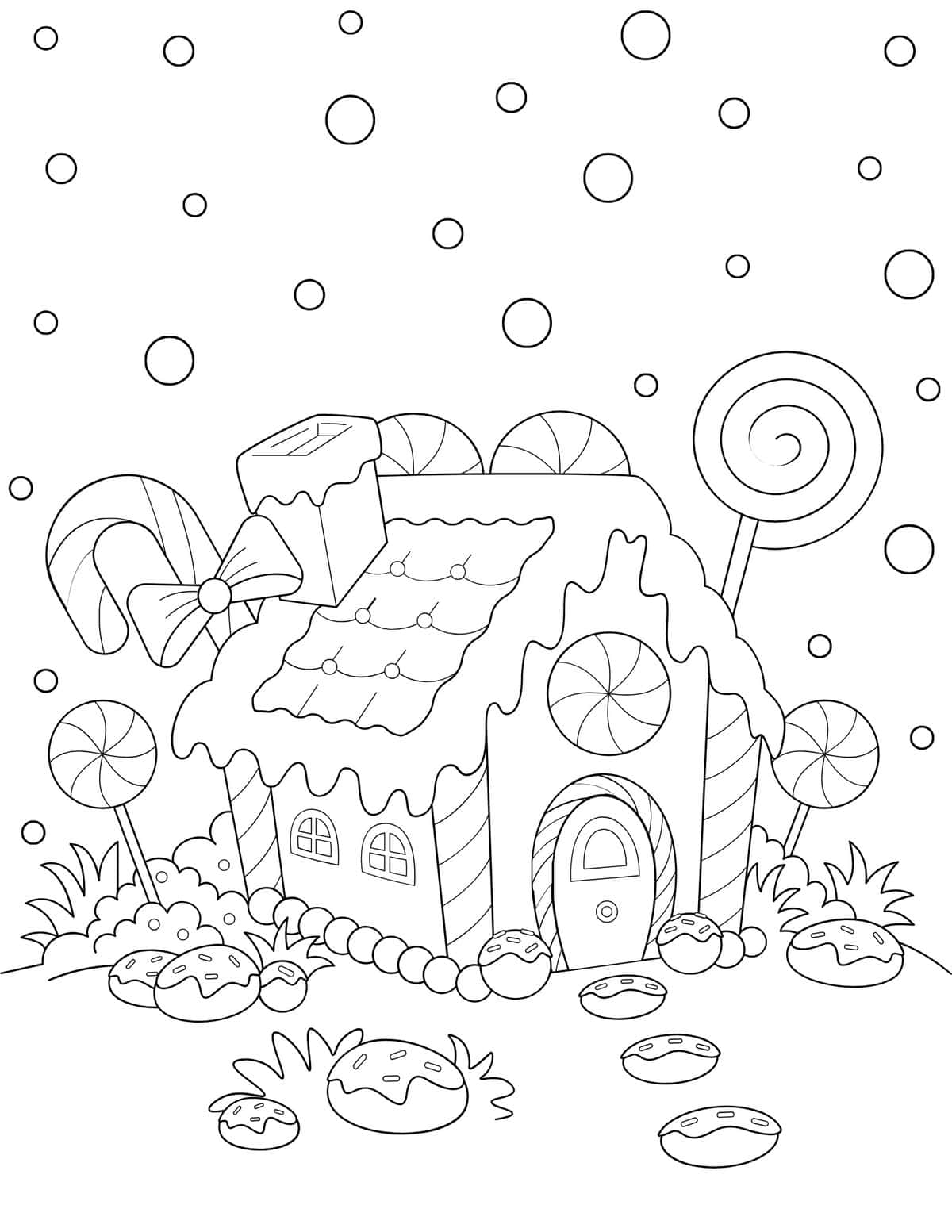 Candy House with Donuts and Lollipops
This one is a sugar rush on paper! Loaded with delicious details like donuts, candy canes, and lollipops. It's a feast for the eyes and will get your children looking forward to some Christmas treats!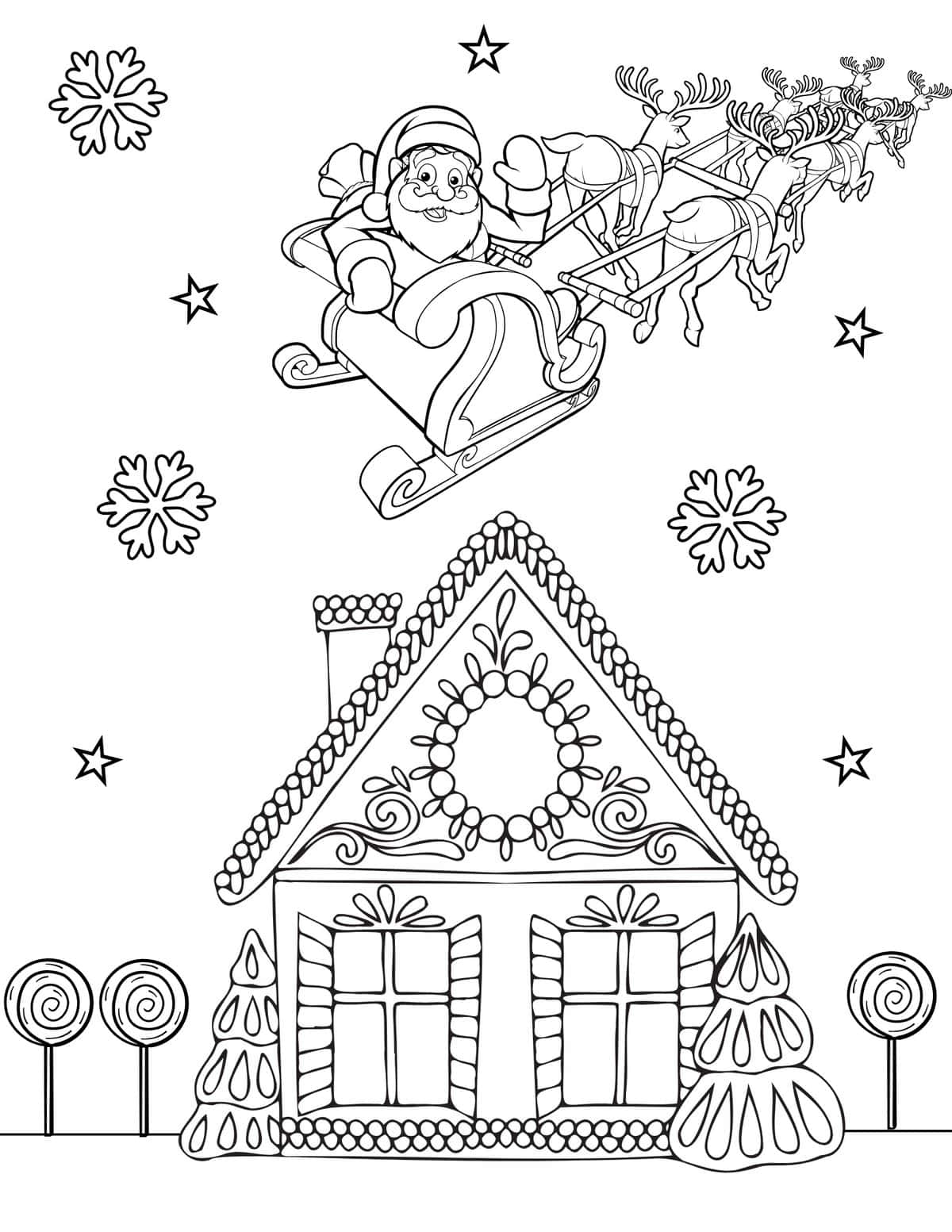 Santa Flying Over Adorable Gingerbread House
This one shows Santa flying over an intricately detailed gingerbread house, which is framed by festive Christmas trees and whimsical lollipops on either side!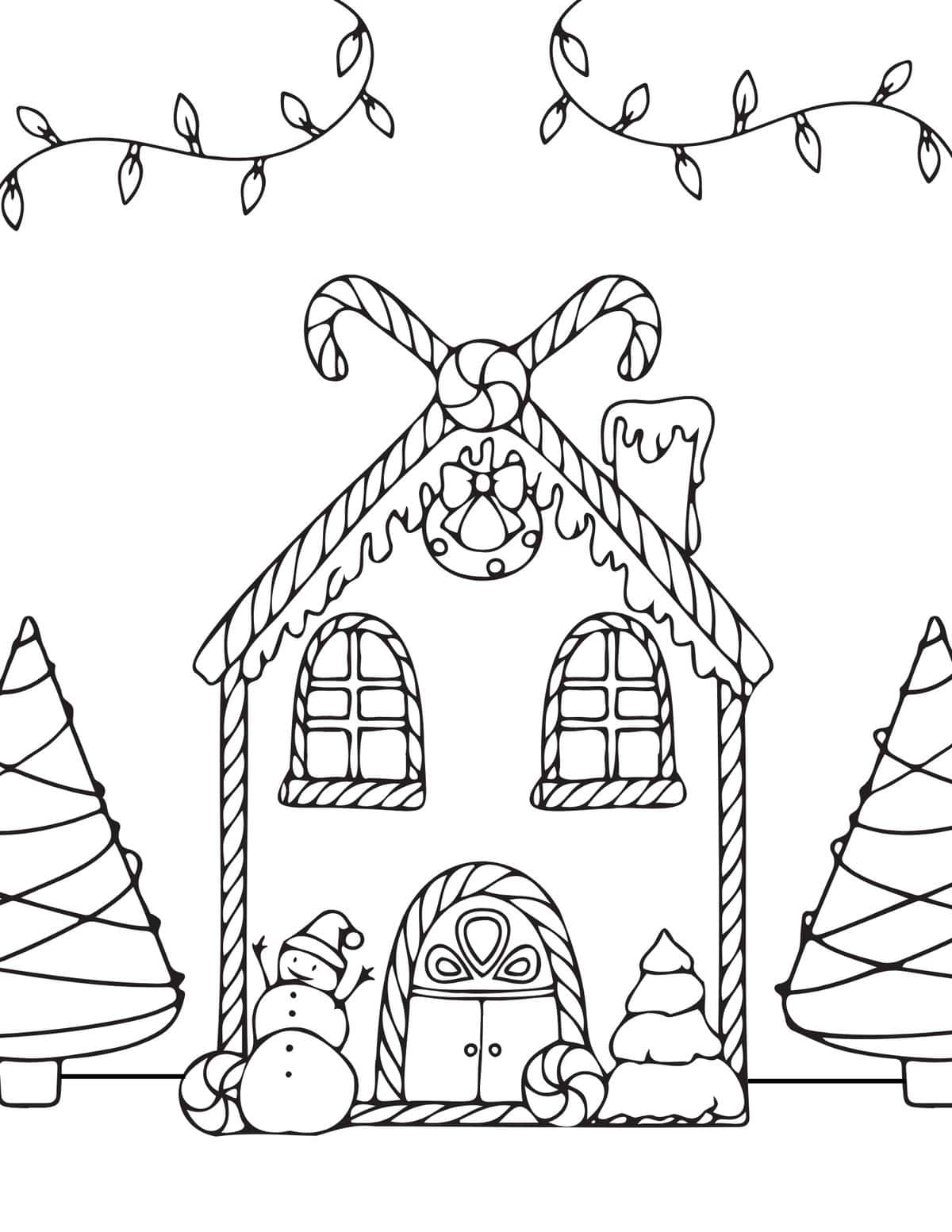 Candy House Lined with Peppermint Sticks
Unleash your creativity on this festive coloring page featuring a house lined with peppermint sticks. There are plenty of background details, like the Christmas trees and lights, to keep your children entertained for a while.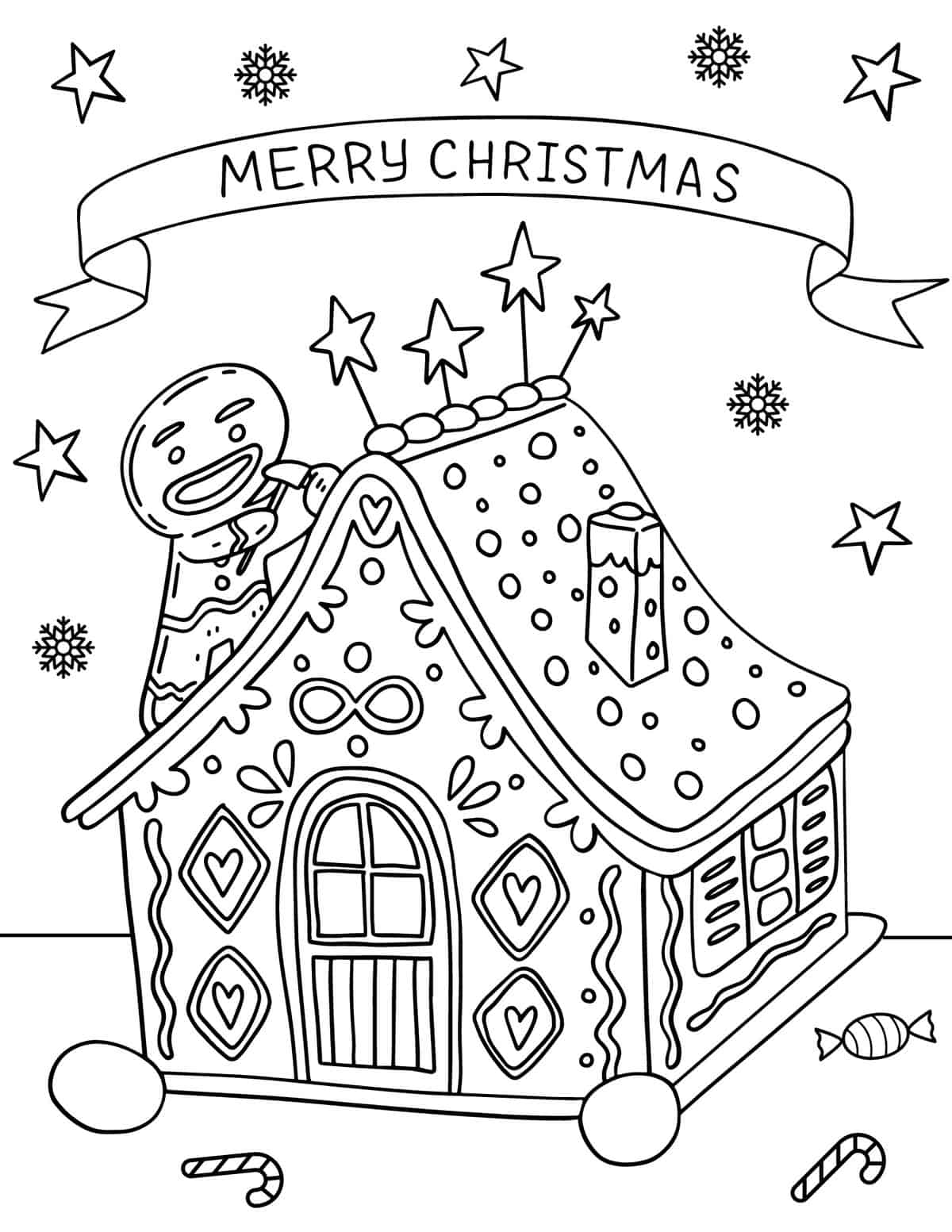 Here is a gingerbread man building his house. With so many intricate details here, you can add a rainbow of festive colors to this page.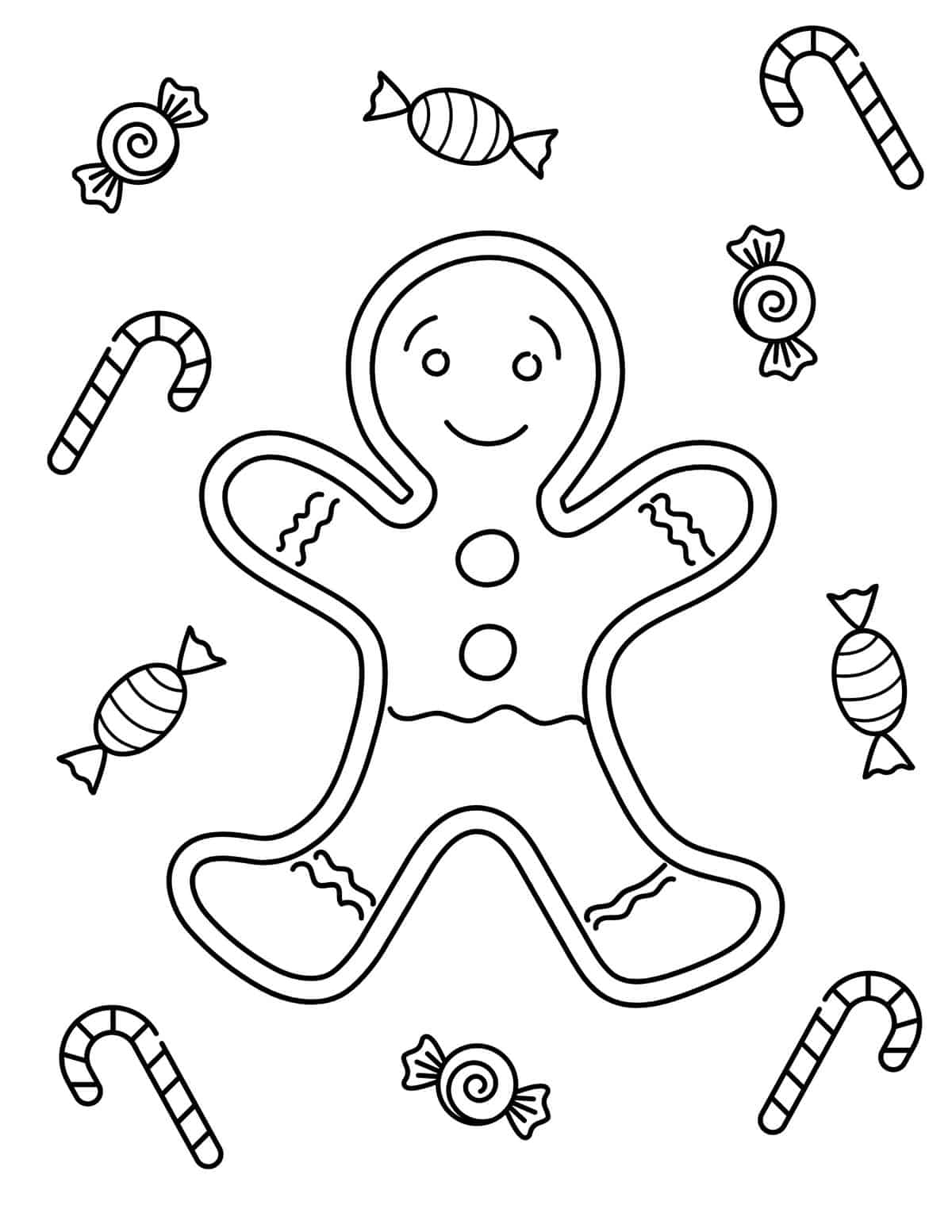 Gingerbread Man and Christmas Candies
This sheet is a sugary wonderland that kids of all ages will love to color. There's a gingerbread man, candies, and candy canes. It even includes room to add your own favorite candies to the mix.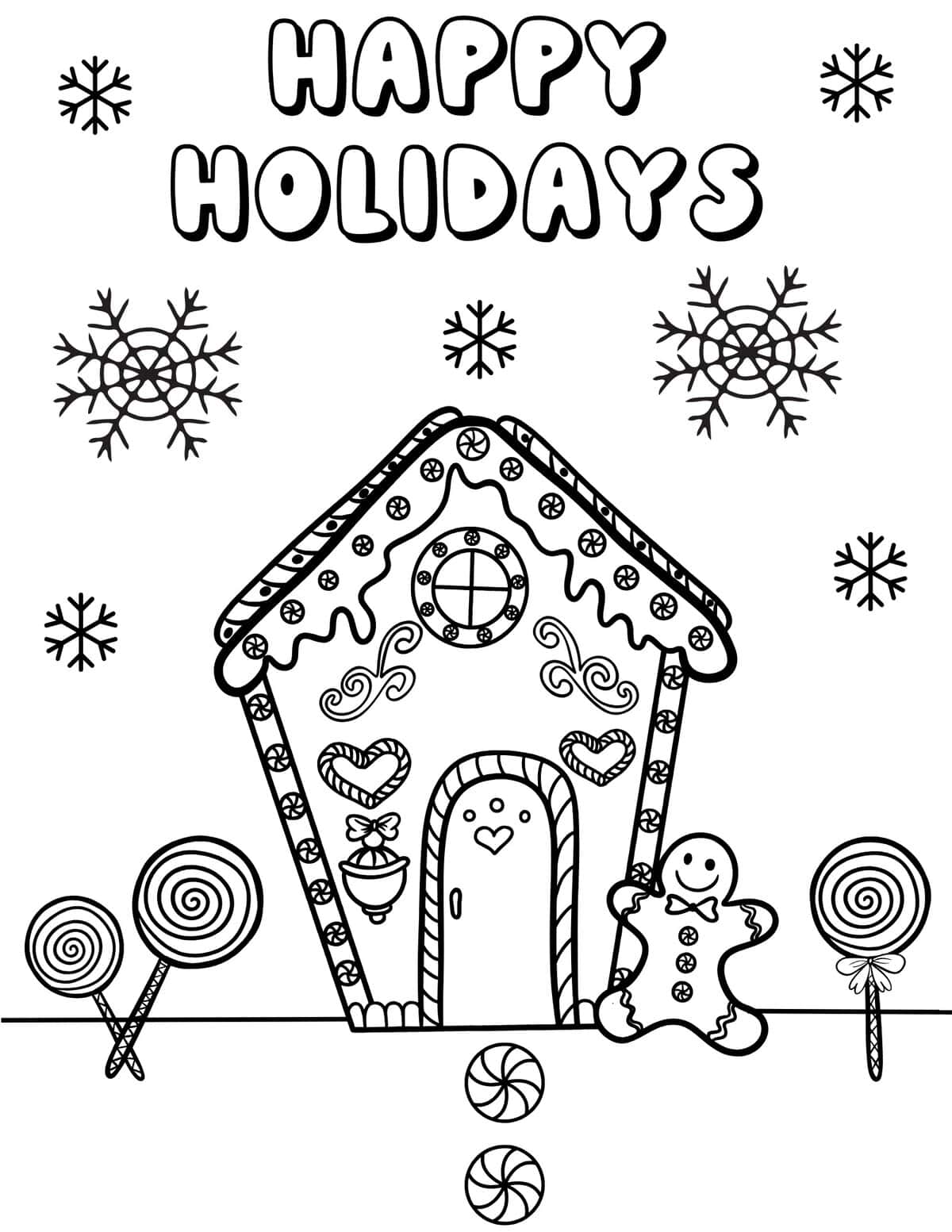 Spread some holiday cheer with this coloring sheet that has a variety of delicious Christmas goodies to color in!
More Christmas Printables
Christmas Crafts for Kids