Add some Christmas magic to your holiday activities with these free printable Elf Coloring Pages for Kids of all ages.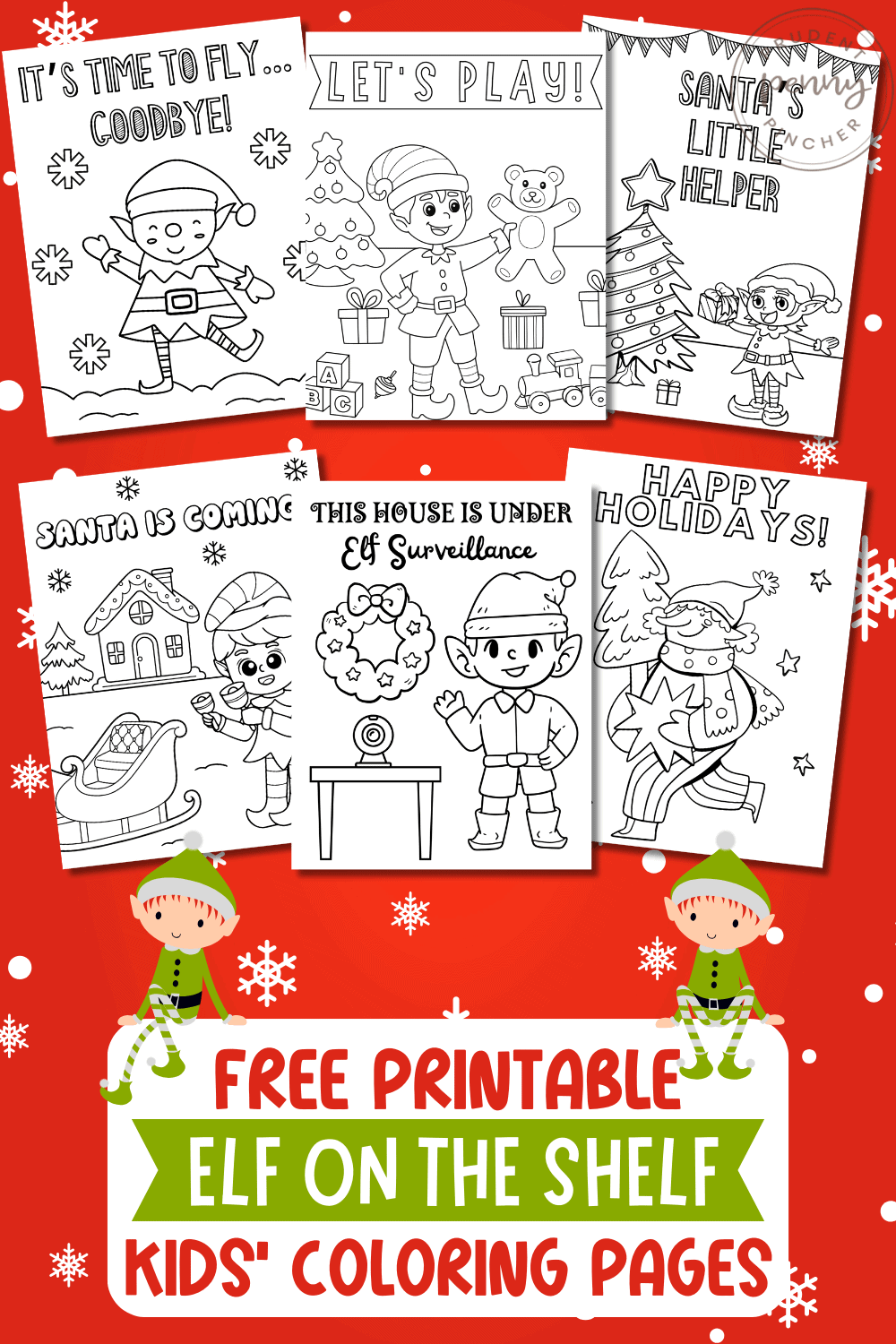 Are your little elves already bouncing off the walls, eagerly awaiting the arrival of your Elf on the Shelf in November? These elf coloring sheets will keep your children entertained and get them excited for the big day!
You will find Christmas coloring pages for both younger kids and older kids here. From cute little helper elves to mischievous elves, there are plenty of fun elf printables to download this holiday season!
This is a fun activity to pair with this free printable Elf on the Shelf arrival letter and these Elf on the Shelf Ideas! Whether you are looking for a Christmas activity for the home, classroom, or a Christmas party, these free printable coloring pages would work well for all occasions.
Grab your crayons, markers, and colored pencils and dive into this jolly world of elf-tastic excitement! Once your kiddos have brought these playful elves to life with their colors, you can even turn them into personalized DIY Christmas cards or DIY Christmas decorations!
Jump to:
Elf Coloring Pages for Younger Kids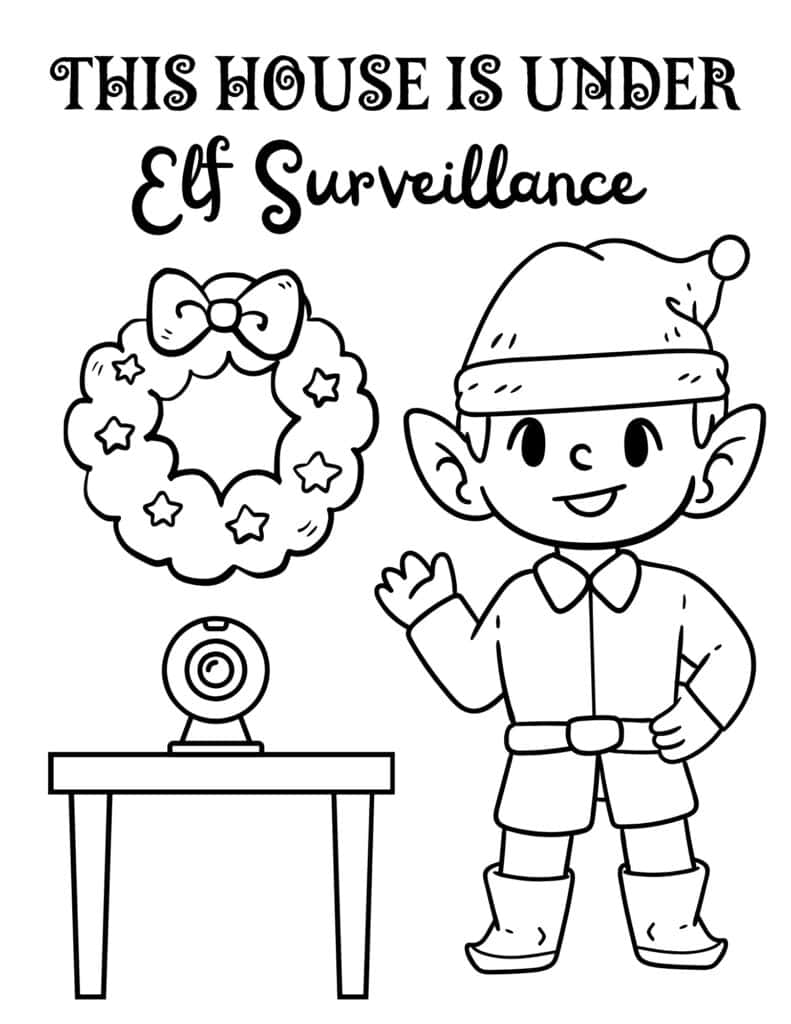 Your scout elf is keeping tabs on you for Santa, so he knows when you're being naughty or nice! This elf-on-the-shelf surveillance coloring page is a great choice when introducing your kids to the tradition so they know the rules.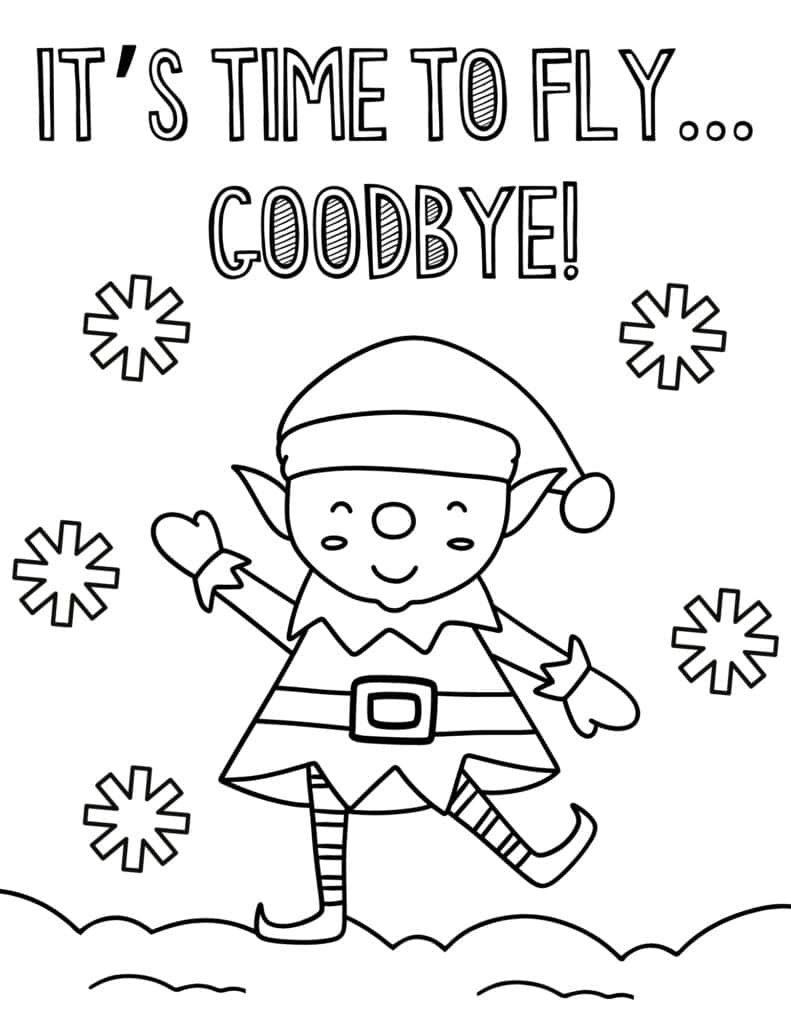 Time to say "farewell" to your pint-sized North Pole visitor? This elf-on-the-shelf departure coloring page offers kids a fun way to mark the end of their elf's stay, leaving them with a colorful keepsake to remember all the joyful moments they shared with their elf during the holiday season.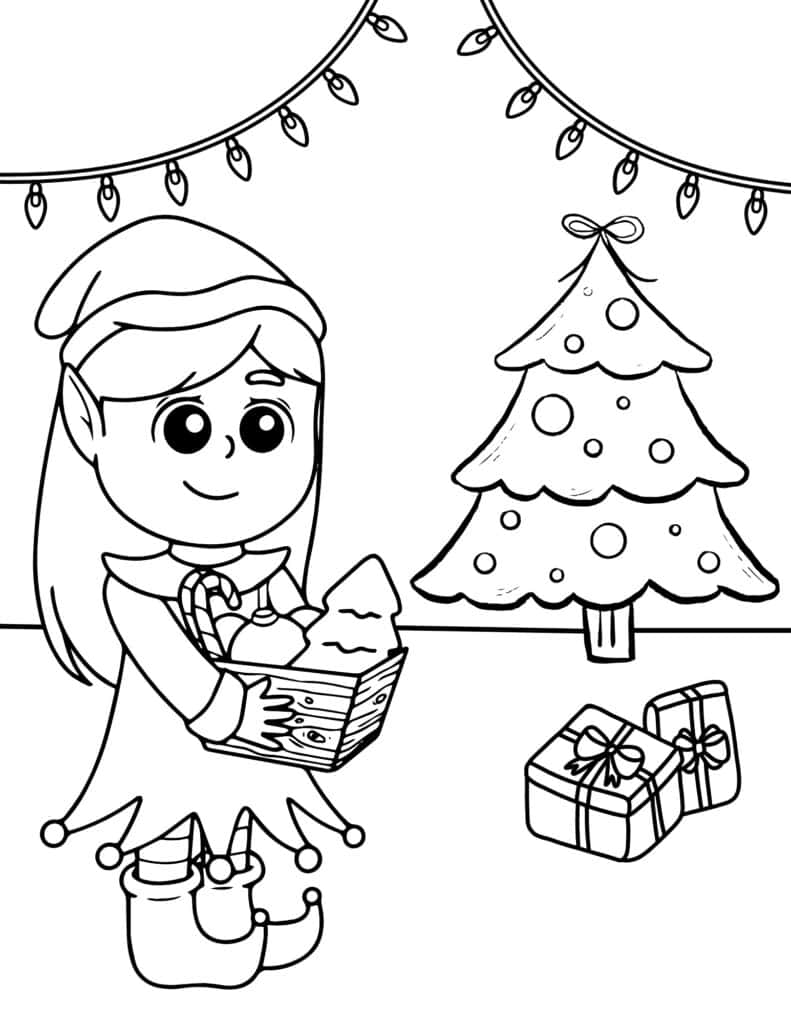 Here, a little girl elf is carrying a gift basket full of Christmas treats with twinkling Christmas decorations in the background. This holiday scene will get your kiddos to get into the festive spirit of the season.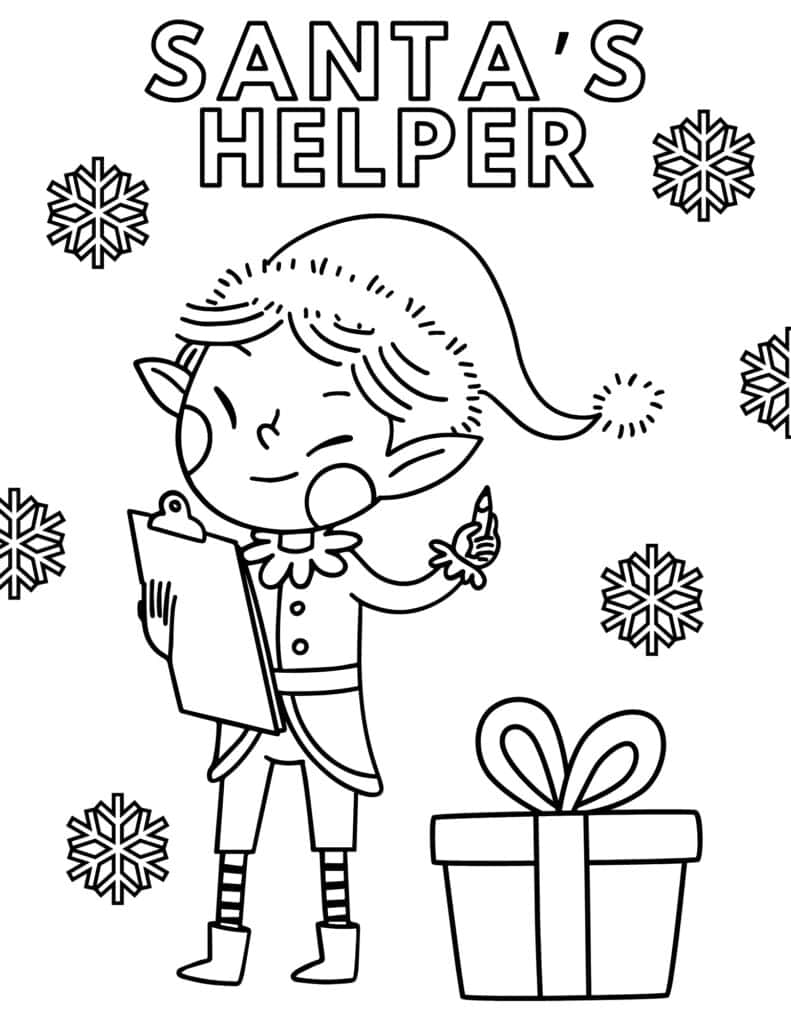 Santa's helper is busy ensuring everything is ready for Santa's big night with her checklist full of things to do! This one might even inspire your little elves to create their own helpful holiday checklists!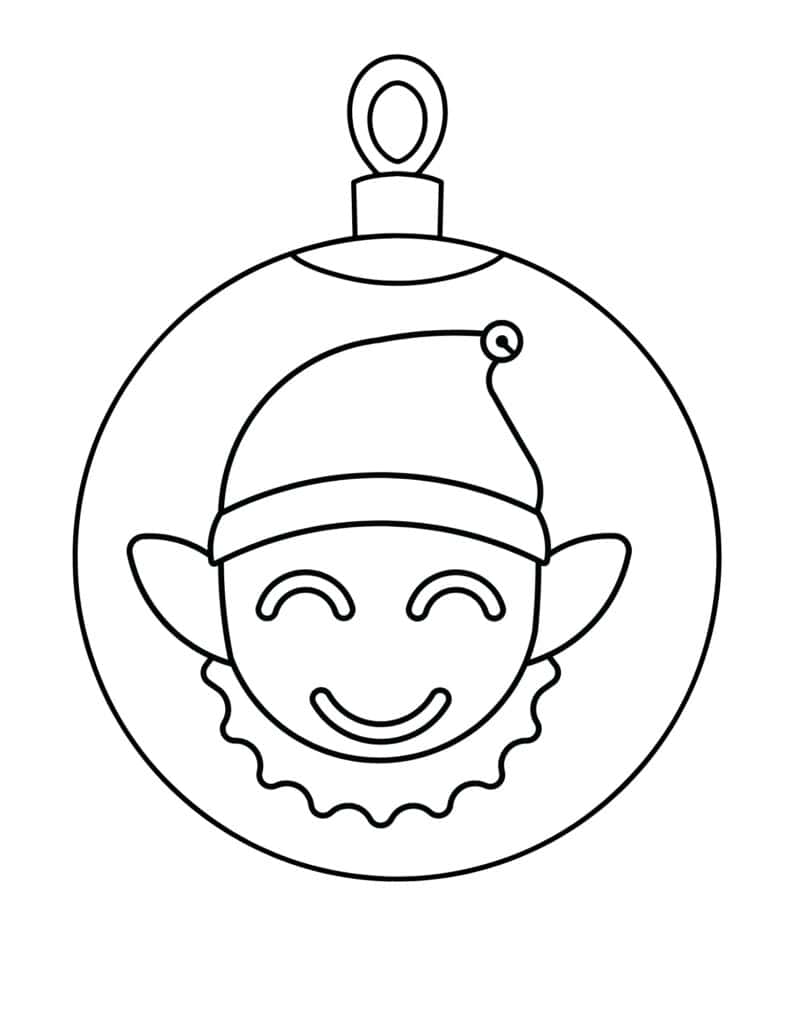 Looking for something simple for your toddler or preschooler? This adorable, easy-to-color elf face is perfectly designed with little hands in mind!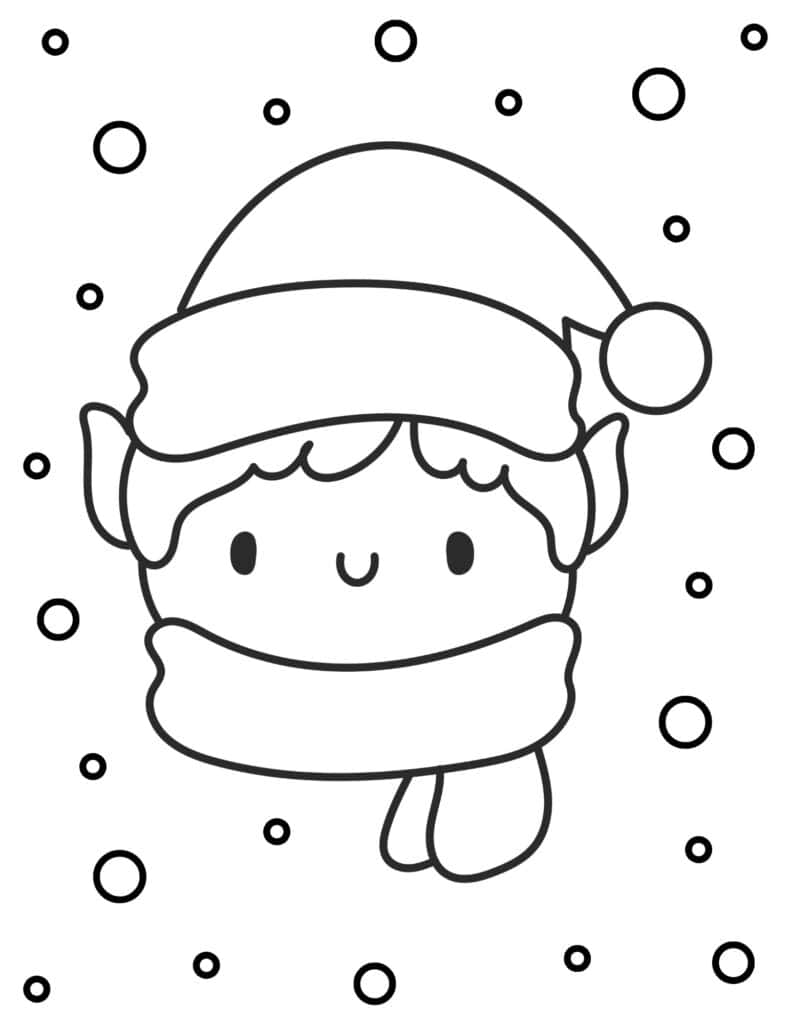 Another super simple design that is perfect for your tiny artists who are just starting to explore the joy of coloring. The elf's large features make it a good choice for little ones to practice their motor skills!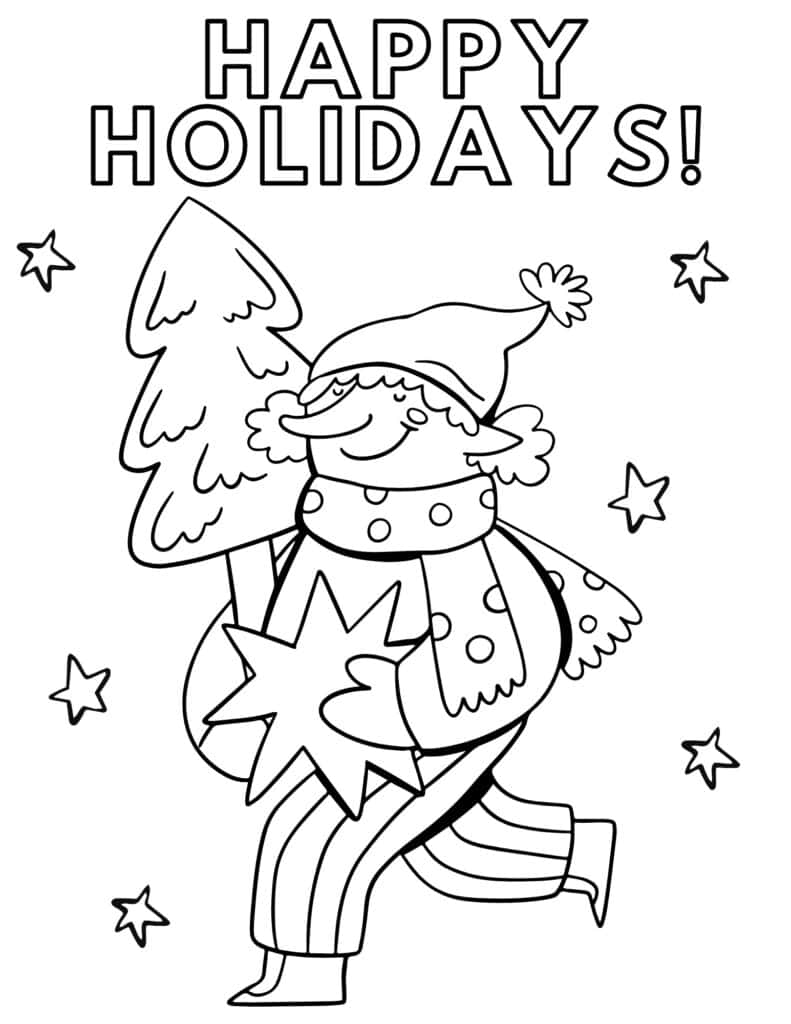 Dash into the holiday season with this fun scene that shows a running elf. He's hurrying to get that perfect tree ready for the big day.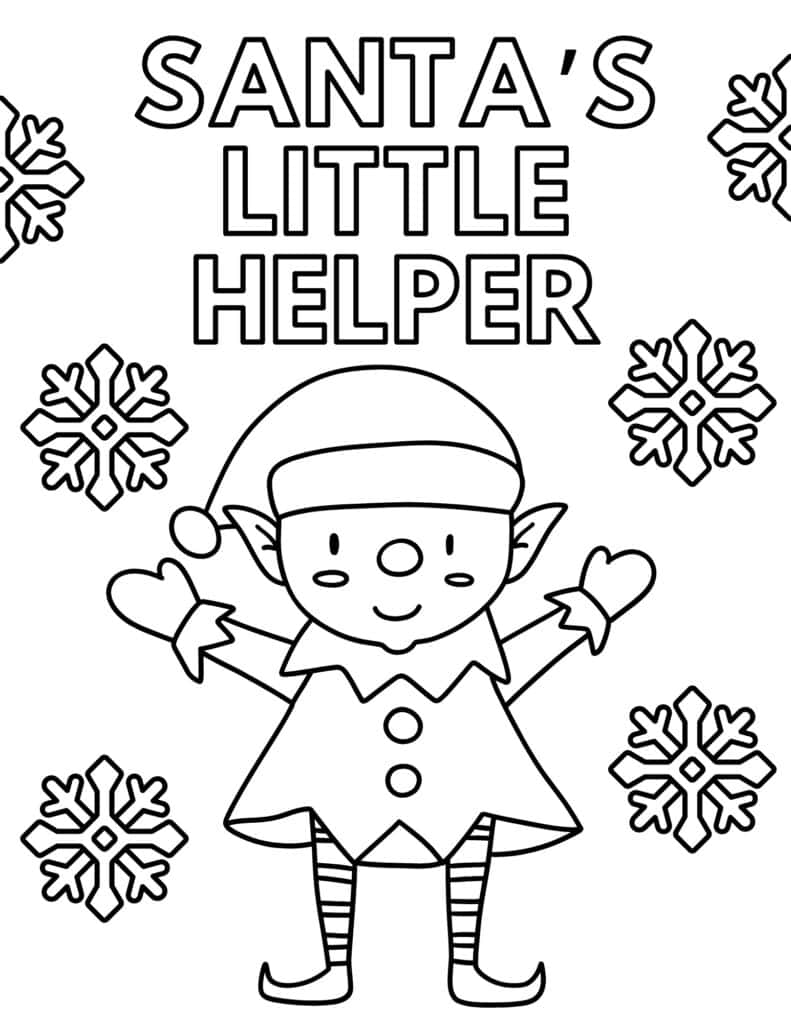 This charming Santa's helper is framed by whimsical snowflakes, making it a cozy and festive coloring experience for your little artists.
Elf Coloring Pages for Older Kids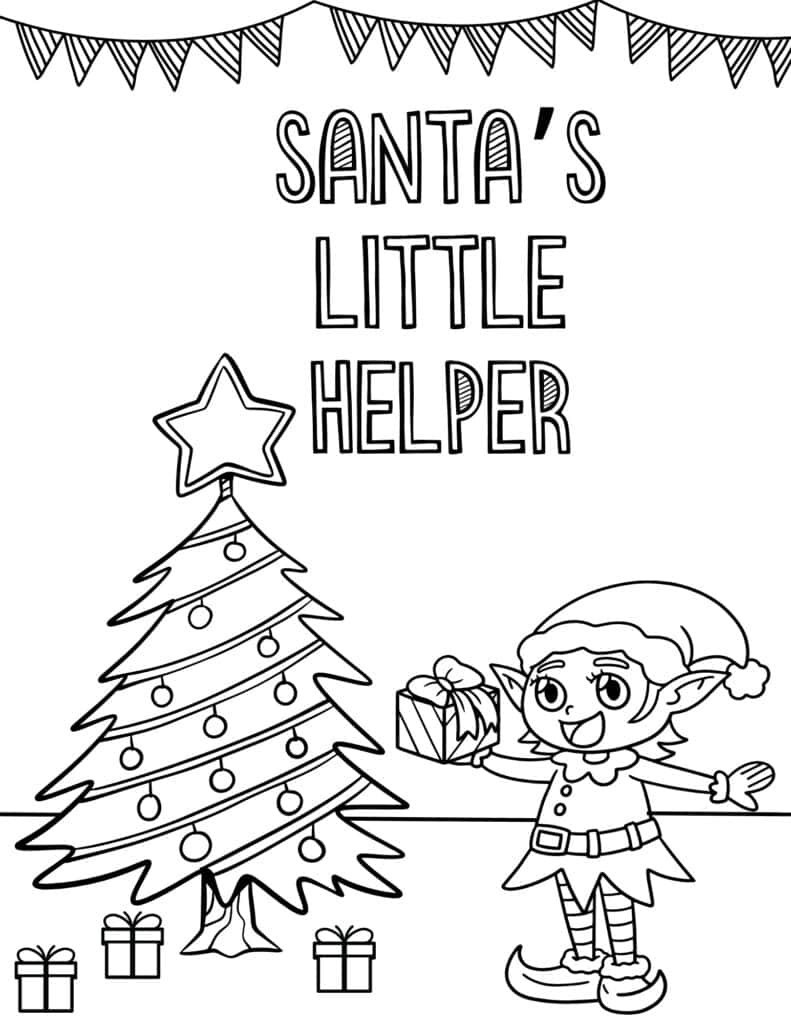 Unwrap some holiday fun with this cheerful scene that captures the excitement of gift-giving. Santa's little helper is just as excited to give the gift as your little ones will be to color it in!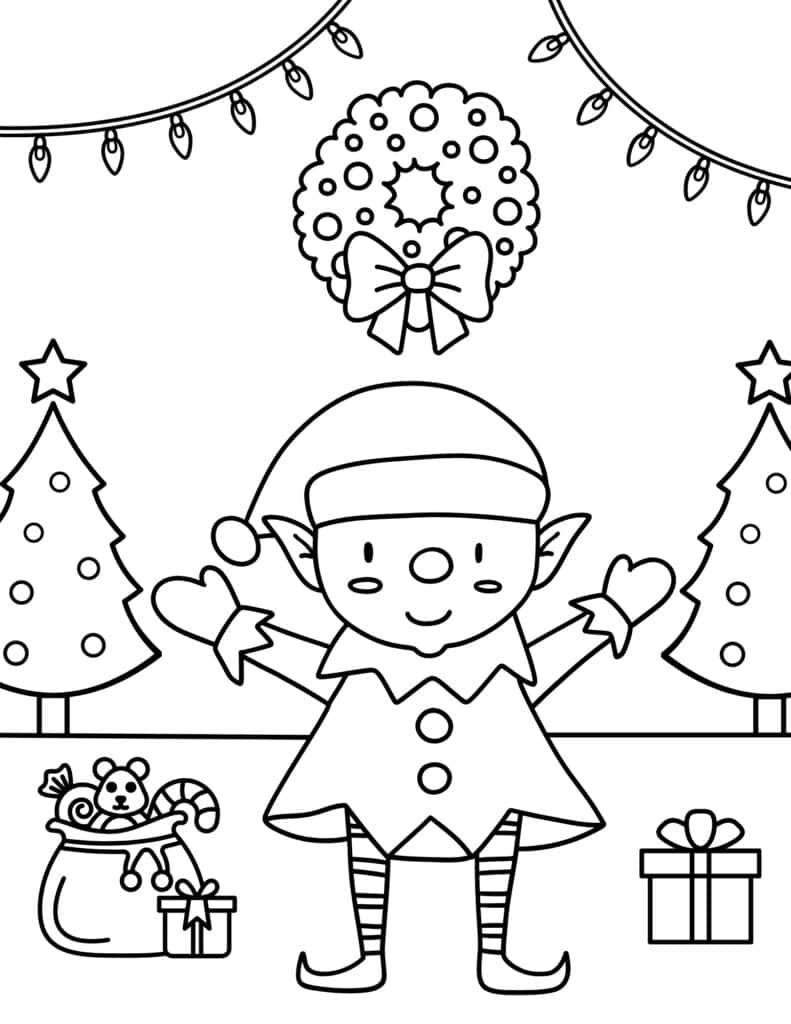 Get ready to deck the halls with this coloring sheet. It features a happy elf showing off his decorating skills, from twinkling lights and a welcoming DIY Christmas wreath to beautifully decorated Christmas trees!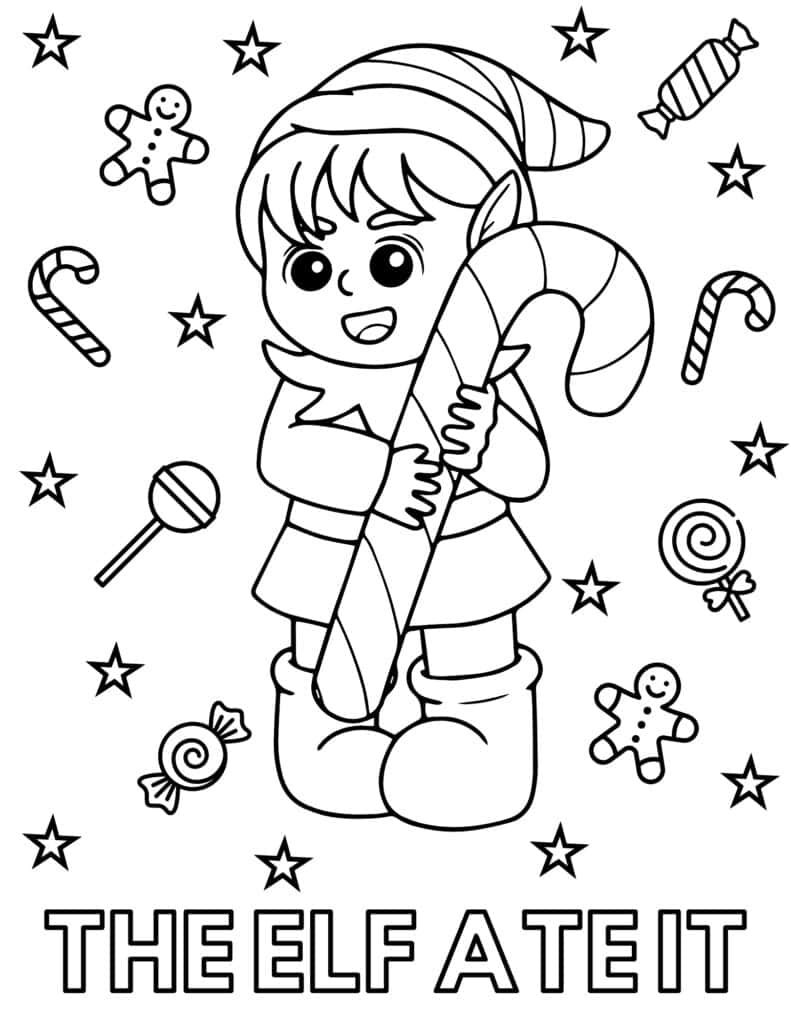 Cue the sugar rush and giggles with this playful scene. There's an elf clutching a candy cane, surrounded by mouthwatering Christmas candy. It's the perfect activity for little ones with a sweet tooth.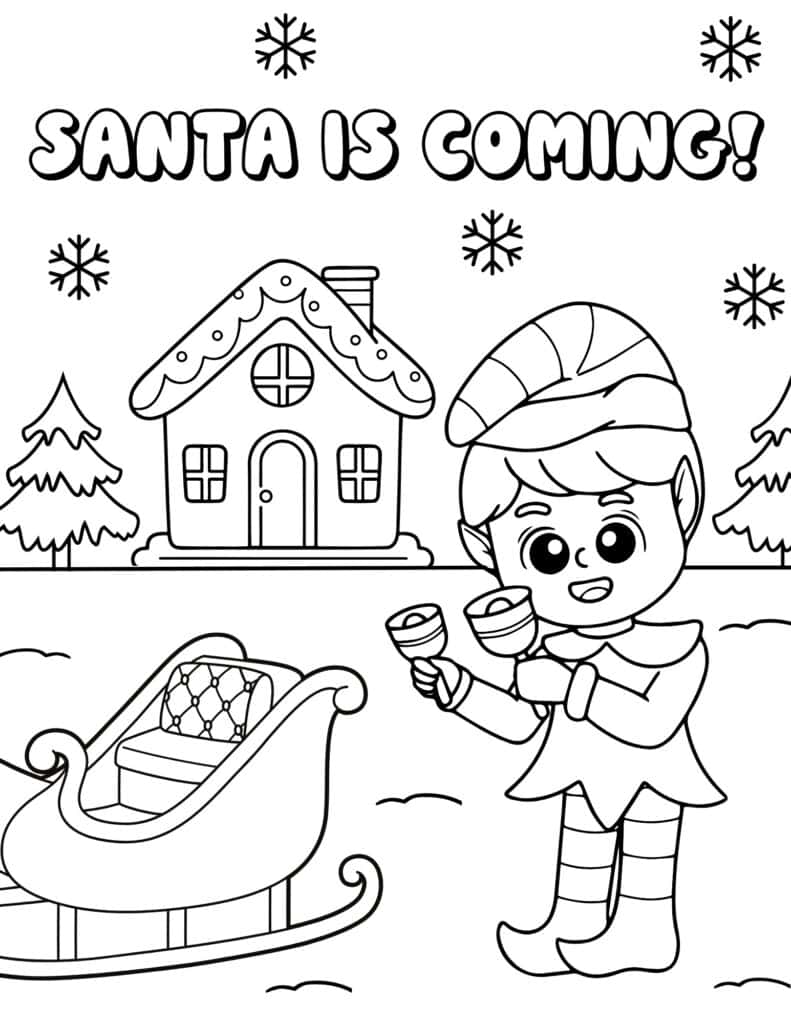 This one shows an excited elf ringing bells to announce the arrival of Santa, complete with Santa's sleigh and a snowy Christmas home in the backdrop. It will get your kids excited about Santa's arrival!
Unwrap some Christmas magic with this one, featuring Christmas toys delivered by Santa and his elf wanting to play! It's a good way to get your kids excited for the toy-filled festivities that await!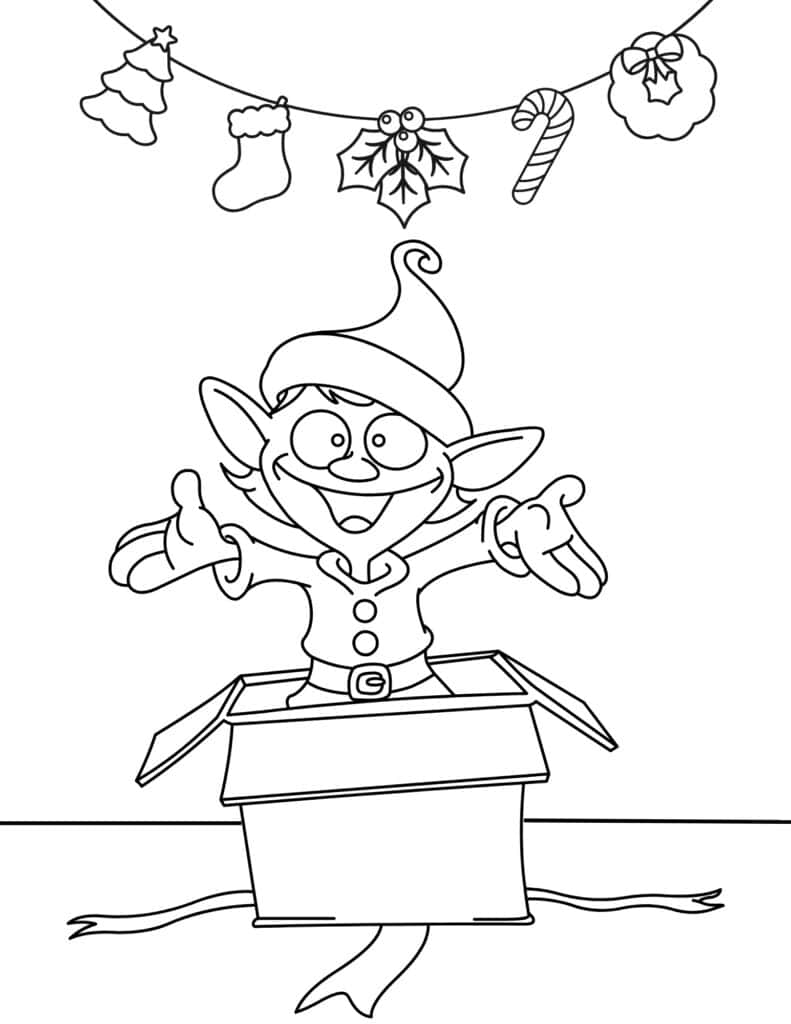 Surprise! There's an adorable elf springing out of a festively wrapped box. It's a delightful way to add an extra splash of excitement to your child's coloring adventures.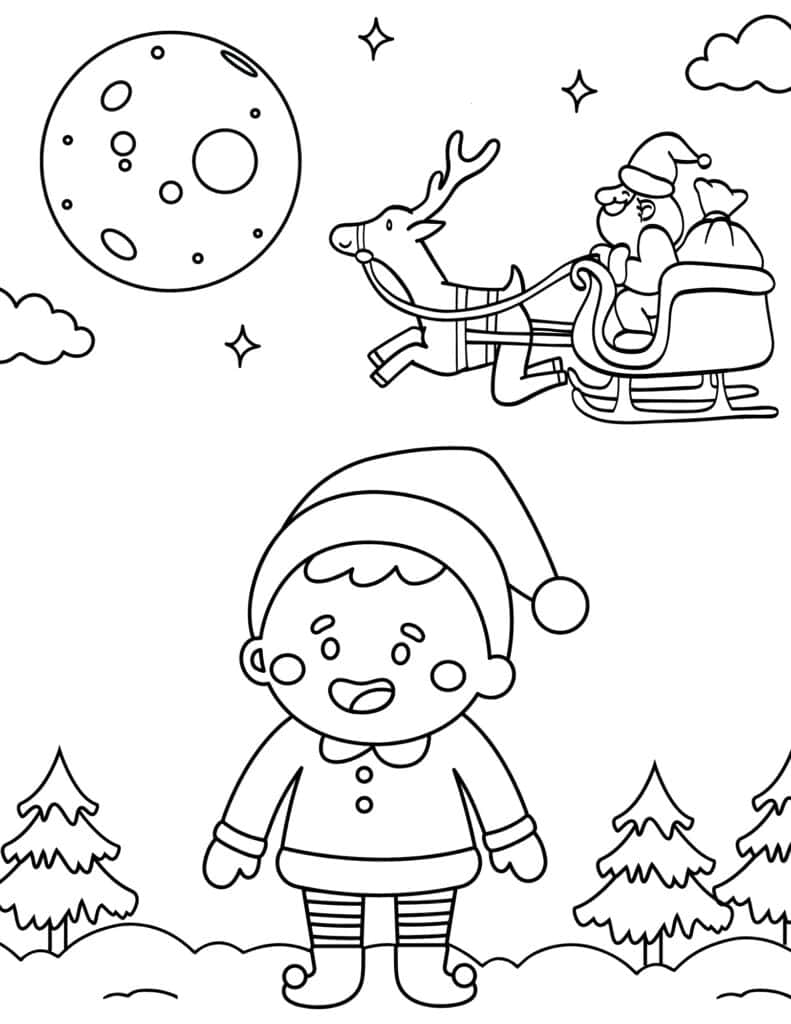 Look up to the skies—it's Santa and his sleigh! This little boy elf is excited watching Santa's sleigh soar through the starry sky.
More Christmas Coloring Pages
More Christmas Printables
Follow me on Pinterest, Facebook, or Instagram for more inspiration on crafts, DIY, free printables, and recipes!