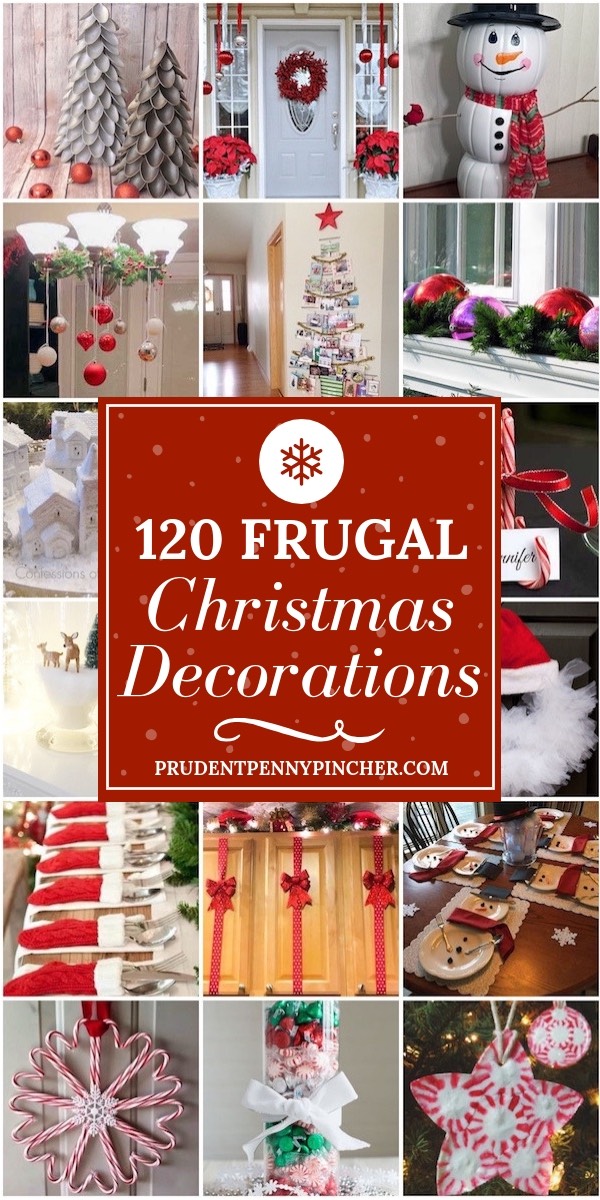 This is the ULTIMATE list of frugal Christmas decorations which includes hundreds of ideas for centerpieces, outdoor decor, ornaments, garlands, candles and much more! All of the supplies for these frugal Christmas decorations can be found at Dollar Tree, for free in nature or are commonplace items that you would probably already have around the house. Nearly all of these Christmas decorations are under $10, with a majority of them under $5. This is your one stop spot for affordable Christmas decorations!
Frugal Christmas Decorations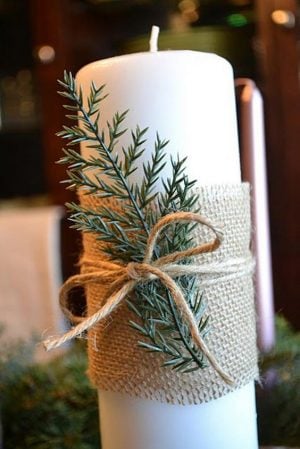 Burlap Christmas Candle
tall candle, burlap ribbon, twine, evergreen branch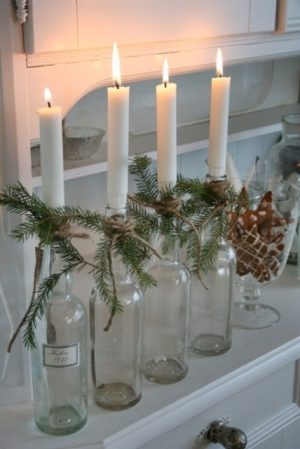 Natural Christmas Centerpiece
wine glass bottles, white taper candles, twine, pine twigs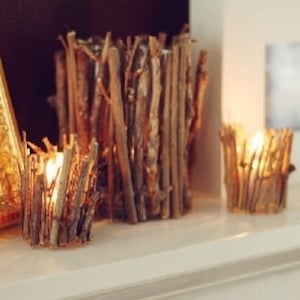 Rustic Stick Candle
glass candleholder, small pillar candle, sticks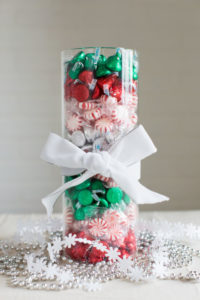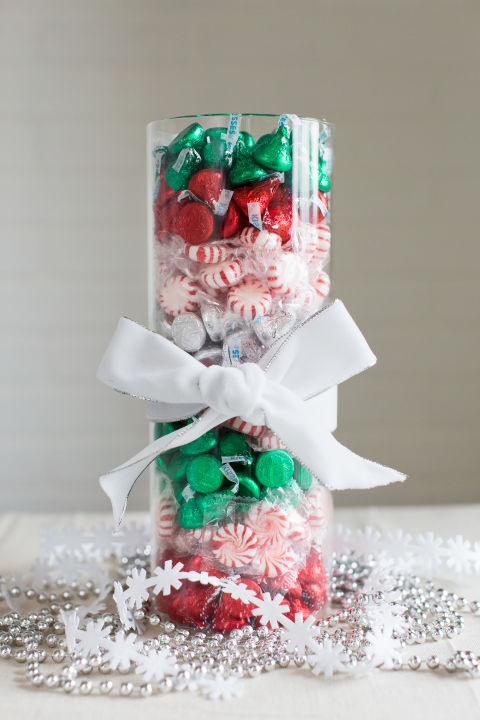 Christmas Candy Vase
Christmas kisses, peppermints, tall vase, white ribbon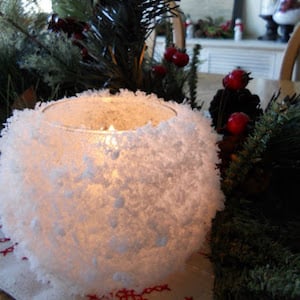 Snowball  Candleholder
round glass candleholder, spray adhesive, fake snow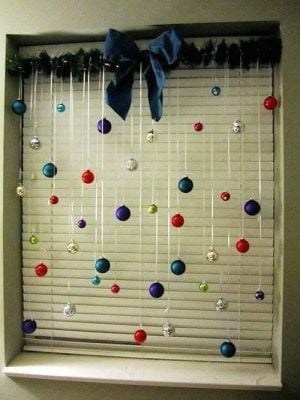 Hanging Ornaments Window Decoration
assorted round ornaments, white curling ribbons, large bow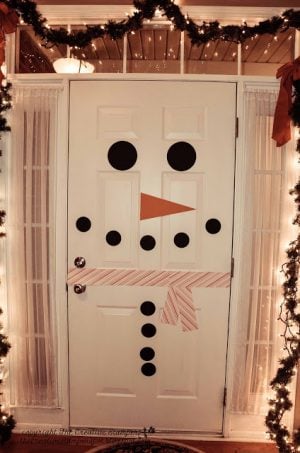 Snowman Door Decoration
construction paper, red striped gift paper
You can also add the same decoration to your fridge if it's white.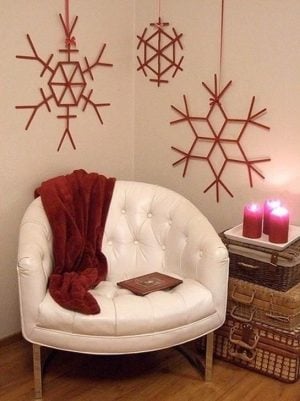 Popsicle Stick Snowflakes
popsicle sticks, red acrylic paint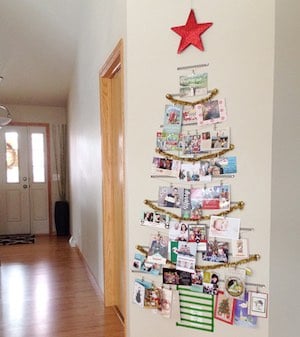 Washi Tape Christmas Tree Card Holder
decorative tape, string, a tinsel garland, tacks, red glitter star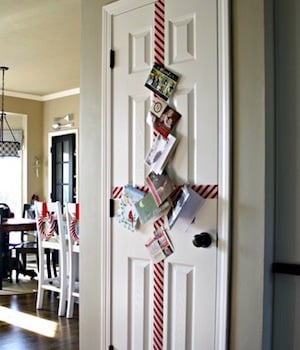 Easy Holiday Card Display 
Christmas ribbon, mini clothespins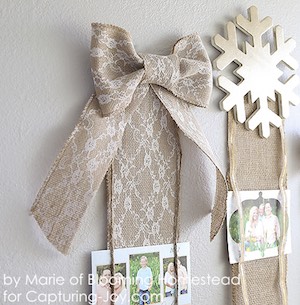 DIY Christmas Card Holder
burlap ribbon, floral wire, twine, glue gun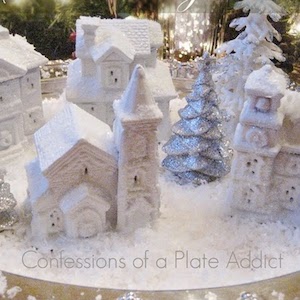 Dollar Tree Snowy Village
$1 snow village houses, white spray paint, Mod Podge, white glitter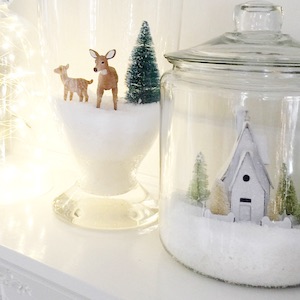 Christmas Village Jars
jars, epsom salt, $1 Christmas village items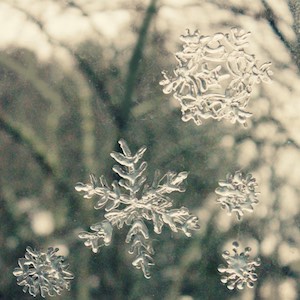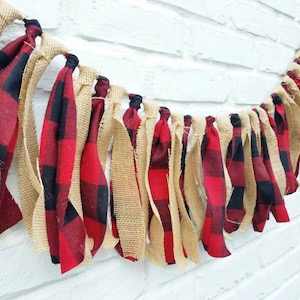 Buffalo Check Garland
burlap ribbon, buffalo check ribbon, twine, string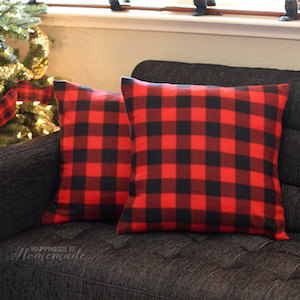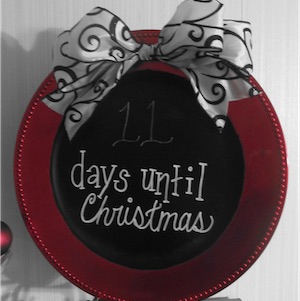 Dollar Store Christmas Countdown Charger
charger, tape, Christmas ribbon, floral wire, chalk paint ($2 Walmart), paint marker, picture holder
You can get everything but the paint marker and chalk paint at Dollar Tree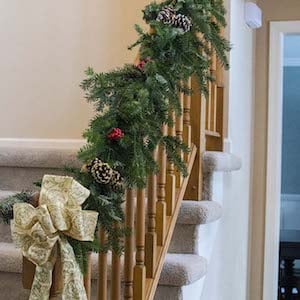 Make Your Own Garland for Less Than $5
$1 garland, pruning shears, floral wire, evergreen branches, berries, pinecones and/or bows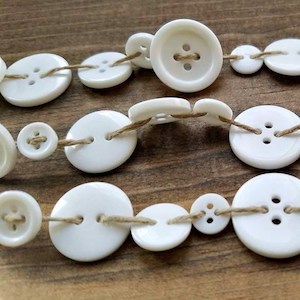 DIY Button Garland
white buttons, hemp string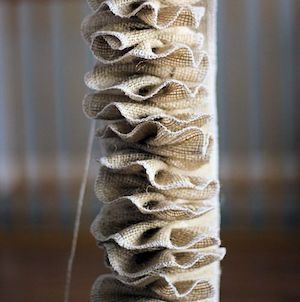 Pretty Burlap Garland
burlap fabric, hemp cording, a tapestry needle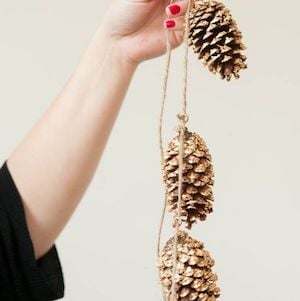 Pinecone Garland
pinecones, twine, Mod Podge, gold glitter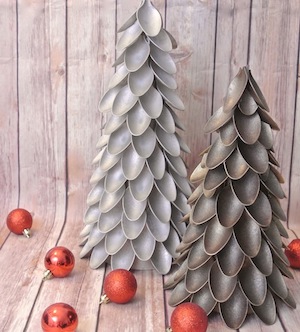 Plastic Spoon Mini Christmas Tree
plastic spoons, glue gun, tree form, spray paint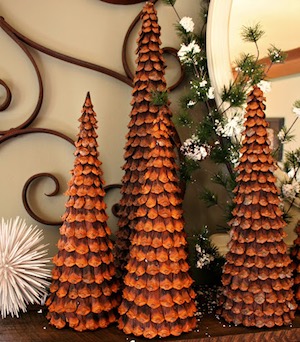 Pine Cone Mini Christmas Tree
tree form, needle nose pliers, glue gun, pinecones, paper bag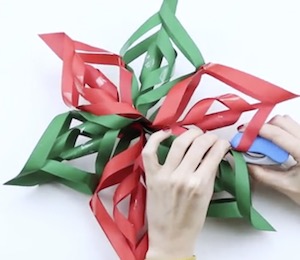 3D Paper Snowflakes
paper, scissors, stapler, tape
Frugal Christmas Tree Ideas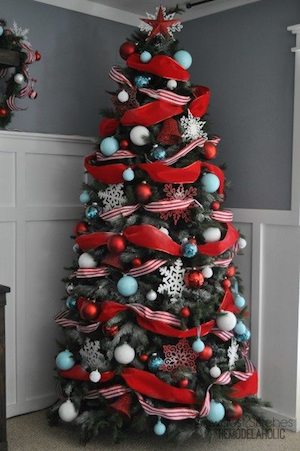 Designer Dollar Store Christmas Tree from Saw Dust 2 Stitches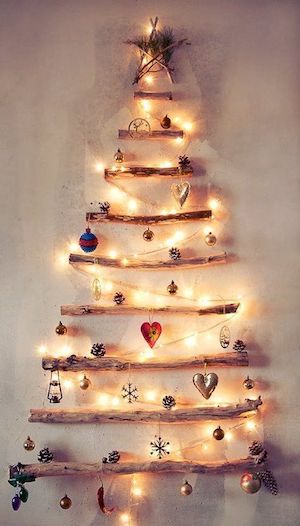 Wood Christmas Tree
branches, saw, ornaments, clear lights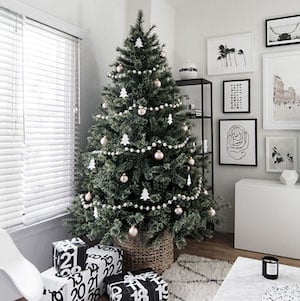 Scandinavian Christmas Tree (source unknown)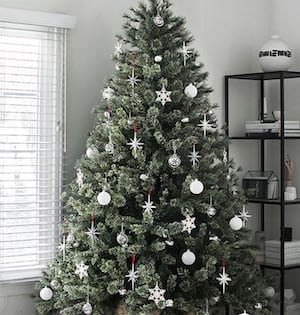 Modern Minimal Christmas Tree from Homey Oh My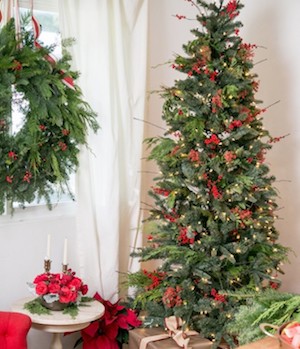 Berry Christmas Tree from Sugar and Charm
You can get berry picks from Dollar Tree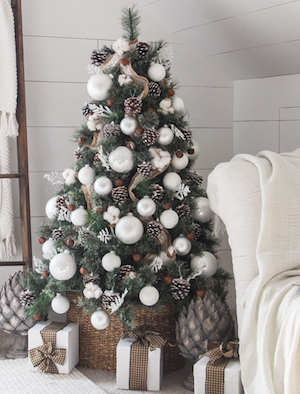 Simple Farmhouse Christmas Tree from Love Grows Wild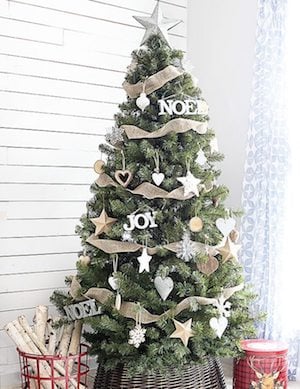 Burlap Woodland Christmas Tree from Live Laugh Rowe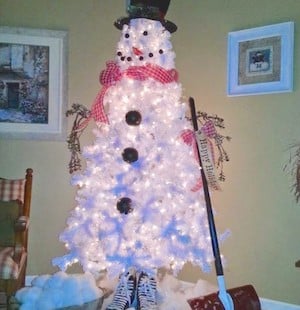 Snowman Christmas Tree (source unknown)
Frugal DIY Christmas Ornaments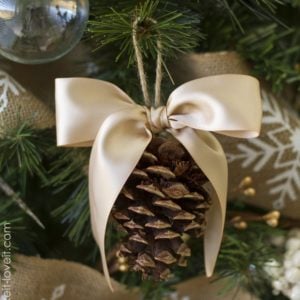 Pinecone Ornament
satin ribbon, twine, pinecone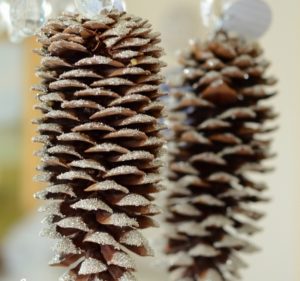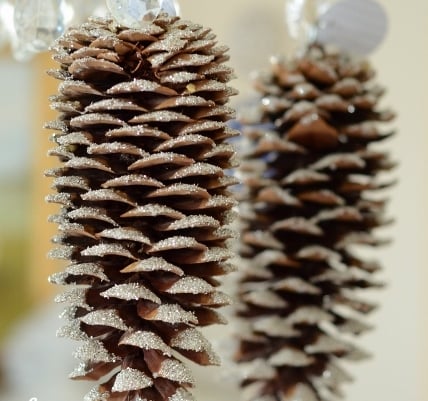 Frosted Pinecone Ornament
glitter, pinecones, small screw eye for hanging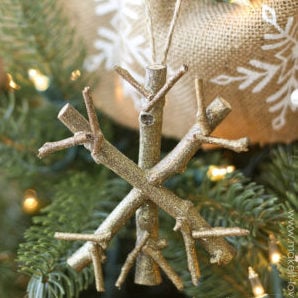 Twig Ornament
twigs, jute string, glitter spray (optional)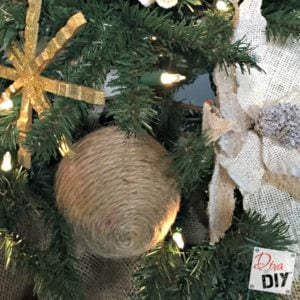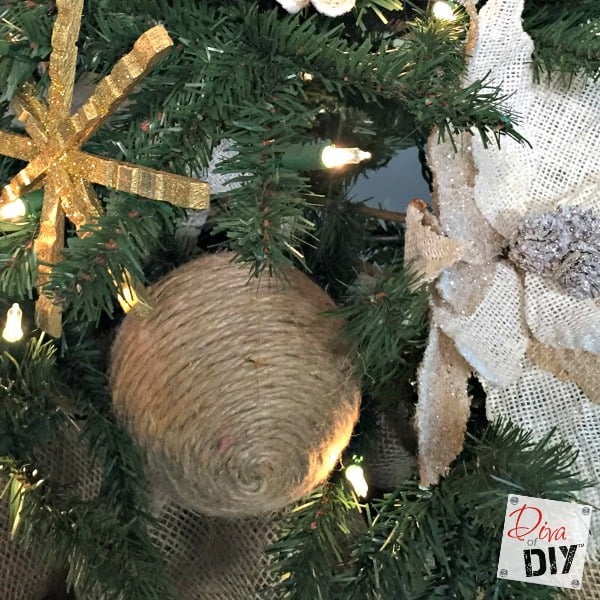 Twine Ornament
ornament, jute twine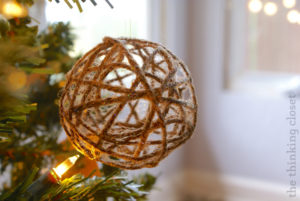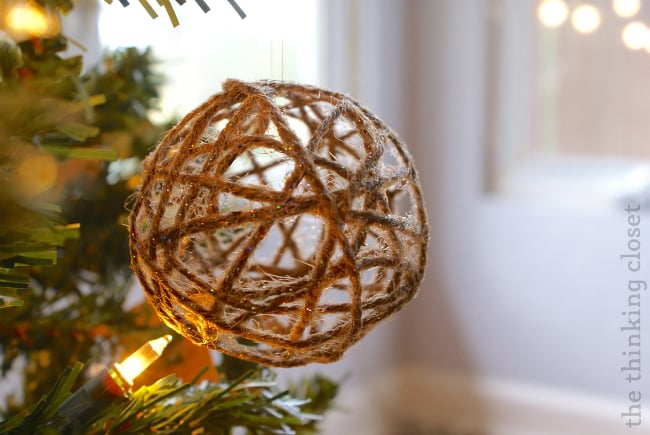 Twine Ball Ornament
balloons, jute twine, cling wrap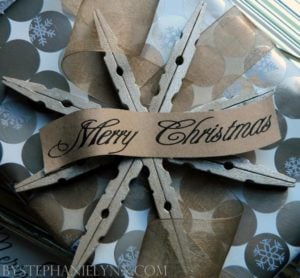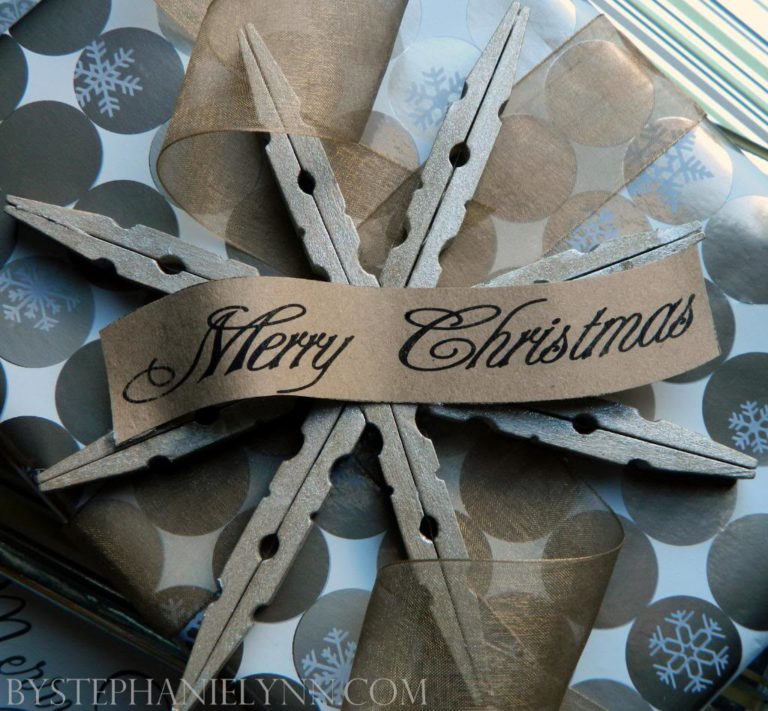 Clothespin Snowflake Ornament
wooden clothespins, embellishments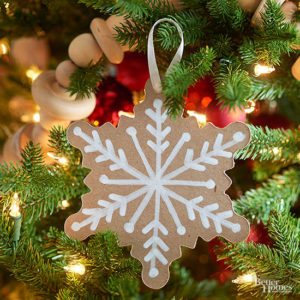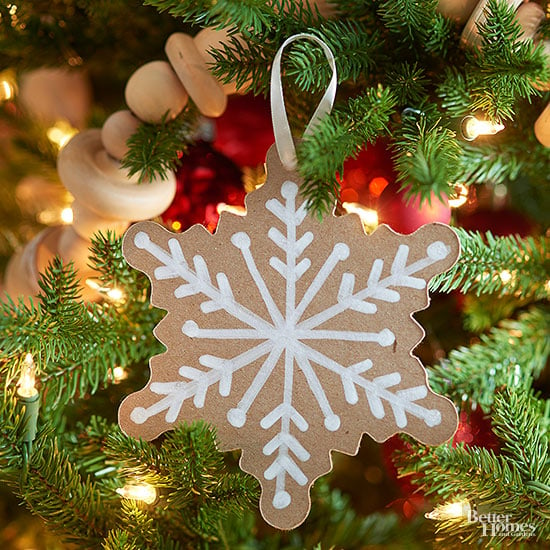 Cardboard Snowflake Ornament
cardboard or Kraft paper, white Sharpie, snowflake template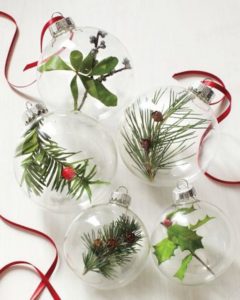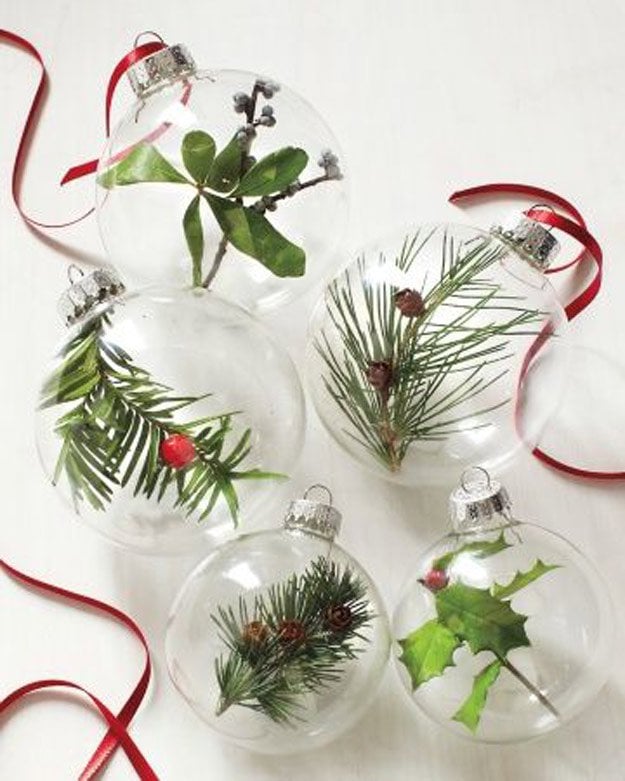 Natural Ornaments
clear craft ornaments, evergreen sprigs, holly berries, etc.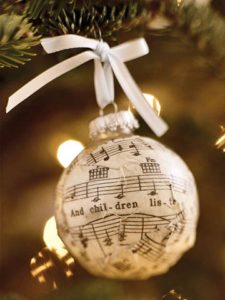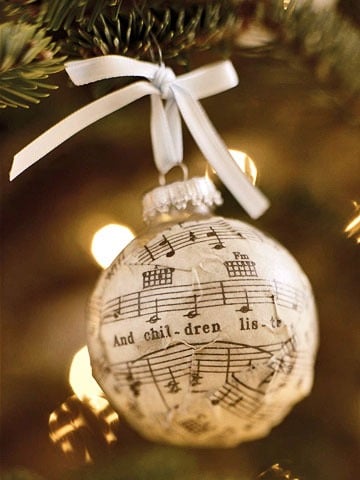 Sheet Music Ornament
Print music on parchment paper and glue onto ornament with Mod Podge.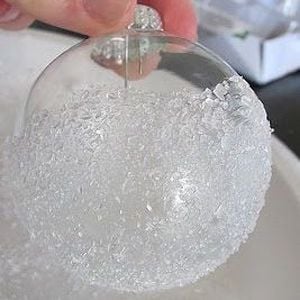 Epson Salt Ornament
clear ornaments, glue stick, epsom salt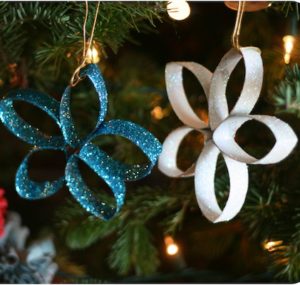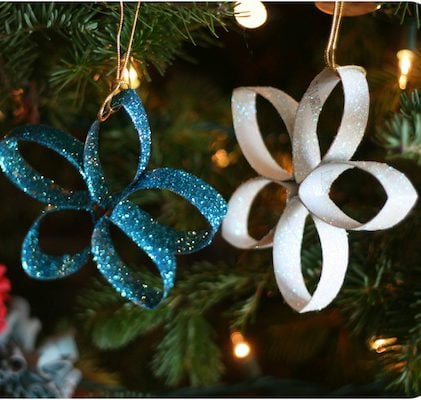 Paper Towel Star Ornaments
paper towel roll. glitter, mod podge, acrylic paints, string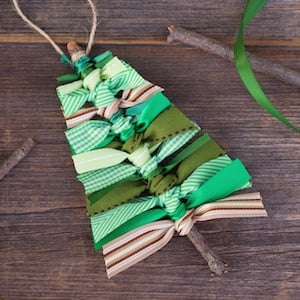 Scrap Ribbon Tree Ornaments
straight sticks, ribbons, glue gun, twine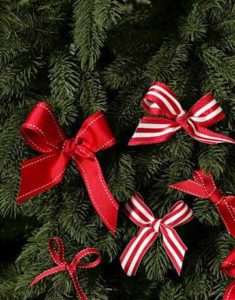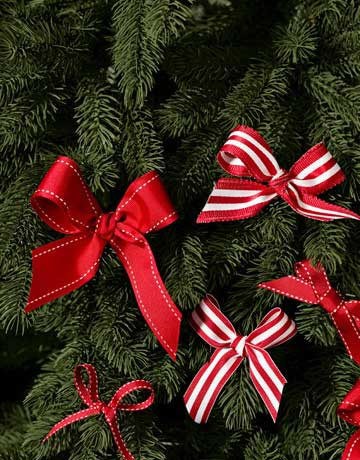 Christmas Ribbon Ornaments
All you need is ribbons – just bow tie them to the tree!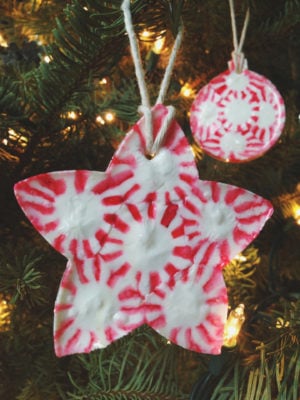 Melted Peppermint Ornament
peppermint candies, metal cookie cutters, twine or ribbon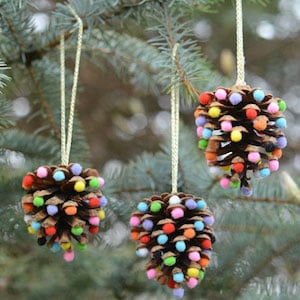 Pom Pom & Pinecone Ornaments
pinecones , pom poms, string, glue gun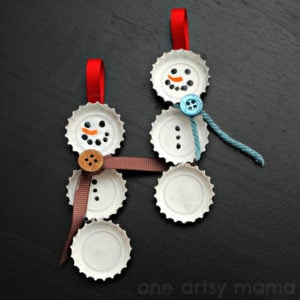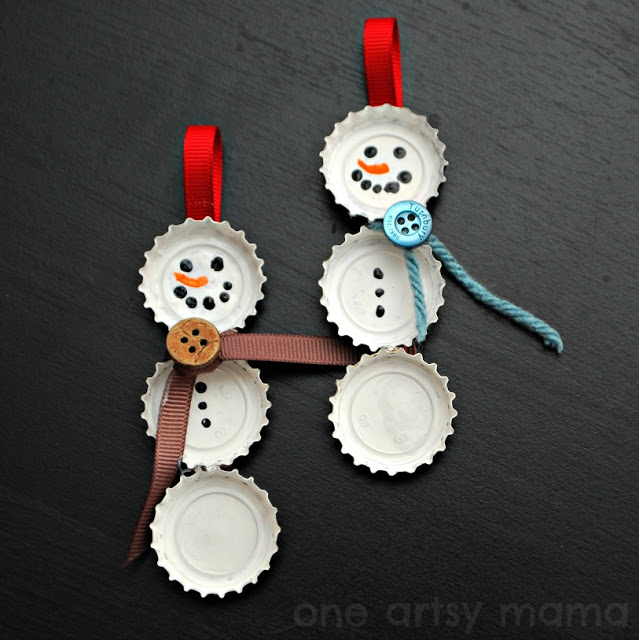 Bottle Cap Snowmen Ornaments
 acrylic paints, ribbon, buttons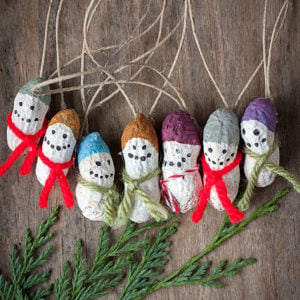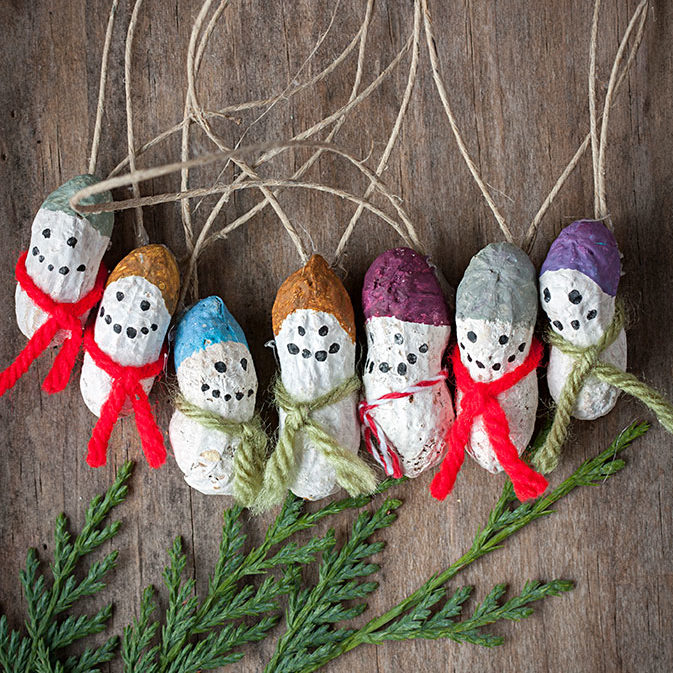 Snowmen Peanut Ornaments
peanuts, acrylic paints, yarn, twine
Kitchen & Dining Frugal Christmas Decorations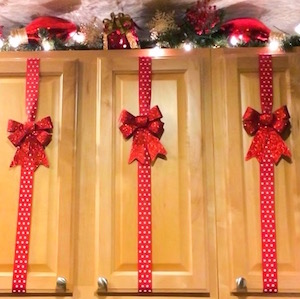 Gift Bow Cabinets
Christmas bows and coordinating ribbons, glue gun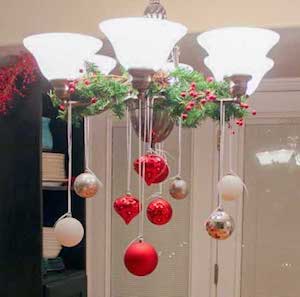 Dining Room Chandelier Decorations
garland with berries, ornaments, string or ribbons (for hanging)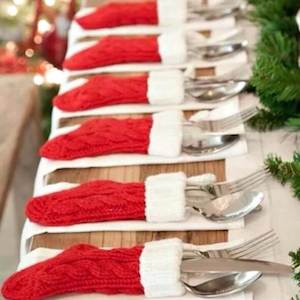 Mini Stocking Utensil Holders
All you need is a pack of mini stockings from the Dollar Tree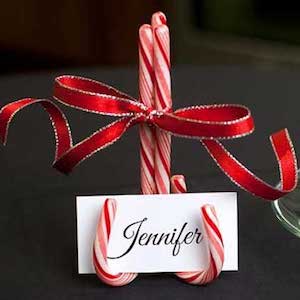 Candy Cane Placeholder
candy canes, place cards, ribbons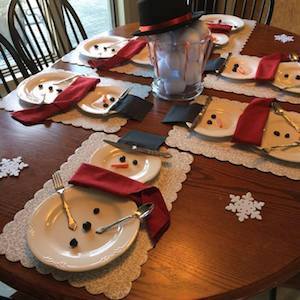 Snowmen Place Setting from Stager Linda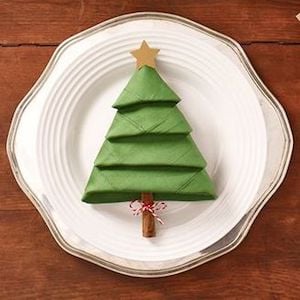 Christmas Tree Folded Napkin from Publix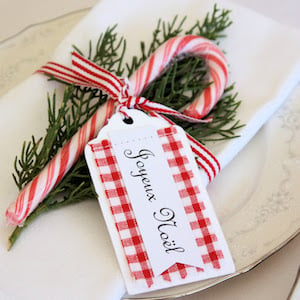 Candy Candy Place Card from Spoonful of Sugar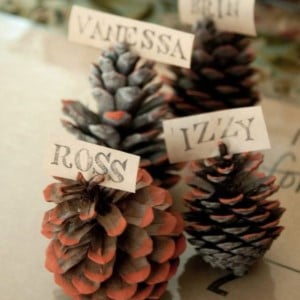 Pine Cone Place Cards
orange acrylic paint, cardstock, pine cones, letter stamps & ink pad (or marker, letter stickers, etc.)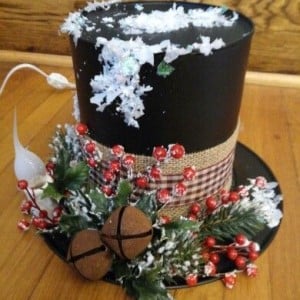 Snowman Hat (source unknown)
coffee can, plastic plate, black spray paint, christmas ribbon, christmas pick, faux snow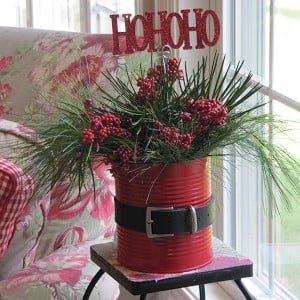 Santa Claus Can Centerpiece from Sew Many Ways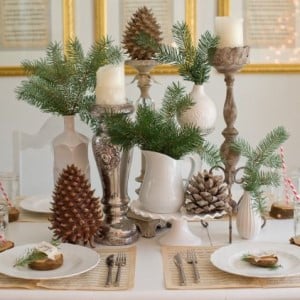 Natural Christmas Centerpiece (source unknown)
pine cones, pine clippings, candle holders, candles, vases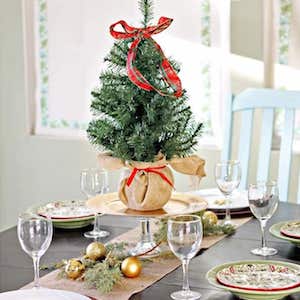 Simple Christmas Table
$1 tabletop Christmas tree, burlap fabric, Christmas ribbon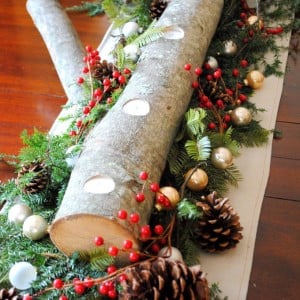 Christmas Log Centerpiece from Jenna Burger
If you have a saw, drill with a large drill bit and plenty of evergreen, pinecones, and berry vines near you,
then this would be a very cheap centerpiece idea for you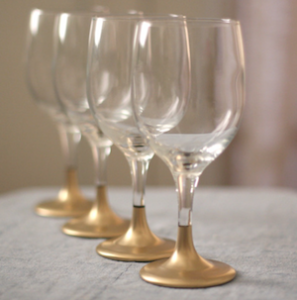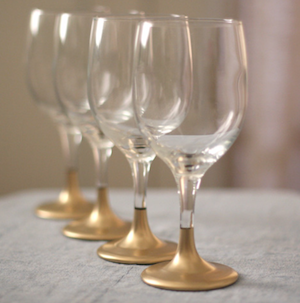 Gold Dipped Holiday Glasses
gold spray paint, painter's tape, wine glasses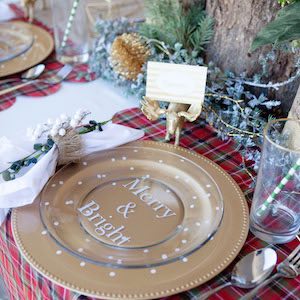 How to Dress Up Dollar Store Plates from Classy Clutter
Frugal Outdoor Christmas Decorations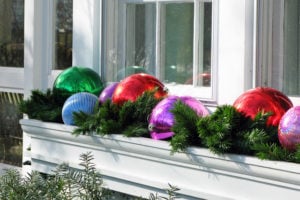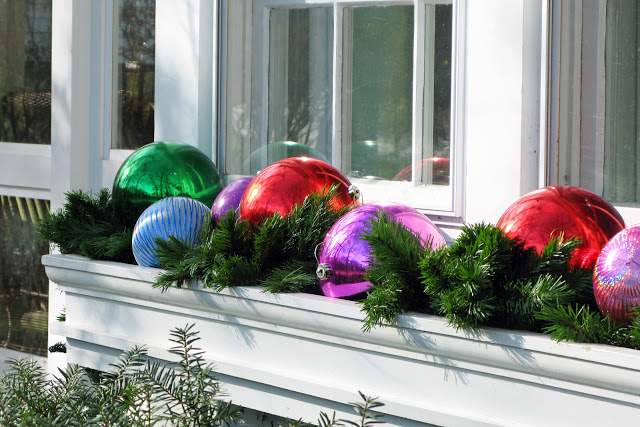 Ornament Window Box
garland, colorful large ornaments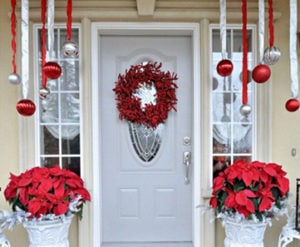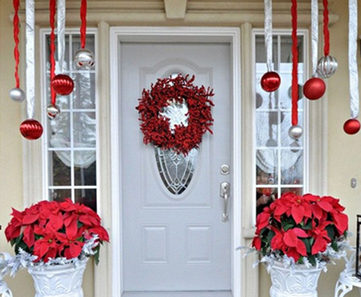 Festive and Frugal Front Porch
ribbons to hang ornaments, ornaments, faux poinsettias, berry wreath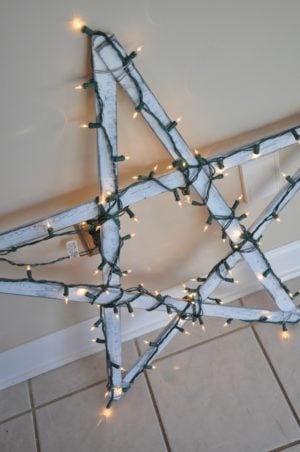 Yardstick Star
5 yardsticks, white spray paint, white Christmas lights, nail & hammer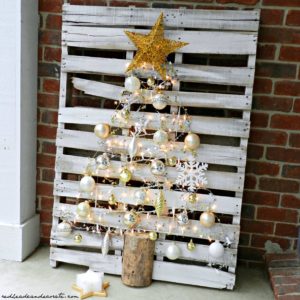 pallet, small log, Christmas star, ornaments, clear lights, command light clips
You can get the pallet for free or very cheap on Craigslist or local businesses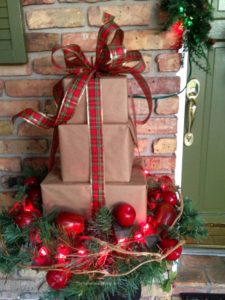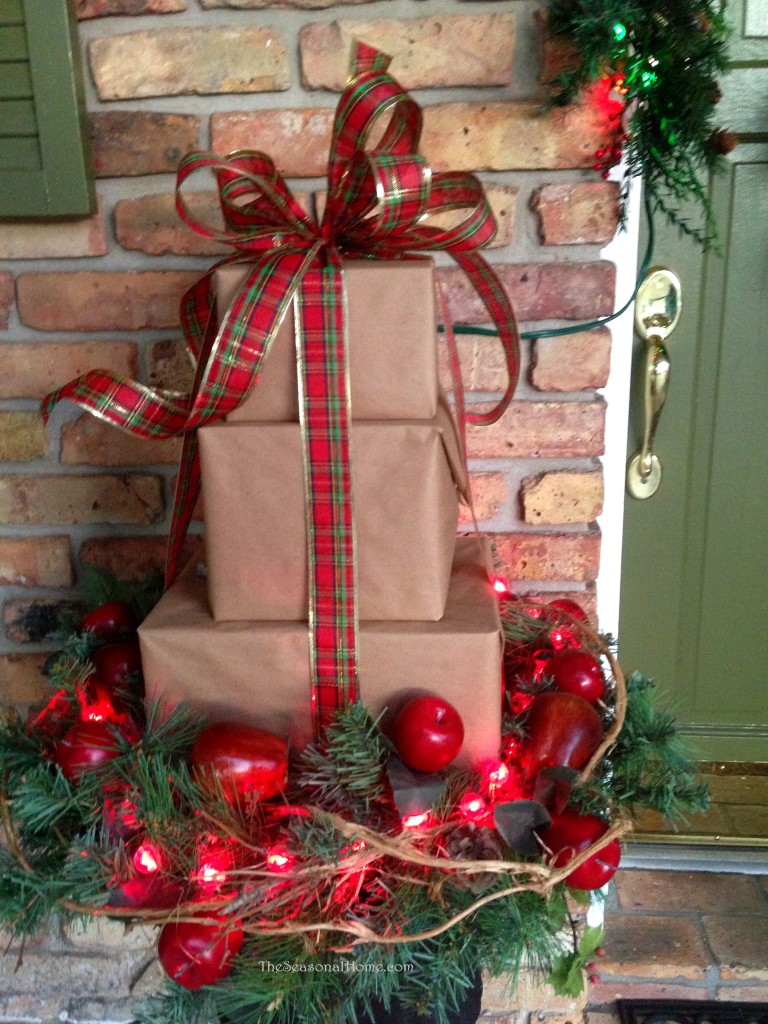 Faux Christmas Gifts
empty boxes, kraft paper, Christmas ribbon, pine branches, 20 count Christmas lights, ornaments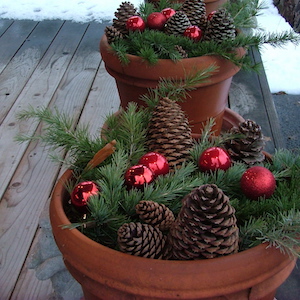 Terra Cotta Christmas Decoration
terra cotta pot, evergreen clippings, ornaments, pinecones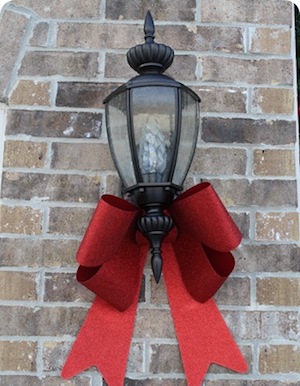 Festive Porch Light 
$1 Christmas bow, floral wire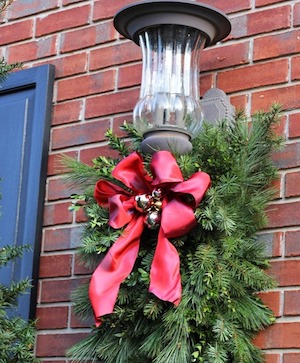 DIY Christmas Porch Light Decoration
foam block, wire coat hanger, chenille stems, paper clips, tree trimmings, Christmas bow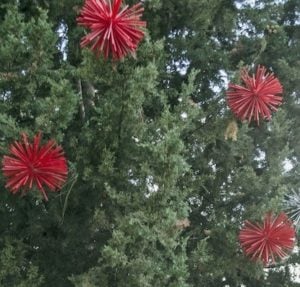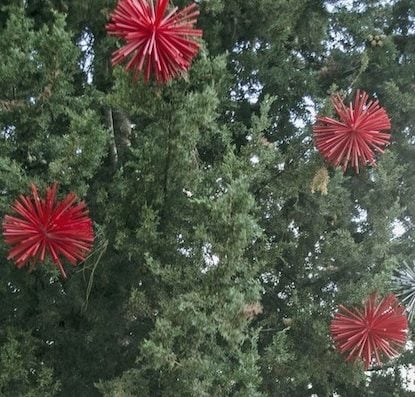 Christmas Starbursts 
straws, red spray paint, zip ties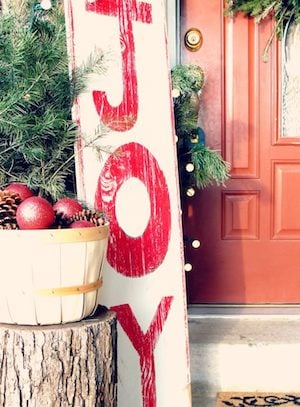 Joy Porch Sign
scrap wood board, red & white paint, pencil, printer
Paint wood board white and let dry. Then, print large letters out and trace onto the wood with a pencil and fill in with red paint. You can use sandpaper to give it an aged look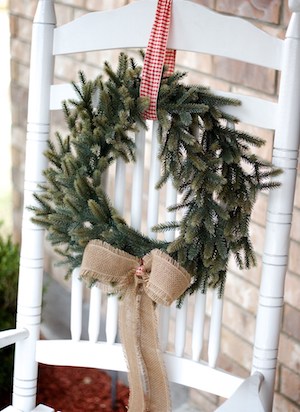 Porch Chair Wreath
small wreath, burlap ribbon, red stripped ribbon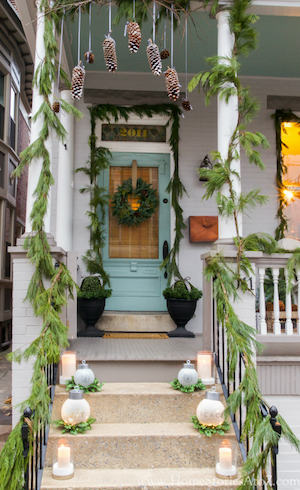 Natural Christmas Porch
evergreen branches, pinecones, floral wire, ribbon
The oversized ornaments are made from globe lights and tuna cans. The instructions are here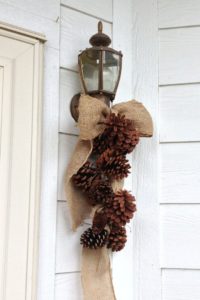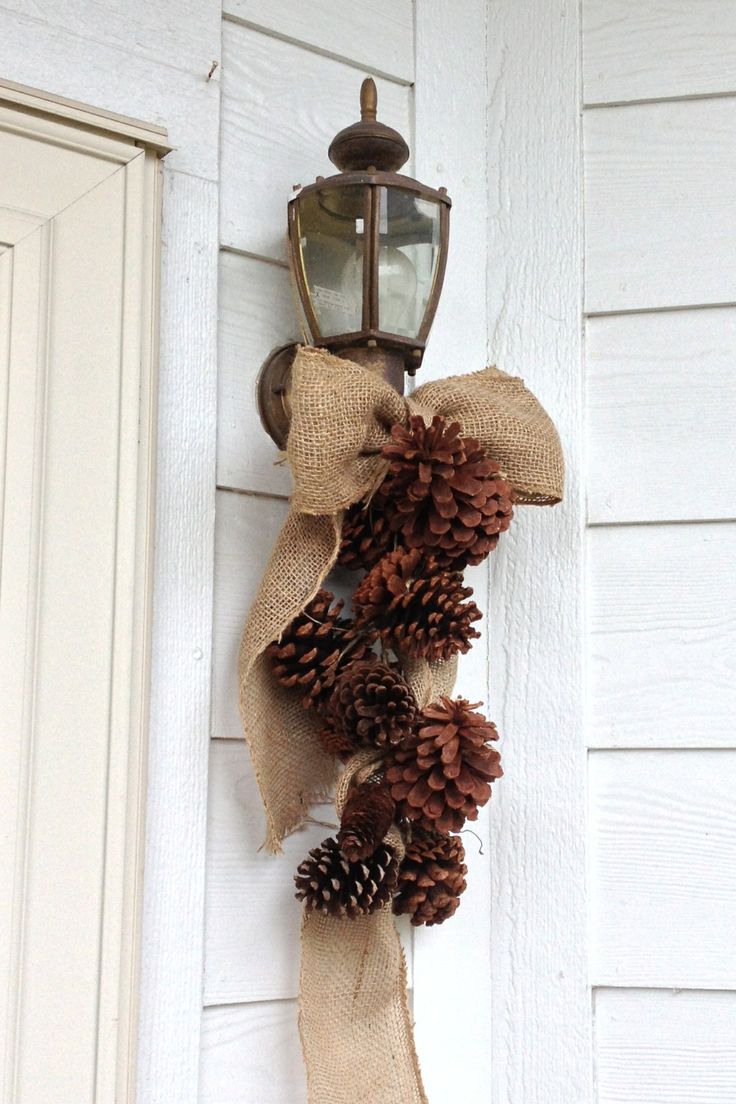 Hanging Pinecones
burlap ribbon, pinecones, floral wire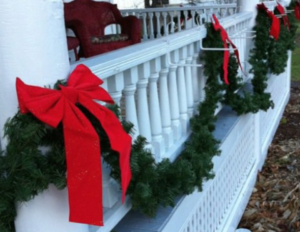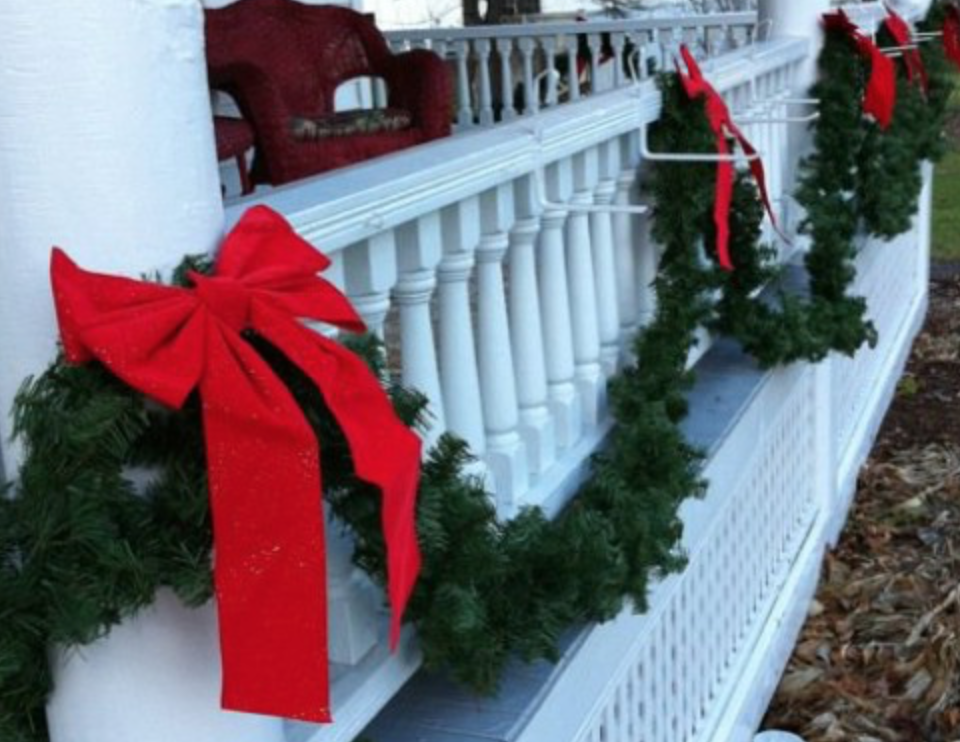 Christmas Garland for Porch Railing
red bows, plain garlands
You can get both of these items at Dollar Tree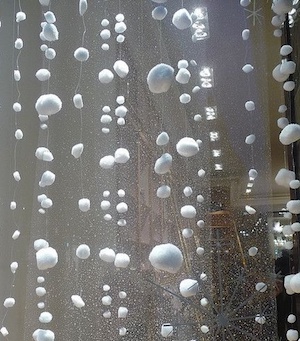 Falling Snow
cotton balls, fishing line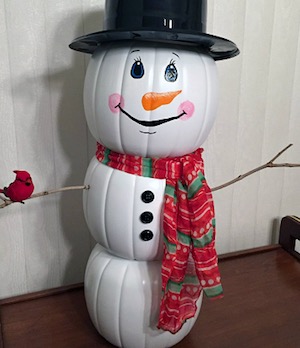 Plastic Pumpkin Snowmen
pumpkin pails, white spray paint, branch, scarf, $1 party hat
Frugal Christmas Wreaths & Door Hangers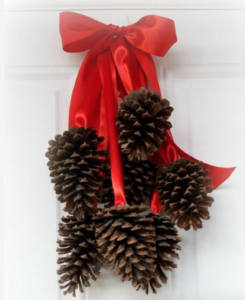 Festive Hanging Pinecones
red ribbon, pinecones, glue gun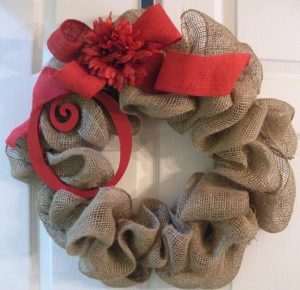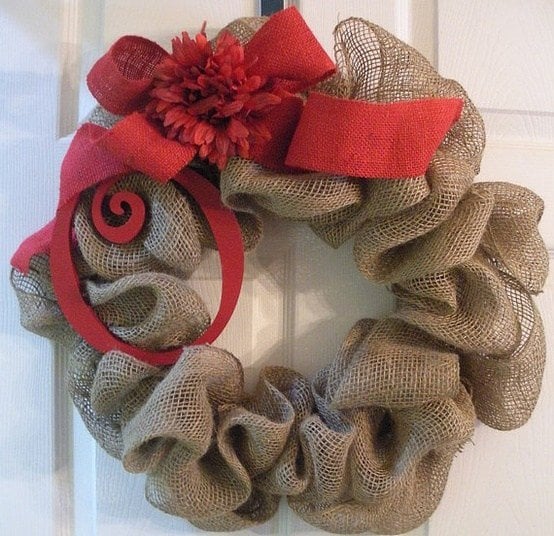 Burlap Christmas Wreath
burlap ribbon, metal frame wreath, Christmas ribbon & other accents, chenille stems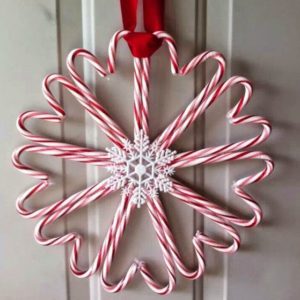 Candy Cane Wreath
candy canes, snowflake ornament, red ribbon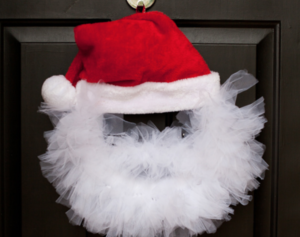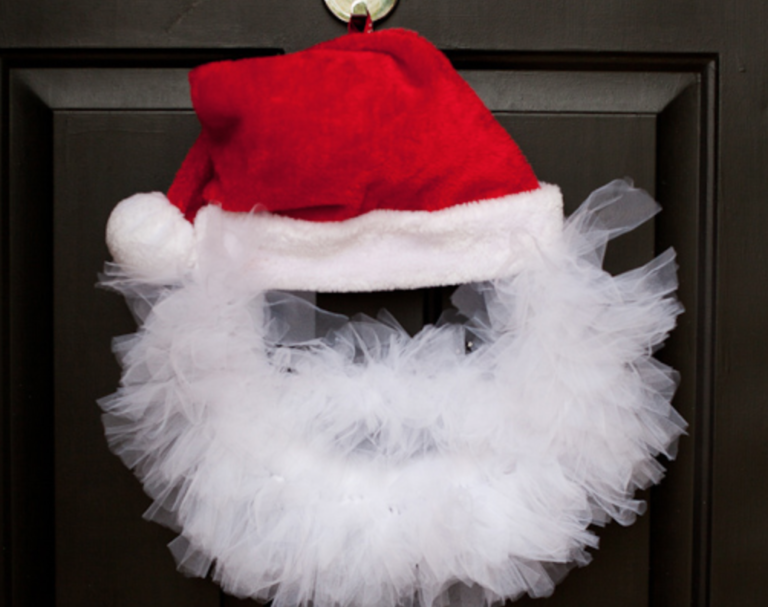 Santa Hat Tulle Wreath
santa hat, foam wreath, white tulle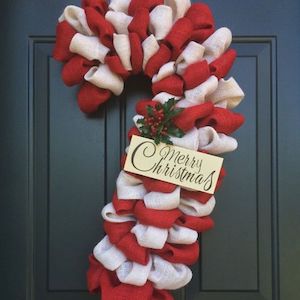 Burlap Candy Cane Wreath
candy cane wire wreath, white & red burlap ribbon, chenille stems, Christmas pick, Christmas sign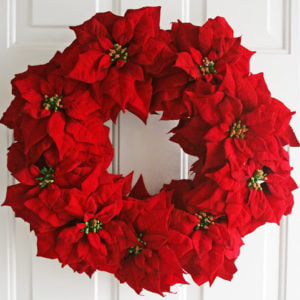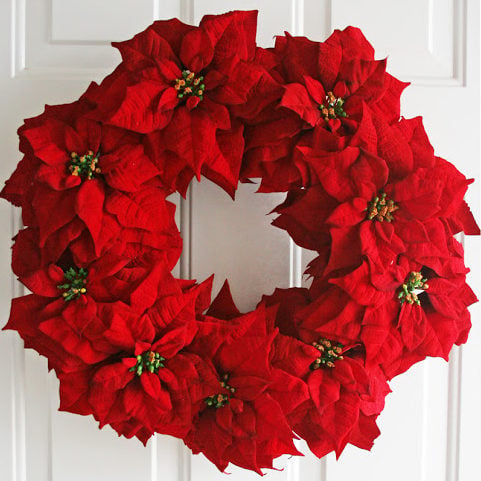 Poinsettia Wreath
poinsettia bushes, grapevine wreath, wire cutters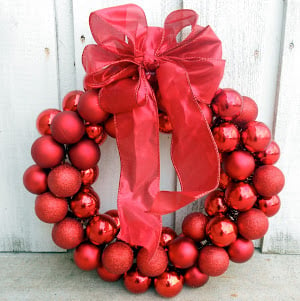 Christmas Ornament Wreath
wire hanger, ornaments, wired ribbon, craft wire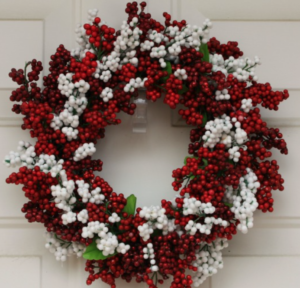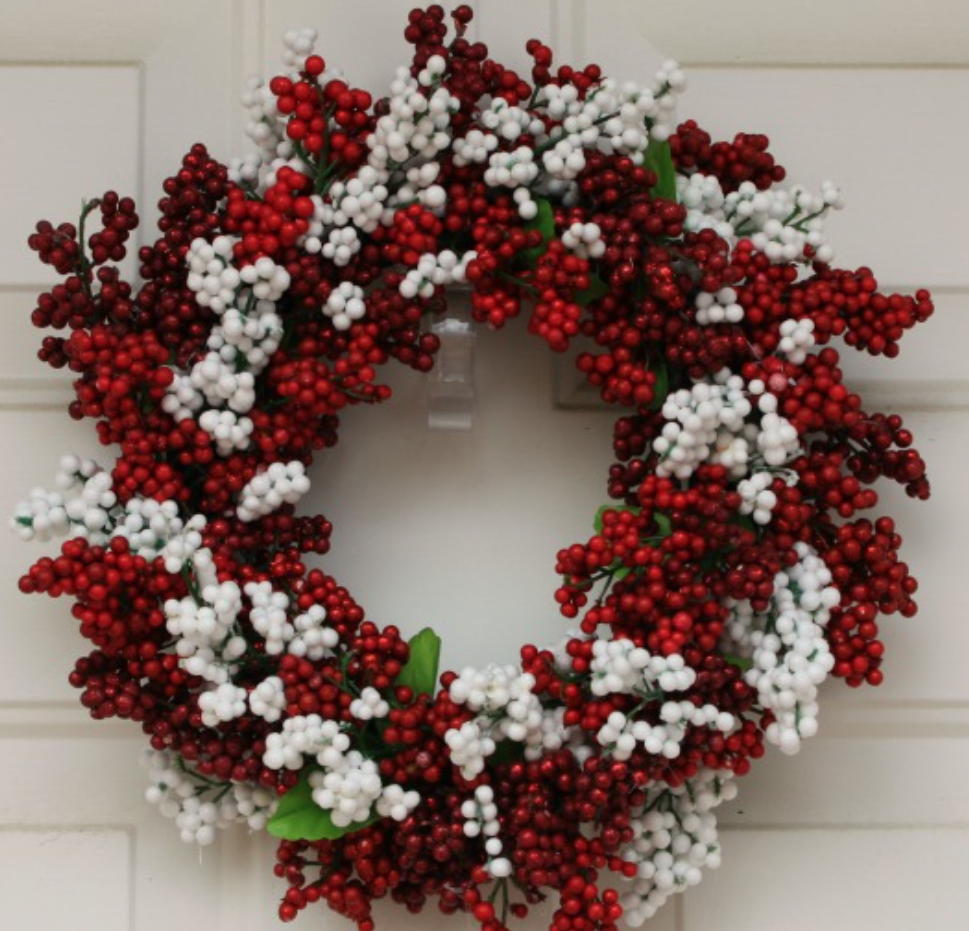 DIY Berry Wreath
red and white berry bushes + grapevine wreath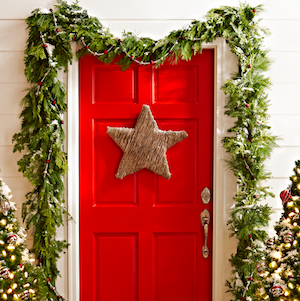 Twine Star
wood shims, jute twine, wood glue, glue gun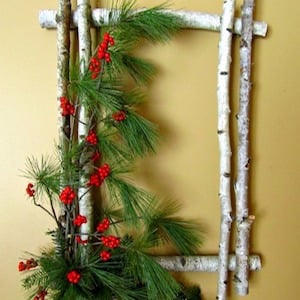 Birch Wreath
birch branches, evergreen & winterberry clippings, floral wire, saw, e600 glue