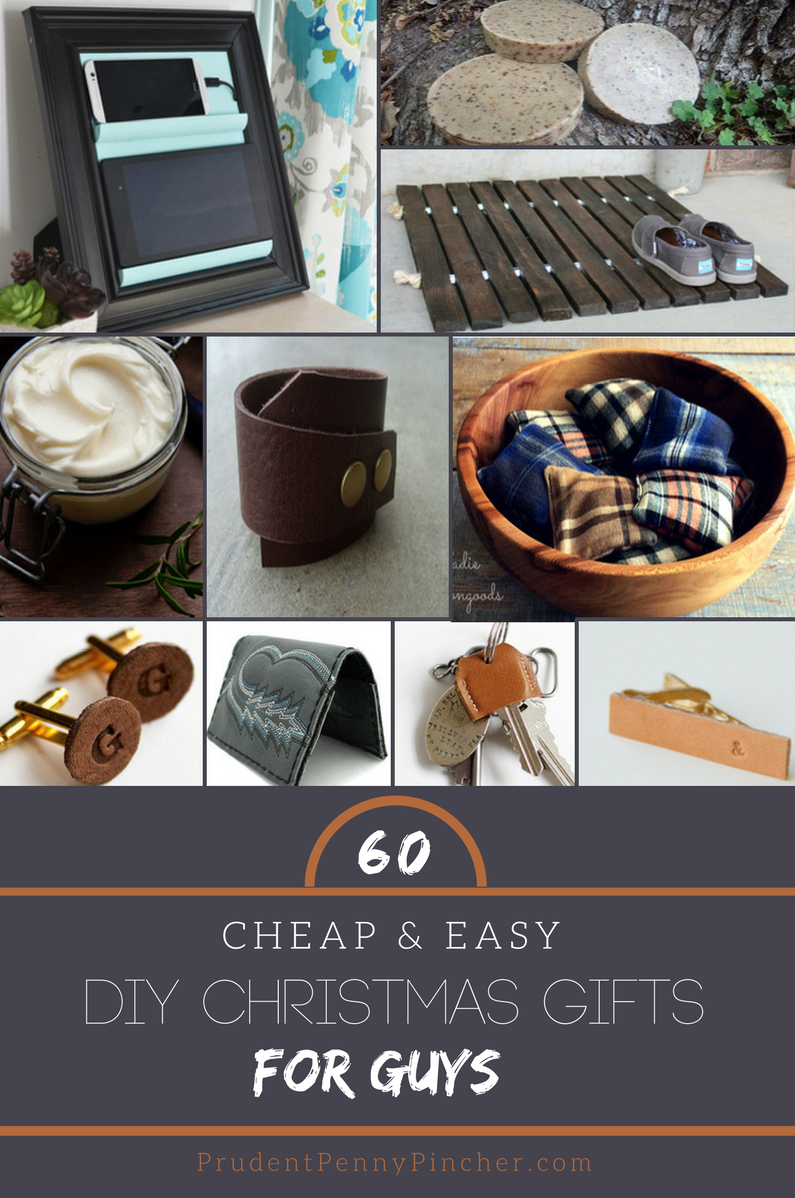 Spread holiday cheer with these cheap and easy DIY Christmas gifts for guys. You can make these gifts for under $15 with minimal effort and skill.
60 Cheap & Easy Christmas Gifts for Guys Under $15
Tools and Supplies You May Need:
Mod Podge with Foam Brush
Tacky or Super Glue
Hot Glue Gun & Glue Sticks ($3 – Walmart)
Spray Paint ($1-$5 at Walmart, depending on color and type)
Acrylic Paint ($0.50 each at Walmart)
Scissors
Craft Knife
Tape (e.g. double sided or painter's tape)
Paint Brush ($0.50 – Walmart)
Basic Sewing Supplies (needle, thread, pins, sewing machine, fabric scissors, etc)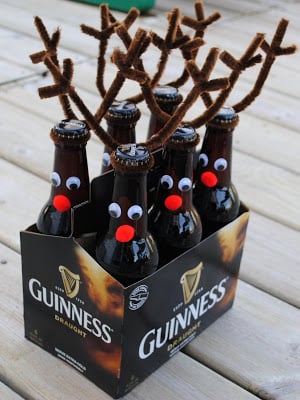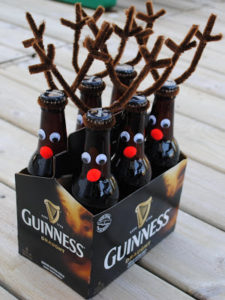 Reindeer Beer
Tutorial here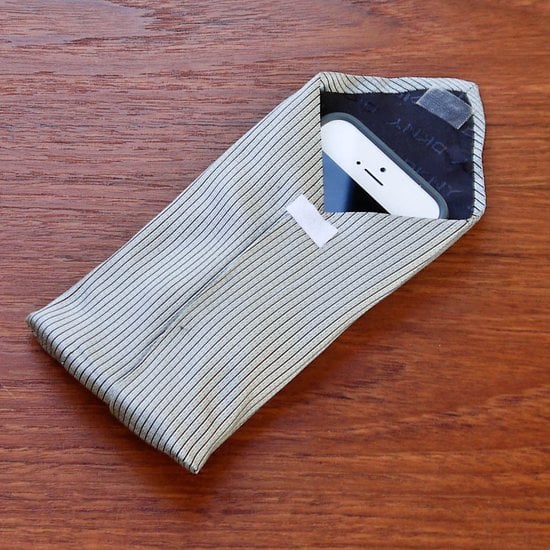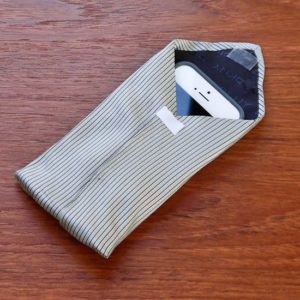 iPhone Tie Phone Cover
tie + stick pins + self-adhering velcro
Tutorial here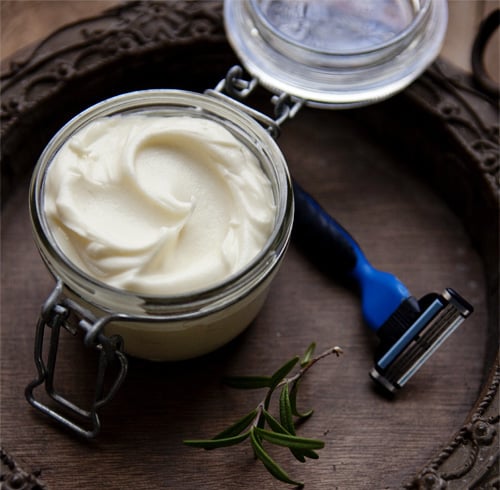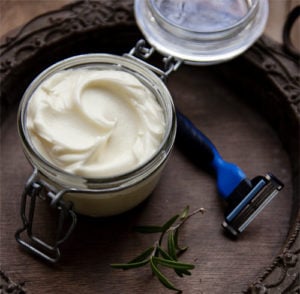 Homemade Rosemary Mint Shaving Cream
shea butter + virgin coconut oil + jojoba + rosemary essential oil + peppermint essential oil
Tutorial here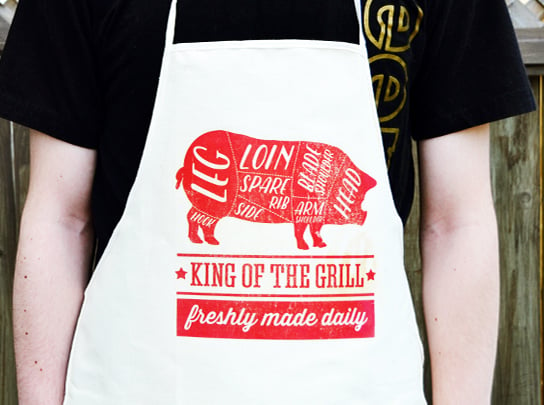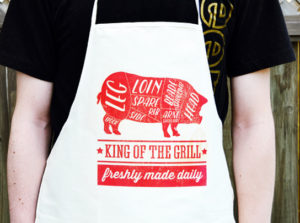 BBQ Apron
apron + printable inkjet transfer paper + iron
Tutorial here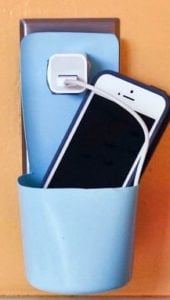 Phone Charging Station – great way to free up some desk space!
32-ounce plastic bottle + sandpaper + spray paint + newspaper
Tutorial here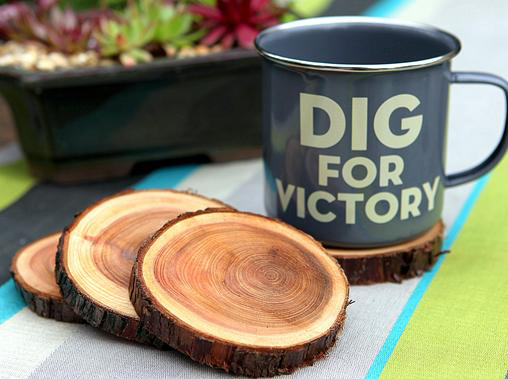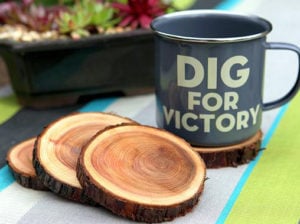 Natural Branch Coasters
straight branches + hand saw + sandpaper + clear varnish
Tutorial here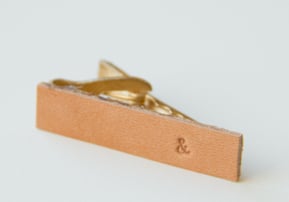 Leather Tie Clip
thick leather + a blank tie clip + a letter and number punch set
Tutorial here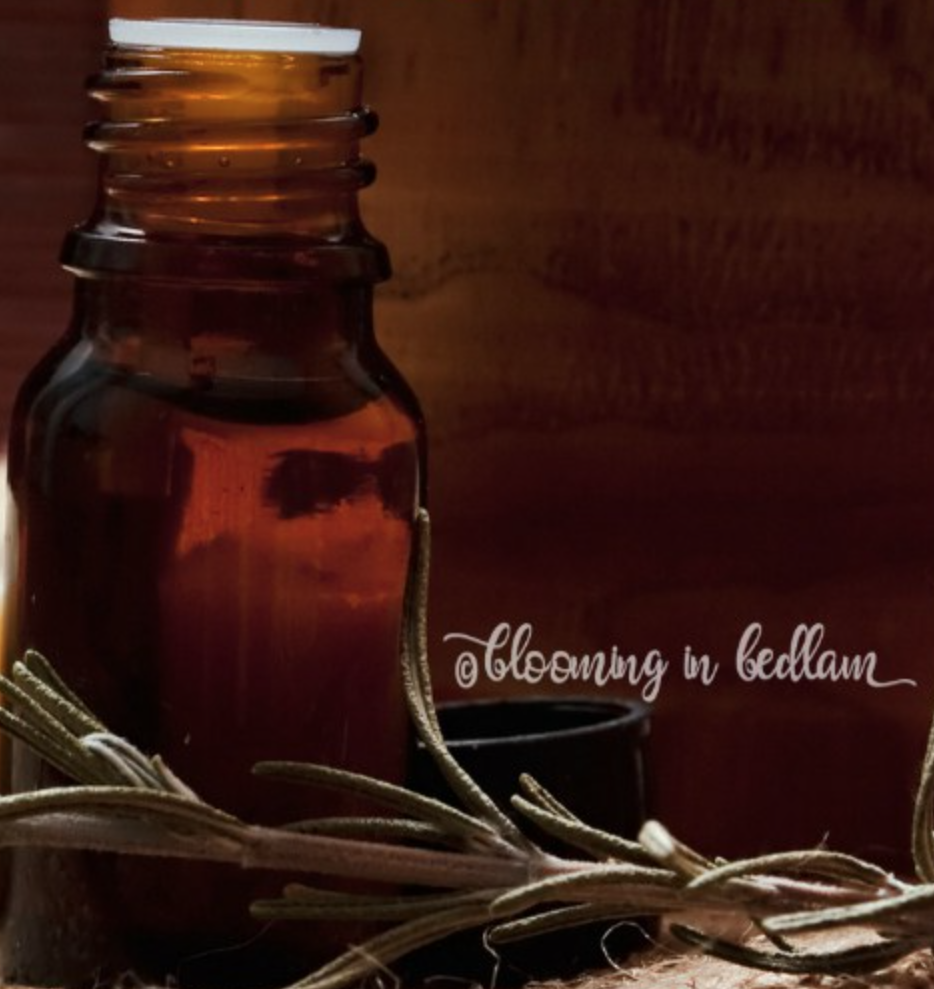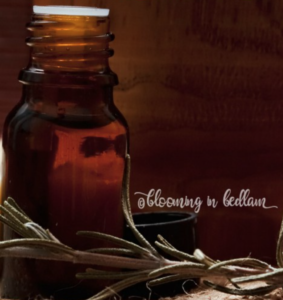 Woodsy Beard Oil
Tutorial here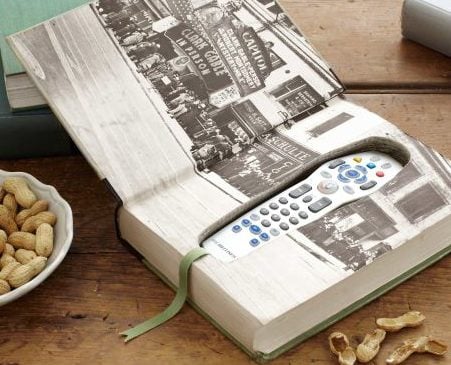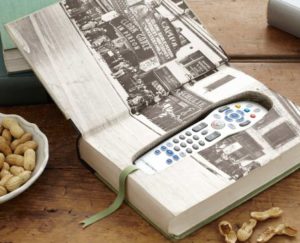 Book Box for Remote
Tutorial here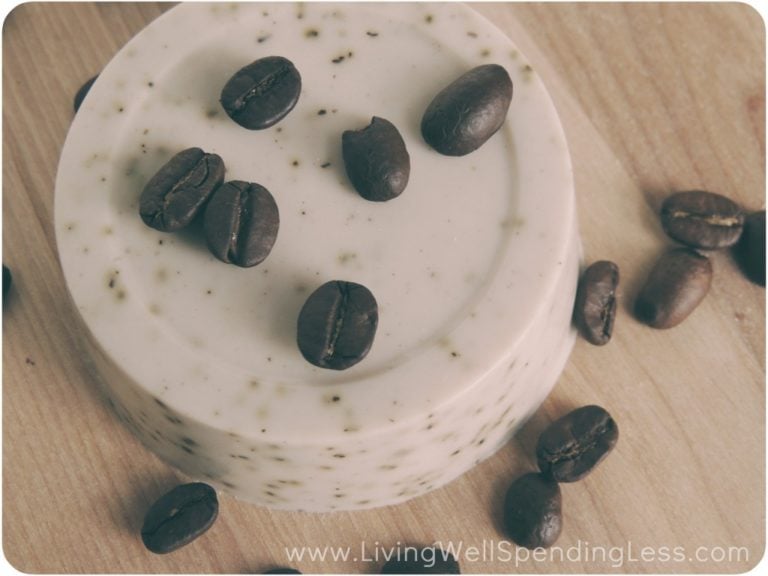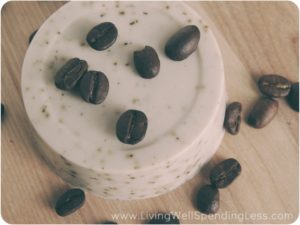 Coffee Bean Soap
melt-and-pour soap base + ground coffee beans + fragrance oil + soap mold
Tutorial here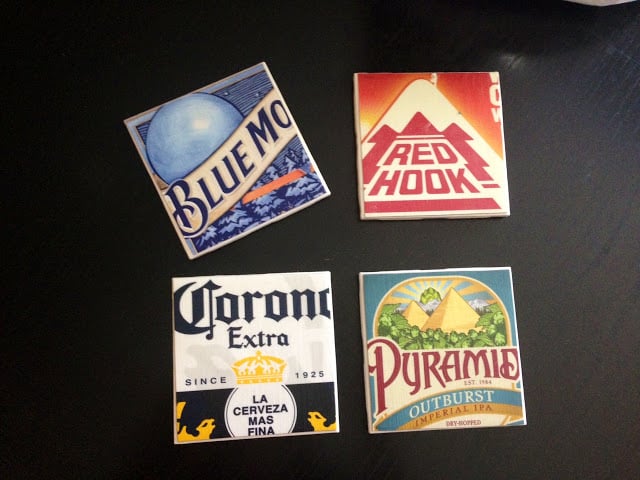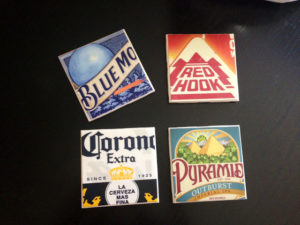 DIY Beer Coaster
six-pack cardboard beer holders + ceramic tiles + felt + hi-gloss lacquer
Tutorial here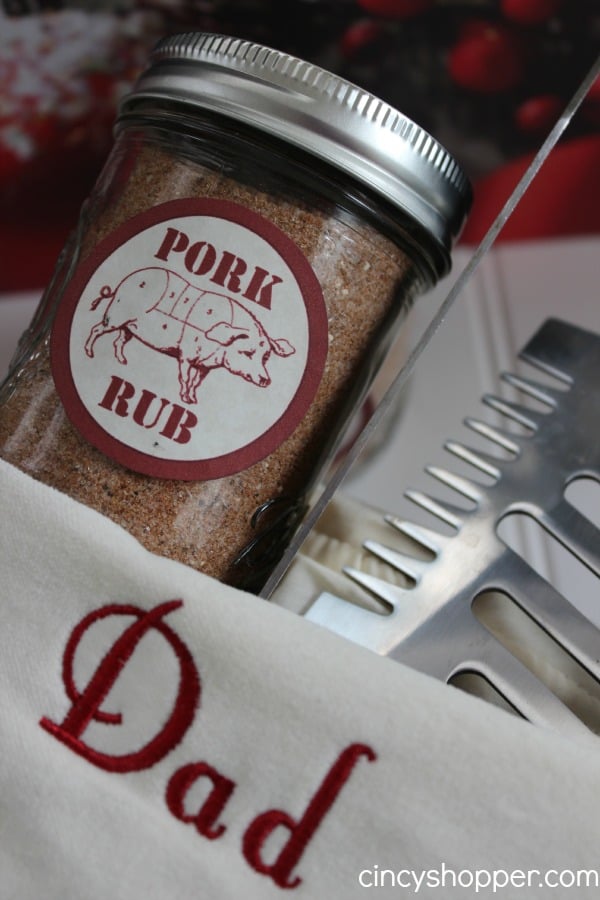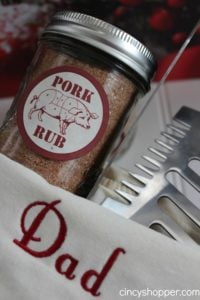 Pork Rub in a Jar
Most of the spices you probably already have in your spice rack.
All you need is a mason jar and the free printable
Recipe here.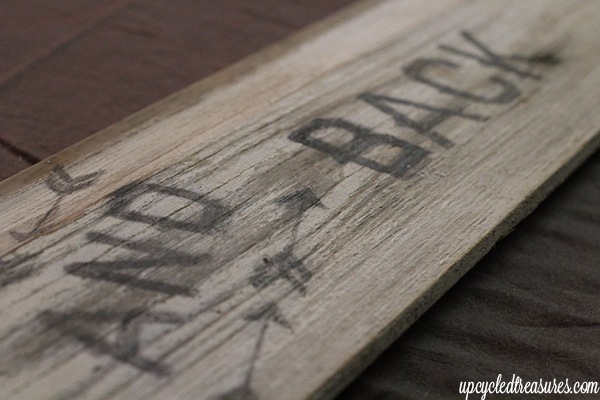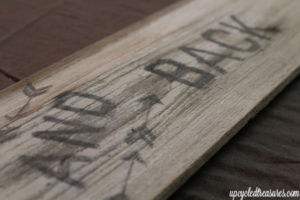 Wood Sign Using Printer
wood + paint + painters tape + sharpie
This would be an awesome gift for that special guy in your life who has a man cave.
You could use this sign above the entrance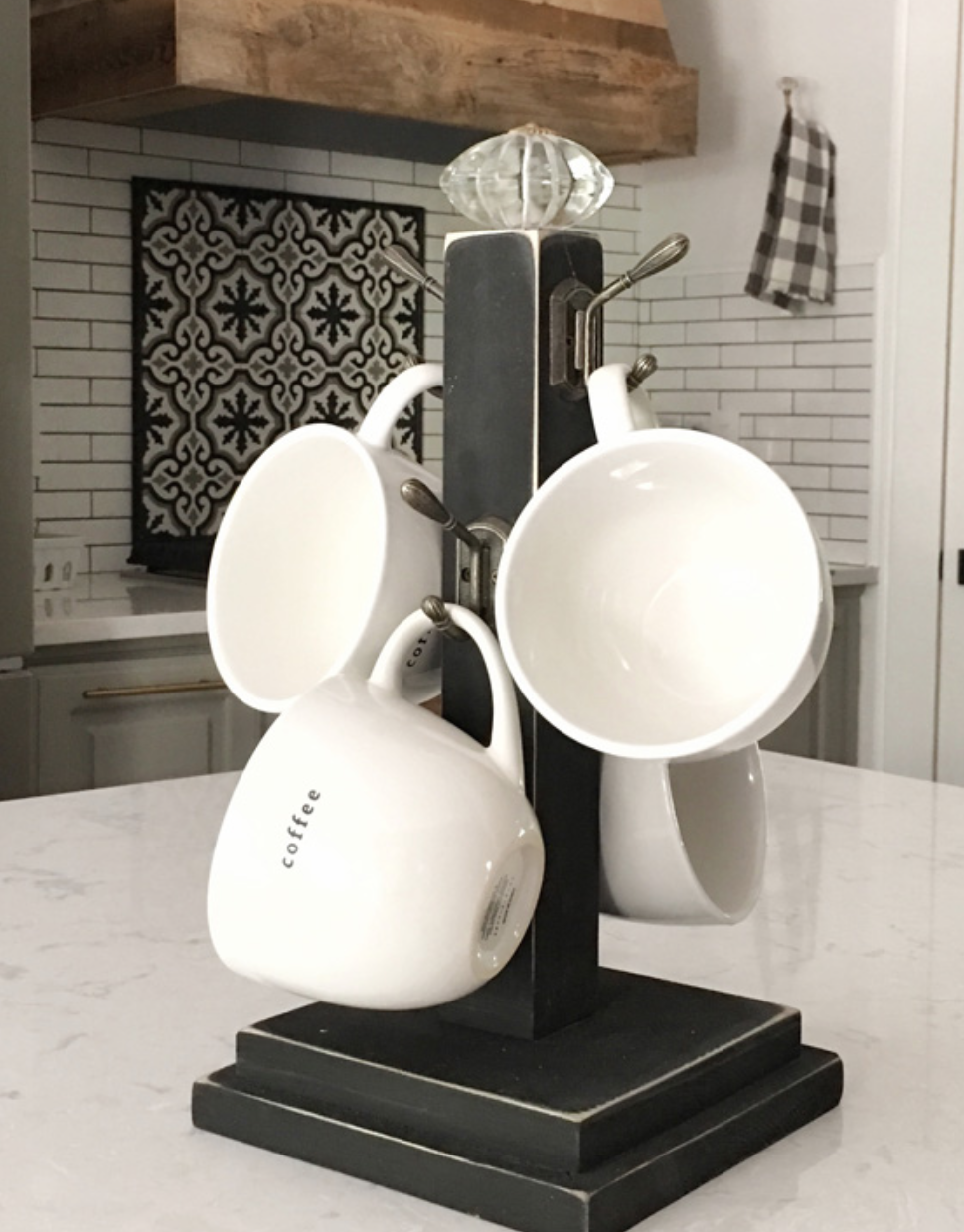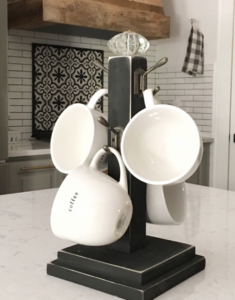 Mug Holder
15″ of 1×8 board + 12″ of 2×2 or a 1.5″ dowel + hooks + spray paint
Tutorial here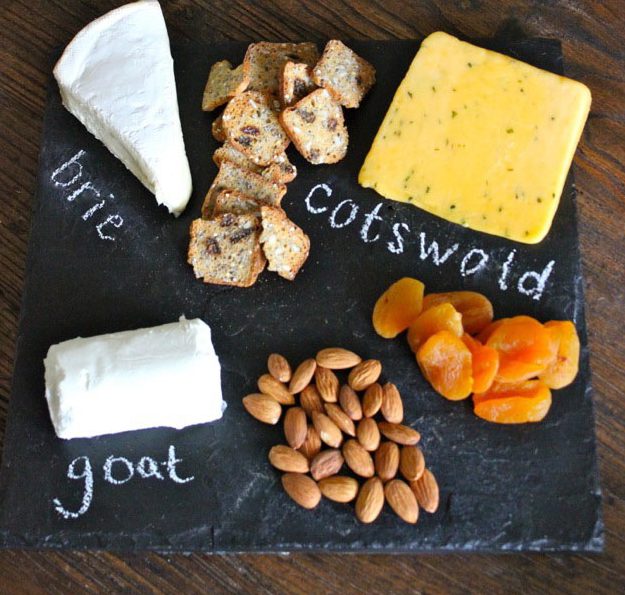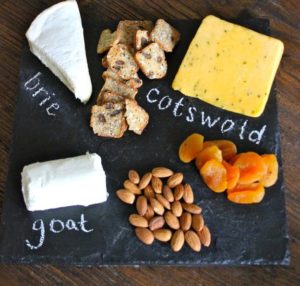 Chalkboard Cheese Stone
slate tile + chalkboard paint
Tutorial here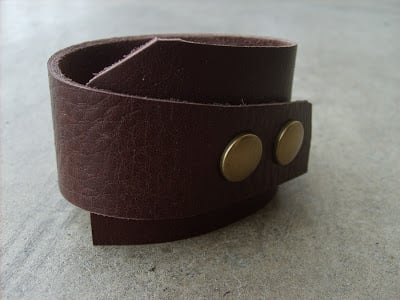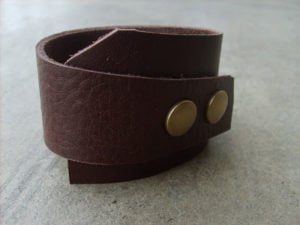 Leather Cuff
a piece of leather + snap pieces + snap attachment tools
Tutorial here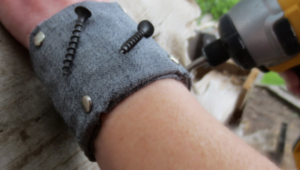 Magnetic Wristband
fabric and velcro + small strong magnets + small piece of scrap metal + rivets
Tutorial here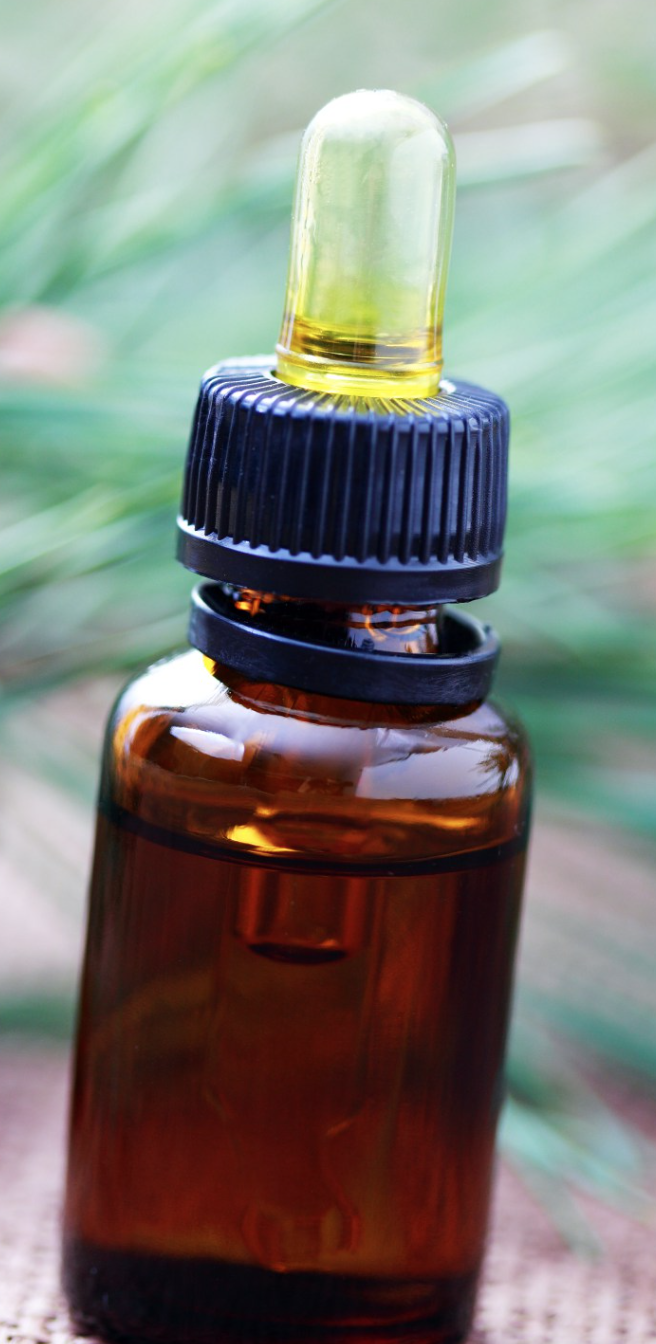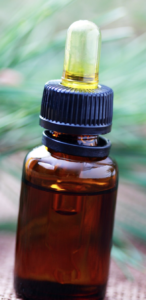 DIY Natural Cologne
Tutorial here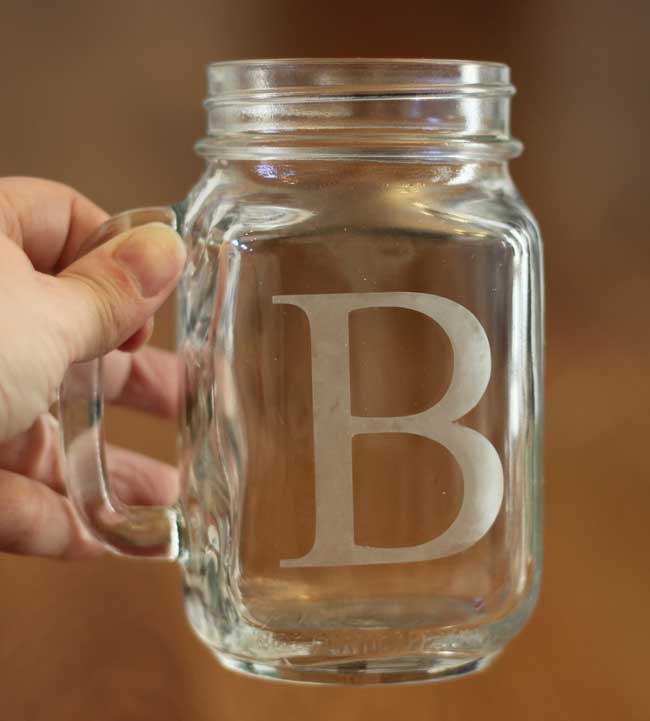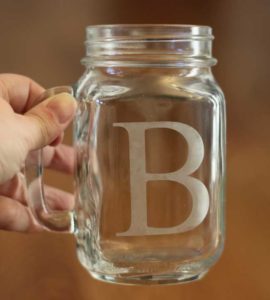 DIY Etched Mason Jar Glass
mason jar + etching cream + stencil(s) + Rubbing alcohol and cotton balls
Tutorial here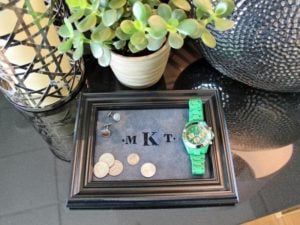 Monogrammed Leather Valet
suede + photo frame + adhesive letter stencils + upholstery batting + tape
Tutorial here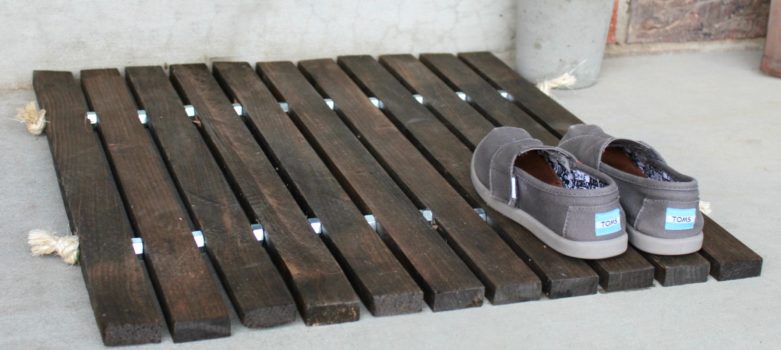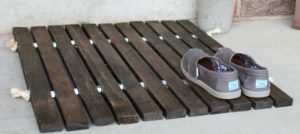 Wood Door Mat
wood stakes + sisal rope + hex nuts
If you include the optional stainer it will cost more like $15, but without it, the cost will be under $10
Tutorial here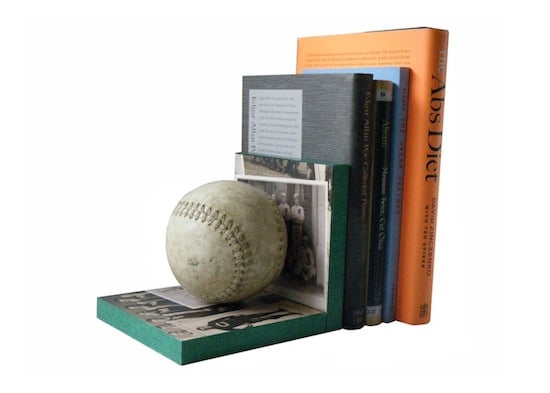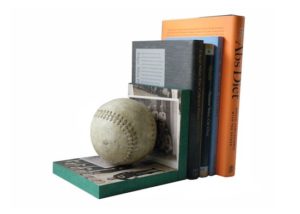 Baseball Bookends
2 – 5 x 5″ wood + wood screws + baseball + acrylic paint + self stick rubber pads
Also, you do need some basic tools like screwdriver and drill
Tutorial here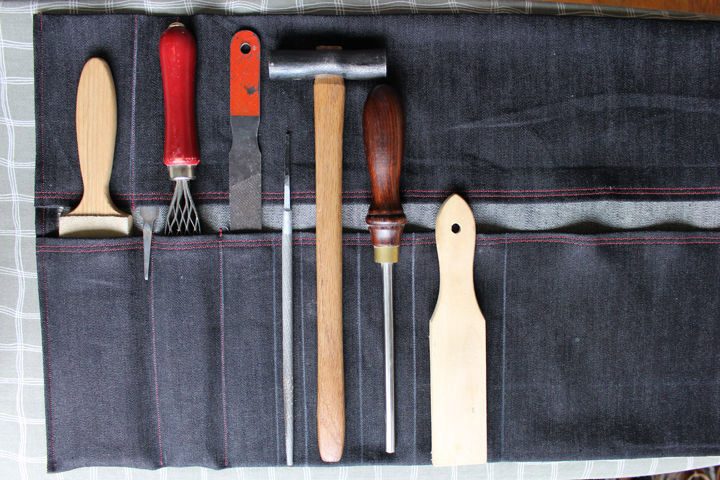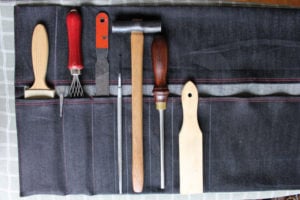 pins + pencil made for fabric + thread (heavy duty is better) + ½ yard fabric
You will also need a sewing machine and fabric scissors
Tutorial here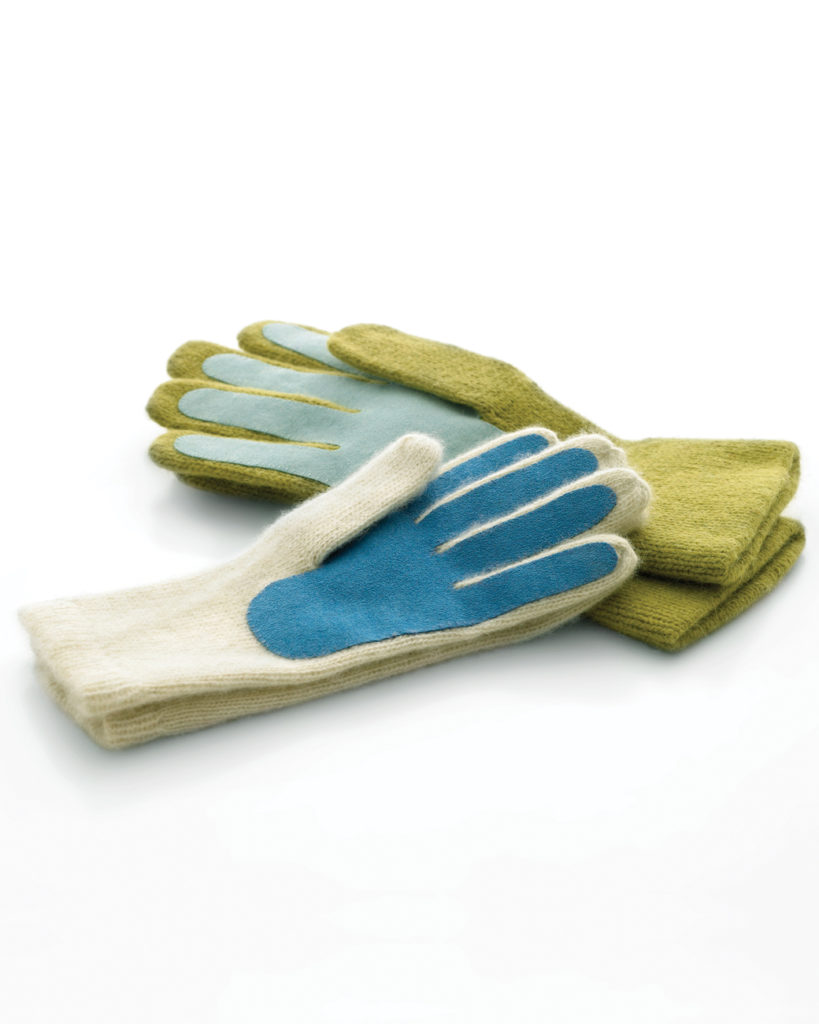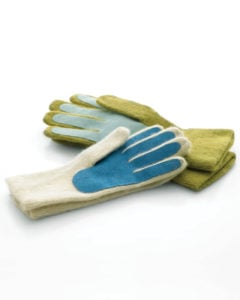 Glove Grips
Tutorial here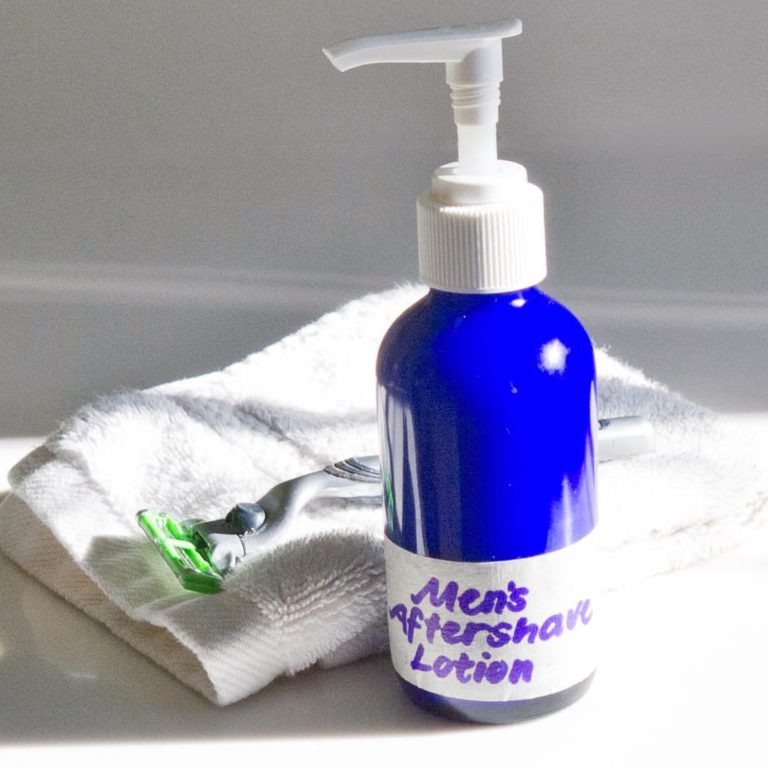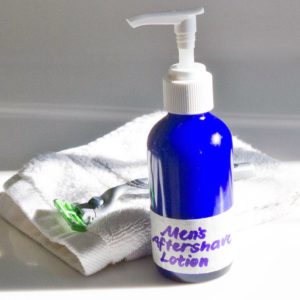 Men's Aftershave Lotion
Tutorial here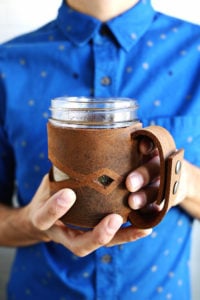 heavy-duty leather + snap fasteners + waxed cord + leather punch
Tutorial here
Flannel Hand Warmers
Tutorial here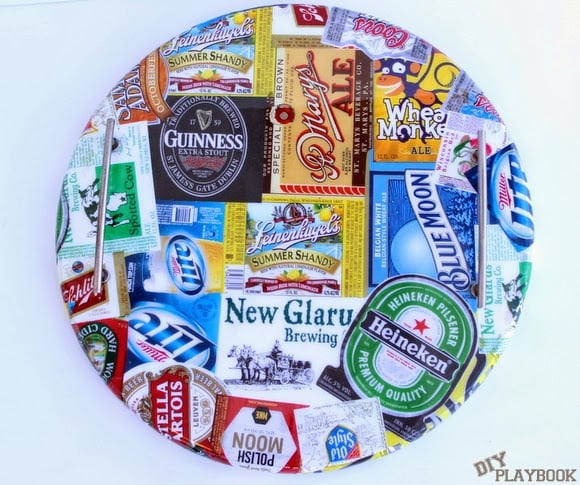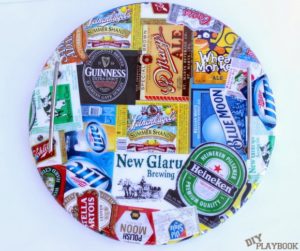 Beer Tray
circular wood piece + credit card or old gift card + printed colored labels of your favorite beers
Tutorial here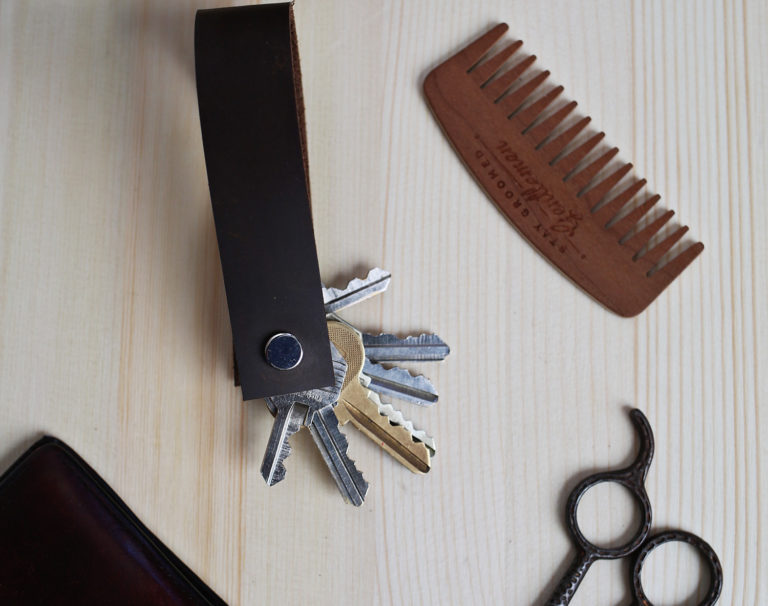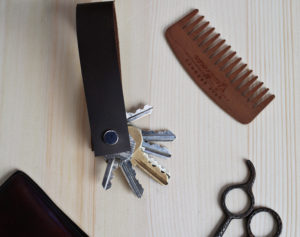 Leather Keychain DIY
leather scrap at least 9″ long + rotary cutter + leather hole punch or awl + screw post
Tutorial here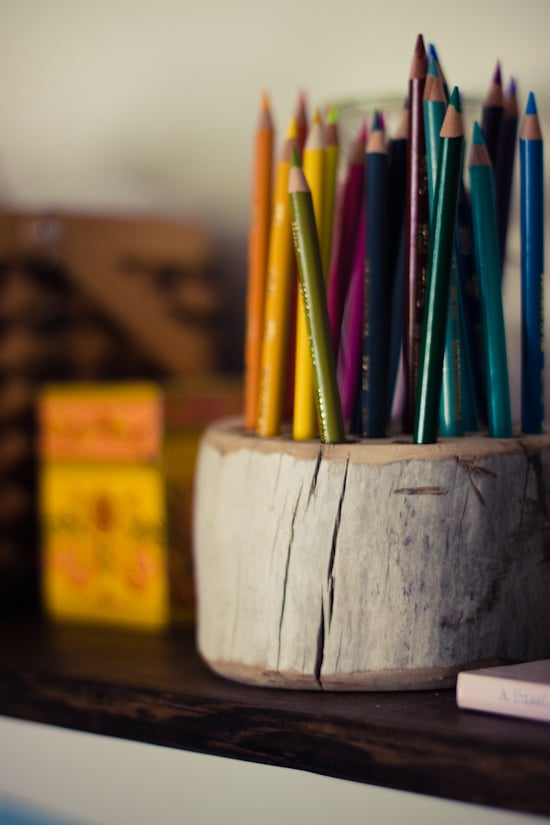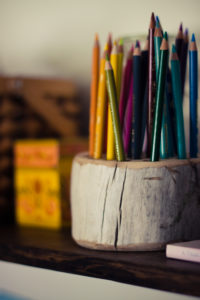 Pencil Holder
Tutorial here


Leather Glasses Case
Tutorial here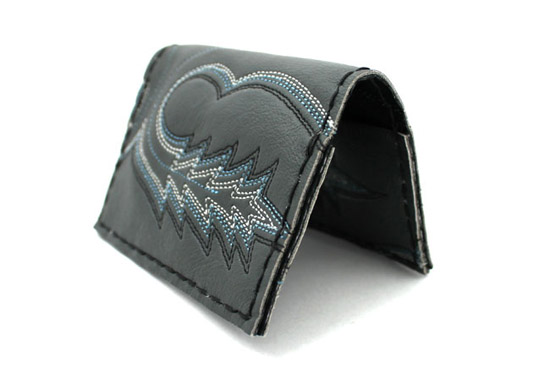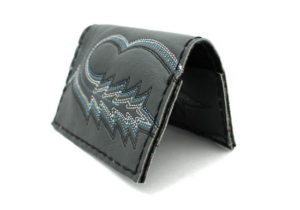 Old Cowboy Boot Wallet
one cowboy boot + scratch and stitching awl + rotary cutter + seam ripper
Tutorial here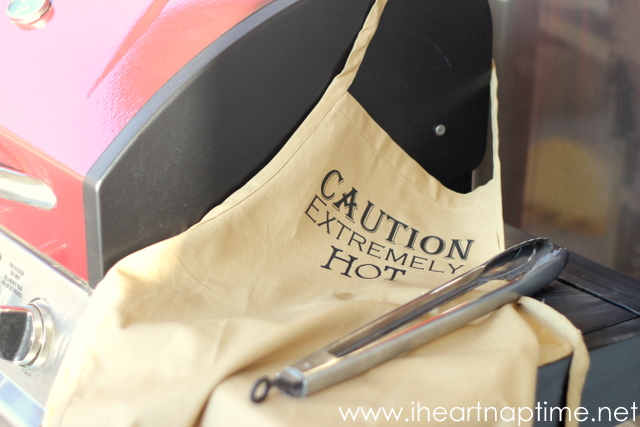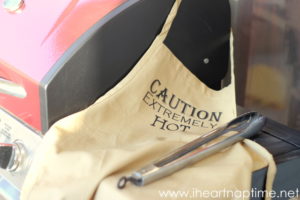 apron + stencils + craft paint
Tutorial here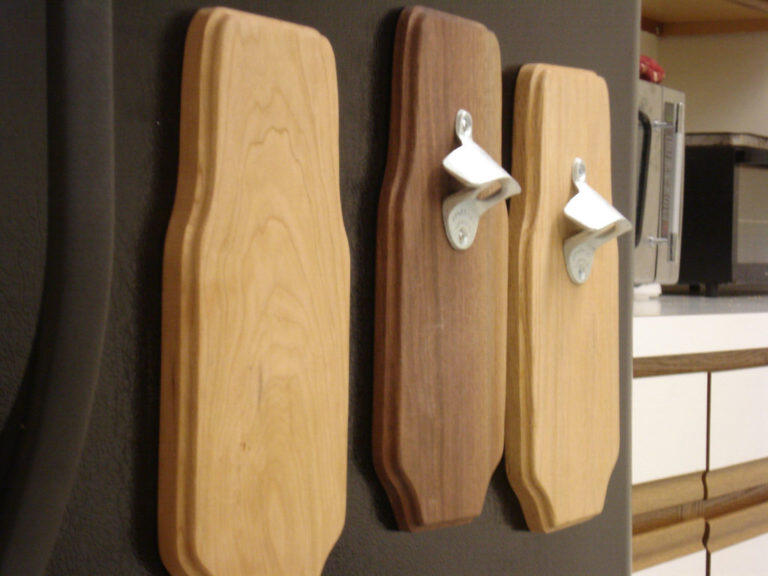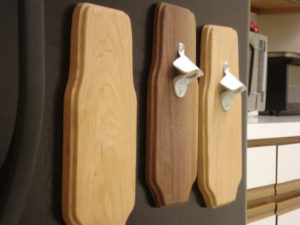 Strong Magnetic Bottle Opener
wood of your choice + neodymium Magnets +bottle opener
Tutorial here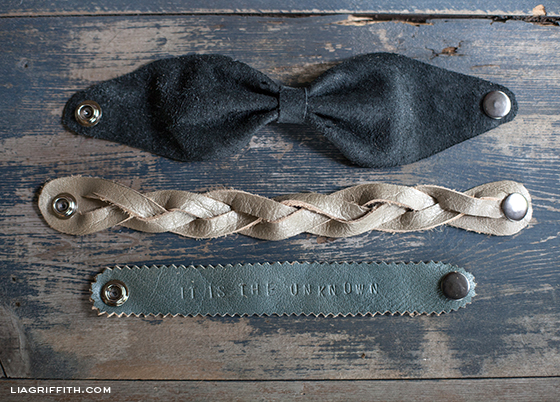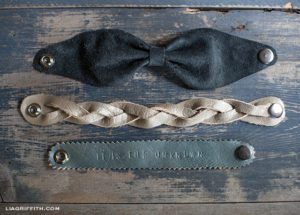 Leather Bracelets
Tutorial here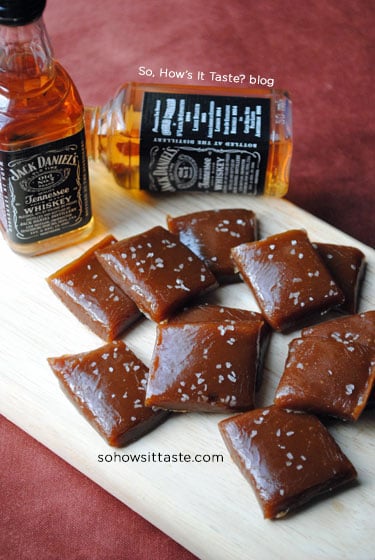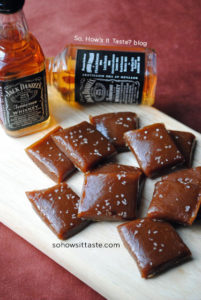 Salted Whiskey Caramels
Recipe here
Tip: You can use the bottle to make the project below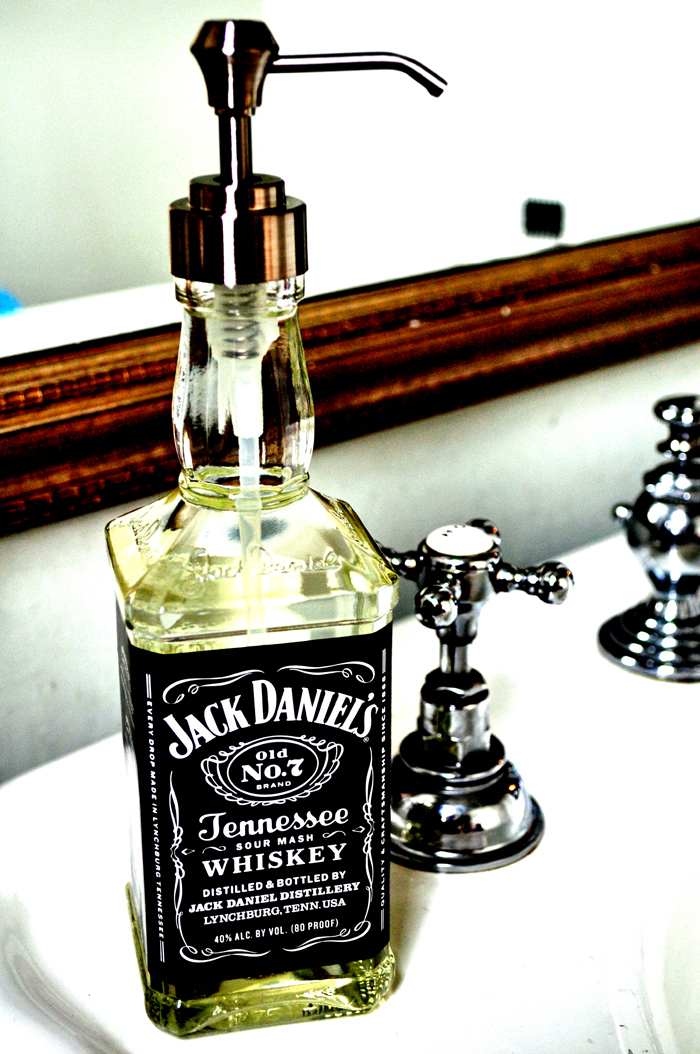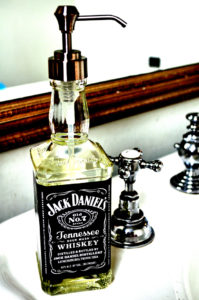 Whiskey Soap Dispenser
Tutorial here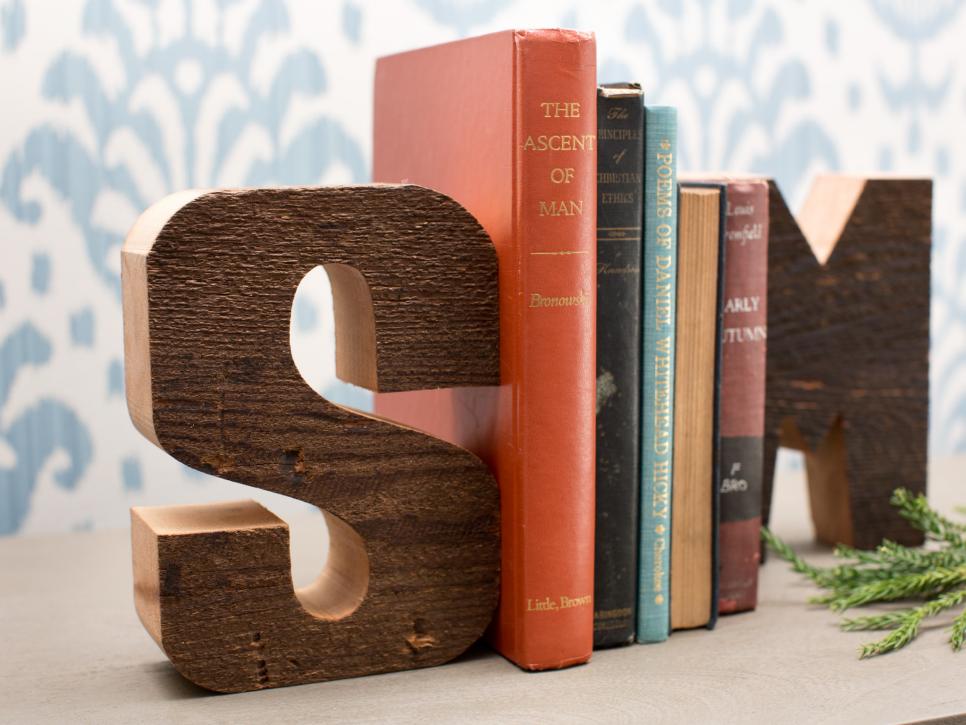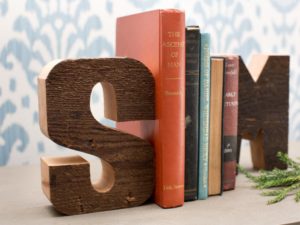 Wood Book Ends
scrap wood + jigsaw + sandpaper + stencil
Tutorial here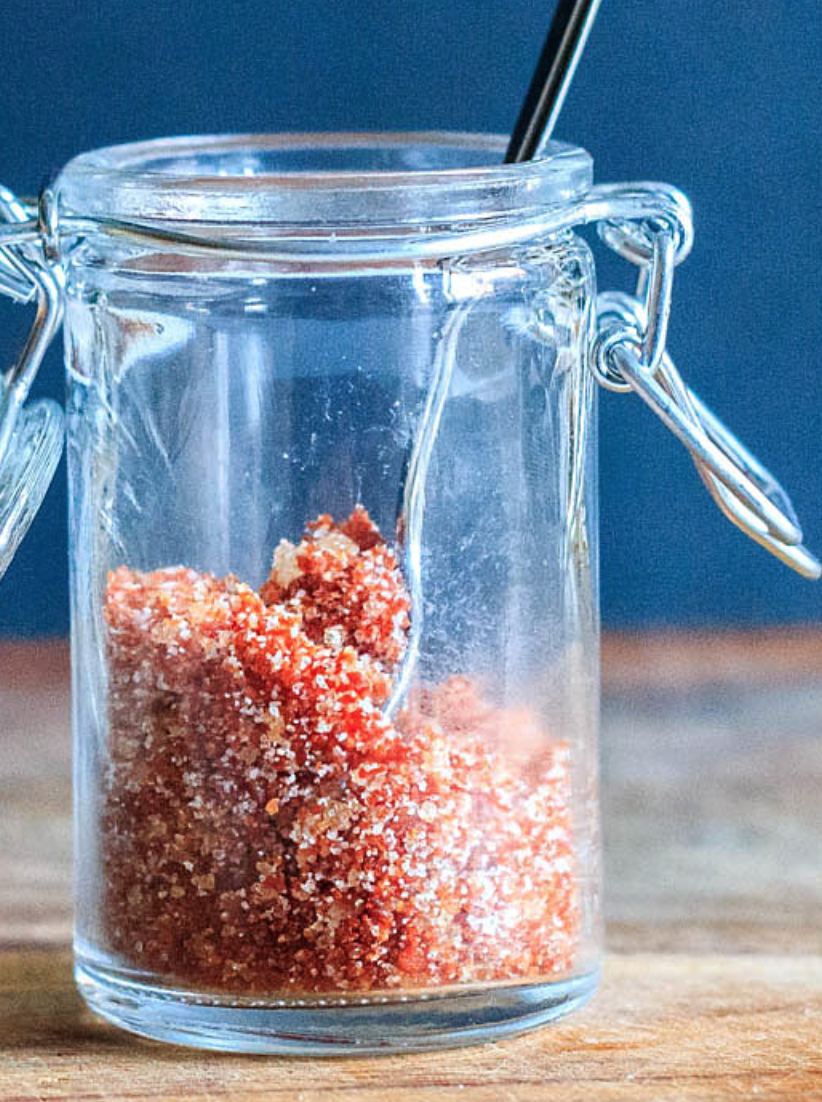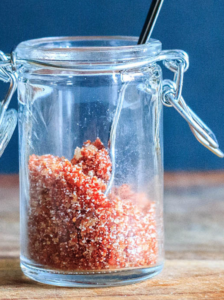 Bacon Salt
Recipe here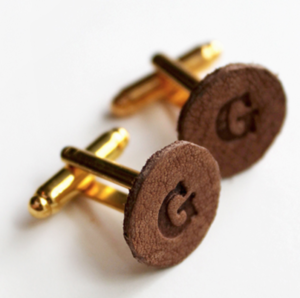 Leather Monogrammed Cufflinks
gold cufflinks + leather remnants + alphabet punch + tacky glue
Tutorial here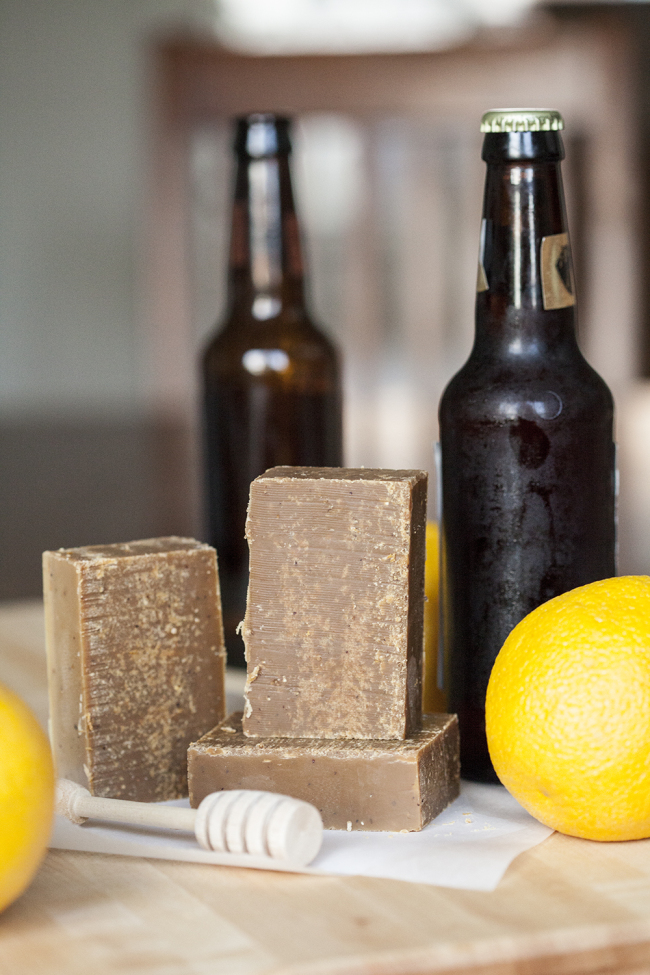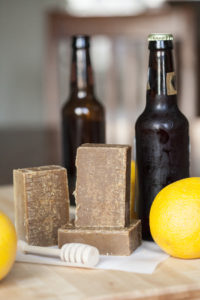 Citrus Honey Beer Soap
This project does require some basic knowledge of soap making and working with lye
Tutorial here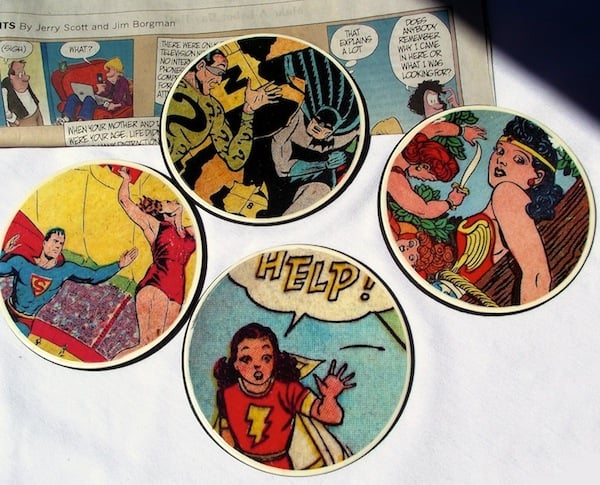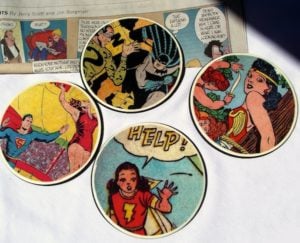 Comic Coasters
comic books + electrical outlet covers + E-6000 adhesive + spray paint + sandpaper
Tutorial here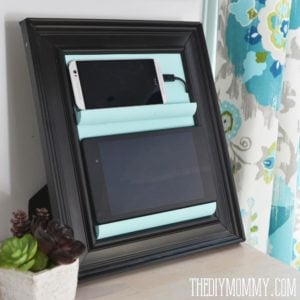 Charging Station
picture frame + scraps of trim + thick cardboard + hand saw + chalk finish paint
Tutorial here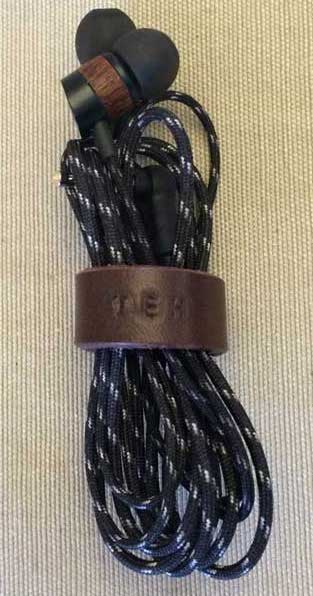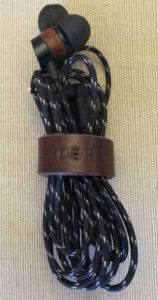 Leather Cord Keeper
leather strap + hitch post fastener + leather hole punch
Tutorial here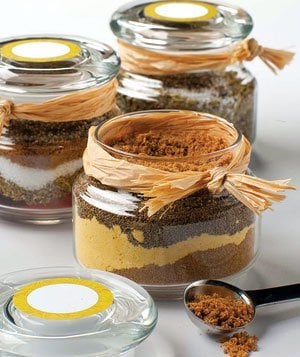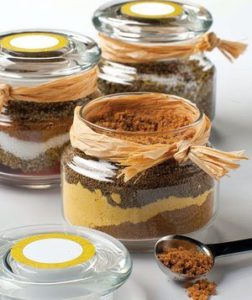 BBQ Rub
Recipe here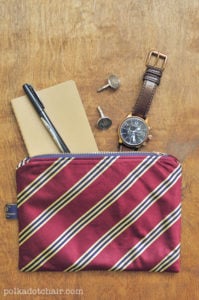 Necktie Zip Pouch
2 neckties + 7" metal zipper + Shape Flex Fusible Interfacing + Fusible Fleece + 1 fat quarter for lining + Zipper foot for sewing machine
Tutorial here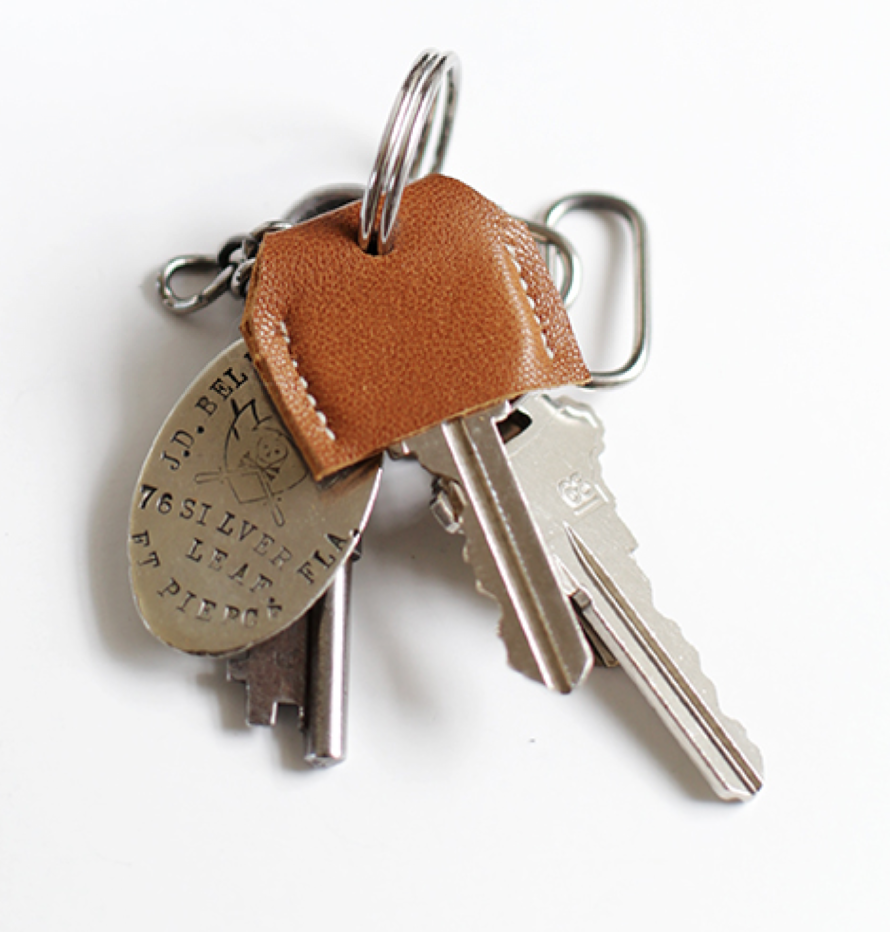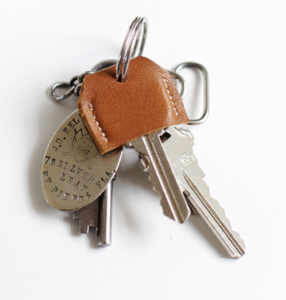 Leather Key Cover
leather + leather punch + sewing machine
Tutorial here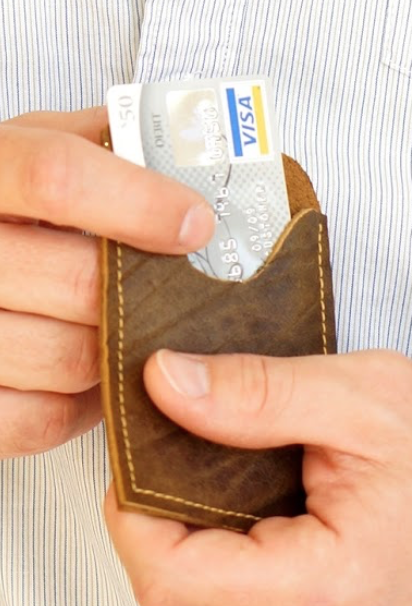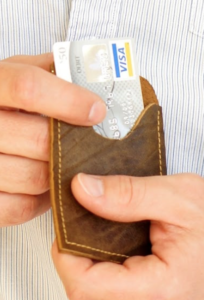 Leather Card Holder
Tutorial here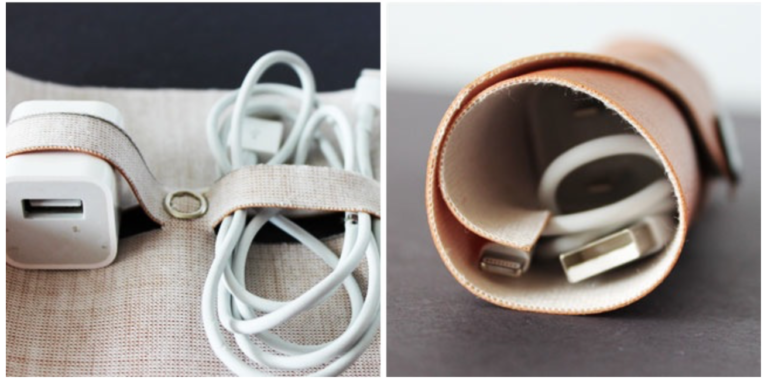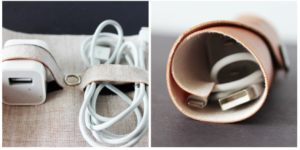 Leather Cord Roll Up
fake (or real) leather + snap buttons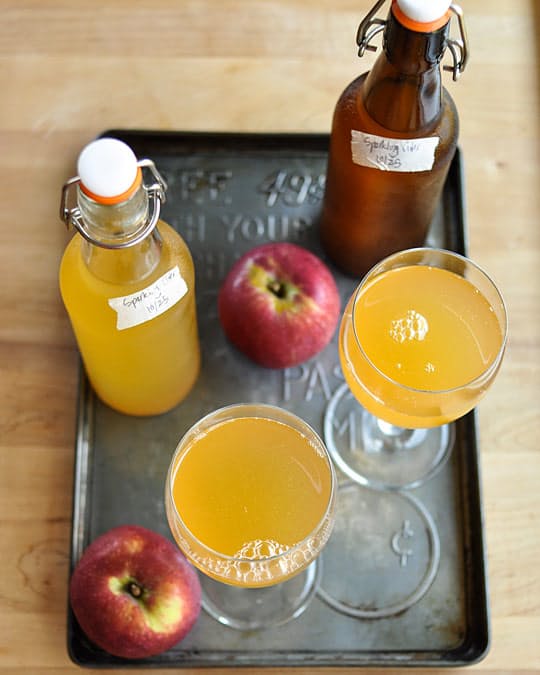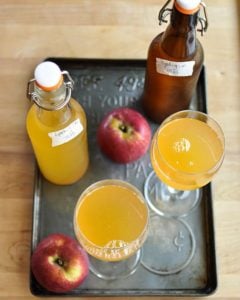 Sparkling Cider
Recipe here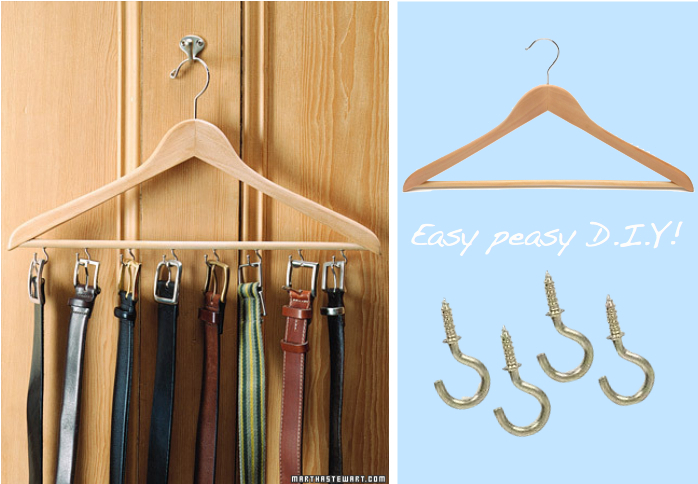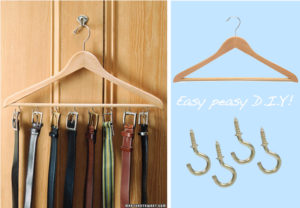 Belt Organizer
(Source Unknown)


Paracord Lanyard
paracord + swivel clip + snap hook + keyring
Tutorial here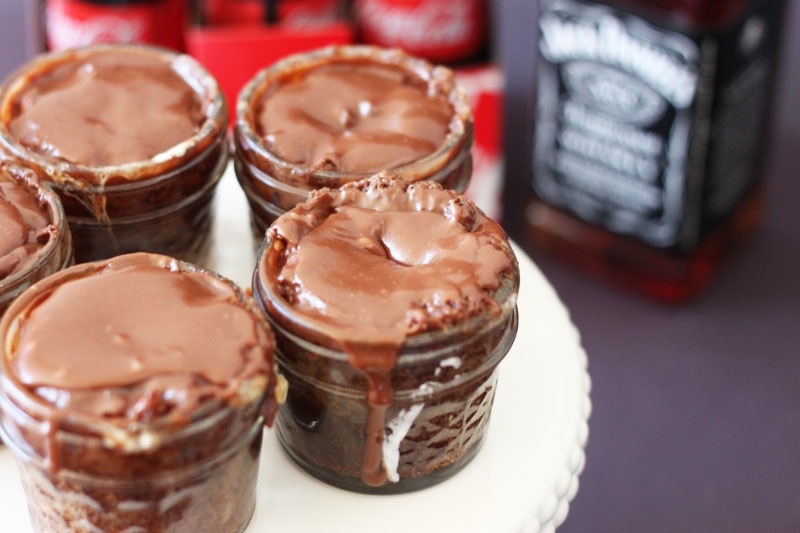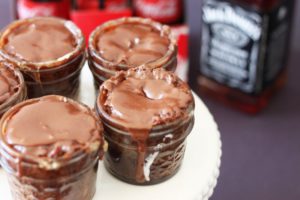 Jake and Coke Cake
Recipe here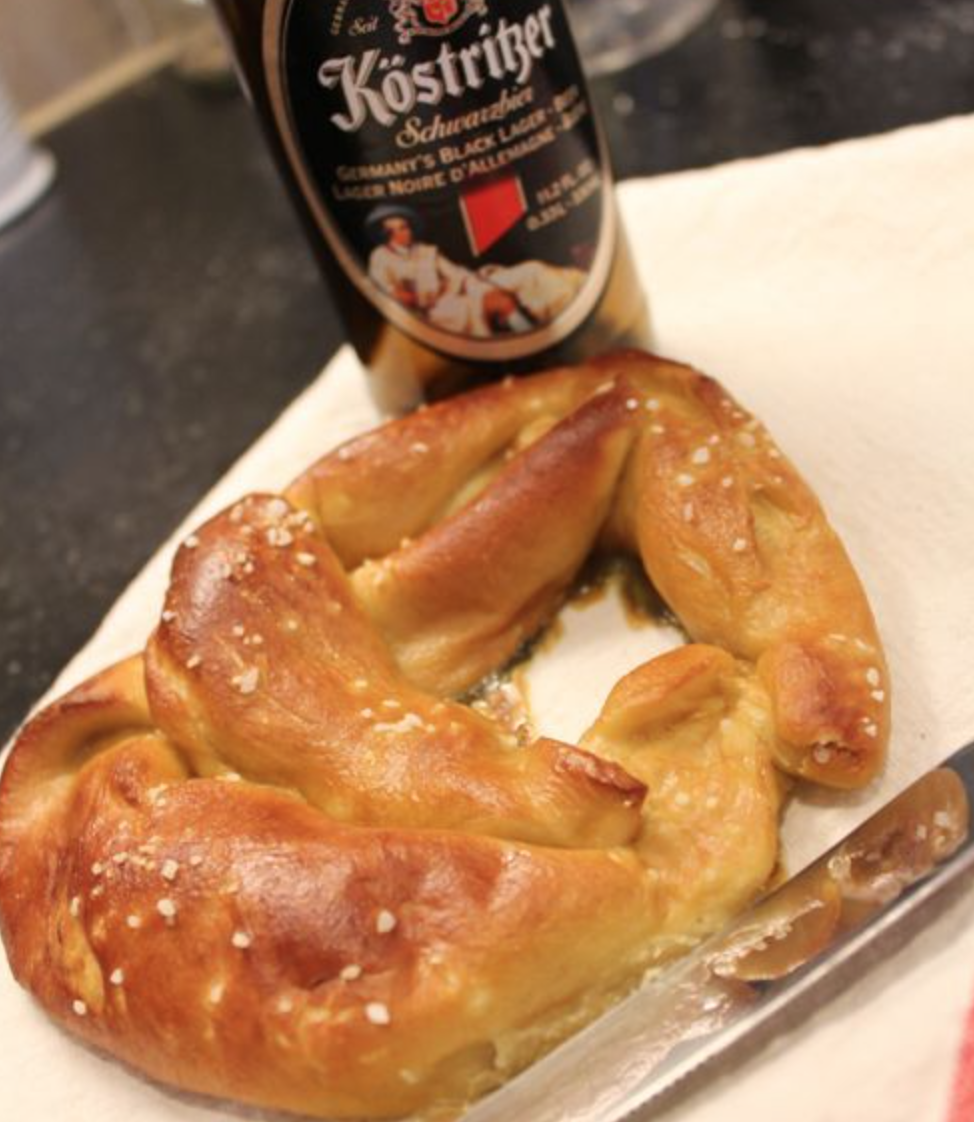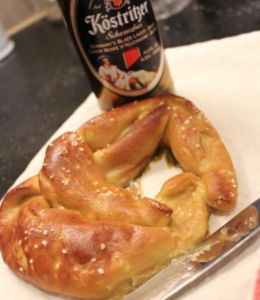 Homemade Pretzel
Recipe here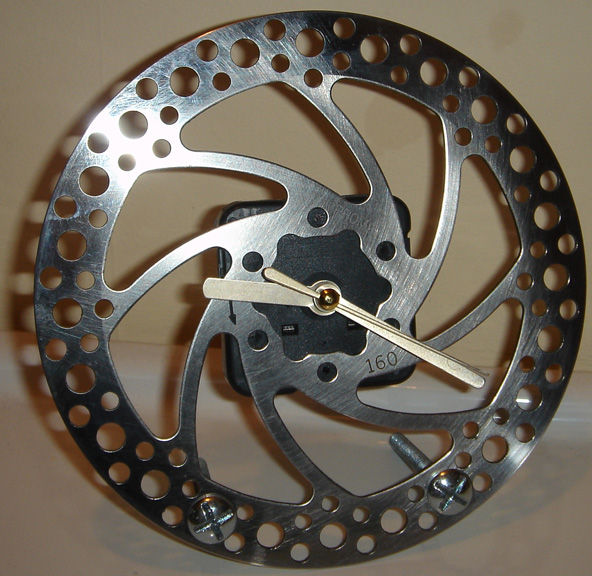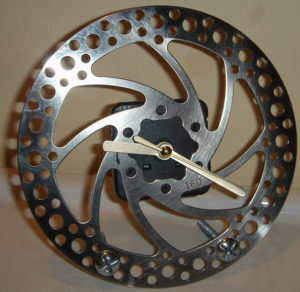 Bicycle Brake Clock
bicycle brake disc + cheap quartz wall clock + 2 long bolts and nuts + brasso
Tutorial here