Here's some more healthy and budget-friendly school lunch ideas. These meals are under $2.50 a day.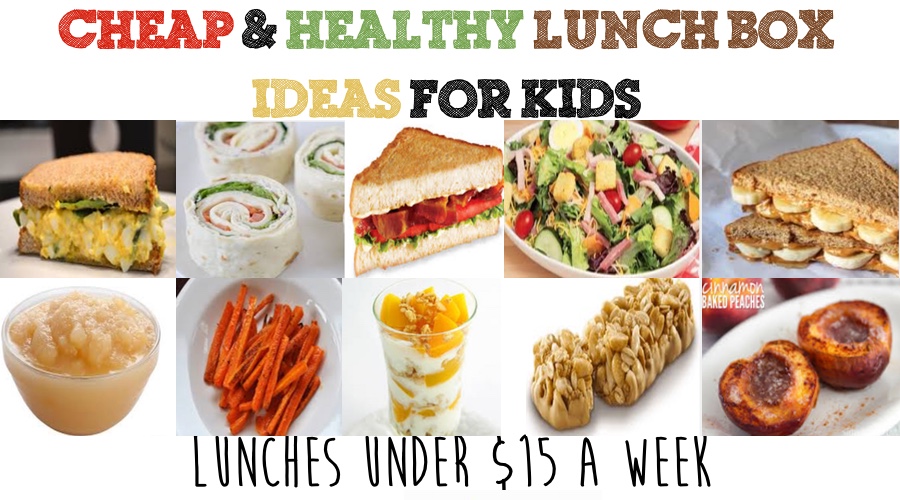 Day 1
egg salad sandwich
carrots with light ranch dressing
peanut butter oat balls
Day 2
peanut butter and banana sandwich on honey wheat bread
graham crackers
Day 3
chef salad (boiled eggs, turkey bacon, turkey lunch meat, shredded cheese, cucumber, tomato slices, shredded carrots) – it's a big salad so I'm not going to add a snack item
peach yogurt (plain yogurt with chopped peaches, a drizzle honey and a sprinkle of granola to give it a crunch!)
Day 4
turkey rolls
peach slices
graham crackers
honey glazed carrots
Day 5
BLT sandwich
peanut butter granola bar
---
Grocery List:
dozen eggs – $0.79 – on sale
bag of baby carrots – $0.99 for 2 lbs
peaches $0.29 x 5 = $1.45 – on sale
turkey lunch meat – $1.79
shredded mozzarella cheese – $2.49
lettuce – $0.99
turkey bacon $1.59 (it's healthier than regular bacon and tastes just as good. Plus, it's cheaper than regular bacon)
cucumber – $0.29 each – on sale
banana – $0.29 cents a pound – on sale
tortillas – $1
graham crackers – $1.49
whipped topping – $1
tomato $1
Total = $15.06
condiments/spices/pantry staples that I had on hand:
light ranch dressing, honey, cinnamon, brown sugar, nutmeg, vanilla extract, peanut butter, garlic powder, olive oil, oats ( I buy this in bulk so I always have it).
Notes:
Some of the recipes this week require a little prep work like the carrot recipes and the peach apple sauce, but it won't take more than 30 minutes and can be done ahead of time. They are easy to follow recipes with not too many ingredients (most of which I already had)
There is a really great sale this week (Aug 3rd-9th) at ALDI. Found lots of good prices on produce and dairy! I recommend you shop there this week.