From bathroom counter organization to linen closet organization, there are plenty of cheap and easy dollar store bathroom organization ideas to choose from.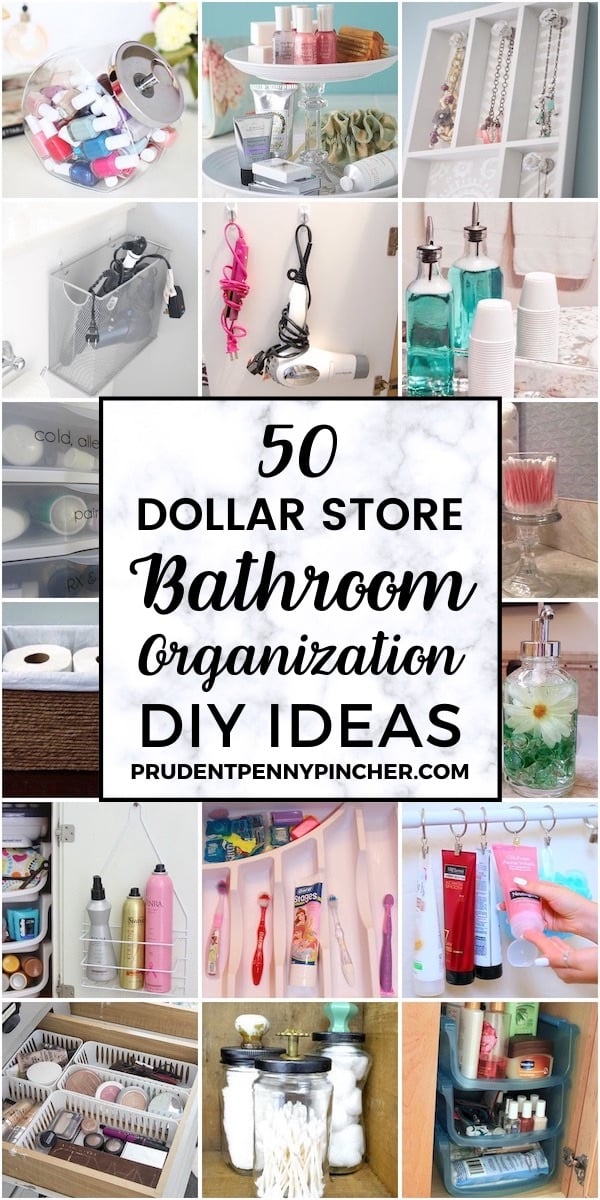 Eliminate the clutter in your bathroom on a budget with these organizing ideas. You will find the best ways to organize your bathroom cabinets, counters, shelves, under the sink, and even your vanity. Whether you are looking to organize your makeup or your medicine cabinet, there are tons of ideas to maximize small spaces and increases your bathroom storage. There are organizing ideas for small bathrooms and large bathrooms included here.
Under the Sink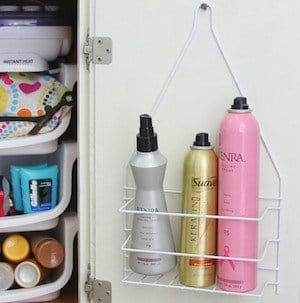 Under the Sink Makeover from 320 Sycamore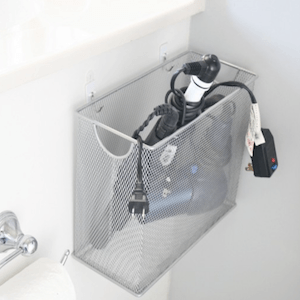 Curling Iron and Blow Dryer Wire Basket Storage from Dream Green DIY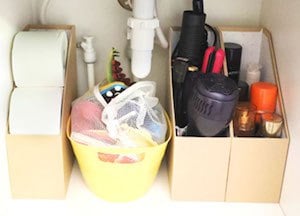 Under The Bathroom Sink Organization from The Pinning Mama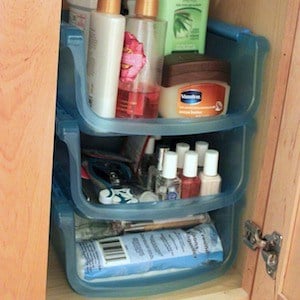 Under Sink Organization from The Crazy Craft Lady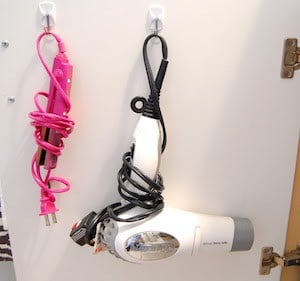 Hair Tools Storage from My So Called Home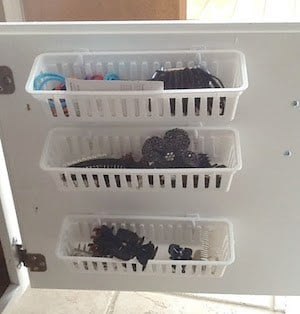 Inside Cabinet Door Extra Storage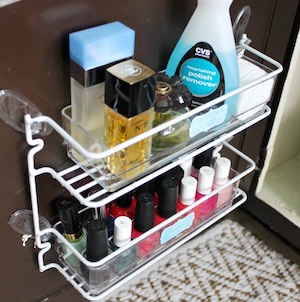 Wire Rack Storage for Inside Bathroom Cabinet from Hi Sugar Plum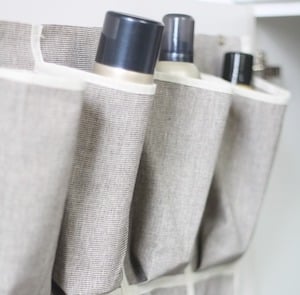 Under the Cabinet Shoe Organizer for Toiletries from A Thoughtful Place
Shower Bathroom Organization Ideas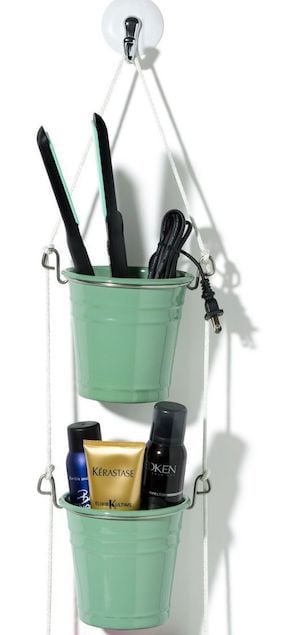 Bathroom Organizer
$1 small pails + suction cup hook + white rope + s-hooks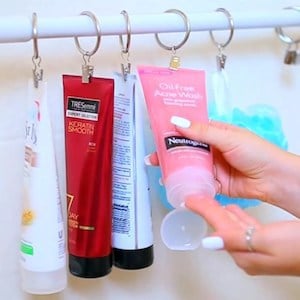 Shampoo and Conditioner Organization
shower curtain rod + curtain rings with clips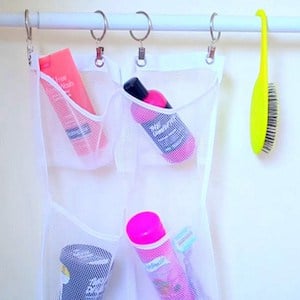 Shower Storage Idea for Shampoo and Conditioner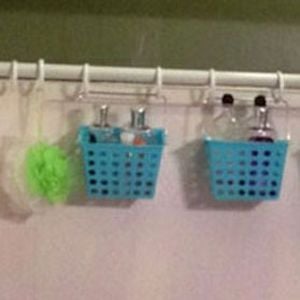 Dollar Store DIY Shower Caddy Storage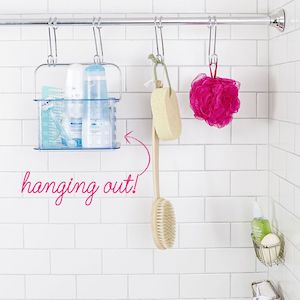 Tension Rod Shower Organization from Good Housekeeping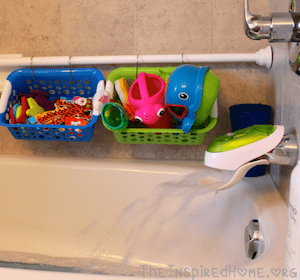 Bath Toy Organizer from The Inspired Home
Mason Jar & Glassware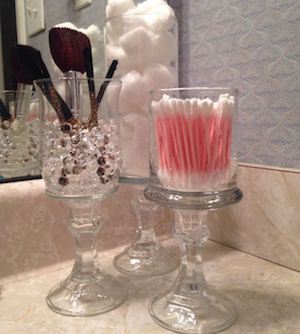 Dollar Store Storage Jars for Q-Tips and Other Small Items
round candleholder + 3 glass taper candleholder + E-6000 glue + urn candleholder + hurricane candleholder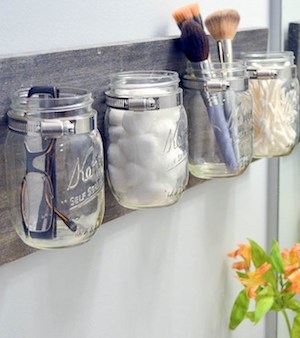 Mason Jar Organizer from The DIY Playbook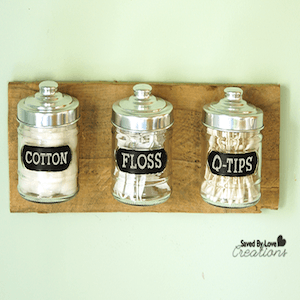 Bathroom Organizer from Saved by Love Creations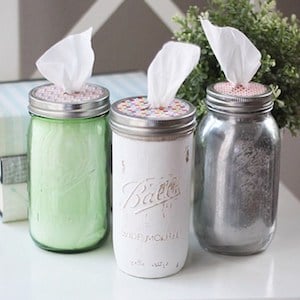 Mason Jar Tissue Holder from Landeelu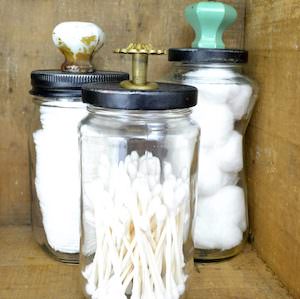 Mason Jars for Bathroom Organization for Cotton Balls and Q-Tips from Refresh Living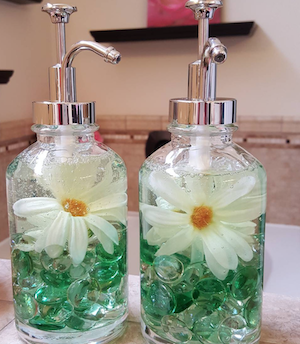 Dollar Store Soap Dispenser
soap dispenser + glass gems + softsoap + flowers
You can get the last 3 item at Dollar Tree.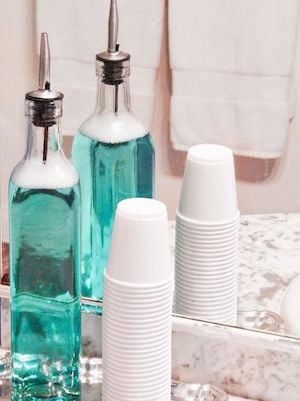 Mouthwash Bottles
$1 bottles with metal pour spouts + bathroom cups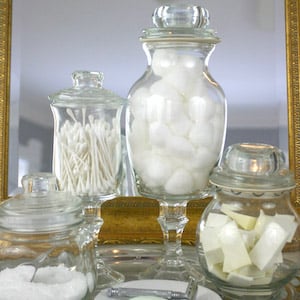 Dollar Store Apothecary Jars from Say Not Sweet Anne
Cosmetics and Makeup Bathroom Organization Ideas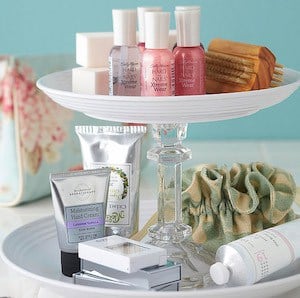 Tiered Tray
glass taper candleholder + white plate + white saucer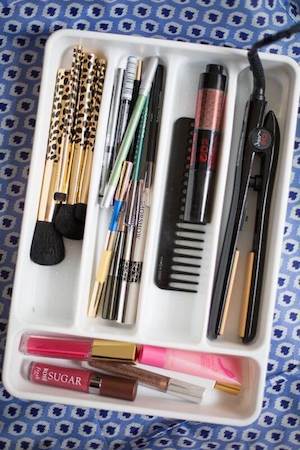 Makeup Organizer (using a cutlery tray)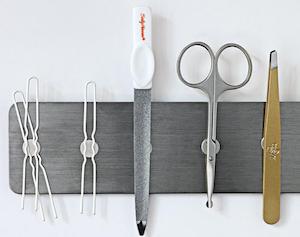 Magnetic Strip Organizer for Beauty Tools from Real Simple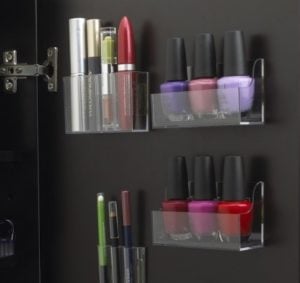 Makeup Organizer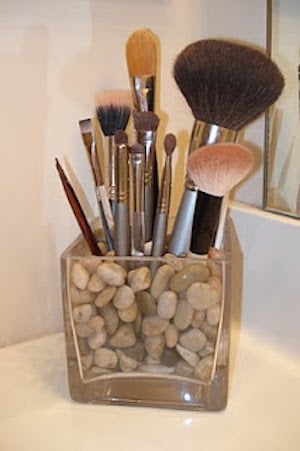 Makeup Brush Storage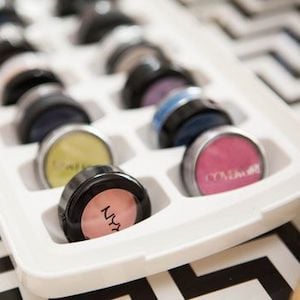 Ice Cube Tray Eye Shadow Organization from Cosmopolitan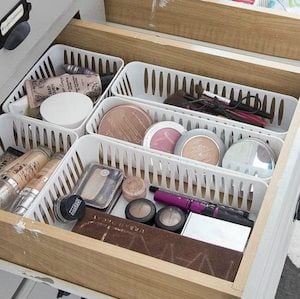 Dollar Store Drawer Organizers from Blesser House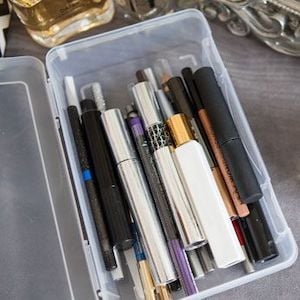 Pencil Box Storage for Lip & Eye Liners and Eyebrow Pencils from Cosmopolitan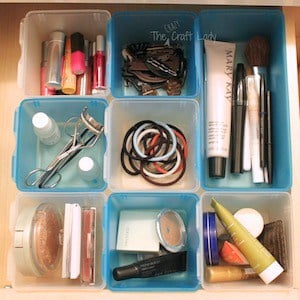 Makeup Organizer for Bathroom Drawers from The Crazy Craft Lady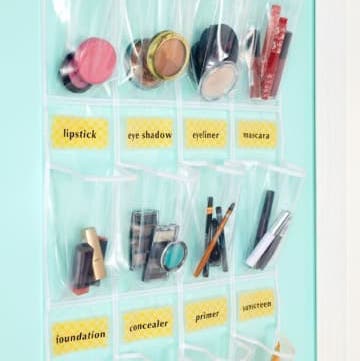 Over the Door Shoe Organizer for Makeup and Beauty Products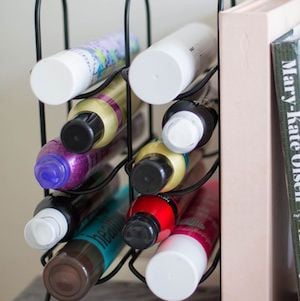 Rack Storage for Hair Products from Cosmopolitan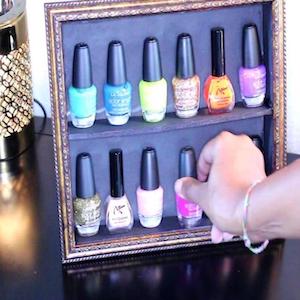 Fingernail Polish Display Stand from Angela East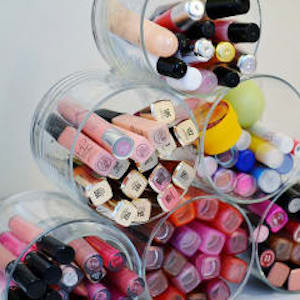 Jar Organizer for Lip Gloss
Linen Closet Ideas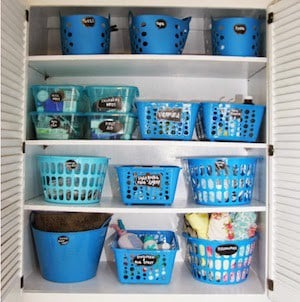 Closet Organization Makeover from Homemade Ginger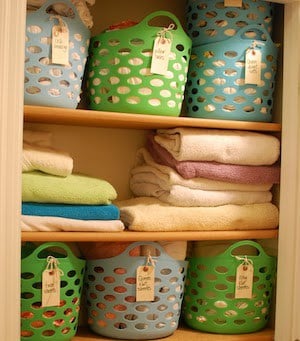 Linen Closet Makeover from A Bird and A Bean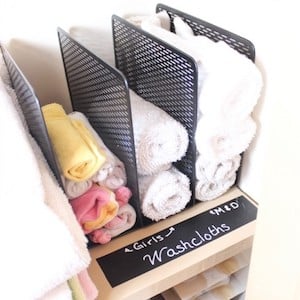 Wash Cloth Organization from Real Coak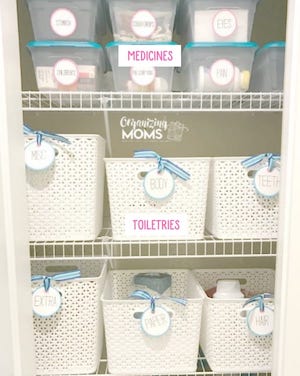 Linen Closet Organization with Baskets from Organizing Moms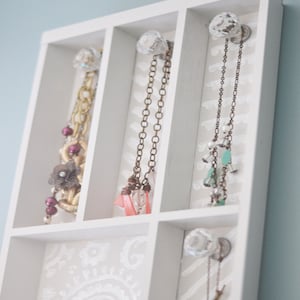 Jewelry Holder from a Cutlery Tray from The DIY Mommy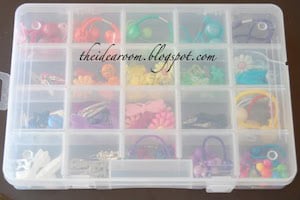 Plastic Organizer for Hair Ties from The Idea Room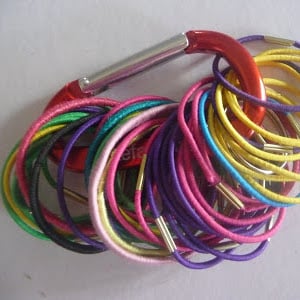 Hair Tie Organizer from Hi It's Jilly
Other Bathroom Organization Ideas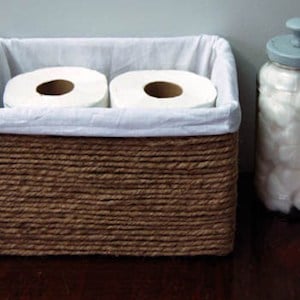 Cardboard Box Basket from Elizabeth Joan Designs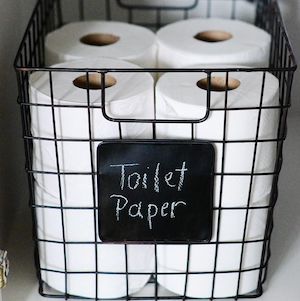 Wire Baskets for Toilet Paper from Bowl of Lemons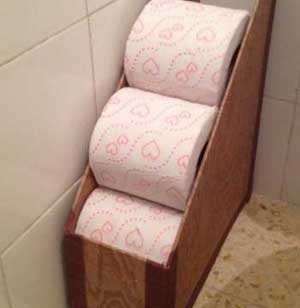 Magazine Holders for Extra Toilet Paper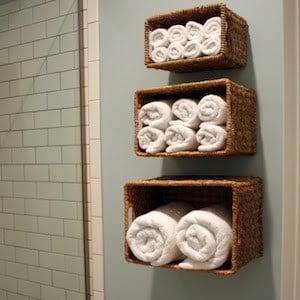 Wall Shelving for Bath Linens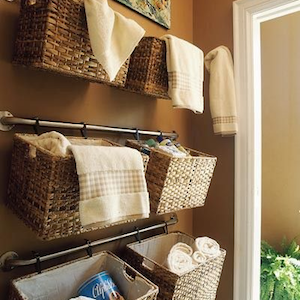 Towel Rack Organizer for Hand Towels and Washcloths
towel bars + bins or baskets + s-hooks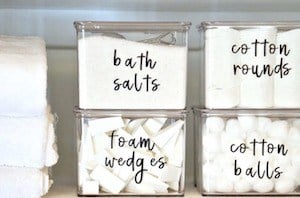 Clear Plastic Storage Bins for Organization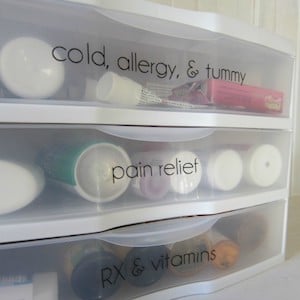 Medicine Cabinet Storage from Simply Kierste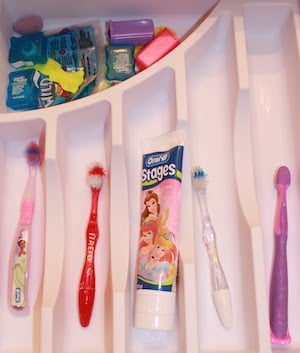 Toothbrush Brush Organizer (using a cutlery tray)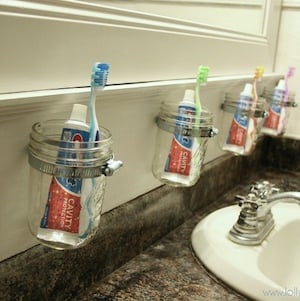 Mason Jar Toothpaste and Toothbrush Brush Holders from Lolly Jane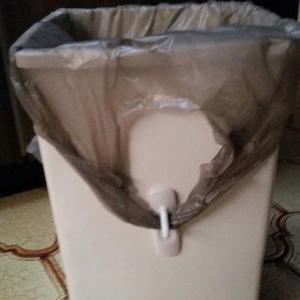 Command Hooks for Waste Baskets from Dump a Day
Related Posts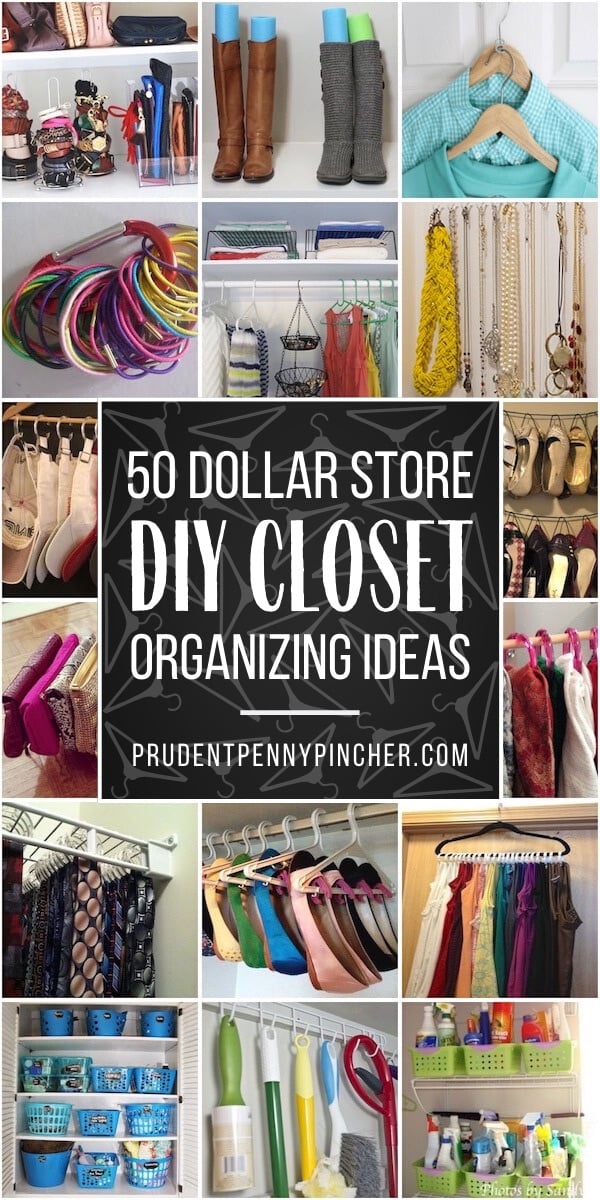 50 Dollar Store Closet Organizing Ideas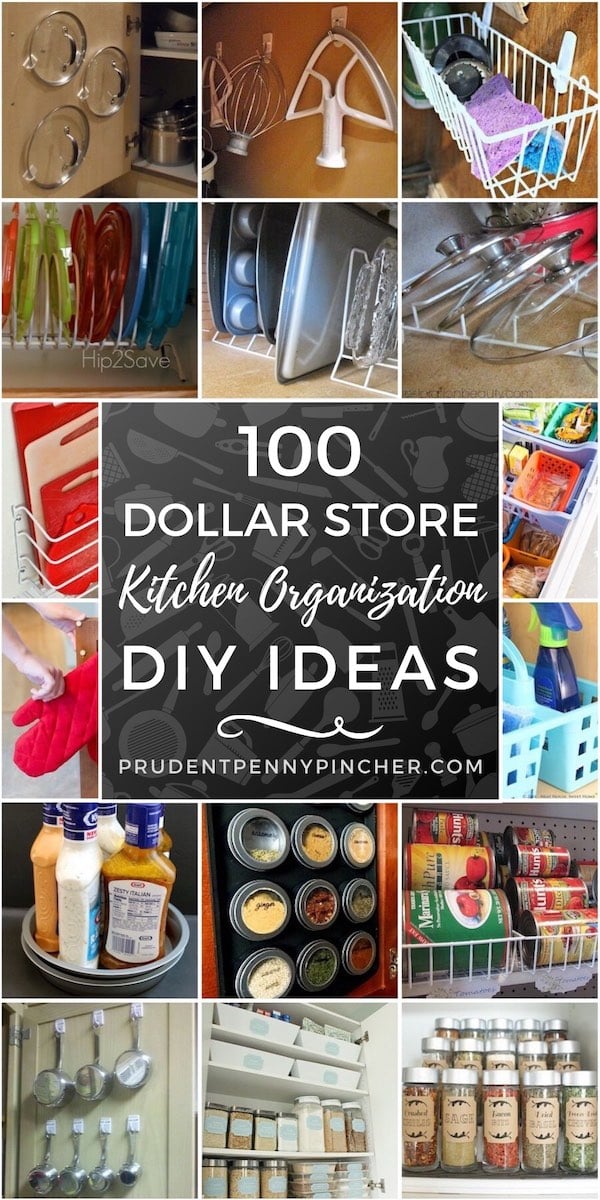 100 Dollar Store Kitchen Organizing Ideas