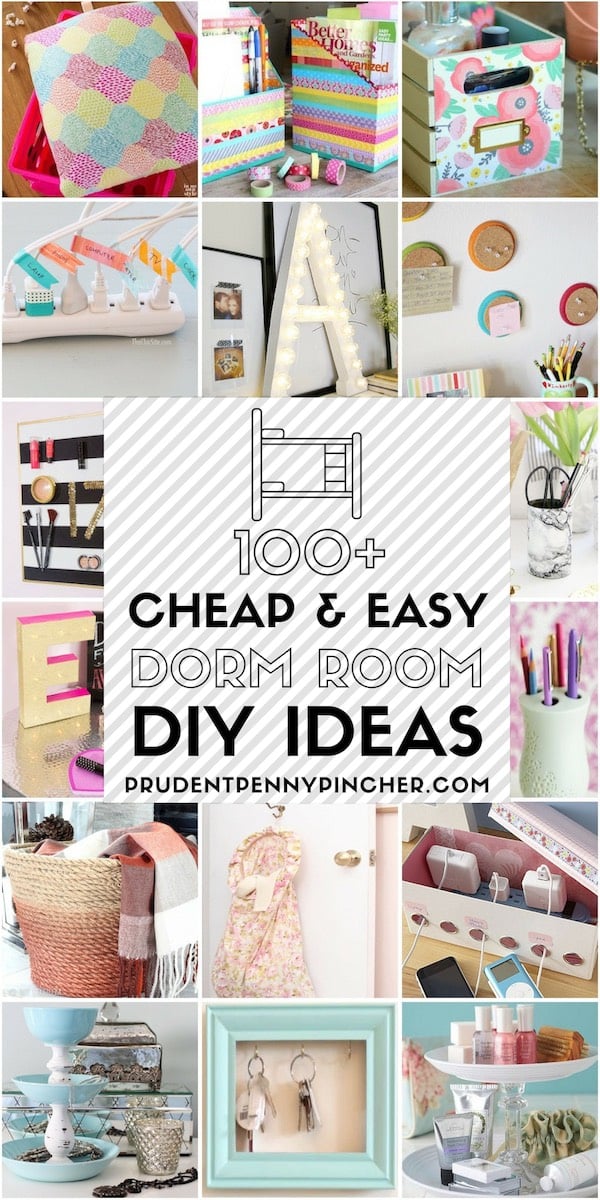 Make your dorm room look stylish and organized for less with these cheap & easy DIY projects. You can give your dorm room a creative and personal touch with these budget-friendly dorm room DIY ideas. From DIY dorm room organization ideas to DIY decor ideas, there are tons of different DIY projects for girls and guys to choose from that will give your dorm room a makeover.
School Supply / Office Dorm Room DIY Ideas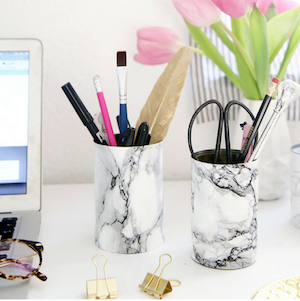 DIY Marble Pencil Holder
empty can + marble contact paper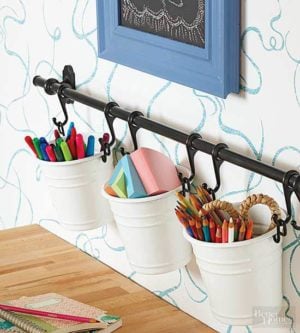 DIY Storage Pails for Supplies
small pails + hook metal rack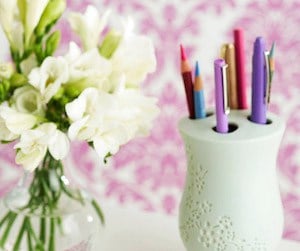 Decorative Pencil Holder
(using a toothbrush holder)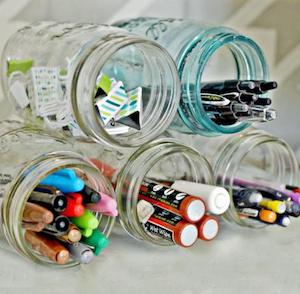 Mason Jar Cubbies
mason jars + e6000 glue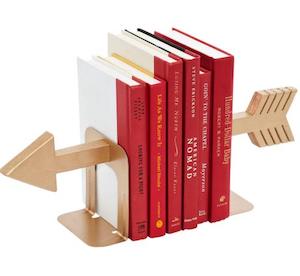 Arrow Bookend
metal bookend + hand saw + wooden arrow + spray paint + drill + screws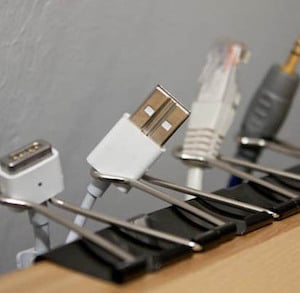 Binder Clip Cable Organizer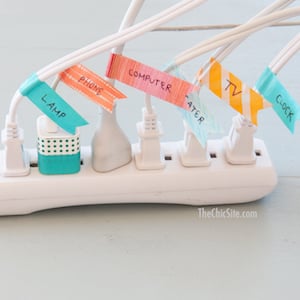 Cord Labels (source unknown)
wash tape + sharpie + scissors + power strip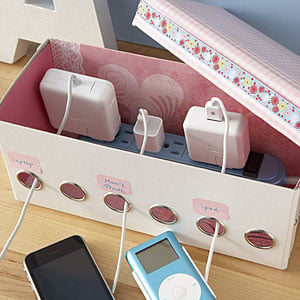 DIY Charging Station
ribbon box + power strip + utility knife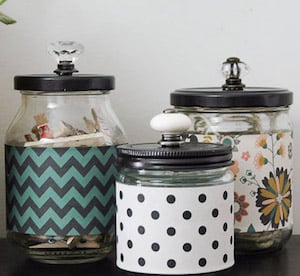 Recycled Glass Jars Turned Stylish Office Storage
recycled glass jars + knobs + scrapbook paper + spray paint + mod podge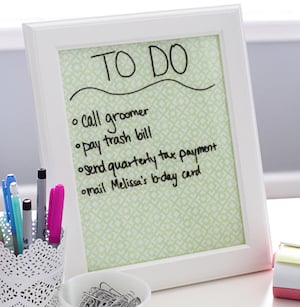 DIY Dry Erase Board
8×10 picture frame + patterned masking tape + dry erase markers
You can get all these items at Dollar Tree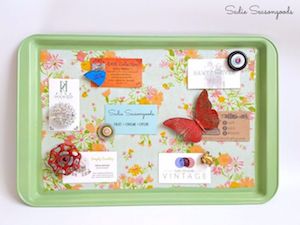 Cookie Sheet Magnetic Memo Board
metal primer + spray paint + fabric + mod podge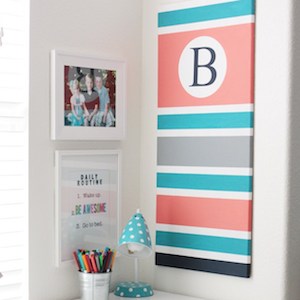 Monogram Bulletin Board
bulletin board + craft paint + painter's tape + stencil + command hooks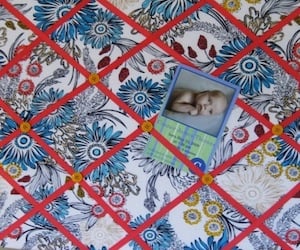 DIY Memo Board
canvas + fabric + ribbon + batting + buttons + glue gun + needle and thread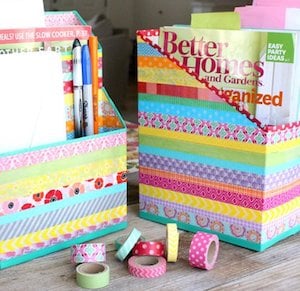 Organizers from Cereal Boxes
washi tape or patterned duct tape + cereal box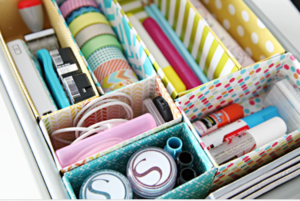 Cereal Box Desk Organizer
decorate the boxes with wrapping paper, decorative tape or fabric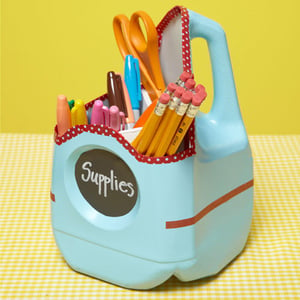 Milk Jug School-Supply Container
spray paint + 1-gallon plastic jug + X-acto knife, washi tape + foam board + chalkboard label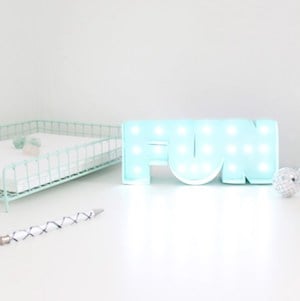 Mini Desk Marquee Light
foam and poster board + led lights + craft knife + glue gun + spray paint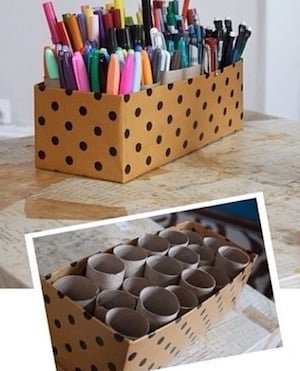 Marker Holder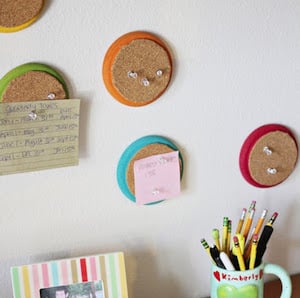 Circle Cork Board
cork board + wood discs + craft paint + adhesive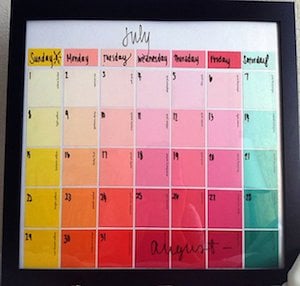 DIY Paint Chip Calendar
large picture frame + paint swatches + tape + dry erase marker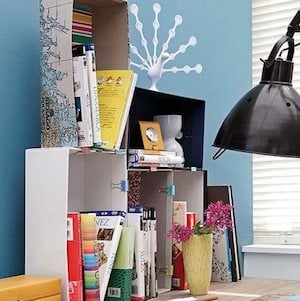 Shoe Box Storage
shoe boxes + binder clips + shelf lining or wrapping paper + mod podge
---
Makeup / Jewelry DIY Dorm Room Ideas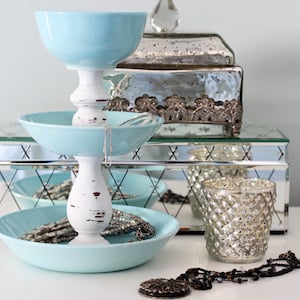 Jewelry Tower
cups + saucers + taper candle holders + spray paint + glue
These dishes were found at Thrift Stores, but you can also find similar ones at Dollar Tree too.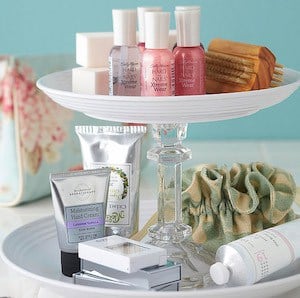 Tiered Tray
glass taper candleholder + white plate + white saucer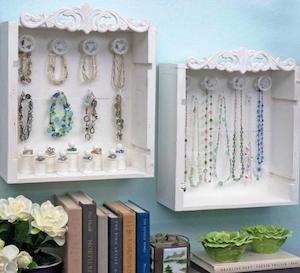 Wine Crate Jewelry Display Boxes
wood wine crates + wood spools, finials trim + cup hooks + knobs + acrylic and spray paint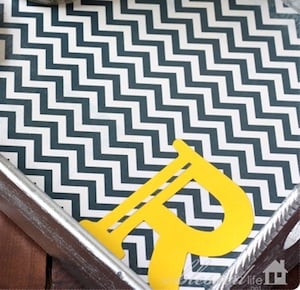 DIY Custom Tray {For Less Than $10}
wooden tray + scrapbook paper + spray paint + mod podge + printed letter or sticker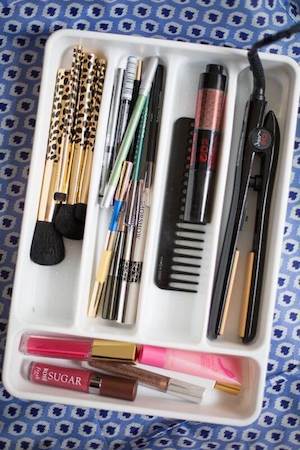 Makeup Organizer (using a cutlery tray)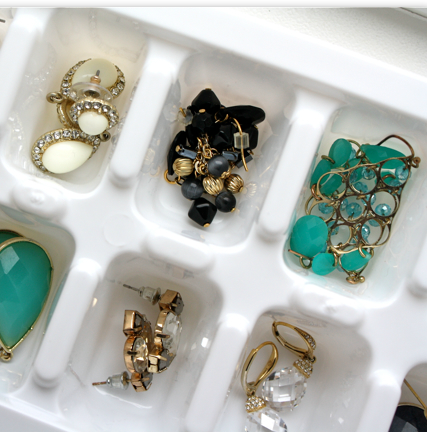 Earring Organizer (using an ice cube tray)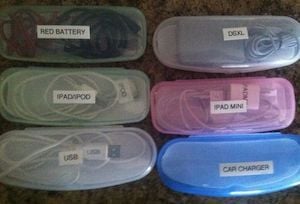 Travel Cord Organizer (using eyeglass cases)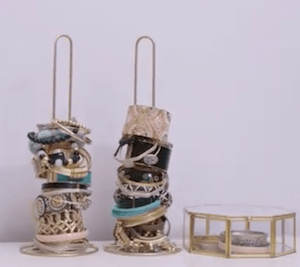 Paper Towel Bracelet Holder
paper towel holder + gold spray paint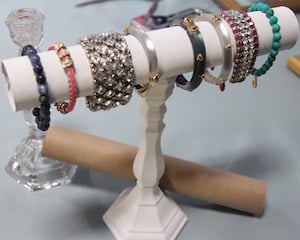 Paper Towel Roll Bracelet Organizer
paper towel roll + glass taper candleholder + white spray paint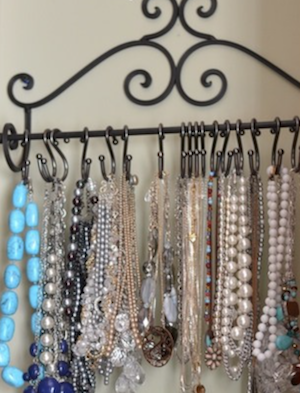 Jewelry Hanger
towel rack + s hooks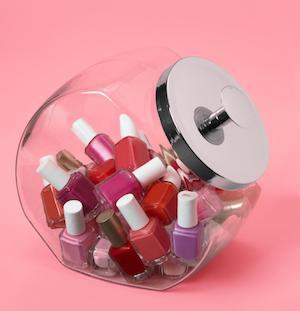 Nail Polish Storage
cookie jar with a metal lid + decorative knob (optional)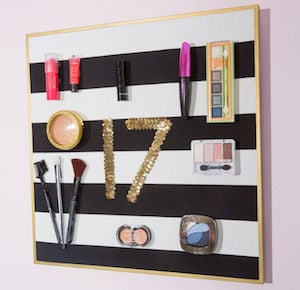 Magnetic Makeup Board
magnetic dry erase board + gold paint + fabric + magnets + sequin ribbon + glue
---
Accents DIY Dorm Room Ideas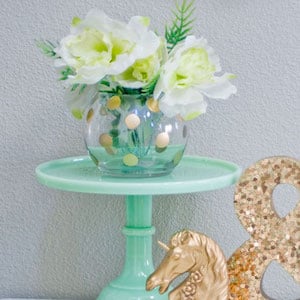 Kate Spade Rosebowl
round glass candleholder + gold paint pen + flowers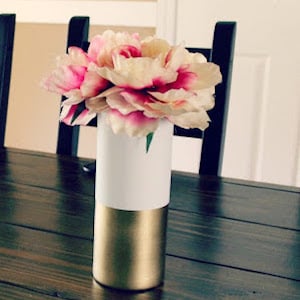 Spring Vase
vase + flat white spray paint + gold spray paint + flowers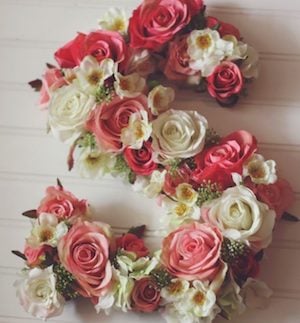 DIY Floral Letter
flowers + hot glue gun + sheet of cardboard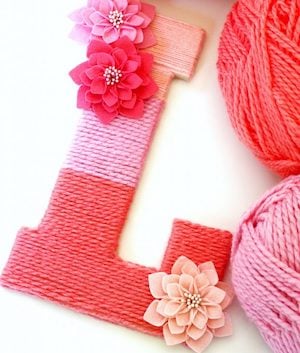 Yarn-Wrapped Ombre Monogrammed Letter
yarn + flower embellishments + wood letter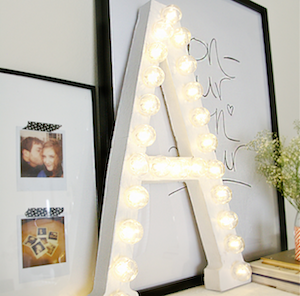 DIY Marquee Letter
large cardboard letter + x-acto knife + string lights + paint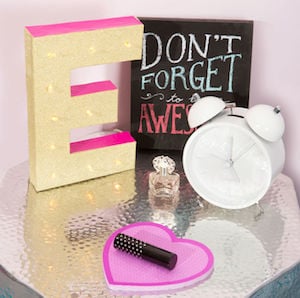 Light Up Initials
cardboard letters + white LED twinkle lights + gold sticker paper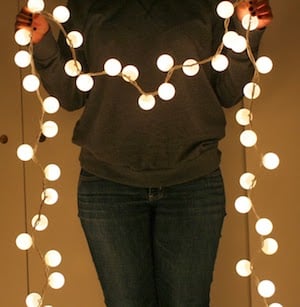 Ping Pong String Lights
string lights + ping pong balls + Xacto knife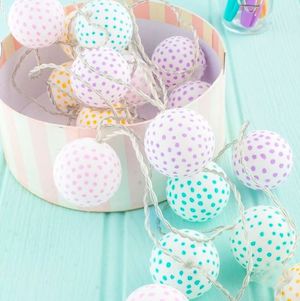 Polka Dot Ping Pong Ball Lights
string lights + ping pong balls + sharpie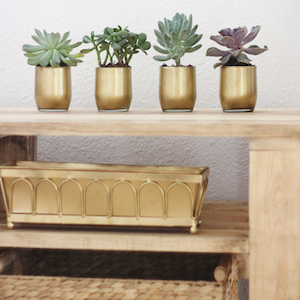 Gold Succulent Vases
succulents + painter's tape + gold spray paint + cups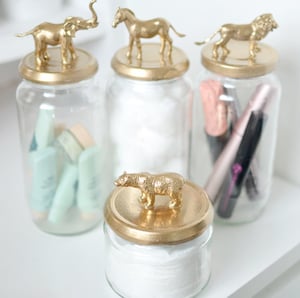 DIY Gold Animal Jars
empty jars + metallic gold spray paint + $1 animal toys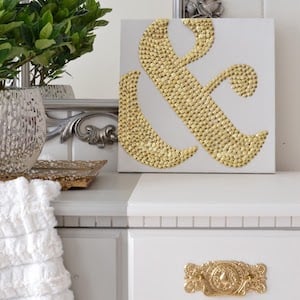 Ampersand Art Using Thumbtacks
gold thumbtacks + canvas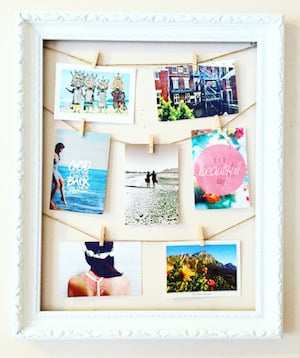 DIY Picture Frame Clothesline
1 empty frame + jute twine + mini clothespins + pictures + o hooks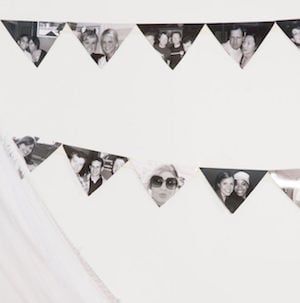 Photo Garland
photos + ribbon or twine + glue gun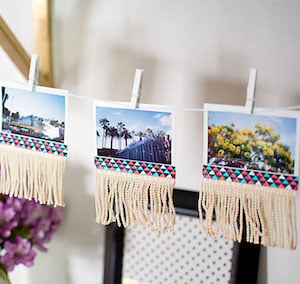 Fringe Photo Garland
photos + fringe trim + washi tape + yarn + clothespins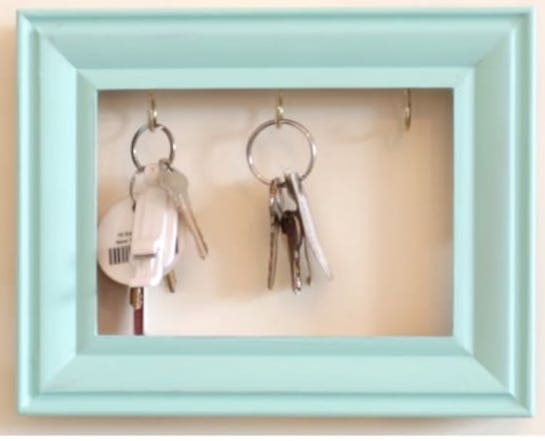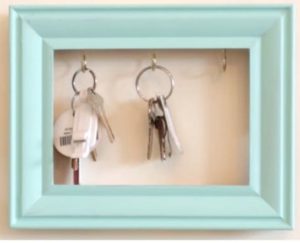 Picture Frame Key Holder
picture frame + paint + screw hooks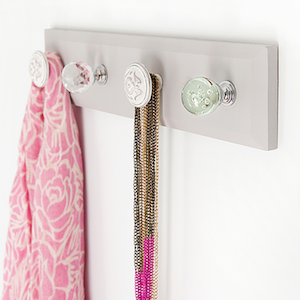 DIY Hook Rack
wood rack + decorative knobs + paint + primer and sealer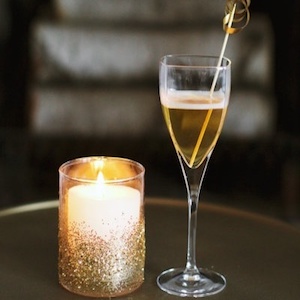 Glitter Votive
votives candleholder + spray adhesive + glitter + votive candle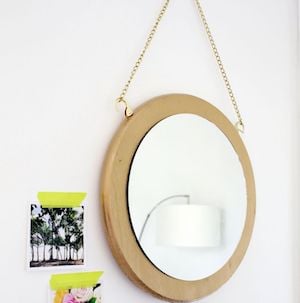 DIY Circle Chain Mirror
round wood + hooks + gold hanging chain + gold spray paint + round mirror + epoxy glue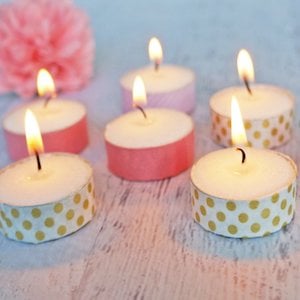 Washi Tape Tea-Light Votives
washi tape + tea light candles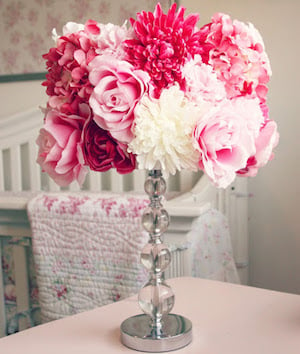 DIY Pottery Barn Lampshade
fake flowers + lamp + glue gun + spray paint
You can get a lamp from a thrift store for $5 and paint it any color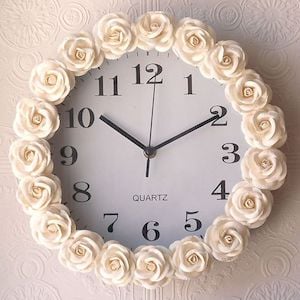 Flower Clock
faux flowers + cheap wall clock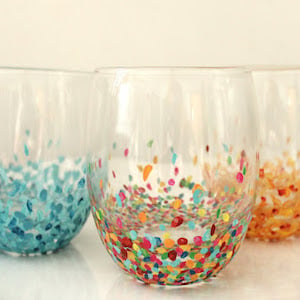 Anthropologie Confetti Tumblers
tumbler or stemless wine glass + acrylic paints + sealer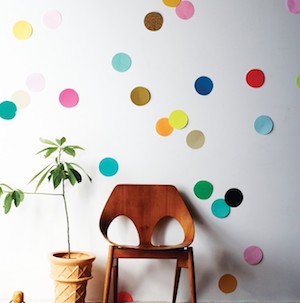 Confetti Wallpaper DIY
colored paper + circle template + Blu-Tack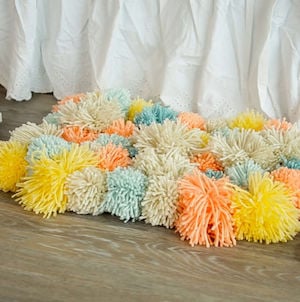 DIY Pom-Pom Rug
paper towel roll + yarn + non-slip rug mat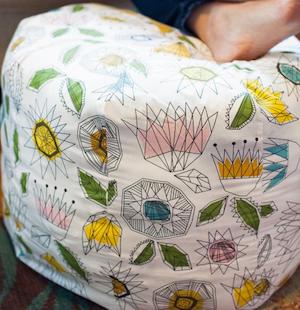 Fabric Poof Ottoman
sewing machine + fabric + thread. + needle + polyfill + old towels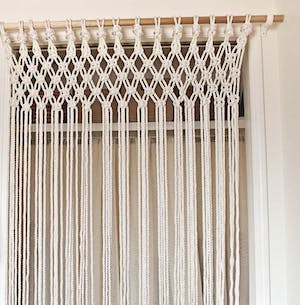 DIY Macrame Curtain
rope + tape + wooden dowel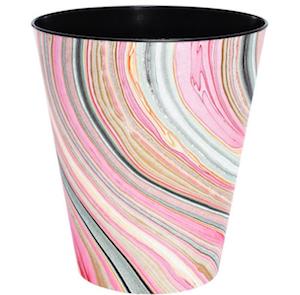 Decorative Wastebasket
decorative paper + tape +double-sided tape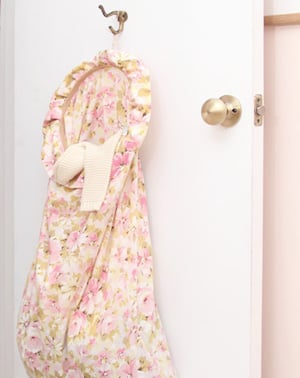 Hanging Laundry Hamper
pillow case + embrioary hoop + twine + drill + screws and hook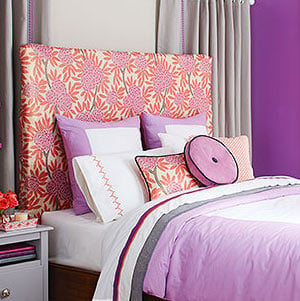 DIY Fabric Headboard
tension rod + polyester quilt batting + needle and thread + fabric + pins + sewing machine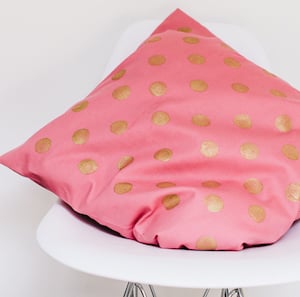 DIY Polka Dot Cushion
Plain Cushion Cover + gold fabric paint + champagne cork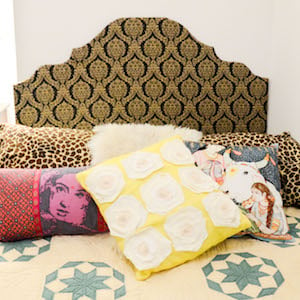 DIY Temporary Headboard
cardboard + fabric + craft knife + tape
---
Storage Dorm Room DIY Ideas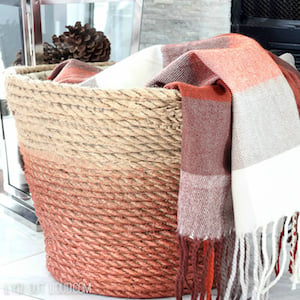 Metallic Rope Throw Basket
round laundry basket + paint + jute rope + 1 yard felt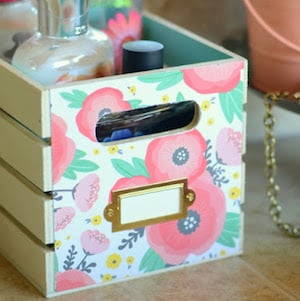 Stylish Crate Storage DIY
small crate + scrapbook paper + gold label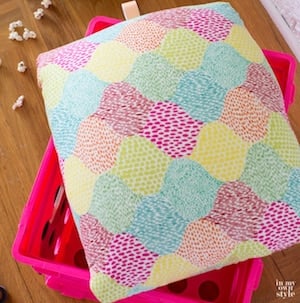 DIY Storage Crate Seat
storage crate + fabric + craft paint + ribbon + cushion foam +plywood + chalkboard sign + staple gun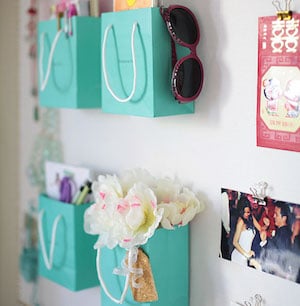 Shopping Bag Organization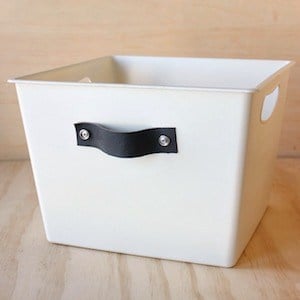 Stylish Bins
plastic bin + white spray paint ($1 at Walmart)+ fake leather scraps + leather punch + rivets + washers + rivet gun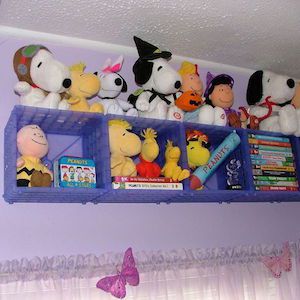 DIY Storage Shelving
plastic crates + drill + anchor + screws + metal washers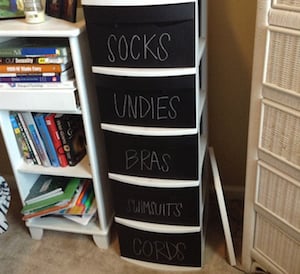 Chalkboard Drawer Organizer
chalkboard paint + chalk + plastic bin + foam brush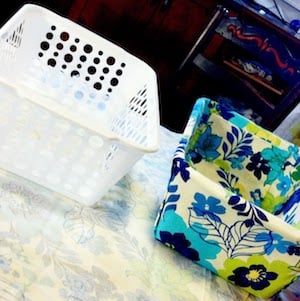 DIY Fabric Covered Bins
dollar store bins + fabric + spray adhesive
---
Closet and Clothing Dorm Room DIY Ideas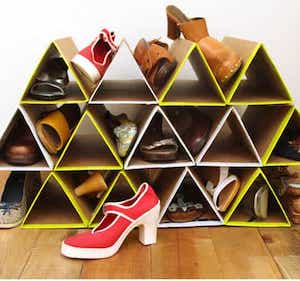 DIY Shoe Rack
cardboard boxes + duct tape
You can easily customize with wash tape, scrapbook paper and craft paint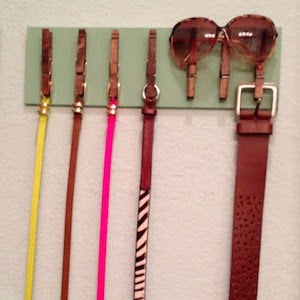 Belt Organizer
board + clothespins + glue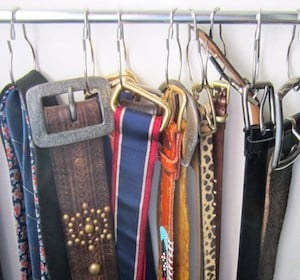 Belt Organizer II
shower curtain rings + shower rod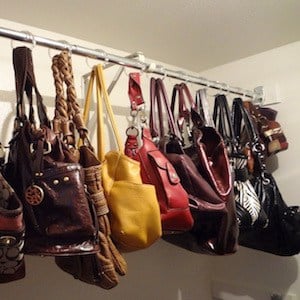 Purse Organizer
curtain rings + shower curtain rod (or you could just attach the rings to hangers)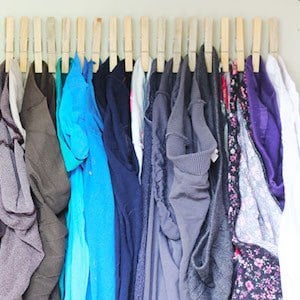 Tights Organizer
clothespins + ruler + glue gun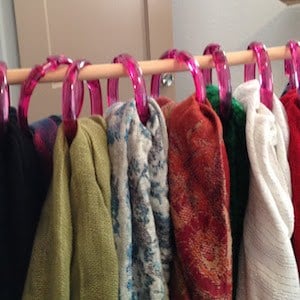 Scarf Organizer
shower curtain rod + curtain rings + scarves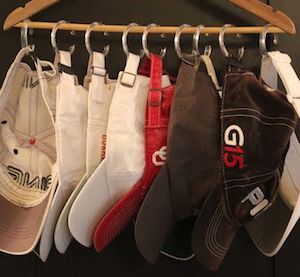 Hat Organizer
curtain rings + hanger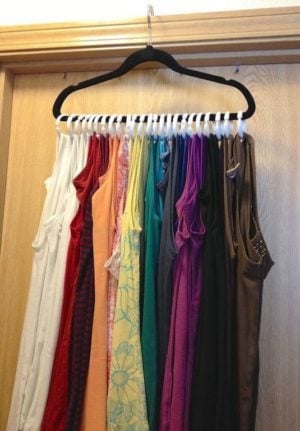 Tank Top Organizer
shower curtain rings + hanger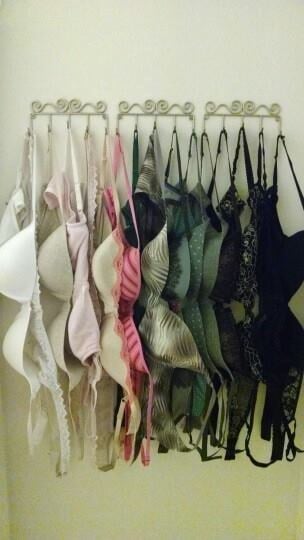 Bra Organizer Using Metal Racks or Towel Hook Rack
You could do the same thing with 2-3 of these Dollar Tree hooks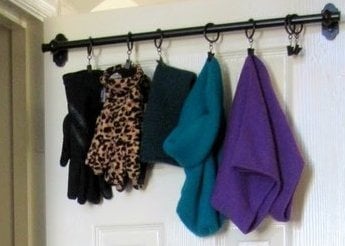 Winter Accessory Organzier
towel bar + curtain clip rings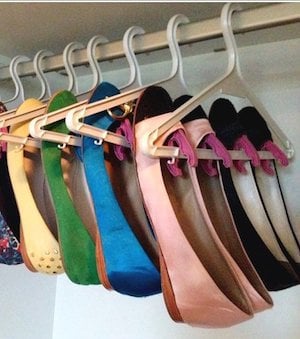 Flats Organization
plastic clips + hangers
You can also use bent wire coat hangers to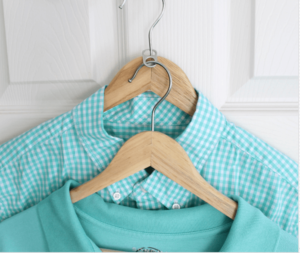 Shirt Organizer (using a soda tab)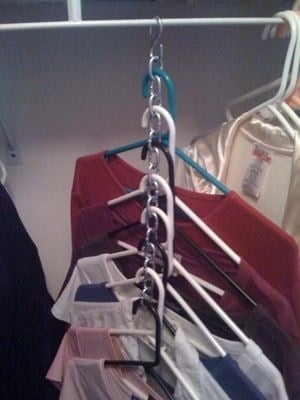 Shirt Organizer (using s hooks)