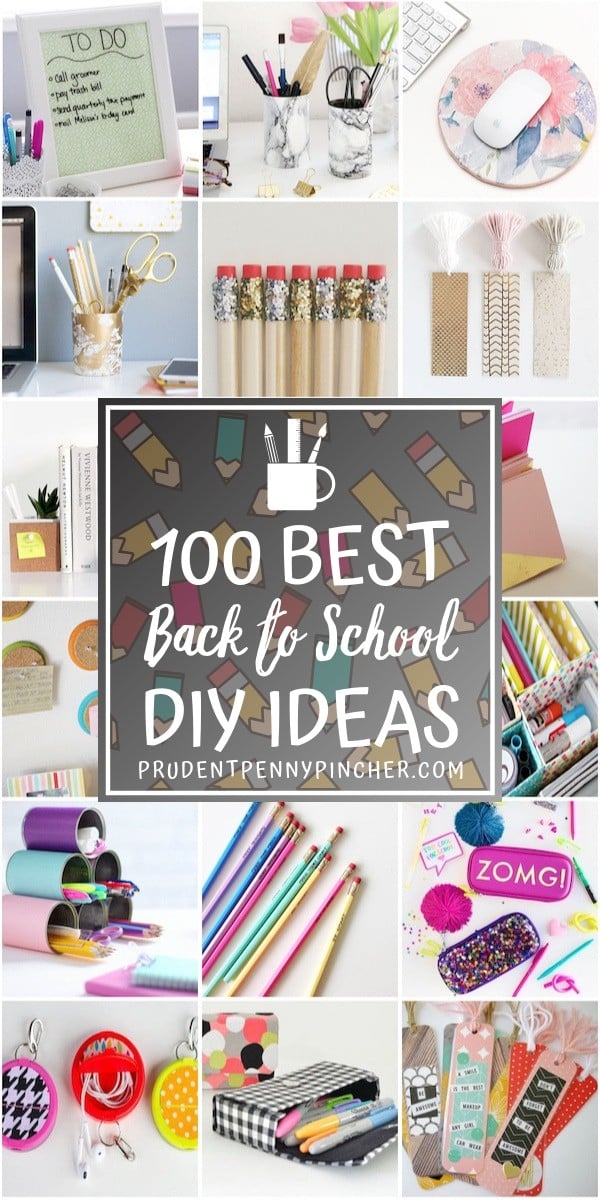 Impress your friends and show off your creativity with these back to school DIY ideas. These school supply DIY ideas will get you excited about going back to school! You can make your own personalized pencils, notebooks, organizers and more.
For these back to school DIY Ideas, you may need:
ruler
scissors
paint brushes (including foam brushes)
tape
pencil
craft knife
glue
Notebook Back to School DIY Ideas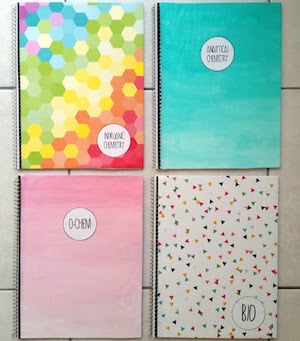 Back to School DIY Notebooks
notebooks + scrapbook paper + acrylic paint + Mod Podge (optional)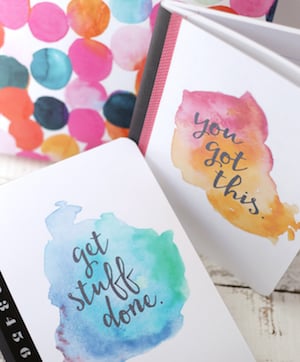 Free Printable Watercolor Notebook Covers
composition book + watercolor printable + mod podge + washi tape (optional)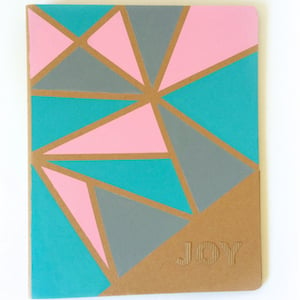 Back to School DIY Binder Folder
Kraft binder + pink paint + cyan ink + masking tape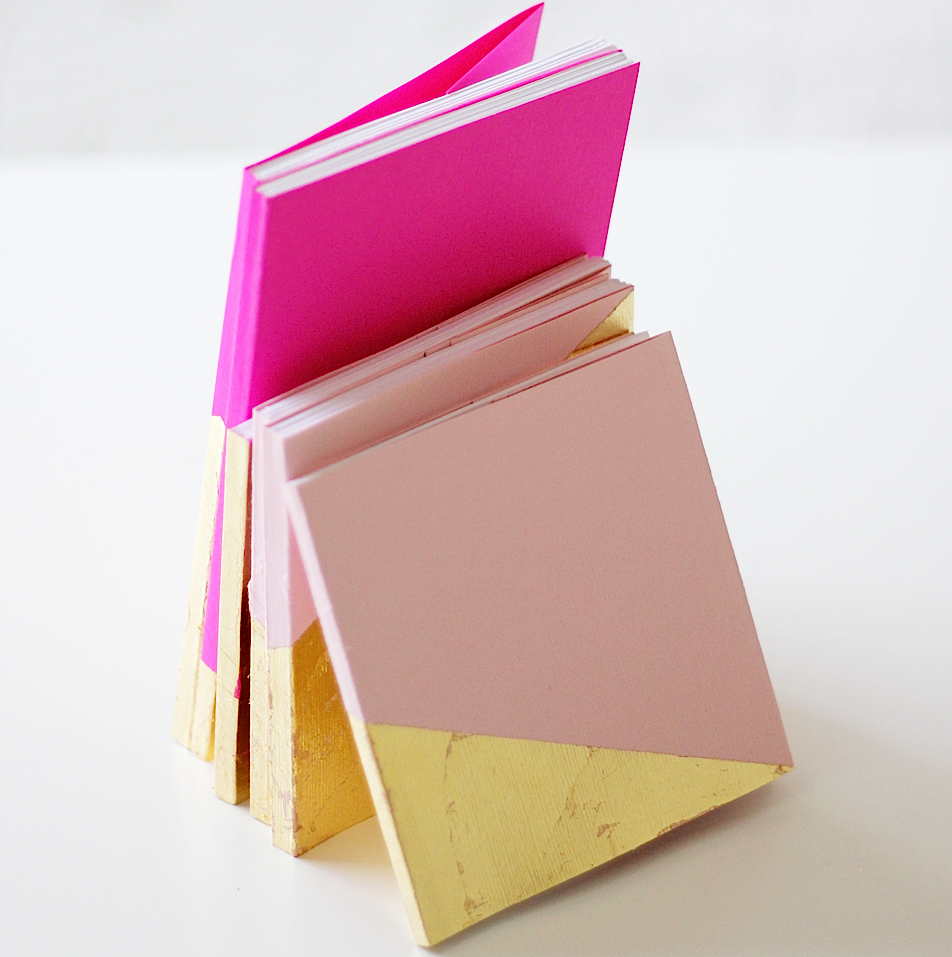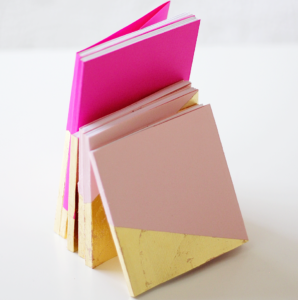 Gold Dipped Notebook
scrapbook paper + computer paper + PVA glue + gold leaf kit + tape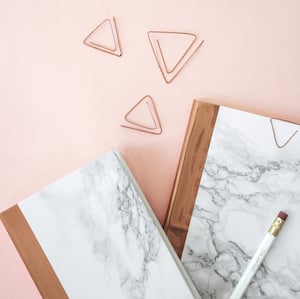 Marble and Copper Stationary
notebook + marble self & brush copper self adhesive vinyl + copper wire + wire cutters + pliers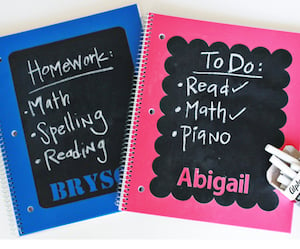 Chalkboard Notebooks
notebooks + Cricut Explore + Cricut weeding tool + chalkboard vinyl + chalk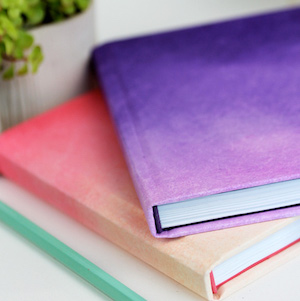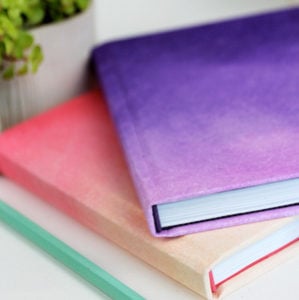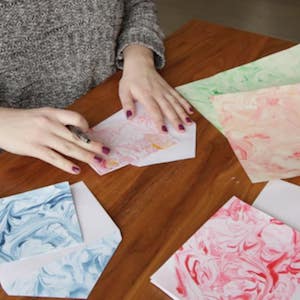 DIY Marble Stationary
painter's tape + white stationary + shaving cream + food coloring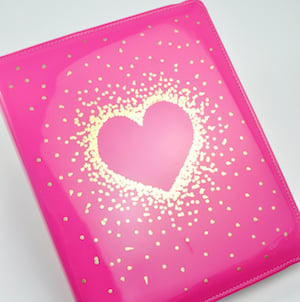 Heart Design Journal
gold metallic sharpie + heart stencil or wood shape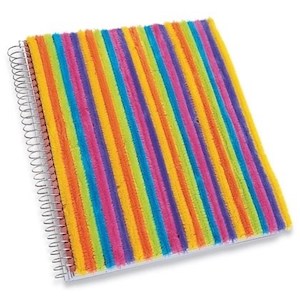 Fuzzy Colorful Notebook (source unknown)
pipe cleaners in various colors + note book + glue
You can get the pipe cleaners at Dollar Tree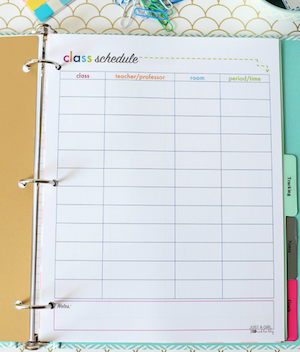 Free Printable Student Binder
3-Ring Binder + dividers + clear sleeves + hole punch + labels + printer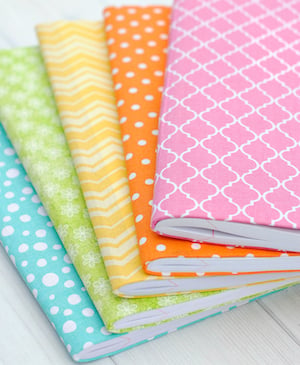 Fabric Notebook
notebook + fabric + glue stick + craft glue + scissors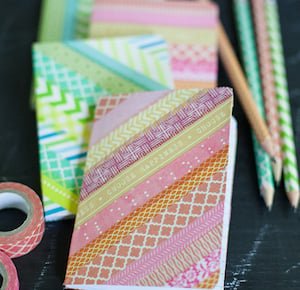 Washi Tape Pencils and Notebooks
washi tape + craft knife + notebooks + pencils + white label paper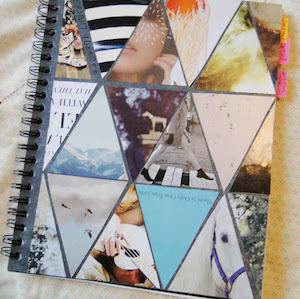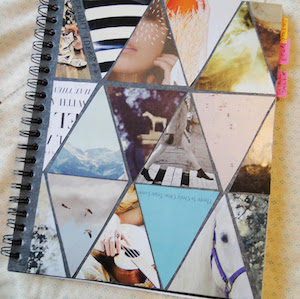 DIY Triangle Collage Notebook
Notebook + glue stick + mod podge + magazine/photo clippings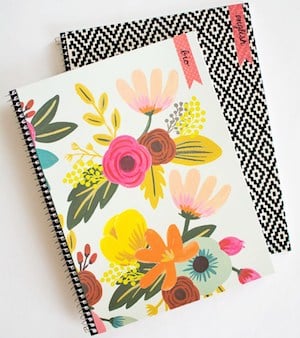 DIY Customizable Notebooks
notebooks + paper + pencil + Mod Podge + washi tape + sharpie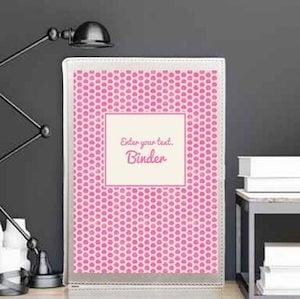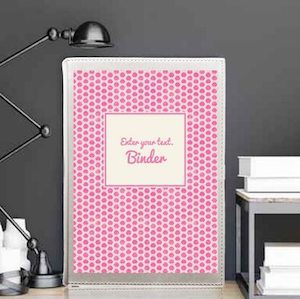 Free Printable Binder Cover Templates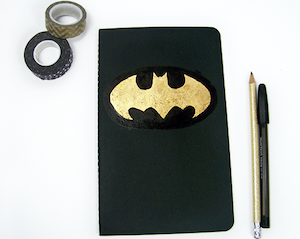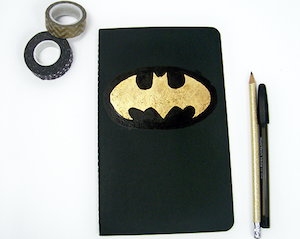 DIY Batman Notebook
gold leaf kit + notebook + stencil + black acrylic paint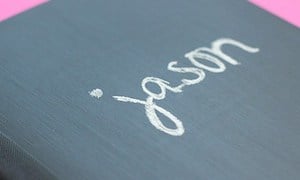 Chalkboard Notebook
composition notebook + chalkboard paint + chalk + foam brush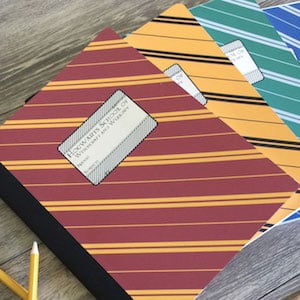 DIY Harry Potter Notebook
notebook + free printable covers + glue stick + X-Acto Knife + lightweight cardstock
DIY Mini Notebook from a Cereal Box
cereal box + paper + decorative paper + glue stick + needle + embroidery floss + button
Other School Supply DIY Ideas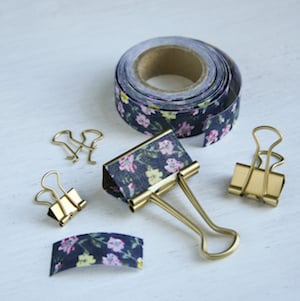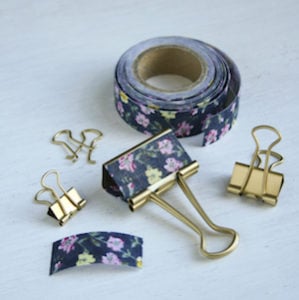 Binder Clip DIY
binder clips + fabric tape/washi tape + spray paint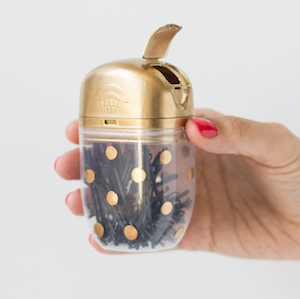 DIY Tic Tac Case
Tic Tac case + gold spray paint + gold craft paint + wooden dowel
You could use this to hold school supplies like paper clips or push pins!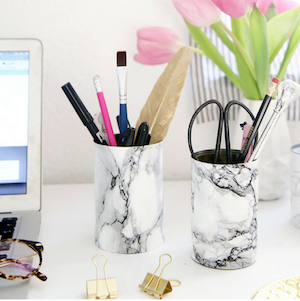 DIY Marble Pencil Holder
empty can + marble contact paper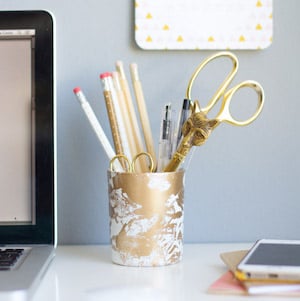 Gold Marble Pencil Holder
glass cup + popsicle sticks + liquid gilding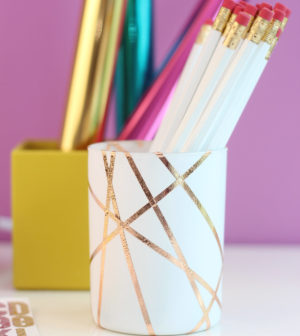 Gold Foiled Pencil Cup
double sided tape + gold foil + glass tumbler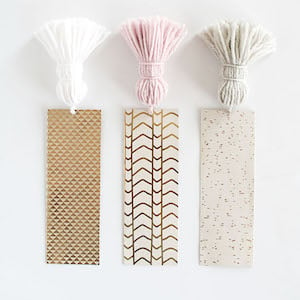 DIY Chunky Tassel Bookmark
yarn + cardboard + cardstock + Mod Podge + hole puncher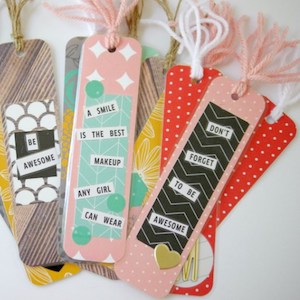 DIY Bookmarks
scrapbook paper + stickers + glue stick + paper cutter + hole punch + yarn and twine + laminator and laminator sheets
Money Saving Tip: You can get them laminated at your local public library for free or a small fee ($0.50)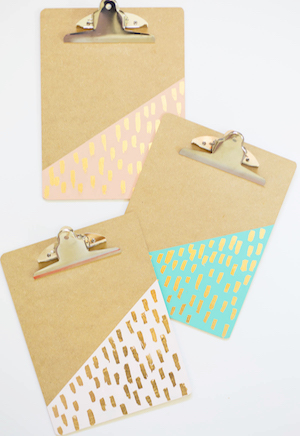 DIY Gold Brushed Clipboards
plain clipboard + washi tape + craft paint + gold leaf kit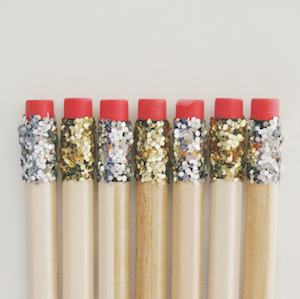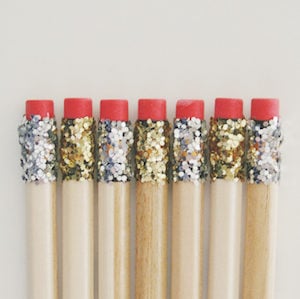 Glitter Pencils
pencils + glitter + mod podge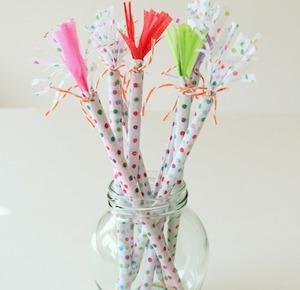 Anthropologie Inspired Pencils
tissue paper + Mod Podge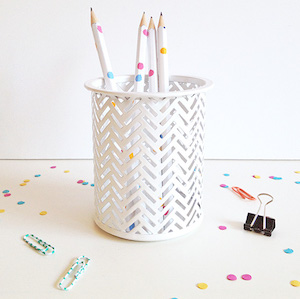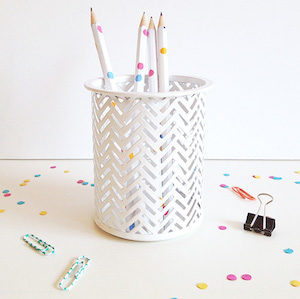 Confetti Pencils
pencils + white spray paint + painter's tape + Hole reinforcement labels + acrylic paint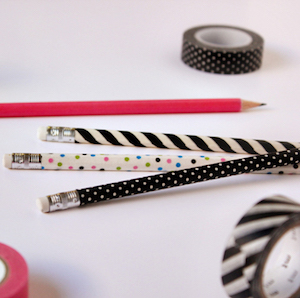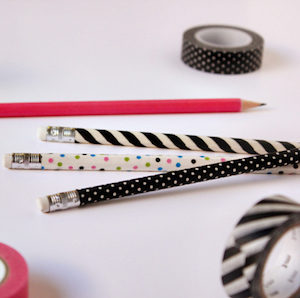 Washi Tape Pencils
pencils + washi tape + scissors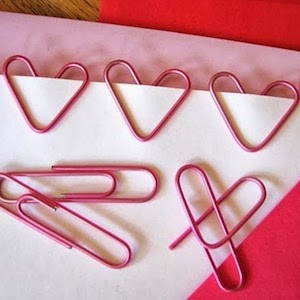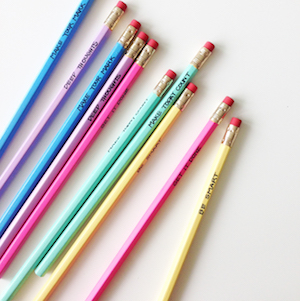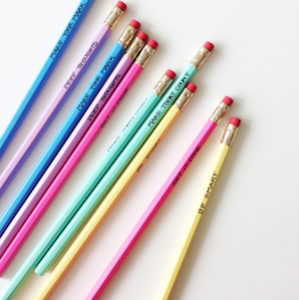 DIY Painted Pencils
multi-surface acrylic craft paints + pencils + washi tape + fine tip sharpie marker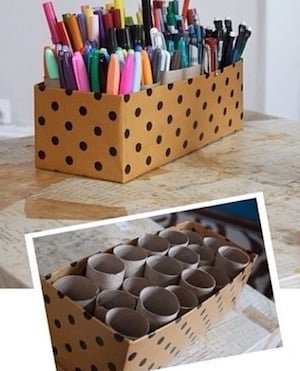 Marker Holder
cardboard shoe box + toliet paper rolls + circle stickers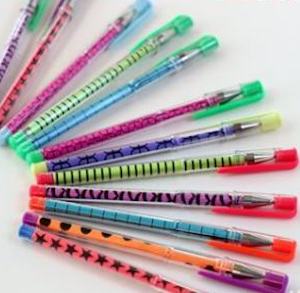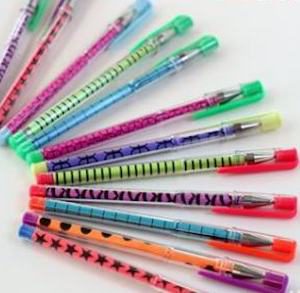 Bright Neon Pens
brightly colored paper + printer + free patterns + clear, plastic pens + paper cutter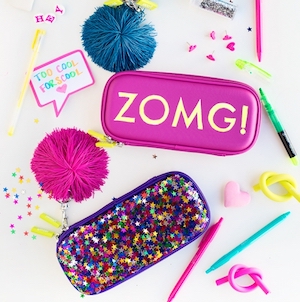 Glittery Graphic Pencil Case
pencil cases + paint + label paper + mod podge + glitter or confetti + printable stencils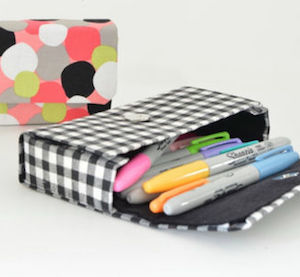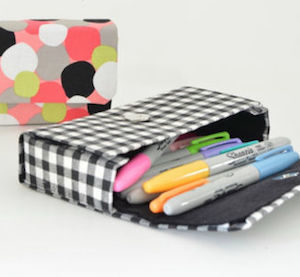 DIY Pencil Case Using Cereal Box
A empty cereal box + patterned fabric + felt + e6000 Glue + velcro + craft knife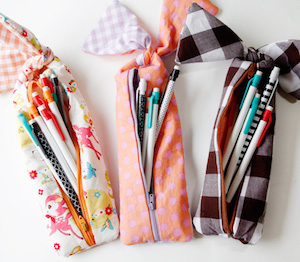 Knotted Zipper Pencil Pouch
free pattern + fabric + lightweight interfacing + zipper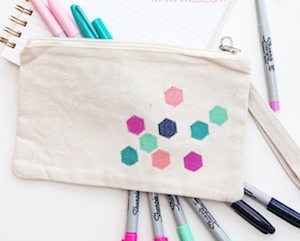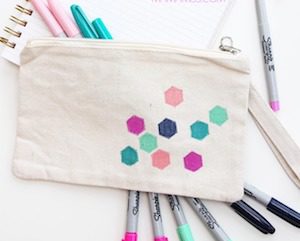 DIY Pencil Pouch
sharpies+ canvas pencil bag + a scrap of plastic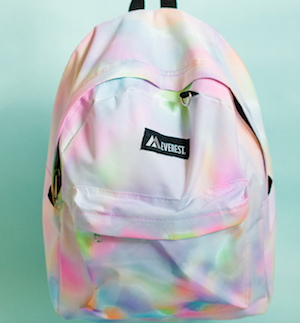 Watercolor Backpack DIY
All you need is a white backpack and fabric markers!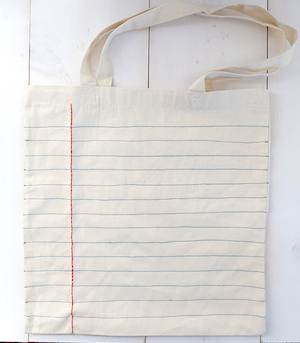 DIY Notebook Sewn Canvas Tote
canvas tote + sewing machine + blue thread + red embroidery thread + needle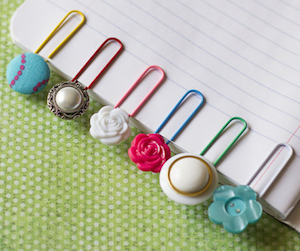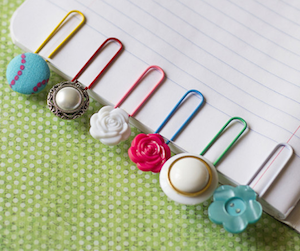 Button Paper Clip Bookmarks
button + paperclips + glue + felt
Organization Back to School DIY Ideas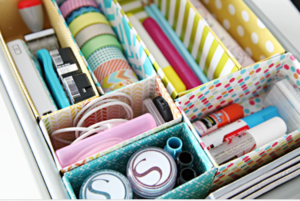 Cereal Box Desk Organizer
decorate the boxes with wrapping paper, decorative tape or fabric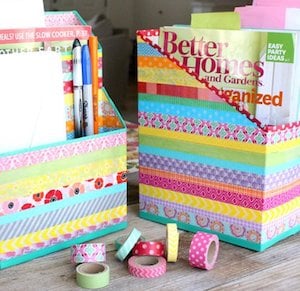 Organizers from Cereal Boxes
washi tape or patterned duct tape + cereal box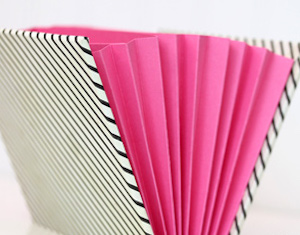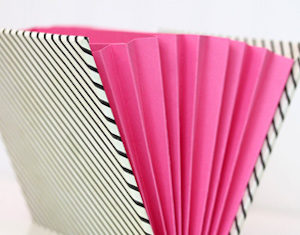 Paper Organizer
colored cardstock + adhesive + bookboard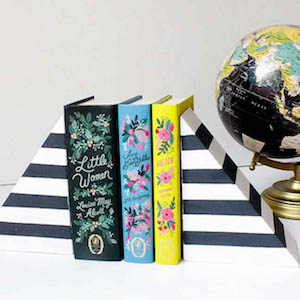 DIY Striped Bookends
wood glue + 1×5 board + wood filler + white & black paint + painter's tape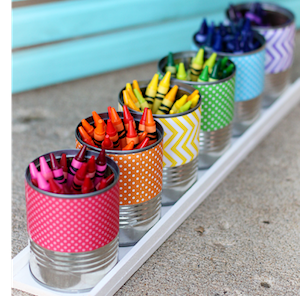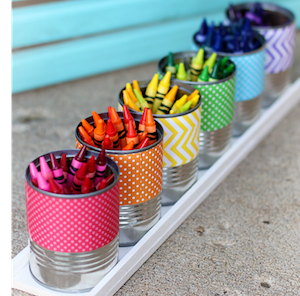 Crayon Organizer
crayons + mini cans of veggies + balsa wood + wood glue + spray paint + scrapbook paper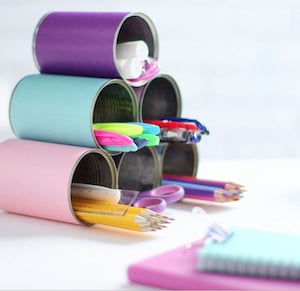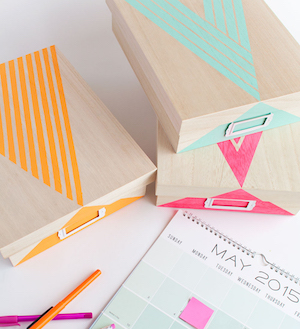 Painted Storage Boxes
acrylic paint + patterning tape + white spray paint + wood box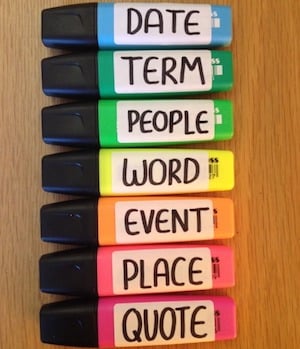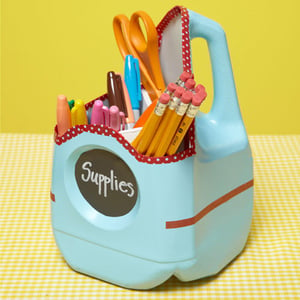 Milk Jug School-Supply Container
spray paint + 1-gallon plastic jug + X-acto knife, washi tape + foam board + chalkboard label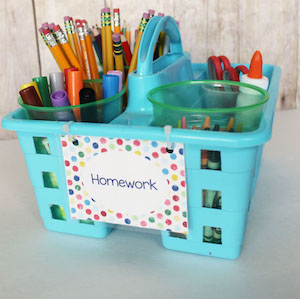 Homework Caddy
You can get a caddy for $1 at Dollar Tree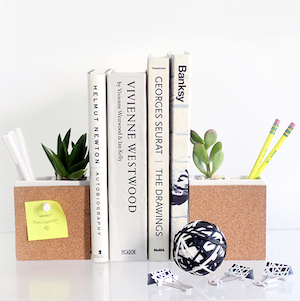 Succulent and Supply Holder (source unknown)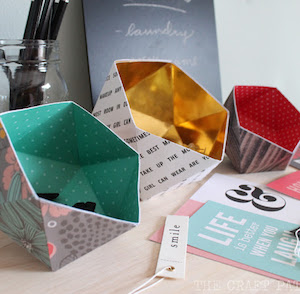 DIY Geometric Bowls
Scrapbook paper + scissors + glue + folding template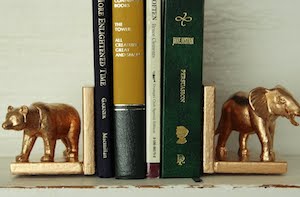 DIY Animal Bookends
wood blocks + wood glue + $1 plastic toy animals + gold spray paint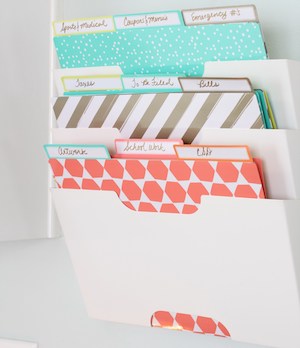 Back To School Paper Clutter Organization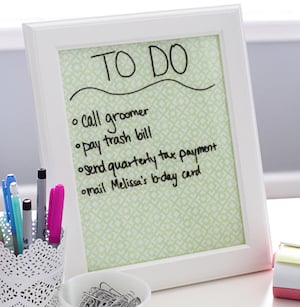 DIY Dry Erase Board
8×10 picture frame + patterned masking tape + dry erase markers
You can get all these items at Dollar Tree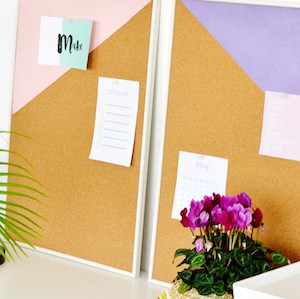 Geometric Pinboard DIY
noticeboards + lavender spray paint + pink spray paint + masking tape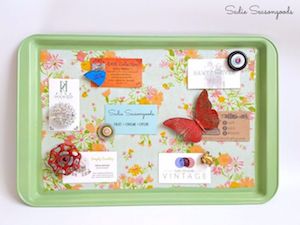 Cookie Sheet Magnetic Memo Board
metal primer + spray paint + fabric + mod podge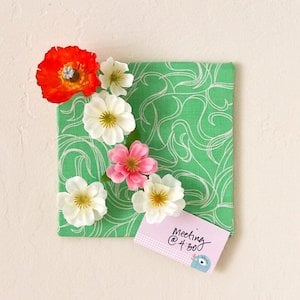 Corkboard Flower Push Pins
cork board + fabric + fake flowers + push pins + glue gun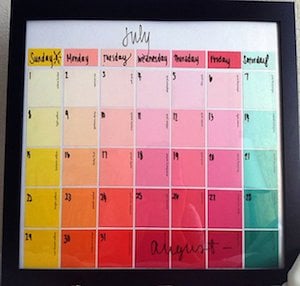 DIY Paint Chip Calendar
large picture frame + paint swatches + tape + dry erase marker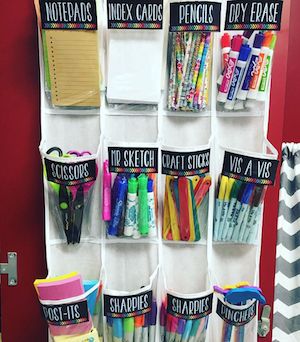 Over The Shoe School Supply Organizer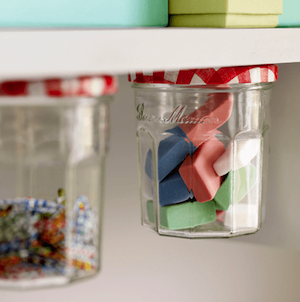 Jelly Jar Storage
jelly jars + nail and hammer
Electronics Back to School DIY Ideas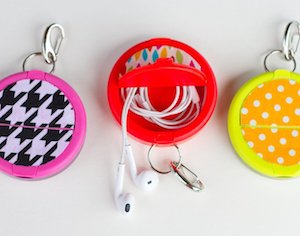 Earphone Holder
empty mint containers + fabric + circle punch + mod podge + key ring and clip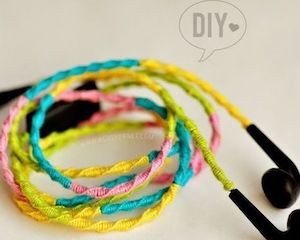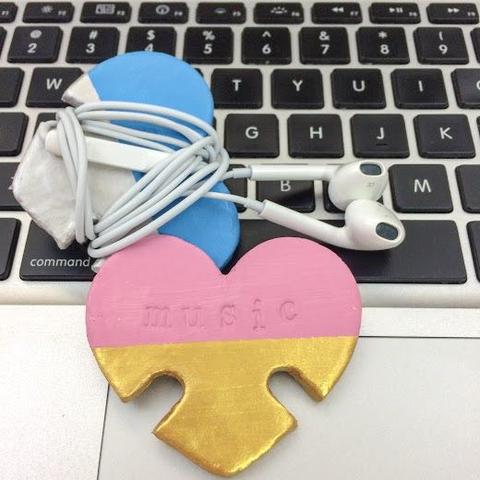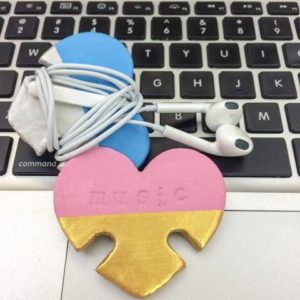 Earphone Cord Holder
air dry clay + heart cookie cutter + alphabet stamp + acrylic paint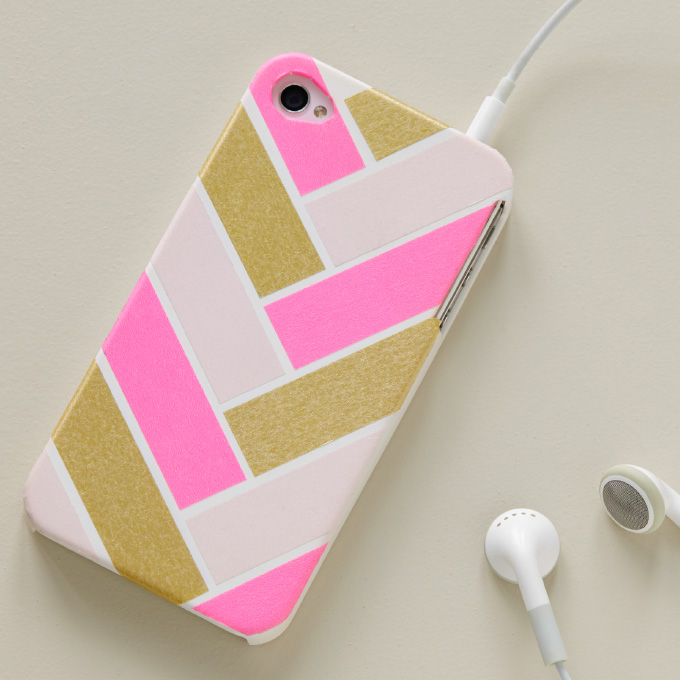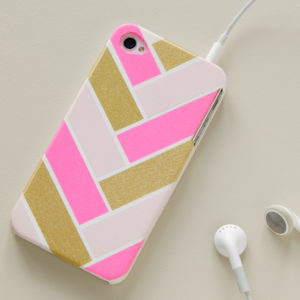 Herringbone Cell Phone Cover
washi tape + phone case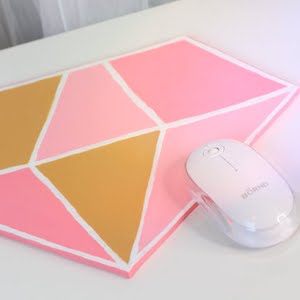 DIY Glam Mousepad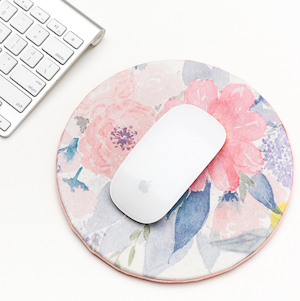 DIY Floral Mousepad
fabric mod podge + round cork board + fabric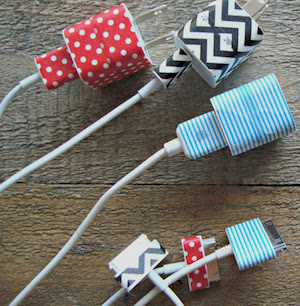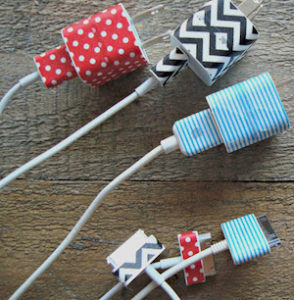 Washi Tape Charger Organizer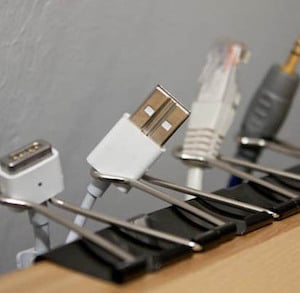 Binder Clip Cable Organizer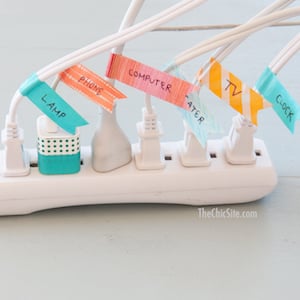 Cord Labels (source unknown)
wash tape + sharpie + scissors + power strip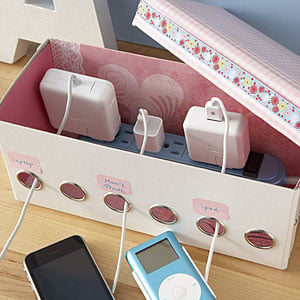 DIY Charging Station
ribbon box + power strip + utility knife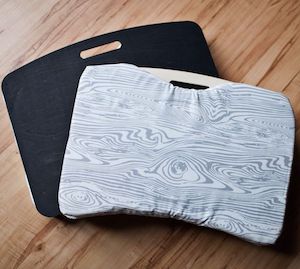 No Sew Lap Desk DIY
wood lap desk top + foam square + fabric + trim + fabric glue + staple gun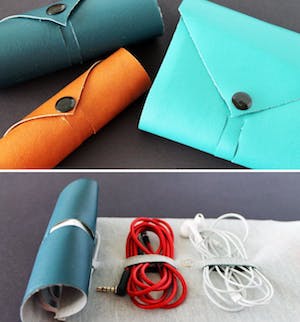 Leather Cord Roll Up Organizer
fake (or real) leather + snap buttons + xacto knife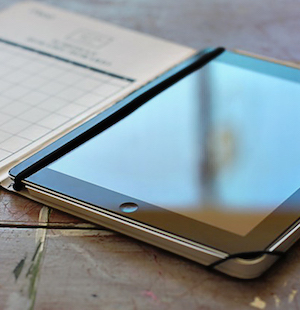 DIY iPad Cover from Composition Notebook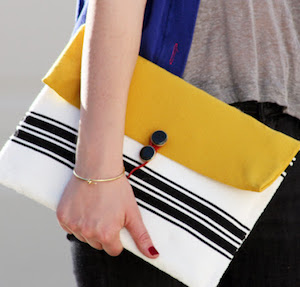 DIY iPad Case
bubble mailer + fabric + buttons + needle & thread + ribbon
Locker Back to School DIY Ideas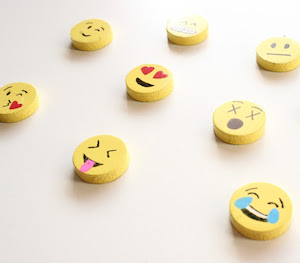 Locker Emoji Magnets
round magnets + yellow spray paint + Sharpie paint pens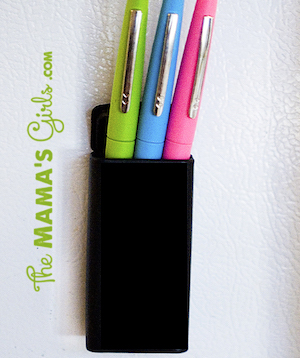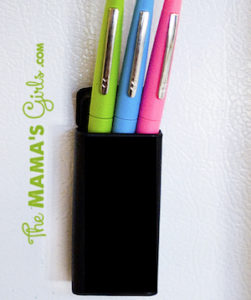 DIY Magnetic Pen Holder
Eclipse mint tins + spray paint + magnets + E6000 glue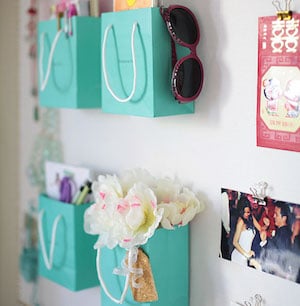 Shopping Bag Organization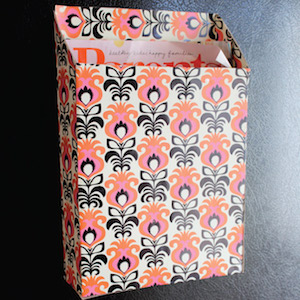 Magnetic Cereal Box Bin for Locker
empty cereal box + glue + scrapbook paper + magnets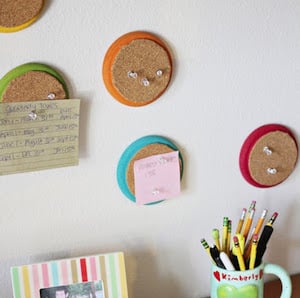 Circle Cork Board
cork board + wood discs + craft paint + adhesive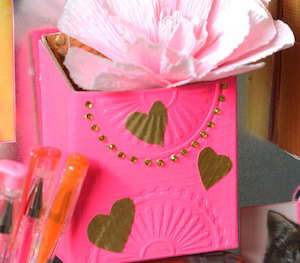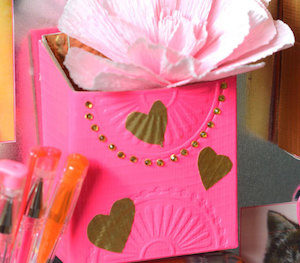 DIY Duck Tape Locker Pockets
chipboard + solid and patterned duct tape + adhesive gems + extra-strong magnetic strips + hot glue gun and glue sticks
Dollar Tree has a. good selection of decorative duct tape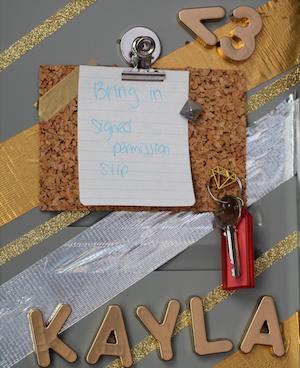 Gold Magnetic Letters DIY
magnetic letters + plastic primer spray paint + gold spray paint