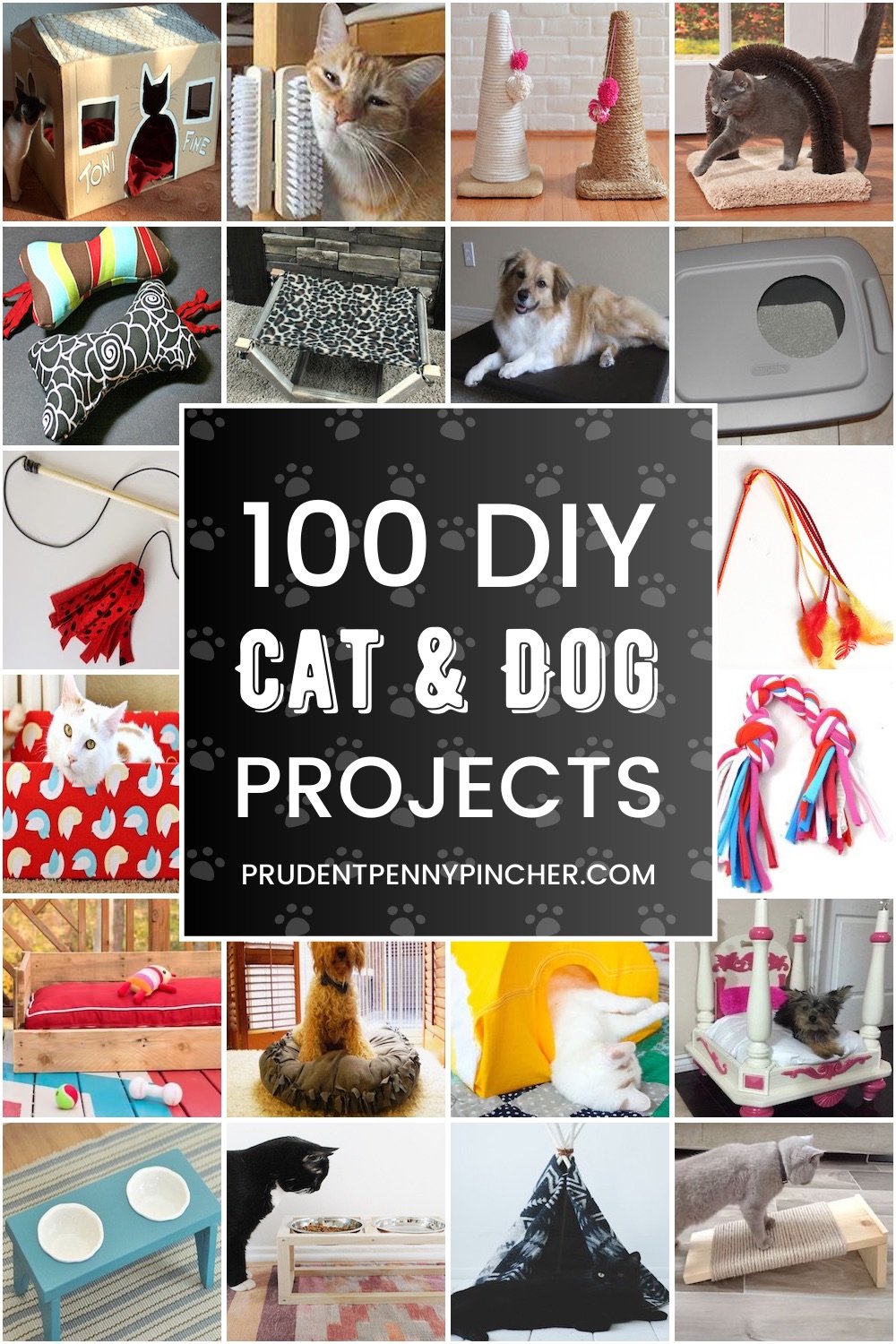 Save money with these DIY pet ideas and projects! From DIY dog beds to DIY cat toys, there are plenty of DIY pet ideas to choose from. These budget-friendly pet projects include pet bowls, furniture, toys and much more.
You will need basic tools and supplies for these projects that you probably already have:
glue gun
glue sticks
drill
nails
saw
scissors
sewing machine, needle, thread, etc
Cat Furniture & Scratcher DIY Pet Ideas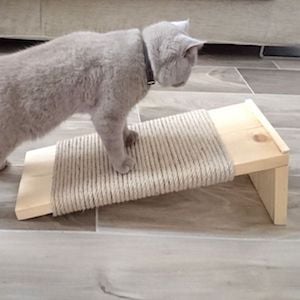 Modern Cat Scratcher
sisal rope + two pieces of wood + staple gun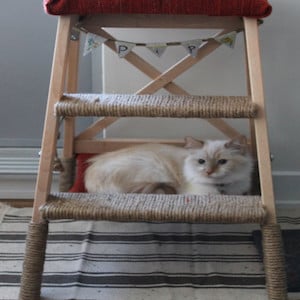 DIY Cat Tree with Hammock
ladder + blanket + drill + mat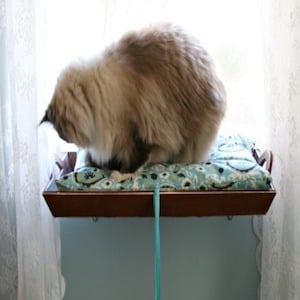 DIY Cat Window Perch
old tray- brackets + pillow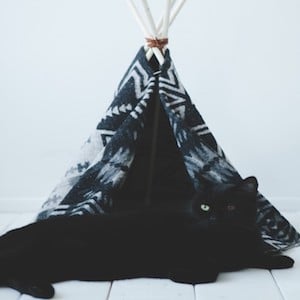 DIY Cat Tipi
fabric + leather cord + safety pin + cushion + sticks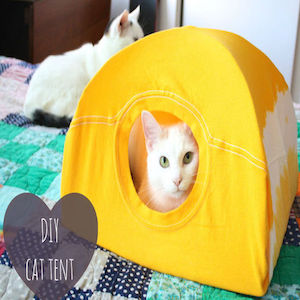 DIY Cat Tent
t-shirt cardboard + two wire hangers + safety pins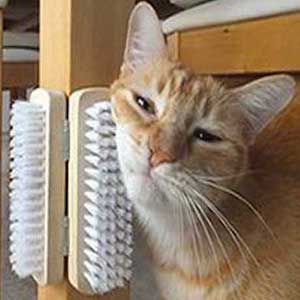 Self Scratcher
brushes + hinges + screws + double sided tape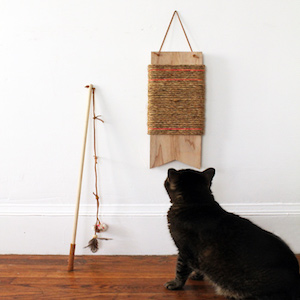 DIY Cat Scratcher Pad
wood + sisal rope + leather cord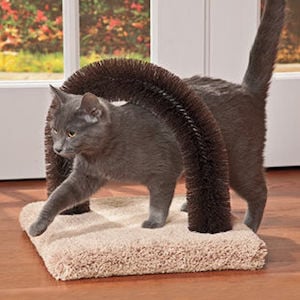 DIY Cat Self Petting Station
wood + fabric + toilet bowl brushes + small wood cube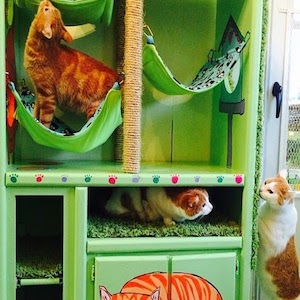 Cat Hotel
You can get an old TV stand from a thrift store for about $10 and transform it into a cat hotel with some paint and add hammocks, beds or scratchers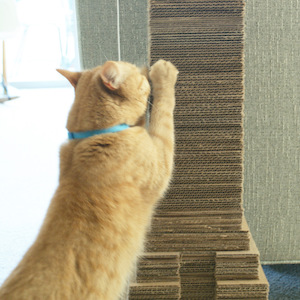 DIY Cardboard Cat Scratching Post
corrugated cardboard + wood dowel + plywood board + wood screw + X-Acto knife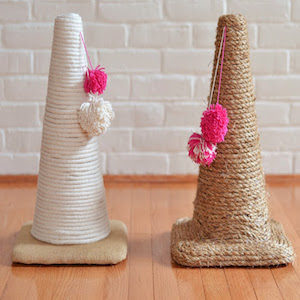 Traffic Cone Scratcher
traffic cone + sisal rope + yarn + spray paint (optional)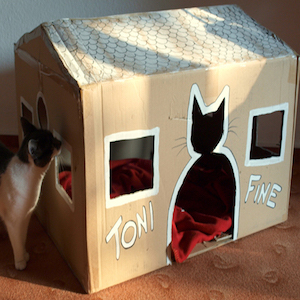 Cat Cardboard House
large cardboard box + tape + paint + scissors + blanket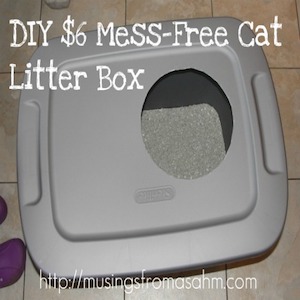 Mess-Free Cat Litter Box
18 gallon bin + sharp scissors or knife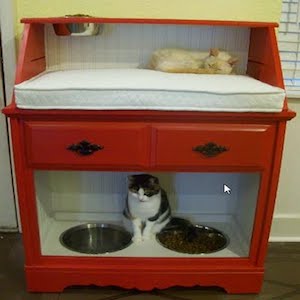 Pet Station
old dresser + paint + pillow or cushion + wood boards. There is no tutorial, but you could just remove the bottom drawers, add a wood base on the bottom with holes for food/water bowls. Make a wood overhang with wood scraps for the top and paint the whole thing. Then add a pillow or cushion of some kind (there are many tutorials for the cushion under DIY Pet Beds).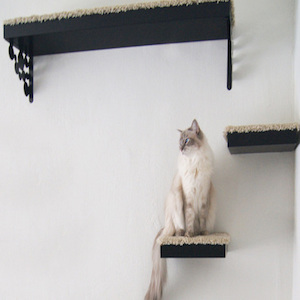 IKEA Cat Shelves
(great for people who don't have enough space for big cat condos)
Lack shelves & Ekby brackets from IKEA + rug fabric.
The cost for this project will vary depending on how many cat shelves you want to build.
Regardless, it will still be cheaper than buying a cat condo.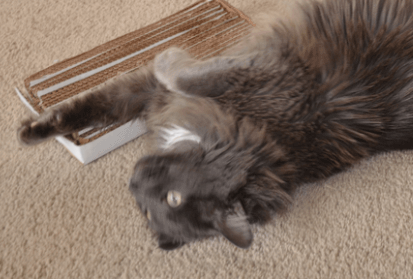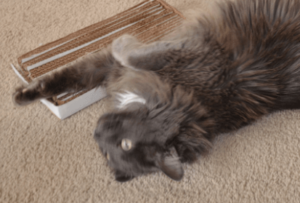 Cardboard Cat Scratch Pad
corrugated cardboard + cutting mat
DIY Pet Beds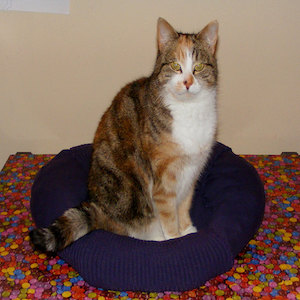 Upcycled Sweater Pet Bed
sweater + 2 towels + stuffing (minimal sowing skills needed; only need basic sowing supplies like needle and thread)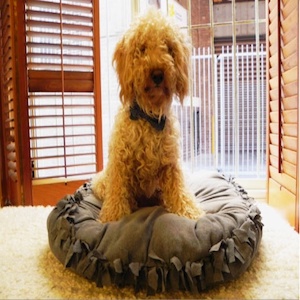 No Sew DIY Dog Bed
fabric + stuffing + elastic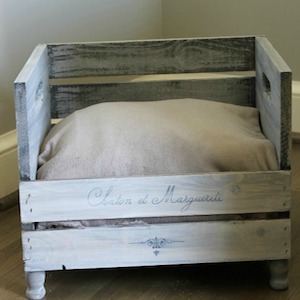 DIY Wooden Crate Bed
wood crate + wood legs + wood glue + paint + blanket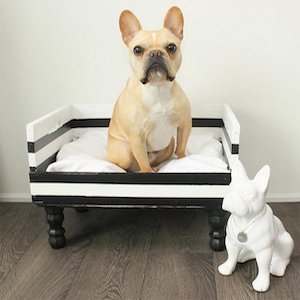 Upcycled Footstool Pet Bed
old footstool + wood trim + feet + paint + pillow or cushion. No tutorial for this one because i couldn't find the source, but it's fairly simple to figure out!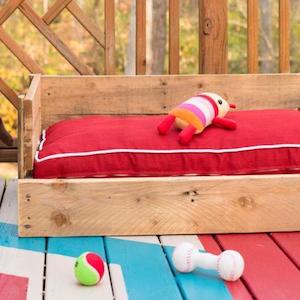 Upcycled Wood Pallet Pet Bed
pallet + cushion + screws +nails + drill and saw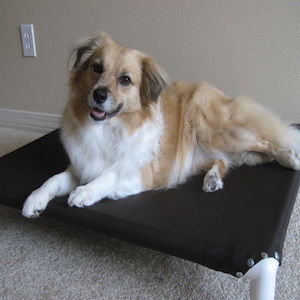 Dog Cot
PVC pipes + corner pieces + plastic mesh + screws + PVC cutter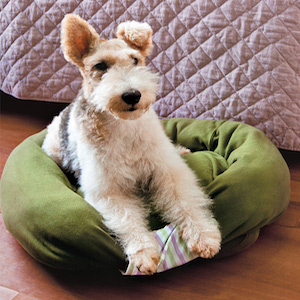 DIY Sweatshirt Pet Bed
sweatshirt / hoodie + pillow + needle and thread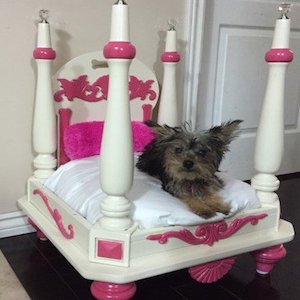 Upcycled End Table Pet Bed
old end table + bun feet + paint + cushion or pillow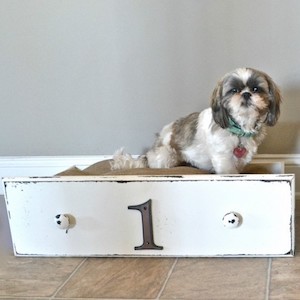 Drawer Dog Beds
old drawers + paint + knobs (optional) + cushion or pillow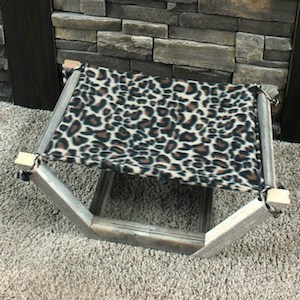 DIY Pet Hammock
wood boards + fleece fabric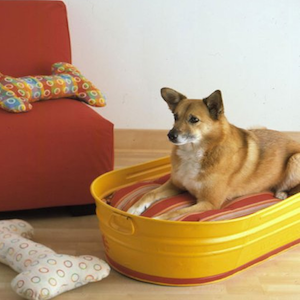 DIY Metal Tub Dog Bed
metal tub + pillow + paint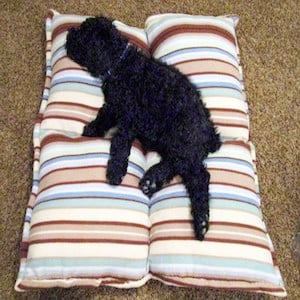 DIY Dog Bed
4 pillows + blanket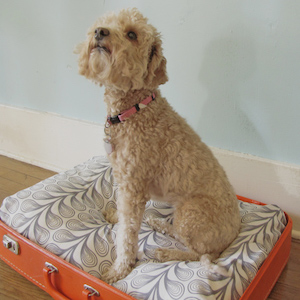 Suitcase Pet Bed
hard shell suitcase + pillow + pillow sham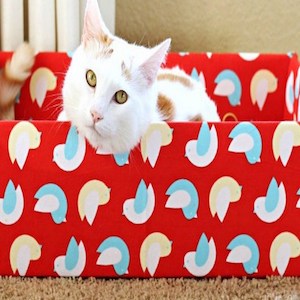 Cardboard Box Cat Bed
cardboard box + fabric + stuffing + buttons (optional)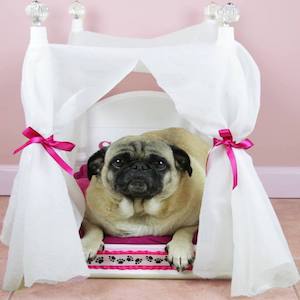 DIY Pet Princess Canopy Bed
end table + spray paint + ribbon + T-shirt + stuffing + sheer fabric + decorative knobs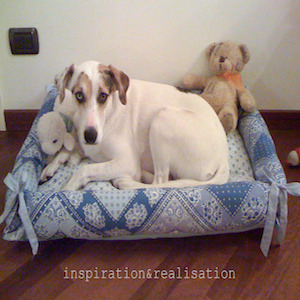 Easy Washable DIY Dog Bed
fabric + velcro + ribbon + batting or foam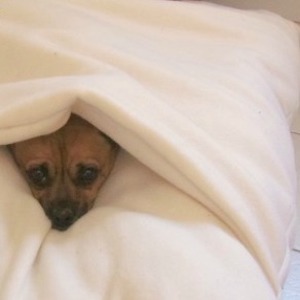 DIY "Envelope" Dog Bed
heavy fleece + pillow stuffing + sewing machine
Water and Food Bowl DIY Pet Ideas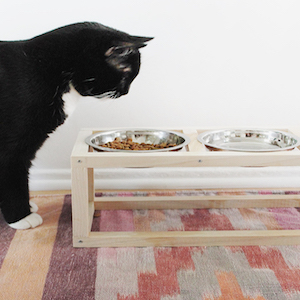 Modern Pet Bowl Stand
wooden dowel + wood screw + drill + sandpaper + wood glue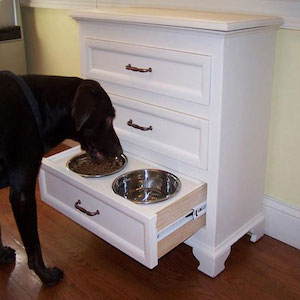 Drawer Storage for Pet Bowls
Just add an appropriately sized wood board into the bottom drawer and cut holes for bowls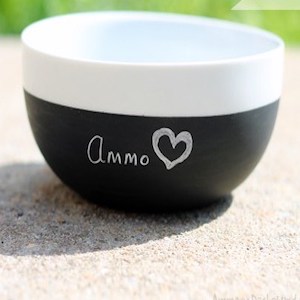 Chalkboard Dog Bowl
ceramic bowl + tape + chalkboard spray paint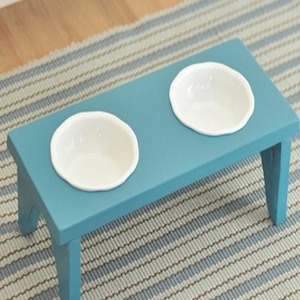 DIY Pet Bowl Stand
wood boards + screws + jig saw + brackets, wood stain + primer & paint + pet food bowls. This one does require some intermediate skill, but it's very elegant looking and inexpensive!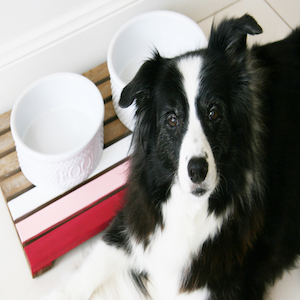 Upcycled Ombre Dog Feeder
duckboard + paint + craft paint sealer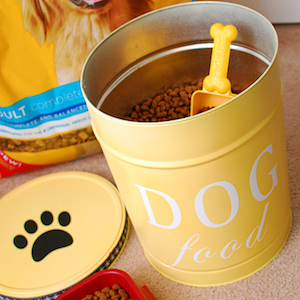 DIY Dog Food Tin Storage Canister
empty popcorn tin + spray paint + ribbon + lettering + paw print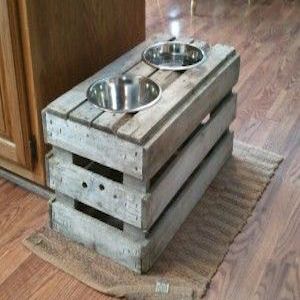 DIY Crate Dog Feeding Station
I can't find the source for this photo so there's no tutorial, but it's fairly straightforward to make!
Toy, Leash & Collar DIY Pet Ideas
Cat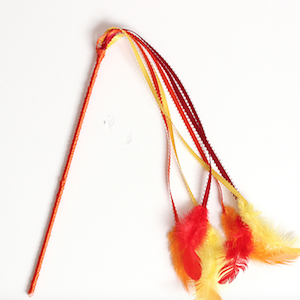 DIY Fishing Pole Cat Toy
wooden dowel + colored ribbon + colored feathers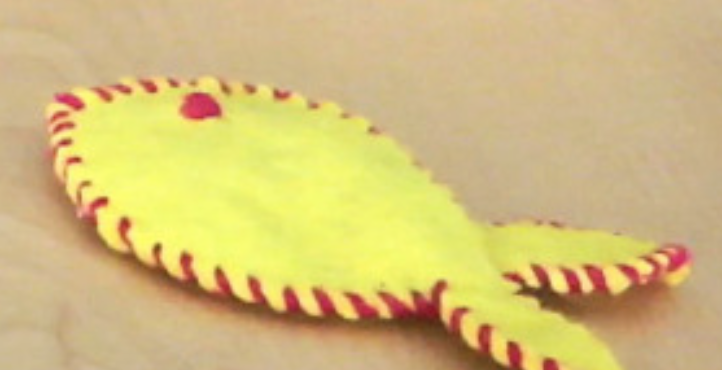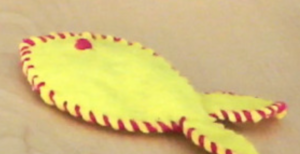 DIY Catnip Fish Toy
catnip + fabric + thread + needle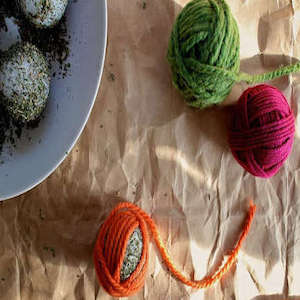 Yarn Ball Catnip Toys
foam ball + yarn + mod podge + catnip
Feather Cat Toy
wool felt + jingle bells + satin cord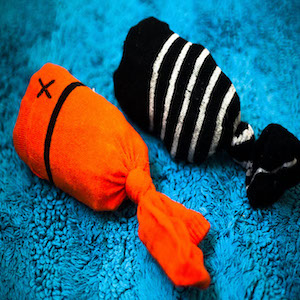 Sock Fish Cat Toy DIY
sock +stuffing / paper + sharpie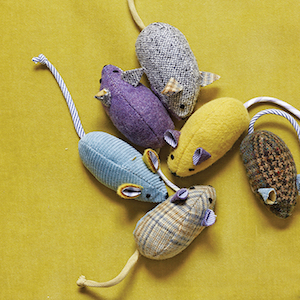 Menswear Mouse Toy
fabric + fusible webbing + foop turner + stuffing + embroidery floss + embroidery needle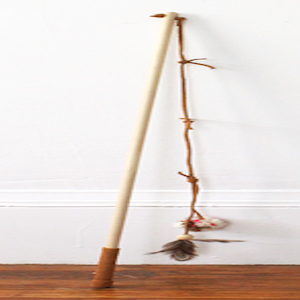 DIY Toy Wand for Cats
yarn + leather cord + feather + beads + wood dowel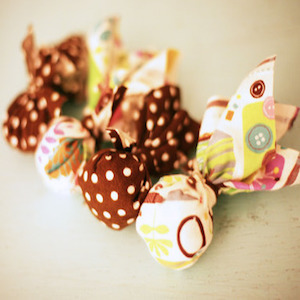 No-Sew Catnip Toys
flannel + polyfill + catnip + fabric strip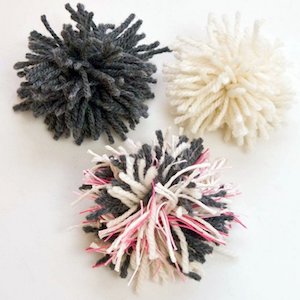 DIY Cat Pom-Pom Toy
cotton or wool string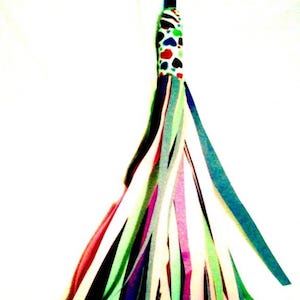 Party Shaker Toy
duct tape + cardboard tube + colored ribbons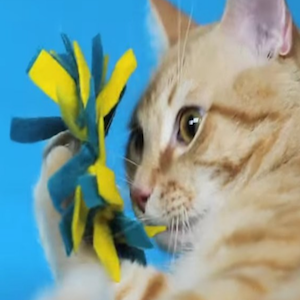 Knotted Spider Toy
milk container ring + 2 sheets of felt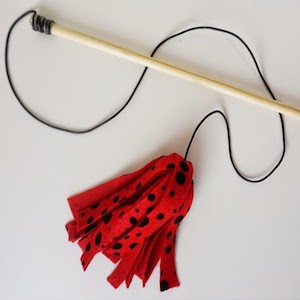 DIY Cat Toy
felt + leather cord + wooden dowel
Dog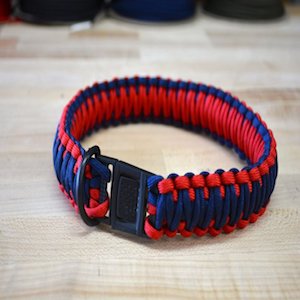 Paracord Dog Collar
paracord + plastic buckle + d-ring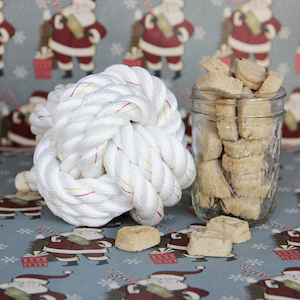 Ball Dog Toy
cotton rope + twist ties + scissors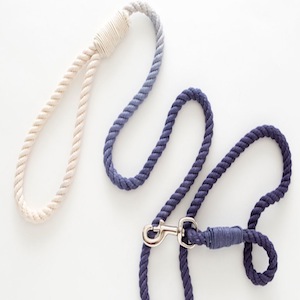 DIY Ombre Rope Leash
cotton rope + waxed cord + fabric dye + snap hook + rope clamps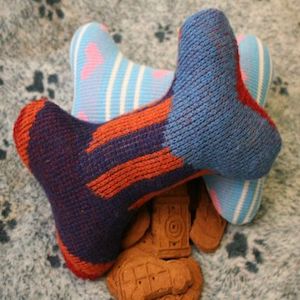 Old Sweater Dog Bone Toy
old sweater + squeaks + stuffing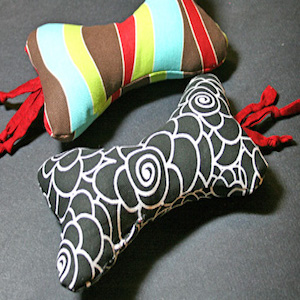 DIY Squeaky Doggie Bone
fabric + squeakers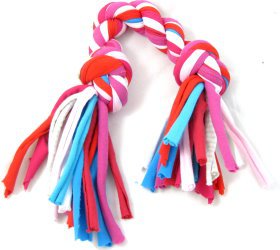 Dogs Tug Toy from Recycled T-Shirt
recycled stretch knit (assorted colors)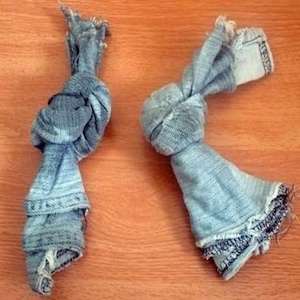 DIY Denim Dog Toy
denim jeans + scissors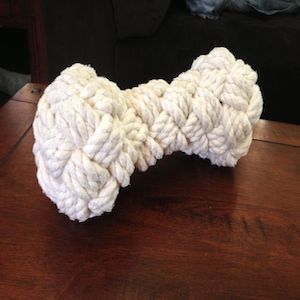 DIY Woven Rope Bone Dog Toy
rope + 2 small balls + duct tape + pins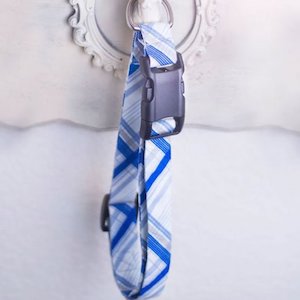 DIY Fabric Dog Collar
fabric + thread + buckle and slider + d-ring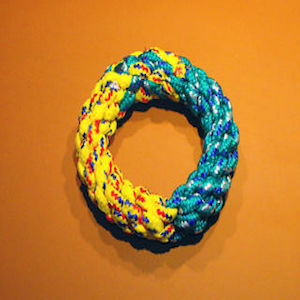 Ring Rope Dog Toy
just need rope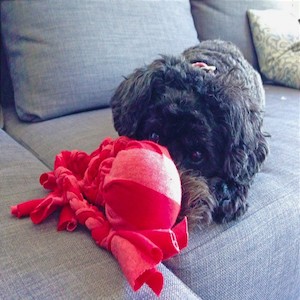 DIY Tug Toy
old t-shirt + tennis ball