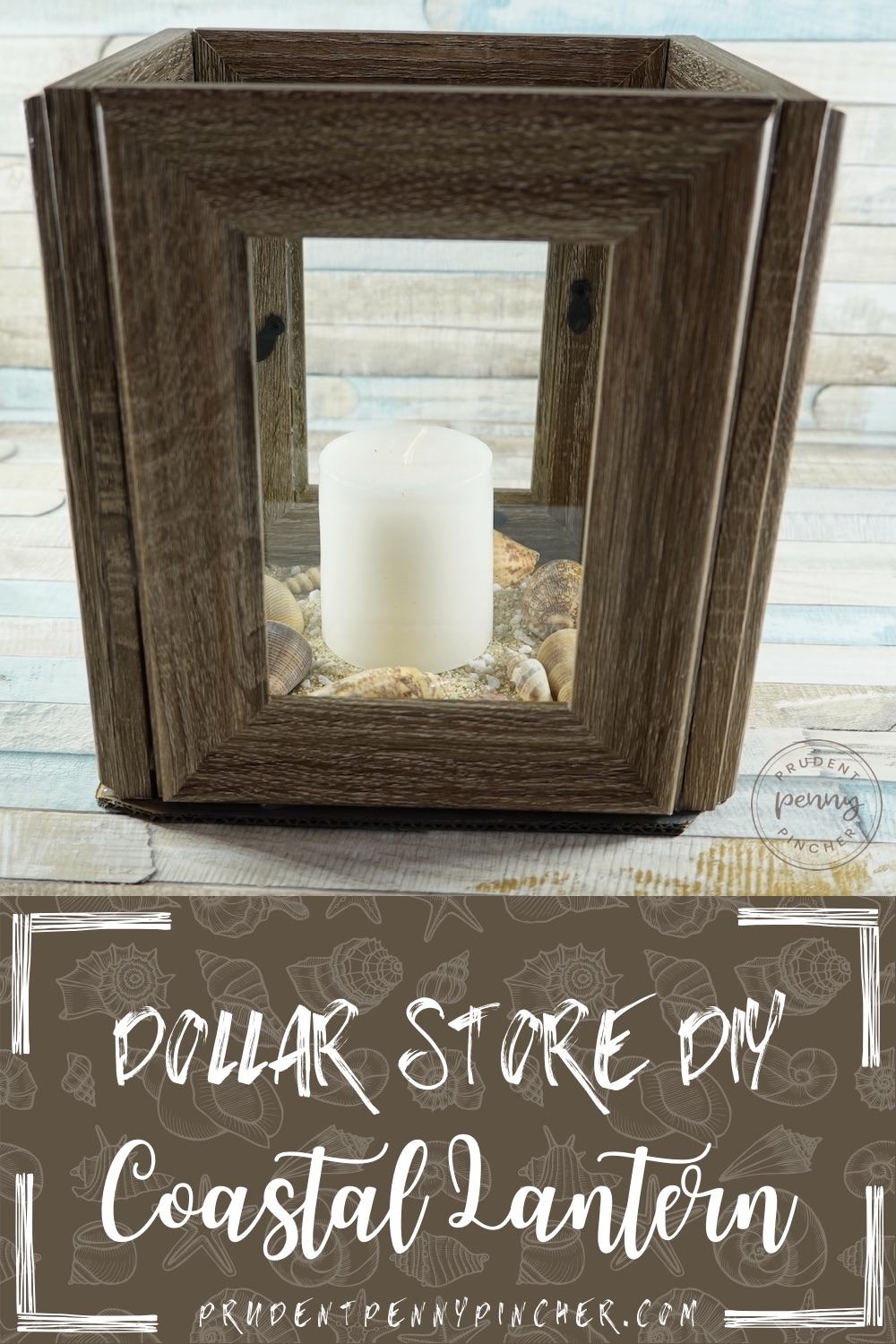 Get the coastal look on a budget with this dollar store DIY Coastal Lantern. All the materials for this cheap and easy DIY home decor idea can be found at Dollar Tree. The total cost for this dollar tree craft is only $8 and takes less than 30 minutes to make.
Dollar Tree has four different coastal weathered photo frames to choose from. You can find them all here on their website. They also have a variety of choices for sand and shells. If you live near a coastal area, you can even find these items for free on the beach and save a few bucks.
As far as decorating the inside of your dollar store DIY Coastal Lantern, you have endless options. Here are some ideas:
You can even fill the whole lantern with shells and string fairy lights in between them. If you do this though, you will need to make sure your bottom base is sturdy enough to hold the contents. I used cardboard because my lantern was fairly light. You could always cut scrap wood down to size and use wood glue or a strong super glue to adhere it to the bottom of the lantern.
Dollar Store DIY Coastal Lantern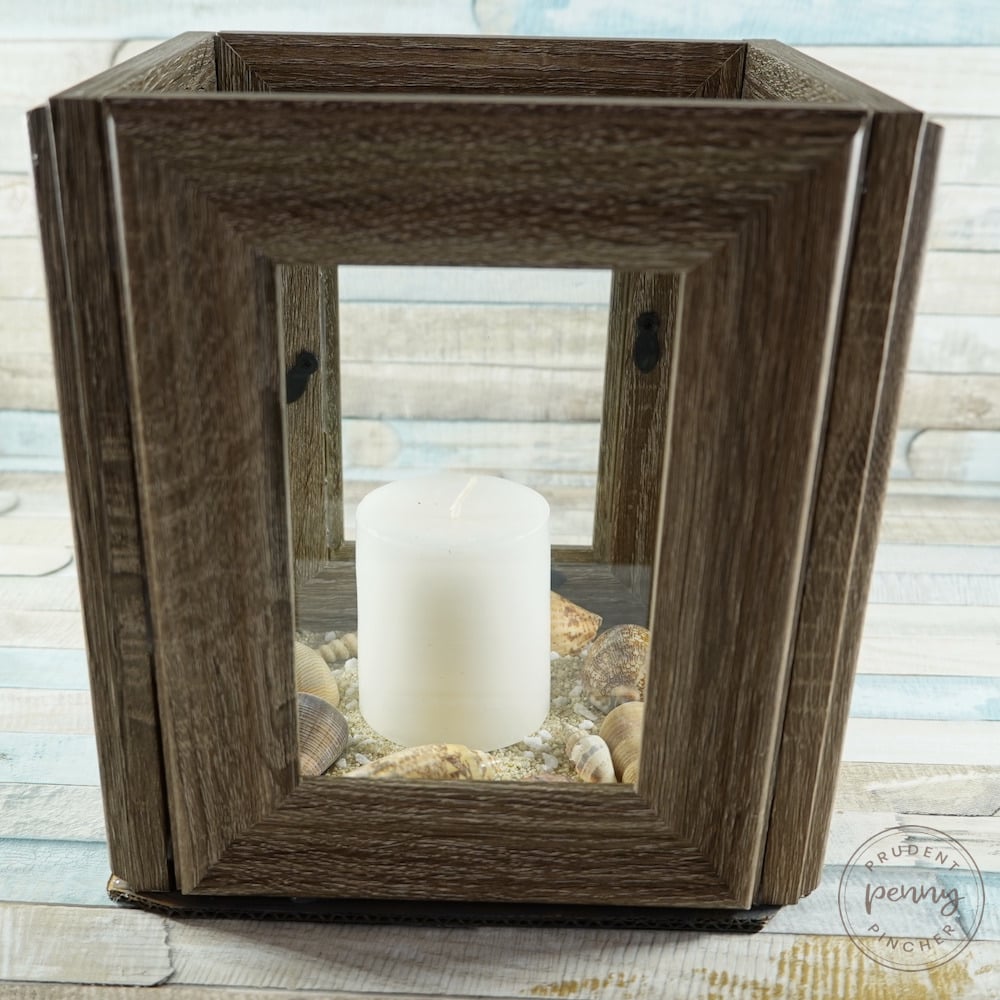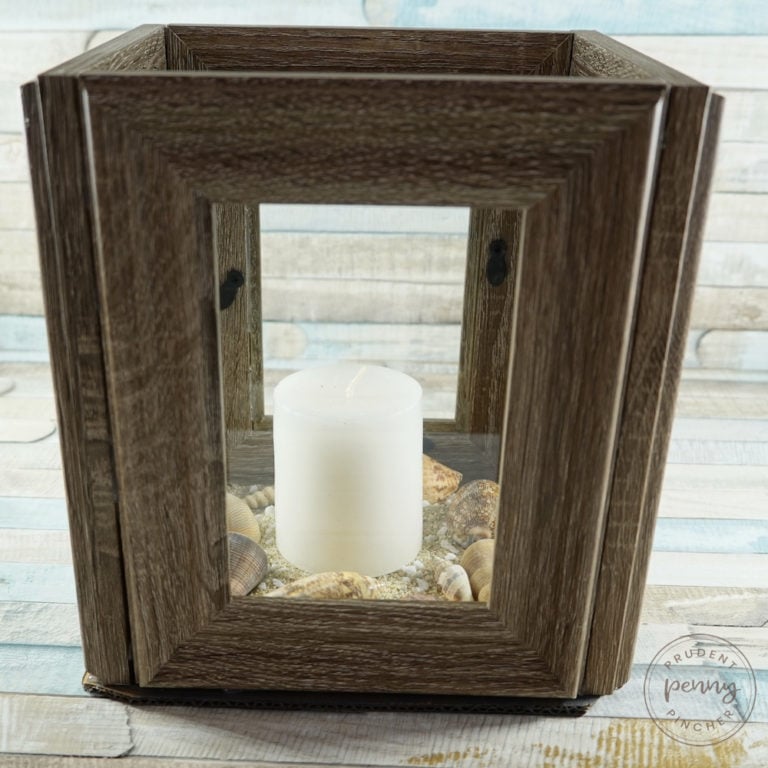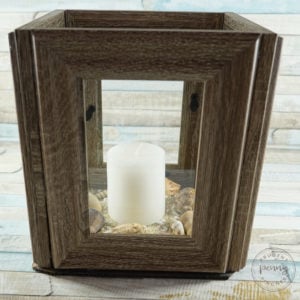 Dollar Store DIY Coastal Lantern
coastal decor made from dollar tree supplies
Equipment
hot glue gun and glue sticks

scissors or box cutter

pen or pencil
Materials
4

picture frames

1

candle

1

bag

sand

1

bag

shells

1

piece

foam board or cardboard
Instructions
Remove the plastic, frame back and picture inserts from the picture frames.

If you don't want the little tabs to show, you can pull them back and glue the glass to the frame or if it doesn't bother you, then you can just put the tabs back down to hold the glass in place.

Glue the corners of the picture frames together. Hold together firmly until each frame dries (about a minute). Be generous with the glue because you want it to hold up well.

Trace and cut the outline of the box onto the cardboard or foam board.

Glue the foam board to the bottom of the box.

Pour some sand on the bottom of the lantern

Put you candle in the middle of the lantern

Arrange shells around the candle and add any other decorative accents you would like.
Related Post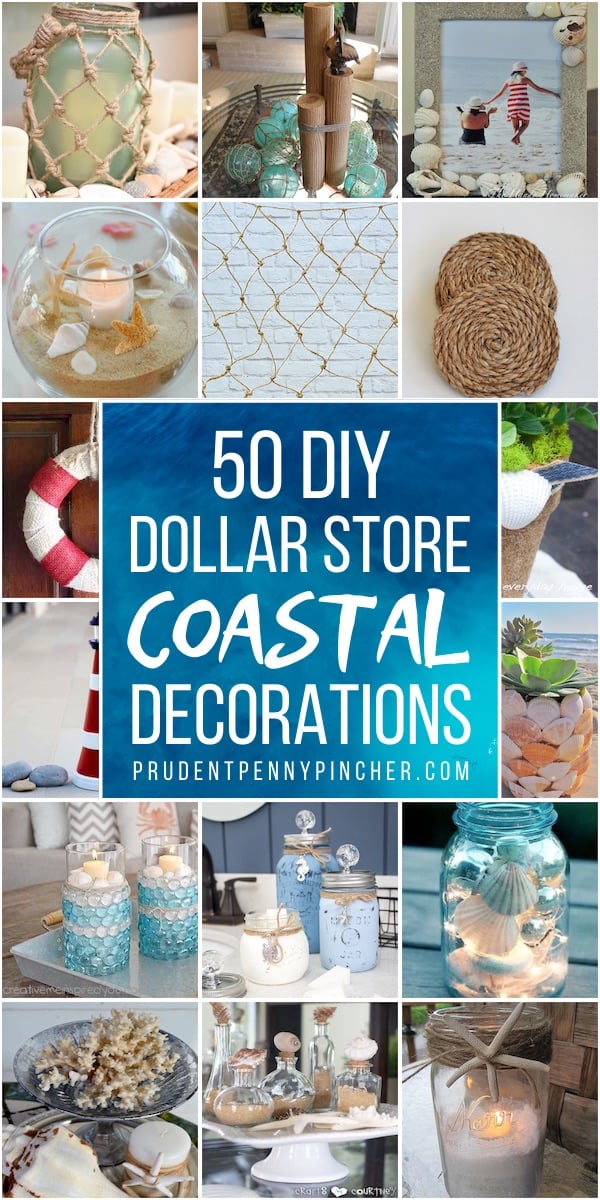 50 Dollar Store Coastal DIY Home Decor Ideas