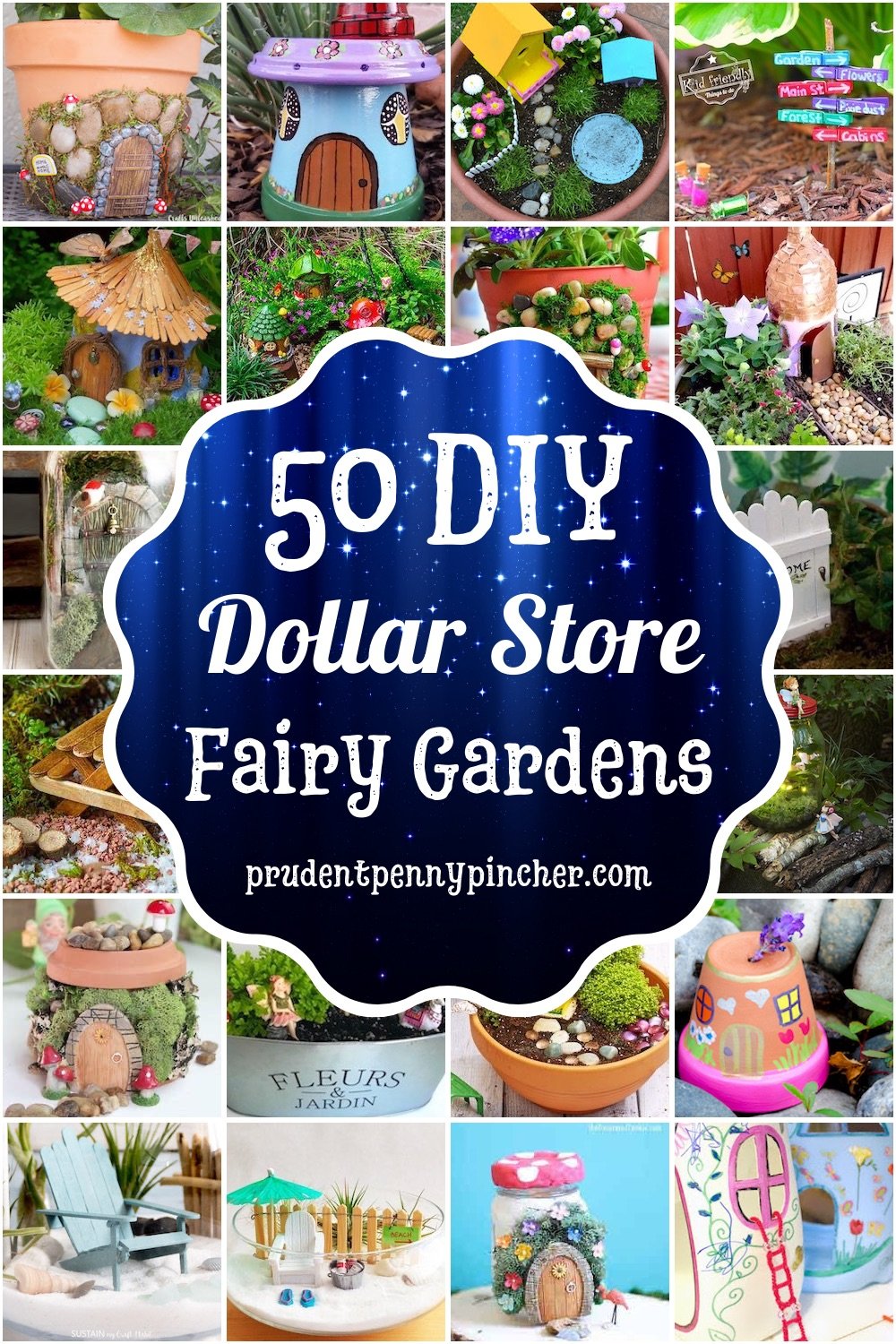 Make a magical fairy garden on a budget with these dollar store fairy garden ideas. From container fairy gardens to DIY fairy garden accessories, there are plenty of garden ideas for kids and adults here.
Fairy Garden Supplies that You Can Find at Dollar Tree:
river rocks
pebbles
colored crushed glass
glass gems
marbles
gravel
moss (sheet moss, reindeer moss, spanish moss, floral moss, moss rocks)
sand (including different colors)
shells
planters and pots (terracotta, metal planters, coco liners, terrarium dishes and globes, etc.)
floral foam
faux succulents
faux greenery, plants and flowers
butterfly, dragonfly and glittery bird decorations
rope, twine, ribbon
LED lights including string lights and tea light candles
wooden chalkboard signs
wood birdhouses
mason jars
glassware like large bowls and candleholders
paints
jewels, beads, feathers and glitter
clothespins
craft sticks
pom-poms
and much more!
Dollar Store Fairy Gardens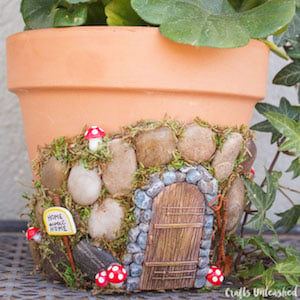 Magical DIY Fairy House Planter from Crafts Unleashed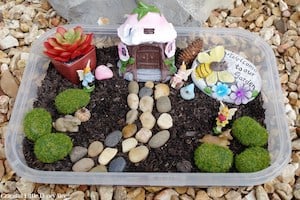 DIY Dollar Tree Fairy Garden from Graceful Little Honey Bee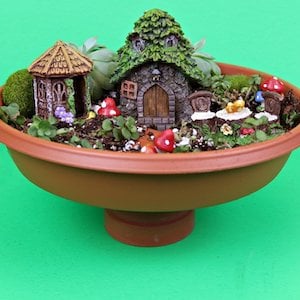 15 Minute Dollar Store Fairy Garden Pedestal from Mad in Crafts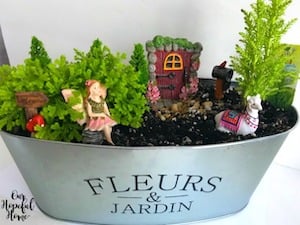 Fairy Garden on a Budget from Our Hopeful Home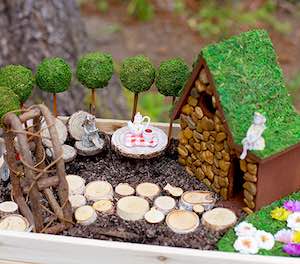 Step by Step Fairy Garden Tutorial from Joann's Blog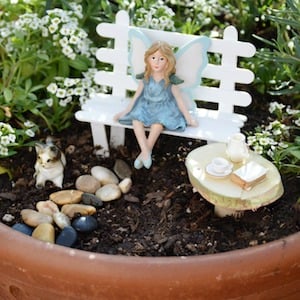 Easy DIY Fairy Garden from Meatloaf and Melodrama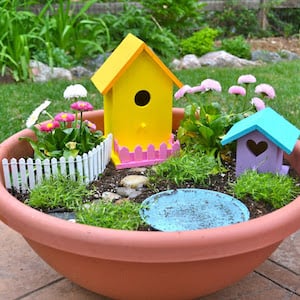 Terra Cotta Fairy Garden from Purely from the Heart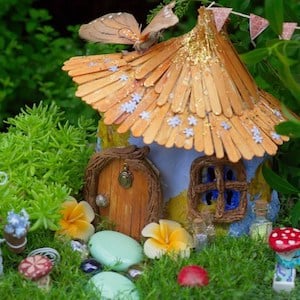 Magical Fairy Garden from The Magic Onion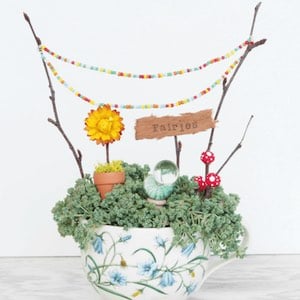 Teacup Fairy Garden from The Magic Onion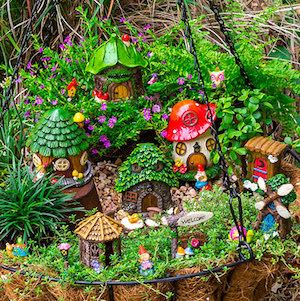 Fairy Garden in Hanging Planter from Dollar Tree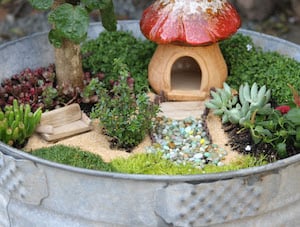 DIY Fairy Garden from Aidie's Hideaway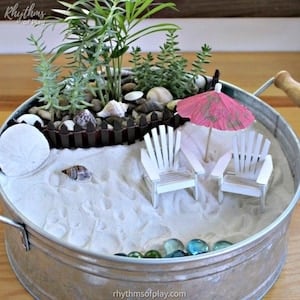 Beach Fairy Garden from Rhythms of Play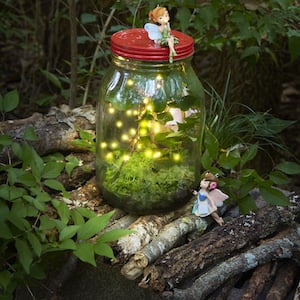 Mason Jar Fairy Garden with Fairy Lights from Think. Make. Share.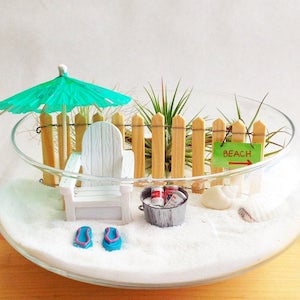 Beach Fairy Garden in a Terrarium Dish (source unknown)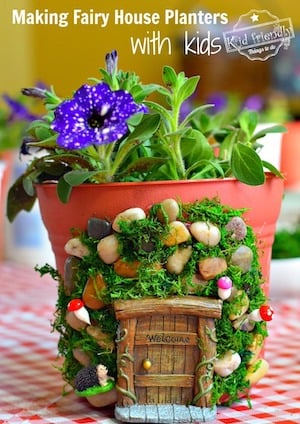 Enchanted Fairy House Planter with Kids from Kid Friendly Things to Do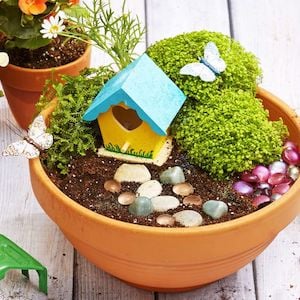 Mini Magic Garden from Good Housekeeping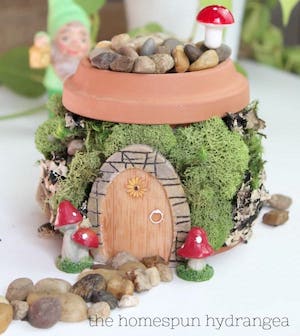 Upcycled Flower Pot Fairy Garden from The Homespun Hydrangea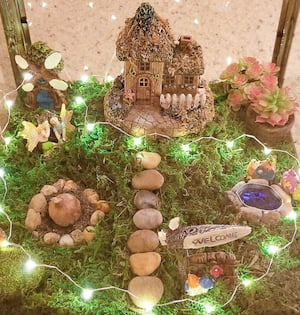 Dollar Tree Fairy Garden in a Lantern from Prudent Penny Pincher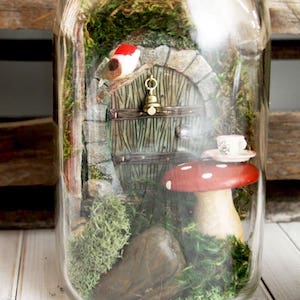 Mason Jar Fairy Garden from Lil Luna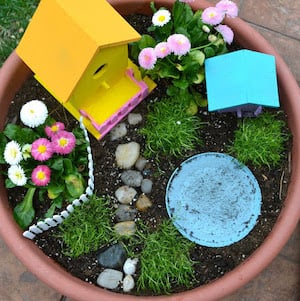 DIY Fairy Garden with Bird House from Purely from the Heart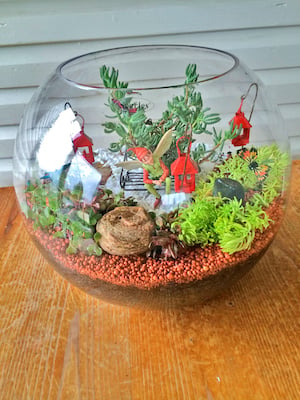 DIY Fairy Garden in a Round Candleholder (source unknown)
Dollar Store Fairy Garden Accessories & Decorations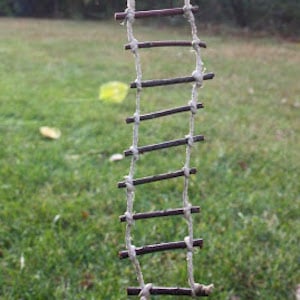 Twig and Twine Ladder from Juise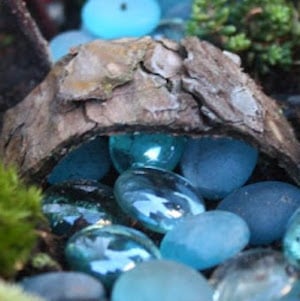 Bridge Over Water from Juise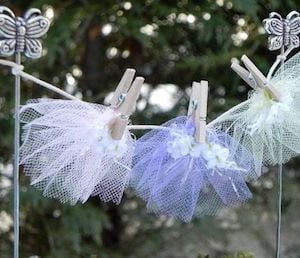 Fairy Garden Clothesline (source unknown)
tulle ribbon + mini clothespins + cotton twine + decorative hair pins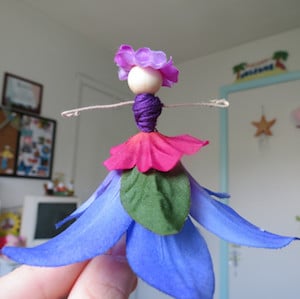 Flower Fairies from Lemon Zest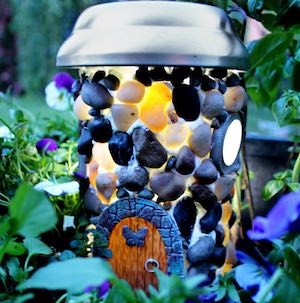 Solar Powered Fairy House from Creative Green Living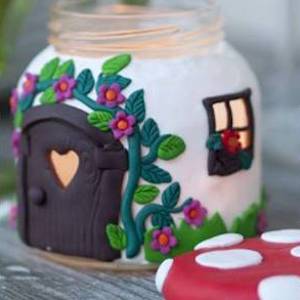 DIY Jar Mushroom House from Practik Ideas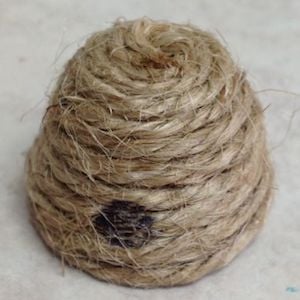 Twine Beehive from DIY Fairy Gardens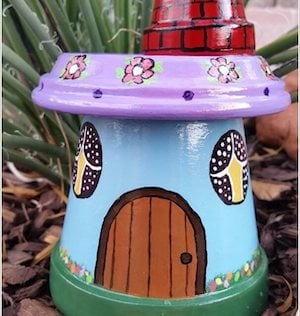 Painted Terra Cotta Fairy House (source unknown)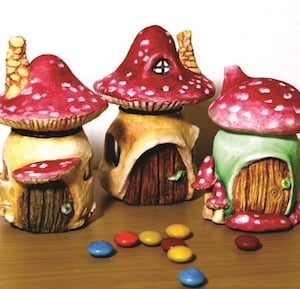 Old Jar Into a Mushroom Fairy House from DIY & Crafts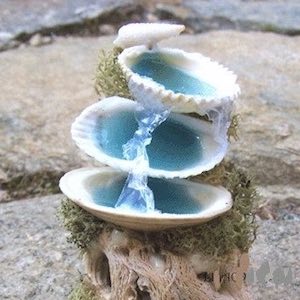 Water Fountain (source unknown)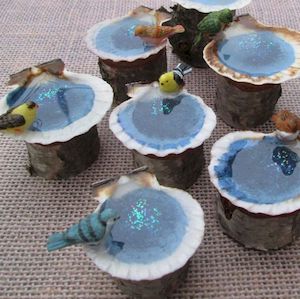 Bird Bath Fountains (source unknown)
scallop shells + water + glitter + food coloring + wood slice + hot glue gun + mini birds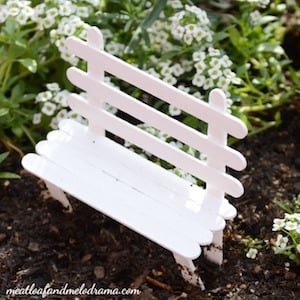 Popsicle Bench from Meatloaf and Melodrama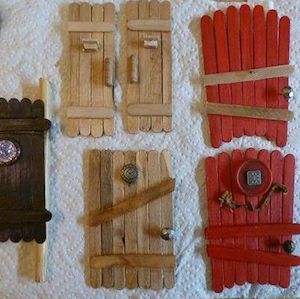 Popsicle Stick Fairy Doors (source unknown)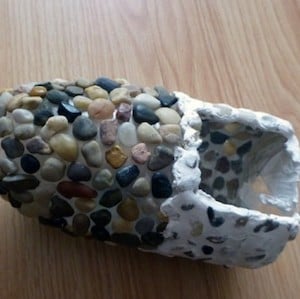 Stone Fairy House from Inhabitat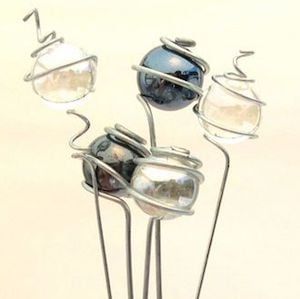 Gazing Balls (source unknown)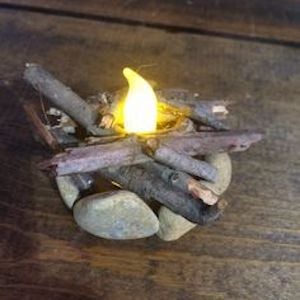 Flickering DIY Fire Pit (source unknown)
LED tea light candle + twigs + pebbles + glue gun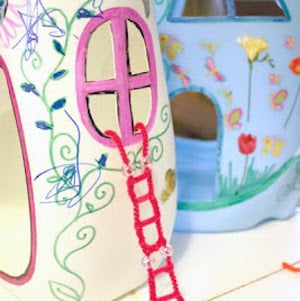 Plastic Bottle Fairy Houses from Filth Wizardry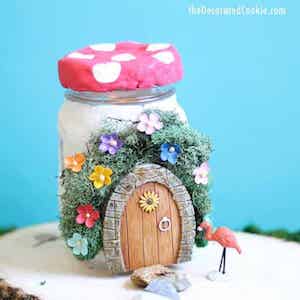 Mason Jar Fairy House from The Decorated Cookie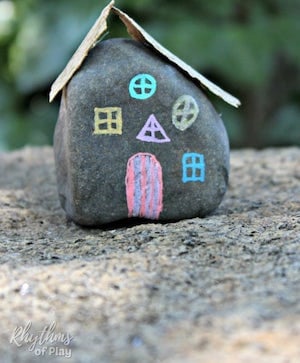 Painted Rock Fairy House from Rhythms of Play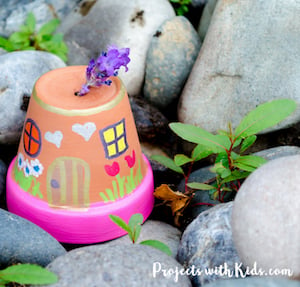 Painted House Fairy Garden from Projects with Kids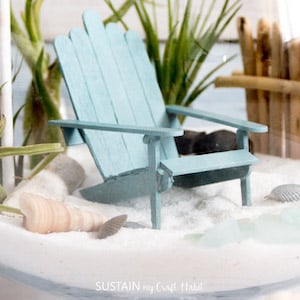 DIY Popsicle Stick Adirondack Chairs from Sustain My Craft Habit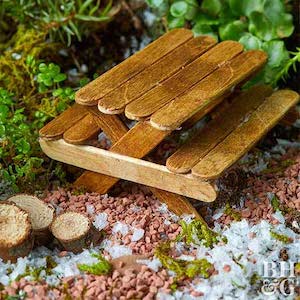 Popsicle Stick Mini Picnic Table from Better Homes and Gardens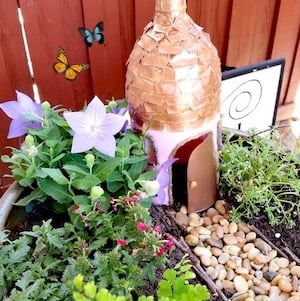 Soda Bottle Fairy Garden House from My Pinterventures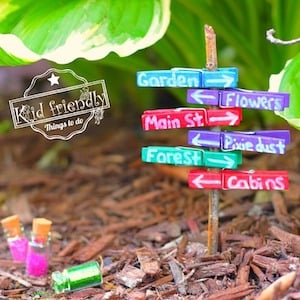 Clothespin Fairy Direction Sign from Kid-Friendly Things to Do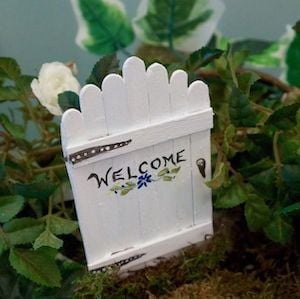 Popsicle Stick Fairy Door from Penny Wise