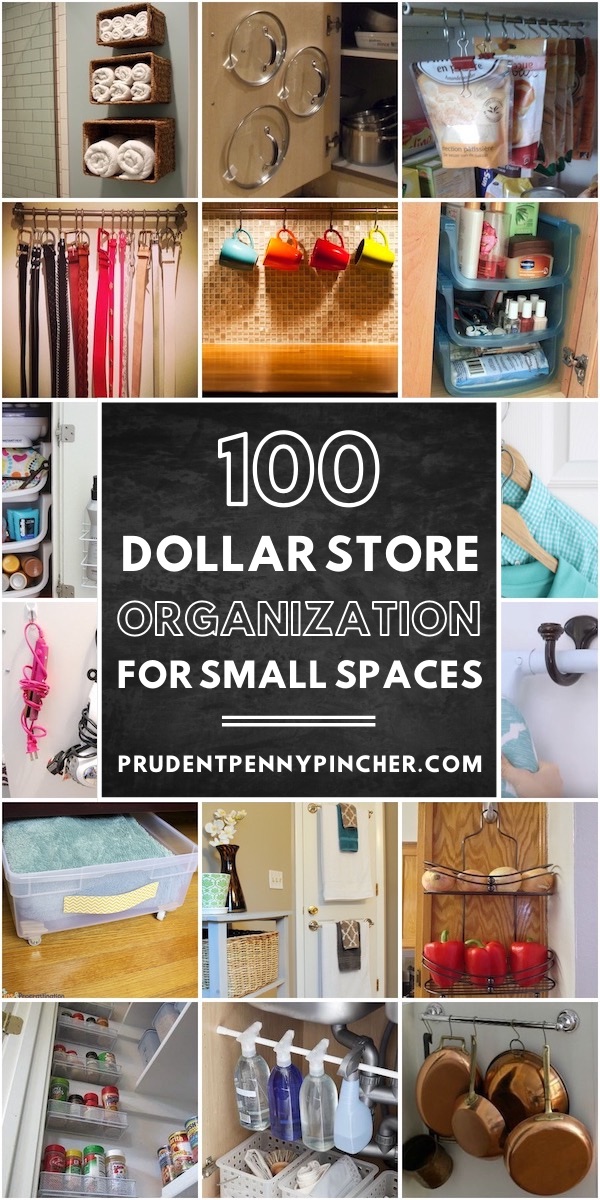 Organize your apartment for less with these dollar store DIY ideas. These cheap storage ideas will help you maximize your space throughout your home, including bathroom, kitchen, closet and laundry room organization ideas for small spaces.
Kitchen Organization Ideas for Small Spaces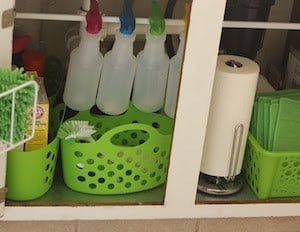 Under The Kitchen Sink Organization from Amy New Nostalgia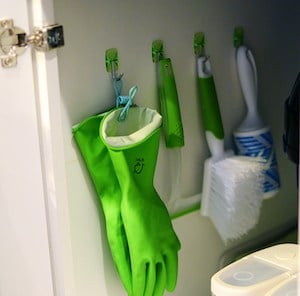 Under The Sink Brush Holders (using command wire hooks) from A Bowl Full of Lemons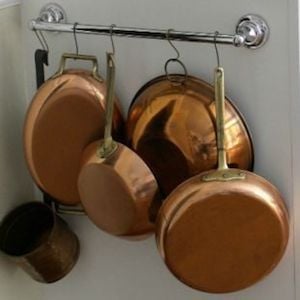 Pot Organizer (using a basic towel rod)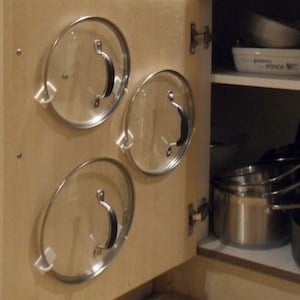 Pot Lid Storage (using command hooks)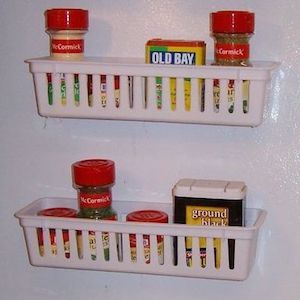 Magnetic Spice Rack for Refrigerator
strong magnets (or command hooks) + long plastic basket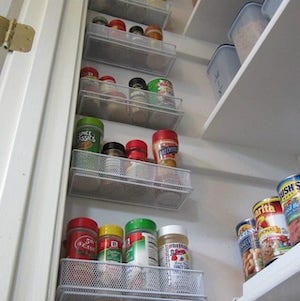 Spice Storage from Domestic Imperfection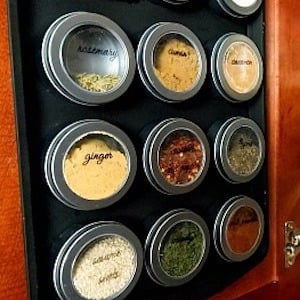 DIY Dollar Store Magnetic Spice Organization from A Cultivated Nest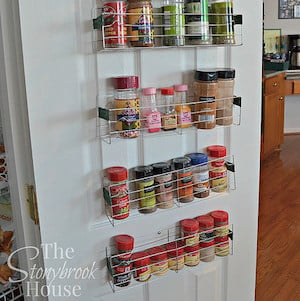 DIY Spice Rack from The Storybrook House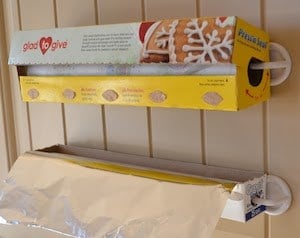 Roll Organizer (for foil, wax paper, plastic wrap and more) from Ask Anna Moseley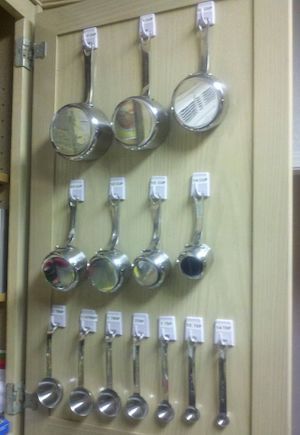 Measuring Spoon and Cup Organizers
measuring spoons + adhesive hooks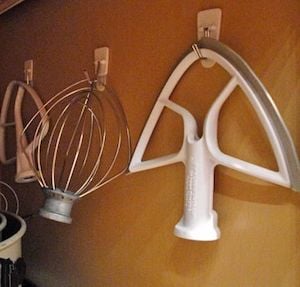 Baking Nook Organization from The Hyper House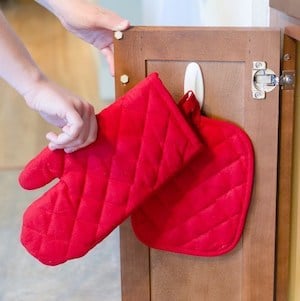 Oven Mitts Storage from Krazy Coupon Lazy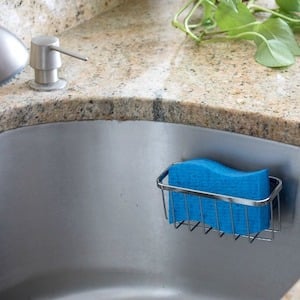 Sponge Holder from Driven by Decor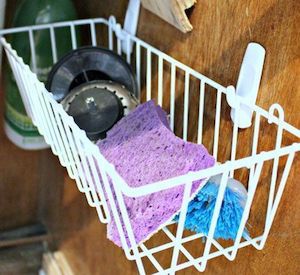 Under the Sink Sponge Holder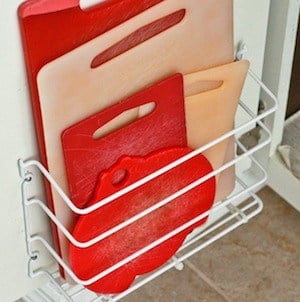 Cutting Board Storage
small wire rack + screws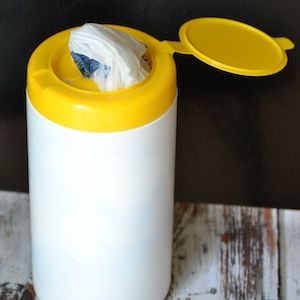 Kitchen Plastic Bag Organization from Glue Sticks and Gumdrops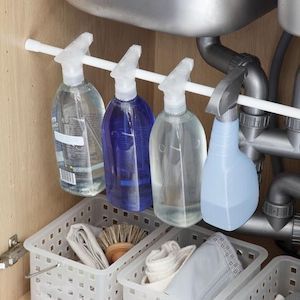 Under the Sink Cleaning Supply Organization from Life Hack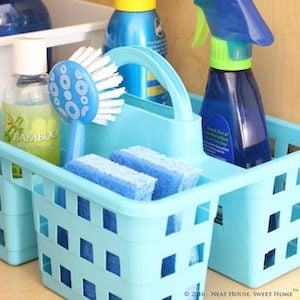 Under the Kitchen Counter $1 Caddy from Neat House Sweet Home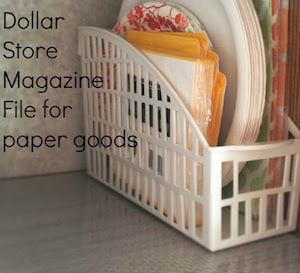 Dollar Store Storage for Paper Goods from Organizing Made Fun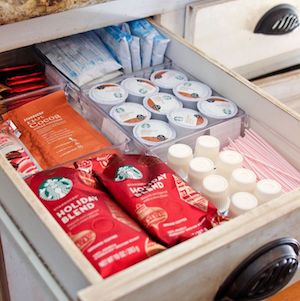 Dollar Store Coffee Station from Unlikely Martha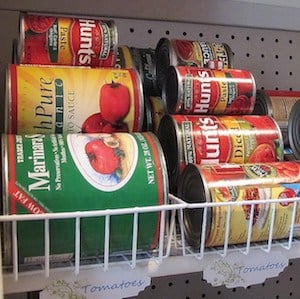 Canned Food Storage (using wire racks) from My Uncommon Slice of Suburbia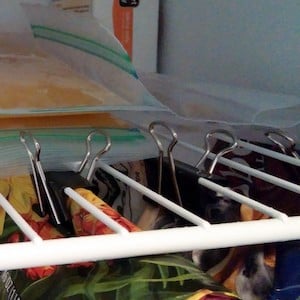 Binder Clips for Freezer Organization from Melinda Massie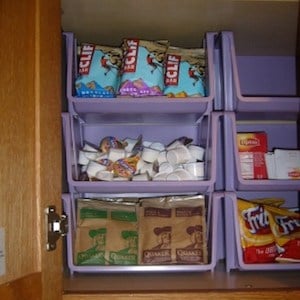 Kitchen Cabinet Organizer
stackable plastic bins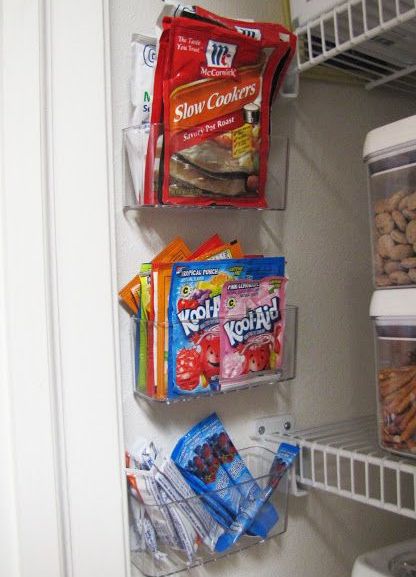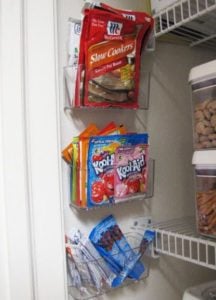 Miscellaneous Organizer (using clear plastic organizer trays)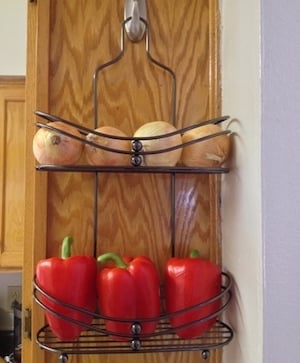 DIY Produce Rack from Domestic Diva Domain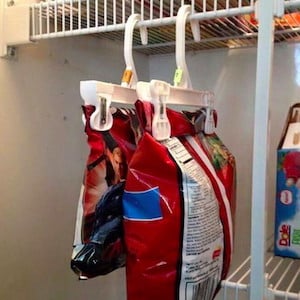 Hanging Snacks in Pantry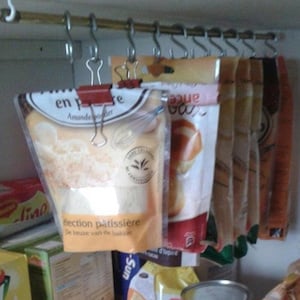 Binder Clip Rack for Packets from Especially Creative Broad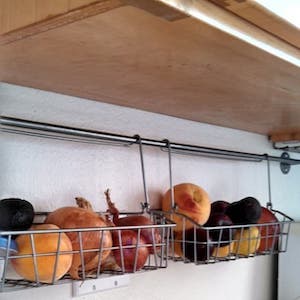 Hanging Produce Rack from The Kitchn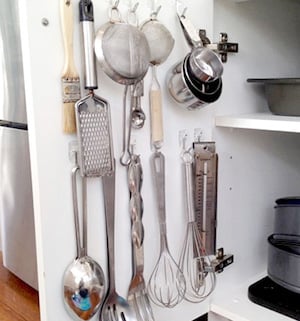 Storage Solutions for Utensils from Tara Dennis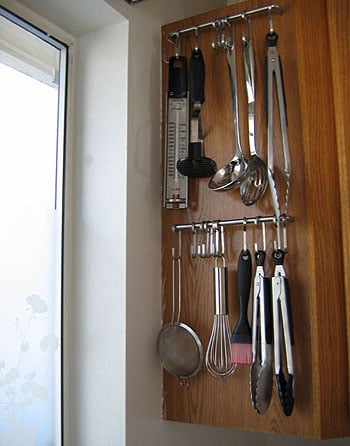 Utensil Storage for Side of Cabinet from Not Martha
You can use tension rods and s hooks found at Dollar General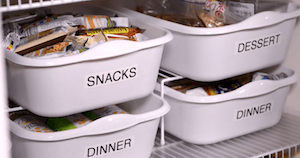 Pantry Organization from Alejandra TV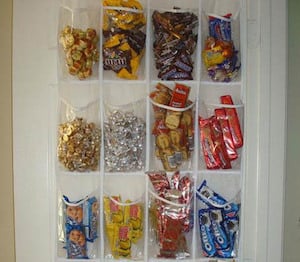 Over the Door Shoe Organizer for Small Snacks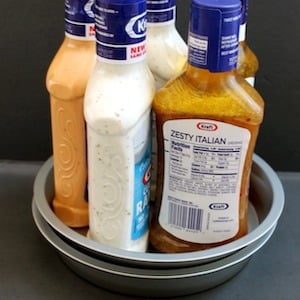 DIY Dollar Store Lazy Susan from The Country Chic Cottage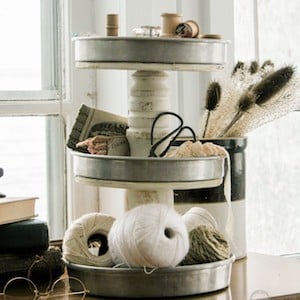 Tiered Stand from Prodigal Pieces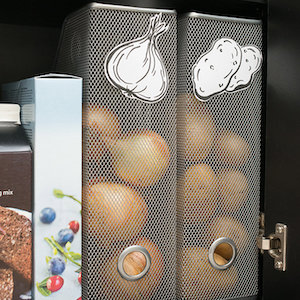 Vegetable Storage Using Magazine Racks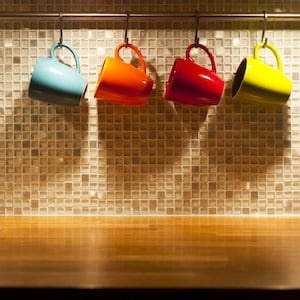 Hang Coffee Cups from Tension Rod Using S Hooks from Best Life
Bathroom Organization Ideas for Small Spaces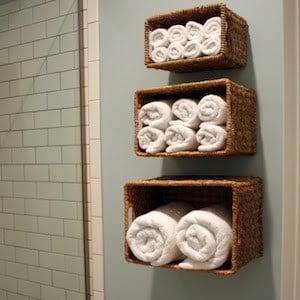 Wall Baskets for Bath Linens from I'm Busy Procrastinating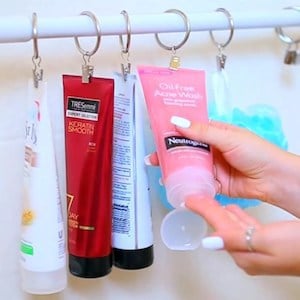 Bath Product Organization
shower curtain rod + curtain rings with clips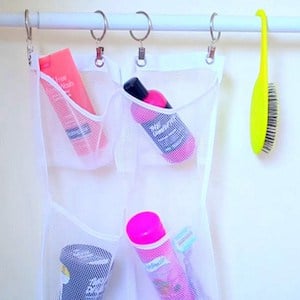 Shower Storage
small mesh over the door shoe organizer + curtain rings with clips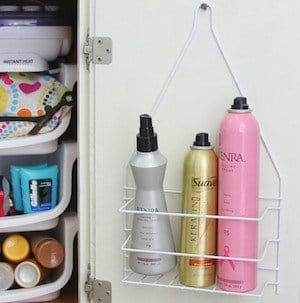 Under the Sink Makeover from 320 Sycamore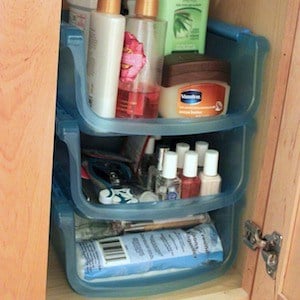 Under Sink Organization from The Crazy Craft Lady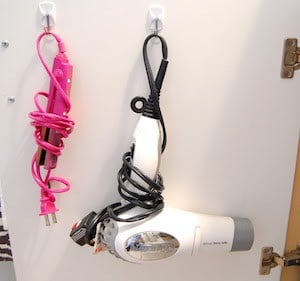 Hair Appliance Storage from My So Called Home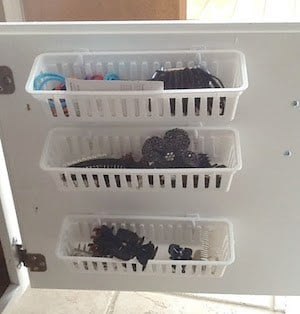 Inside Cabinet Door Storage
plastic baskets + command hooks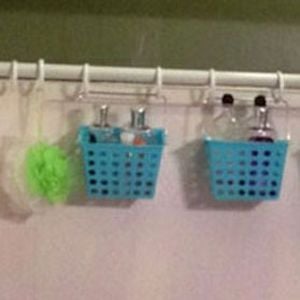 Shower Storage
shower rod + hangable bins or baskets with handles + curtain rings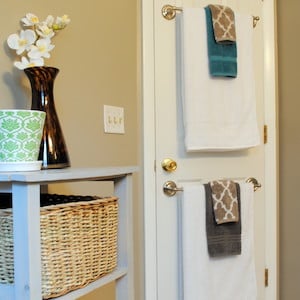 Behind the Door Towel Storage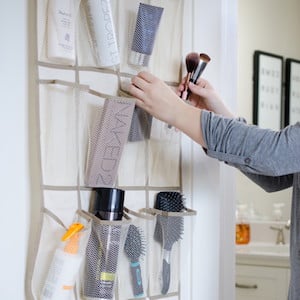 Over the Door Beauty Supply Storage from The Krazy Coupon Lady
Closet Organization Ideas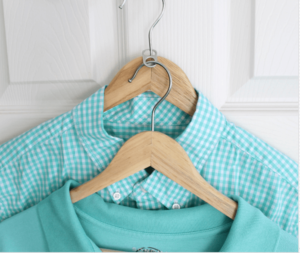 Shirt Organizer (using a soda tab)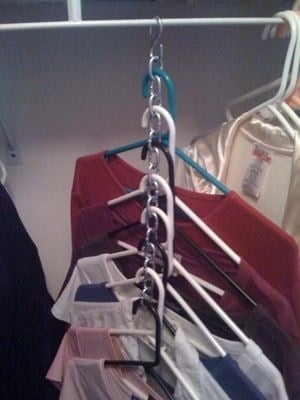 Shirt Organizer (using s hooks)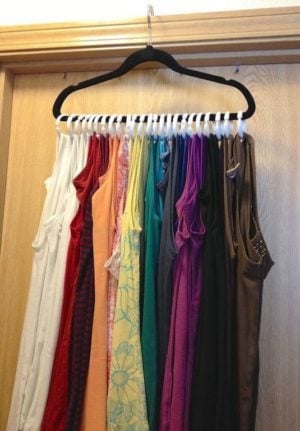 Tank Top Organizer
$1 shower curtain rings + hanger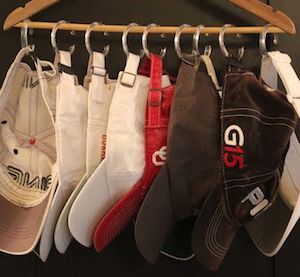 Hat Organizer
$1 shower curtain rings + hanger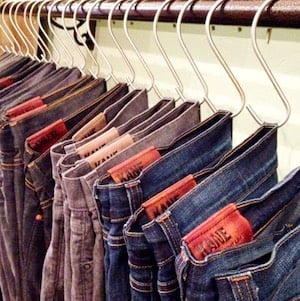 Jean Organizer Using S Hooks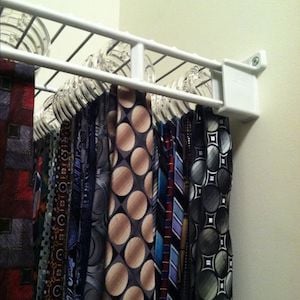 Ventilated Shelving Shower Curtain Ring Tie Organization
If you don't already have ventilated shelving, you can get it at Habitat for Humanity for a few dollars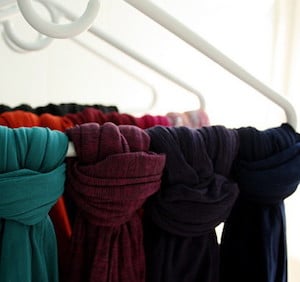 Clothes Hanger for Scarves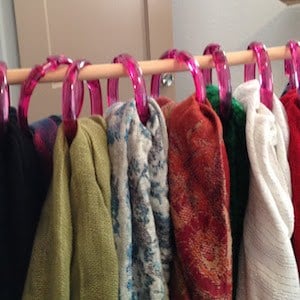 Scarf Organizer from From the Desk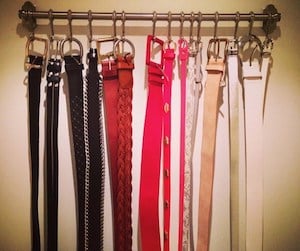 Towel Bar for Belts from Best Life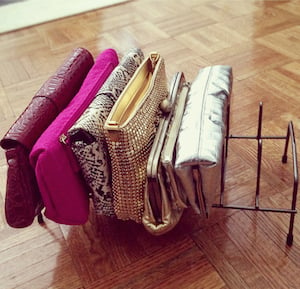 Lid Rack Clutch Organizer from Fabulous Fashions for Sensible Style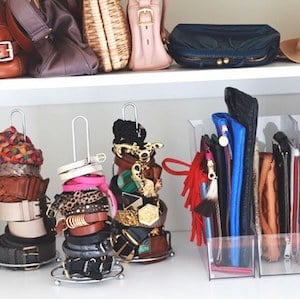 Paper Towel Holder for Organizing Jewelry from Perpetually Chic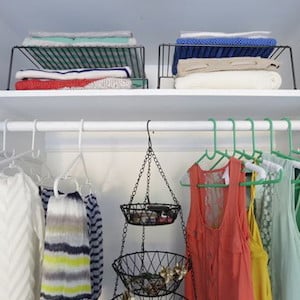 Tiered Shelving for Accessories
$1 wire cabinet shelves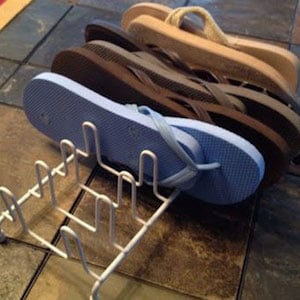 Plate Rack Flip-Flop Organizer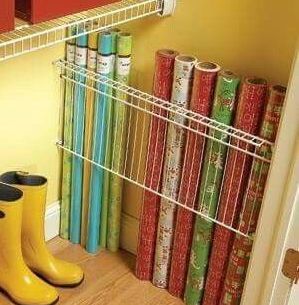 Ventilated Shelving Gift Wrap Organization
If you have extra shelving, this is a perfect idea for using up empty space in the closet.
If you don't have some already, you can get it at Habitat for Humanity for a few bucks.
Other Dollar Store Organization for Small Spaces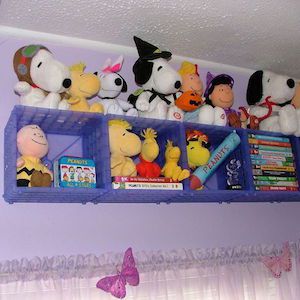 DIY Storage Shelving from Hometalk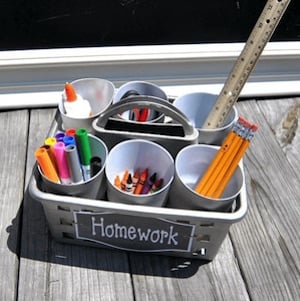 Dollar Store Homework Caddy from Simple Made Pretty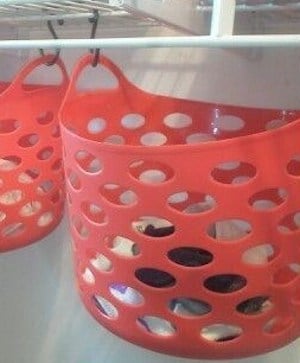 Laundry Basket Idea for Extra Storage from DIY Energy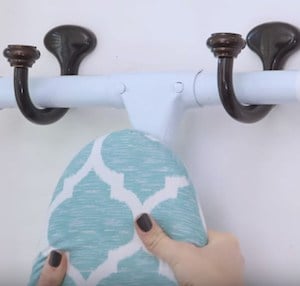 Iron Board Storage (using wall hooks)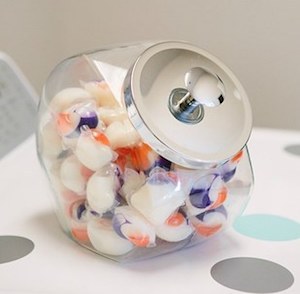 Cookie Jar Laundry Pod Holder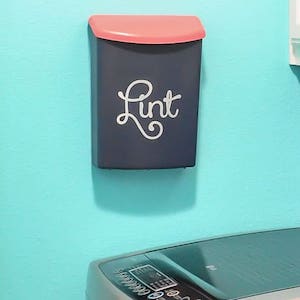 DIY Lint Bin from Polished Habitat
She uses a literature box, but you could easily use a plastic wastebasket from the dollar store.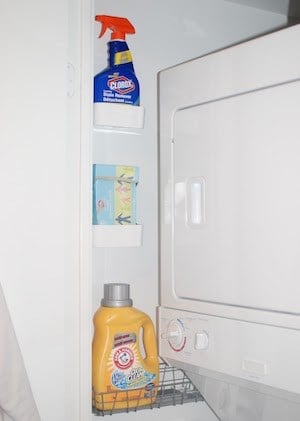 Small Space Laundry Room Organization from Waffling Blog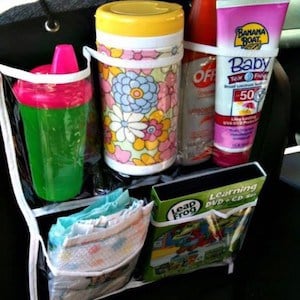 Car Organizer
All you need is a small over the door shoe organizer to hang over the back of the seat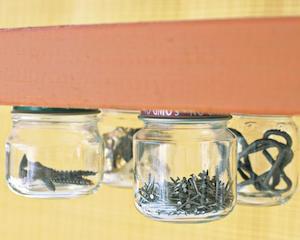 Floating Storage Space
small jars with lids + adhesive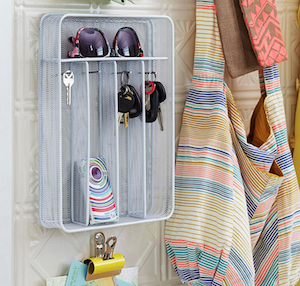 Organization Hub from Better Homes and Gardens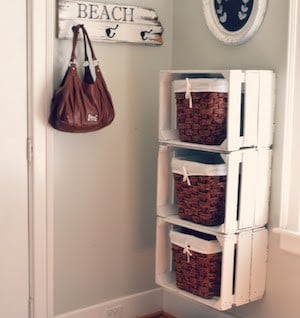 DIY Cube Organizer from Aimee Weaver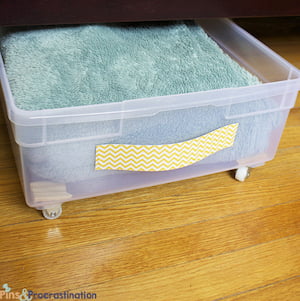 Under Bed Storage DIY from Pins and Procrastination
Related Posts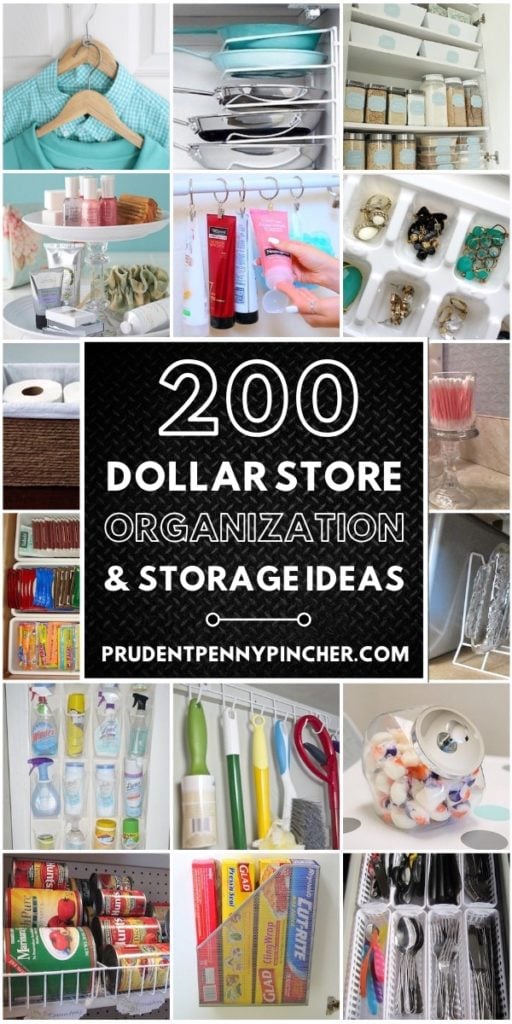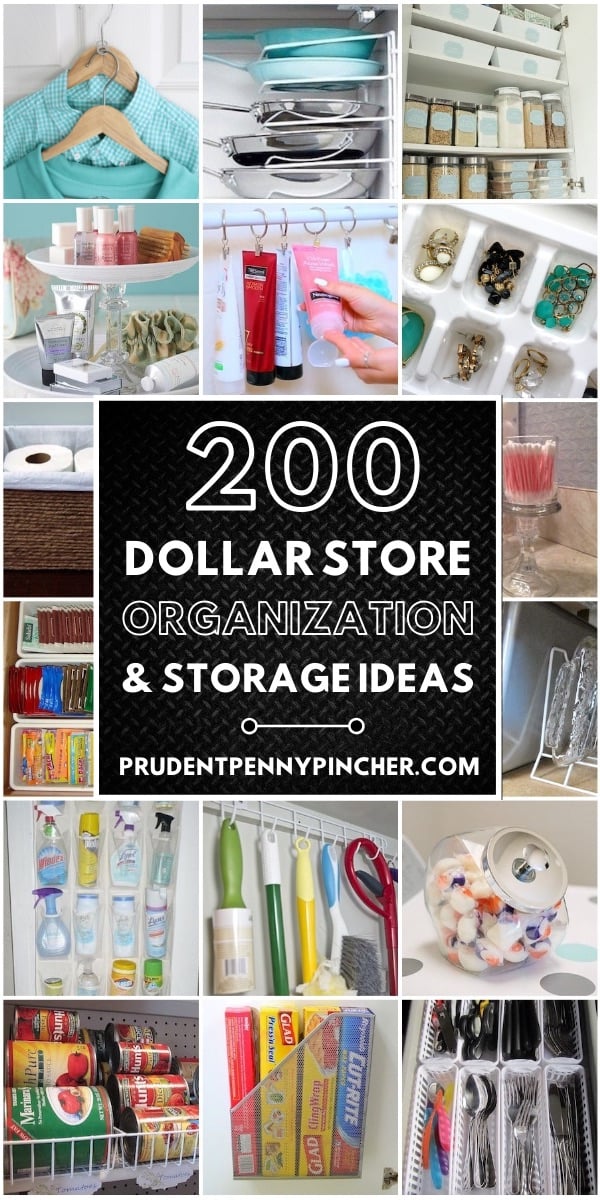 200 Dollar Store Organization Ideas