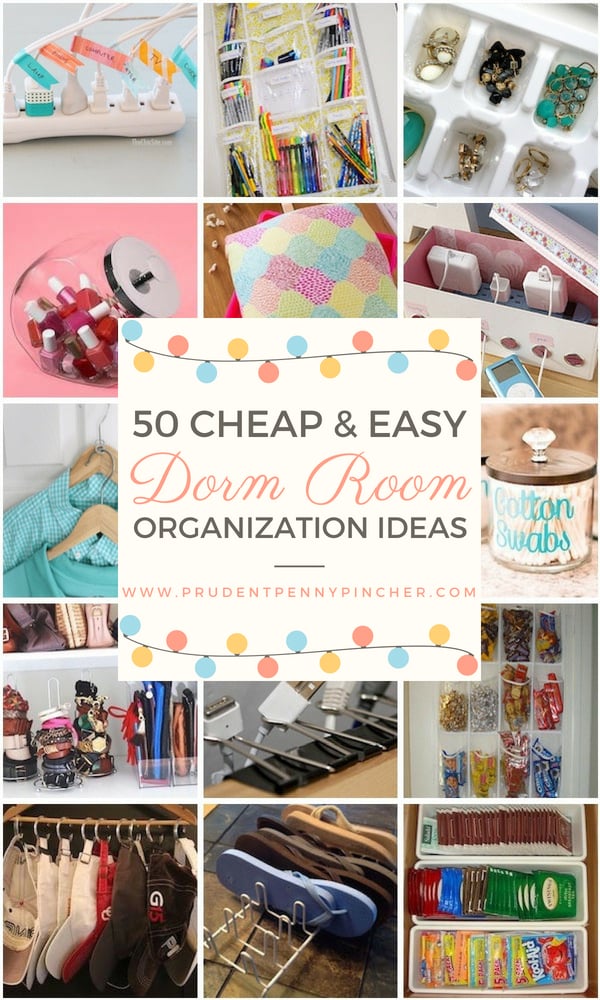 Save space and decrease clutter in your dorm room with these cheap and easy organization ideas. These dorm room organization and storage ideas will help you keep your room tidy and stylish without breaking the bank. Many of the items needed for these ideas can be found at dollar stores under $5!
Desk Dorm Room Organization Ideas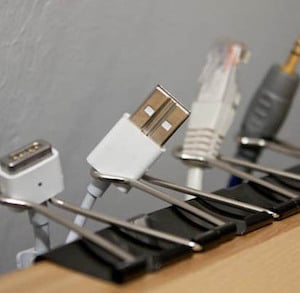 Binder Clip Cable Organizer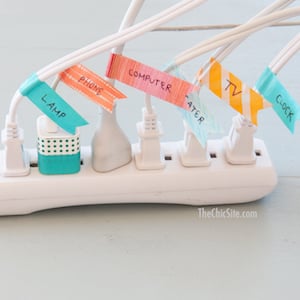 Cord Labels from The Chic Site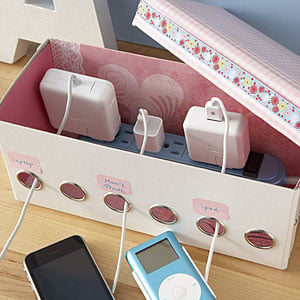 DIY Charging Station from Mrs. Happy Homemaker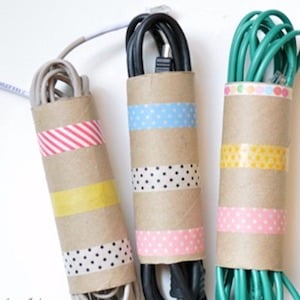 Organize Your Cords from Our Thrifty Ideas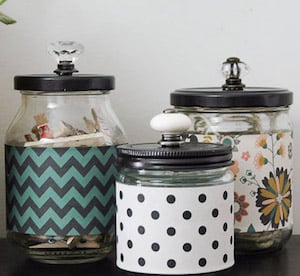 Recycled Glass Jars Turned Stylish Office Storage from Little House of Four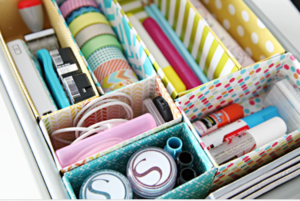 Cereal Box Desk Organizer from Apartment Therapy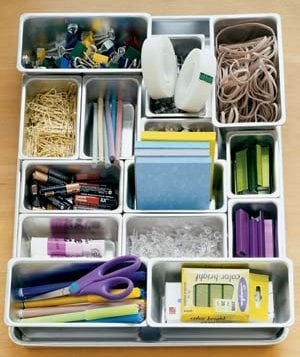 DIY Desk Organizer from Real Simple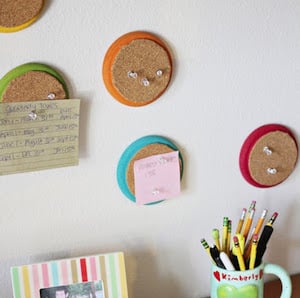 Circle Cork Board (source unknown)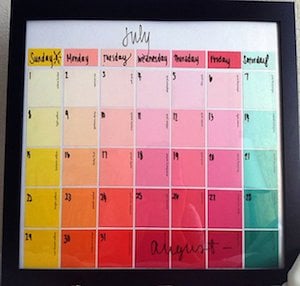 DIY Paint Chip Calendar from DIY Projects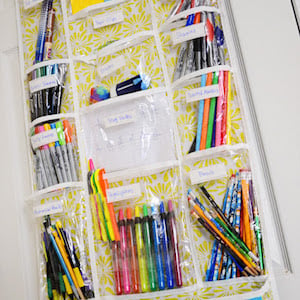 Over the Door School Supply Organization from A Bowl Full of Lemons
Dorm Room Organization Ideas for Girls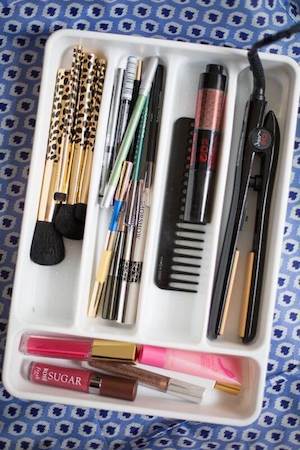 Cutlery Tray Makeup Organizer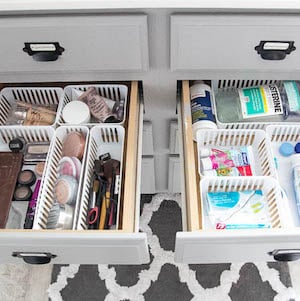 Bathroom Drawer Organizer from Summery Umbrella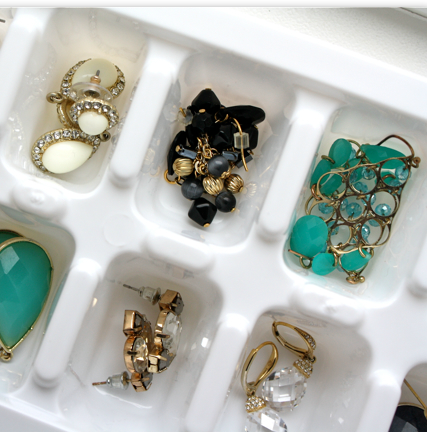 Ice Cube Tray Earring Organizer from Yesterday On Tuesday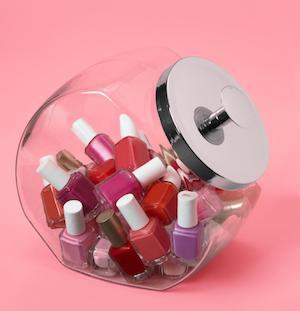 Nail Polish Cookie Jar Storage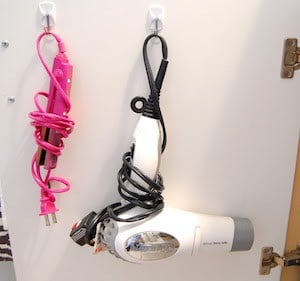 Command Hook Hair Appliance Storage from My So Called Home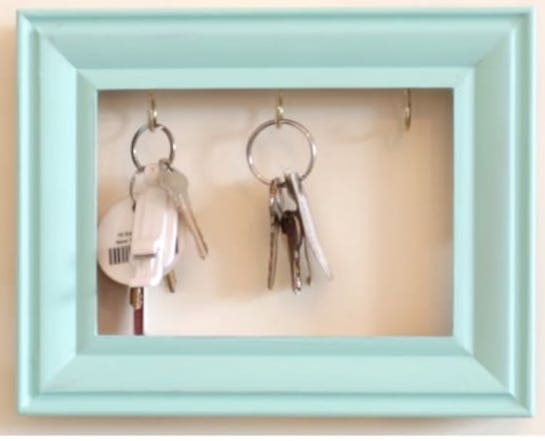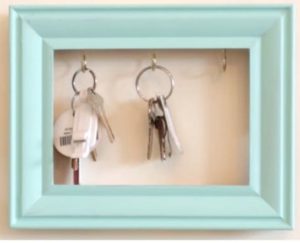 Picture Frame Key Holder from Buzzfeed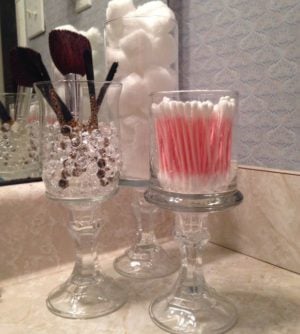 Dollar Store Makeup Holders
glass taper candleholder + e6000 glue + cylindrical candleholders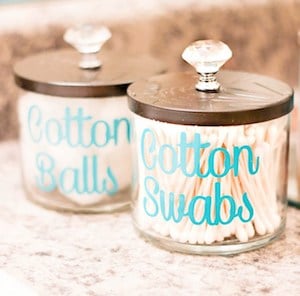 Repurposing Candle Jars
candle jar + glue + knobs + spray paint + primer + goo gone
Here is a great DIY goo gone that you can use for this project
Food Dorm Room Organization Ideas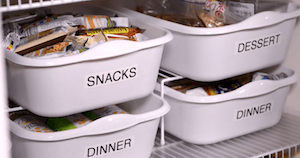 Pantry Organization from Alejandra
dish pans + wire racks + labels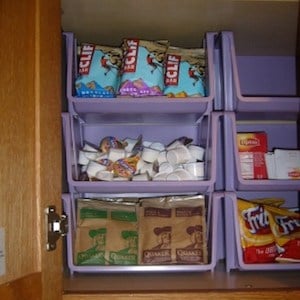 $1 Stackable Plastic Bin Food Organizer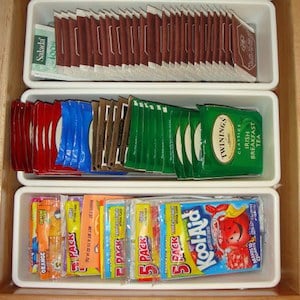 $1 Kitchen Drawer Organizer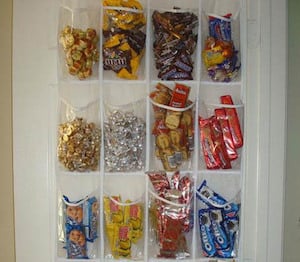 Over the Door Shoe Organizer for Snacks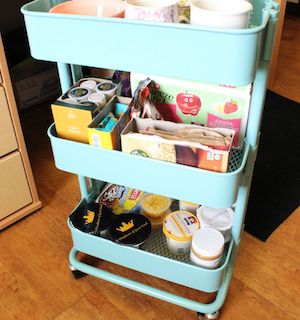 Utility Cart Food Storage from Jessica Slaughter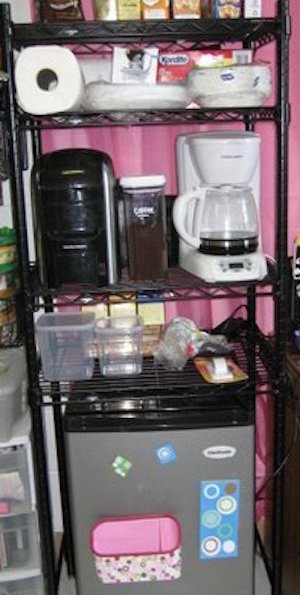 Wire Shelving Above Fridge from Abell Organizing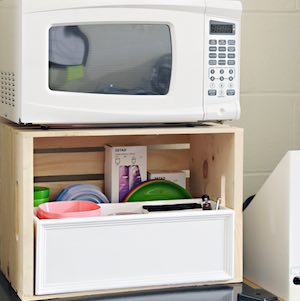 Microwave with Crate Organization Underneath from I Heart Organizing
Other Dorm Room Organization Ideas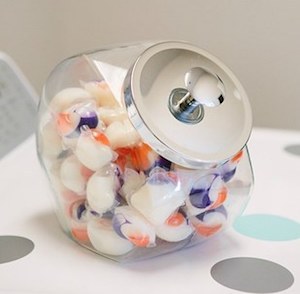 Cookie Jar Laundry Pod Holder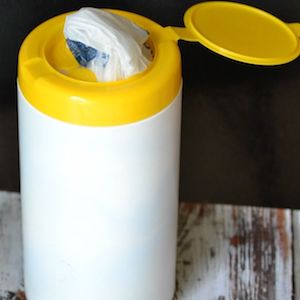 Plastic Grocery Bag Storage from Glue Sticks & Gum Drops
This storage idea is especially great for storing bags to use for your wastebasket liners.
Put Command hooks on either side of your wastebasket and hook the ends of the bag around them.
To save money, you can buy the wipes container at Dollar Tree.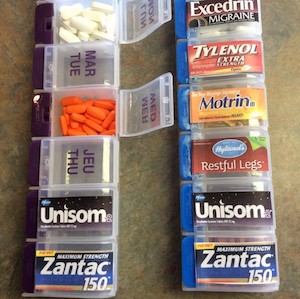 Pill Organizer (source unknown)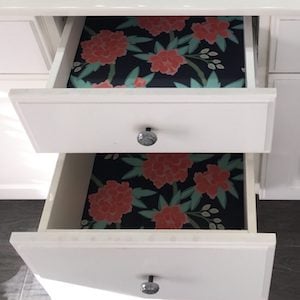 Wallpaper Custom Drawers from Spoon Flower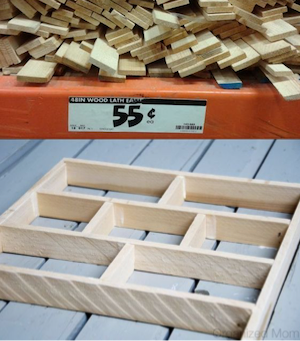 Drawer Organizer DIY from Organized Mom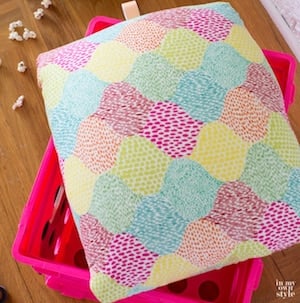 DIY Storage Crate Seat from In My Own Style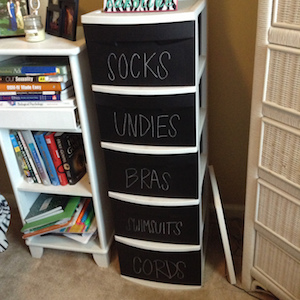 Chalkboard Plastic Drawers from Living Life Your Own Way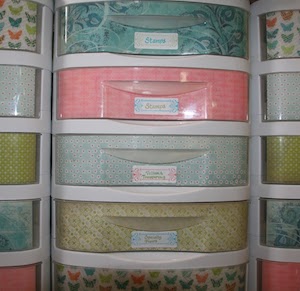 Plastic Drawer Makeover from LW Designs
Clothing & Accessory Dorm Room Organization Ideas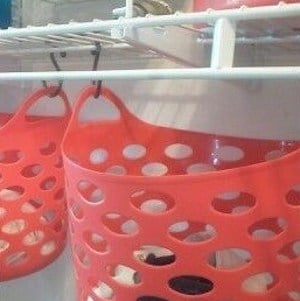 Organizational Basks Under Shelving
S hooks + dollar tree baskets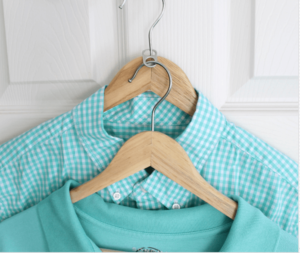 Soda Tab Shirt Organizer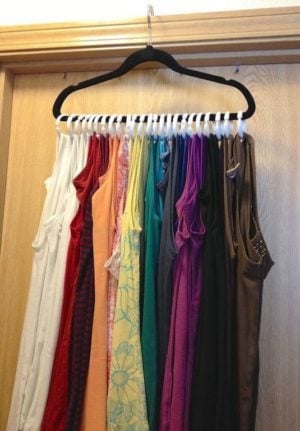 Shower Curtain Ring Tank Top Organizer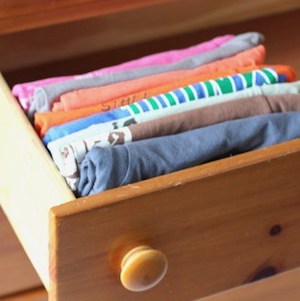 Organize Your T-Shirts from I am an Organization Junkie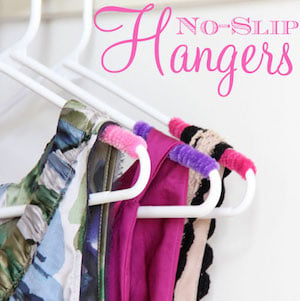 Pipe Cleaners No Slip Clothes Organization from In My Own Style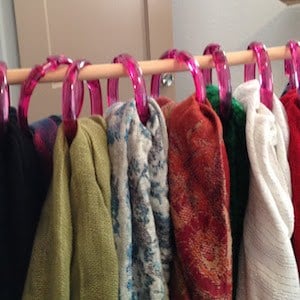 Shower Curtain Ring Scarf Organizer from From The Desk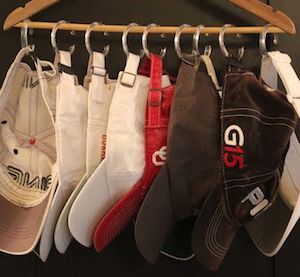 Hat Organizer (using curtain rings and a hanger)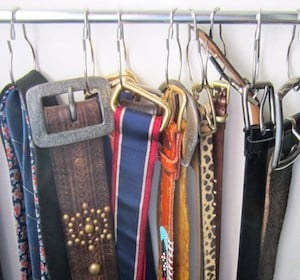 Shower Curtain Ring Belt Organizer from Live Simply by Annie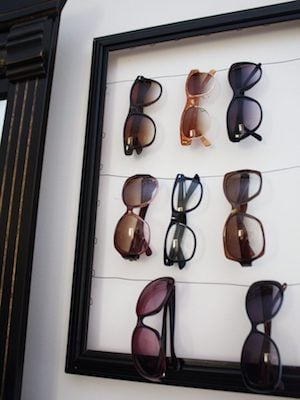 Picture Frame Glasses Organizer
picture frame + spray paint + picture hanging kit with picture hanging wire + hooks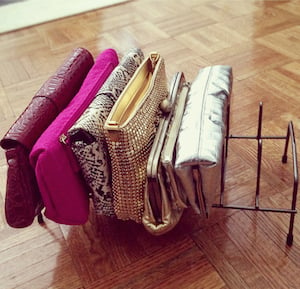 Lid Rack Clutch Organizer from Fabulous Fashions for Sensible Styles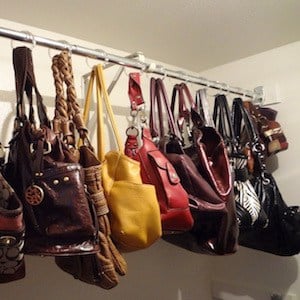 Purse Organizer
curtain rings + shower curtain rod (or you could just attach the rings to hangers)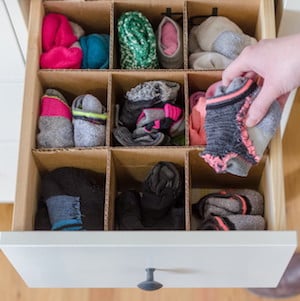 Cardboard Drawer Dividers from Krazy Coupon Lady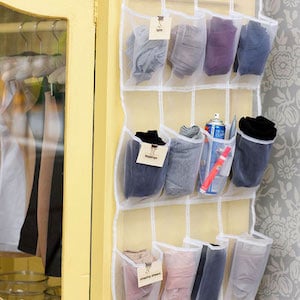 Over the Door Shoe Organizer for Underwear & Tights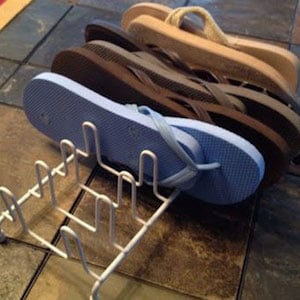 Plate Rack Flip-Flop Organizer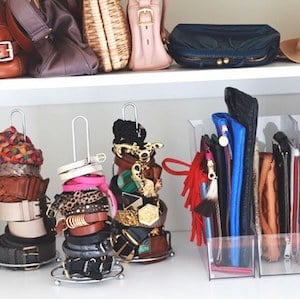 Paper Towel Holder for Organizing Jewelry from Perpetually Chic