Spread some easter cheer with these free You've Been Egged printable signs, which includes fun and easy Easter gift and basket ideas.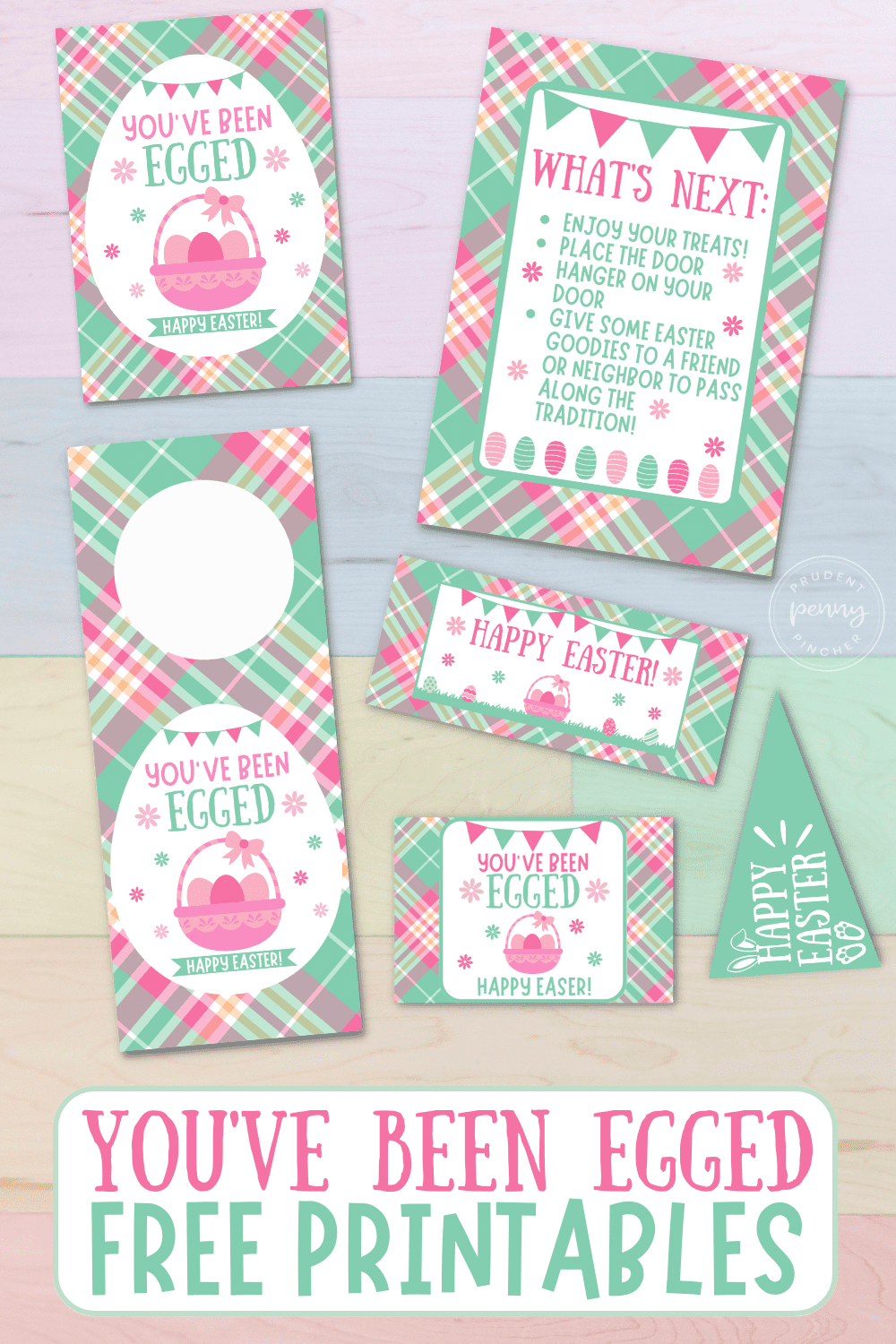 Bring joy and holiday cheer to the neighborhood, family, and friends with this gift basket idea, and include these free printables! What better way to surprise someone during Easter time than by "egging" them with a basket full of goodies and these fun printables?
What is it?
It is a fun tradition that is similar to the "You've Been Booed" for Halloween and the "You've Been Elfed" tradition for Christmas. This trend has taken over the holidays in recent years because it's a fun and unique way to spread some joy and laughter amongst your community.
This "egging" gift idea differs slightly from the other versions, which require you to hide 12 treat-filled plastic eggs in an unsuspecting neighbor's yard, basically like a mini easter egg hunt.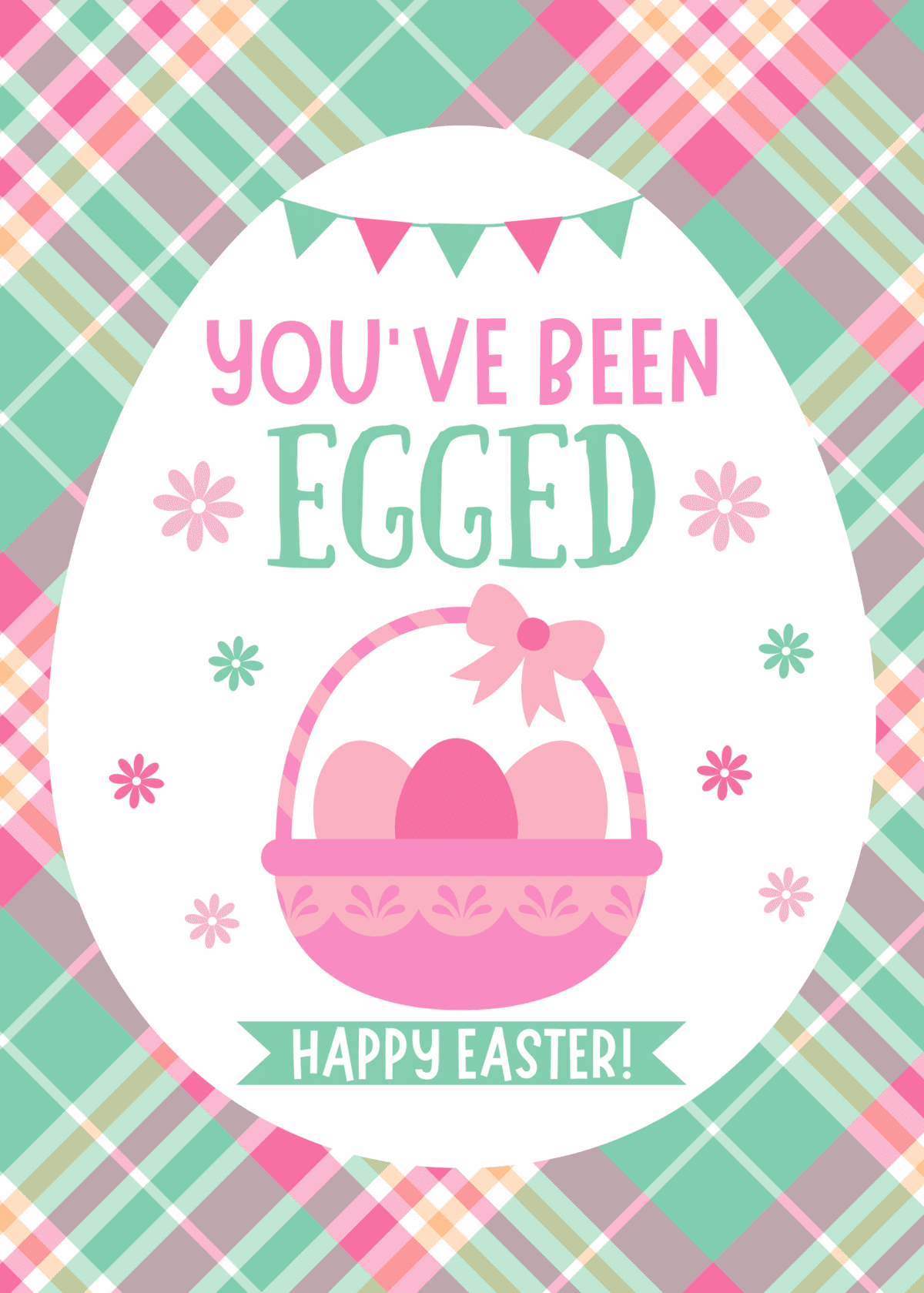 How Do You Participate?
In this version, the concept is simple – secretly deliver (by ringing the doorbell and leaving before they open the door) Easter-themed goodies to your family, friends, or neighbor's doorstep, along with a note explaining the tradition (which is included with the printables). The recipient will be should then do the same for two other households. If you have been egged, you should also use the door hanger included here so that others will know you've already been egged.
This "You've Been Egged" gift idea is a fun way to brighten someone's day during the Easter season. It doesn't have to cost a lot, either. I spend less than ten dollars on my basket by using Dollar Tree items such as small treats, party favors, decorations, small trinkets, etc. It is a great activity for the whole family, including young children. Your kids can even help pick out the gifts!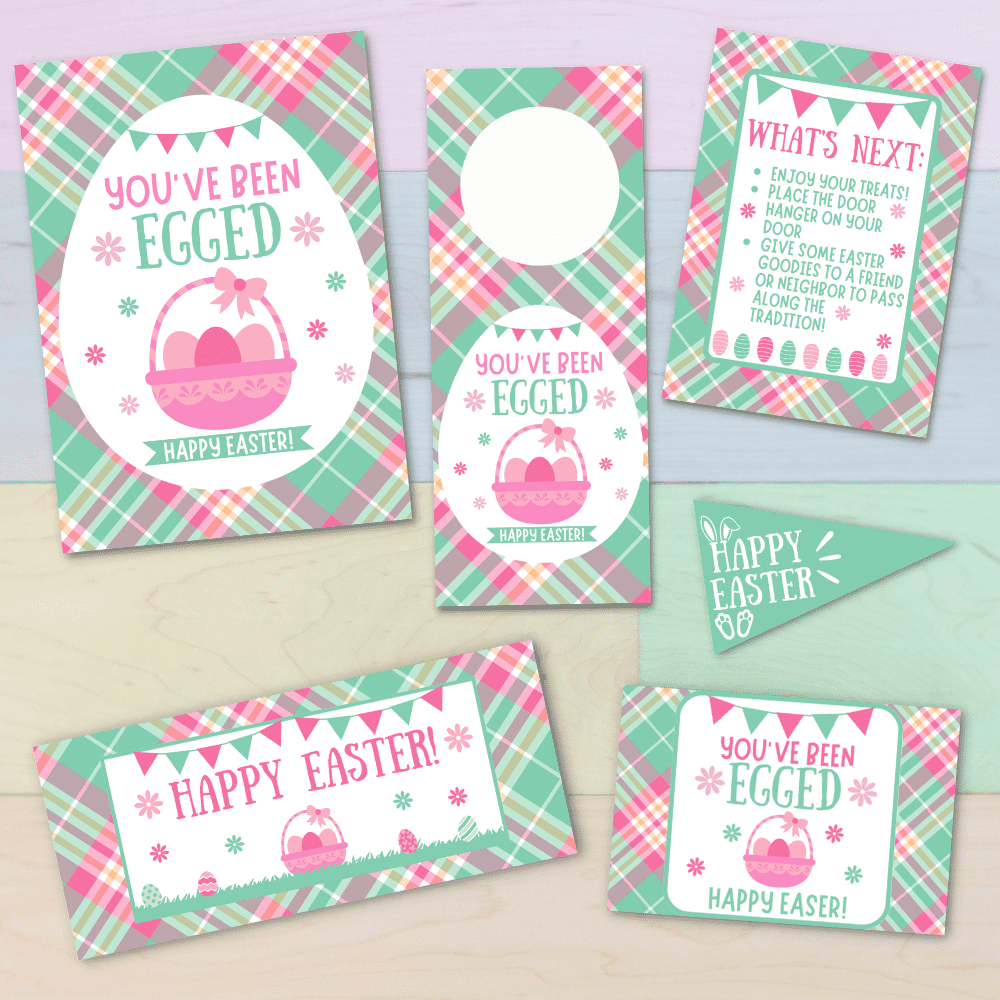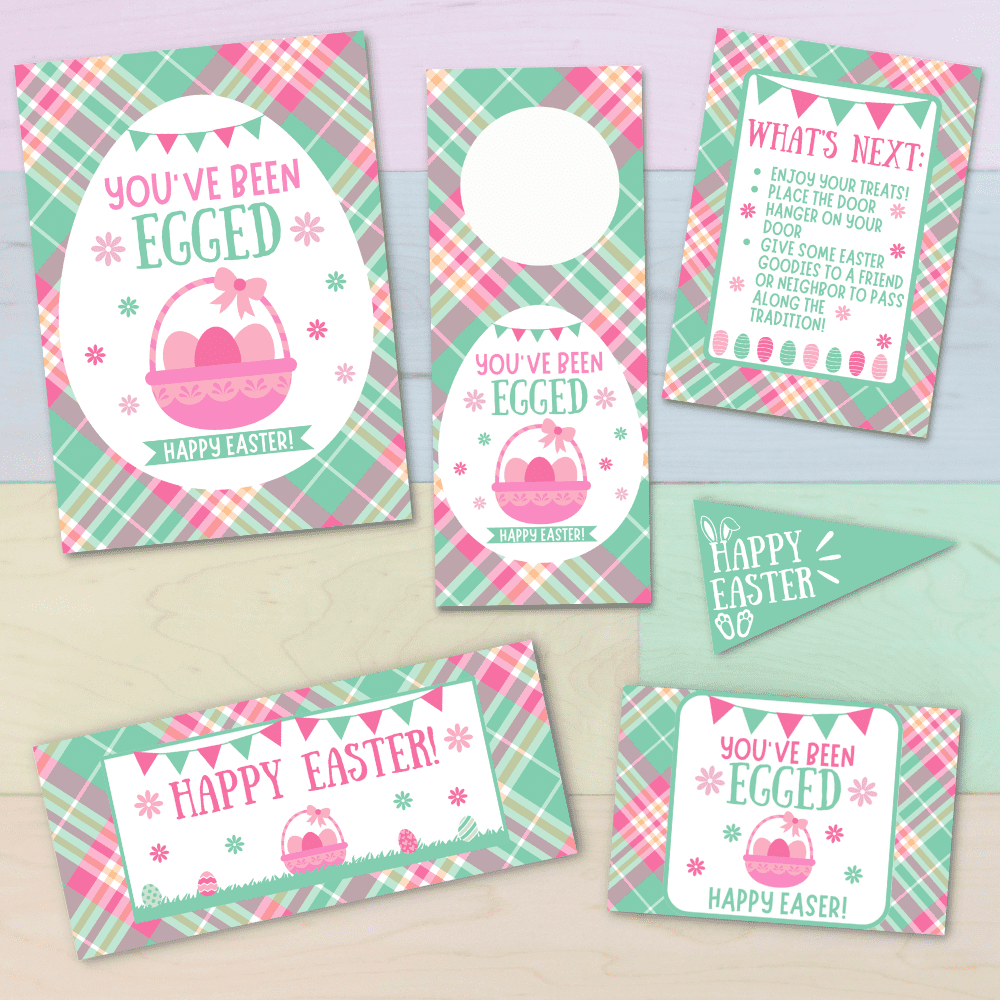 What's Included in This You've Been Egged Printable Pack?
There are seven free printable signs, labels, gift tags, flags, and more. These printables come in a printable PDF format. You can print multiples of each in case you want more than one. However, please note that these are for PERSONAL USE ONLY.
Egged signs in two sizes (3×5 and 5×7)
We've Been Egged Door Hanger (4×10)
Easter Gift tags (2×2)
Mini Flag
Party favor tag (5×2)
Youve Been Egged Instructions for the person who has been egged (5×7)
>> Download them here <<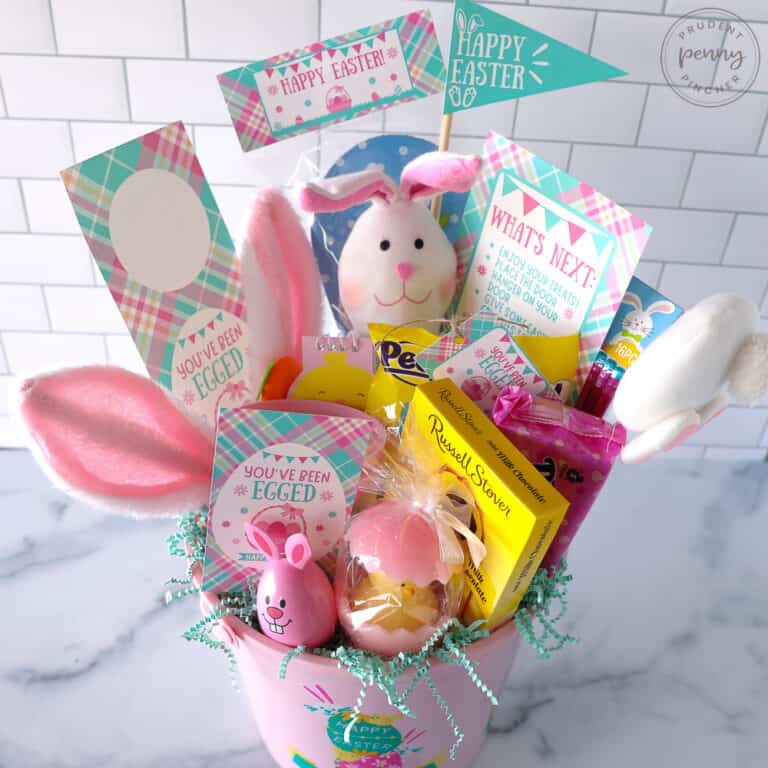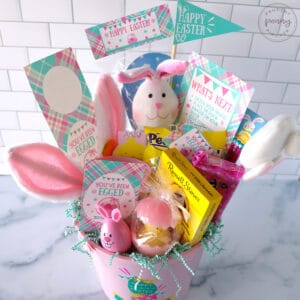 You've Been Egged Tutorial
a tutorial for how to download, print and assemble your You've Been Egged printables and easter basket
Equipment
1 pair of scissors or paper trimmer

hot glue gun

hole punch
Materials
7

pieces

white cardstock

I do not recommend printer paper as it will negatively affect the quality and durability of these printables.

FREE You've been Egged printables

Get them here

small wooden dowel

for the mini flag

twine, ribbon, or string

for the gift tag

basket, bucket, bag, or tote

treats, candy, party favors, and little gifts

floral foam

optional – depending on the size of your bucket or basket

2

packs

easter grass

easter goodies to fill your basket with

Dollar Tree is a great place to find gift ideas!
Instructions
How to Download The Printables
Download the PDF Files by clicking this link.

Select the files you want to save.

Click the download button on the upper right side of the screen.

Save the files to the folder you want.
How to Print
Load the cardstock or printer paper into your printer's paper tray.

Set the paper format to cardstock on your printer's settings. The location of this setting will vary depending on your printer.

Open the printables with Adobe Acrobat or another PDF reader software.

Go to File –> Print. Ensure the print quality is set to the "Best" setting.

Select "Actual Size" from the Paper Sizing Settings so that it won't print big copies that take up the whole page.
How to Assembly the Gift Basket with the Printables
Use a paper trimmer or scissors to trim off the excess paper from the printables.

Glue the mini flag on top of a wooden dowel.

Hole punch your gift tag and attach it to the gift using some baker's twine, yarn, or ribbon.

Glue or tape your party favor labels to the tops of your party favors. If they aren't the proper size for your bags, you can always resize them in your photo viewer program or trim the sides down as necessary.

Add floral foam or filler to the bottom of your bucket, if necessary.

Add one bag of grass on top of your foam (or as much as needed).

To make your bucket start by placing the taller and bigger items in the back of your basket. This includes your door hanger, mini flag, easter picks (if using), and instructions printables.

Work your way toward the front of the basket by layering medium-sized items in front of your bigger items, adding more easter grass between the items.

If you need to create some added height to make certain items seen more prominently, you can add a small amount of shredded paper to that spot to raise it above the other items.

Finally, add your smallest items to the front of the bucket, such as plastic eggs and your small sign.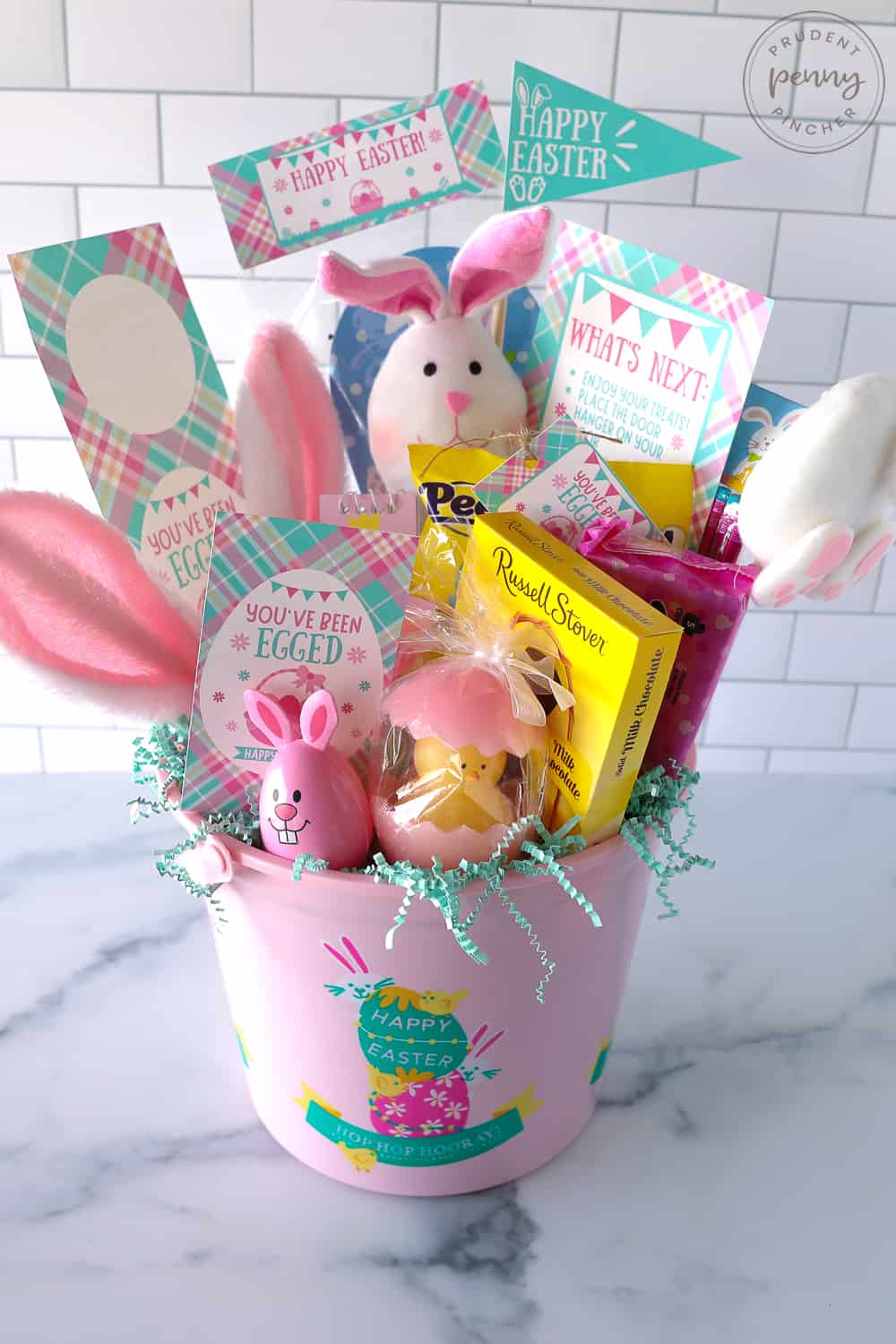 Easter Basket Container Ideas
Dollar Tree has a huge assortment of baskets, bins, pails, buckets, and more that include tons of themes, colors, and designs. Here are some examples:
woven baskets
plastic buckets
tote bags
gift bags
canvas bags
bunny pails
treat boxes
drawstring bags
tin pails
small festive bins
decorative canisters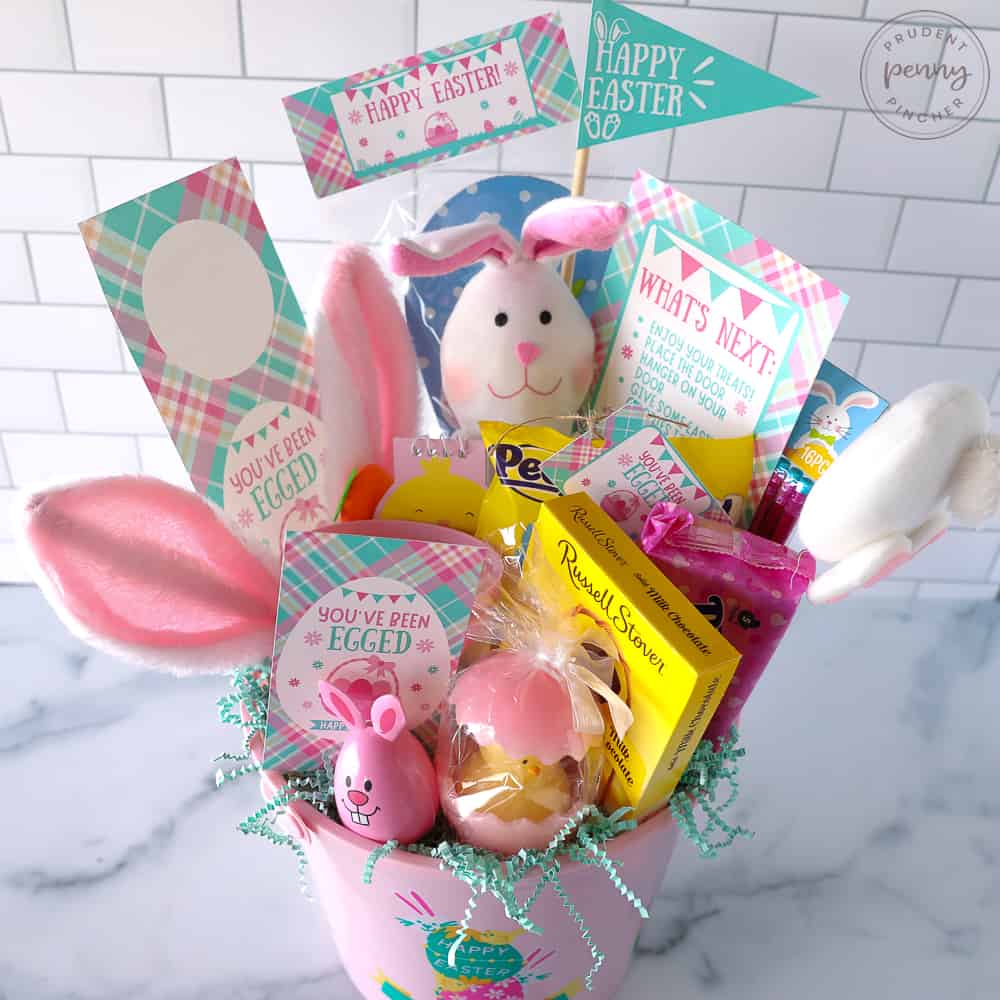 You've Been Egged Gift Ideas
All of the items for my Easter basket came from Dollar Tree. I spend a total of $10 on all of it. You can also find affordable items at Target's Dollar Spot section or even Walmart's Easter section.
You can do themed baskets like an Easter cookie mix basket with sprinkles, cookie mix, and frosting, along with dollar store baking supplies like pot holders and kitchen towels. Or, a "DIY Easter Decorations" gift basket with plastic eggs, bunny gnomes, ornaments, and other cute dollar store decor items. I just did an assortment of gifts that both adults and kids would like.
candy

jelly beans
bubble gum
mini chocolate eggs
pastel M&Ms
smarties
cotton candy

mini candy dispensers
candy tubes
chocolate bunnies
peeps
pencils
basket stuffers
pens
plastic Easter eggs
mini notebooks
treat cups
stickers
bunny glasses
bunny erasers
Easter-themed baking cups
ornaments
mini tree
bunny headbands
party favors

bubble wands
bouncing balls
stamps
paddle boards

small Easter craft kits for kids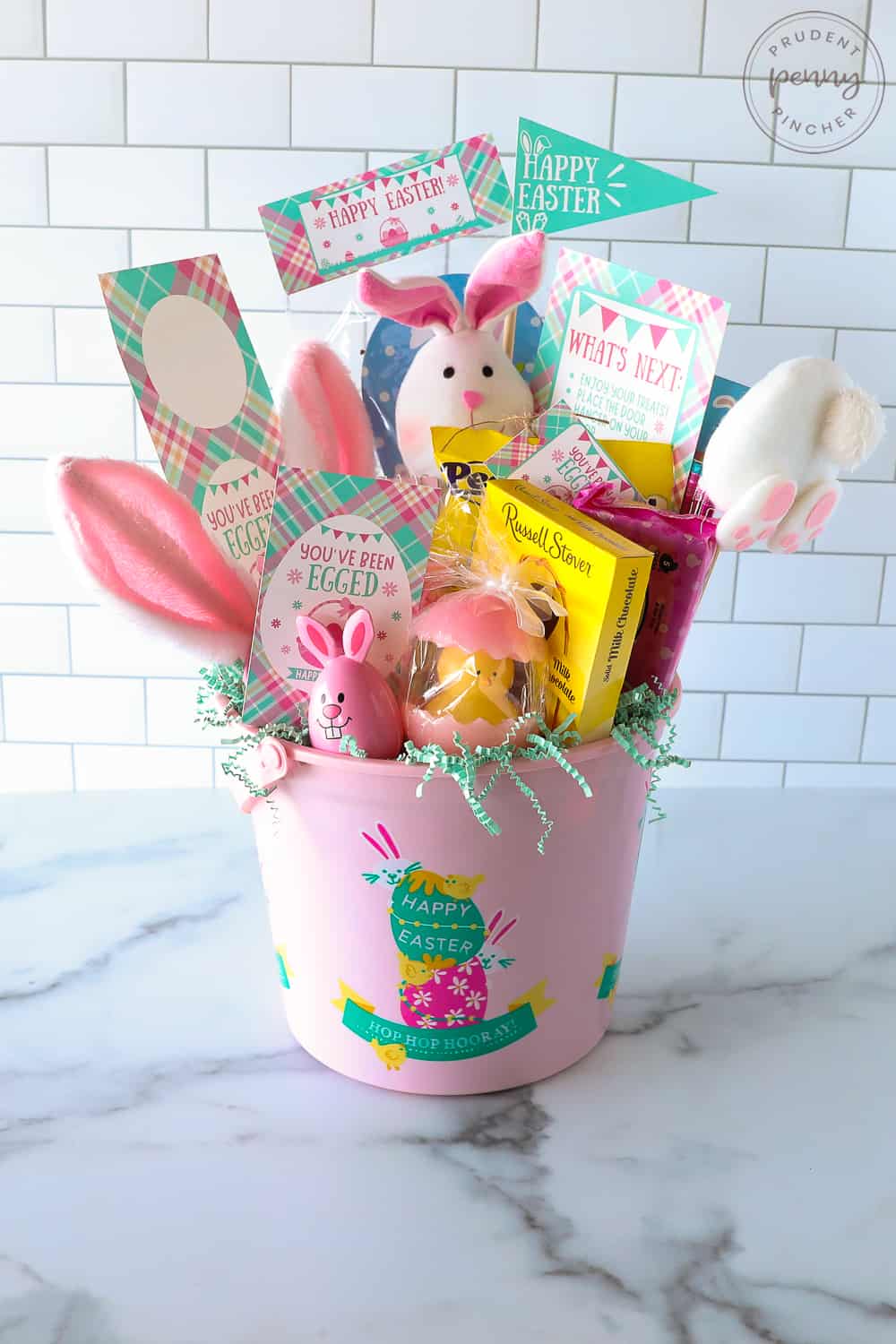 More Ideas