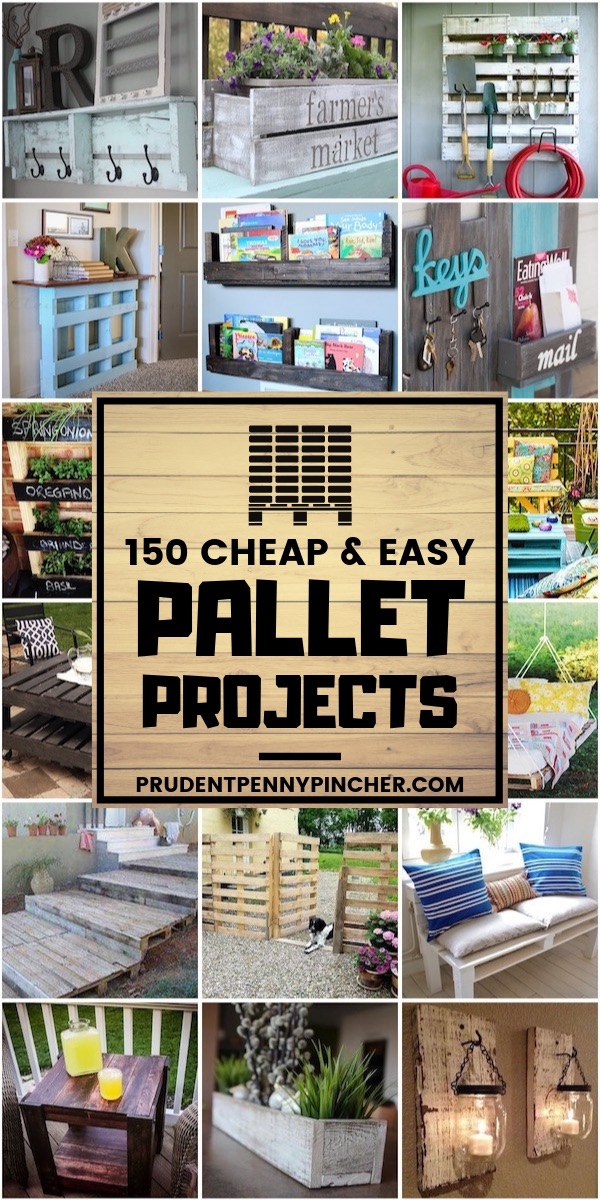 Transform free pallets into creative and beautiful furniture, decorations, planters and more! There are over 150 easy pallet ideas here to give your home and garden a personal touch.
Before we dive into these projects, here is some helpful information:
You can get pallets FREE (or very cheap) from:
Craigslist or Facebook's Marketplace. A lot of the time people just put them on the curb for free for you to pick up.
Local businesses, distribution centers and stores (e.g Garden and Hardware Stores, Motorcycle Shops, Home Improvement Stores). You will see them sitting out back of stores, but always ask the manager before you take them because they could be rented pallets and need to be returned.
New Businesses – If you know a new business is opening in your area, that is a great time to find a lot of pallets too.
If you can't find any free wood pallets, you can buy them for under $10 (typically in the $5-$7 range, depending on the type and size you are looking for).
Materials You Will Need: 
 I won't re-list these items below to save space, but you will need some of these tools and supplies for all of these projects. If you are just planning on doing one or two projects, you can rent the more expensive tools (e.g. saws and sander) at a Home Depot or Lowes to save money or borrow from friends, family or neighbors.
Handy Tutorials for Pallet Projects:
While these DIY pallets projects are easy, some of them are time-consuming and may take more than a couple hours to complete.
Indoor Pallet Projects
Home Decor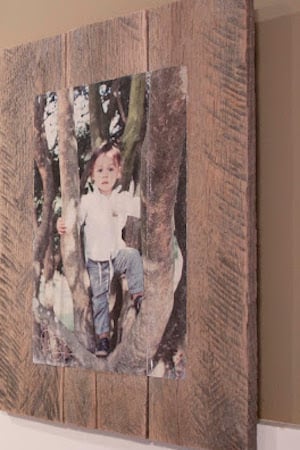 Pallet Photo Frames
mod podge + printed picture (from laser printer)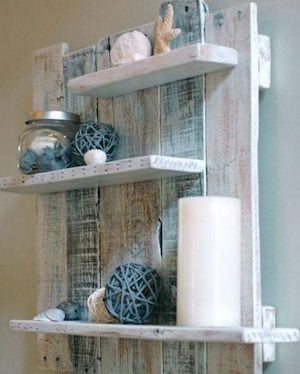 Wood Pallet Shelf
extra boards + white paint
Check out this other tutorial for how to get a weathered look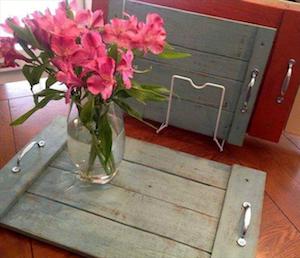 Pallet Trays (Source Unknown)
drawer handles + paint or stain + screws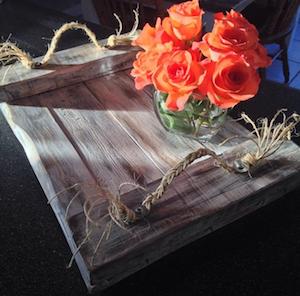 Pallet Tray with Rope Handles (Source Unknown)
rope + washers + screws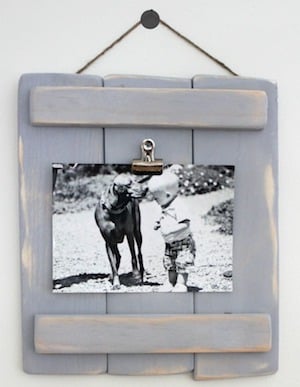 Pallet Plaque
craft boards +  chalk paint + bulldog clips + jute rope + staple gun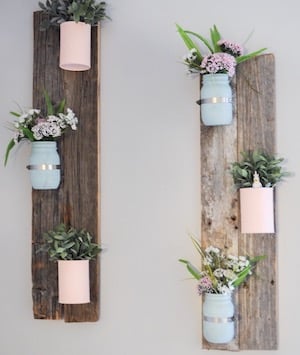 Wall Decor Pallets
chalk paint + empty cans + mason jars + flowers + hose clamps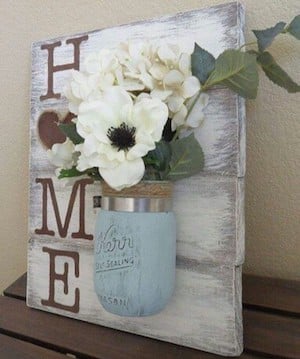 Home Sign (Source Unknown)
hose clamps + chalk paint (white and pastel blue) + stencils + brown acrylic paint + fake flowers + jute twine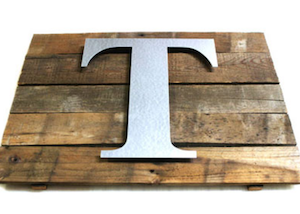 Pallet Monogrammed Plaque (Source Unknown)
large wood letter + metallic spray paint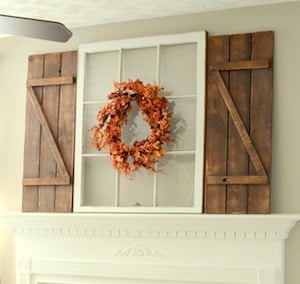 Pallet Barn Door Mantel 
furring strip boards + wood stain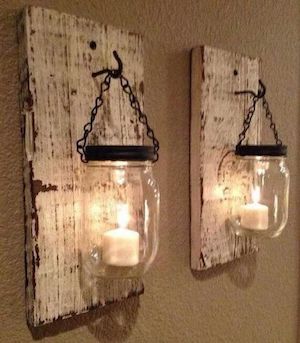 Mason Jar Candle Scone (Source Unknown)
white acrylic paint + small chain + hook + mason jars + votive candles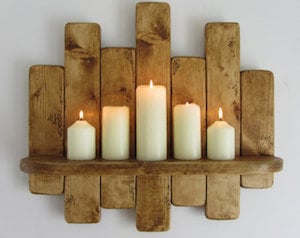 Candle Wall Shelf (Source Unknown)
All you need is various sized pillar candles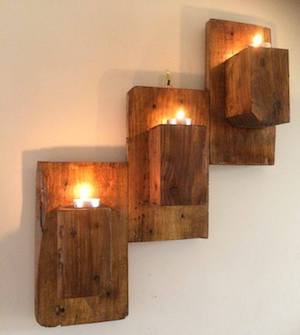 Wall Mounted Pallet Candle Holders
pallet slats + pallet blocks + tealight candles + red stain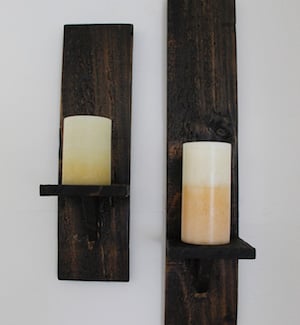 Pallet Wood Candle Sconces
saw + pallet wood + stain + polyurethane + pillar candles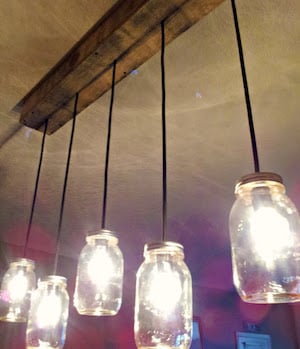 Hanging Mason Jar Lights
power cords + mason jars + light bulbs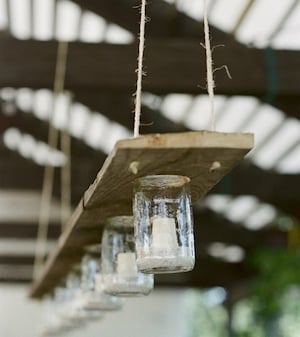 Hanging Mason Jar Candles II (Source Unknown)
mason jars + small pillar candles + rope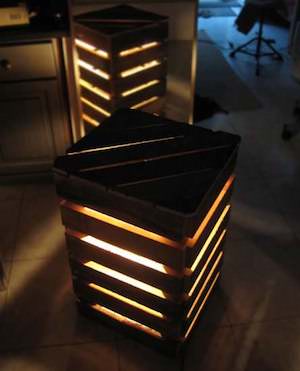 Pallet Cube Light (No tutorial)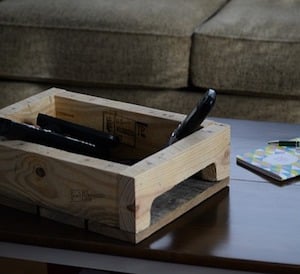 Coffee Table Tray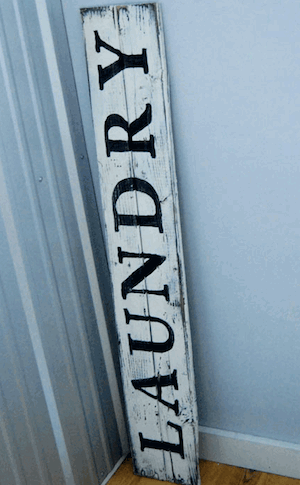 Laundry Sign
black spray paint +  antique white eggshell paint + printed letters (traced)  or stencils + black acrylic paint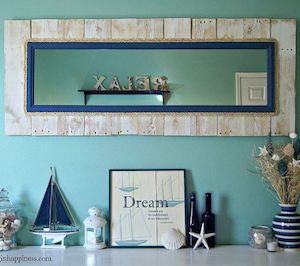 Coastal Pallet Mirror
white chalk paint + gorilla glue + mirror + french cleat picture hanger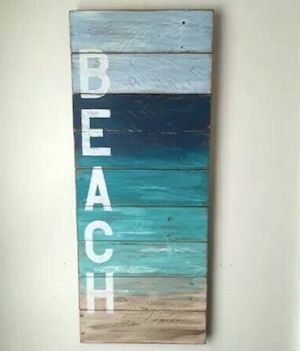 Beach Pallet Wall Art (Source Unknown)
stencils + white acrylic paint + shades of blue and tan paint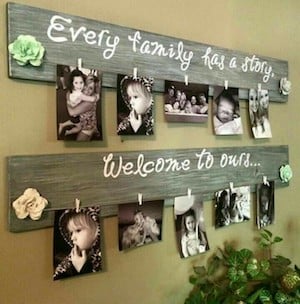 Pallet Photo Holder (Source Unknown)
mini clothespins + white paint marker (or stencils) + fabric (for flowers) + photos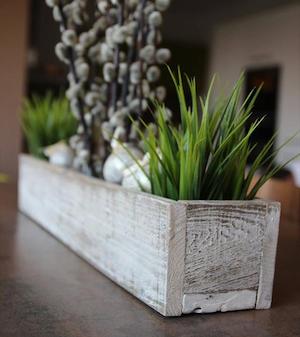 Pallet Centerpiece
white paint + assorted plants and flowers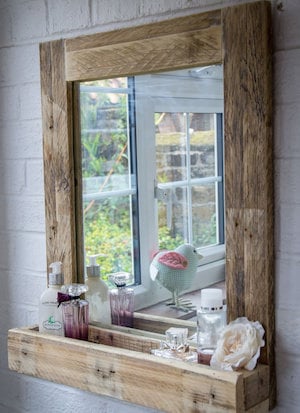 Pallet Wood Mirror (Source Unknown)
staining or paint + mirror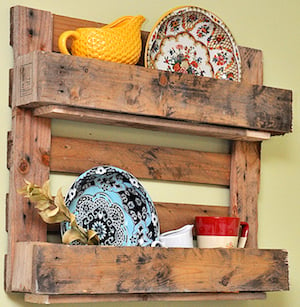 Decorative Wall Shelf
hammer + nails  + drill + saw + sandpaper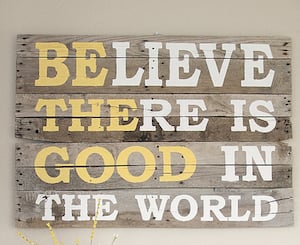 Pallet Wall Decor
paint + cardstock + stencils + hanging hardware + tape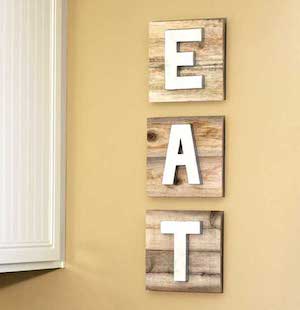 Kitchen Sign (Source Unknown)
wood letters + white acrylic paint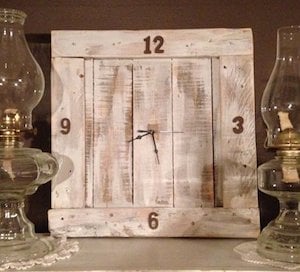 Pallet Wall Clock (Source Unknown)
clock parts (take apart a thrift store clock) + numbers + white paint
---
Furniture Pallet Projects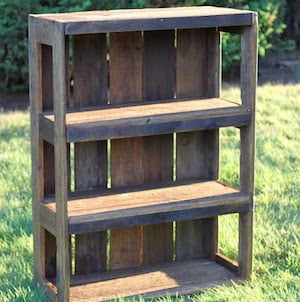 Pallet Bookshelf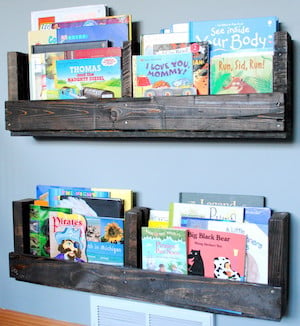 Pallet Floating Bookshelf
all  you need is basic tools and wood stain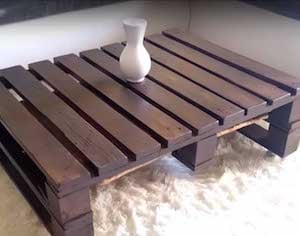 Pallet Coffee Table
sandpaper + glaze + caster wheels + carriage bolts/wood bolts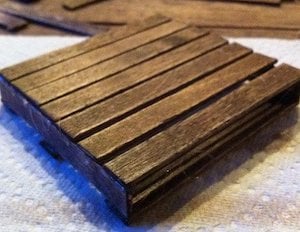 Mini Pallet Coaster For Your Pallet Coffee Table
craft sticks + wood stain + hot glue gun + craft knife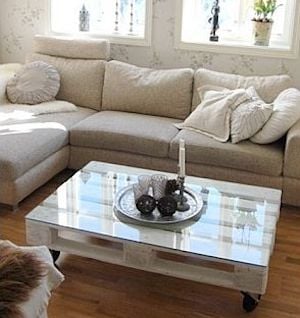 Modern Pallet Coffee Table
wheels + glass top + paint (optional)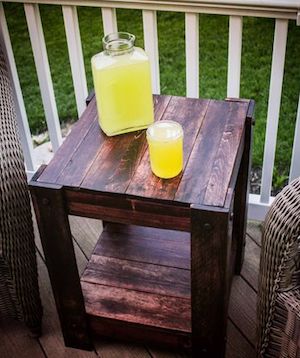 Pallet End Table
just need the basic tools listed above to make this project and some wood stain, but thats optional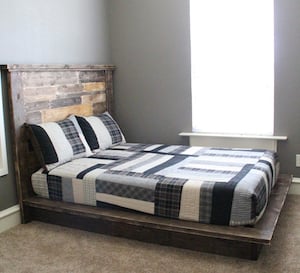 Easy Pallet Platform Bed
pocket hole screws  + wood glue  + finish of choice  + wood screws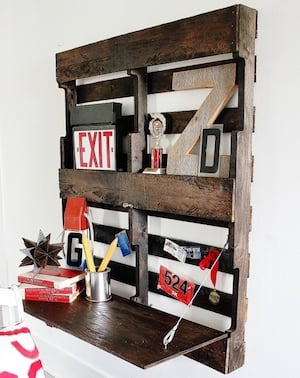 Fold-Up Pallet Desk 
plywood + piano hinge +  window sash +  cables + eye hook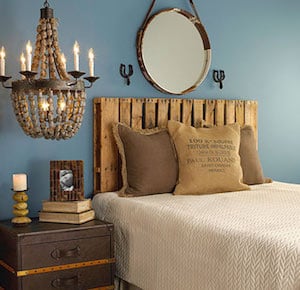 Pallet Headboard
mounting hardware + paint (optional)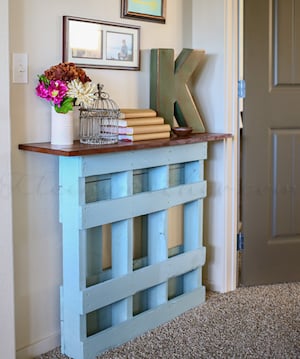 Console Table
maple gel stain + clear sealant + chalk paint + wax sealant + wood plank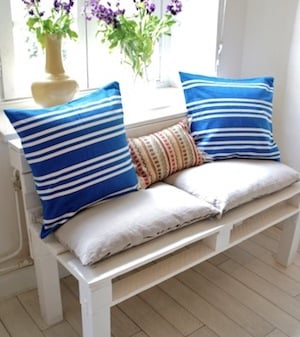 Pallet Sofa
wood sealer + paint + 2 planks of wood + square beam + angle icons + jointing plates + hinges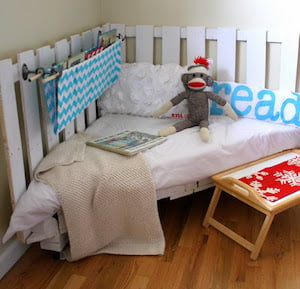 Reading Nook
scrap pieces of 2×4 + 3 rolling casters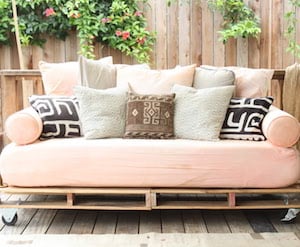 Pallet Daybed
large casters + outdoor polyurethane + bolts, nuts, washers + pipes + flange + connectors + thick mattress + pillows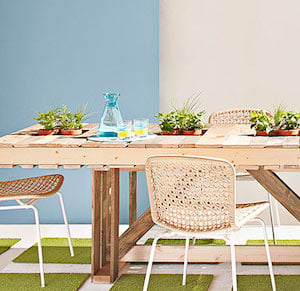 Pallet Dining Table
extra lumber + brackets + a-frame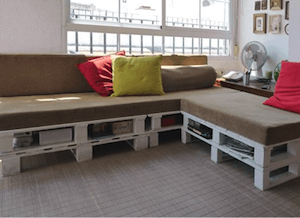 Large Pallet Sofa
paint + flexible foam (at least 4″ thick) + furniture fabric + sewing machine + flat brackets and screws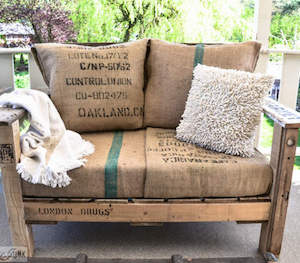 Pallet Chair
4 leg boards + 2 arm boards + pillows + cushions or foam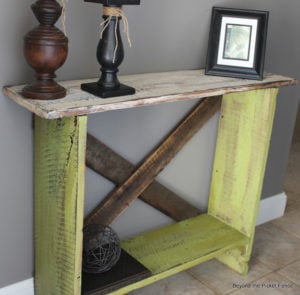 Pallet Sofa Table
green and white paint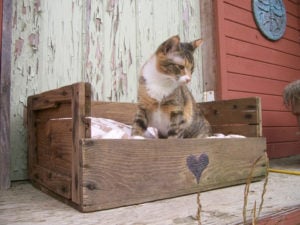 Pallet Cat Bed (Source Unknown)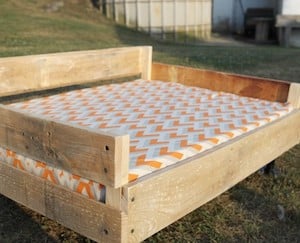 Pallet Dog Bed
chalkboard spray paint + dog bed + black gloss paint + floor flanges + pipe fittings + 1X2 lumber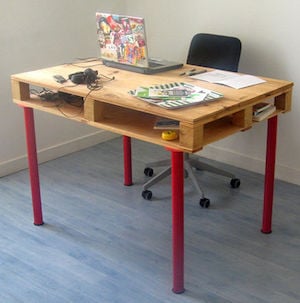 Pallet Desk
plywood + 4 ikea vika legs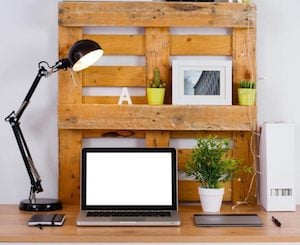 Pallet Desk Hutch Storage
---
Organization and Storage Pallet Projects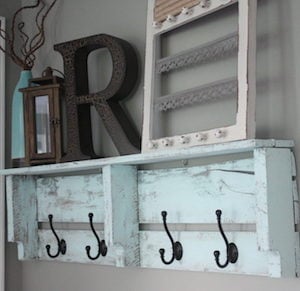 Pallet Coat Rack
saw + nails + chalk paint + decorative hooks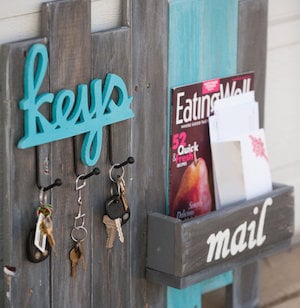 Entryway Pallet Organizer
gray, white, and turquoise stain + gloss sealer + hanging brackets + wood letters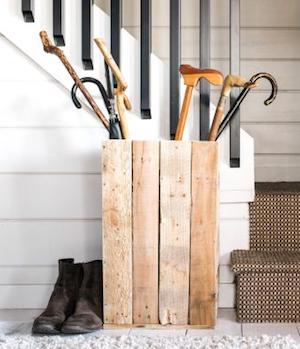 Upcycled Pallet Storage Container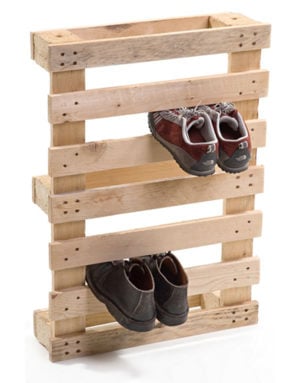 Shoe Rack (Source Unknown)
Kitchen Organization Pallet Projects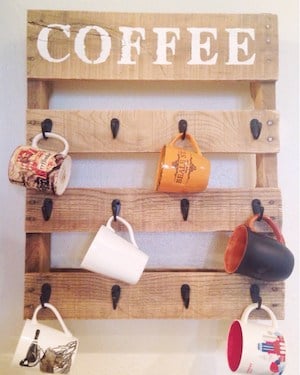 Coffee Cup Holder
hooks + screws  + paint +  letter stencils + sponge brush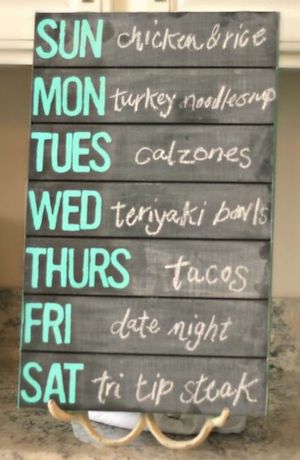 Menu Sign
vertical slat sign + stencils + washi tape + acrylic paint + chalkboard paint + chalk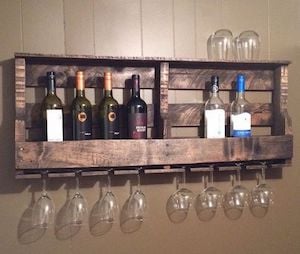 Pallet Wine Rack
paint or stain + heavy duty hooks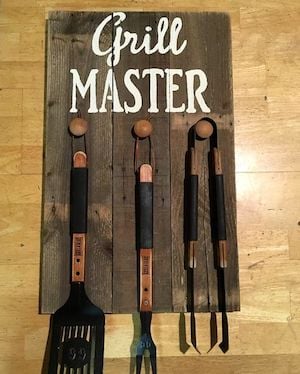 Kitchen Utensil Holder (Source Unknown)
wood knobs or hooks + wood stain + stencils + white acrylic paint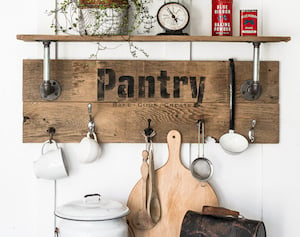 Pallet Pantry Sign
pipe fittings + paint + stencil brush + stencils + various hooks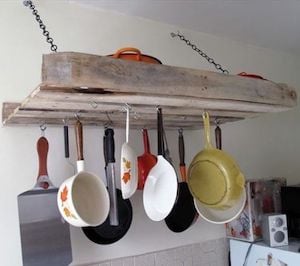 Pot and Pan Holder
chicken wire + heavy chain + staple gun & staples + toggle hook bolts with nuts+ s hooks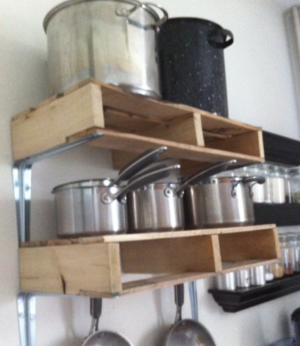 Pot and Pan Storage Idea (Source Unknown)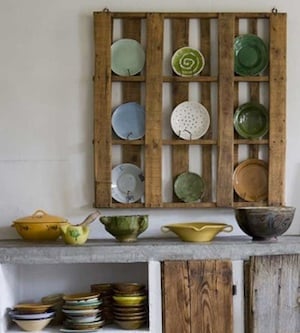 Pallet Plate Display  (No Tutorial Available)
Bathroom Organization Pallet Projects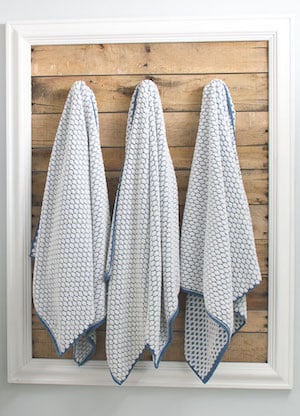 Pallet Towel Rack
mirror with frame + nail gun + frame wire + picture hangers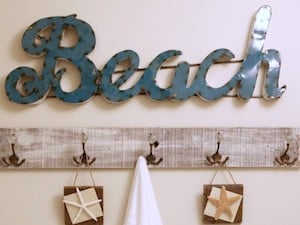 Driftwood Pallet Towel Rack
wood stain + white paint + decorative hooks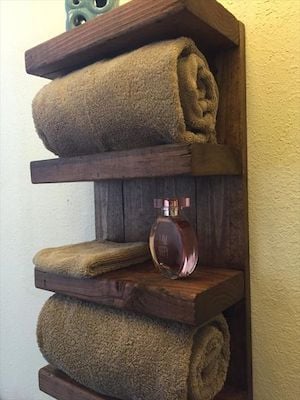 Bathroom Towel Holder
I couldn't find a tutorial for this project, but it looks pretty simple. There is a similar project here that might help: http://www.instructables.com/id/Pallet-Wall-Shelf/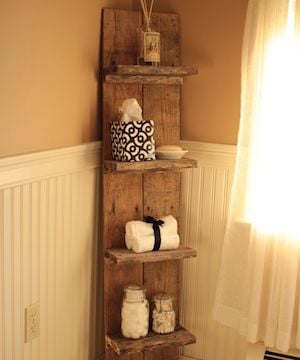 Bathroom Shelf (Original Source unknown)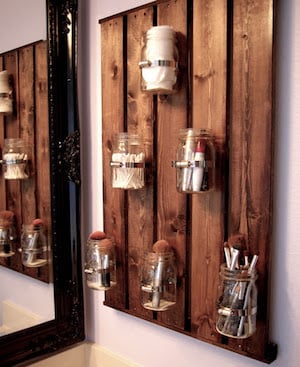 Mason Jar Pallet Organizer
hose clamps + wood stain + mason jars
Other Organization Pallet Projects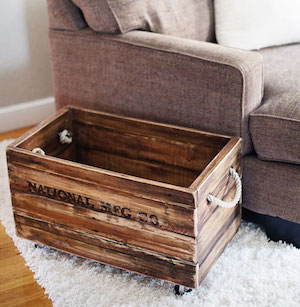 Pallet Storage Truck
small caster wheels + heavy duty rope for handles + wood stain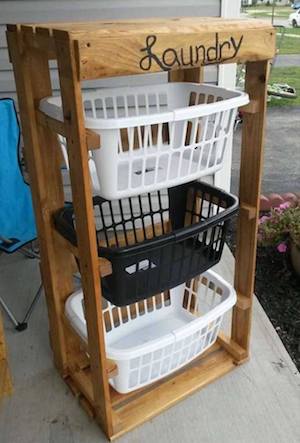 Pallet Laundry Basket Holder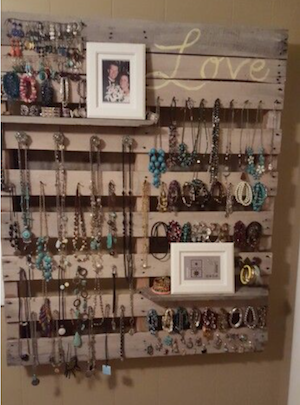 Pallet Jewelry Organizer
assorted hooks, paint or stain (optional) + chalk (optional)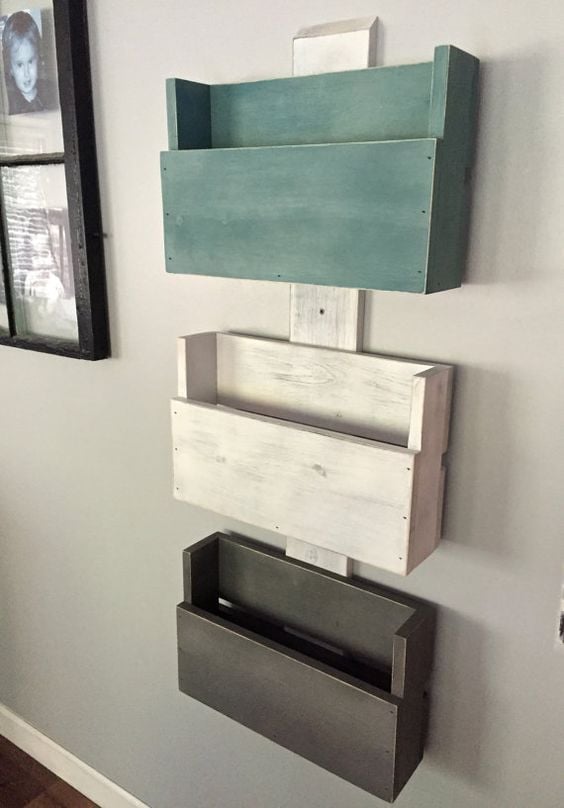 Pallet Letter Organizer (Source Unknown)
---
Outdoor Pallet Projects
Garden Pallet Projects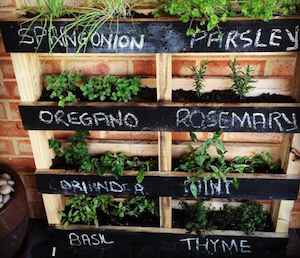 Pallet Vertical Herb Garden
herbs + potting soil + chalk paint + chalk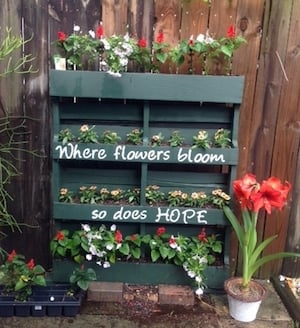 Vertical Flower Garden
outdoor paint (green and white) + staple gun & staples + stencils + potting soil + flowers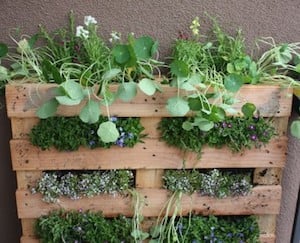 Vertical  Pallet Flower Garden II
potting soil + annual flowers + landscape fabric + staple gun + staples + sand paper.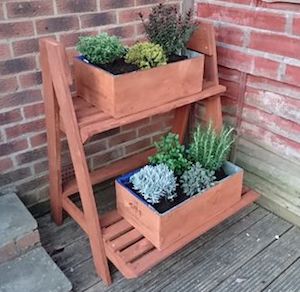 Staggered Pallet Planter
2 x clamps  + wooden boxes + wood stain + general-purpose tarpaulins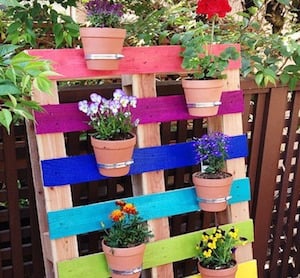 Upcycled Rainbow Pallet Flower Garden Planter
acrylic paints + flat head screw driver + worm clamps + zinc machine bolts and wing nuts +  terra cotta flower pots  + flowers + potting soil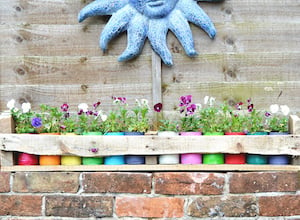 Tin Can Pallet Planter
empty tin cans + colorful paints +acrylic varnish spray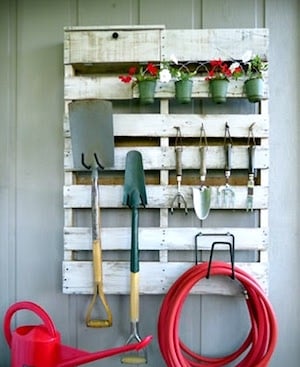 Garden Tool Storage
plant pot strip + primer + hinges + tool hangers + wood screws + knob + magnetic closure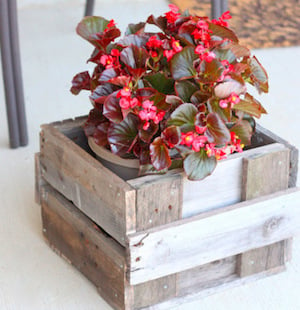 Pallet Planter Box
mitre saw  + extra boards + black craft paint (for weathered look)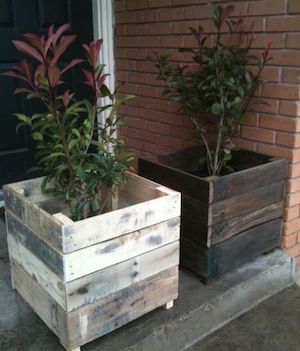 Large Pallet Planter (Source Unknown)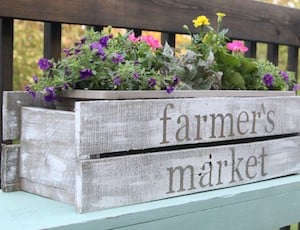 Pallet Planter Box II
plastic planter's box + stencils + black acrylic paint + polycrylic sealer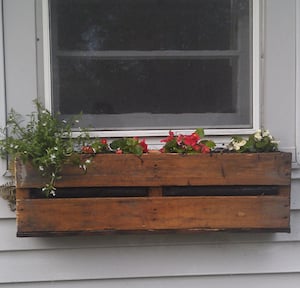 Window Planter Box
flowers + potting soil + screen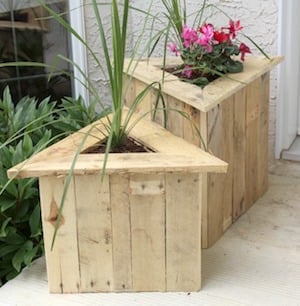 Triangle Pallet Planters
2x2x6 board (per planter) + 2ft x 2ft piece of 1/4″ thk plywood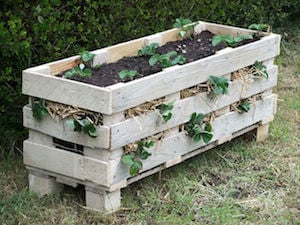 Strawberry Pallet Planter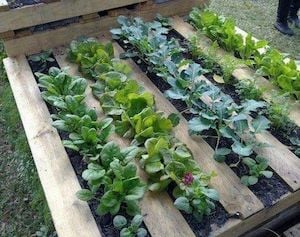 Pallet Garden
potting soil + starter plants of annual flowers + landscape fabric + staple gun + staples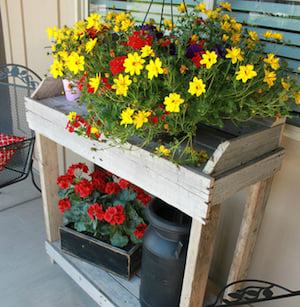 Potting Table
2×4's + brad nailer + paint (optional)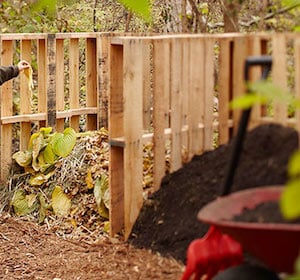 Pallet Compost Bin
4x4s +  heavy-duty wire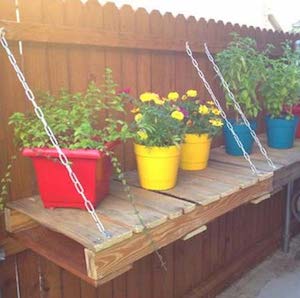 Flower Pot Pallet Shelf (Source Unknown)
washers + screws + heavy duty chains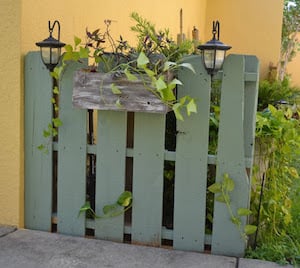 Pallet Garden Fence
porch paint + solar lights + planter box (DIY or buy it)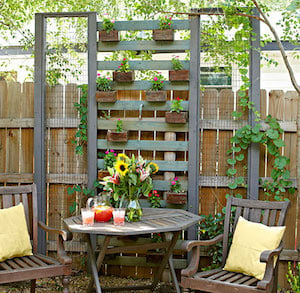 Pallet Garden Trellis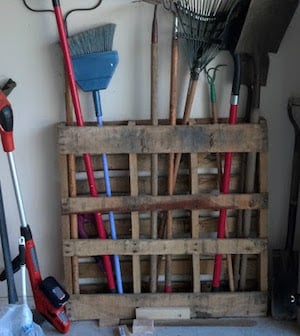 Garden Tool Storage
---
Backyard Pallet Projects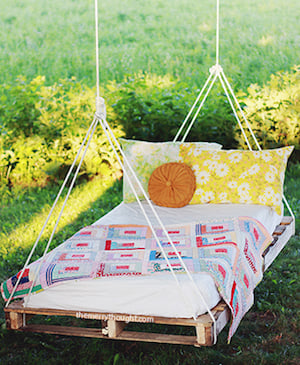 Pallet Swing Bed
lumber + rope +  mattress (with cover)  or cushion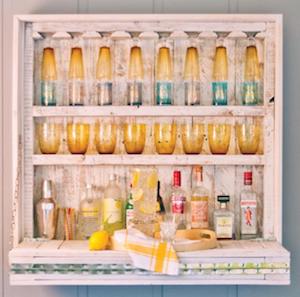 Hanging Outdoor Bar
extra lumber + sure-ties + piano hinges + slide bolts + 3 feet  chain + bolts with nuts + washers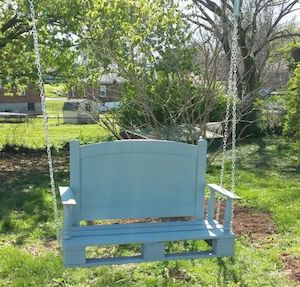 Pallet Swing 
twin headboard (thrift store) + heavy duty chain + outdoor paint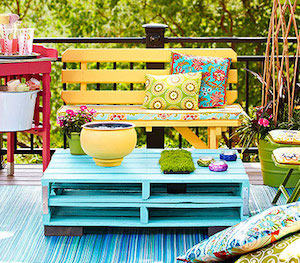 Pallet Outdoor Table
planter box +  mending plates + four concrete half-blocks + primer + exterior paint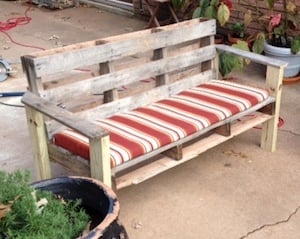 Pallet Patio Bench
carpenter's square  + 8-ft pressure-treated 2×4 + Box of Torx no-drill-needed deck screws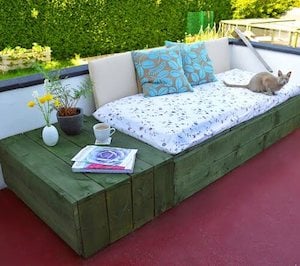 Patio Pallet Daybed 
6 planks + screws + mattress + pillows + fence pain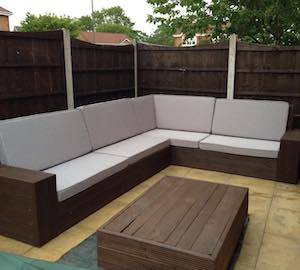 Pallet Sectional Soda
extra lumber (for side and bottom trim) + high density foam sheets + outdoor fabric + outdoor paint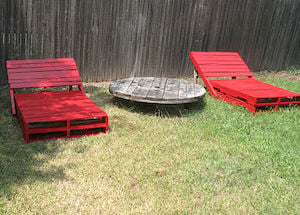 Patio Pallet Lounger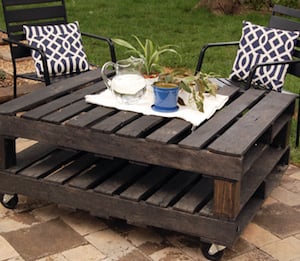 Outdoor Pallet Table
4×4 wood + 4 caster wheels with nuts & bolts + L-brackets & screws + gray stain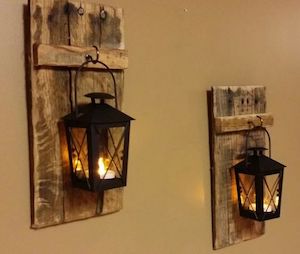 Pallet Lantern (Source Unknown)
natural stain + hook + lantern + tealight candles
---
Front Yard Pallet Projects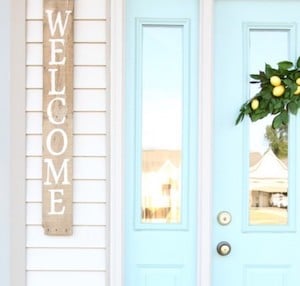 Welcome Sign
stencils + paint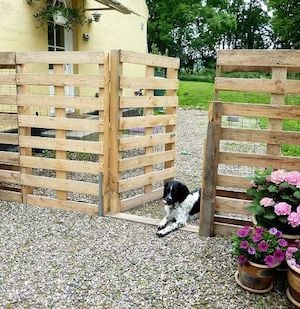 Basic Pallet Fence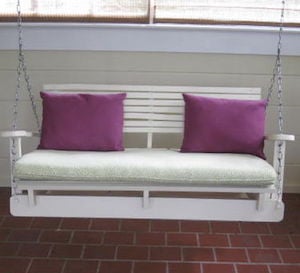 Swing Chair
metal chain and u-bolts + carriage bolts and nuts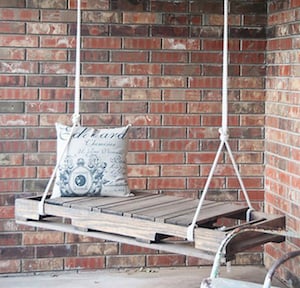 Basic Swing Chair (Source Unknown)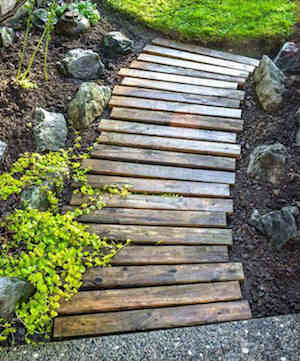 Pallet Walkway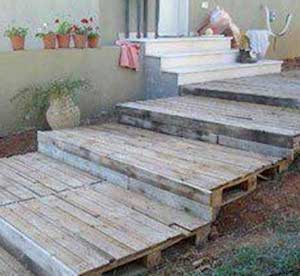 Pallet Stairs (Source Unknown)
---
Holiday Pallet Projects
Christmas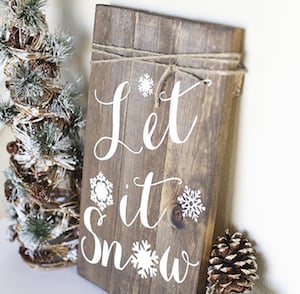 Winter Woodland Sign
dark walnut stain + white acrylic craft paint + stencils + sealer + jute twine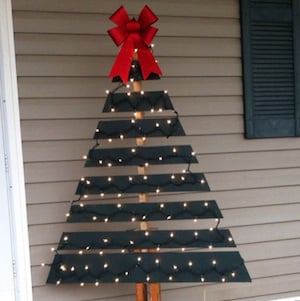 Pallet Christmas Tree
green paint + big red bow + clear string lights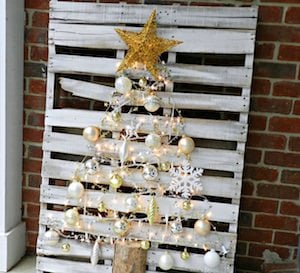 Pallet Christmas Tree II (Source Unknown)
white paint + ornaments + christmas star + clear string lights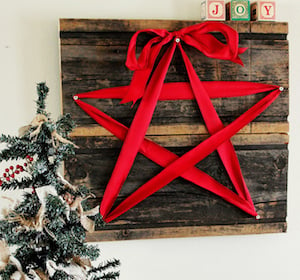 Christmas Star
wide red ribbon + nails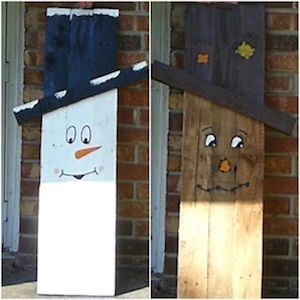 Reversible Snowman and Scarecrow Pallet
painters tape + black paint + white paint + brown paint + wood stain + craft paints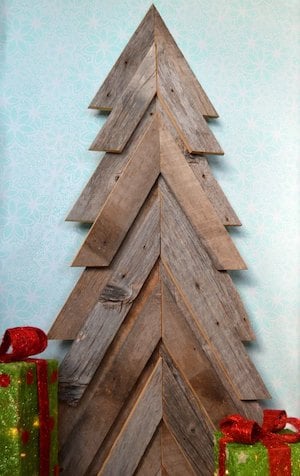 Rustic Pallet Christmas Tree
1 x 4 x 8′ lumber + brad nails + wood glue
Fall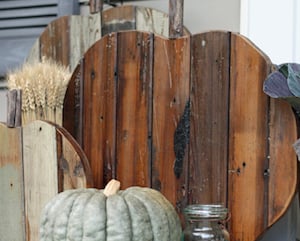 Pallet Pumpkins
scrap plywood + stain  + wax + sealer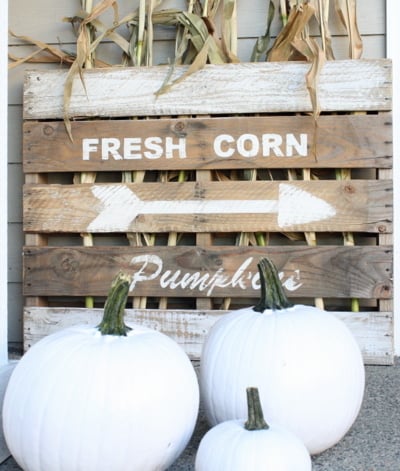 Neutral Fall Pallet Sign
white paint + arrow stencil + letter stencils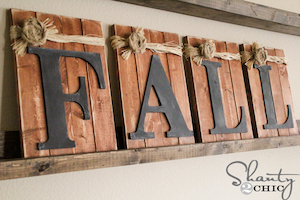 Fall Chalkboard Sign
wood letters + chalkboard spray paint + natural raffia + burlap ribbon + wood stain
4th of July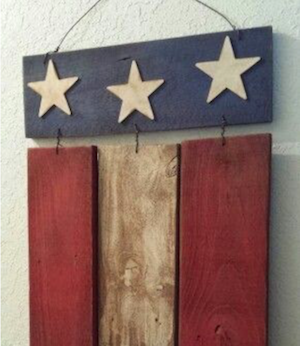 Simple Pallet Flag (Source Unknown)
wire + red, white and blue acrylic paint + wood stars + picture hanging wire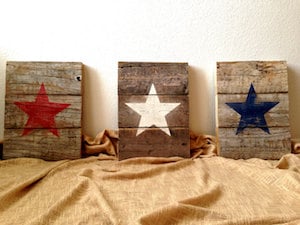 Patriotic Star Pallet Signs (Source Unknown)
large star stencil + red, white and blue paint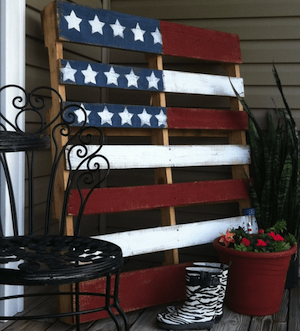 Pallet Flag (Source Unknown)
star stencils + red, white and blue paint