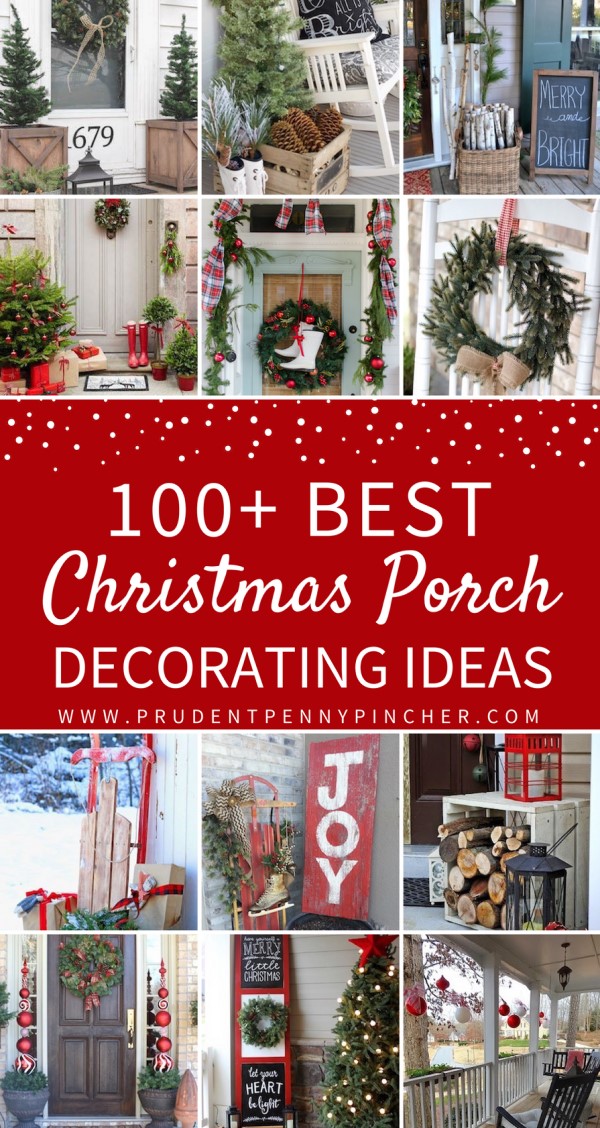 Give your front porch a festive makeover this holiday season with one of these hundred Christmas porch decorating ideas. These stunning porch Christmas displays are sure to impress your guests and improve your curb appeal without breaking the bank!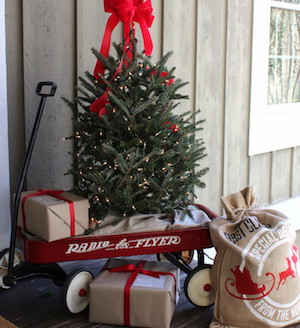 Red Wagon Porch
burlap sack + plastic bubble wrap+ boxes + Kraft paper + red ribbon + old red wagon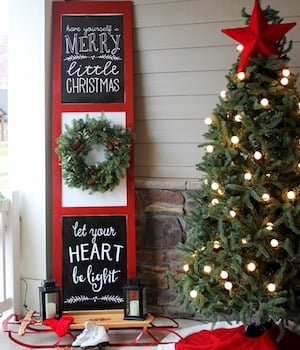 Christmas Porch Door Sign
wood panel door + red paint  + wreath + chalkboard paint + chalk pen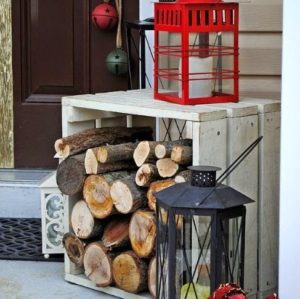 Winter Log Porch Christmas Display
logs + wood crate + lanterns + battery operated candles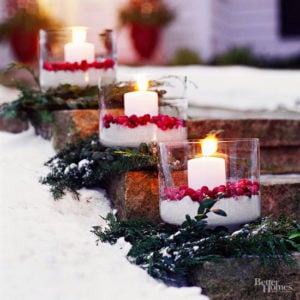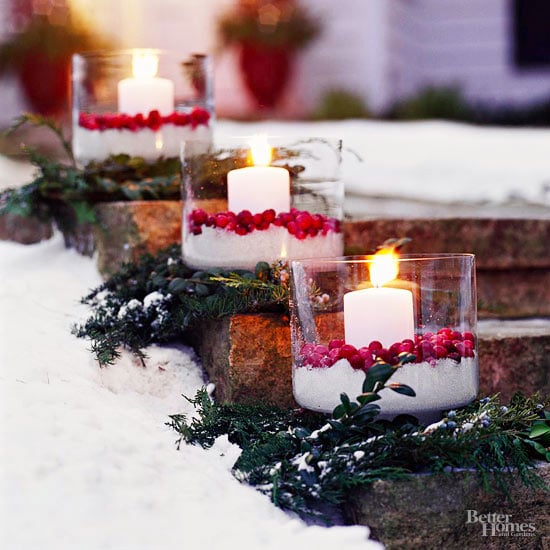 Cranberry Votive Candleholders
Candle Holders (Dollar Tree) + White Votive Candles (4 pack, Dollar Tree)
+ Berries + Evergreen Twigs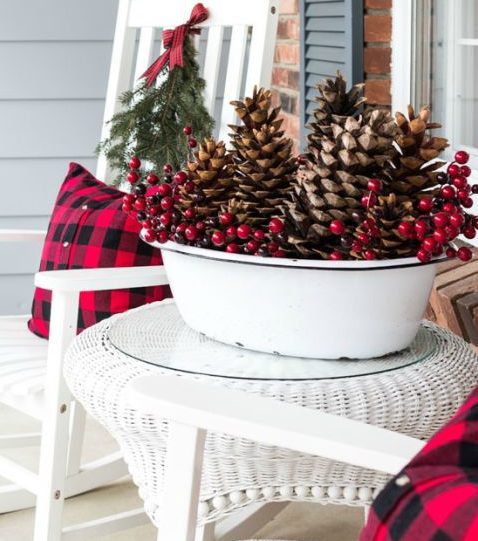 Plaid Christmas Porch
Basket with pinecones and fall berries + Flannel fabric ($3) + Small Pillows
Target has flannel fabric at the dollar spot for $3 and you can sew it onto a spare pillow. Here's how. It's easy and only takes 10 minutes. Also, you can get the fall berries from Dollar Tree and use wire cutters to cut them from the stem.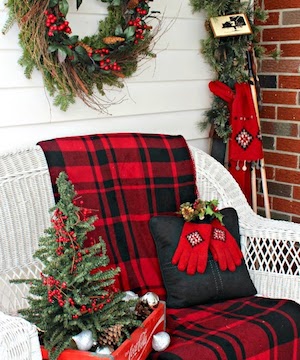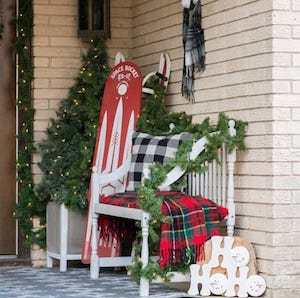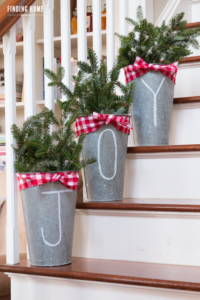 10 Minute Chalk Pen Christmas Buckets
Milk Pails (Dollar Tree) + Red Fabric + Clippings of Evergreens + White Sharpie ($2 – Walmart)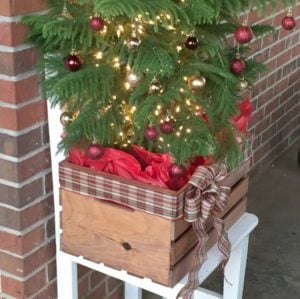 Wood Crate Faux Planter
Wood Crate + Christmas Ribbon (Dollar Tree)+ Red Tissue Paper (Dollar Tree) + Ornaments (Dollar Tree) + Clear Lights (20 ct, Dollar Tree)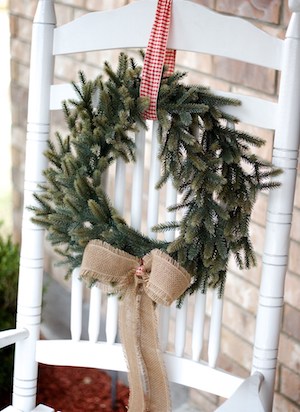 Porch Chair Wreath
small wreath + burlap ribbon + red stripped ribbon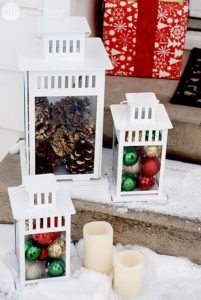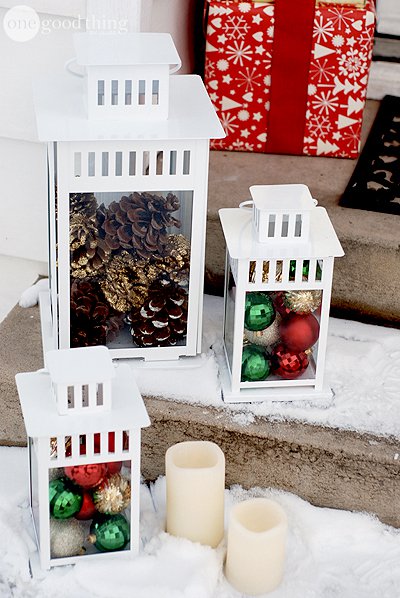 Christmas Lanterns
Lanterns (Thrift Store $3) + Ornaments (Dollar Tree) + Pinecones
You can take any lantern you find at a thrift store and spray paint it white ($1 at Walmart). The lanterns in the picture come from IKEA ranging from $8 to $15.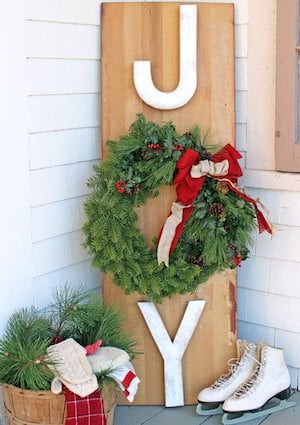 Joy Outdoor Wreath Sign
wood board + large letters + white paint + coat hanger + wreath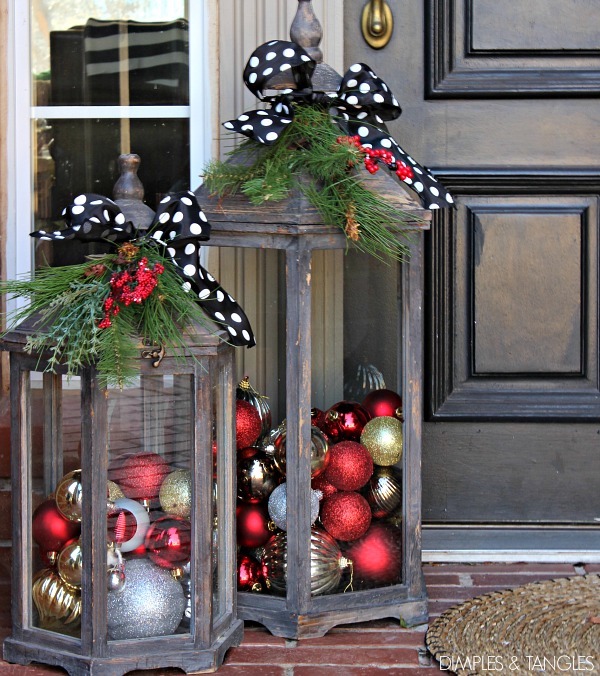 Christmas Lanterns II
Here is an awesome tutorial for how to make wood lanterns out of scrap wood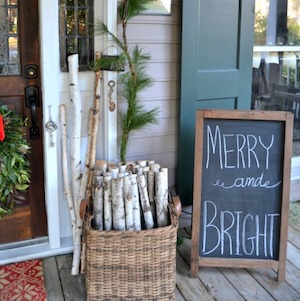 White Birch Logs and Chalkboard
chalkboard + chalk + wicker basket + logs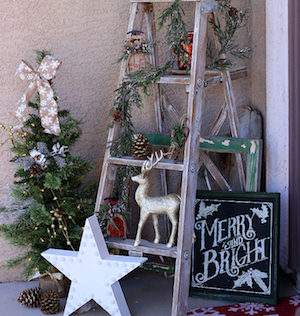 Outdoor Rustic Glam Decorations
old ladder + pinecones + evergreen branches + home decor accents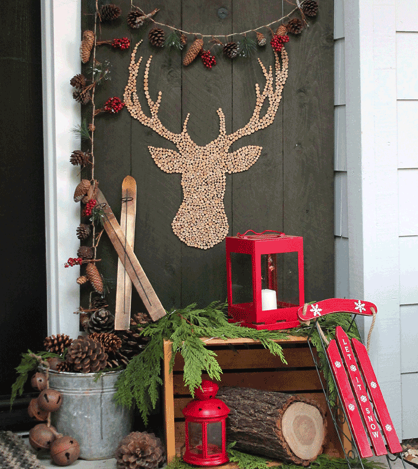 Simple Rustic Winter Front Porch
lanterns + wood crate + log + galvanized bucket.+ evergreen clippings + old sleigh bells + pinecones + wood slice stag head art
You could also use the deer head string art for a quick and easy project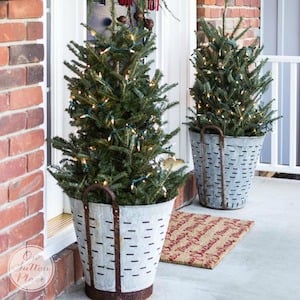 Festive and Frugal Christmas Porch
galvanized olive baskets + small trees + clear lights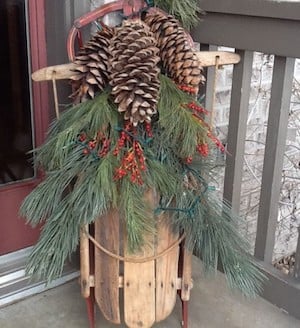 Old Sled with Evergreen and Pinecones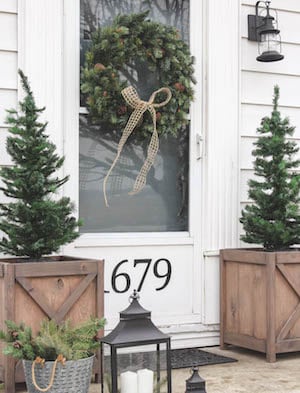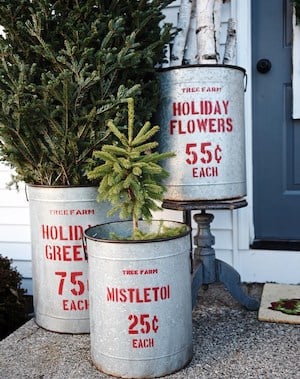 Rustic Christmas Porch
red acrylic paint + vintage galvanized buckets + letter & number stencils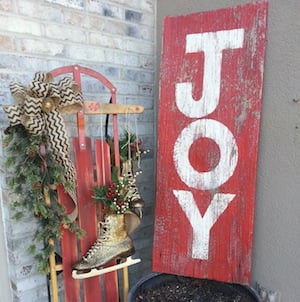 Joy Wood Sign and Old Sleigh Porch Idea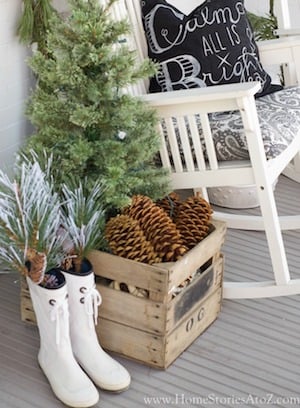 Christmas Porch with Repurposed Finds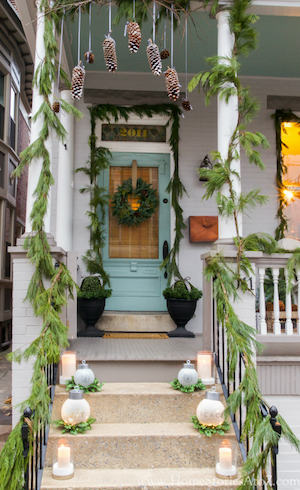 Natural Christmas Porch
evergreen branches + pinecones + floral wire + ribbons + gingham ribbon
The oversized ornaments are made from globe lights and tuna cans. The instructions are here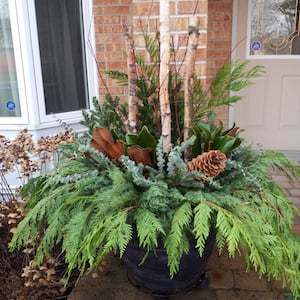 Holiday Planter DIY
urn + foam block + branches + variety of greenery + pinecones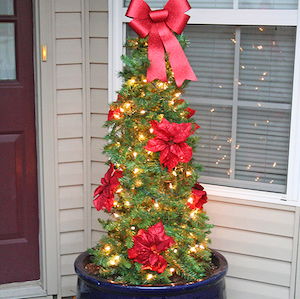 Tomato Cage Christmas Tree
clear lights + tomato cage + garland + zip ties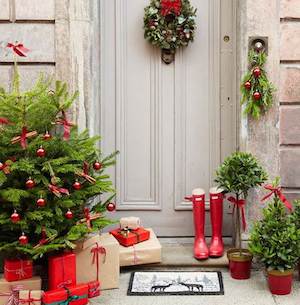 Christmas Tree and Presents Front Porch (source unknown)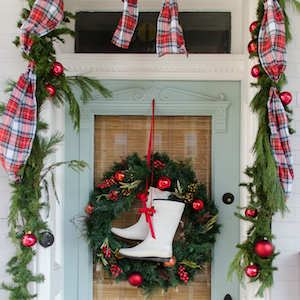 Christmas Porch Decorating Idea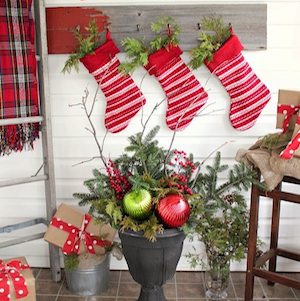 DIY Christmas Urns on a Budget
twigs + Christmas tree trimmings + faux berries + giant Christmas ornaments.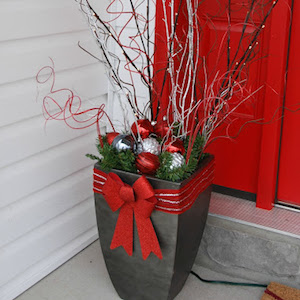 Christmas Planter
double-sided tape + ribbon + twist-tie + pine garland + LED sticks + Christmas ornaments + large sprays  + bow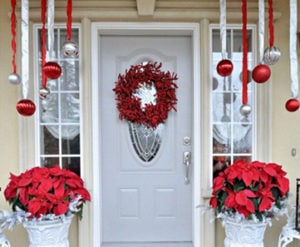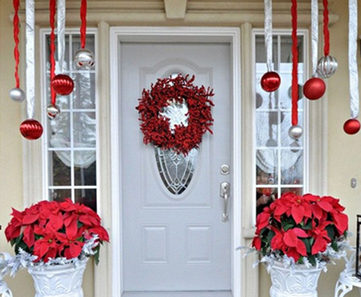 Hanging Ornament Porch Idea
Fishing Line or Ribbons to Hang Ornaments + Assortment of Decorative Ornaments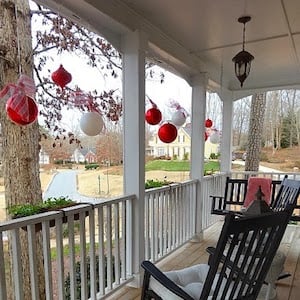 Hanging Oversized Ball Ornaments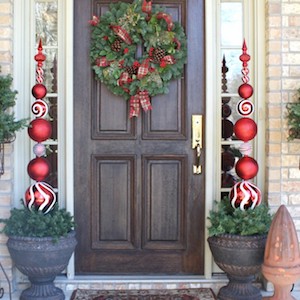 DIY Tall Ornament Topiary 
assortment of round ornaments + urn + dowel + pottery plaster + drill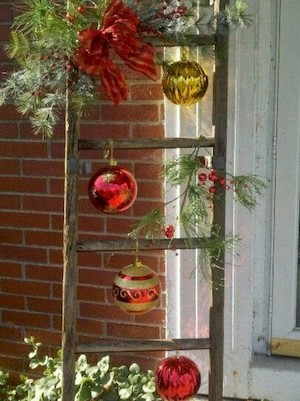 DIY Ladder Christmas Decoration
ornaments + berry sprigs + evergreen clippings
Here is a tutorial for how to make the ladder for only $5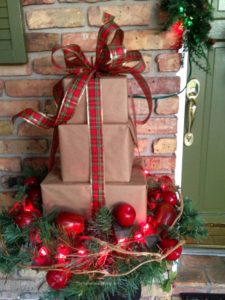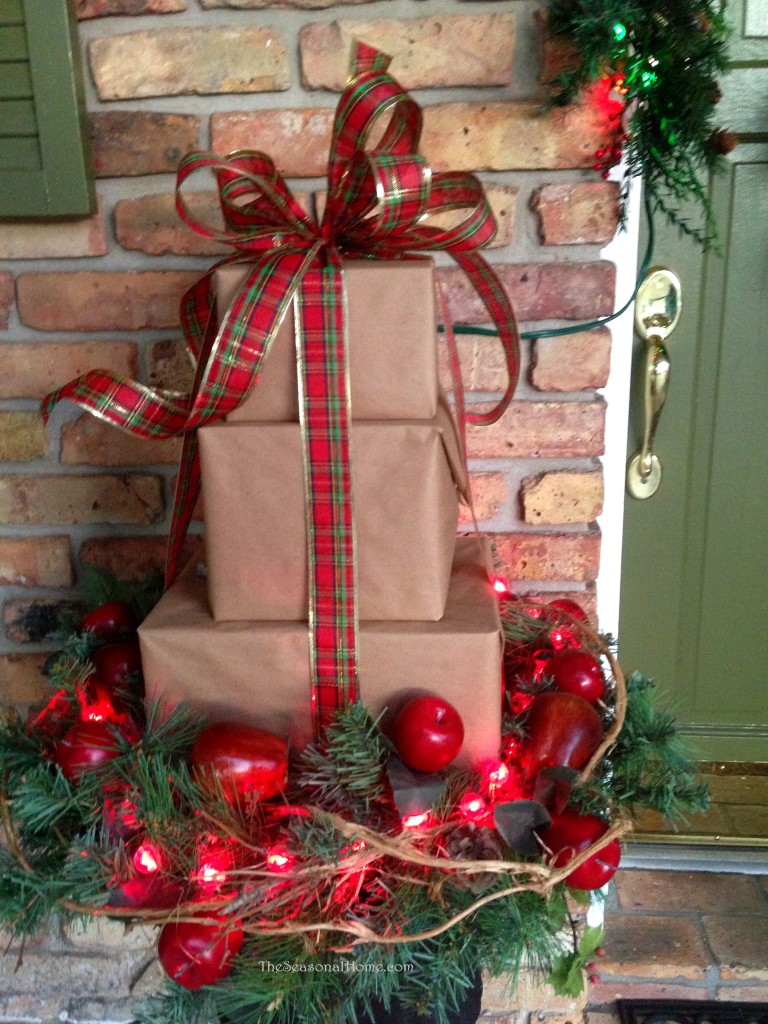 Faux Christmas Gifts
Empty Boxes + Kraft Paper + Christmas Ribbon (Dollar Tree) + Pine Branches + 20 Count Christmas Lights (Dollar Tree) + Ornaments or Other Accents (Dollar Tree)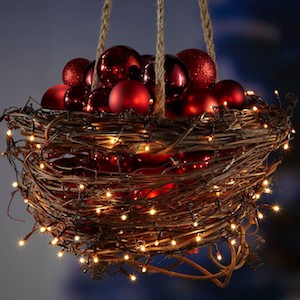 Hanging Basket Porch Decoration
hanging basket planter + battery operated lights + ornaments
You could also add some evergreen clippings and pinecones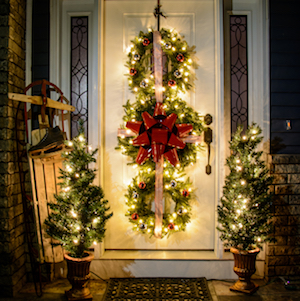 Christmas Wreath Trio DIY
pre-lit Christmas pine wreaths +  red ribbons + red bow + aluminum hobby wire  + ornaments + wreath hanger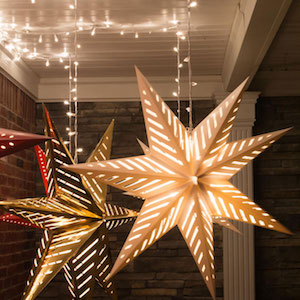 Hanging Star Lanterns for Front Porch
Command Outdoor Hooks + paper stars lanterns + white light strands + extension cords + twist ties
Here is a DIY tutorial for how to make paper star lanterns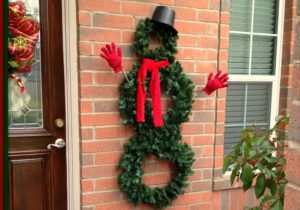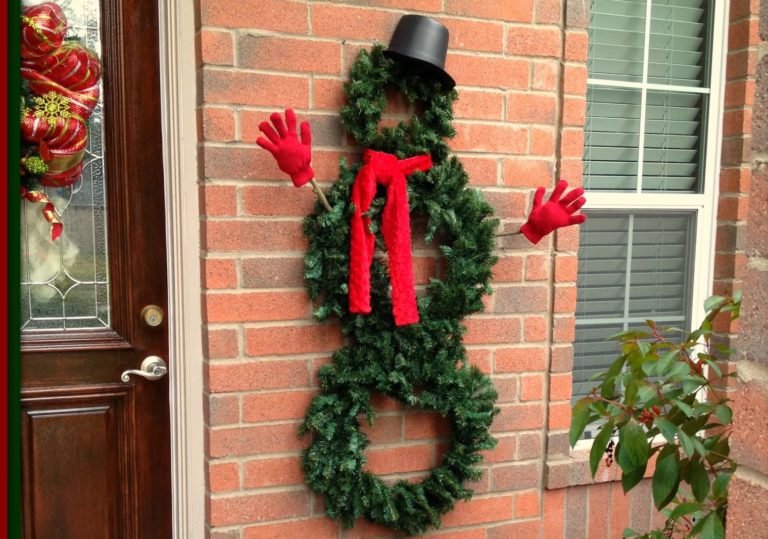 Snowman Wreath (source unknown)
3 Basic Wreaths + Cardboard Top Hat (tutorial here) + Sticks + Scarf and Gloves ($2 each – Walmart)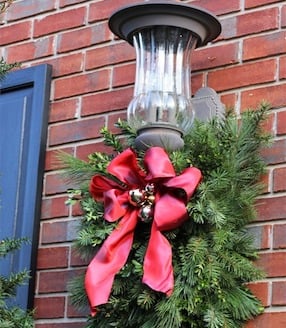 Christmas Porch Light Greenery
Foam block + Wire coat hanger + green chenille stems + florist pins+ greenery + ribbon+ ornaments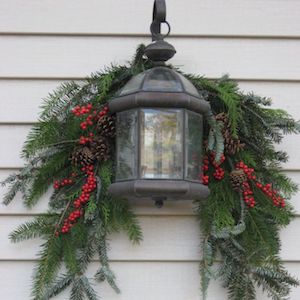 Christmas Light with Greenery
evergreen clippings + berry sprigs + floral wire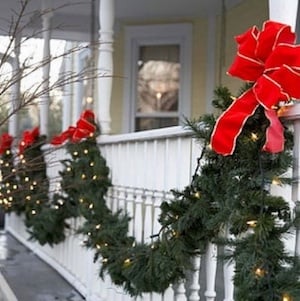 Simple Christmas Garland Bunting
garlands + red bows + clear lights + twist ties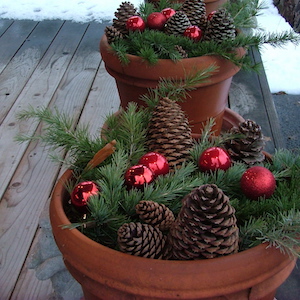 Terra Cotta Christmas Decoration
terra cotta pot + evergreen clippings + ornaments + pinecones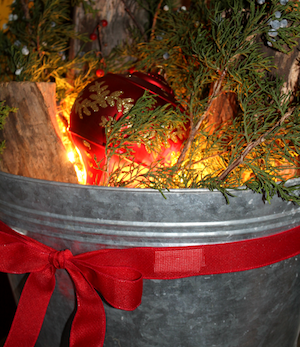 Christmas Bucket
firewood + bucket + red ribbon + ornaments + evergreen clippings + berry sprigs + lights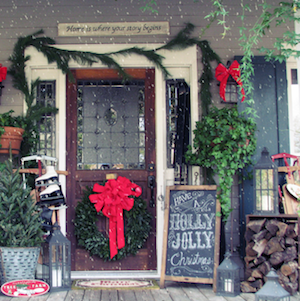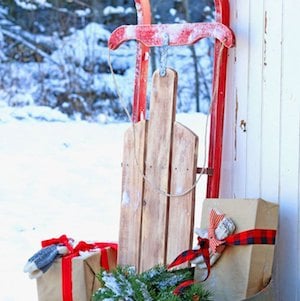 DIY $10 Vintage Sled
pine board + wood glue + paint + hammer & nails + saw and drill + carpet tacks + twine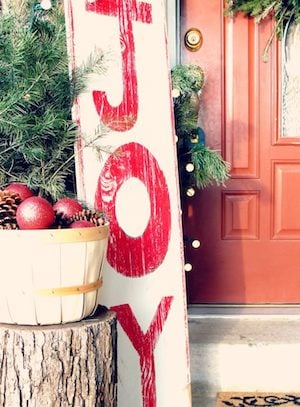 Joy Porch Sign
wood board + red & white paint + stencils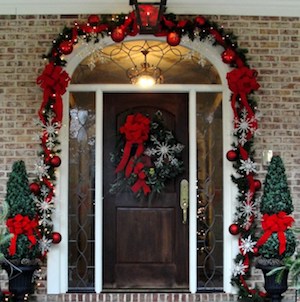 Christmas Entrance with Bows, Ornaments and Snowflakes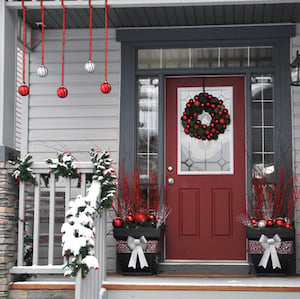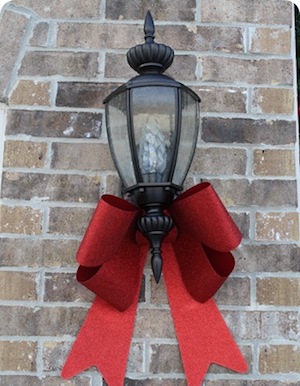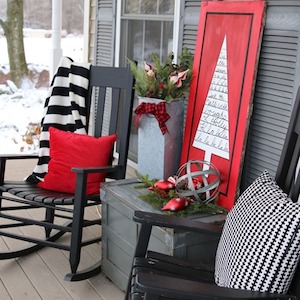 Sharpie Christmas Tree Art Sign DIY
share + wood board + painter's tape + red paint + white paint + clear sealer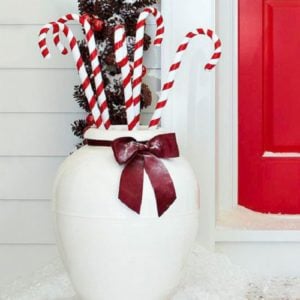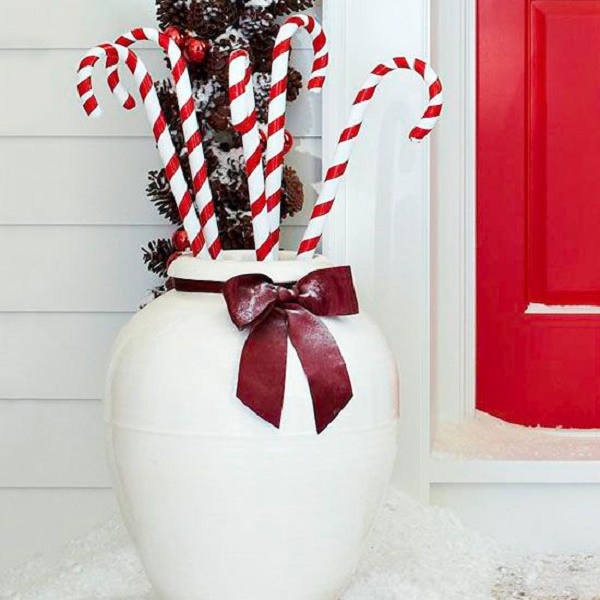 Large Plastic Candy Canes (Dollar Tree) + Red Ribbon (Dollar Tree) + Urn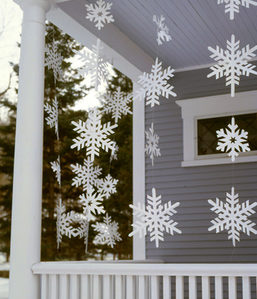 Paper Snowflakes
Paper + Fishing Line
You can use printer paper and get it laminated at your local library for free or trace the pattern onto white foam.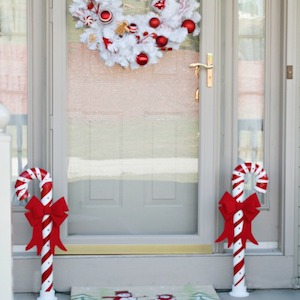 Lighted PVC Candy Canes
PVC pipe, strain, P-trap & street elbow + painter's tape + sandpaper + spray paint & primer + lights + bow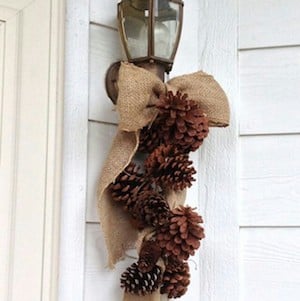 Burlap and Pinecone Hanging Decoration (source unknown)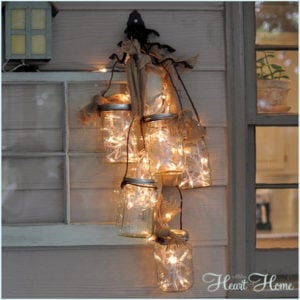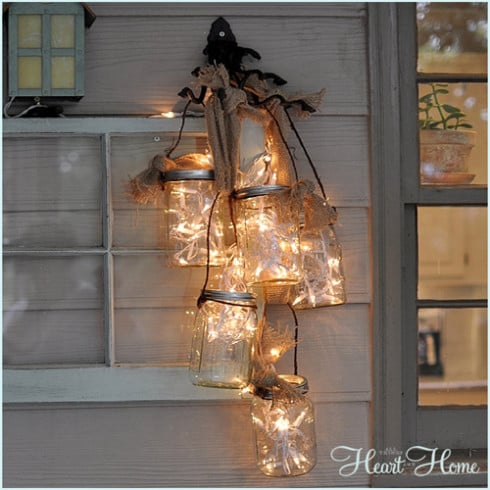 Mason Jar Christmas Lights
Mason Jars + White Christmas Lights + Burlap Ribbon + Command Hook (Dollar Tree)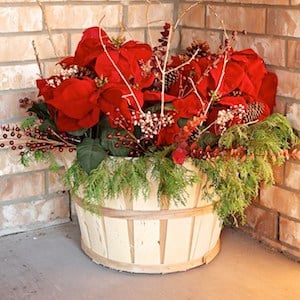 Fall to Winter Floral Arrangement
Apple Bushel + evergreens clippings + berry sprigs + + sticks + poinsettias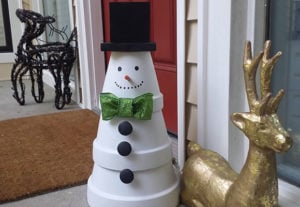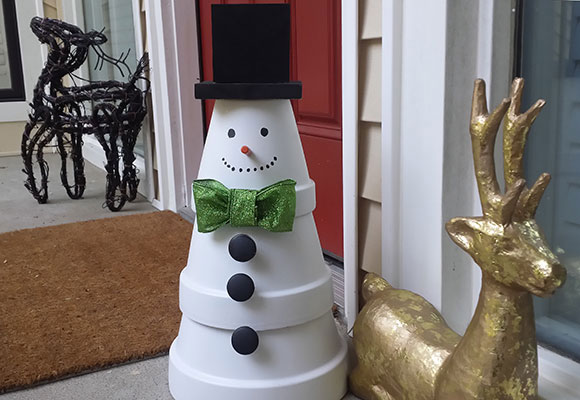 Terra Cotta Snowman
Small, Medium and Large Terra Cotta Pots ($1-$4 at Home Depot)
+ Wood Blocks ($1each- Craft Store) + Black Acrylic Paint ($0.50 Walmart) + Wood Balls (Pack for $1.50 – Craft Stores) + White & Black Spray Paint ($1 each- Walmart)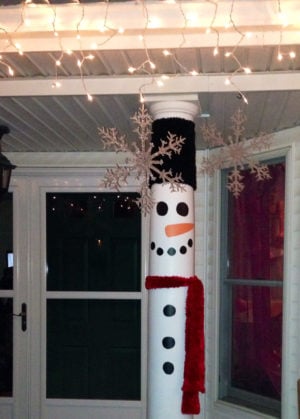 Snowman Porch Pillar
black and orange felt +  double sided tape + fabric for hat and scarf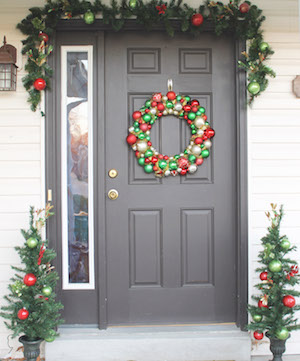 Red and Green Christmas Ornament Porch (Source Unknown)
mini trees + garlands + glittery floral picks + ornaments + ornament wreath + planter for trees
Here is a tutorial for how to make the ornament wreath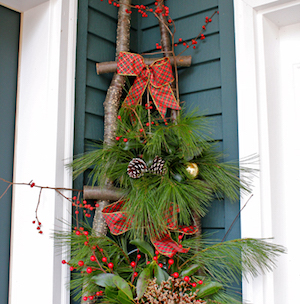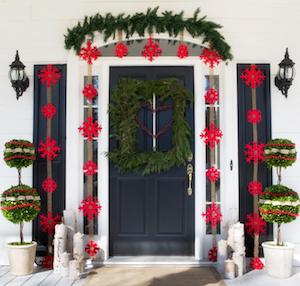 All-Natural Holiday Porch
burlap ribbon + felt & cardstock (for snowflakes + evergreen clippings + square foam wreath + twine + birch logs + tea light candles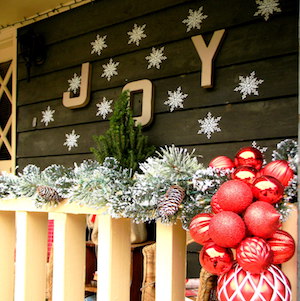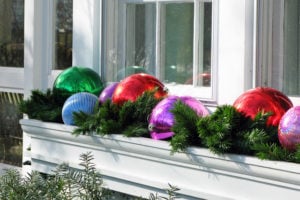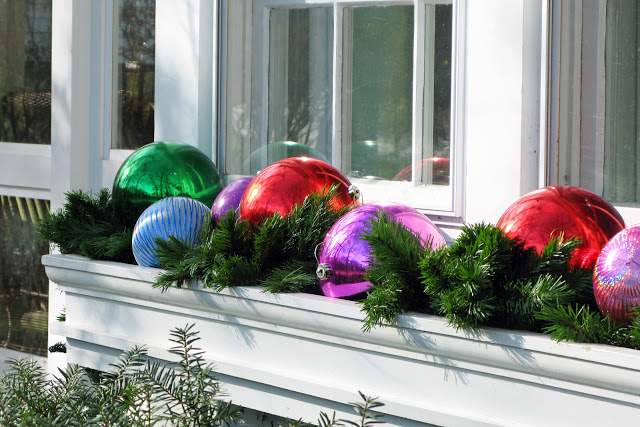 Ornament Planter
Garland (Dollar Tree) + Colorful Large Ornaments (Dollar Tree)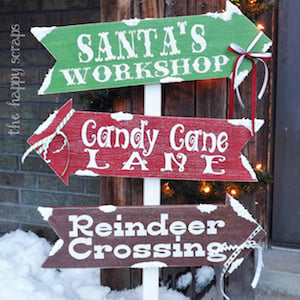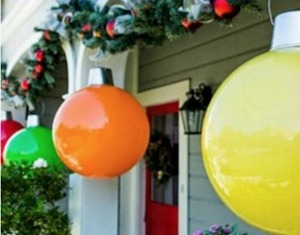 Giant Hanging Ornaments DIY
plastic ball + pint-size deli container + coat hanger + silicone glue + spray paint + garden hook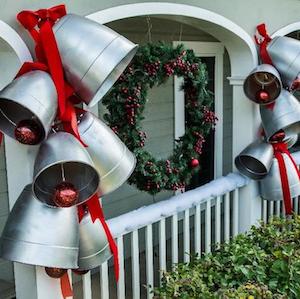 Giant Silver Bells
plastic pots + large plastic ornaments + eye bolt with nut + rope + silver spray paint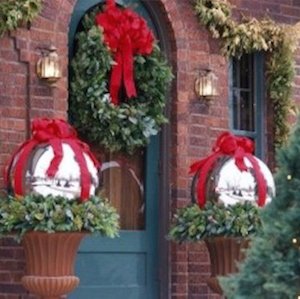 $2 Large Silver Balls (source unknown)
$2 plastic balls + silver spray paint + red ribbon and bows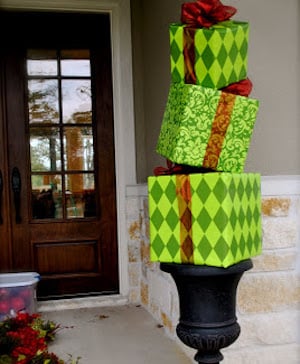 Christmas Present Topiary 
urn or planter + rebar or dowel + wrapped boxes of varying sizes + double sided tape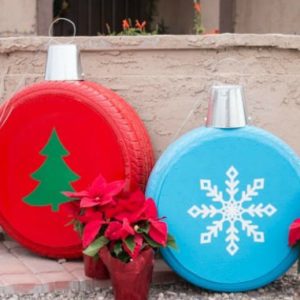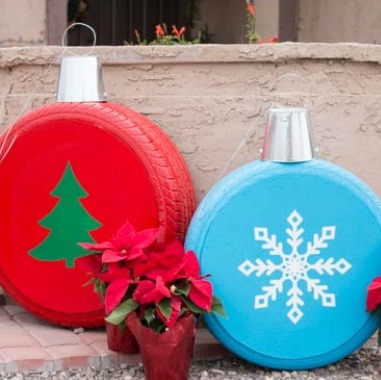 Giant Ornaments from Old Tires
tire + scrap plywood + liquid nails + large stencil + spray paint + staple gun + saw + drill + small galvanized bucket + wire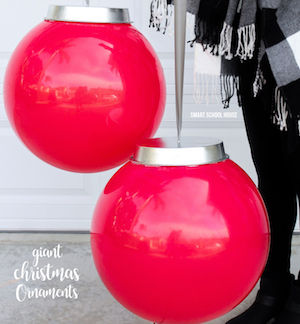 Giant Ornaments (using Dollar Tree Cake Pans)
kids play ball + Gorilla Glue + 9 inch round cake pan + silver ribbon + hammer & nail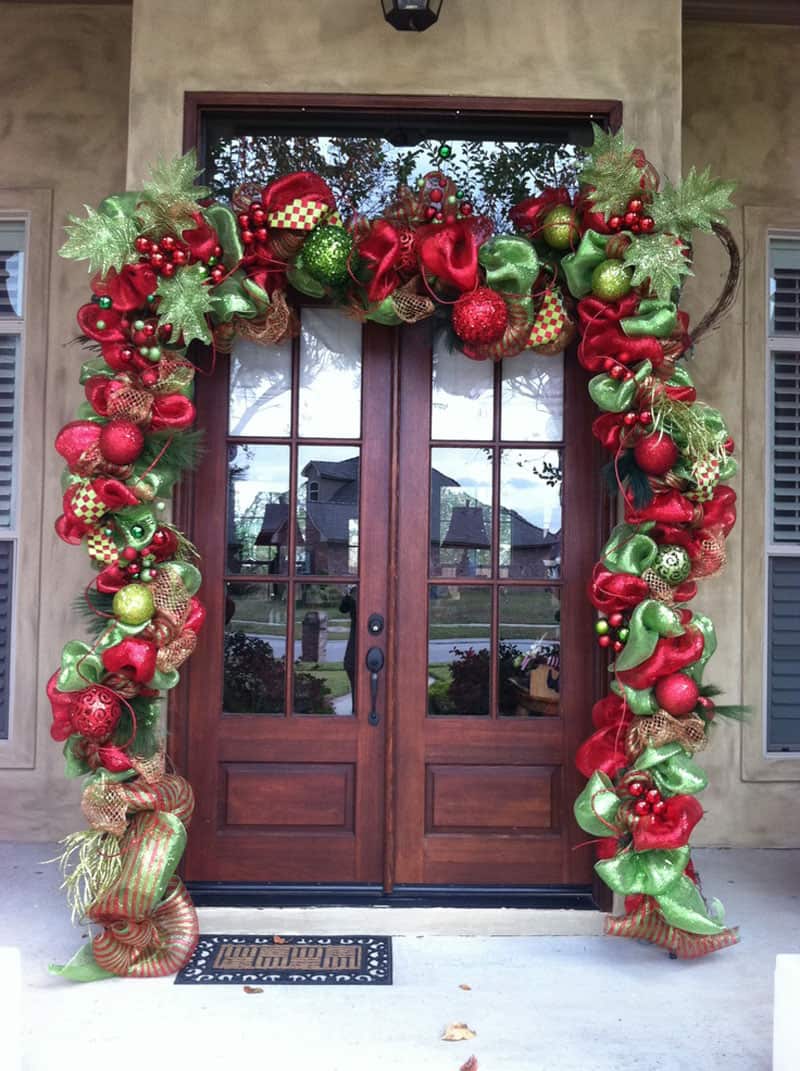 Deco Mesh Christmas Door (Source Unknown)
Here is a tutorial for how to make your own deco mesh door garland for cheap