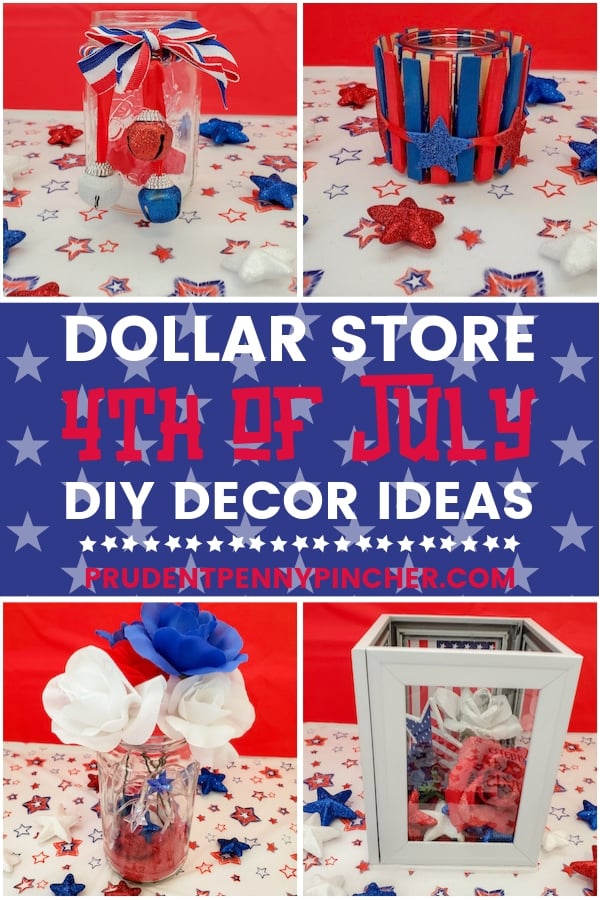 Show your patriotism with these DIY Dollar Store 4th of July Decor Ideas. These DIY projects are cheap and easy to make so they are great for last minute 4th of July decorations such as centerpieces for parties and cookouts or craft projects for kids (with adult supervision since these projects use glue guns).
All of these Dollar Store 4th of July Decor ideas cost less than $10 to make and most of them are under $5. The costs of these projects don't count basic crafting supplies that I already have such as a glue gun, glue sticks, scissors, paintbrush, tape, etc. Only the costs of the materials purchased at Dollar Tree.
These Dollar Store 4th of July Decor ideas take under 15 minutes to make and don't require much difficulty to complete them, making them perfect for beginner crafters or for those looking for easy DIY ideas without a lot of effort.
Dollar Store 4th of July Decor Ideas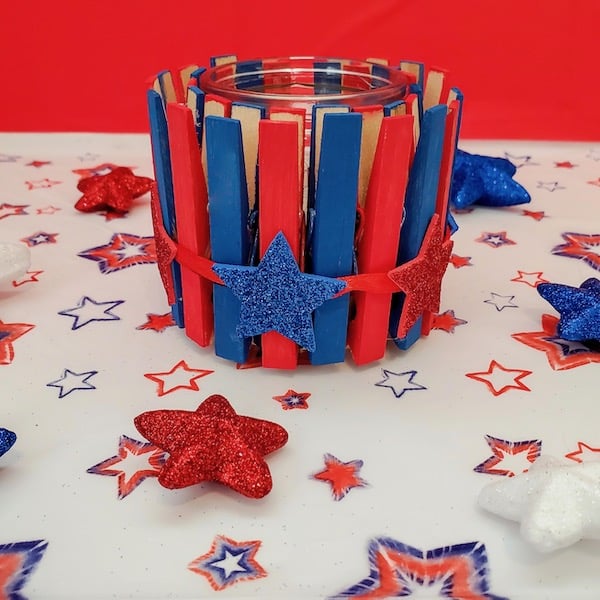 Patriotic Clothespin Candle
Supplies:
votive candle in glass jar (make sure the height of the candle matches the height of the clothespins)
clothespins
red and blue acrylic paint
paintbrush
narrow red or blue ribbon
foam star stickers
glue gun
scissors
Total Cost: $5
Time: Less than 15 Minutes (not counting the time it takes to dry)
Difficulty Level: Easy
Instructions:
Paint an equal number of clothespins red and blue. I used around 10 of each, but it will depend on the size of you candle.
Allow the paint to dry. Mine took about 20 minutes to dry completely.
Glue the backs of each clothespin to the candle, alternating the colors.
Cut off an appropriate length of the ribbon to go around the candle.
Wrap the ribbon around the wire part of the clothespins to hide it and glue it in place.
Add foam star stickers around the center of the candle.
Tip: If you are using this centerpiece outdoors and have candle-making accessories, you can make your own citronella candle and put it in a glass votive candleholder to repel mosquitos.
---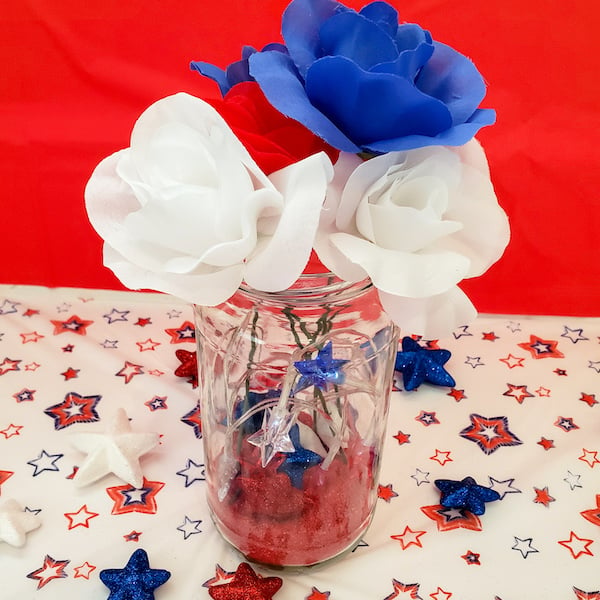 4th of July Lighted Mason Jar Centerpiece
Supplies:
empty large jar with the label removed using goo gone
red sand
patriotic flowers
LED star lights
two AA batteries
tape
small screwdriver
foam star scatter
other optional embellishments (ribbon, bow, twine, foil star garland, etc)
Total Cost: $5
Time: Less than 3 Minutes
Difficulty Level: Easy
Instructions:
Unscrew the screw from the back of the LED star lights' battery compartment.
Put the batteries in.
Tape along the corners of the battery pack (so that no sand will get in).
Turn it on and place the battery pack on the bottom of the jar.
Cover with red sand until it can't be seen.
Layer the LED stars and foam star scatter.
Add patriotic flowers.
Optional – you can add red twine or a narrow ribbon around the mouth or neck of the jar if you would like added embellishment.
This project comes together very quickly, but you need to use it immediately if you are using the dollar tree star lights unless you plan to hide the battery pack another way, which depends on where you plan on putting the centerpiece. You could use also LED fairy lights with timers or remote controls instead, but they don't sell those at Dollar Tree.
---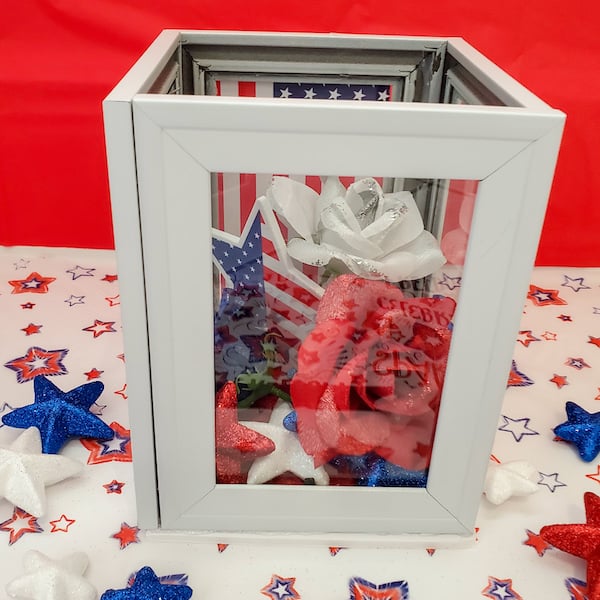 Patriotic Lantern
Supplies:
4 white picture frames (I used 4×6 ones, but you can use any size you want)
glue gun
box cutters / craft knife
white foam board
patriotic flowers
foam star scatter
red sand
optional patriotic embellishments – cardboard flag, ribbons, foil star garland, LED star lights
Total Cost: $8
Time: Less than 10 minutes
Difficulty Level: Easy
Instructions:
Remove plastic wrap, insert and backing from picture frames. Clean glass, if needed.
Bend back the tabs on the picture frames and glue the glass to the frame (so that the tabs won't be seen)
Glue the side of one frame to the side of the other one (perpendicular to each other).
Repeat the process with the remaining two frames until a square frame has been achieved.
Put the lantern on top of a white foam board and trace with pencil.
Using an X-ACTO knife or box cutter, cut out the shape and erase pencil marks.
Glue the foam board base to the bottom of the lantern.
Add red sand to the bottom of the lantern.
Layer with flowers, foam stars, garlands, and any other embellishments you would like. I cut down a double sided cardboard flag to the size of the glass frame and added it back of the lantern, but you don't have to do this.
Tip: You can also take this project to the next level by adding a top to the lantern and putting a floral spray with deco mesh, a bow, patriotic picks, & foil star sprays inserted into a small foam block. I did not do this because I wanted to keep it simple and under $10.
---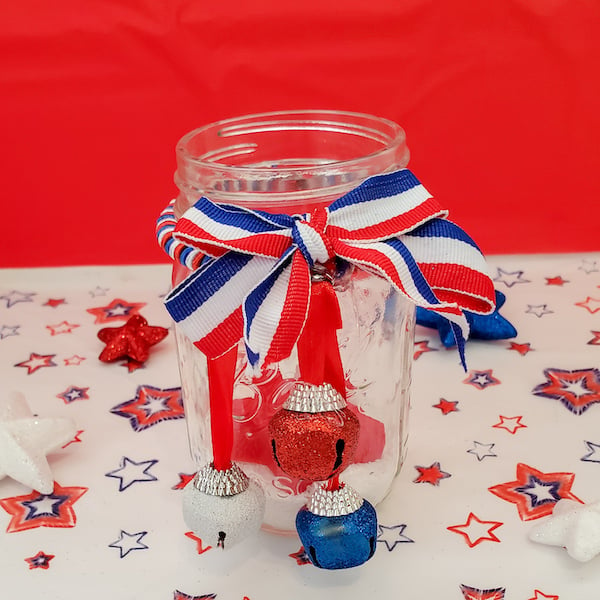 Patriotic Mason Jar Centerpiece
Supplies:
empty jar
white sand
patriotic door hanger
LED star tea light candle
glue gun
sharp scissors
Total Cost: $4
Time: Less than 5 Minutes
Difficulty Level: Easy
Instructions:
Cut off the two longest ribbon bells. If the you feel that the other bells are too long for you, you can wrap them around the back of the band until they are at the desired height.
Cut the back of the door hanger using sharp scissors.
Glue the cords on each side of the band together so it doesn't unravel.
Then, glue the door hanger below the neck of the jar.
Add half a bag of sand.
Place the LED candle on top of the sand
Other Dollar Store 4th of July Decor Ideas: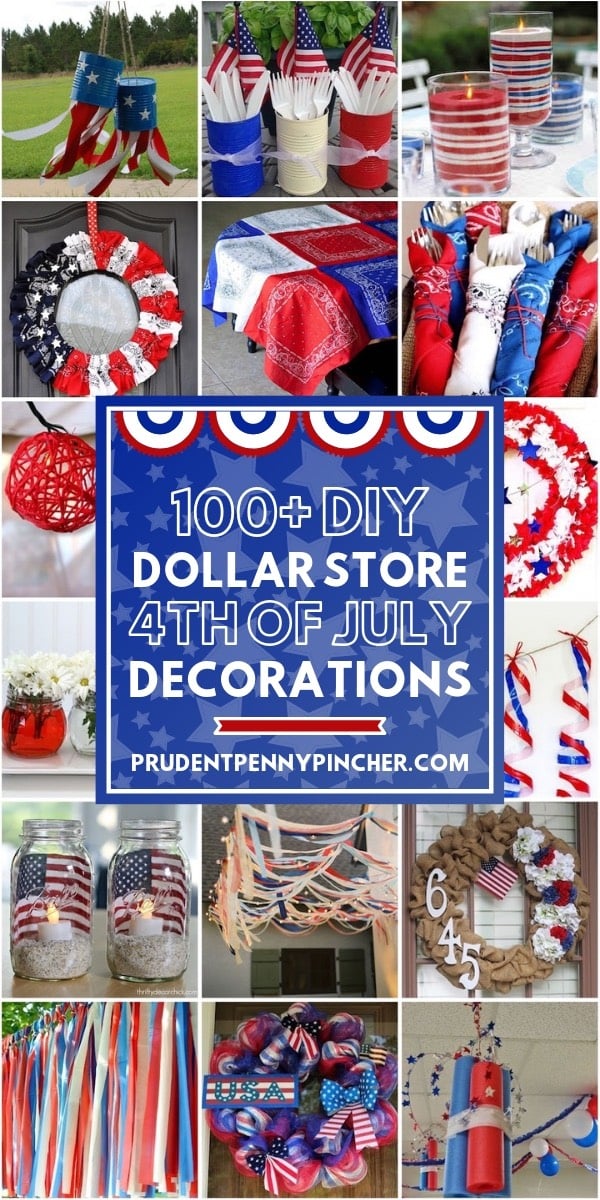 100 DIY Dollar Store 4th of July Decorations