Give your kid's favorite teacher a heartfelt thank you card with one of these free printable teacher appreciation cards that you can easily download and print from your home printer!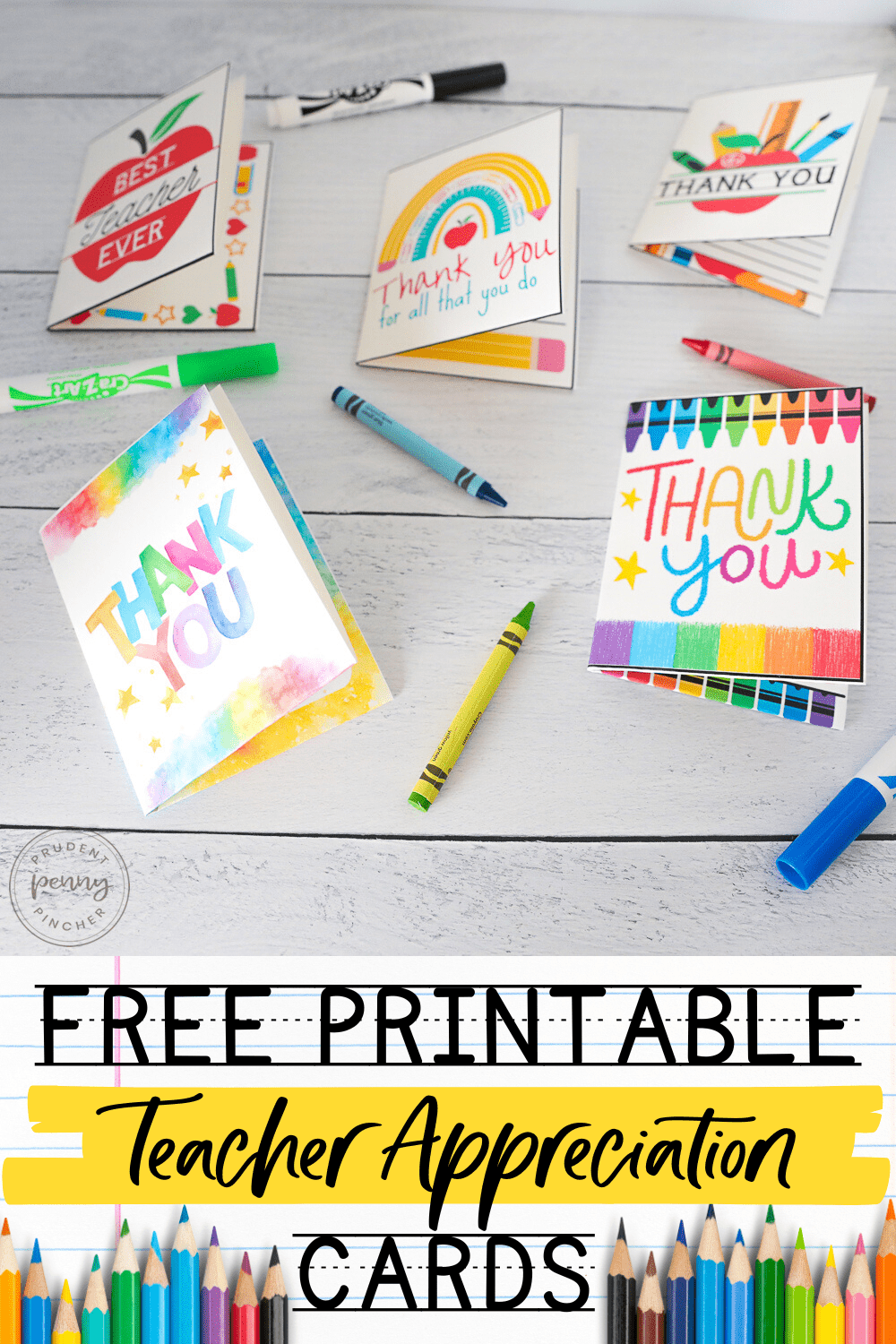 These free printable cards are an easy yet thoughtful way to show your child's teacher that you appreciate them! They're easy to personalize because the inside of the cards includes space to write a heartfelt note to the teacher. There are many templates to choose from, making it easy to find the perfect handmade card that best suits your teacher's personality. Whether you are looking for a card for Teacher Appreciation Week or Teacher's Day, there are plenty of fun card ideas for any occasion to thank your teachers!
These free printables will save you time and money! The great thing about these cards is that you can print one out in minutes, which makes it a great last-minute gift idea for teachers. All you need to do is choose your design and print it out. Not to mention buying a card from a store can be pricey, so these cards are an excellent option for parents and students on a tight budget who want to show appreciation to their teachers without breaking the bank. You only need a printer and some paper to make them.
Pair these foldable teacher cards with a DIY teacher appreciation week gift and one of these free printable gift tags or with one of these free gift card printables for teachers! These homemade cards will surely put a smile on your teacher's face and brighten their day.
Supplies Needed:
white cardstock, glossy paper, or white paper

I strongly recommend cardstock or glossy paper for the best print quality and durability.

printer
ink
scissors or paper trimmer
Letter-sized PDF file printable teacher cards – You can download them below individually, also.

Please note that this free download is for PERSONAL USE ONLY!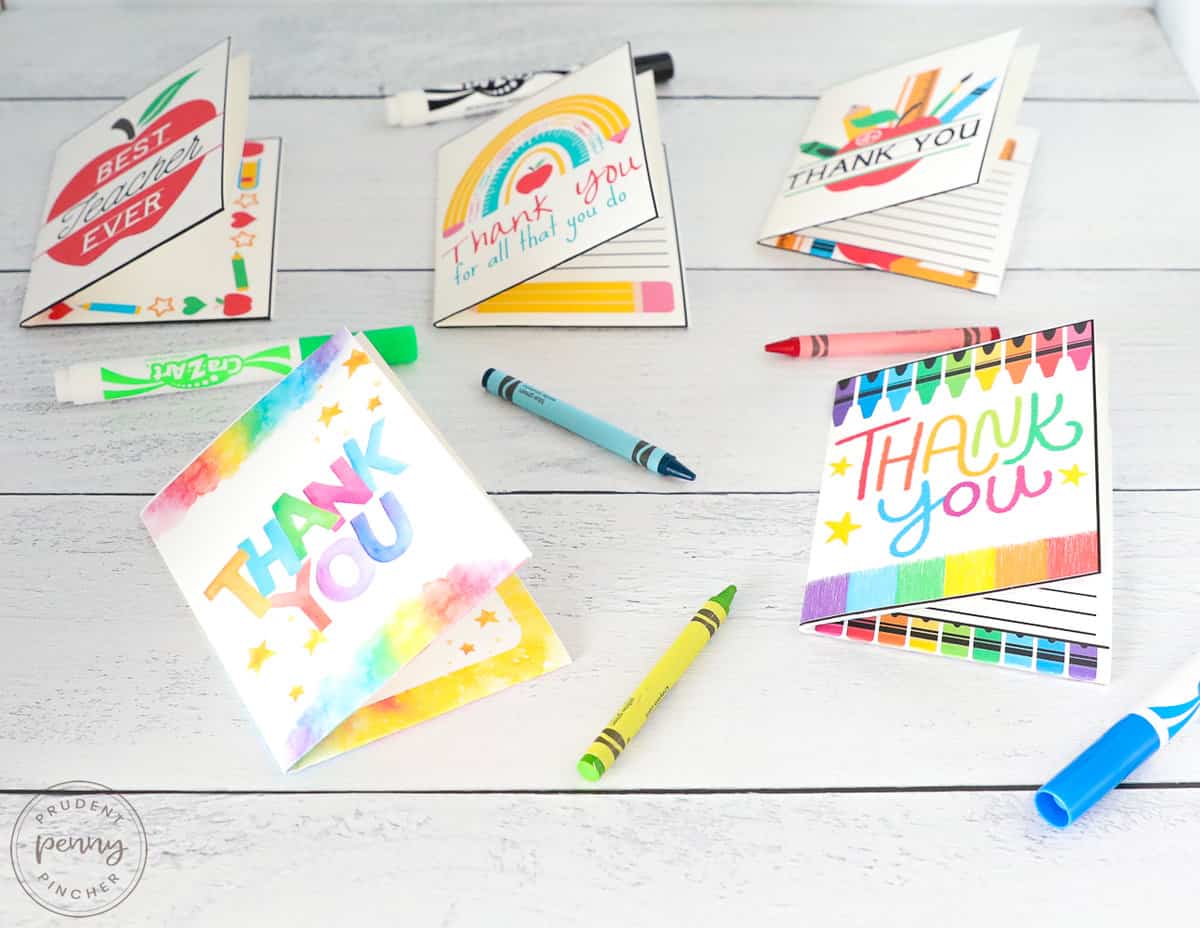 Instructions:
Load the cardstock in your printer's tray and select the correct paper format from the printer's menu.
Click the PDF link to the card you want to print and click the download button in the toolbar when the document opens.
Save the file to your computer.
Open the PDF in Adobe Acrobat or another PDF viewing software.
Go to File —> Print.
Make sure that the page sizing is set to "Fit."
Press the print button.
Trim any excess paper off the sides of the paper with a paper trimmer or scissors (optional).
Fold the card in half horizontally and then fold it again vertically.
Write a personalized message inside the card for the teacher and sign it.
Put it in an envelope (optional).
Teacher Appreciation Card Printables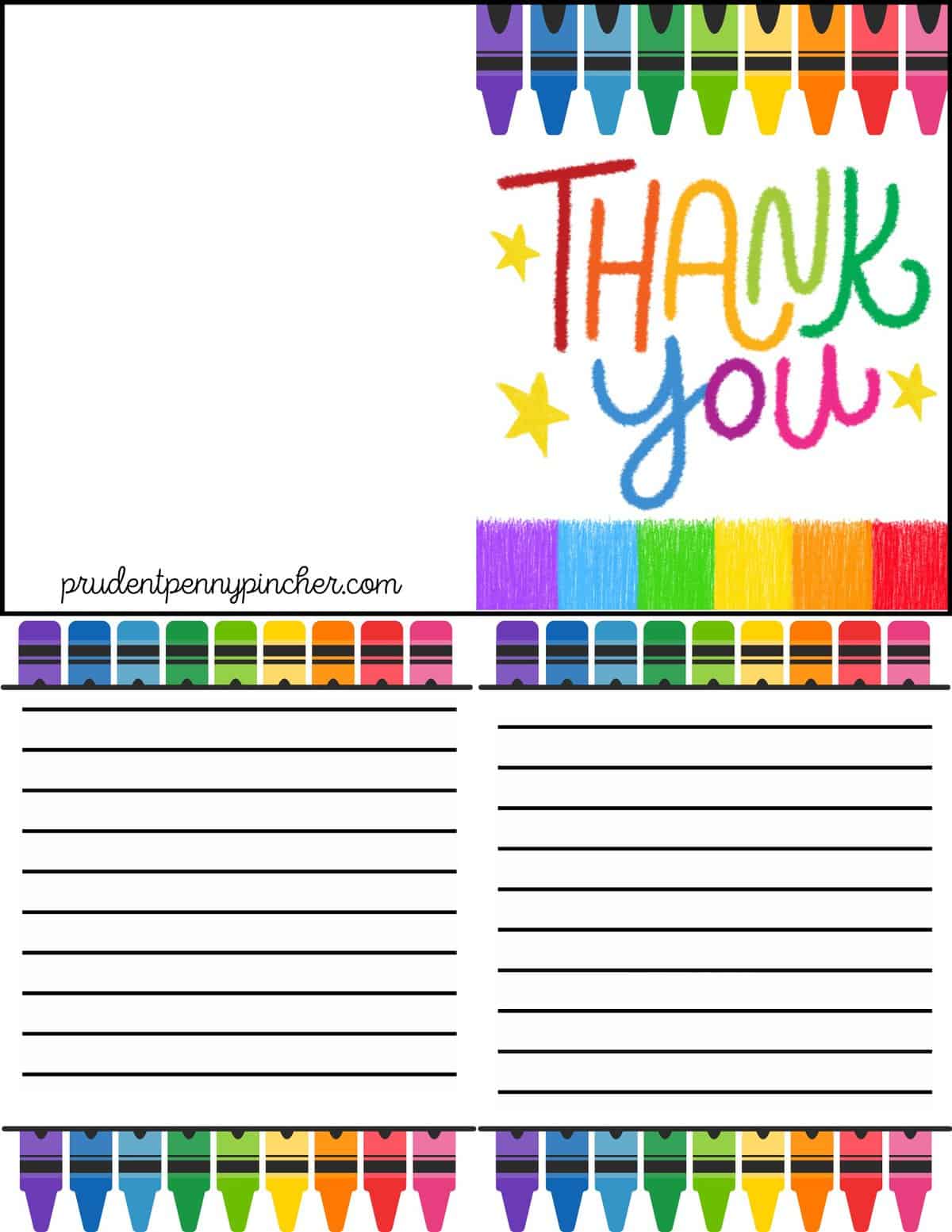 This free printable card is a perfect way to show your gratitude to a special teacher who has made a significant impact on your child's life. The card's design features bright and multicolored crayons. These elements add a playful touch to the card.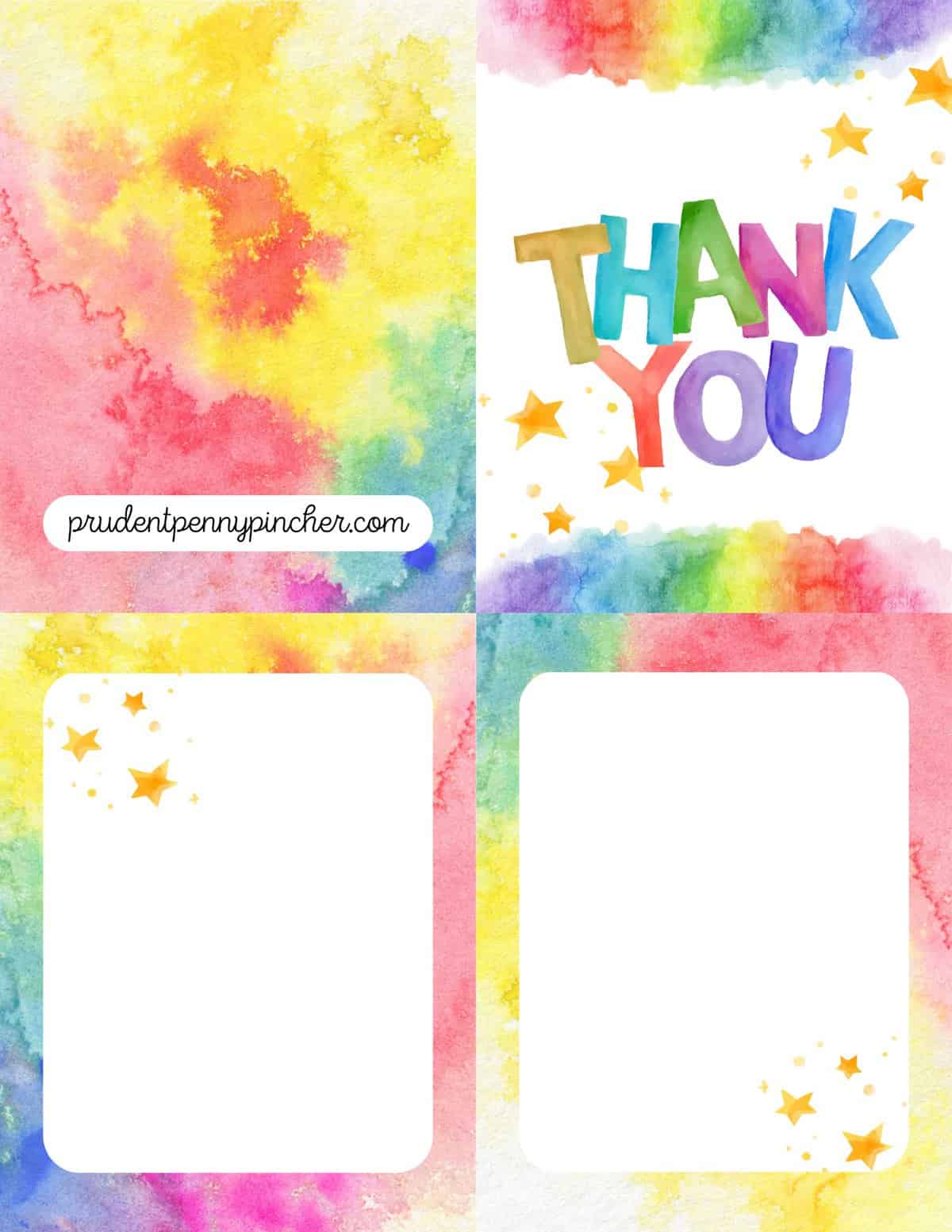 This one features a pretty watercolor background with the words "thank you" in bold watercolor lettering on the first page. It is an elegant and heartfelt way to convey your gratitude. The watercolors add a touch of whimsy and charm to the card!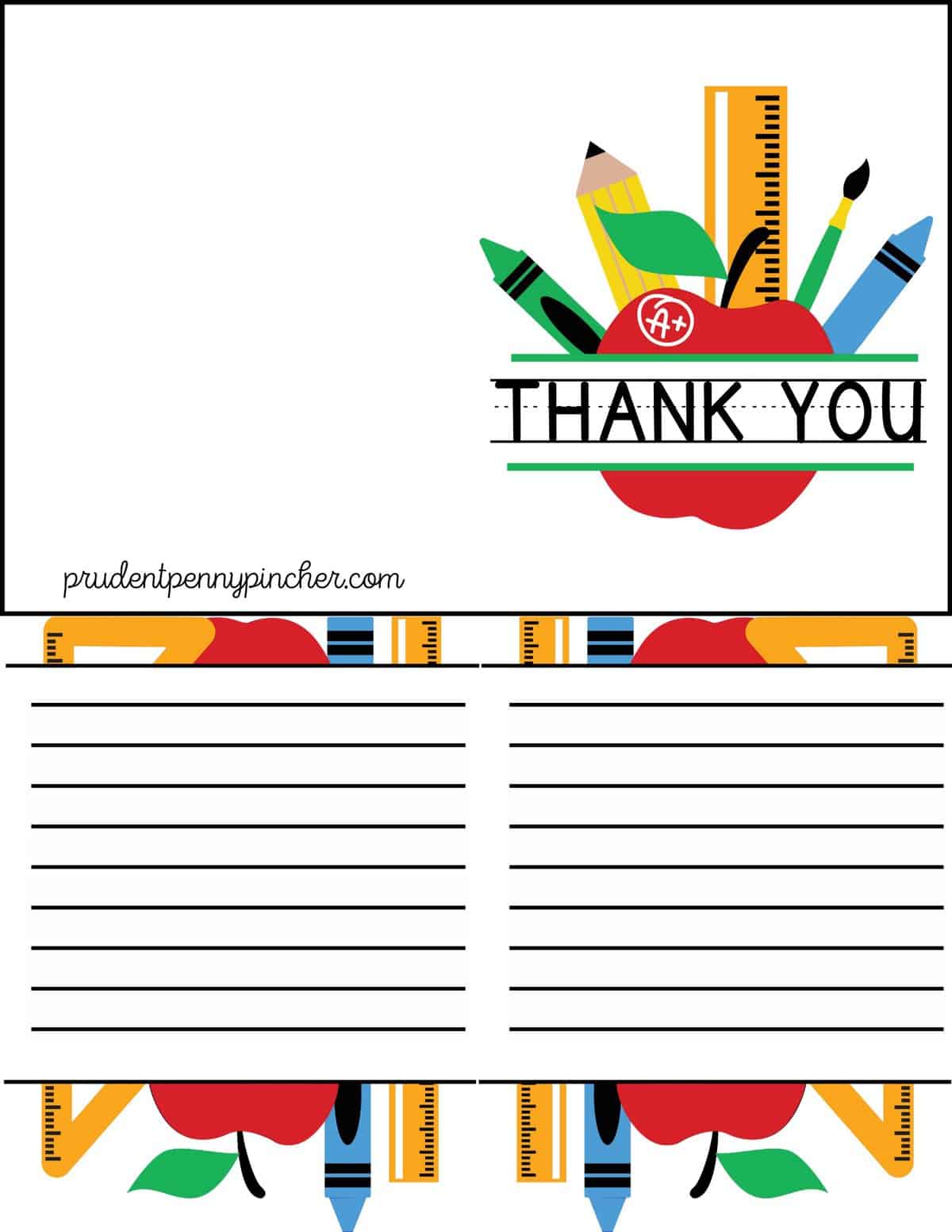 This one features an apple and assorted school supplies, including crayons, pencils, paintbrushes, and rulers. The words "Thank you" are written on the front of the card, which adds a fun and lighthearted vibe to the card.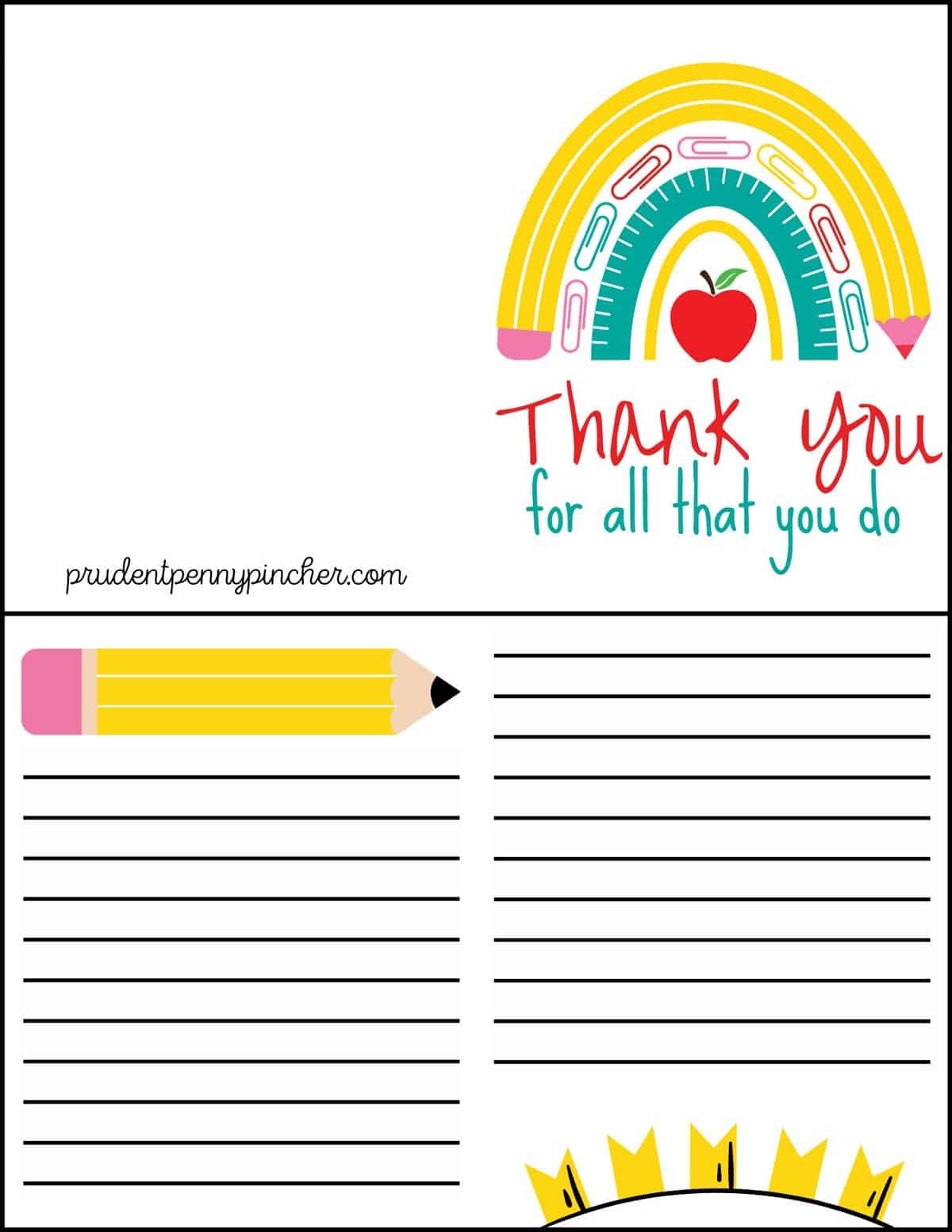 This cute card is a great way to show gratitude to a special teacher. The card features a rainbow made of colorful school supplies. This design has a playful yet educational touch to it. The message "Thank you for all you do" is written in fun letters.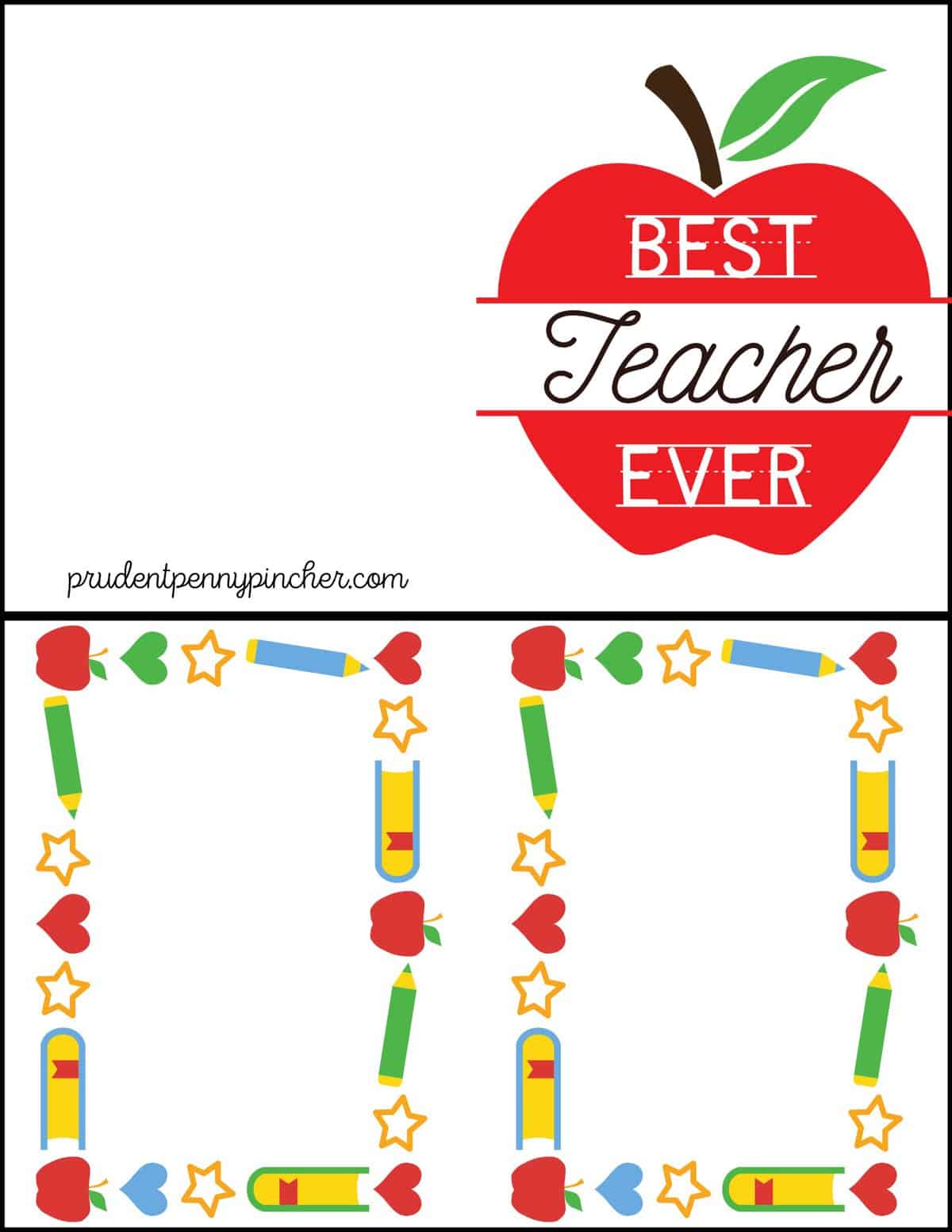 Express your gratitude to an exceptional teacher with this card. It features a bright red apple with the words "Best Teacher Ever" in a playful, school-styled font. The apple is the universal symbol of knowledge and education. It is the perfect design to accompany a card of appreciation to a teacher.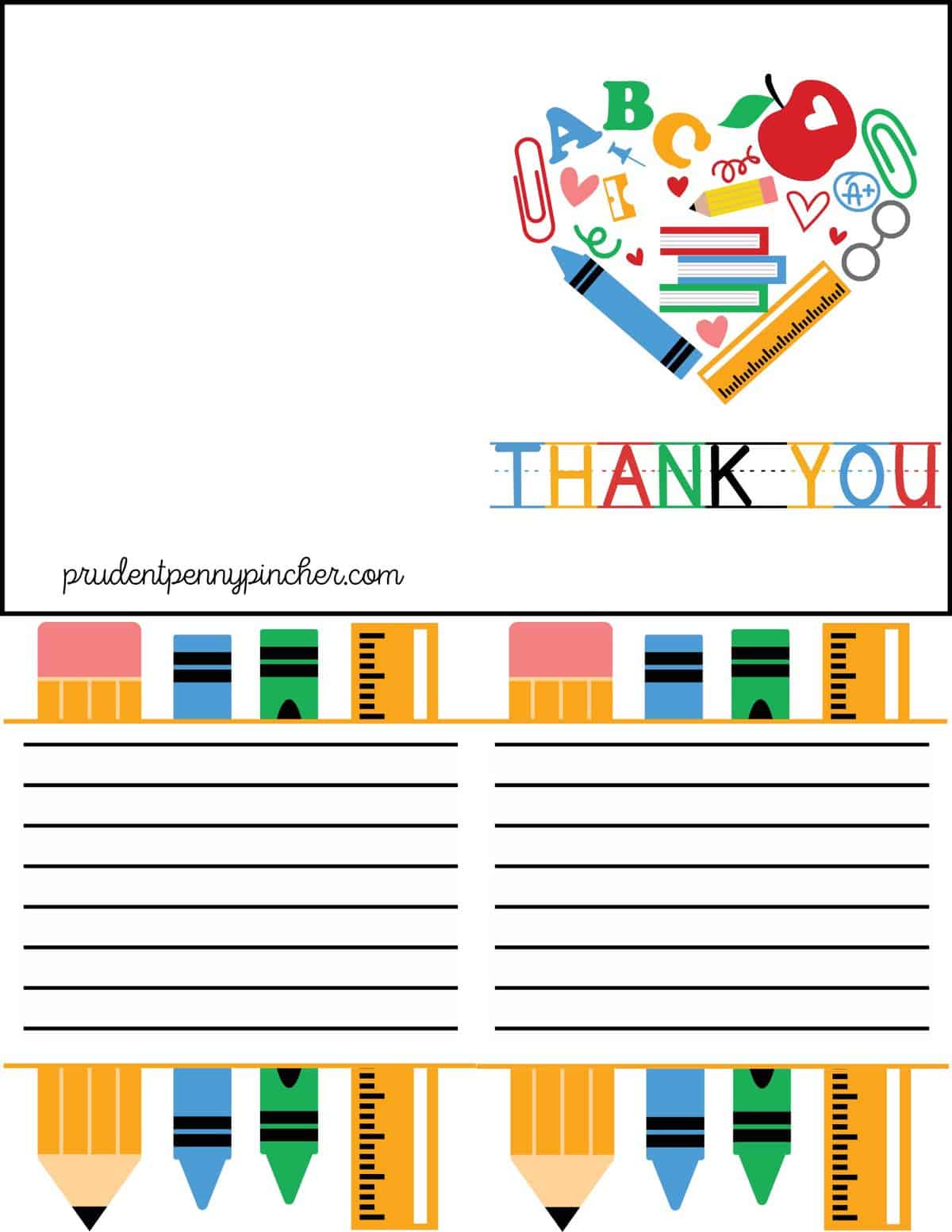 This teacher appreciation card printable features a colorful heart made of different school supplies, such as crayons, rulers, paper clips, crayons, and more. "Thank You" is written in multicolored letters, giving the card a cheerful and playful feel.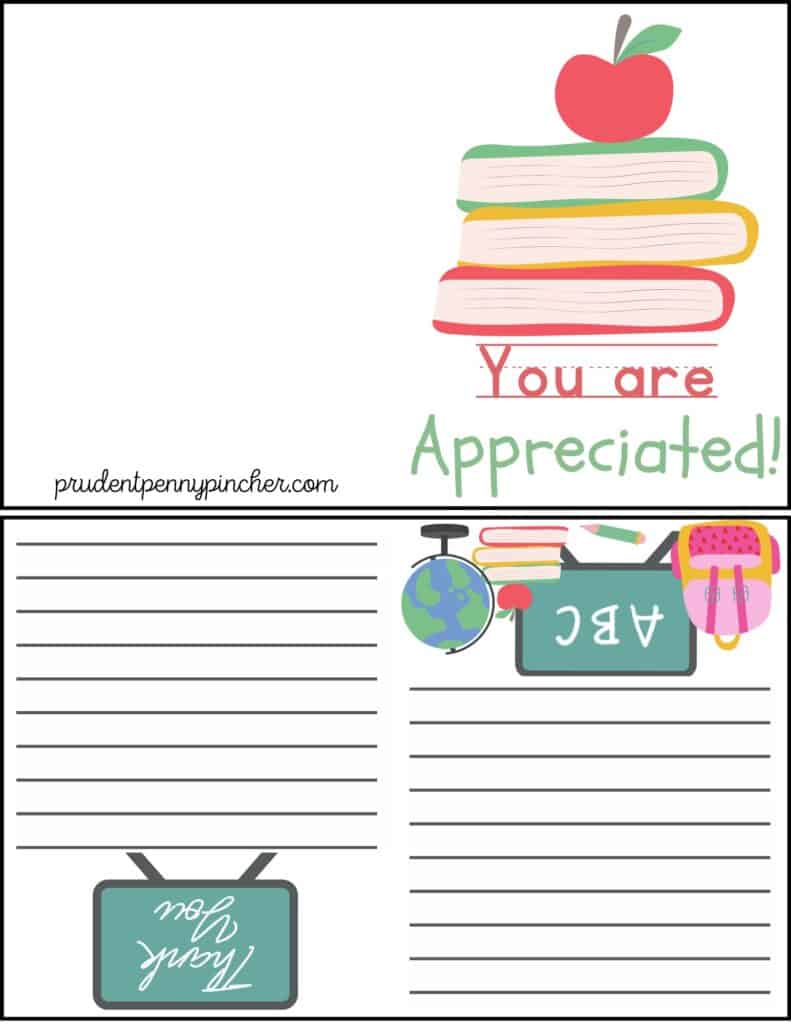 The front of the card features a colorful stack of books with the words "You Are Appreciated" in a fun font. The inside is blank, providing ample space for you to write a customized message. The card also includes a cute chalkboard that says "Thank You," adding an extra touch of appreciation to your note. Whether it's for Teacher Appreciation Week or any other occasion, this printable is sure to make your teacher feel loved and appreciated.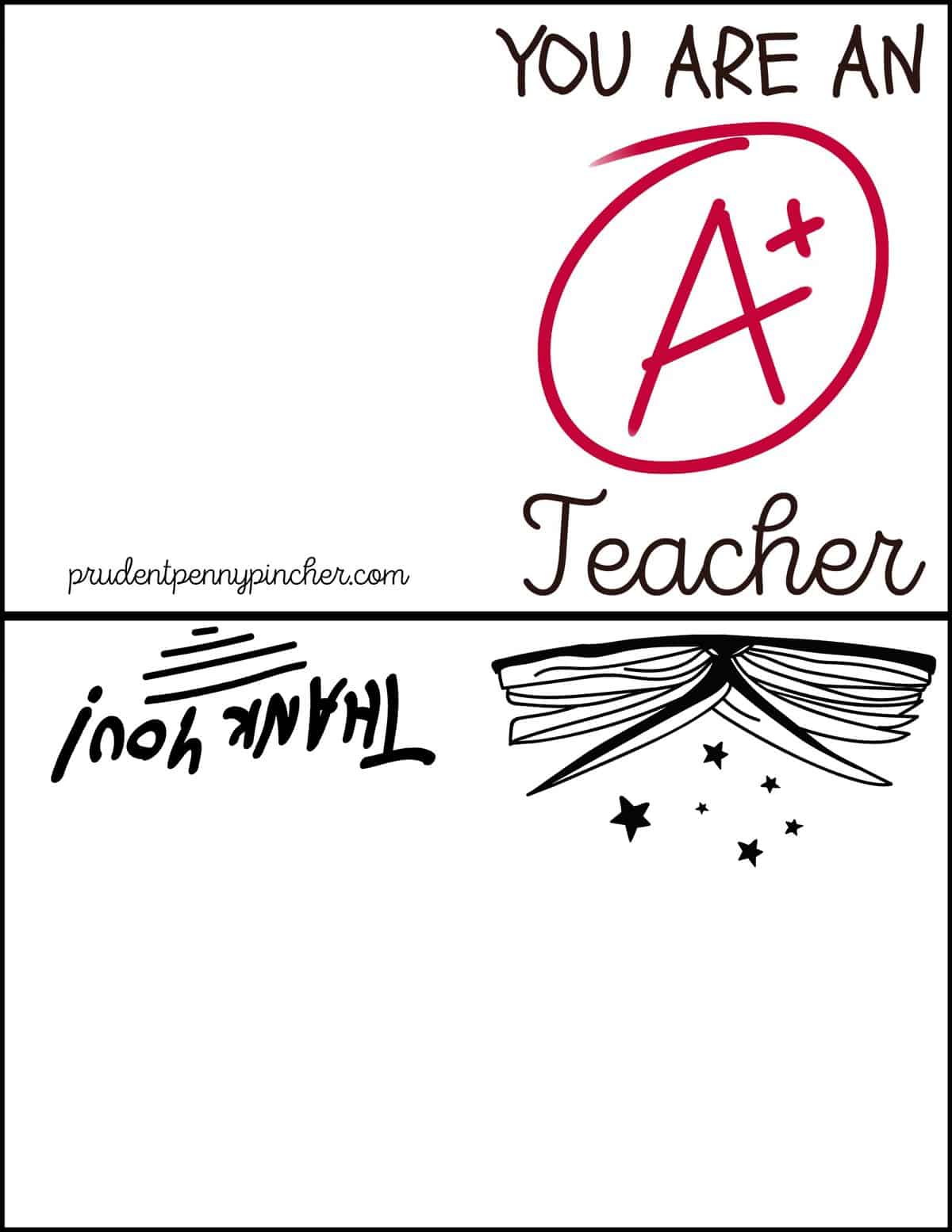 This one is the perfect way to express your gratefulness to a remarkable teacher. The front of the card features the message "You are an A+ Teacher." You can fill in this hand-drawn blank card with a special note to the teacher, telling them how much you appreciate their hard work! There is plenty of space inside to write a thoughtful message.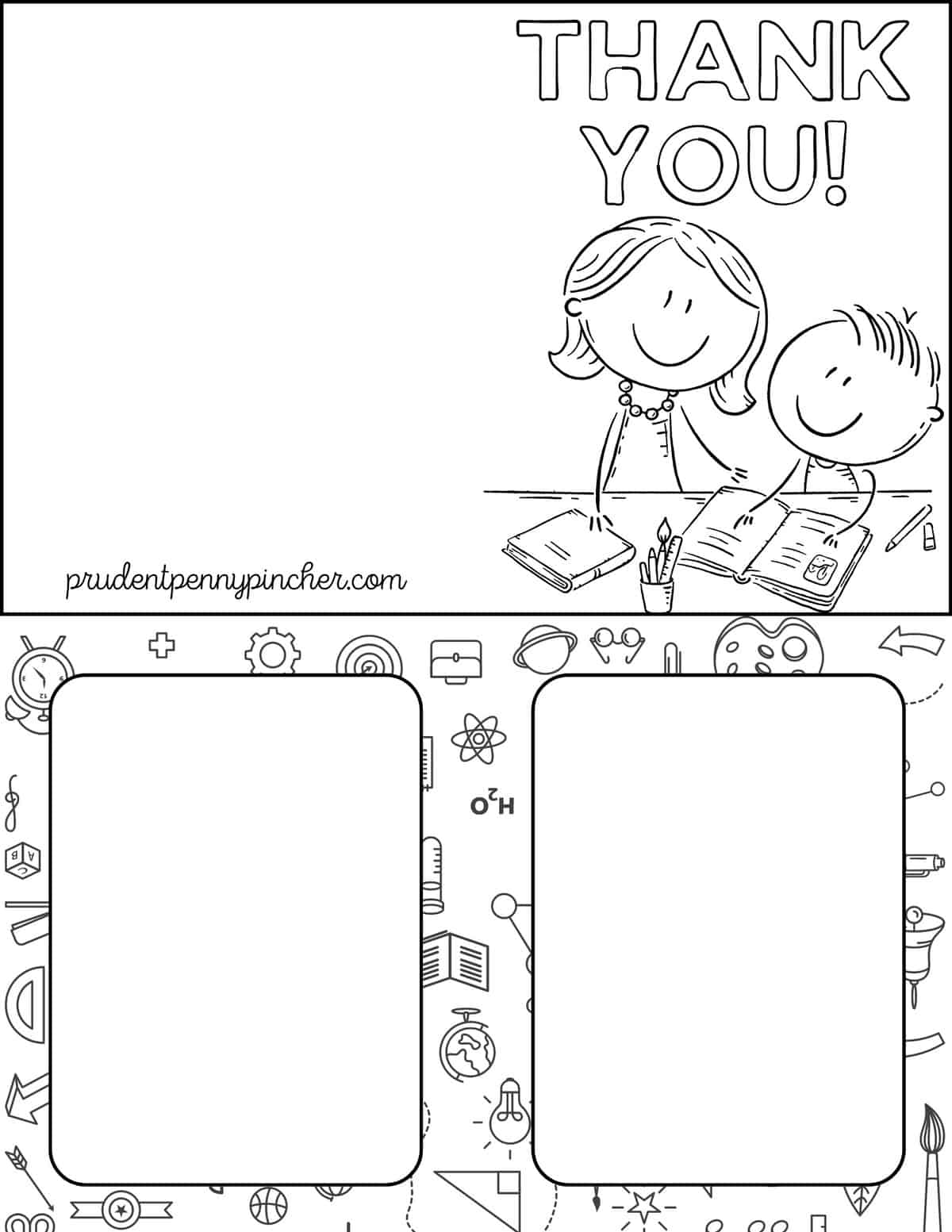 This one is designed to be colored in by kids, letting them add their unique touch. Inside the card, there is plenty of space for kids to write a personalized note of thanks, making it a heartfelt gift that the teacher is sure to cherish.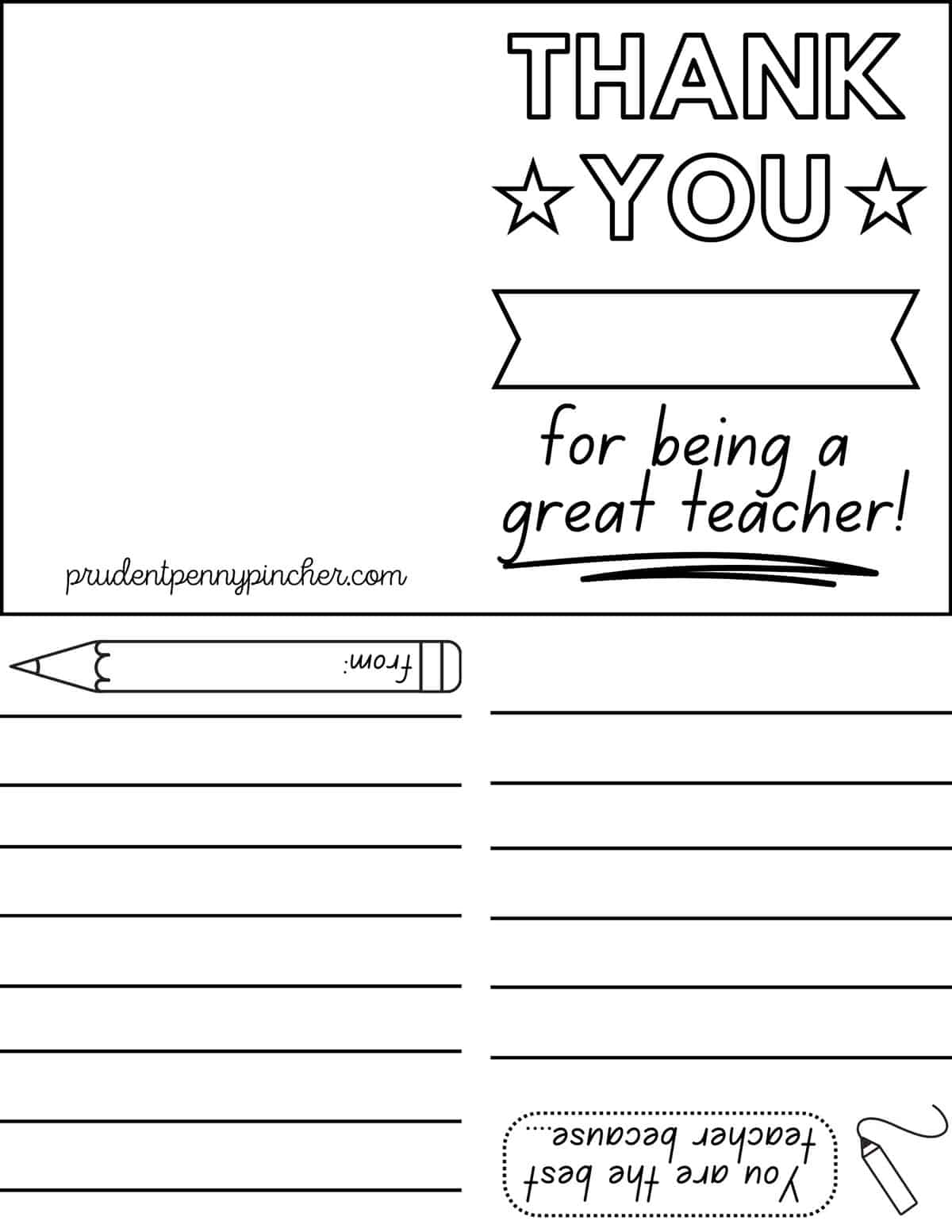 The front of the card features a sweet message that reads, "Thank you for being a great teacher." Don't forget to add your teacher's name inside the ribbon on the front page. It also includes the prompt "You are the best teacher because…," which lets kids share the reasons why their teacher is so special and deserving of thanks. The card is designed to be colored in, which makes it a fun activity that students can enjoy making.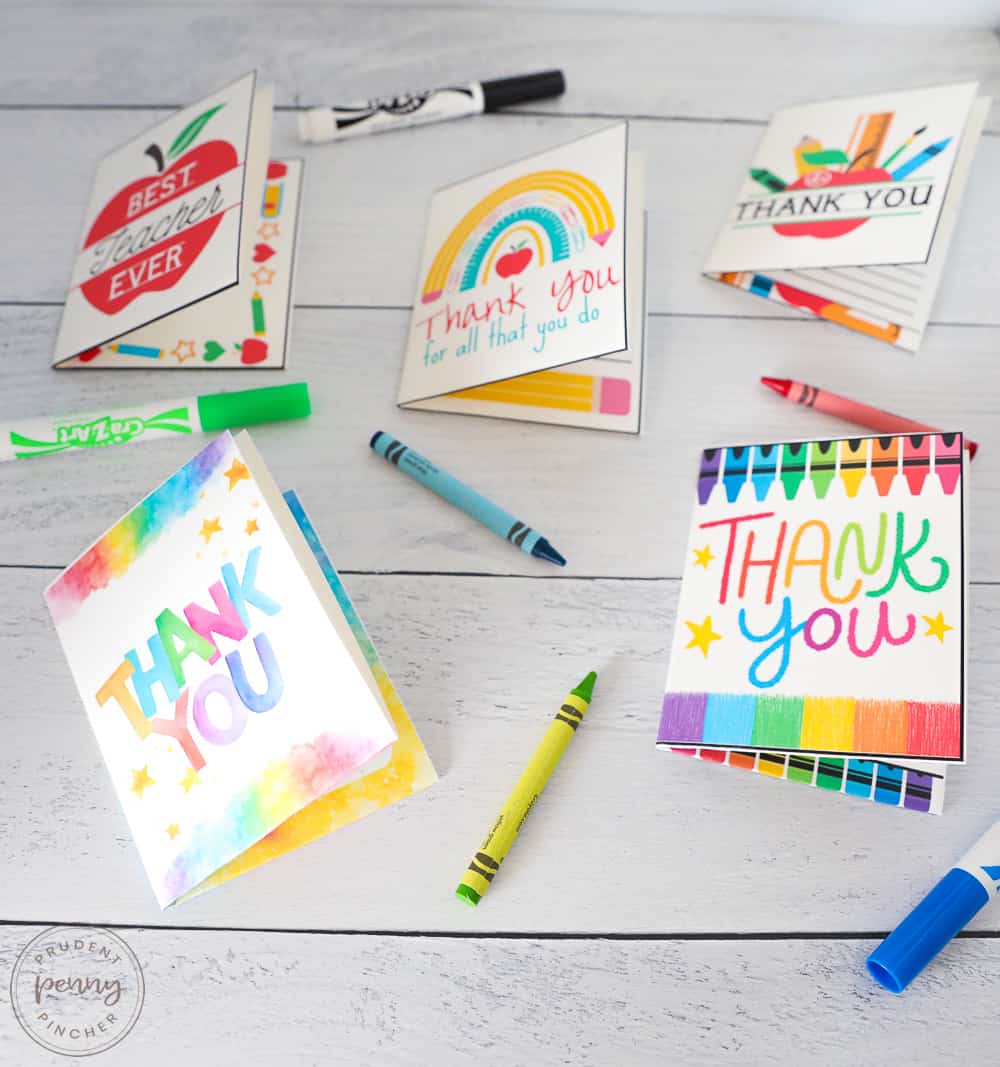 More Teacher's Appreciation Week Ideas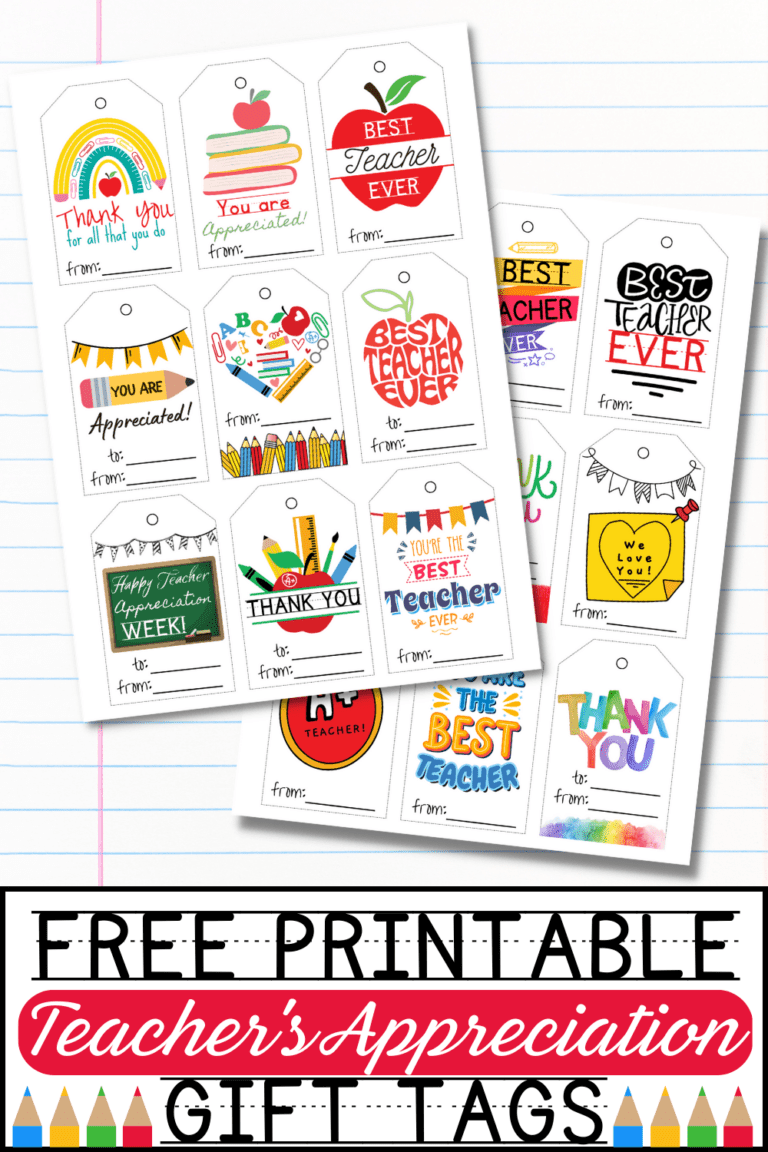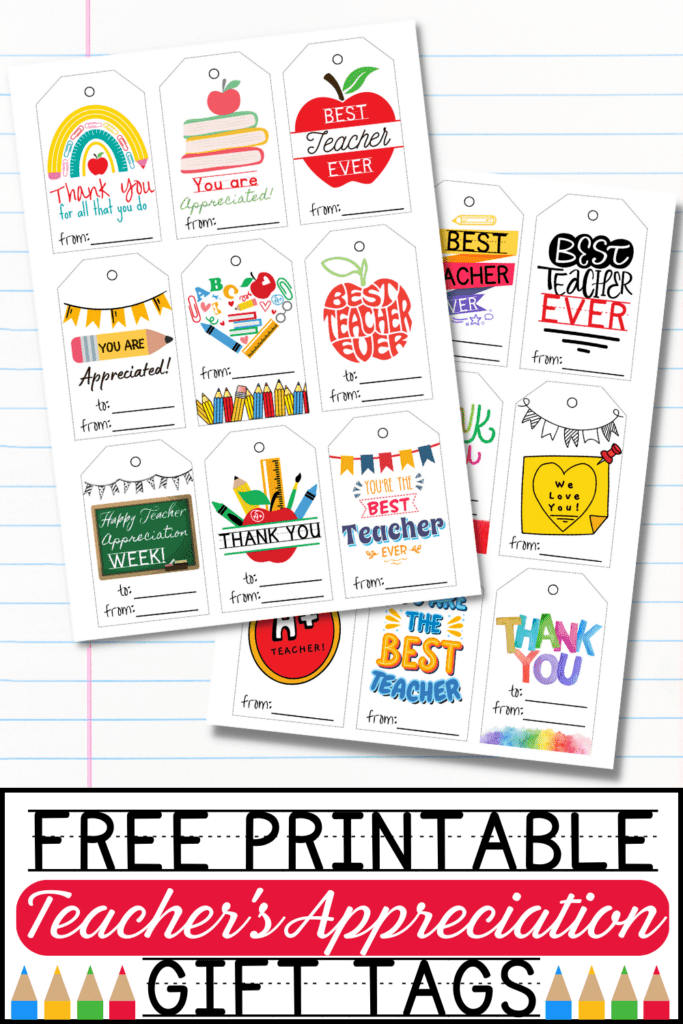 Teacher Appreciation Gift Tags