Bring good luck into your home and show off your Irish pride with this cheap and easy DIY Shamrock Wreath that can be made in less than 5 mintues and only costs $6 in supplies.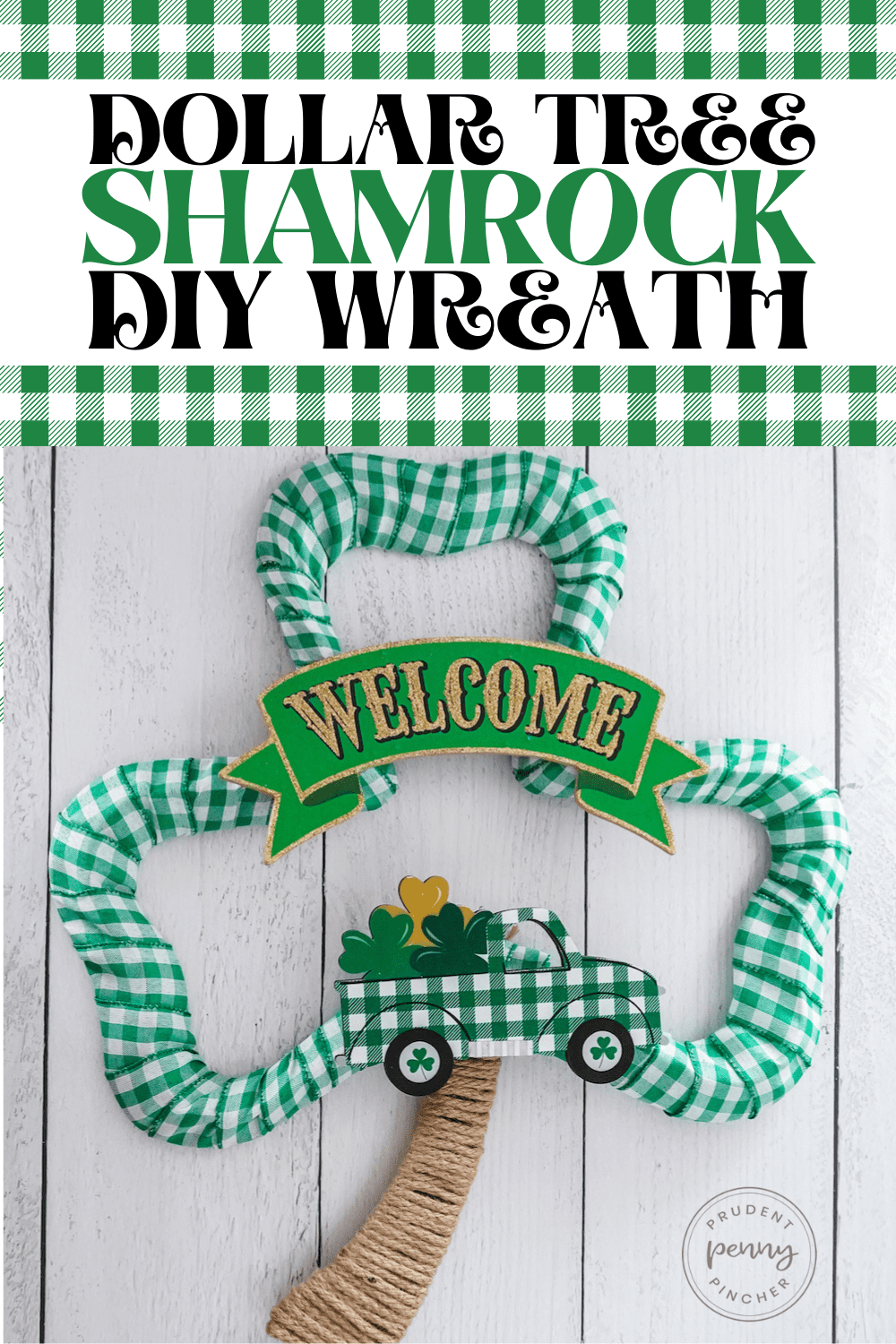 This DIY wreath will give your front door a festive green and gold touch for St. Patrick's day on a budget. It makes a great dollar store St. Patrick's Day craft for adults and will go great with these DIY St. Patrick's Day decorations if you wanted to spread some good luck through your whole home.
Most of materials can be found at your local Dollar Tree so this is an affordable craft project. I did get the green truck at Hobby Lobby. However, I got it when it was on sale for half off so it was still a dollar.
Whether you want to add this DIY shamrock wreath to the front door or above your St. Patrick's Day mantel, it's fine for either indoor or outdoor use. It's a simple handcrafted decoration that will help you celebrate St. Paddy's Day in style.
I really love quick and easy wreaths like this because most of the time I don't feel like working on eleborate wreaths that take a lot of time and money. I'm sure most of you can relate to that. So, the good news is you can decorate for St Patrick's Day without much effort or cost with this wreath.
There's a lot of room for customization with it. You can choose whatever ribbons and embellishments that you want and just use my wreath as inspiration for yours. It would look super cute with a green burlap ribbon for a rustic touch.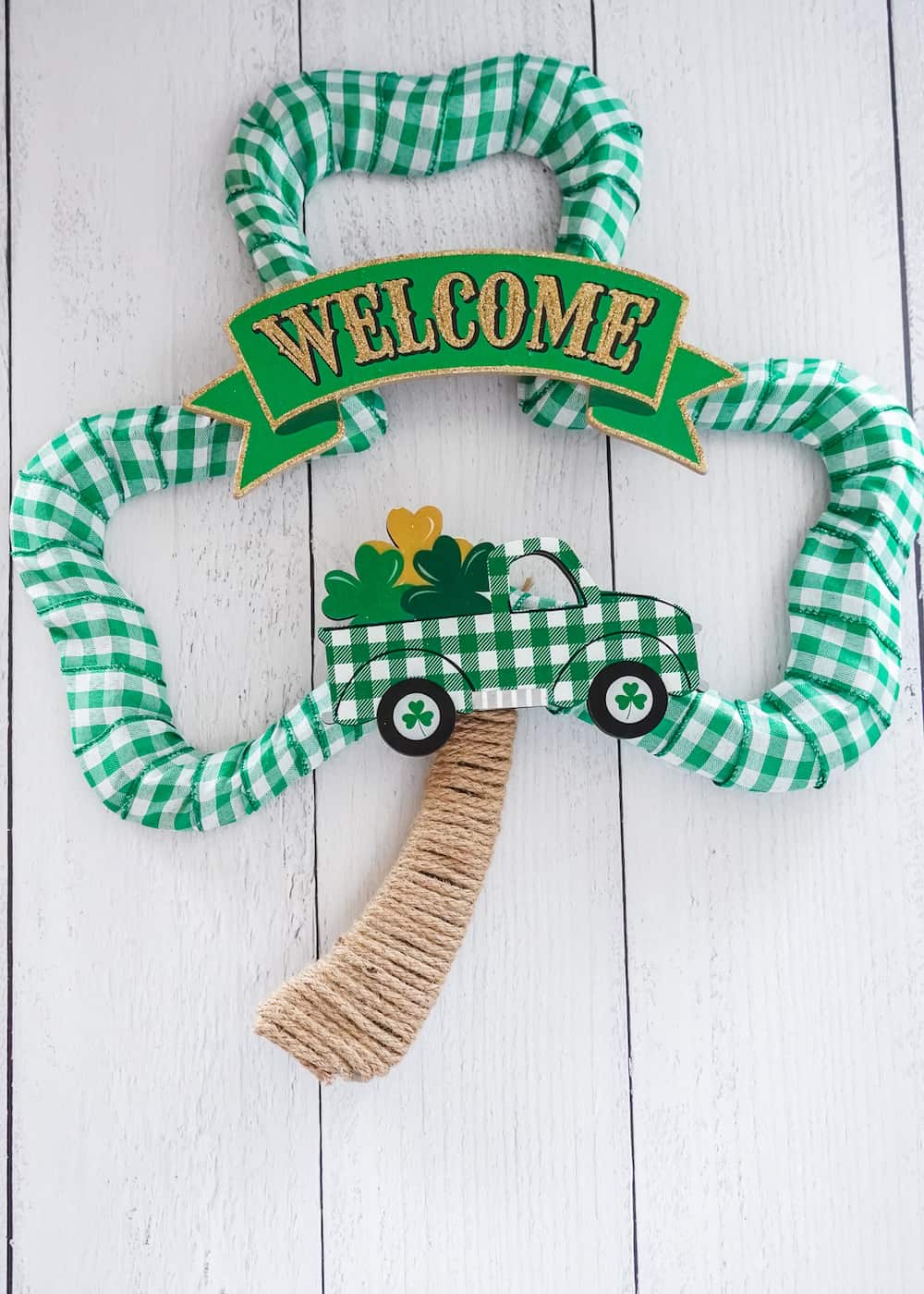 Craft Supplies Needed:
shamrock shape wire wreath form
st. patrick's day ribbon
$1 decorative embellishments
rope or twine
hot glue gun and glue sticks
scissors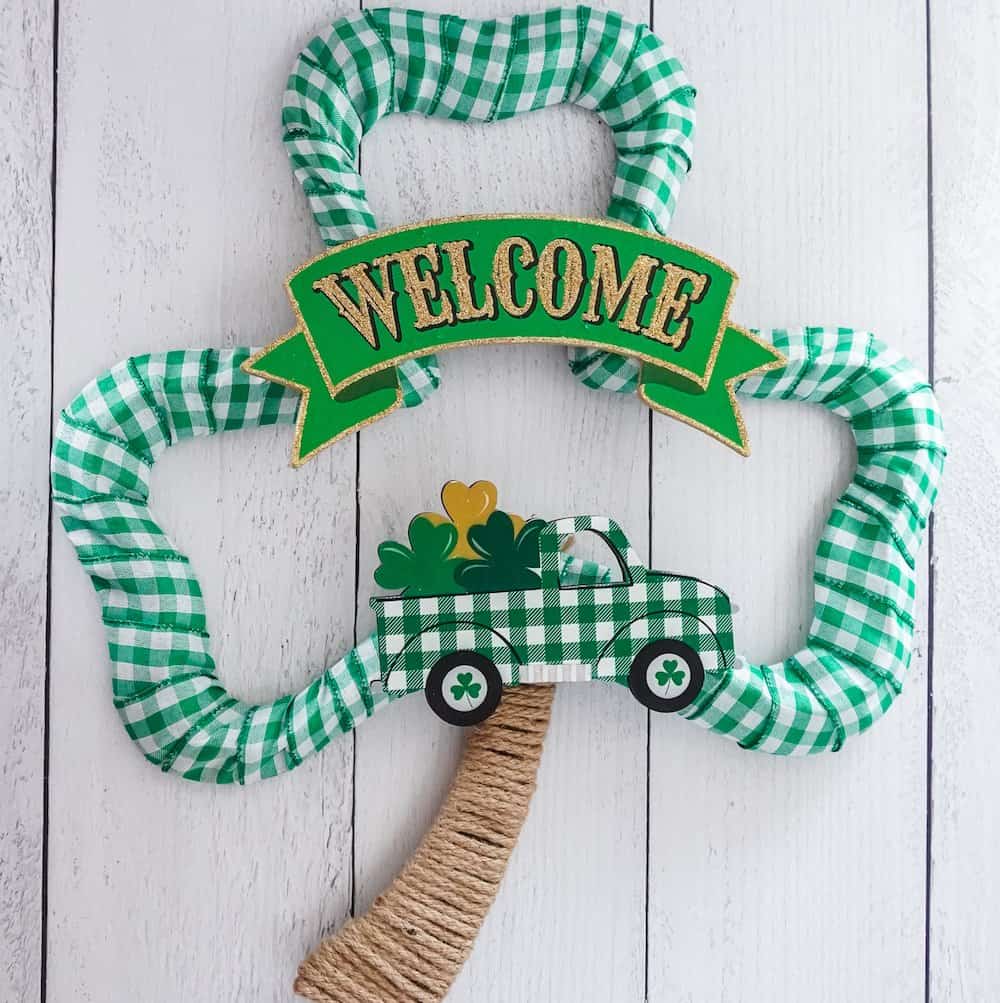 Instructions:
Wrap your ribbon around the wire wreath form and glue it in place.
Wrap the twine around the bottom stem and glue it down.
Glue down your embellishments to the center of the wreath with hot glue.
See the detailed tutorial below for step-by-step instructions: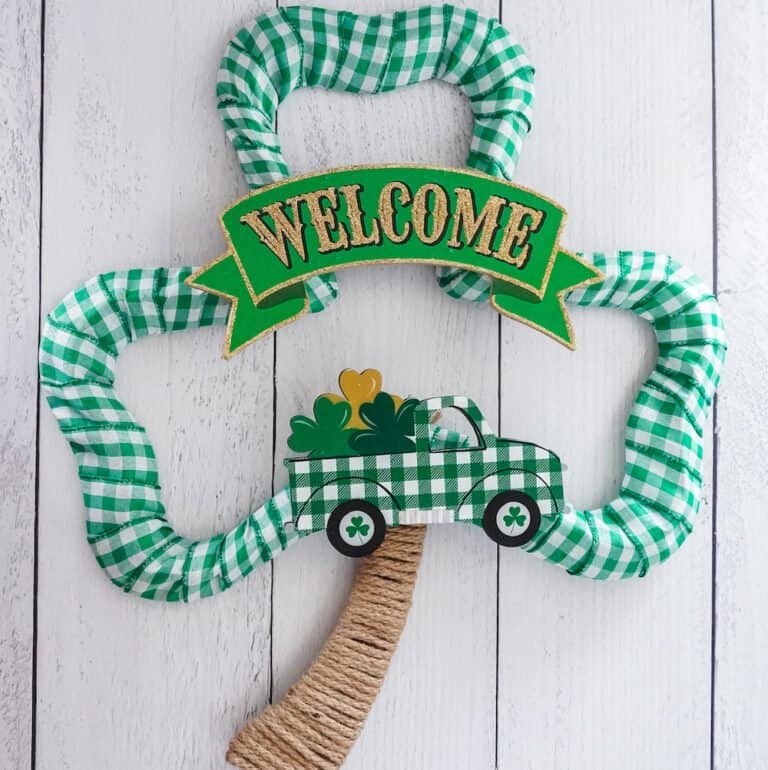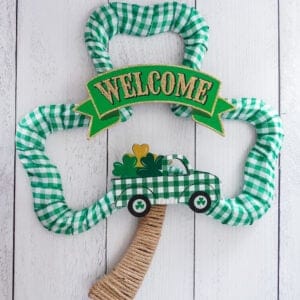 DIY Shamrock Wreath
a cheap and easy St Patrick's Day shamrock wreath made with dollar tree supplies.
Equipment
1 pair of scissors

1 hot glue gun

1 glue stick
Materials
1

shamrock wire wreath form

6

yards

St. Patrick's Day ribbon

1

welcome sign

1

green truck wood ornament
Instructions
Secure the end piece of ribbon to the back of the wire wreath form with a dab of hot glue.

Wrap the ribbon around the wreath until the three clovers are completely covered.

Secure the other end piece of ribbon to the back of the wire wreath form with a dab of hot glue. I used my whole spool without any left over. Depending on how you space your ribbon, you may need more or less.

Glue the twine (or rope) to the top shamrock wreath form's stem and begin winding the twine around the stem until you reach the bottom.

Due to the awkward angles toward the end of the stem, I had to start gluing the twine down on each side every time I went around the stem to make it stay in place so you may need to do the same.

Once your shamrock is complete, glue the welcome sign to the center of the top part of the shamrock on each side with hot glue.

Center the green truck just above the stem and glue it to the wreath.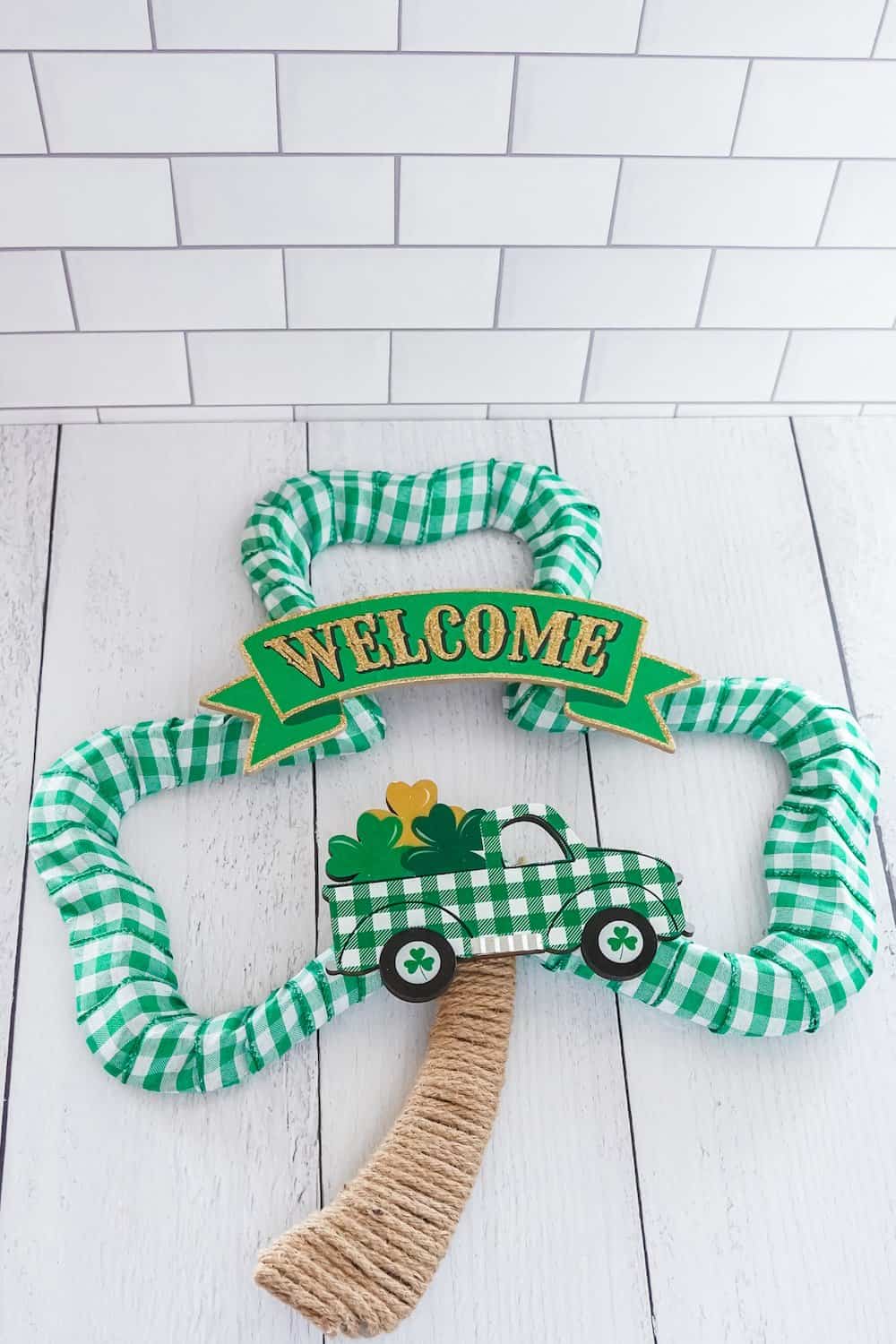 Related Post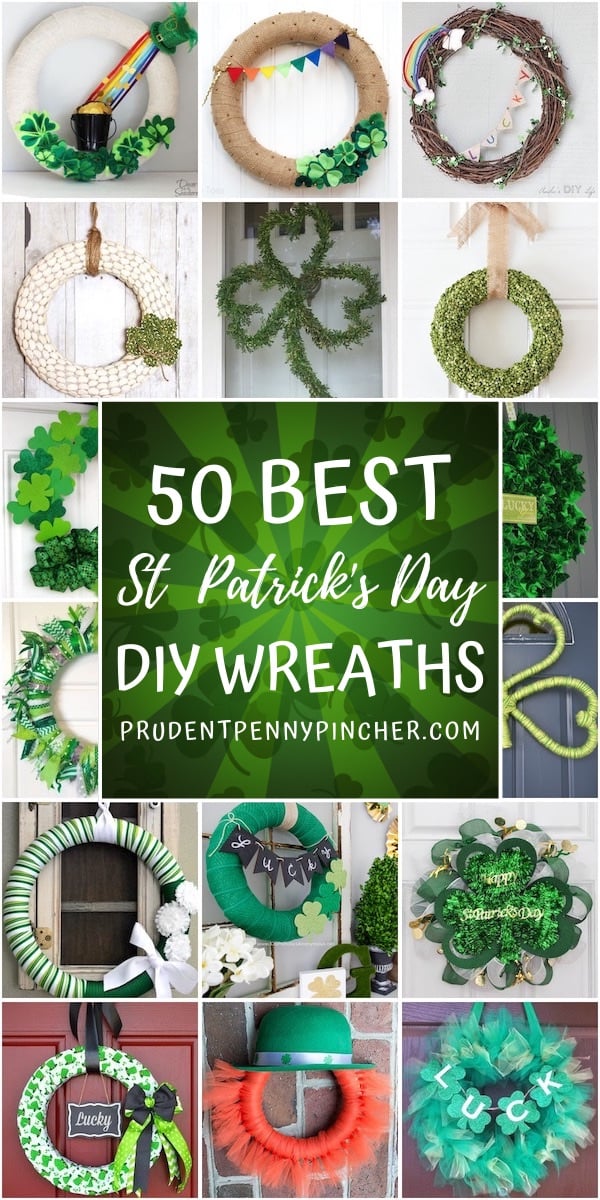 50 DIY St. Patrick's Day Wreaths
Looking for more Saint Patrick's ideas? Be sure to check out all my St. Paddy's posts, which include recipes, decor, crafts, and more!