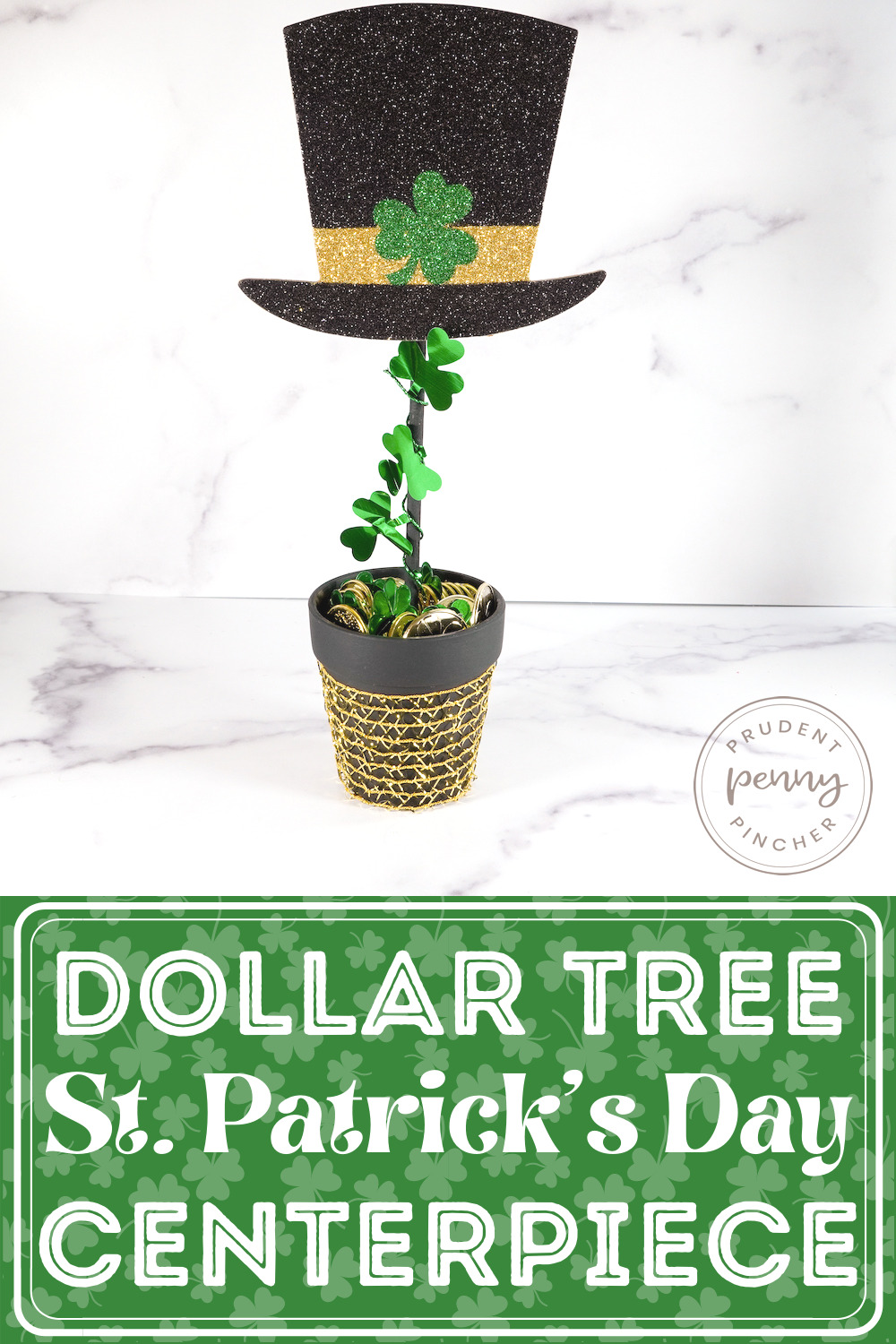 Celebrate St. Paddy's day in style with this festive Dollar Tree St Patrick's Day Centerpiece. This DIY centerpiece makes an easy St. Patrick's Day craft for adults on a budget. It can be made for about five dollars and takes less than 30 minutes to make so it's a quick DIY project.
All of the supplies required for this craft idea can be found at Dollar Tree
To make this centerpiece, all you have to do is paint the dowel and pot, add the filler and coins, then top it off with the hat decoration and a piece garland! The detailed instructions are down below. It makes a great centerpiece for a last minute St. Patrick's Day party. You could also use it on your tiered tray or an accent piece to add a festive touch to your home decor.
This St Patrick's Day Centerpiece is easily customizable. You could use a shamrock decoration in place of the hat. Fill it with candies instead of coins to make it a treat container. Use something different in place of the ribbon like a shamrock sticker or stencil 'lucky' on the pot. There's a lot of ways to make this St Patrick's day craft your own.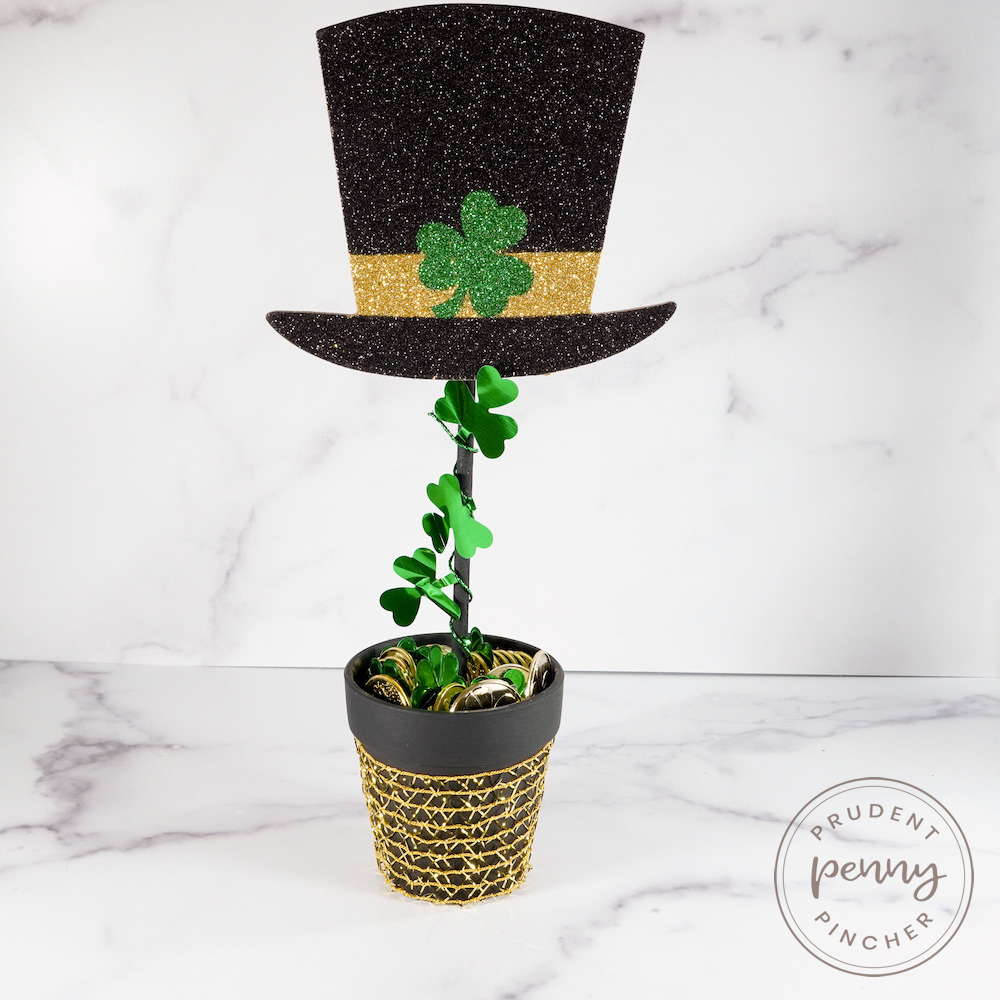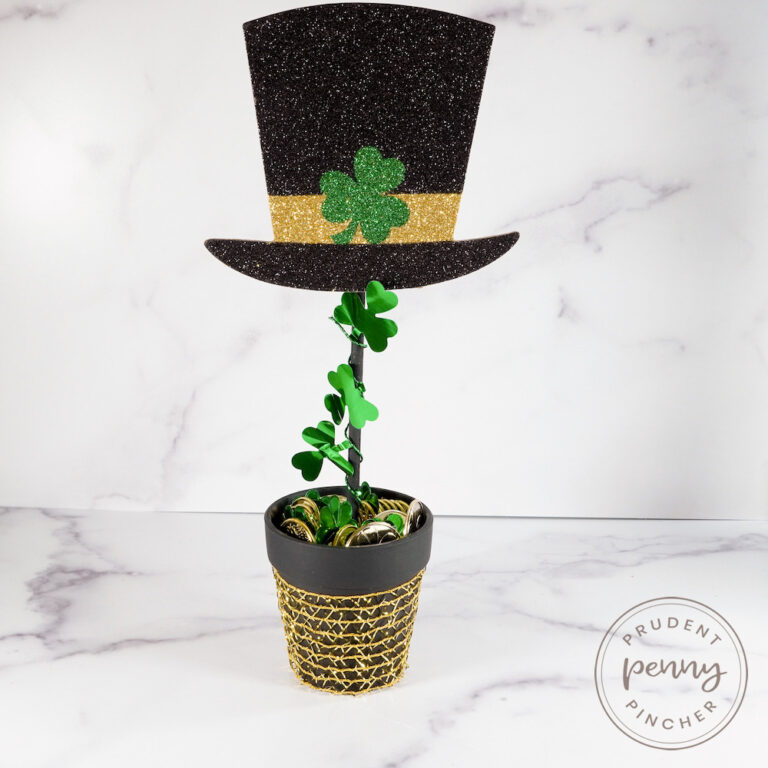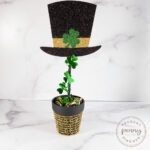 Print
Dollar Tree St. Patrick's Day Centerpiece
a DIY centerpiece for St. Patrick's Day using dollar store supplies.
Yield: 1 centerpiece
Cost: $5
Equipment
paint brush

hot glue gun

scissors
Materials
1 oz black paint
1 small terra cotta pot
1 St. Patrick's Day sign (with the hat)
1 dowel
1 bag gold coins
1 shamrock garland
1 gold mesh ribbon
filler - can be newspaper, paper towels, etc.
Instructions
Paint the clay pot and dowel black and let it dry.

Put hot glue on the bottom of the dowel and insert it into the hole at the bottom of the clay pot. Hold it in place until it dries (about 1 minute).

Add filler to the bottom of the pot.

Put the gold coins on top of the filler, making sure that none of the filler shows.

Cut the ribbons off of your St. Patrick's Day sign so that you just have the hat.

Glue the hat onto the top part of the dowel using copius amounts of glue. Hold it in place until it dries (about 1 minute)

Snip off an appropiate sized piece of the shamrock garland and wrap it around the dowel.

Wrap the mesh ribbon around the back of the clay pot to measure how much you need. Then, cut off the piece and glue it to the back of the pot.
Related Post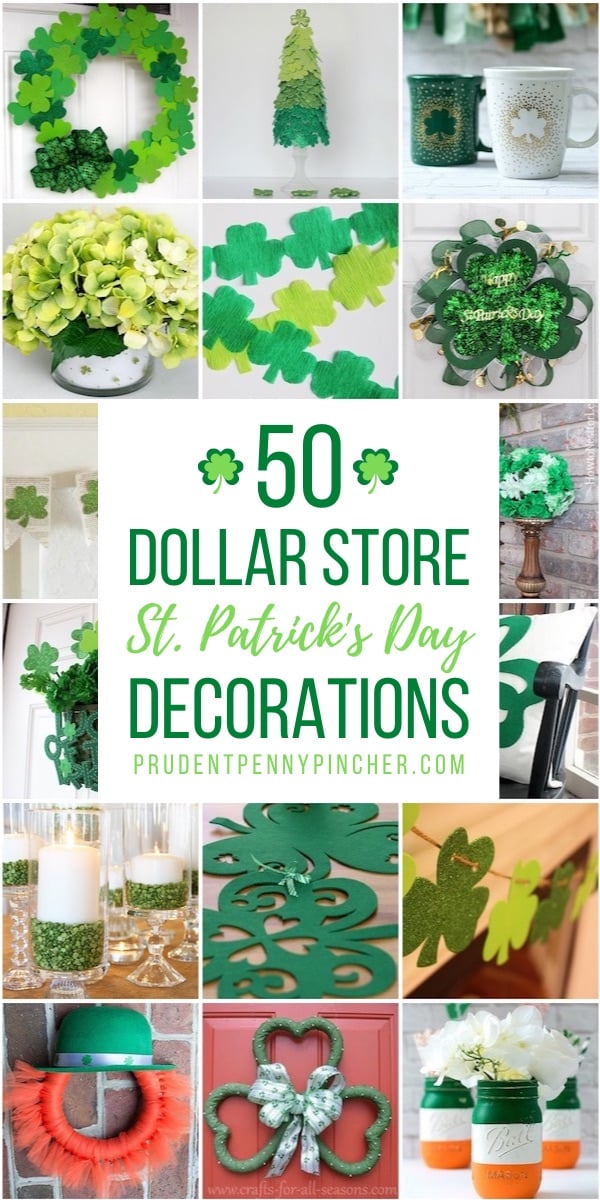 Dollar Store St. Patrick's Day Decorations