Spread some holiday cheer to your friends and family with these free Christmas printable cards!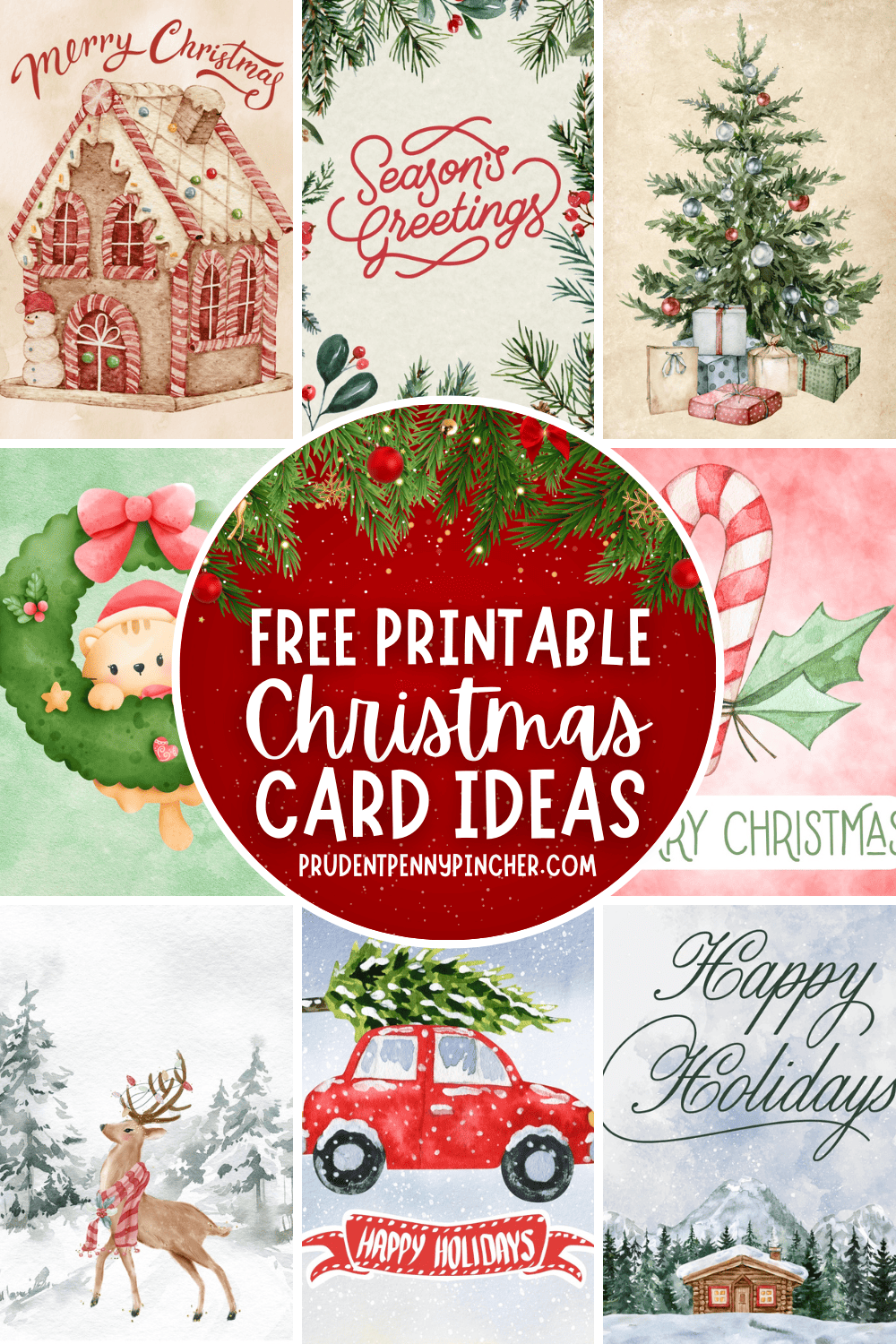 There is a merry mix of foldable card designs that cater to every taste. From old-fashioned to vibrantly festive and classic winter scenes to playful modern illustrations, there's a DIY Christmas card for everyone on your list.
You can personalize these foldable cards right from the comfort of your cozy home. Just download, print, and spread the joy! They also make a great last-minute card idea to bring to holiday parties and family gatherings.
Not only are these cards a budget-friendly way to connect with loved ones, but they also add that special DIY touch that store-bought cards just can't match. These Christmas printables are a fun and easy way to add a personal touch to your holiday greetings.
Jump to:
Christmas Printable Cards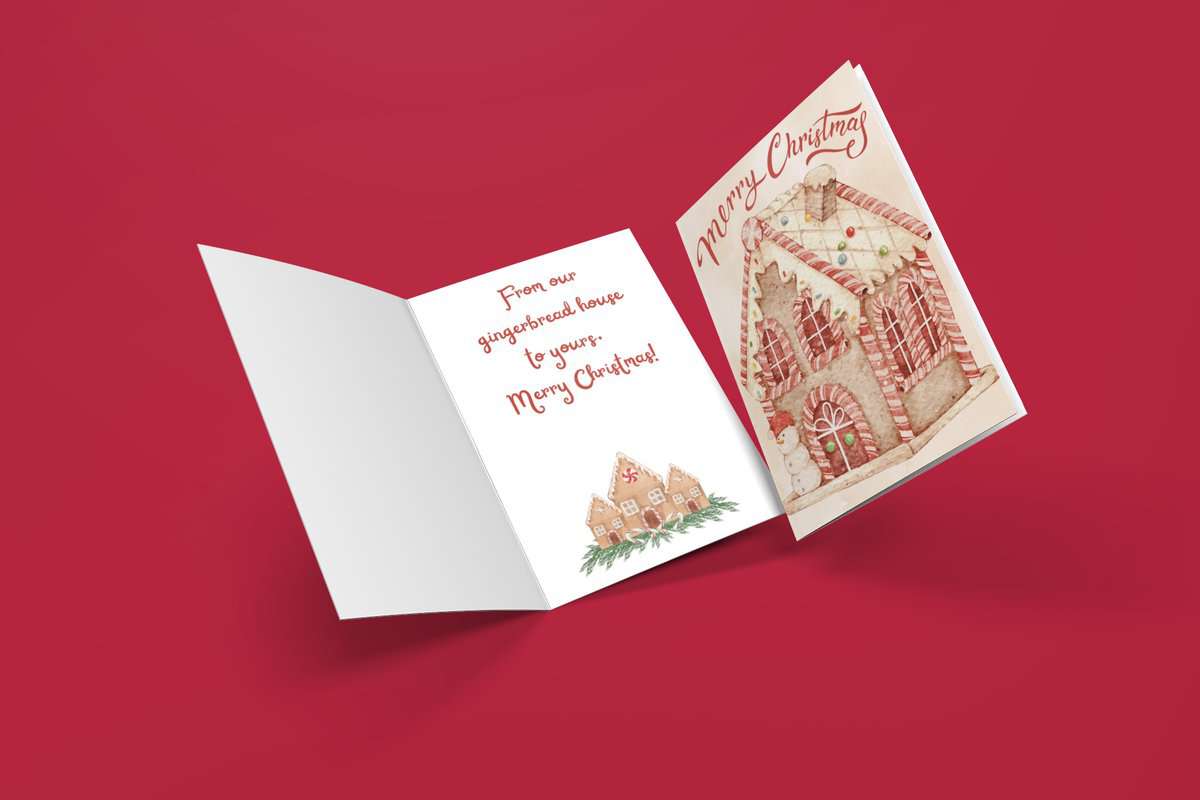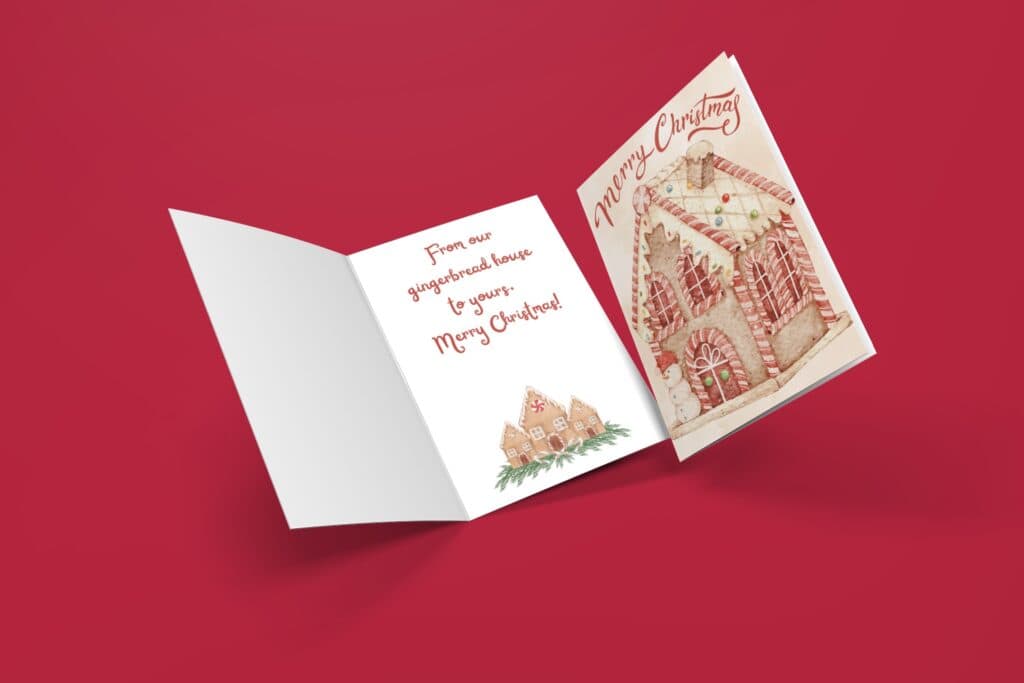 Gingerbread House
This charming Gingerbread House card features a whimsical gingerbread house adorned with candy cane accents and a dusting of snowy icing. It opens to reveal a sweet holiday greeting, "From our gingerbread house to yours: Merry Christmas!"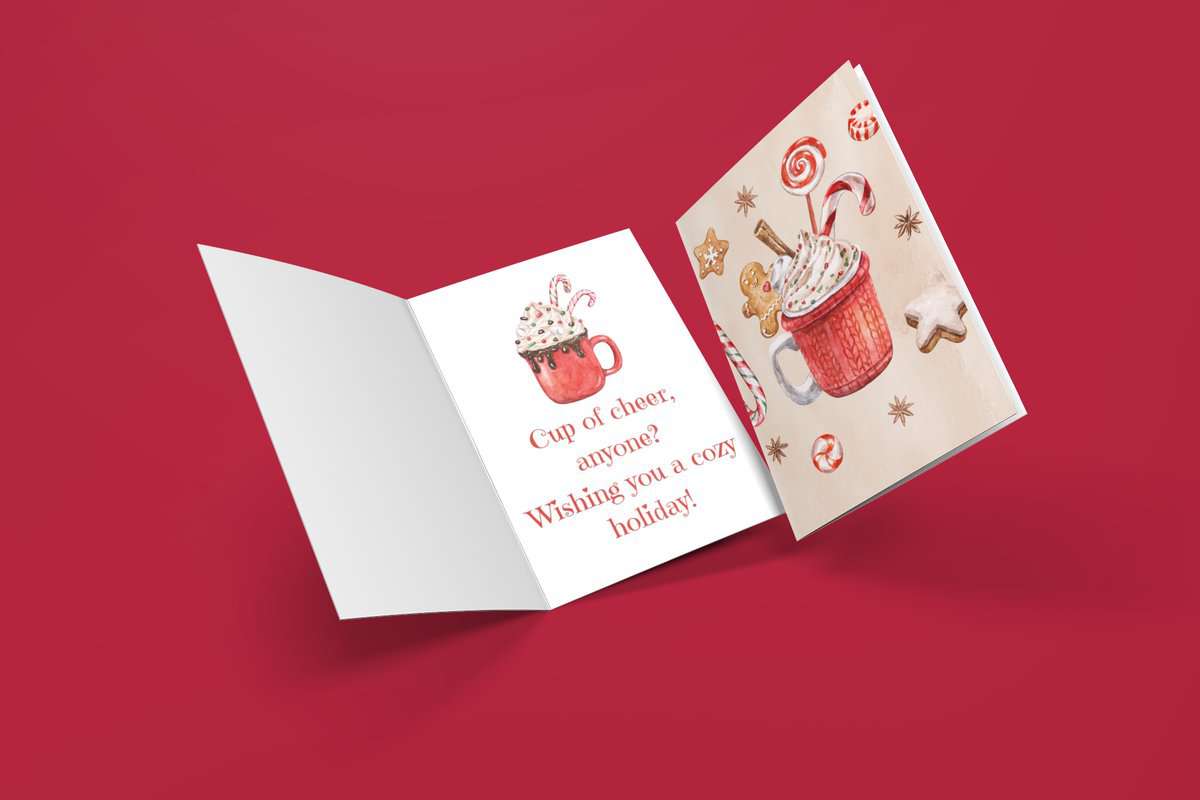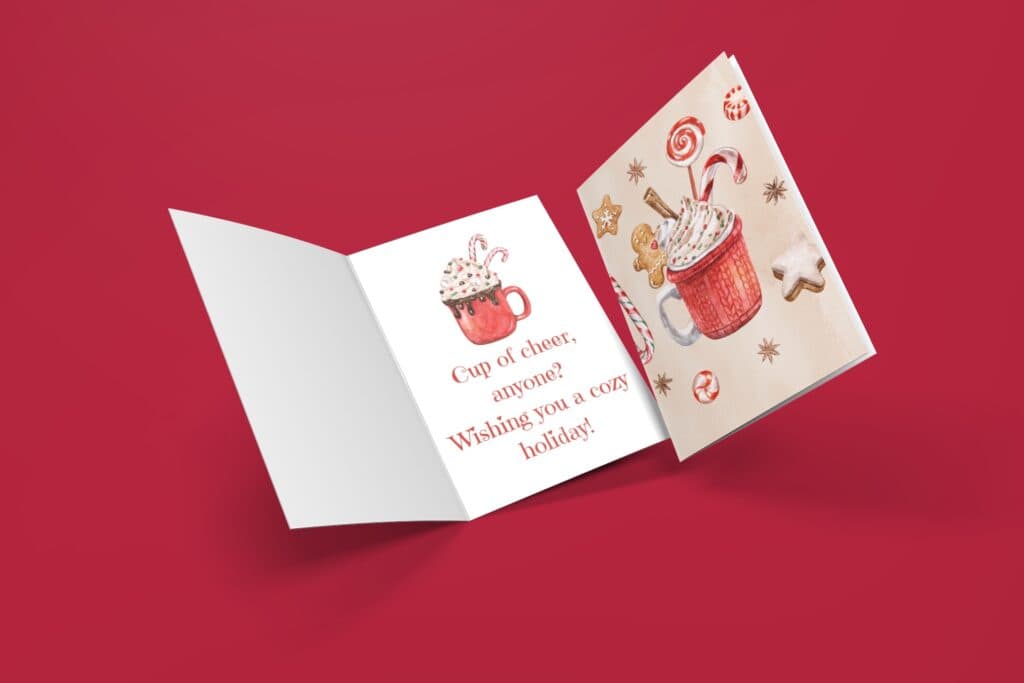 Cup of Cheer
Nothing says cozy holiday cheer like a steaming mug of hot cocoa! This one features a festive red mug brimming with whipped cream topped hot chocolate. The inside of the card reads, "Cup of cheer, anyone? Wishing you a cozy holiday," making it a perfect way to send a hug in a mug to those near and dear to you.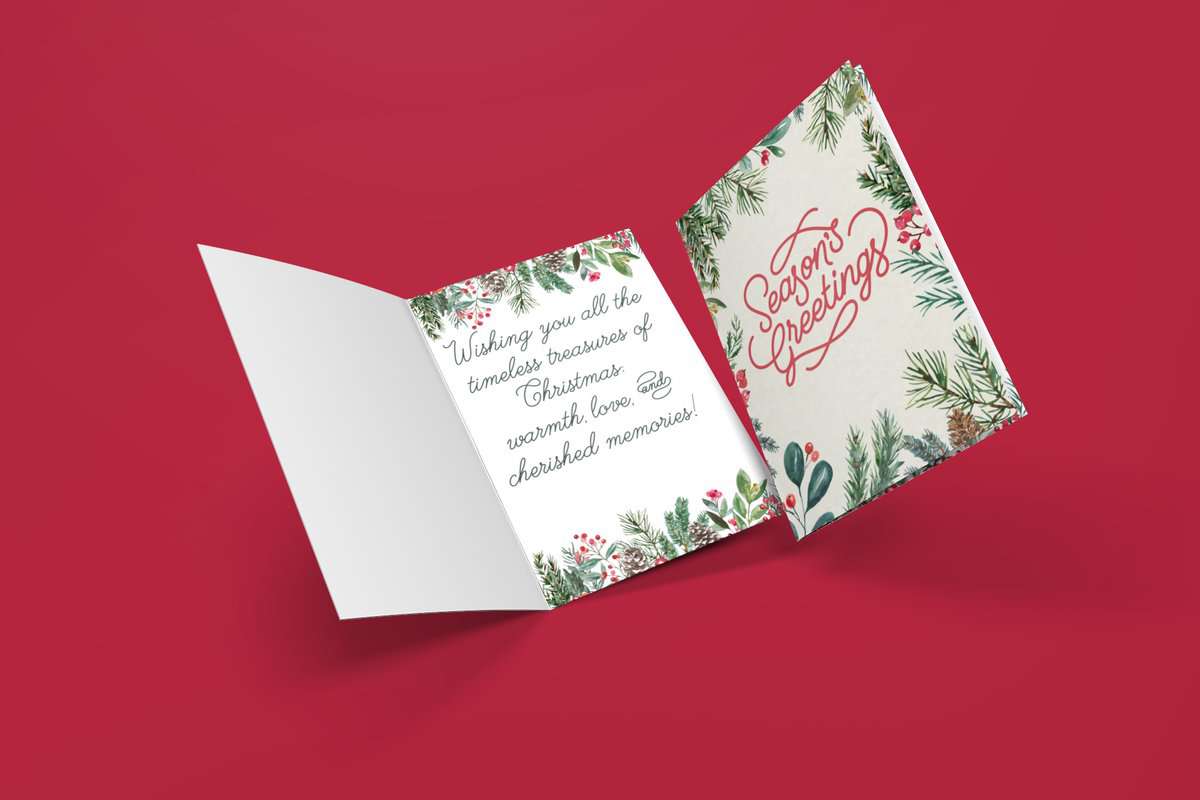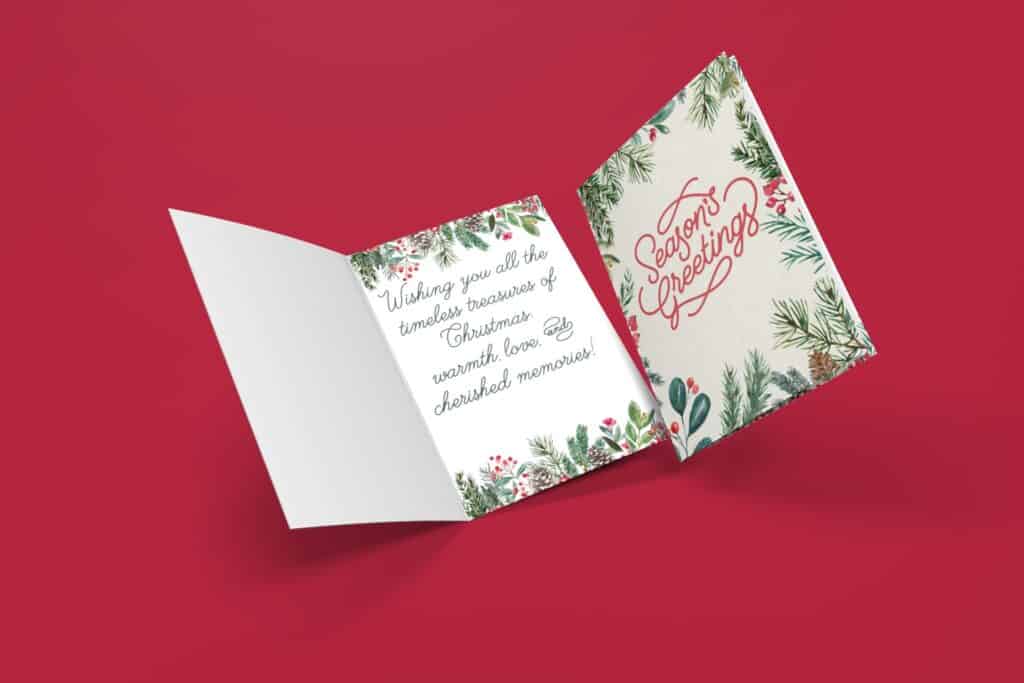 Season's Greetings
Embrace the timeless joy of the holiday season with this elegantly designed printable card, featuring an array of winter foliage, pinecones, and berries with the words "Season's Greetings" in graceful script. The card continues with the message: "Wishing you all the timeless treasures of Christmas: warmth, love, and cherished memories!"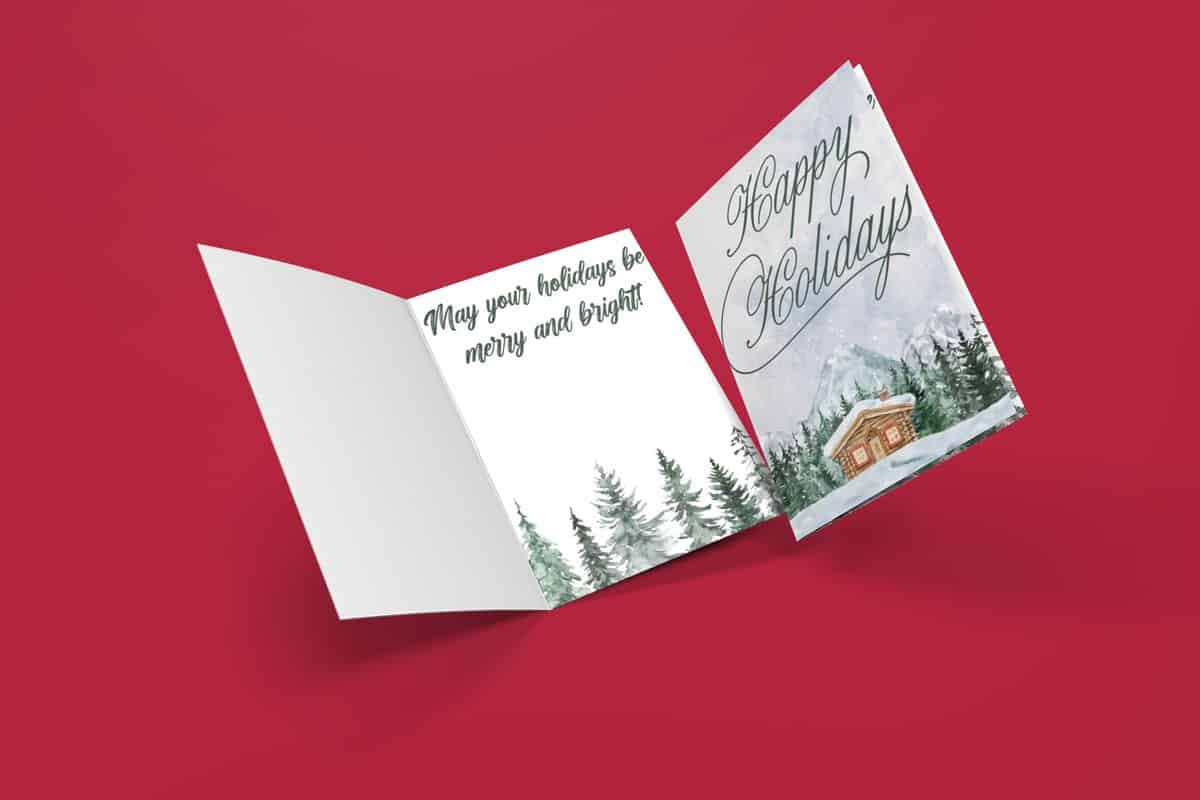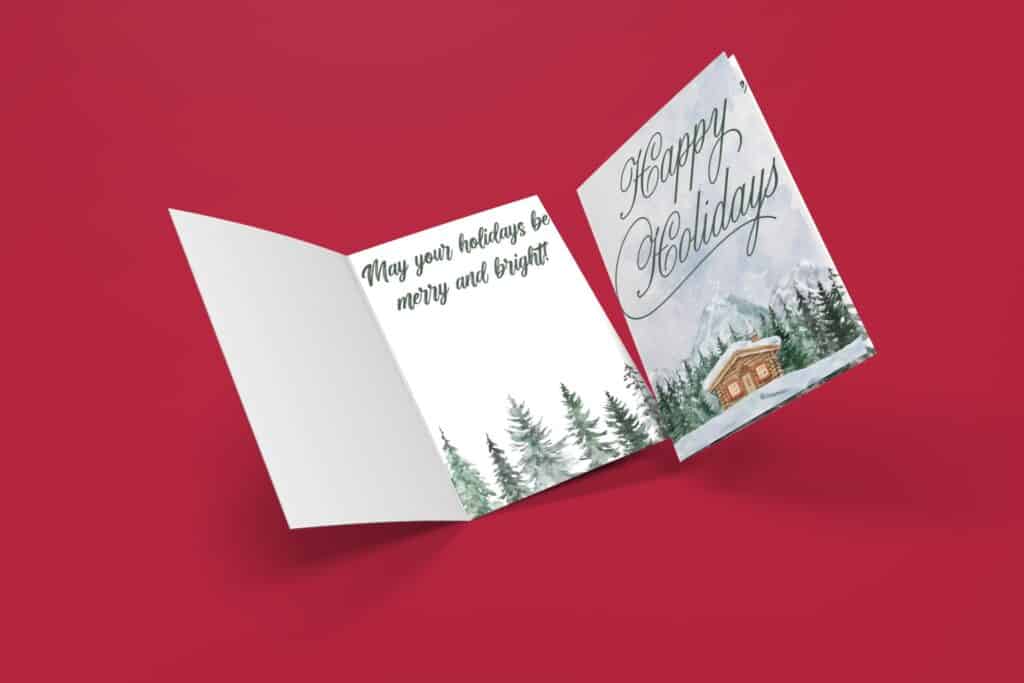 Happy Holidays
Enjoy the tranquil beauty of a winter's landscape with this picturesque scene. The front features a cozy cabin nestled among a forest of evergreens, snow, and mountains and the words "Happy Holidays" in elegant script. Inside, the printable card says, "May your holidays be merry and bright!"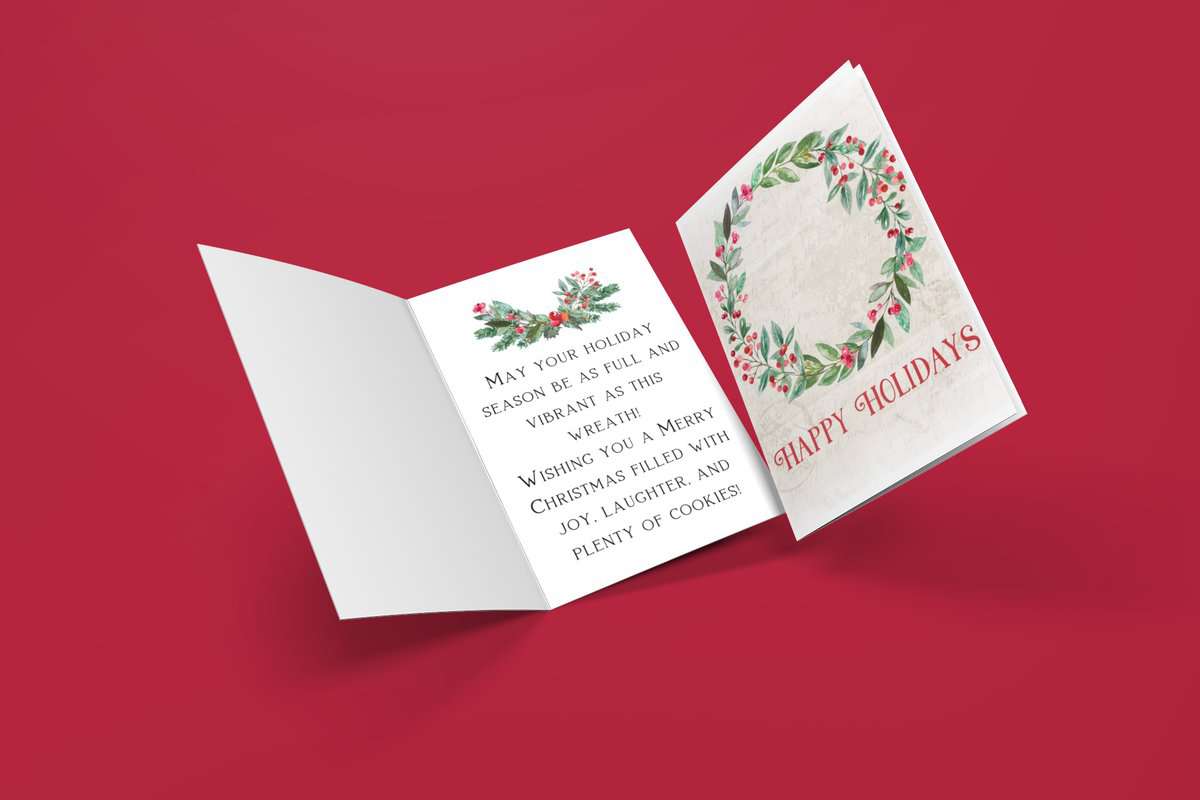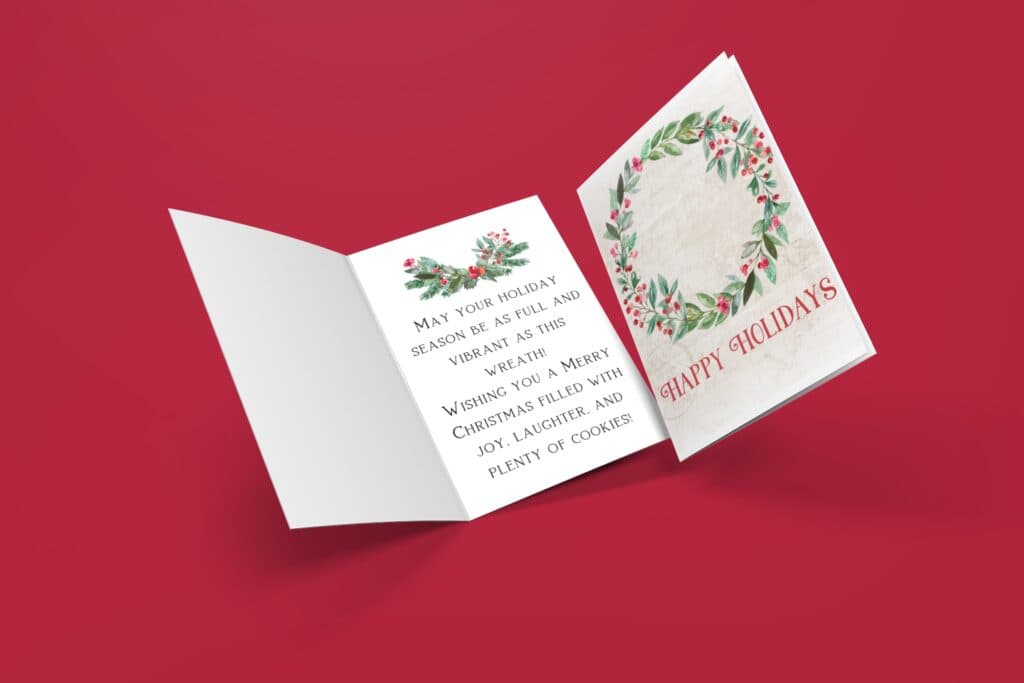 Wreath Printable Card
This classic holly wreath design features the words "Happy Holidays" on the front. The message continues on the inside: "May your holiday season be as full and vibrant as this wreath. Wishing you a Merry Christmas filled with joy, laughter, and plenty of cookies!"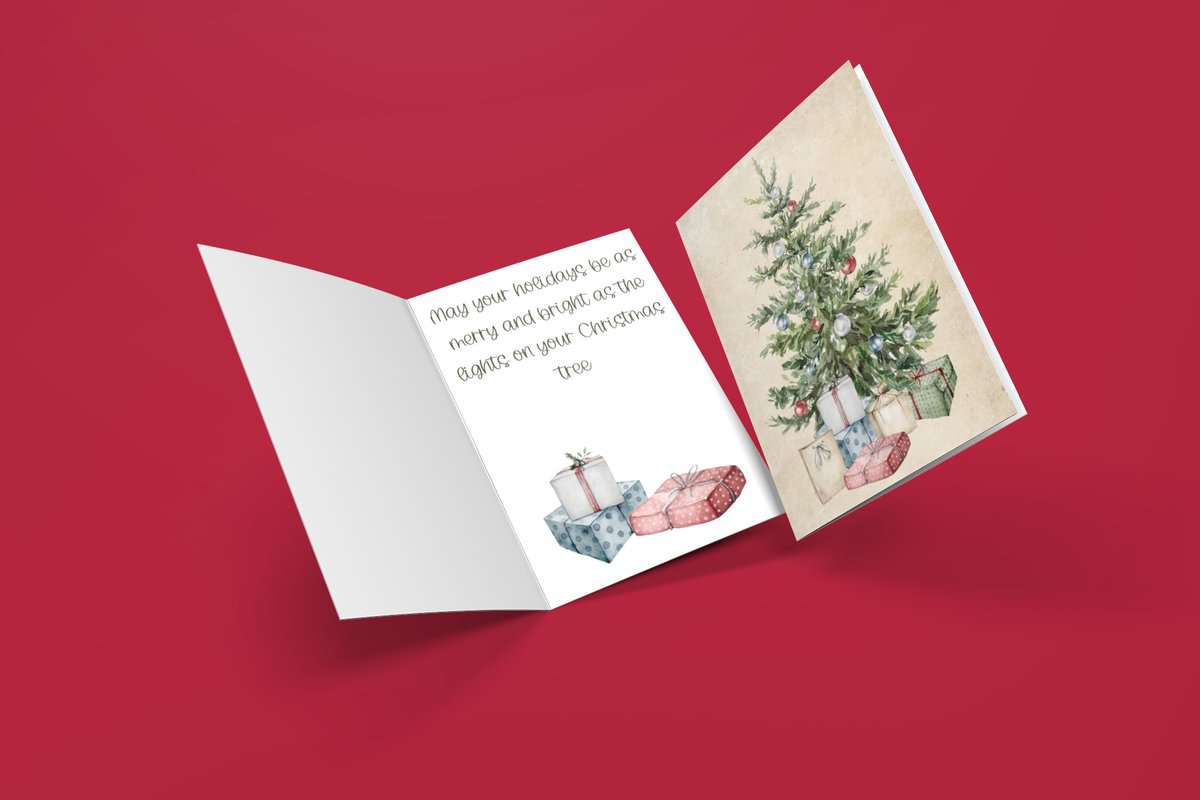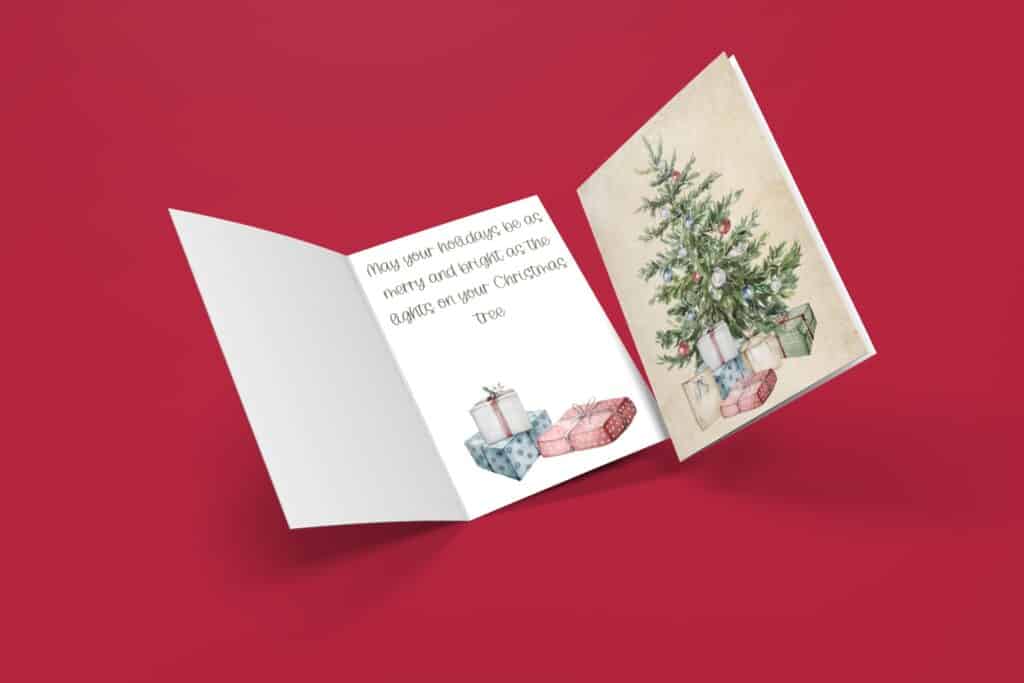 Vintage Christmas Tree
The front of the card showcases a vintage illustrated Christmas tree with a pile of wrapped gifts. It's a scene that will bring back cherished memories of family traditions and gift-giving. Inside, the sentiment is just as warm and bright: "May your holidays be as merry and brilliant as the lights on your Christmas tree."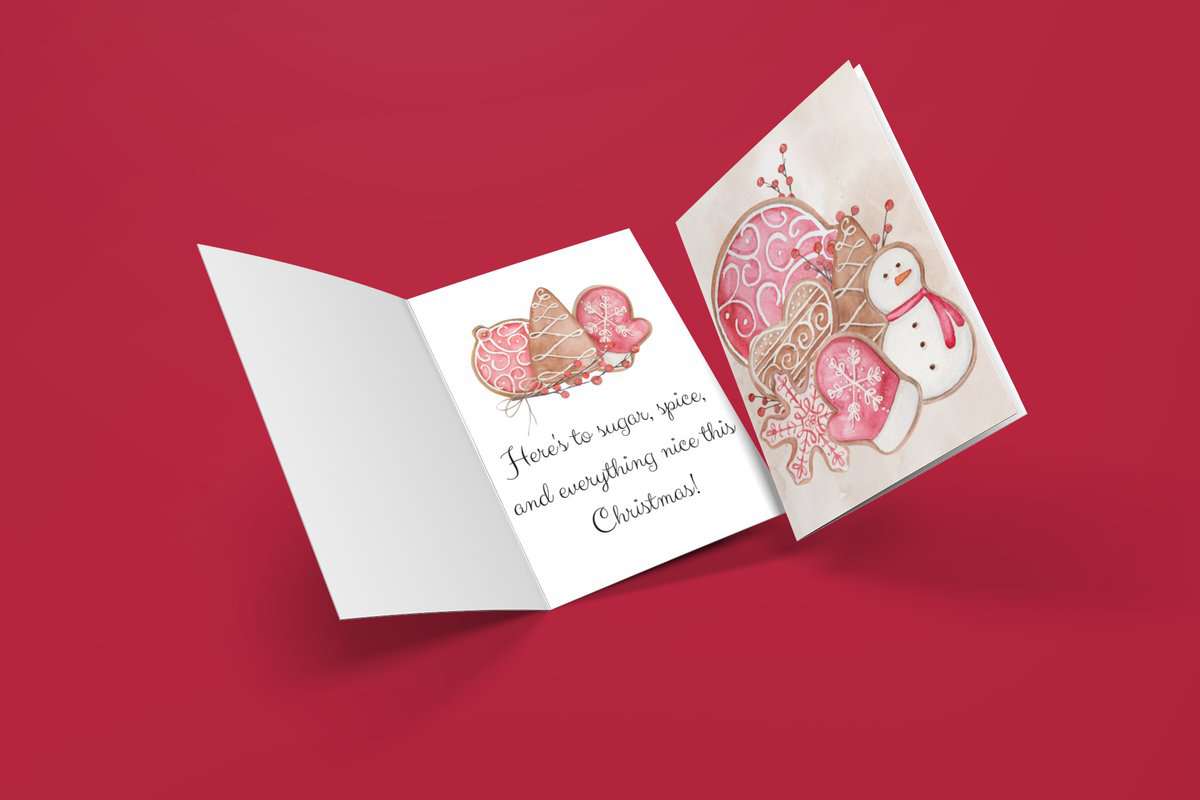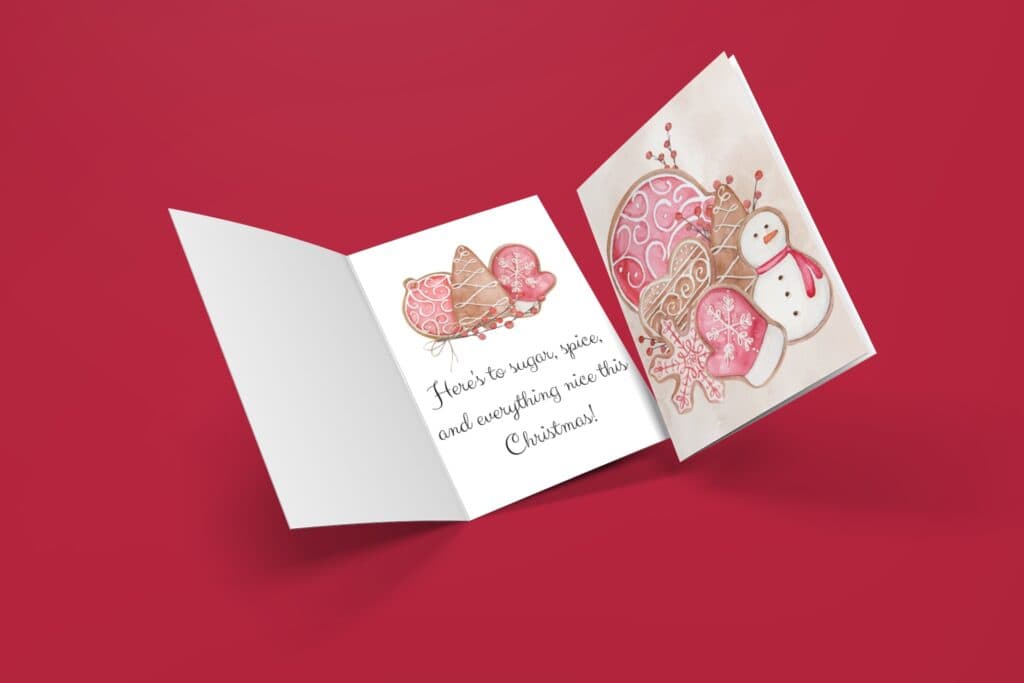 Christmas Cookies Printable Card
Sweeten the season with this delectable display of holiday cookies, from a cute snowman to elegant ornaments. It's a card that captures the joy of holiday baking. The inside of the card says, "Here's to sugar, spice, and everything nice this Christmas!"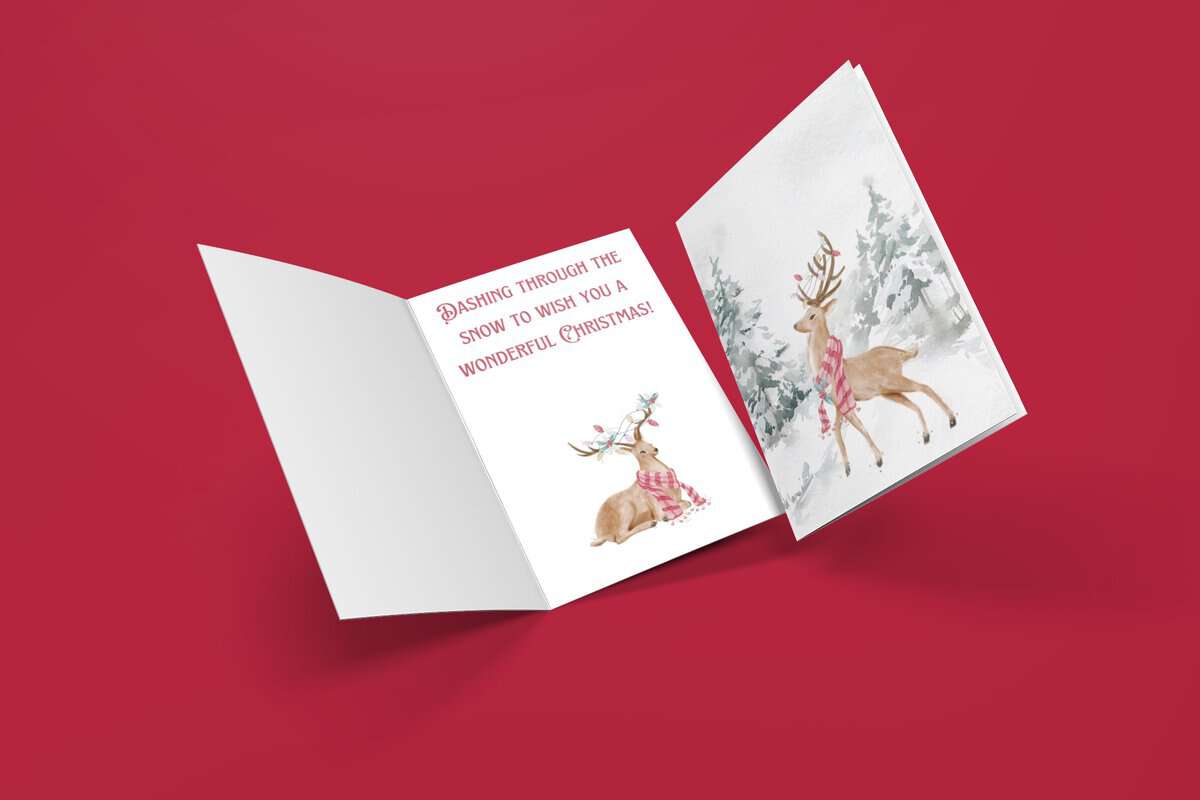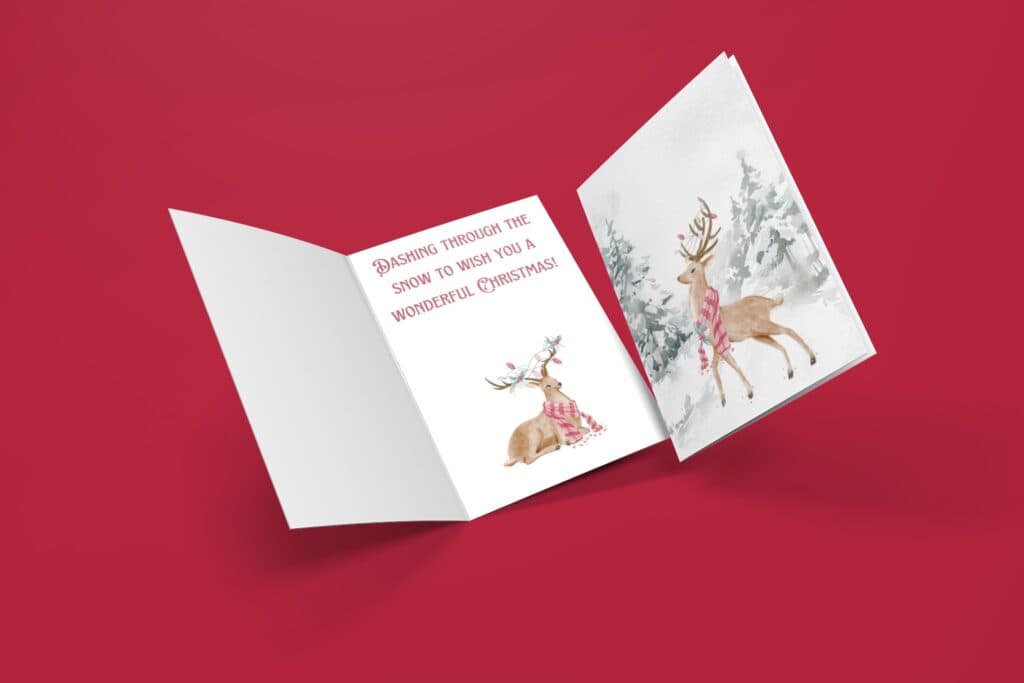 Winter Wonderland
This one captures the wonder of a winter wonderland. The front shows a reindeer set against a serene, snowy forest backdrop. Inside, the card continues with the message, "Dashing through the snow to wish you a wonderful Christmas!" This card is perfect for spreading festive cheer and the magic of the holidays to friends and family alike.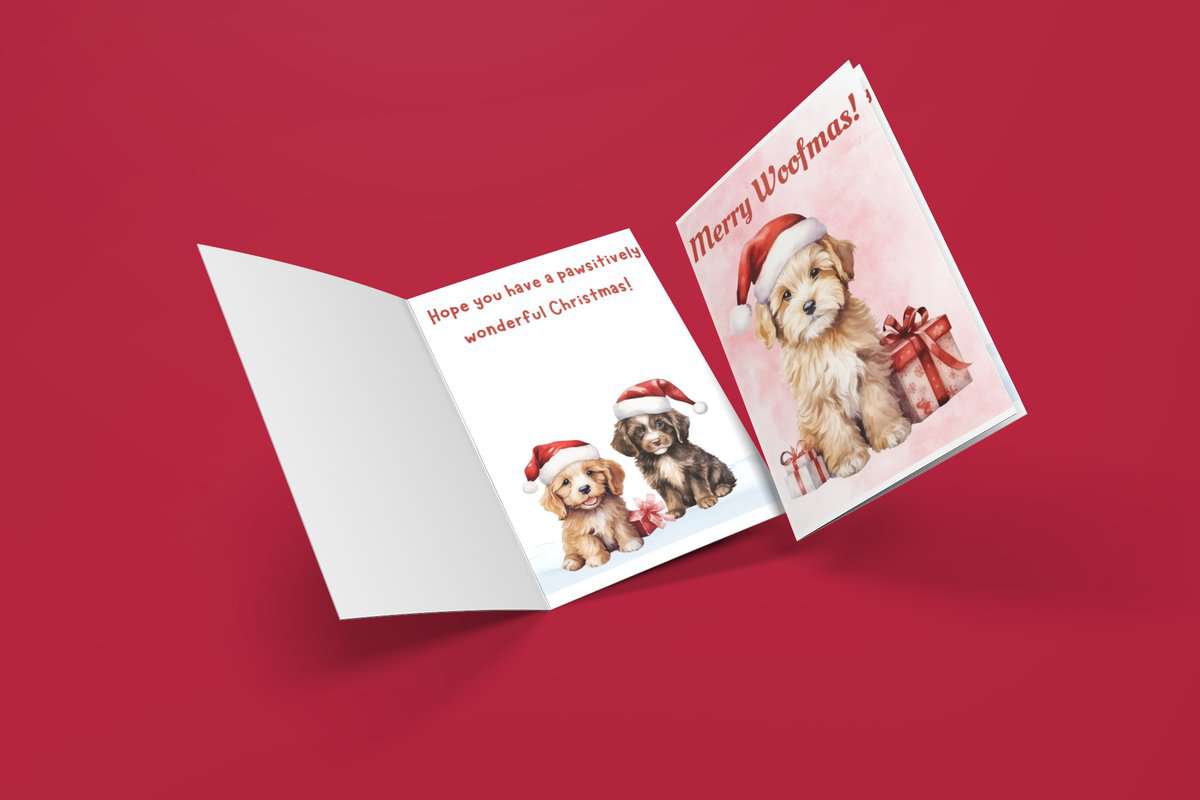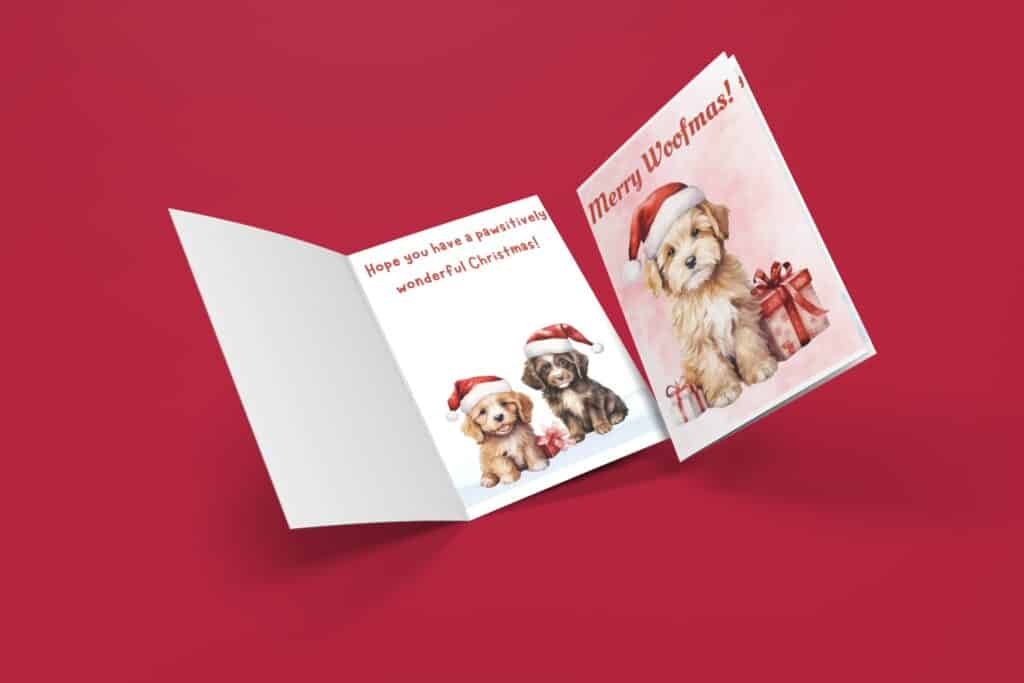 Merry Woofmas
For the dog lovers out there, this one will be a furry bundle of joy! The front has an adorable illustration of a puppy wearing a Santa hat accompanied by festive gifts — ready to spread some "Merry Woofmas" cheer. The playful message inside reads, "Hope you have a pawsitively wonderful Christmas!" It's the perfect way to share the cuddly warmth of the season with all the pet parents on your holiday card list.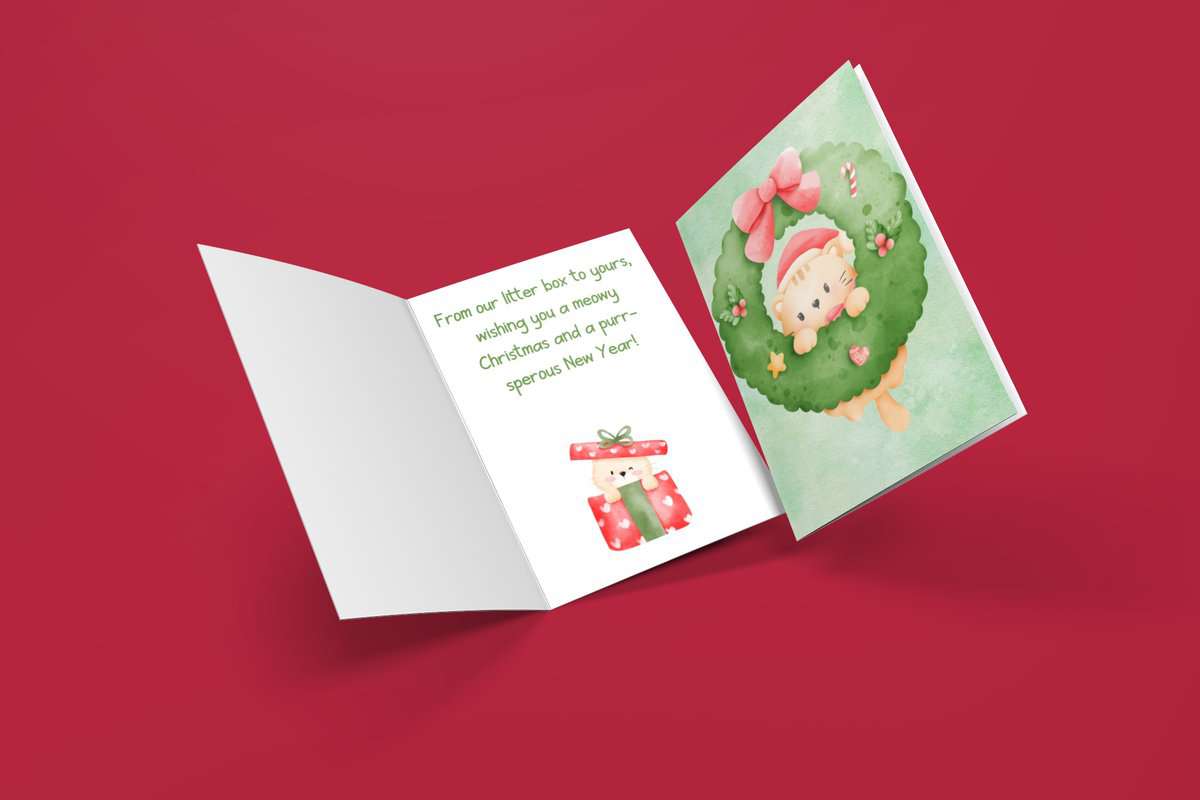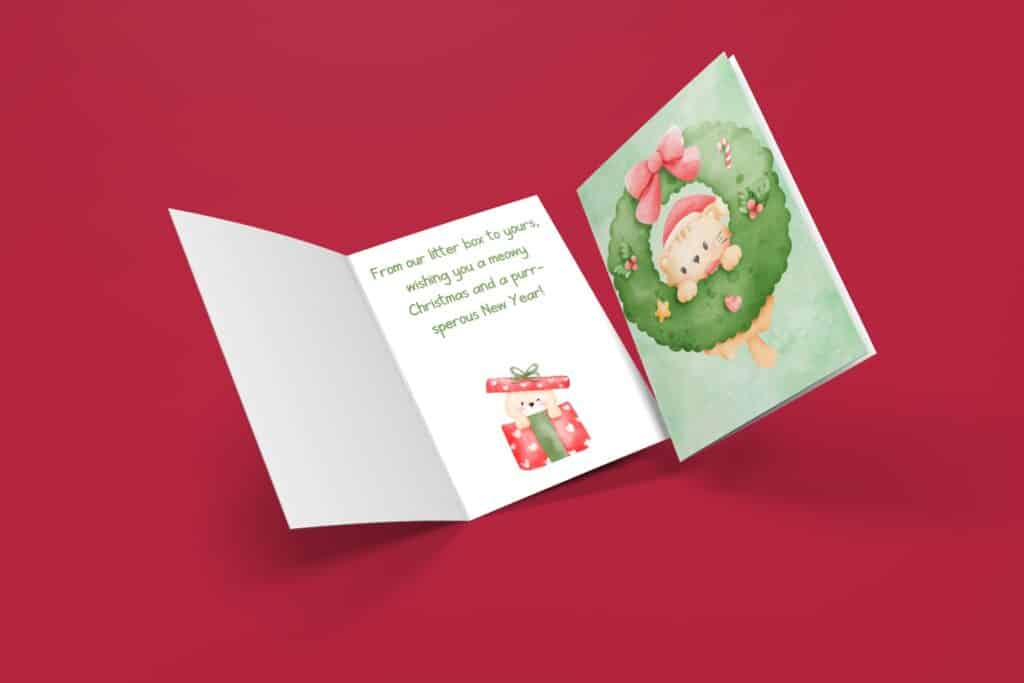 Meowy Christmas Printable Card
This printable card will surely be the pick of the litter for cat lovers! It's a purr-fect picture of holiday cuteness. Inside, this funny card says, "From our litter box to yours, wishing you a meowy Christmas and a purr-sperous New Year!"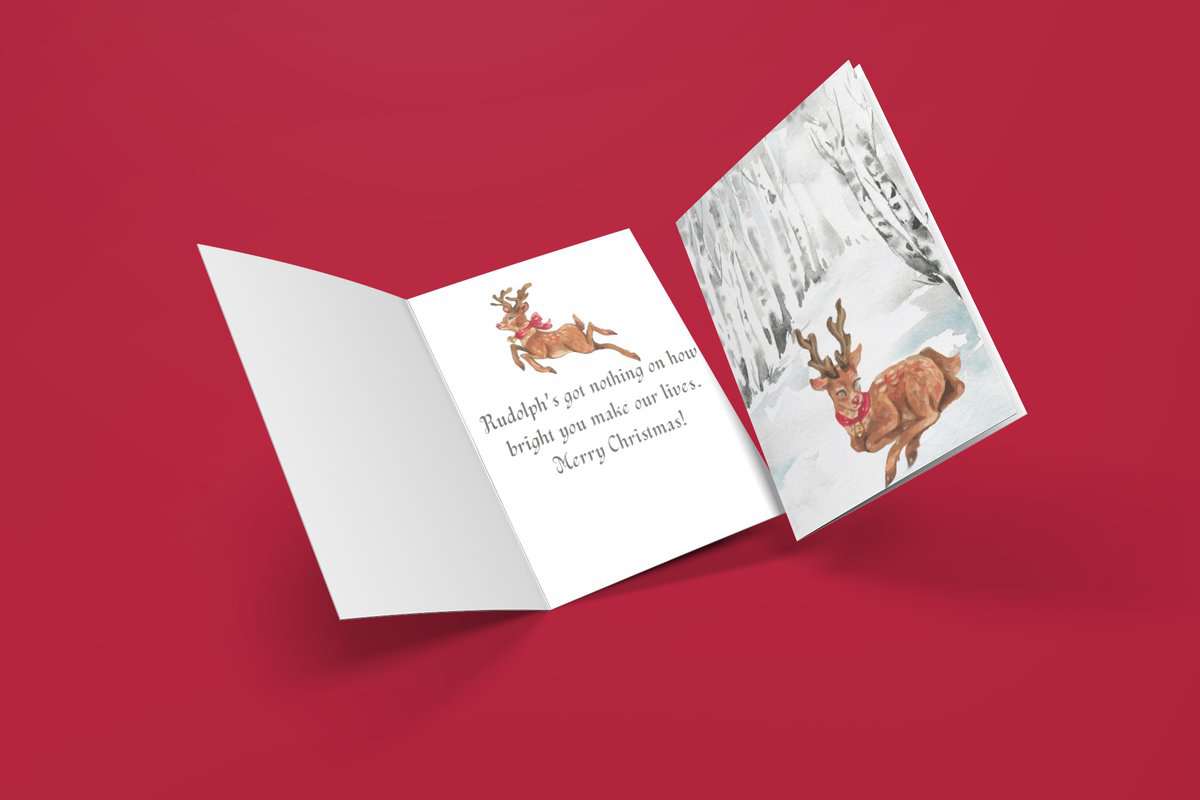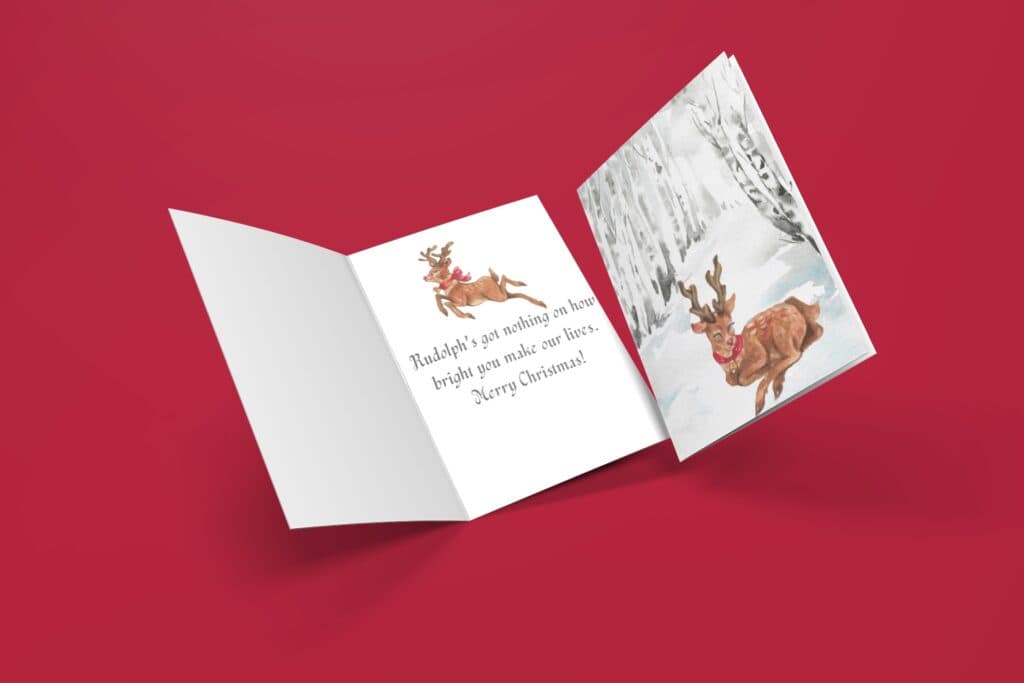 Winter Woodland
This card features vintage-style Rudolph the Red-Nosed Reindeer. The front of the card depicts a reindeer sitting peacefully against a wintery forest backdrop. The inside of the card reads, "Rudolph's got nothing on how bright you make our lives. Merry Christmas!"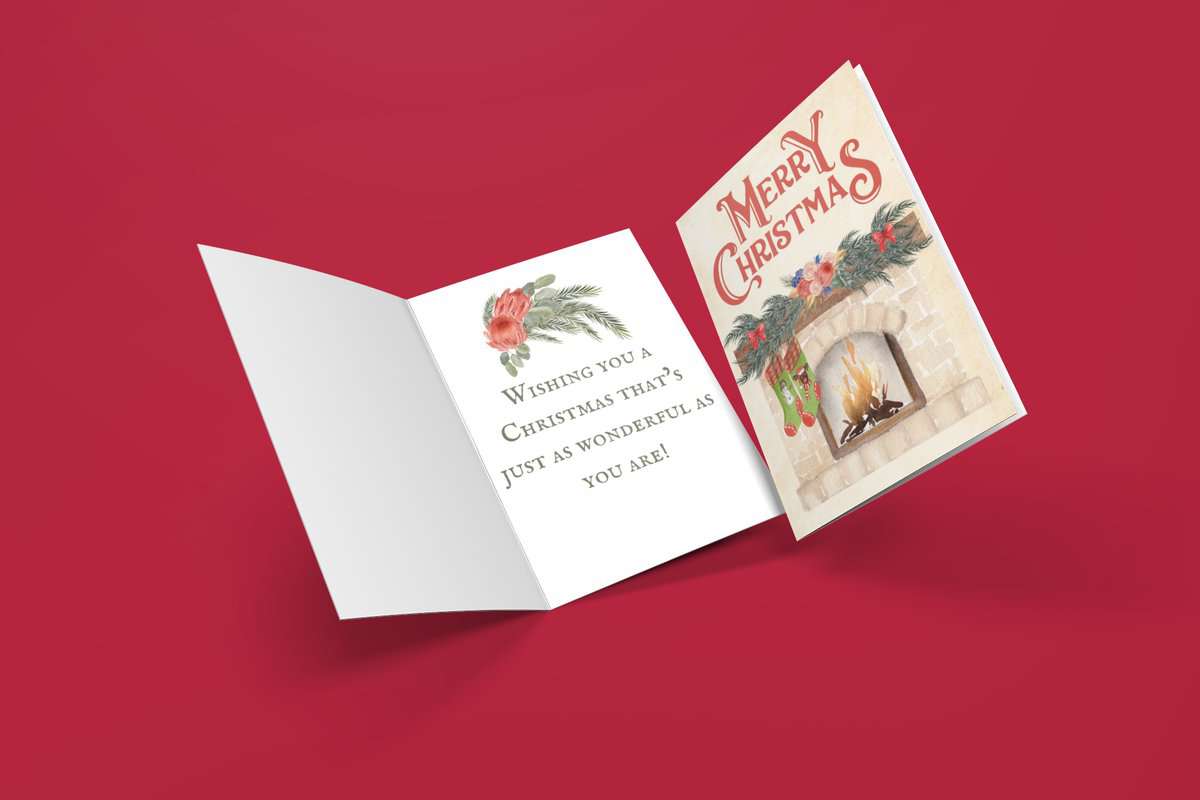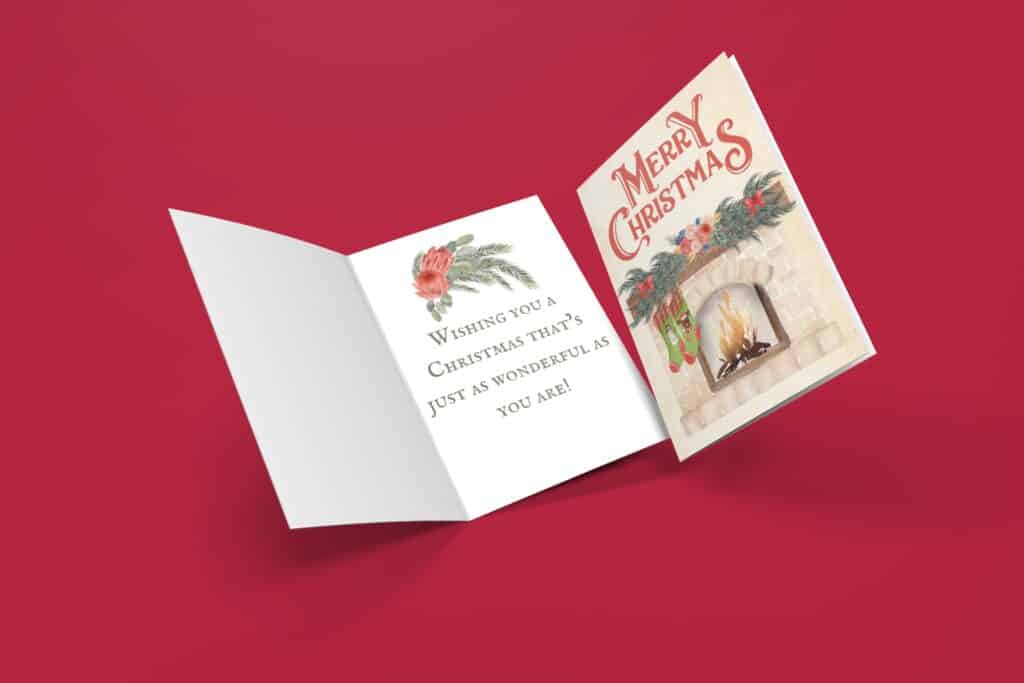 Cozy Fireplace
Step into the warmth of a classic Christmas with this holiday mantel card. The front has a crackling fire in a cozy stone fireplace with a festive garland and stockings. The message inside says, "Wishing you a Christmas that's just as wonderful as you are!" It depicts a picture-perfect moment of holiday peace that's great for sharing with both friends and family.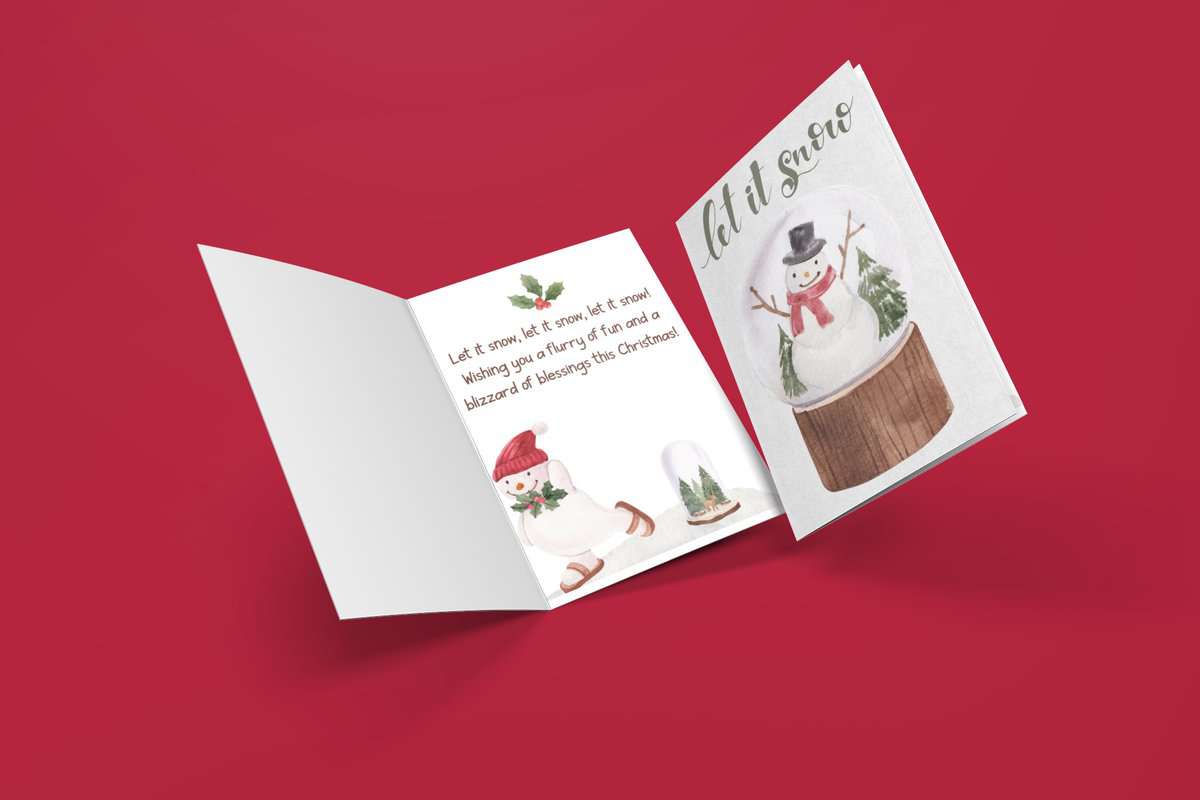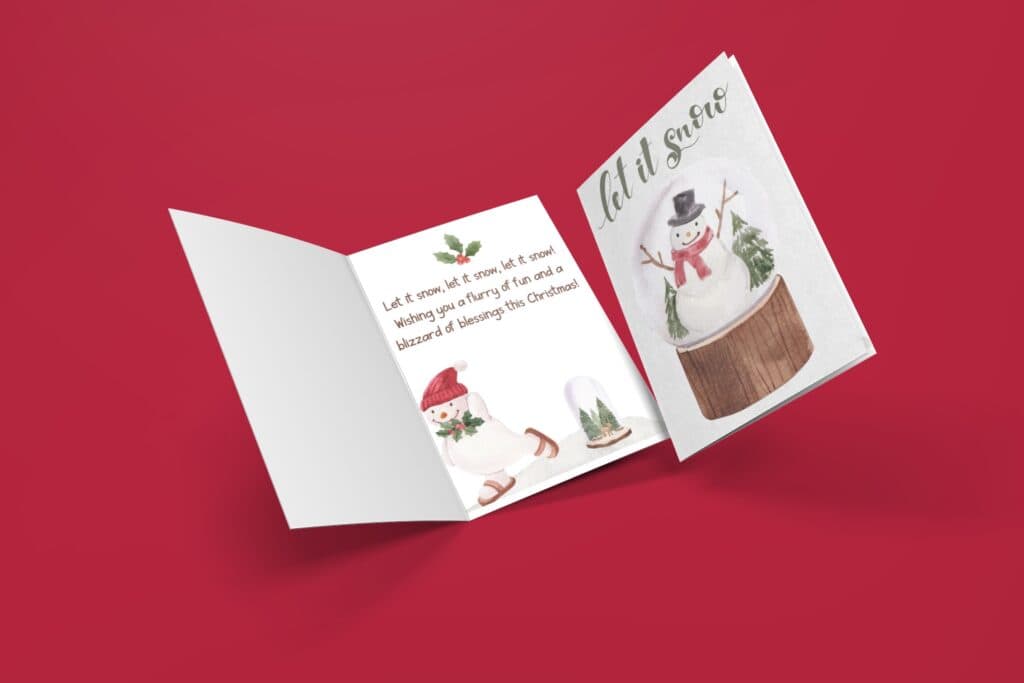 Let it Snow
This "Let it Snow" card shows a jolly snowman globe on top of a rustic stump, capturing the frosty charm of a snowy winter wonderland. The inside of this printable card adds to the wintry cheer with the following message: "Let it snow, let it snow, let it snow! Wishing you a flurry of fun and a blizzard of blessings this Christmas!"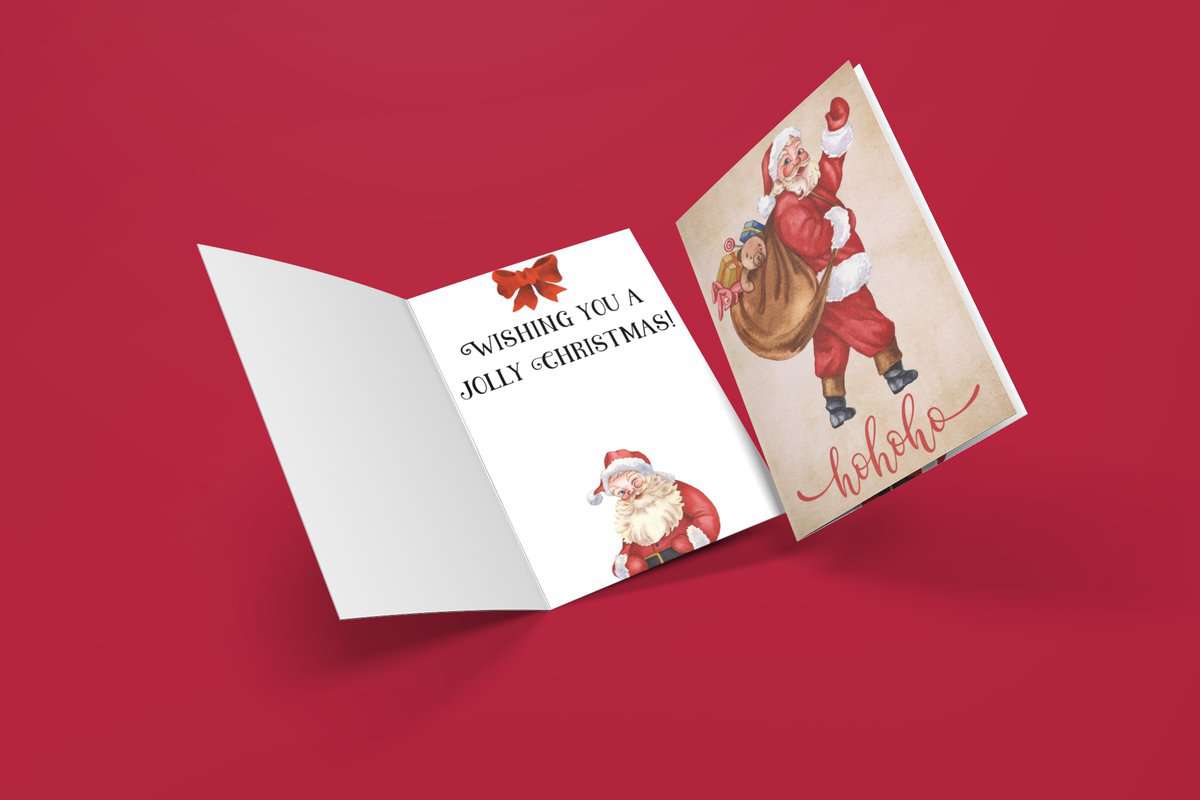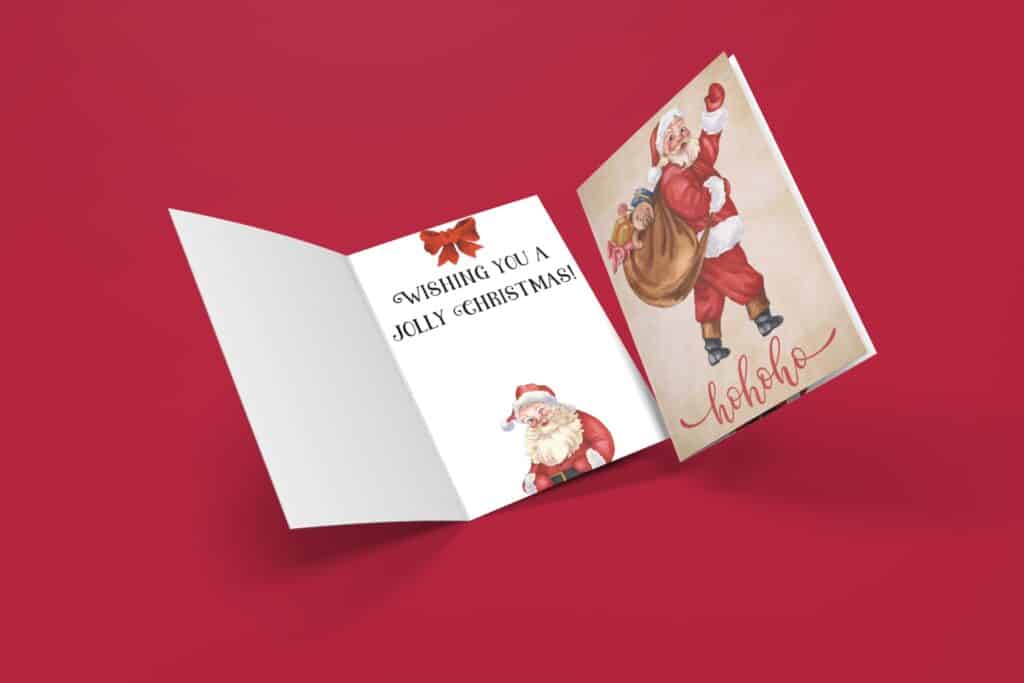 Vintage Santa Card
The cover features a vintage-inspired St. Nick. Inside, the card offers a simple yet timeless message: "Wishing you a jolly Christmas!" It's a card that delivers a hearty dose of nostalgia, perfect for spreading holiday cheer to friends and family during this festive season.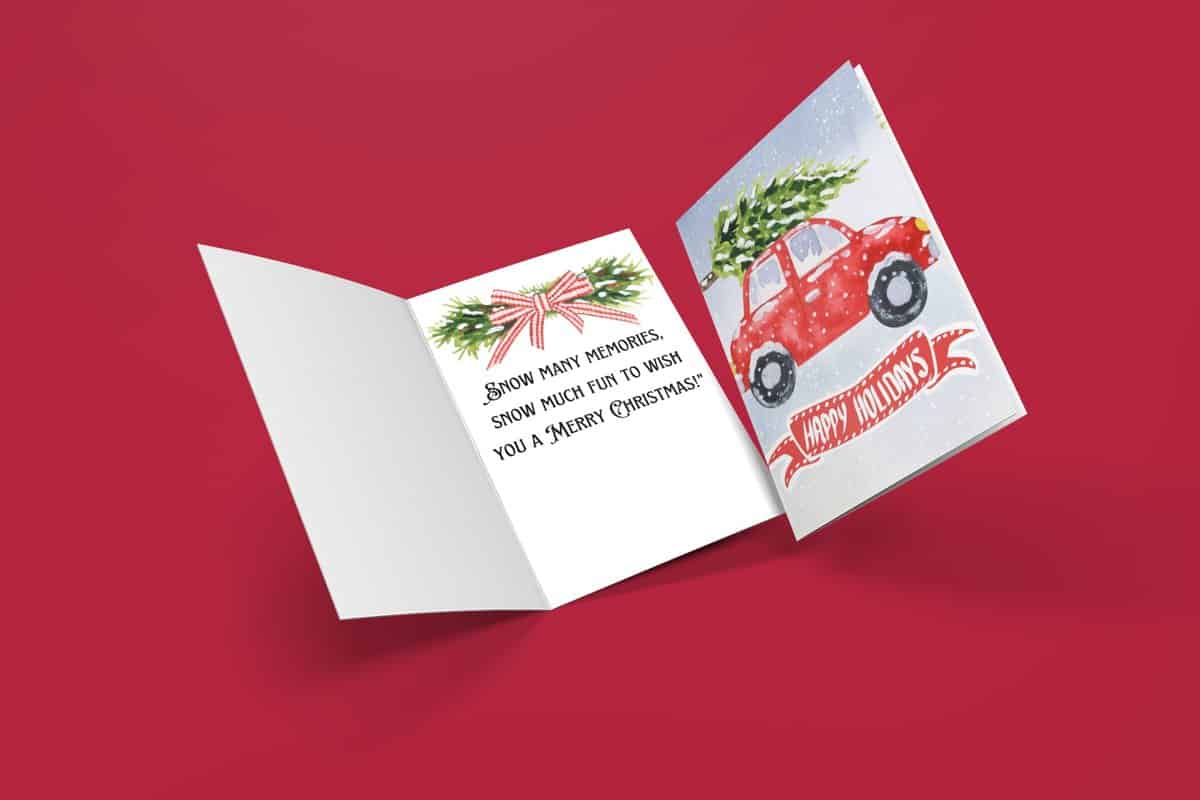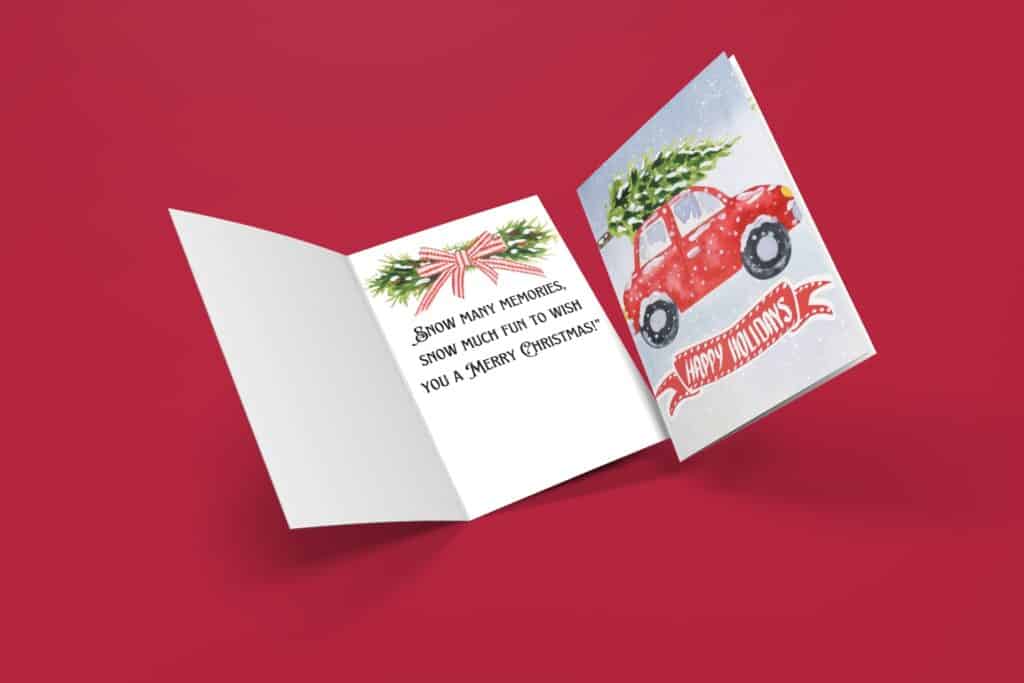 Vintage Car Christmas Printable Card
The front of the card shows a classic red car, topped with a fresh Christmas tree, making its way through a gentle snowfall – a scene that's bound to stir up memories of picking out the perfect tree. It's a nostalgic nod to holiday traditions. The card reads inside: "Snow many memories, snow much fun to wish you a Merry Christmas!"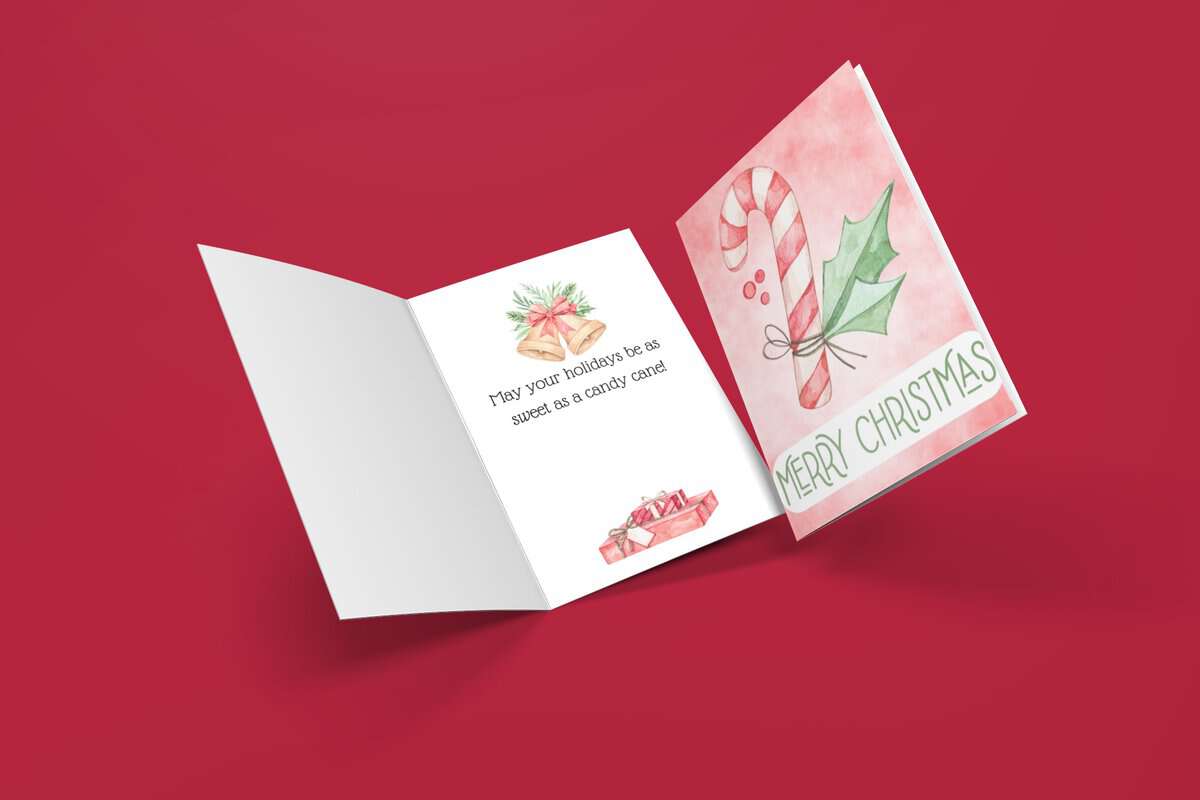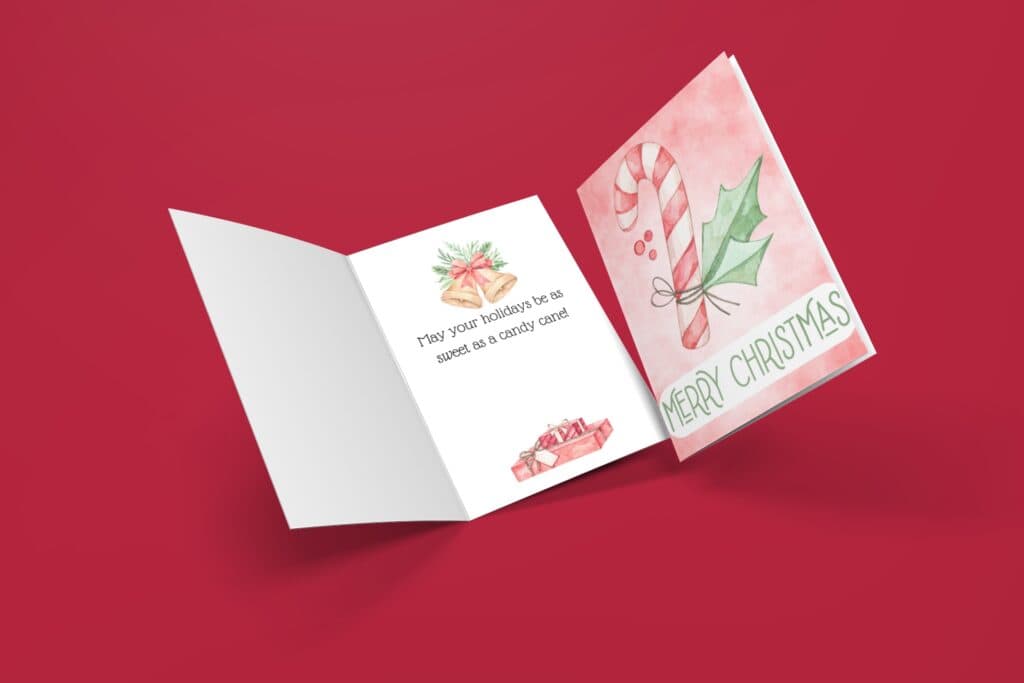 Candy Cane Card
Spread the sweetness of the festive season with this one featuring a candy cane. The soft, watercolor background adds to its timeless charm. The message inside says: "May your holidays be as sweet as a candy cane!"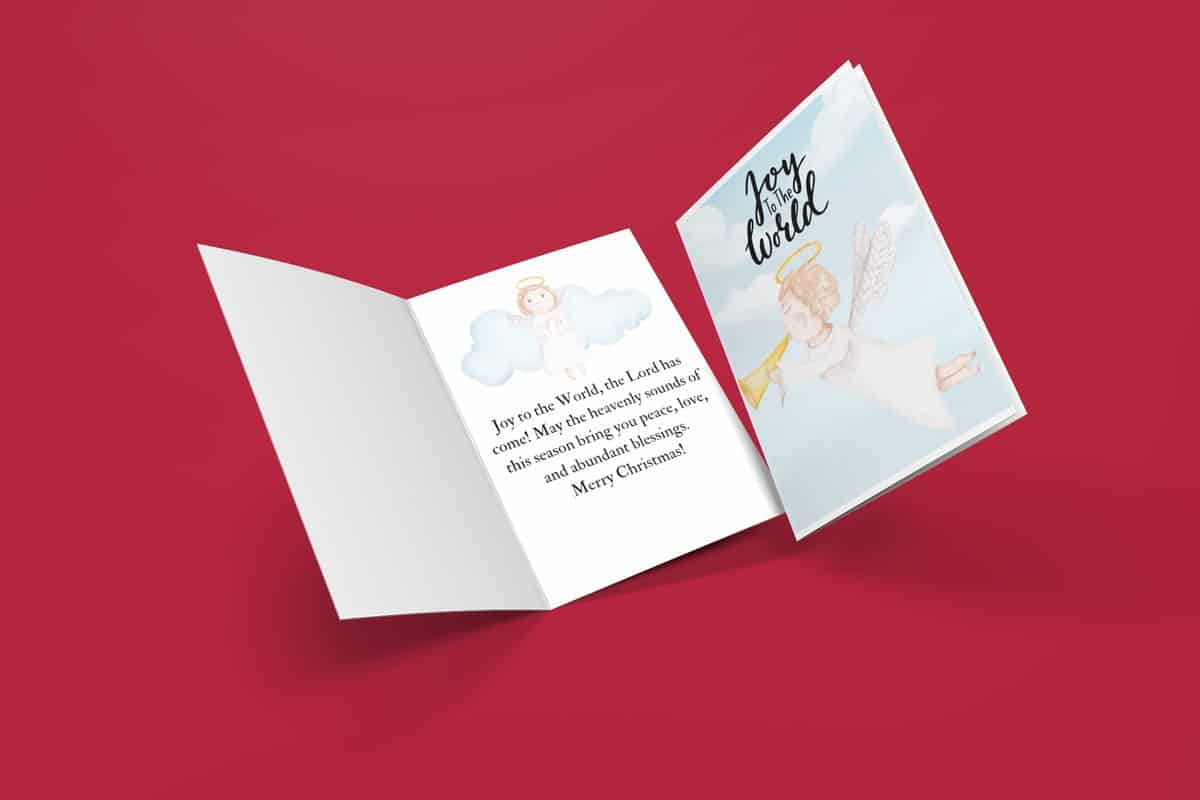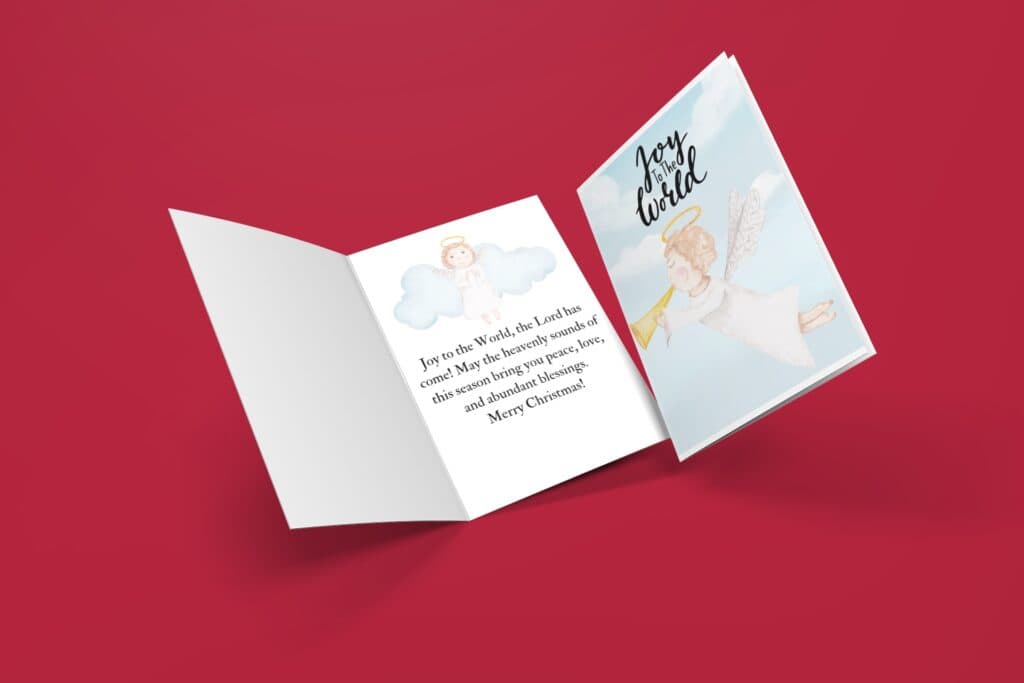 Joy to the World
This religious card is a divine way to spread holiday cheer. The cover has an angel blowing a trumpet and heralding the message of "Joy to the World" amidst a backdrop of soft, heavenly clouds. The card's message inside continues with: "Joy to the world, the Lord has come! May the heavenly sounds of this season bring you peace, love, and abundant blessings. Merry Christmas."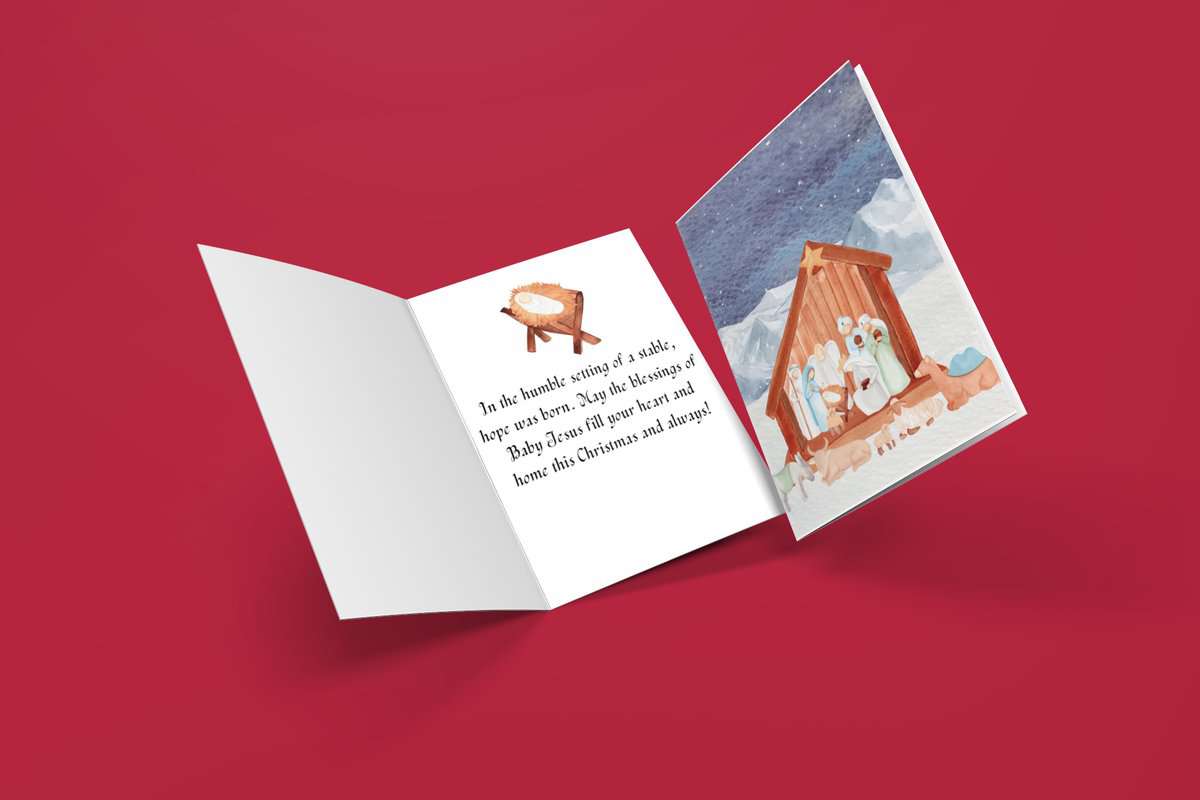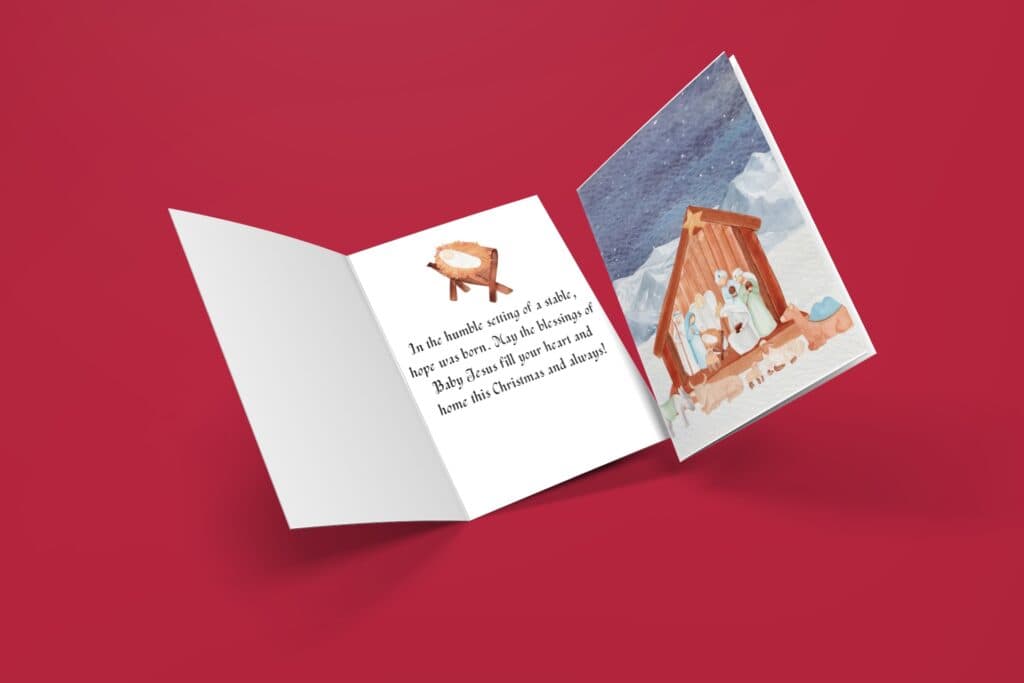 Nativity Scene
The front of this one depicts a serene nativity manger scene set against a backdrop of snowy mountains under a starlit sky, capturing the peacefulness of the first Christmas night. Inside, the message reads: "In the humble setting of a stable, hope was born. May the blessings of Baby Jesus fill your heart and home this Christmas and always."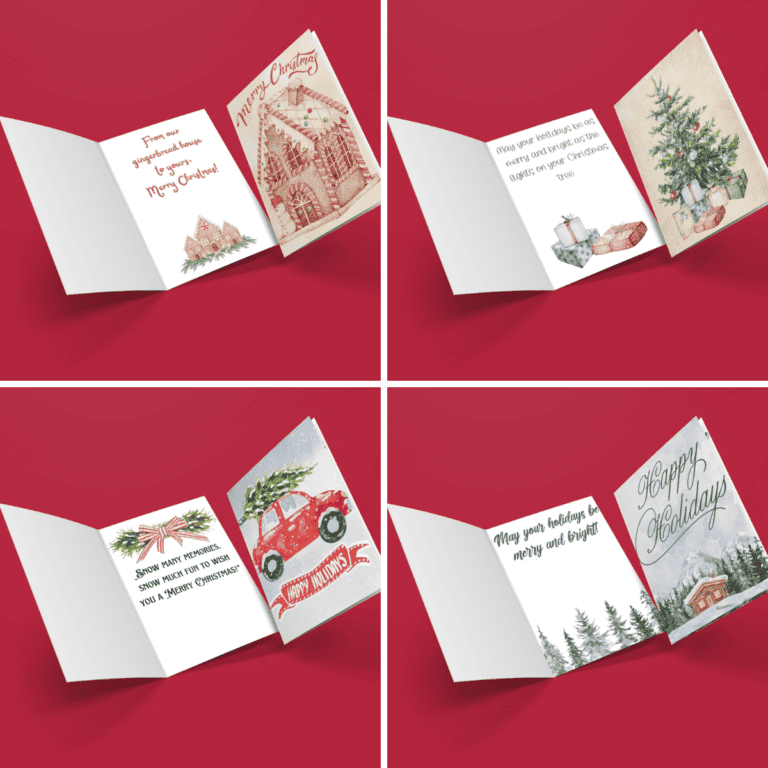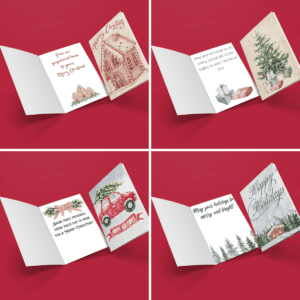 Free Christmas Printable Card
How to download and print these free foldable Christmas cards
Equipment
scissors

(or paper trimmer)

printer
Materials
1

piece

cardstock or printer paper

(cardstock is highly recommended for best quality)

free printable PDF files
Instructions
Load the paper into your printer's tray and select the proper paper format from the printer's menu.

Open the file in Adobe Acrobat or another PDF viewer software

Go to File –> Print. Make sure the paper size is set to "Fit" to ensure the entire document fits on the page.

Make sure your printer settings are set to the best quality.

Fold the card in half horizontally and then fold it again vertically.

Trim any excess paper off the top and right side with a paper trimmer or scissors, if desired.

Write a personalized message inside the card for the recipient (optional) and sign it.

Put it in an envelope (optional).
More Christmas Printables