Celebrate your child's birthday with these fun Free Printable Happy Birthday Coloring Pages for Kids!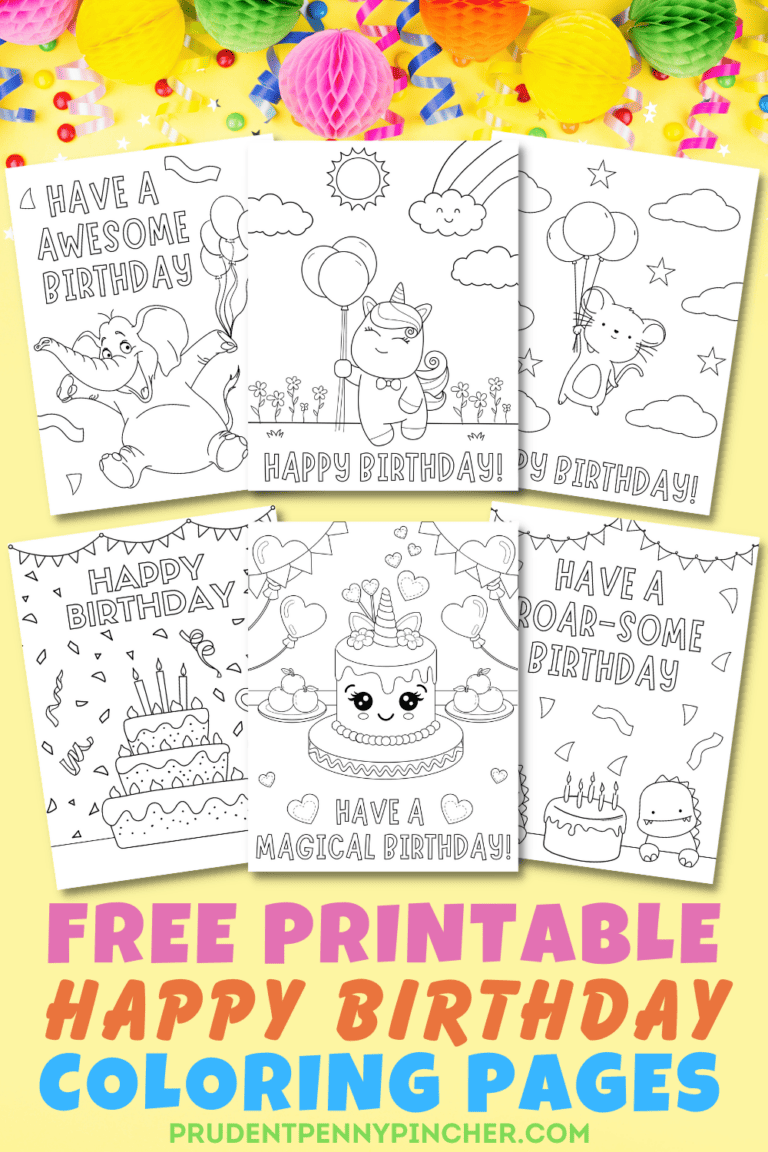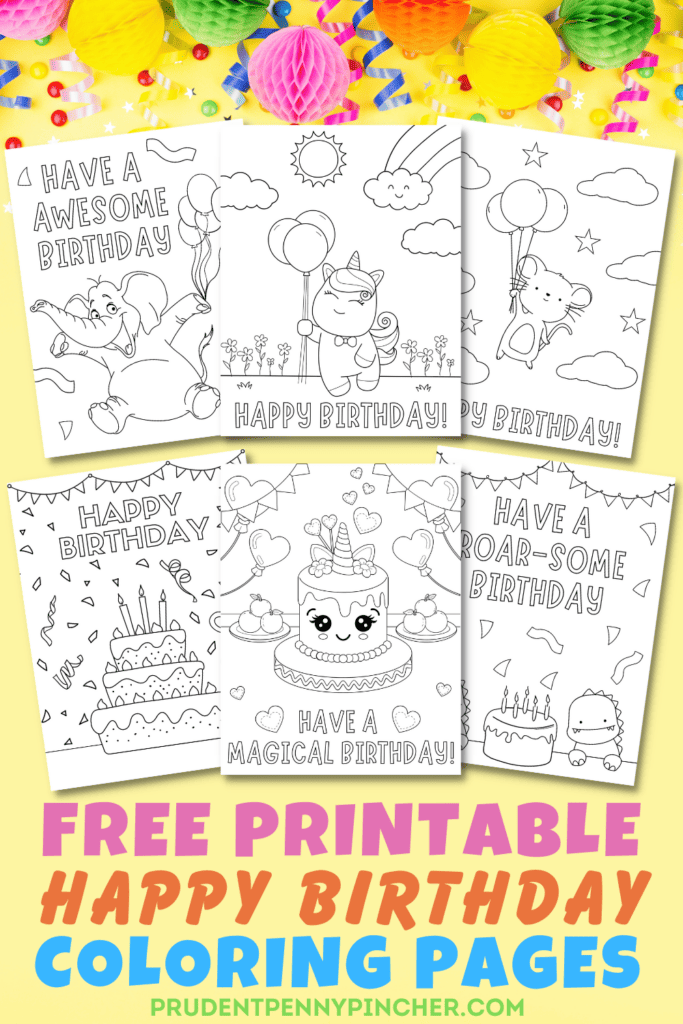 These happy birthday coloring sheets feature festive design elements, such as cakes, balloons, gifts, party hats, birthday cards, and more. With these free printables, children can dive into a world of imagination, adding their creative touch to the celebration. They make great gift ideas and homemade happy birthday cards to give at the birthday party.
Whether you plan to use these coloring pages in the classroom or at home, they are a fun activity for kids of all ages. There are simple designs for young kids like toddlers and preschoolers and more detailed ones for older children and teens.
You will also find fun themes for kids, such as unicorns, cats, mermaids, dinosaurs, teddy bears, elephants, aliens, etc. There are both coloring pages for little boys and girls here, so there's something for everyone.
Whether it's a handmade birthday card, a personalized gift, or a collaborative coloring activity with friends or family, these coloring pages add a touch of magic and joy to any birthday occasion. They will create an unforgettable experience for children of all ages.
These free printable coloring pages offer a perfect blend of fun and education, allowing children to express their creativity in a fun way while celebrating this special day.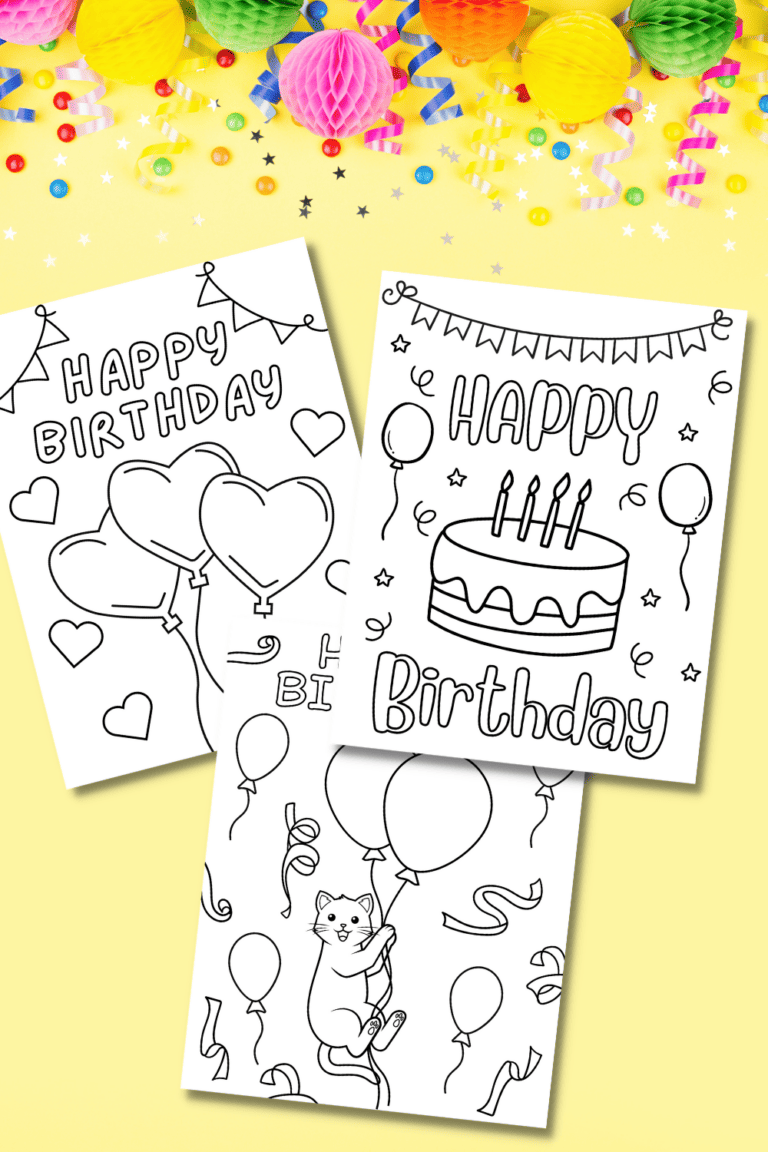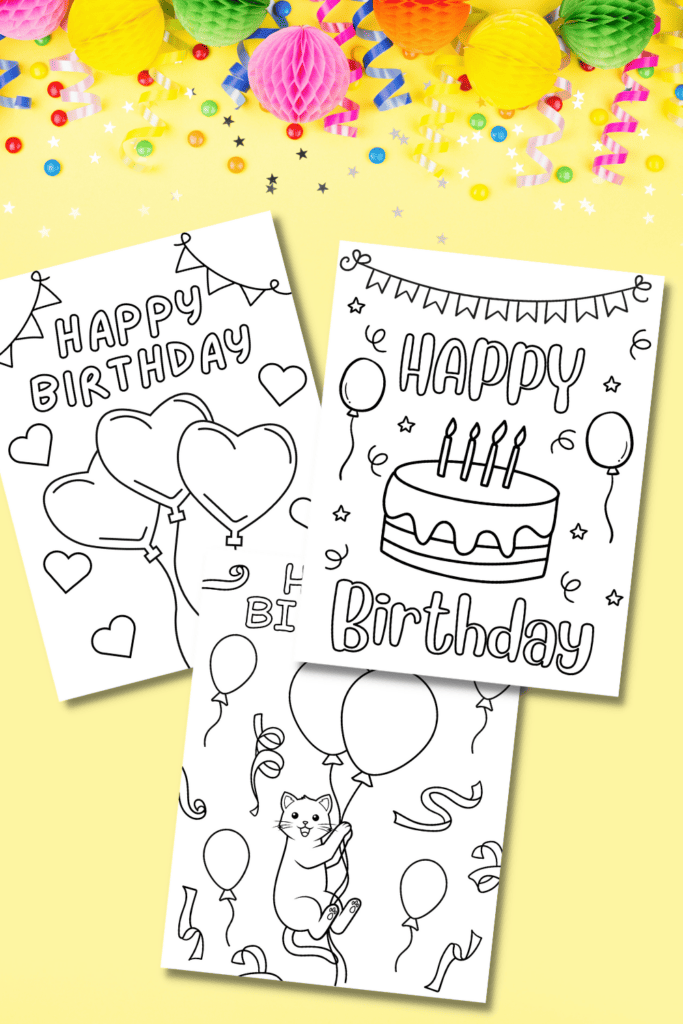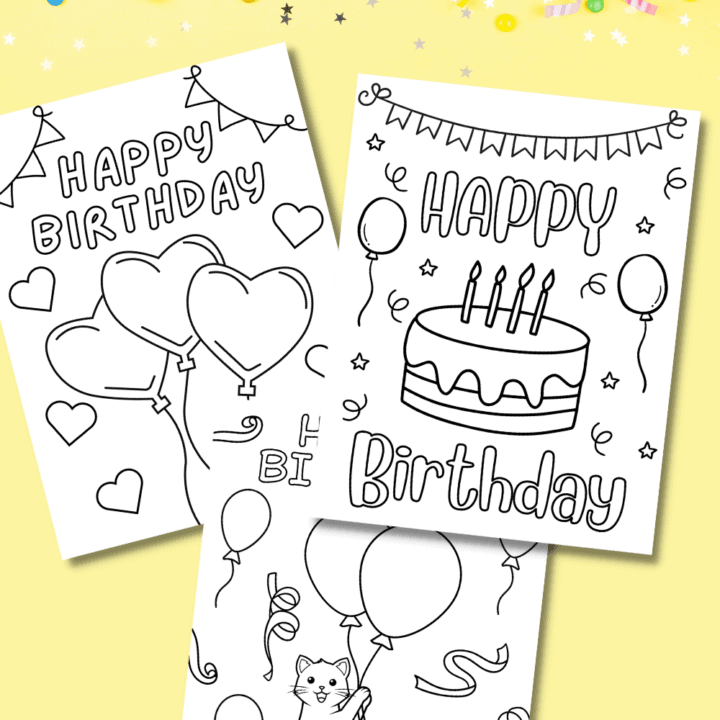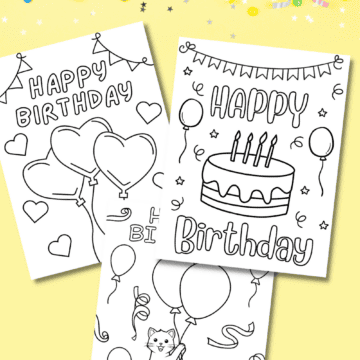 How to Download and Print These Happy Birthday Coloring Pages
a tutorial for how to download and print these coloring pages
Equipment
art supplies

crayons, colored pencils, markers, watercolors, etc.

printer
Instructions
How to Download
Download the coloring pages by clicking the link to the one you want to print.

Once it opens, click the download button in the toolbar at the bottom of the screen.

Save it to your computer.

Open the file in Adobe Acrobat or another PDF viewing software.
How to Print
Load the paper into your printer's paper tray.

Go to File –> Print. Open your printer settings or printing preferences. The printing settings will vary based on your printer, but ensure the print quality is set to the "Best" setting before printing.

Select "Fit" from the page sizing settings.

Click the print button.
Happy Birthday Coloring Pages for Young Kids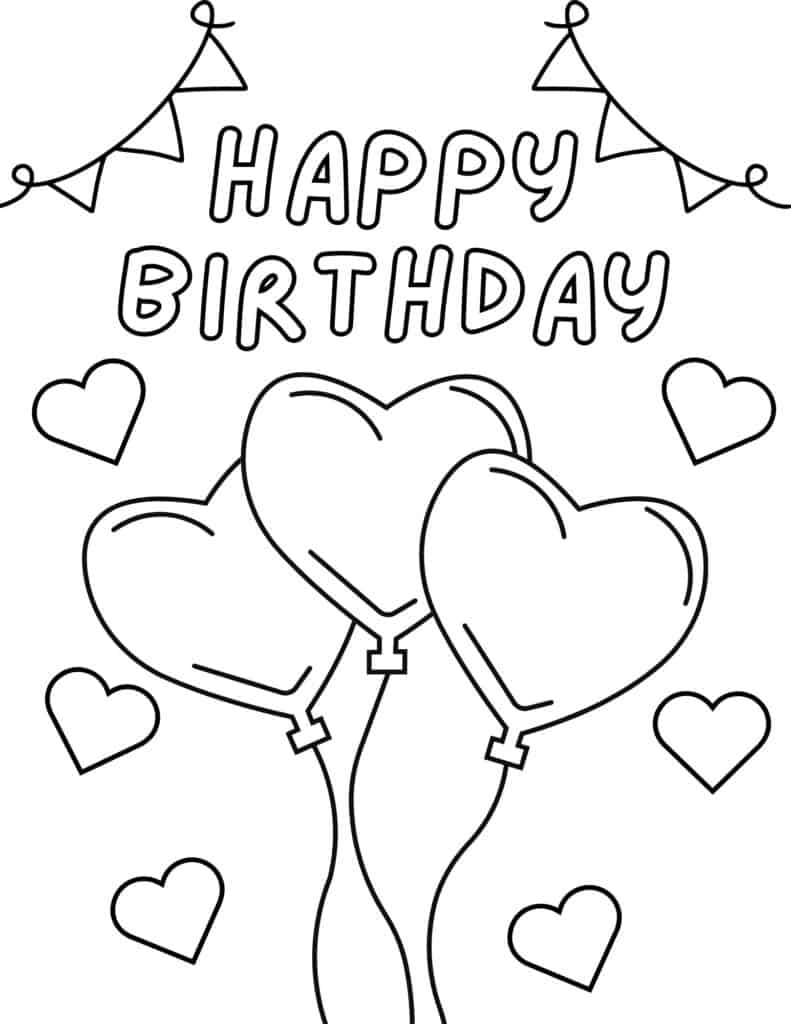 Heart Balloons
This cute sheet features a trio of heart-shaped balloons with a party banner gracing the top corners, setting the stage for a vibrant display of color as children unlock their creativity. It would make a great gift or card for the birthday girl or boy.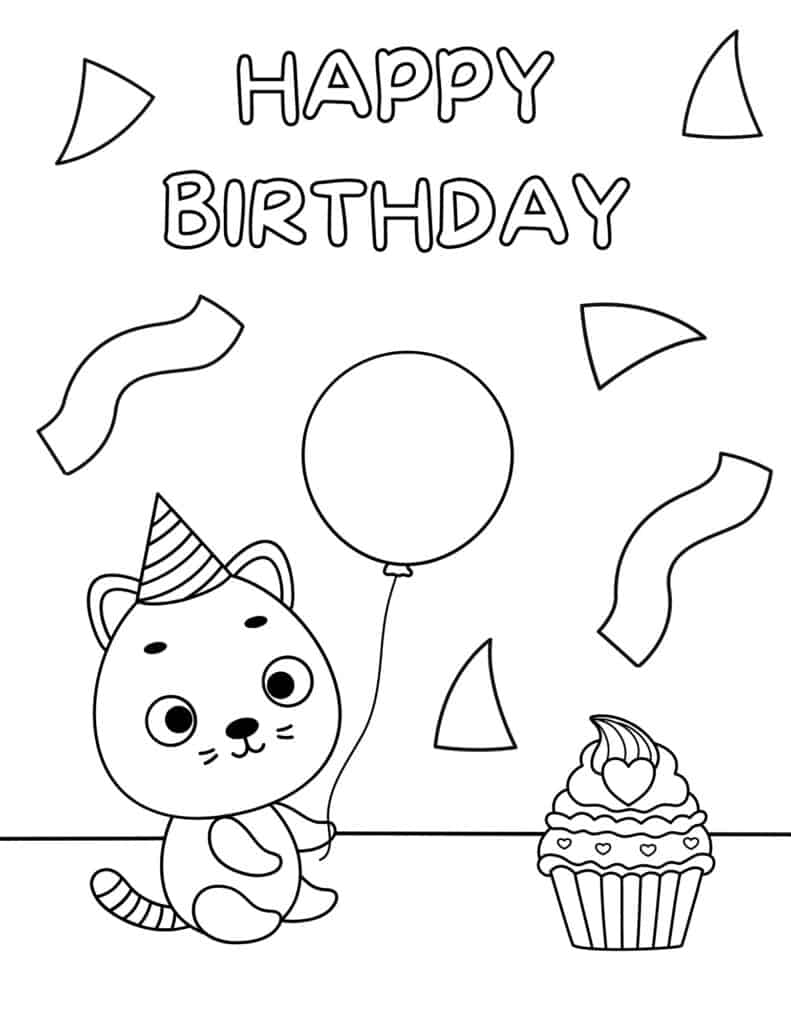 Cute Fox with a Balloon
Bring this adorable little fox to life with your favorite colors! Sitting beside the fox is a giant cupcake adorned with hearts, waiting to be embellished with a delightful mix of pinks and reds.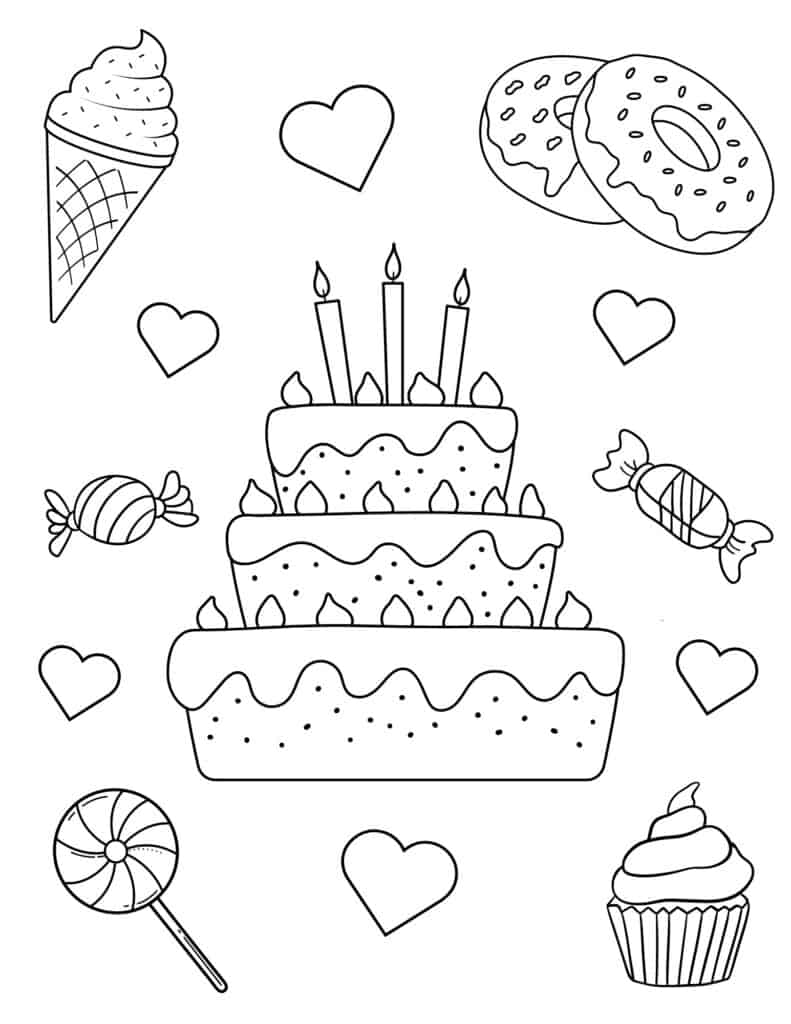 Sweet Treats
At the heart of this scene is a grand three-tiered delicious cake with a tempting array of sweet treats such as cupcakes, donuts, ice cream, and candies surrounding it — All of it just waiting to be embellished with a rainbow of bright colors.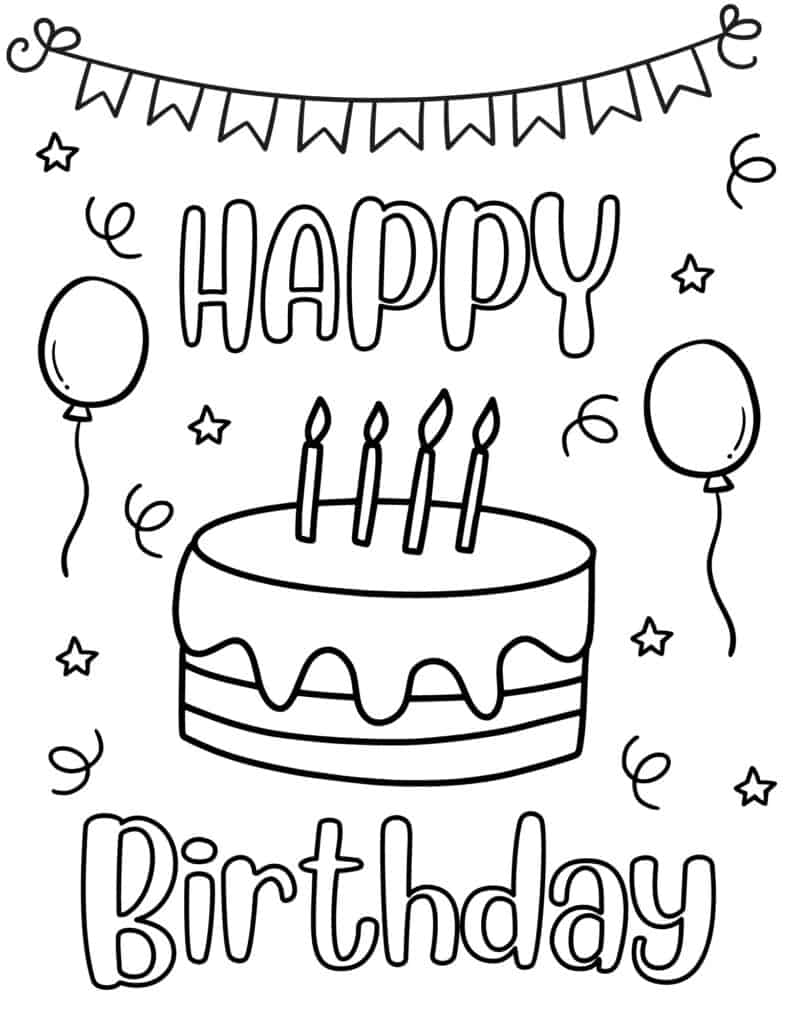 Happy Birthday Cake Coloring Page
This festive design depicts a big cake with candles, inviting young artists to add their unique touch to its frosting and layers. Surrounding the cake is a cheerful array of balloons and confetti, ready to be brought to life with an explosion of different shades.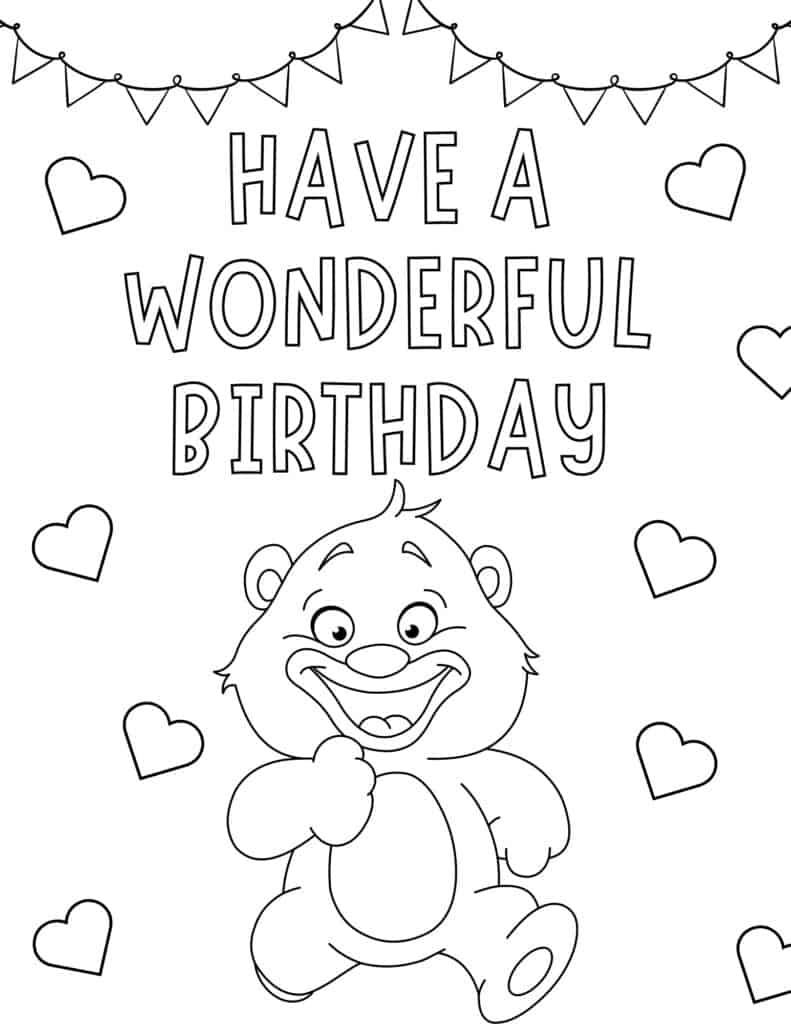 Teddy Bear
This sweet design features a cheerful teddy bear ready to be filled with the vibrant hues of your child's imagination! The phrase "Have a Wonderful Birthday" playfully floats above the bear. This one sends a sweet message of love and celebration, making any kids' party that much more special.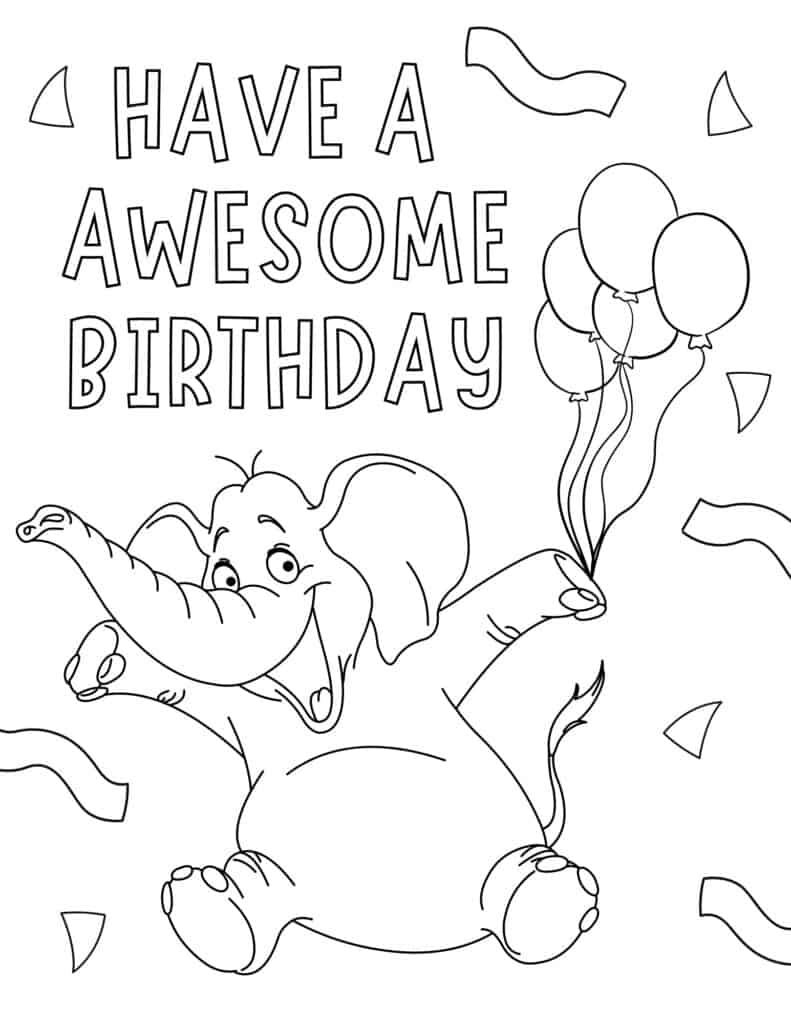 Elephant Birthday Coloring Sheet
This sheet shows an excited elephant with the phrase "Have an Awesome Birthday" at the top of the page, offering kids an exciting opportunity to enhance these words with their choice of color. To complete the festive scene, the background is filled with large confetti pieces, each one a blank canvas that invites a splash of color.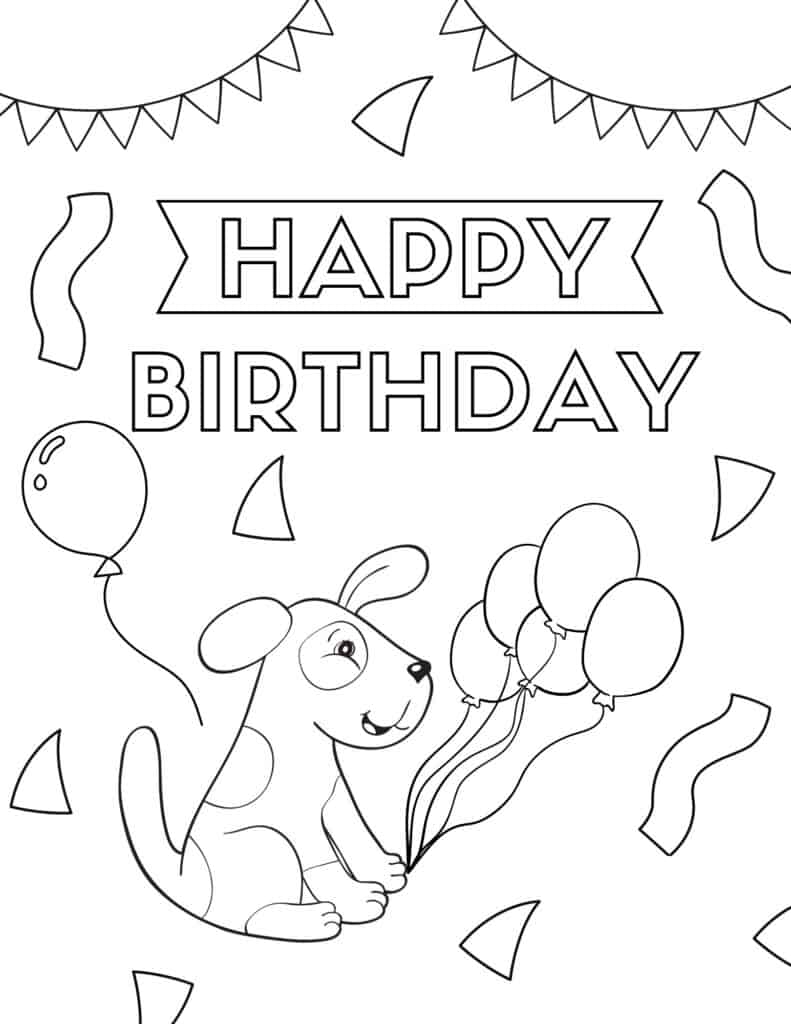 Dog with Balloons
This one has a cheerful dog holding a bunch of party balloons. The background has fun party streamers and a shower of colorful confetti, creating an atmosphere of excitement and celebration. This printable coloring page is sure to bring fun to the celebration.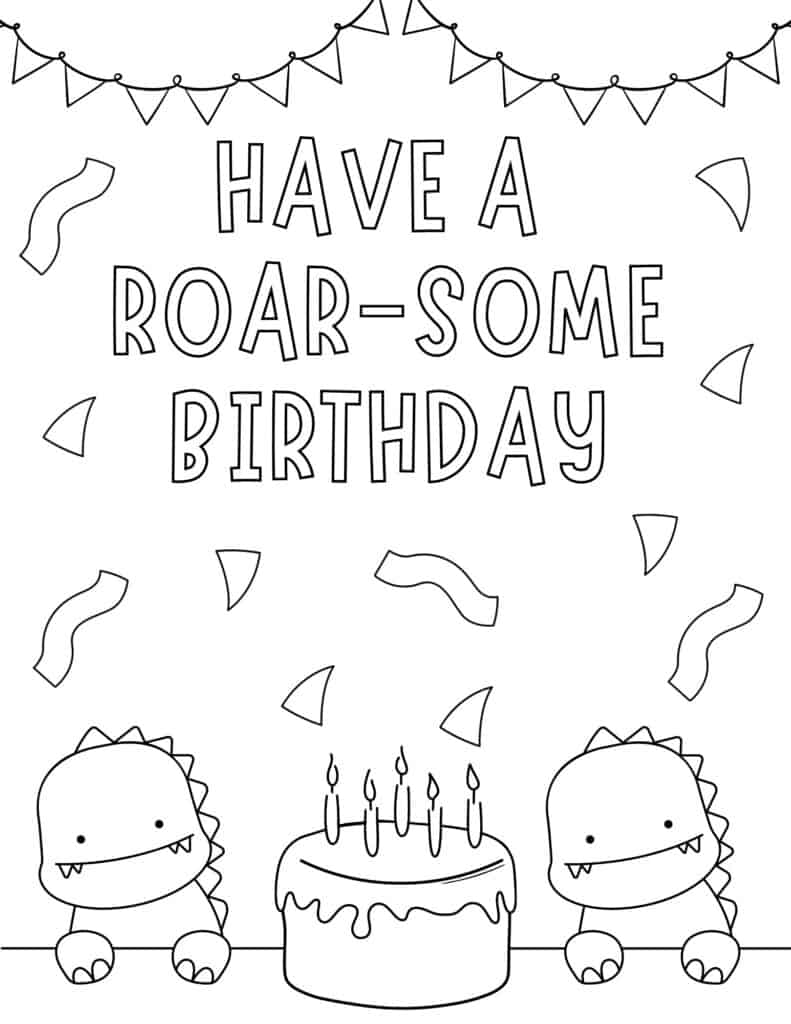 Dinosaur Birthday Party
This cute coloring sheet has two adorable young dinosaurs, one on each side of a scrumptious cake adorned with colorful candles. The lively background features an explosion of confetti, adding to the festive atmosphere. At the top of the page is the playful phrase "Have a roar-some birthday." Little boys will especially love coloring in this picture!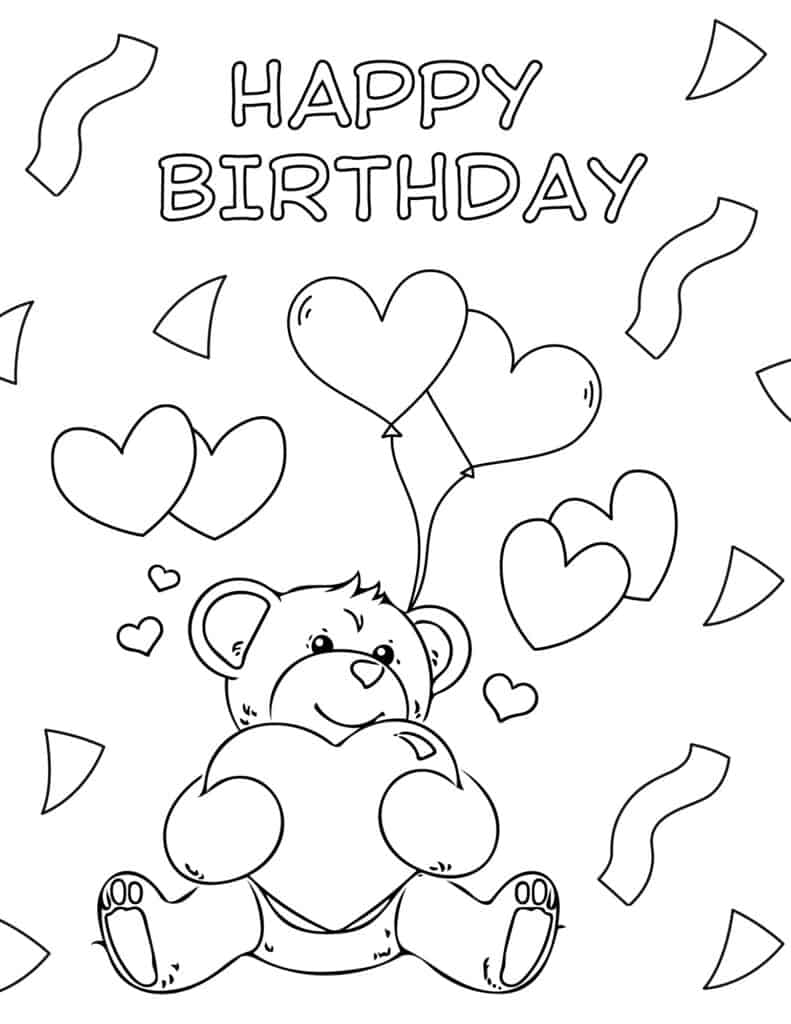 Teddy Bear and Hearts
Immerse your little ones in a world of birthday cheer with this cute page. It shows a sweet teddy bear holding a heart in its paws. Whether it's for your child's special day or to gift a friend, this free printable will make any celebration memorable!
Happy Birthday Coloring Pages for Older Kids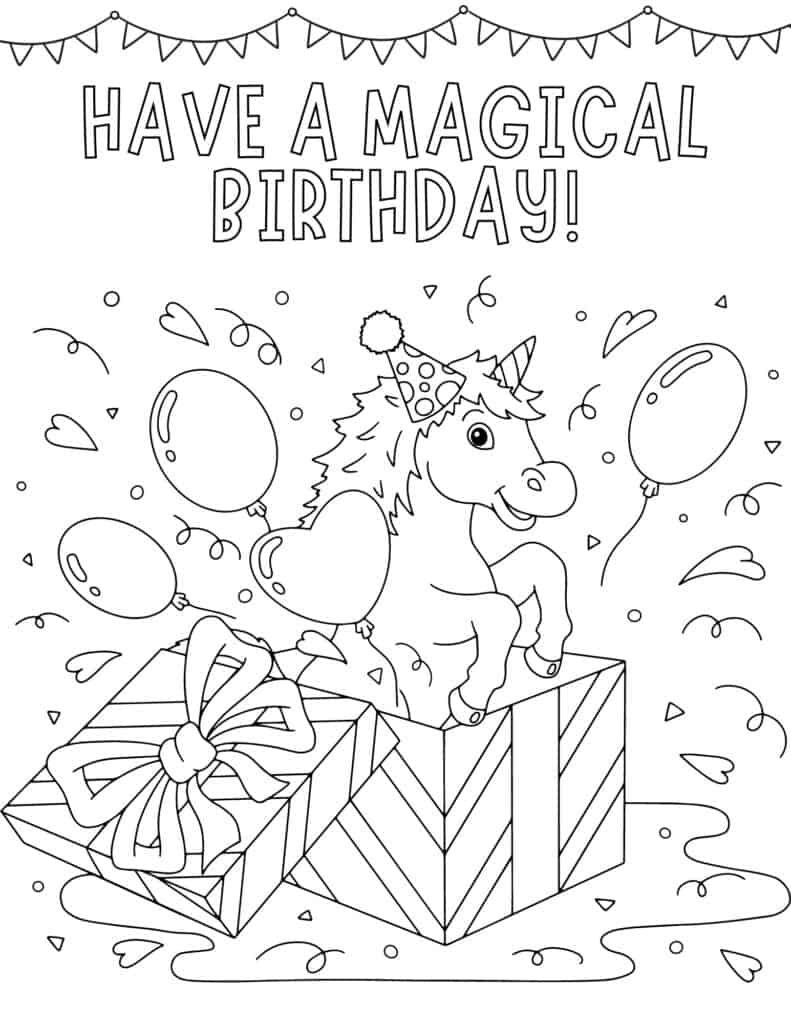 Unicorn Jumping Out of Birthday Gift
Let the little ones embark on a coloring adventure filled with wonder, sparkle, and the promise of a truly magical birthday with this whimsical coloring page. It features a unicorn with a party hat bursting out of a present. As the unicorn leaps into the air, an explosion of streamers, confetti, and balloons fills the background.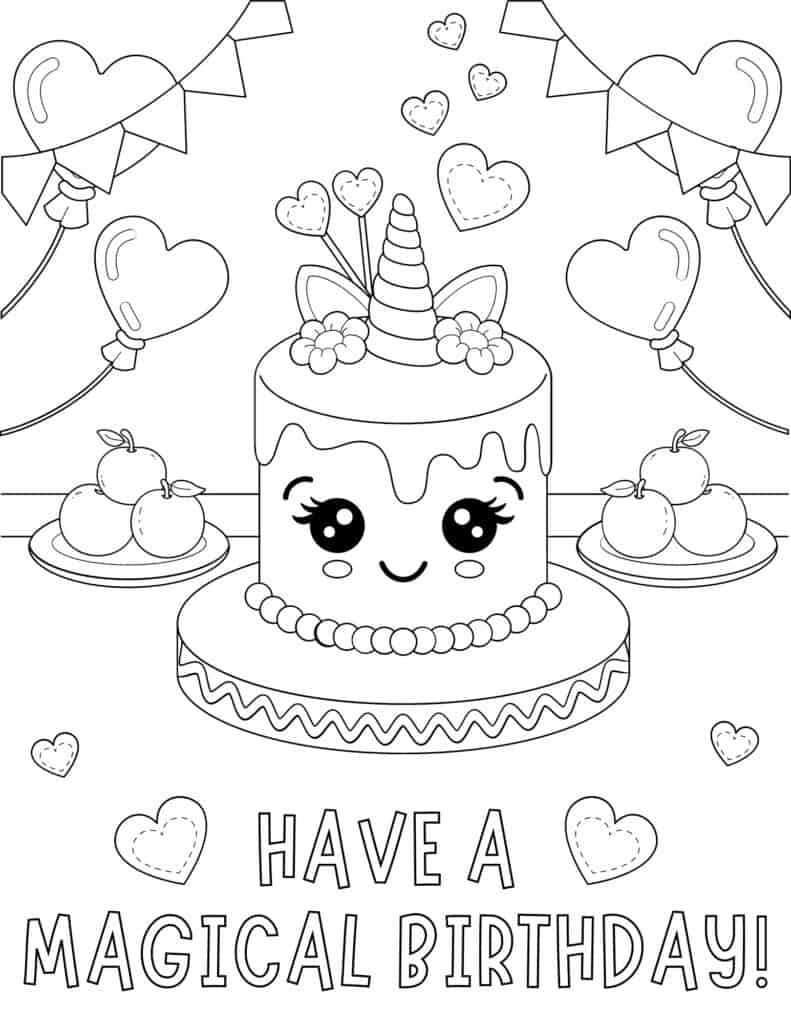 Unicorn Cake
Make your kids' birthday truly enchanting with this magical coloring page. It features a unicorn-themed cake adorned with intricate decorations and a beautiful unicorn horn. Heart-shaped balloons, food, and party banners are on either side of the cake, setting the festive mood.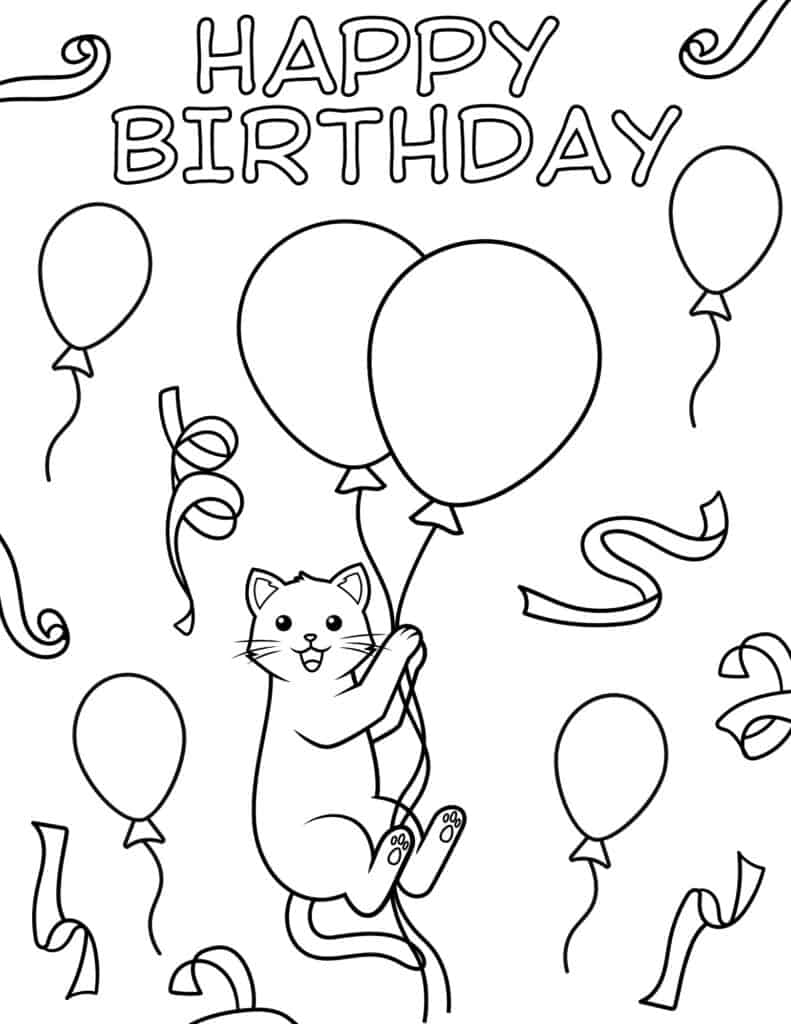 Cat and Balloons
Let your little ones embark on a coloring adventure filled with feline fun and birthday cheer with this one. It shows an excited cat holding a bunch of balloons floating in the air. The background has a whimsical array of balloons and party streamers, creating a festive atmosphere that will make the page come to life!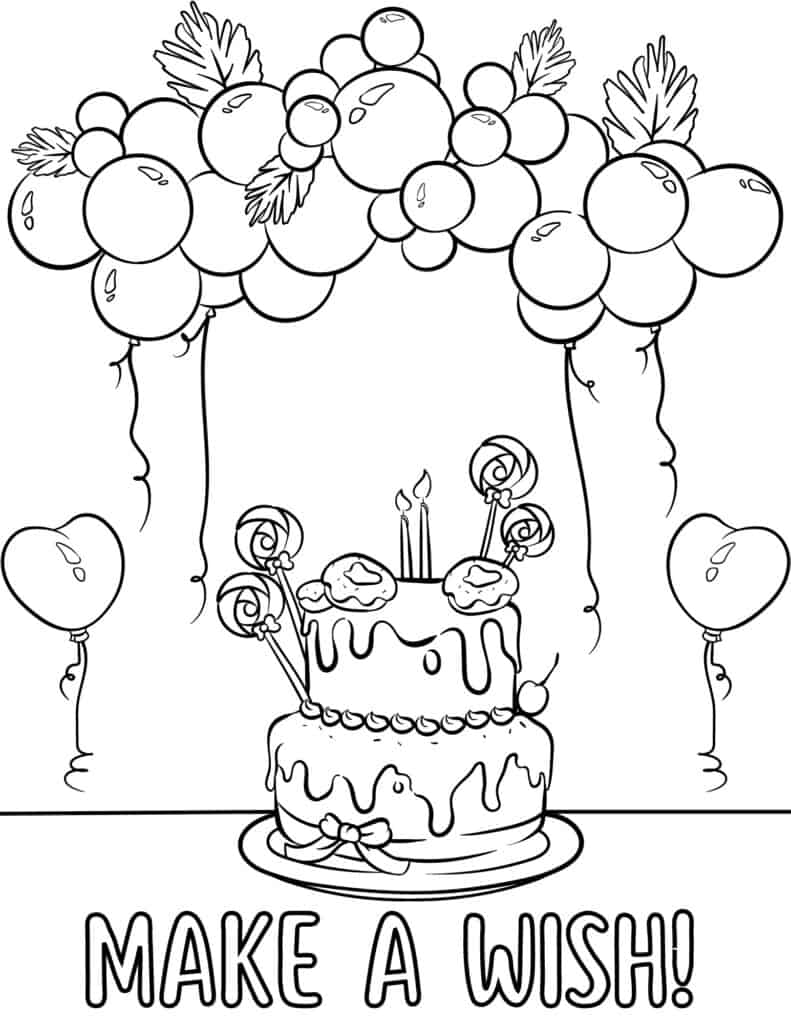 Cake and Balloons
This design features a stunning, multi-tiered cake with an array of dripping icing and sweet treats. A spectacular balloon garland is hanging above. There's a veritable rainbow of coloring possibilities for this page. The inspiring words 'Make a Wish' make young children want to dream big on their birthdays!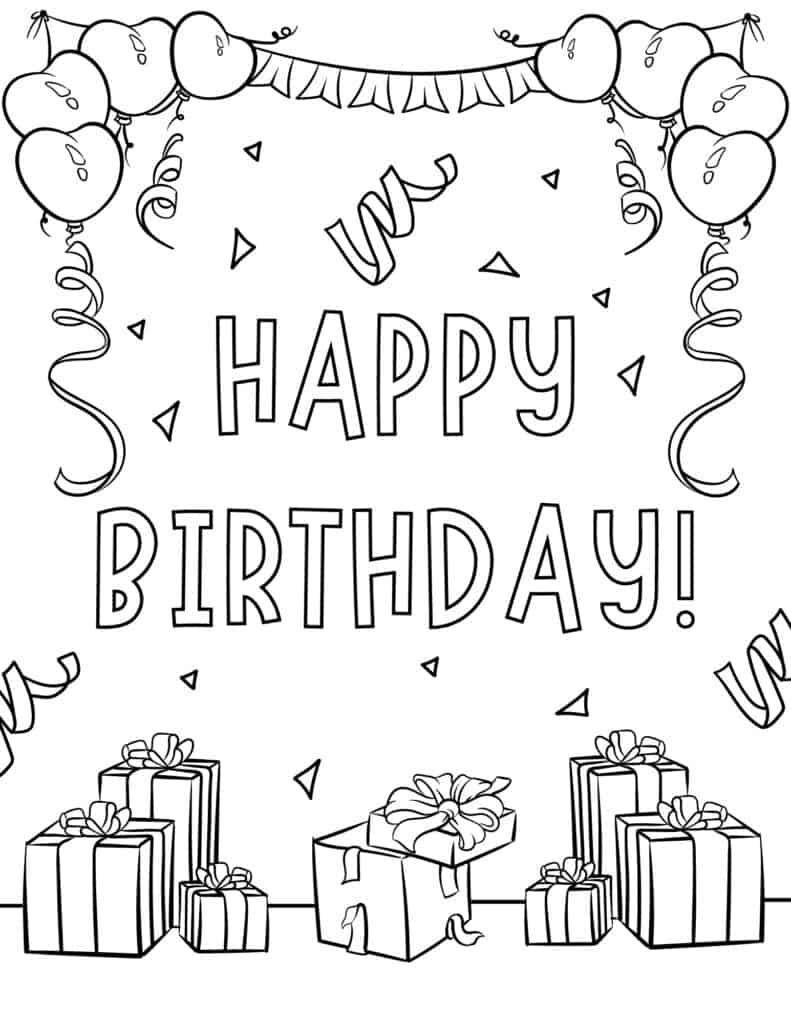 Birthday Present Coloring Page
Add a dash of creativity and fun to your little one's big day with this sheet. There's a floor full of presents with a huge balloon garland above. It creates an exciting challenge for your little artist to transform it into a colorful illustration.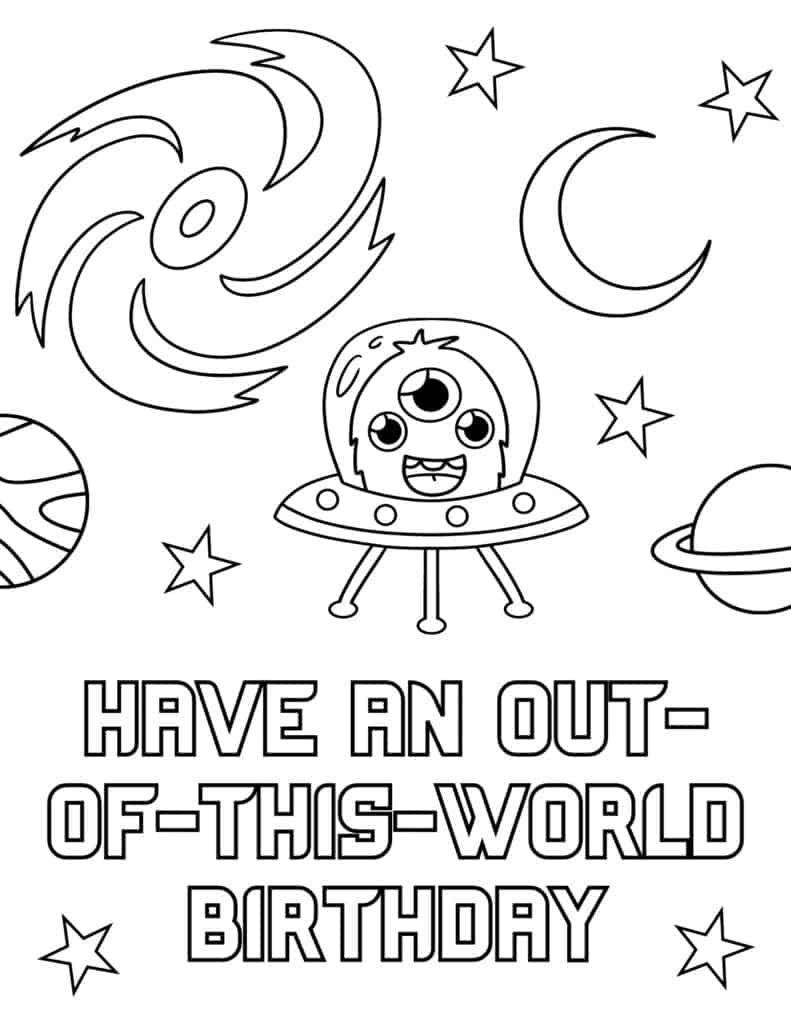 Space Alien
Prepare for a birthday blast-off with this cosmic design. It features a friendly alien in a spacecraft set against a backdrop of stars, swirling galaxies, and diverse planets. Kids can let their creativity soar as they bring this extraterrestrial scene to life.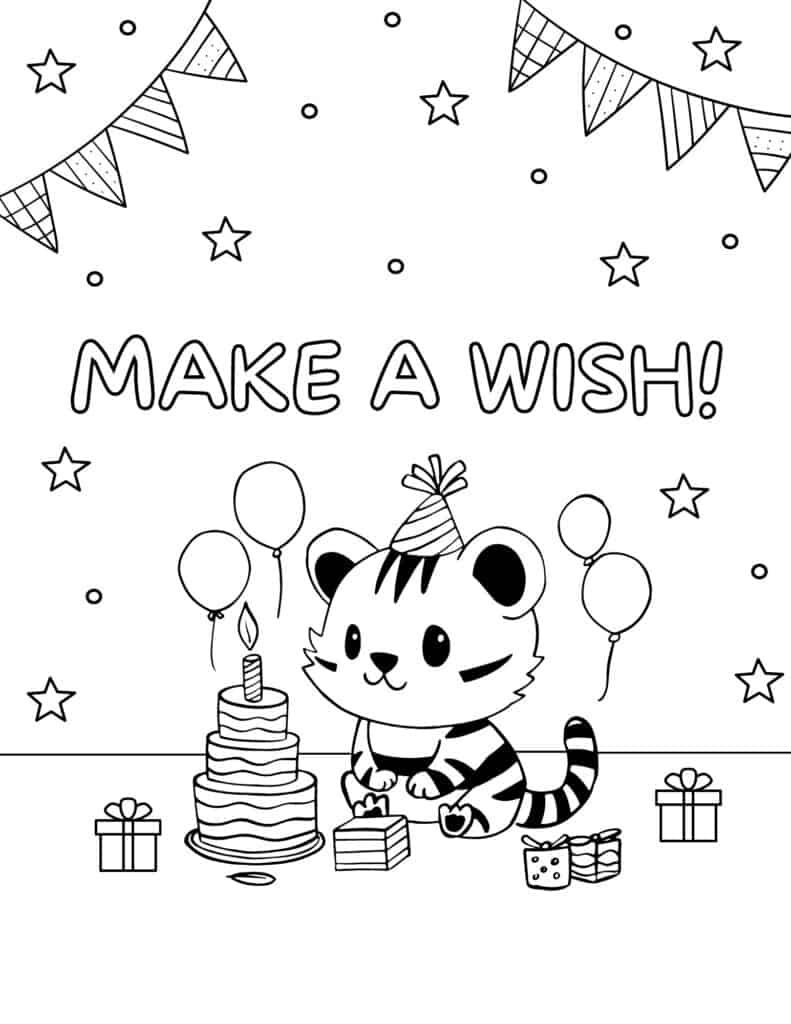 Birthday Tiger
Get ready to roar with delight at this page, perfect for your little animal lovers. This cute design stars a cheerful Birthday Tiger with a little party hat on its head. Adding to the festive scene, a beautifully detailed cake and an assortment of wrapped presents sit next to our friendly feline, ready for your child to color in with their favorite shades.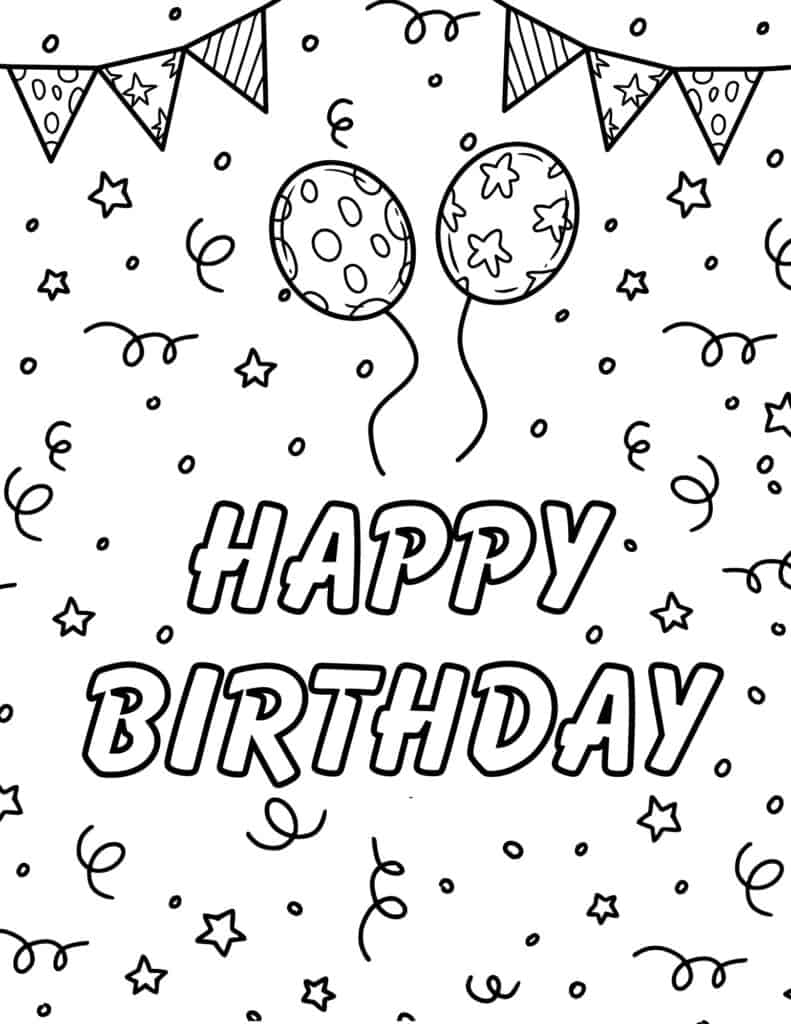 Party Background
Nothing says happy birthday like this coloring sheet featuring confetti, balloons, and party banners! Your children will enjoy giving the background and letters a colorful makeover in bright shades!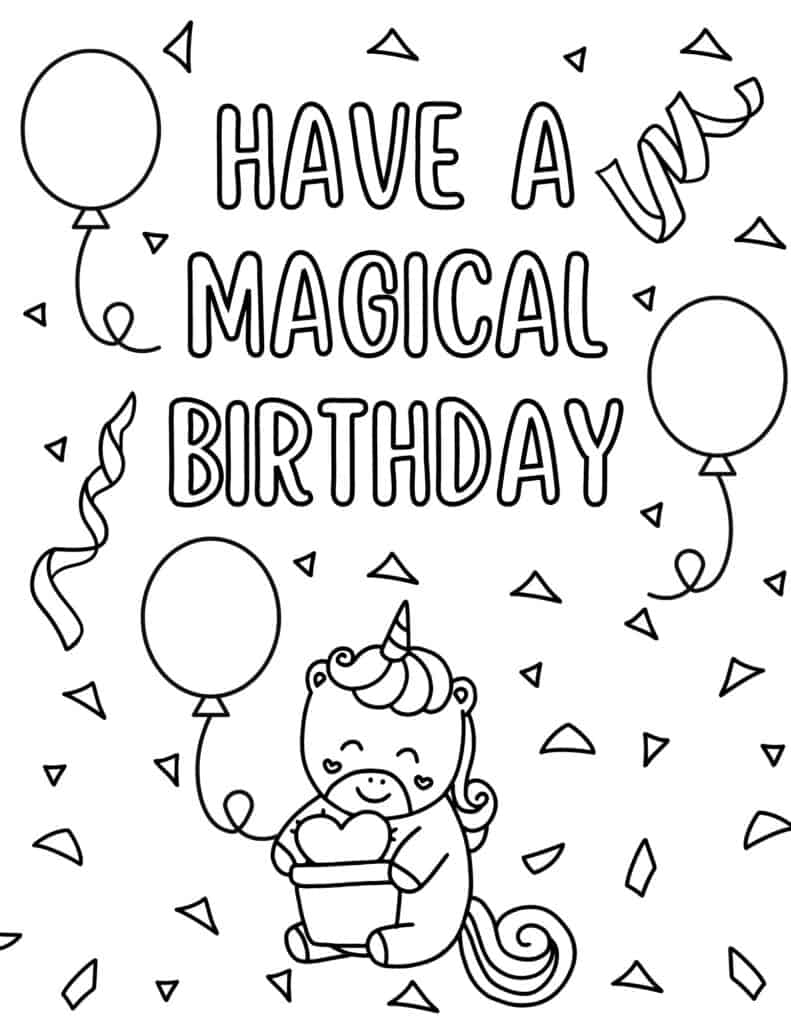 Little Unicorn
Have a magical birthday with this adorable unicorn coloring sheet that features a little girl unicorn, confetti, and balloons. This free printable will allow your little ones to express their creativity and celebrate this special day.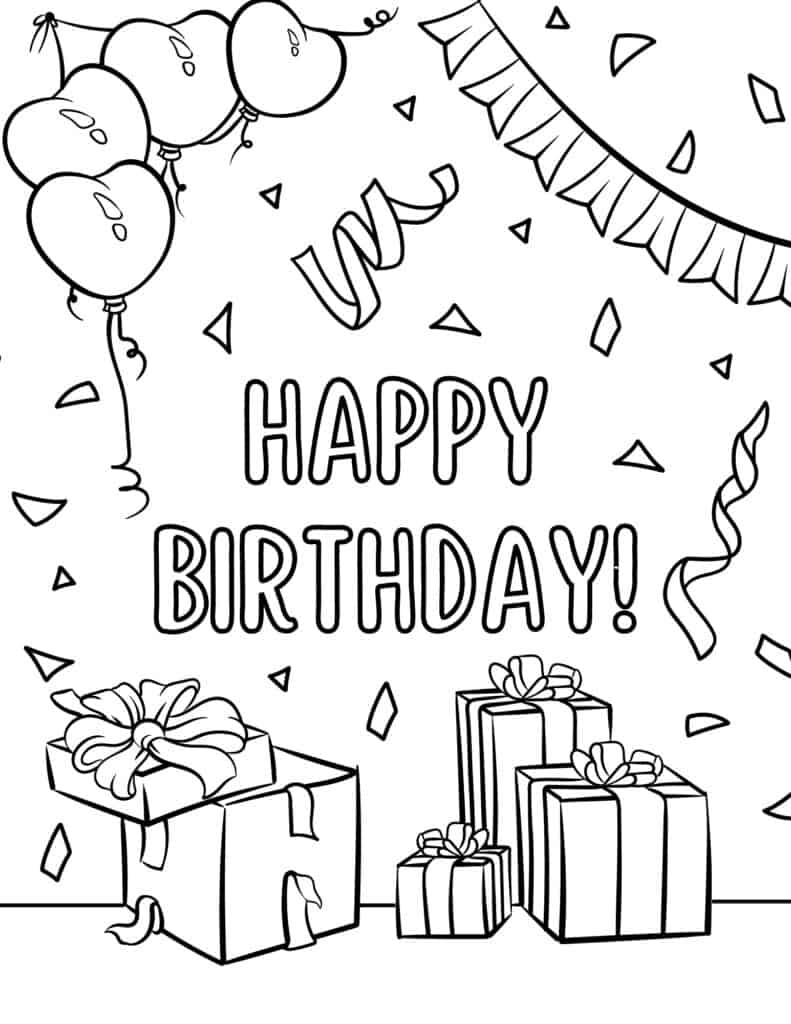 Birthday Presents Coloring Page
This one wonderfully captures the spirit of a birthday celebration. It depicts an assortment of confetti and gifts wrapped and tied with bows, waiting to be colored in with your child's favorite colors.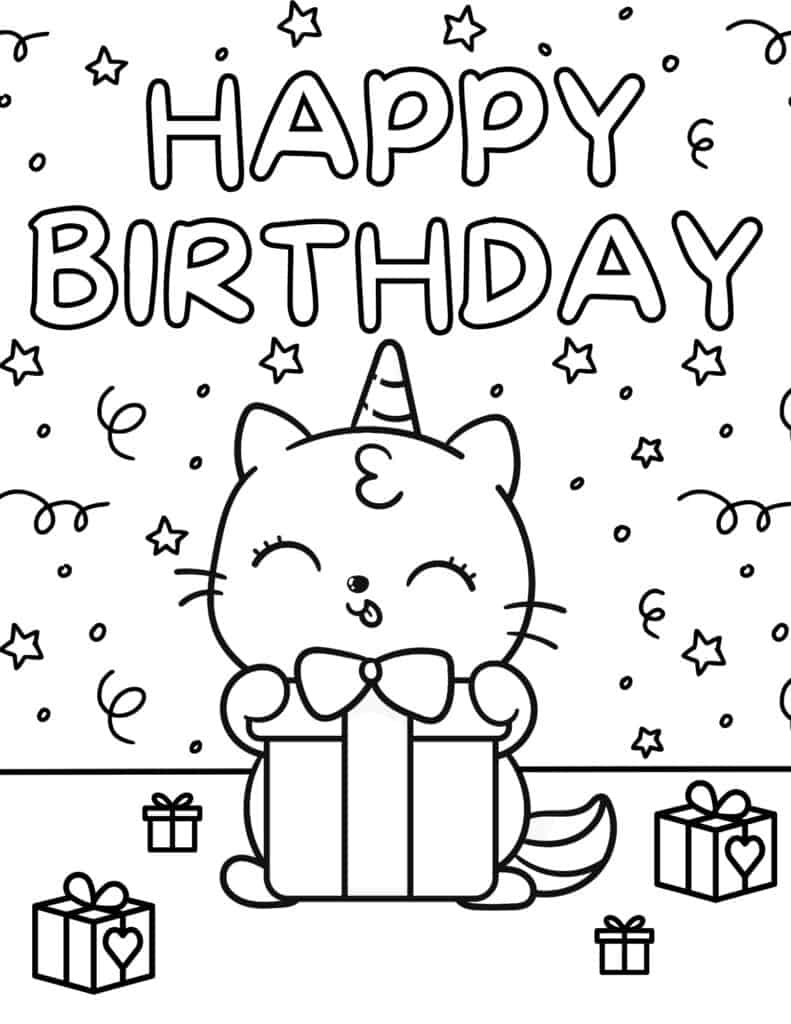 Cat Unicorn
Enchant your little one's imagination with this cute cat unicorn page. This adorable illustration showcases an adorable kitten unicorn holding a birthday gift in her paws with more wrapped presents on the floor. The background sets a playful tone, featuring a shower of confetti that gives the scene a festive feel.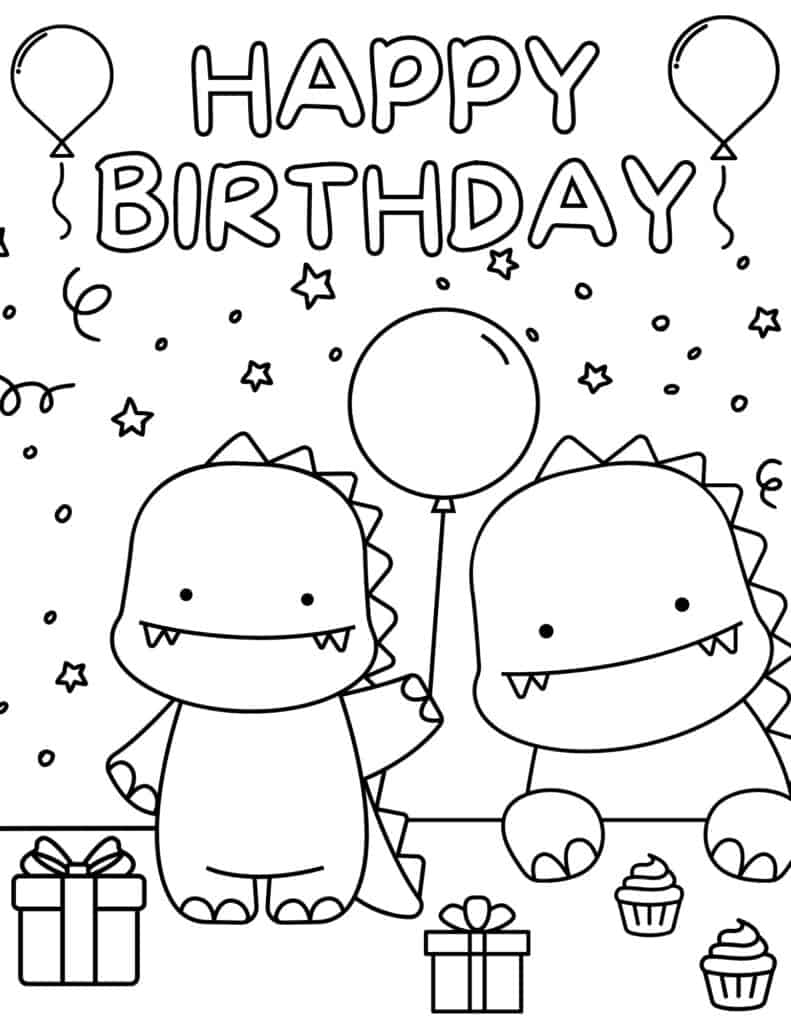 Cute Dinosaurs
This one will be an instant hit among kids who are dinosaur enthusiasts! This engaging scene has cute and friendly dinosaurs ready to celebrate this special occasion and be brought to life with your child's crayons or colored pencils.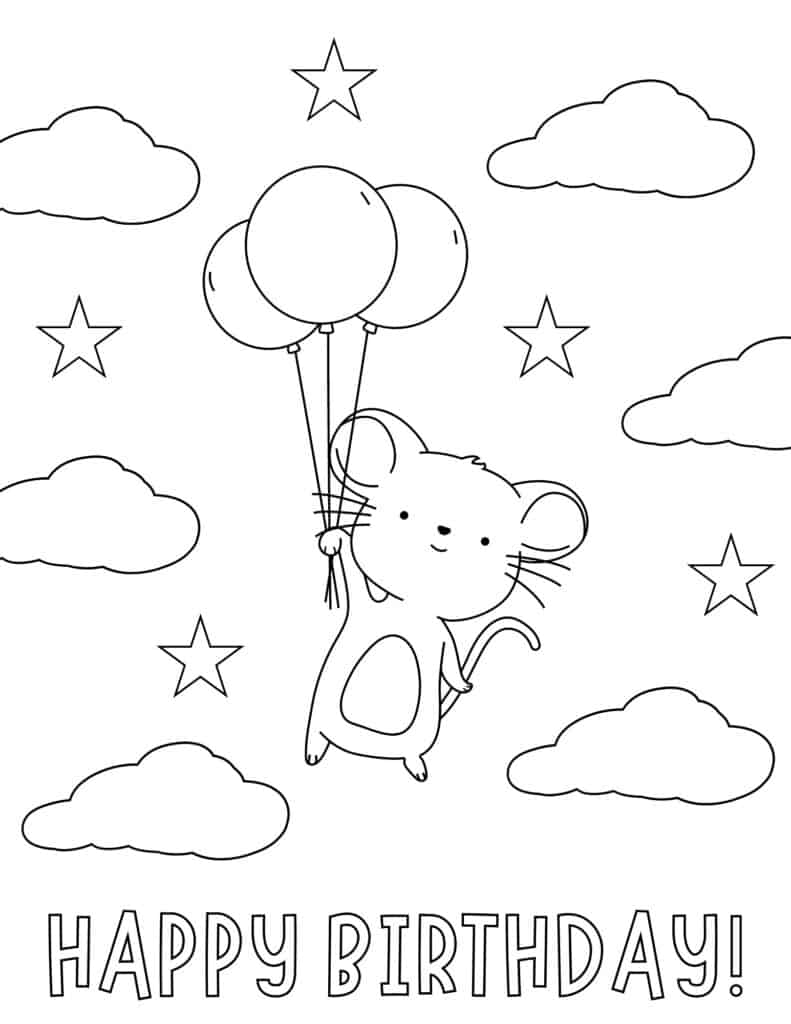 Cute Mouse
Launch your child's imagination into the sky with this coloring sheet, which features a cute little mouse clutching onto colorful balloons, seemingly floating in the sky. The mouse's whimsical flight is set against a backdrop of soft, fluffy clouds and twinkling stars, creating a dreamy scene waiting to be filled with your kid's favorite colors.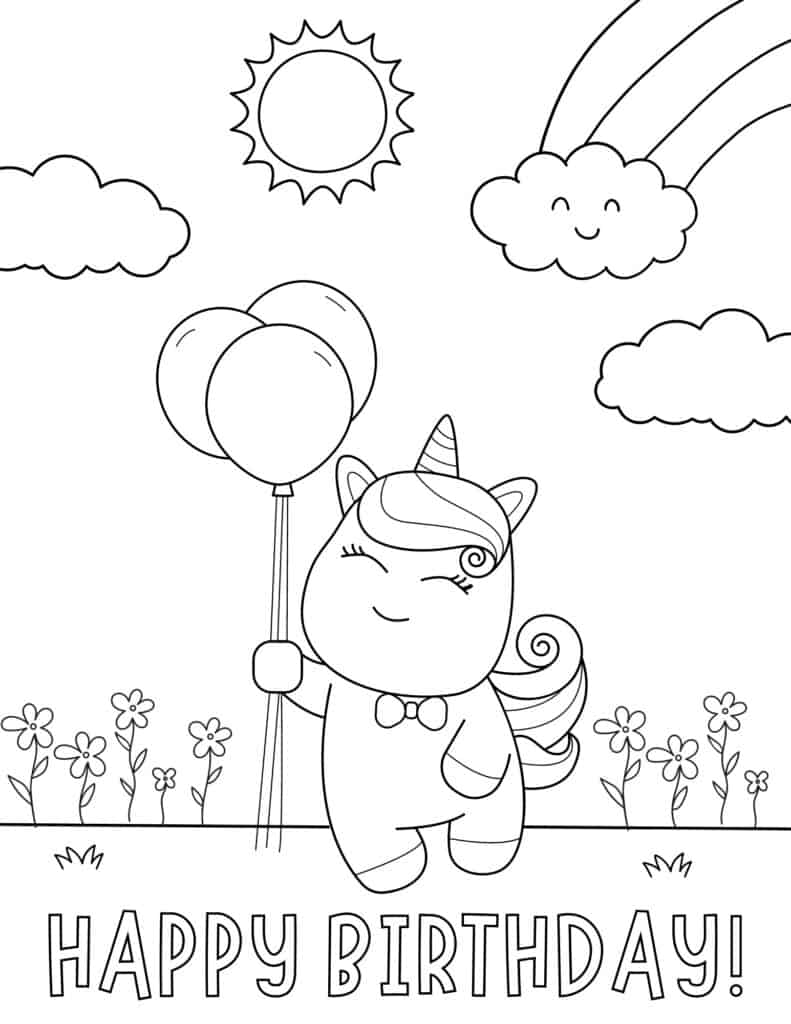 Birthday Unicorn Coloring Page
Elevate your child's special celebration with this beautiful scene, which shows a cute unicorn happily holding a bunch of balloons in a flower-filled field. Your child can fill this page with a broad spectrum of different colors!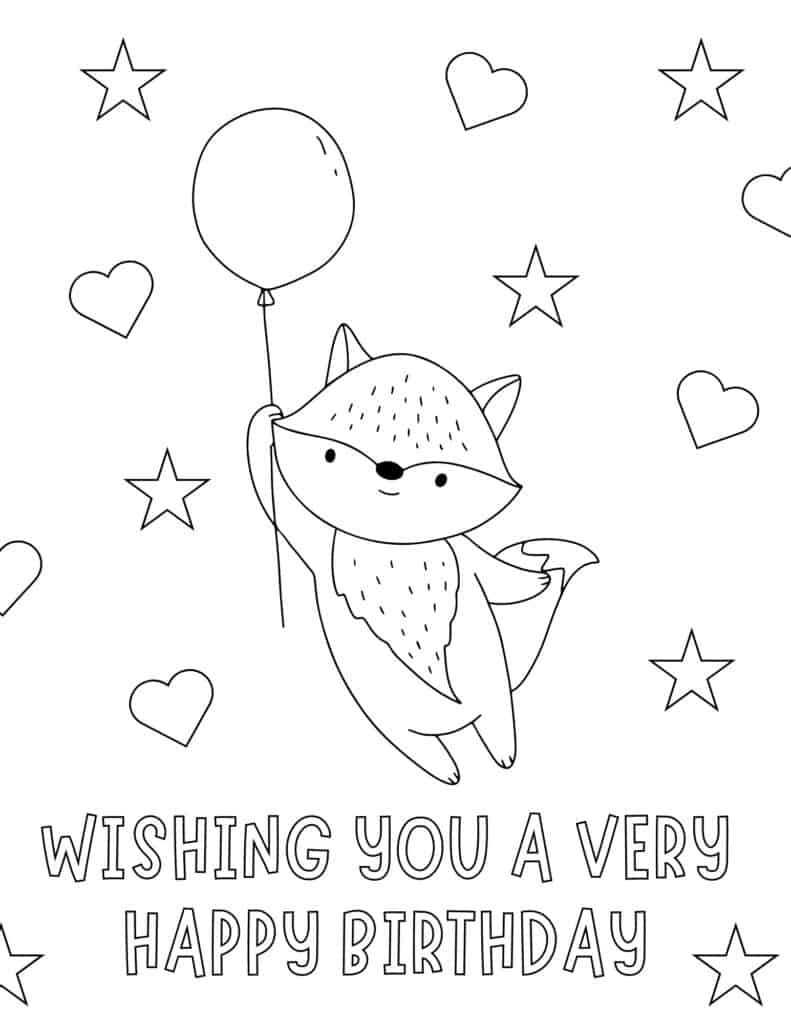 Adorable Little Fox
This whimsical illustration features a friendly fox floating in the air while holding onto a balloon – a fun and enchanting scene sure to captivate your child's attention. Complementing the picture are the thoughtful words, 'Wishing You a Happy Birthday,' giving your child a chance to personalize their birthday wishes.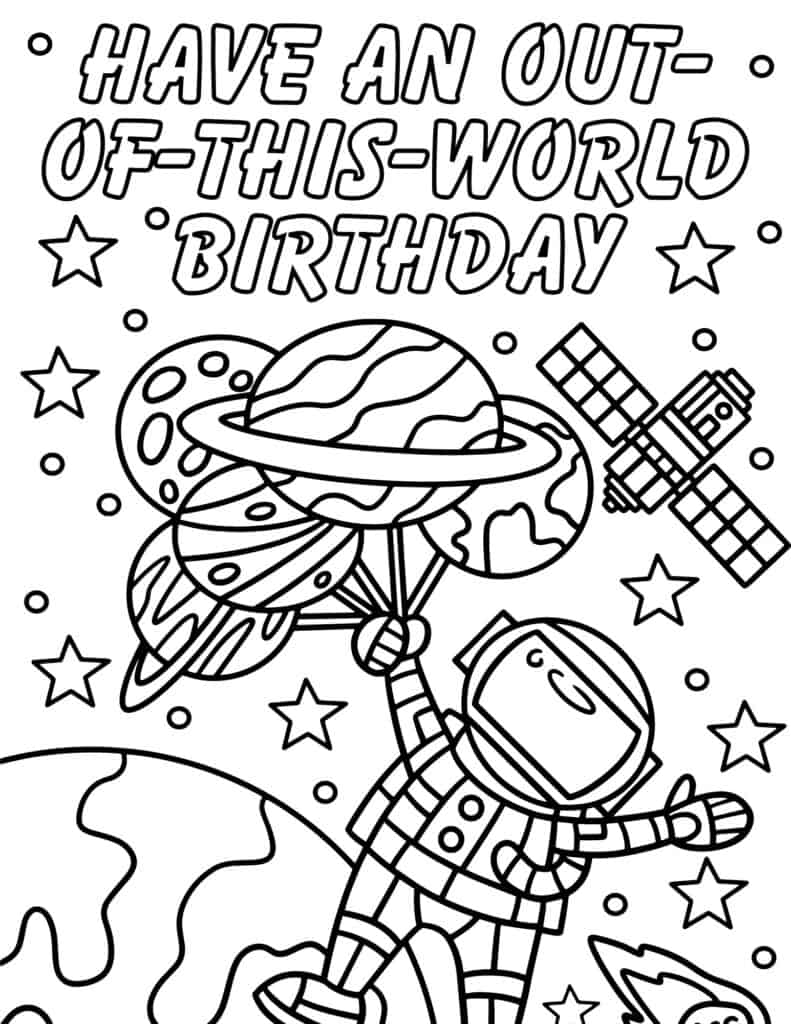 Out of this World Astronaut
Have an out-of-this-world birthday with this space-themed coloring page. It has an astronaut floating with a handful of planet-shaped balloons. This scene presents an engaging opportunity for your child to mix and match colors, highlighting the various planets, the astronaut's suit, and the star-studded cosmos.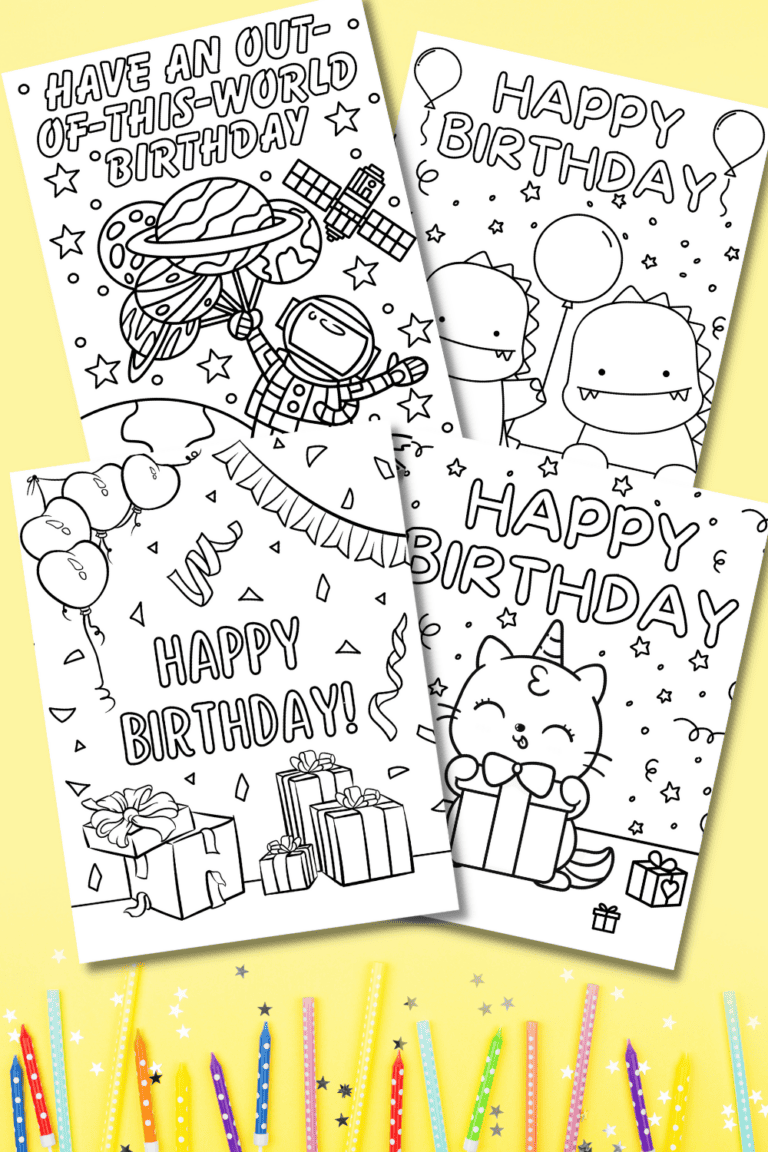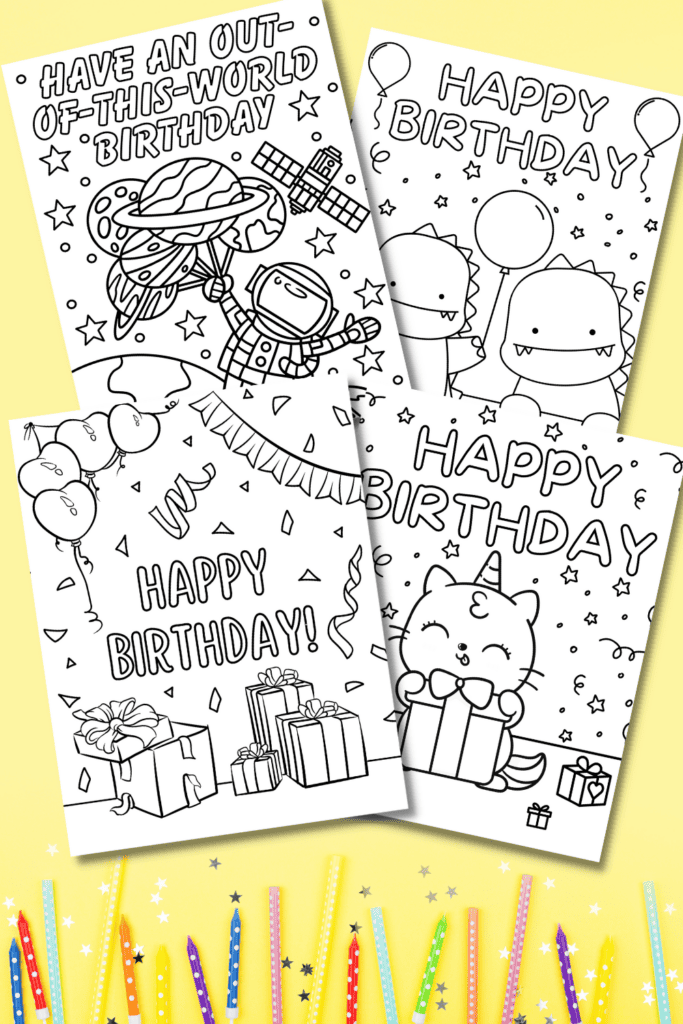 More Holiday and Seasonal Coloring Pages