Dive into a magical undersea world with these free printable mermaid coloring pages for kids!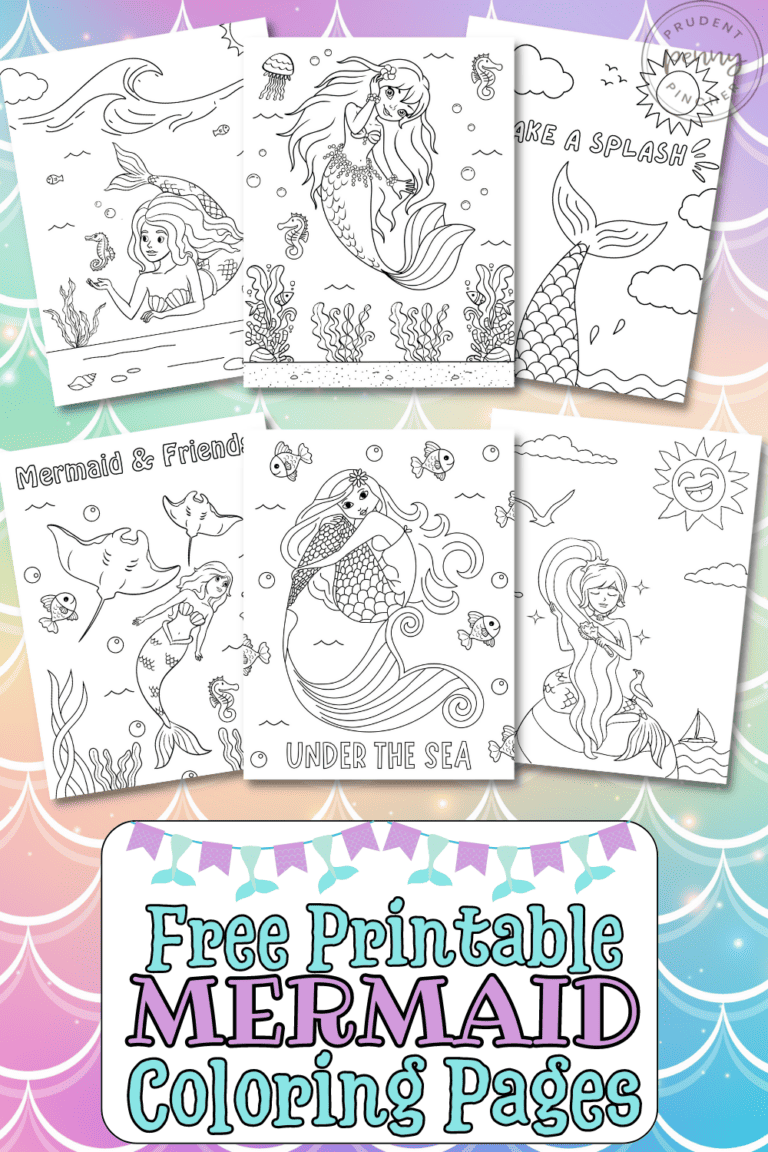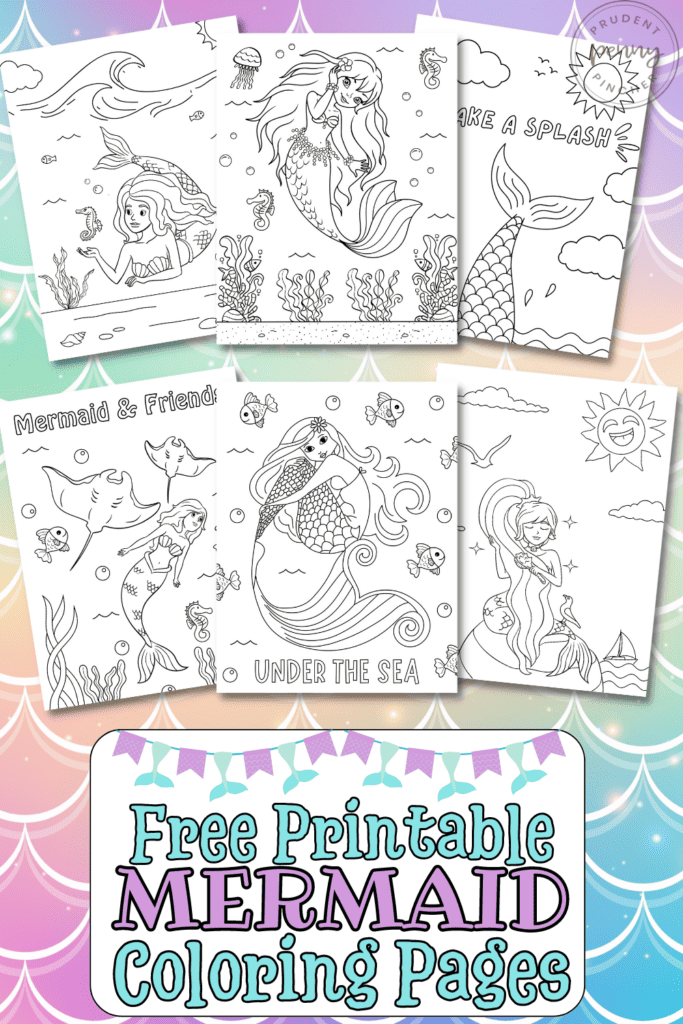 These mermaid coloring sheets are filled with mystical sea creatures, fish, and other sea life! These free printables are designed to be versatile and engaging for kids of all ages, from little kids like toddlers and preschoolers to older kids and teens. The simpler designs with broad outlines and fewer elements are perfect for the tiny hands of younger kids, offering them a fun and easy way to grasp basic color concepts and improve their hand-eye coordination. The more intricate pages with detailed patterns and small elements will pique the interest of older kids and teens.
These coloring pages can be a great creative outlet for all children. They are a perfect activity for little girls at a mermaid party or a mermaid-themed birthday party. You can pair them with some mermaid crafts for extra fun!
Regardless of age or skill level, these free printable coloring pages are an excellent way to spark creativity, allowing kids and teens alike to immerse themselves in the alluring beauty of these mythical creatures. Each page has been thoughtfully designed with enchanting detail to invite your young artists to unleash their creativity and bring these mesmerizing scenes to life with a splash of fun colors.
Pair these mermaid printables with these unicorn and fairy coloring pages for hours of fun!
Jump to: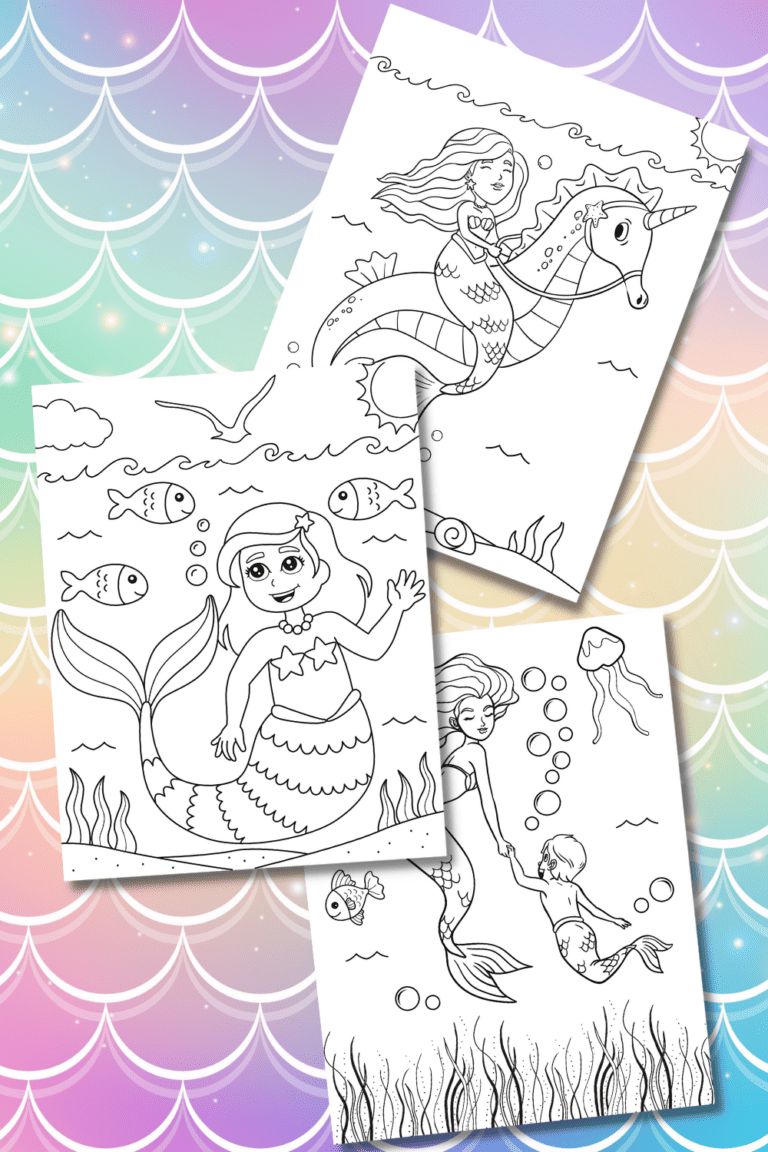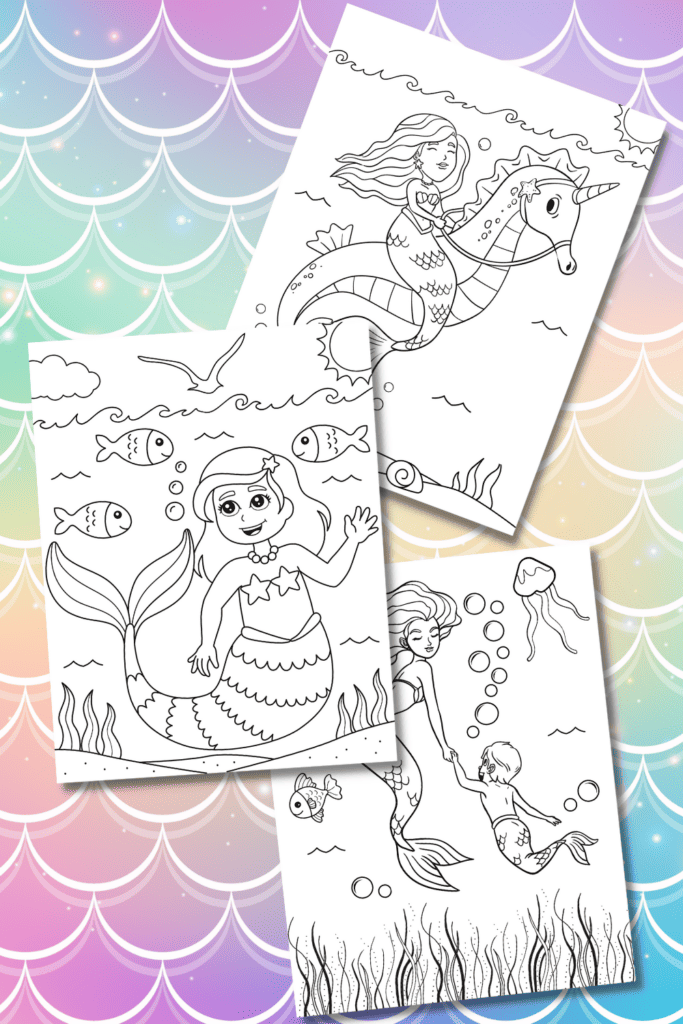 Supplies Needed
Printer
Art supplies such as crayons, colored pencils, watercolors, markers, glitter pens, etc.
Printer paper
Printer ink
Downloading and Printing Instructions
Click the URL to the PDF file.
In the toolbar, click the download button.
Download the file to a file location that you choose.
Open the PDF in Adobe Acrobat or another PDF viewer software.
Go to File —> Print.
Ensure the page size is set to "Fit" in the settings to make sure it fits within the page.
Load your paper in the printer's tray and press the print button.
Free Printable Mermaid Coloring Pages for Kids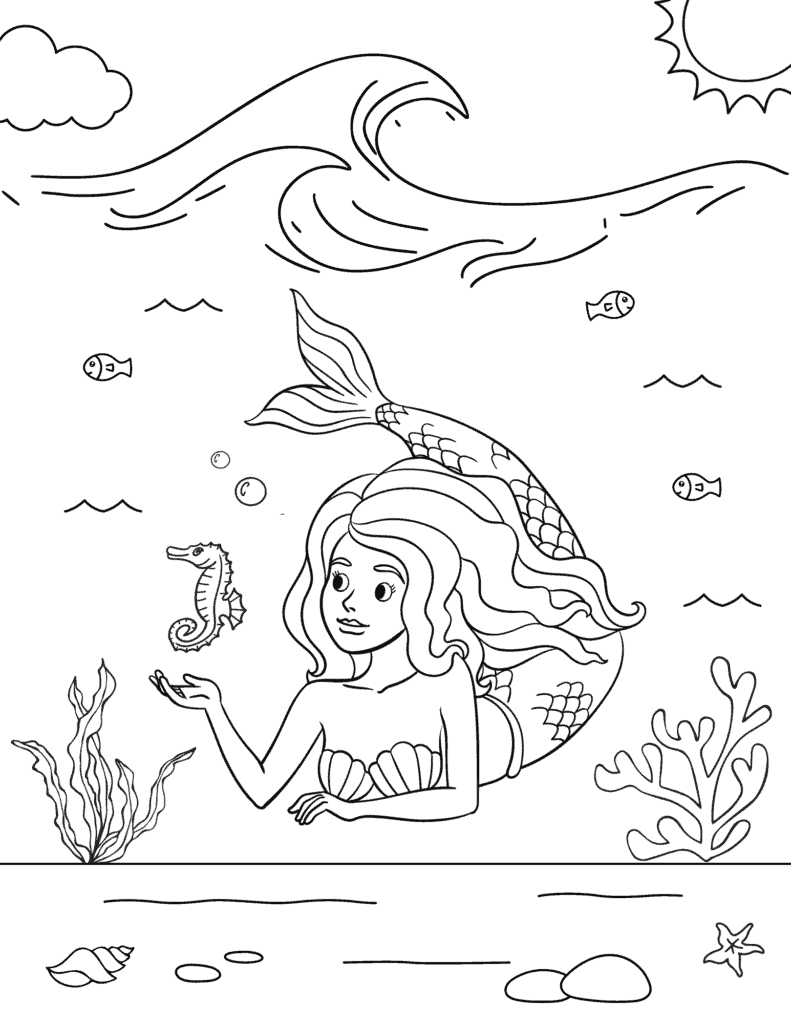 Under the Sea
This one features a beautifully detailed illustration of a mermaid holding a cute seahorse amid the swirling waters of the ocean. She's surrounded by various fish and framed by the ocean floor with its shells, starfish, seaweed, and coral. This coloring page is a delightful exploration of the sea's richness.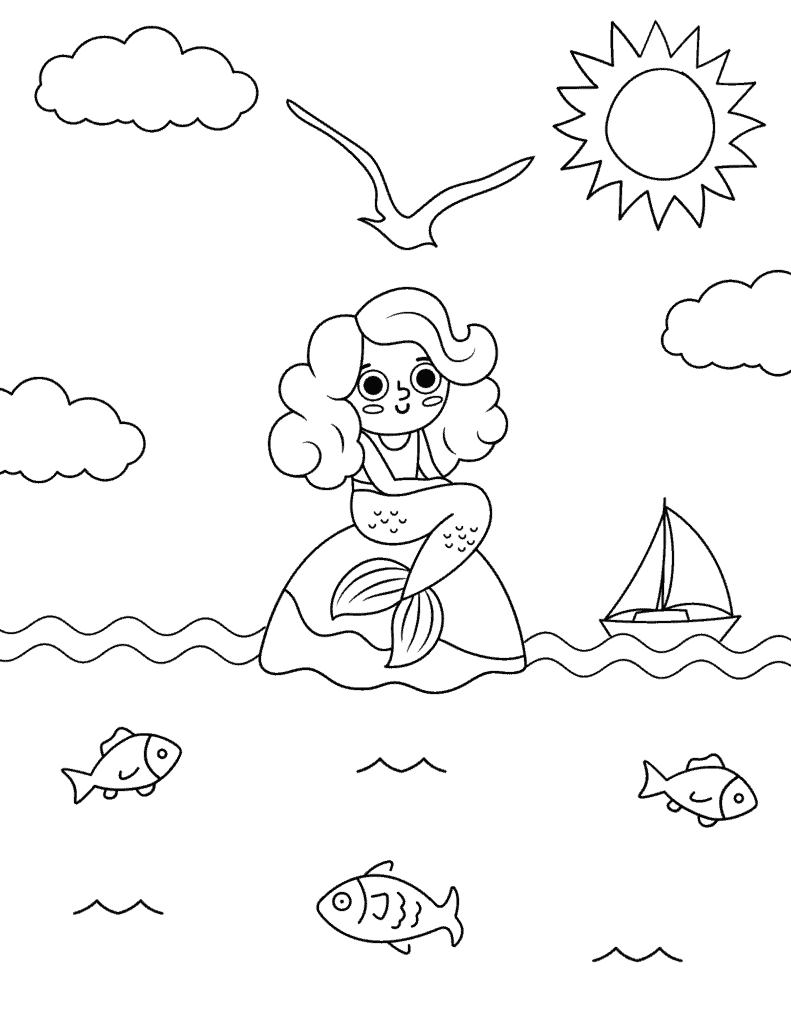 Mermaid Sitting on a Rock
In this coloring sheet, a little mermaid is depicted sitting on a rock in the middle of the ocean. The mermaid, with her long curly hair, awaits your kid's artistic touch to come alive. The backdrop of the sky and ocean for kids to experiment with assorted shades of blue and green colors.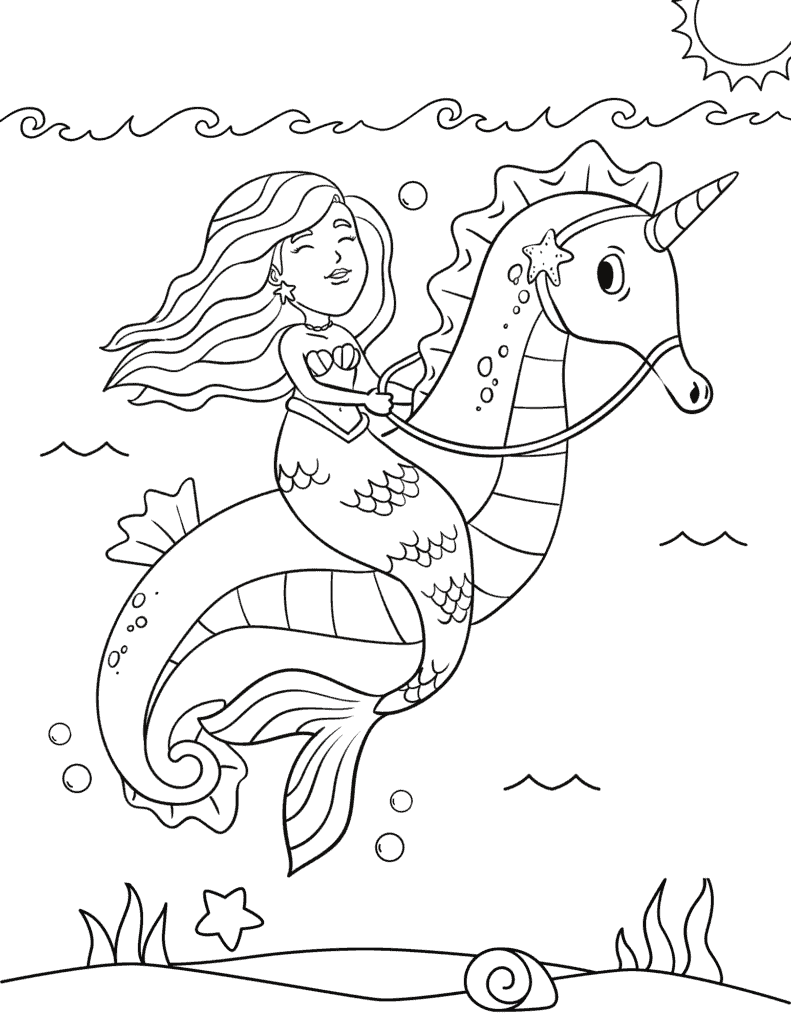 Riding a Seahorse
Unleash your child's creativity with this fun coloring sheet, which features a beautiful mermaid riding a majestic seahorse. Kids of all ages will love coloring in this unique scene.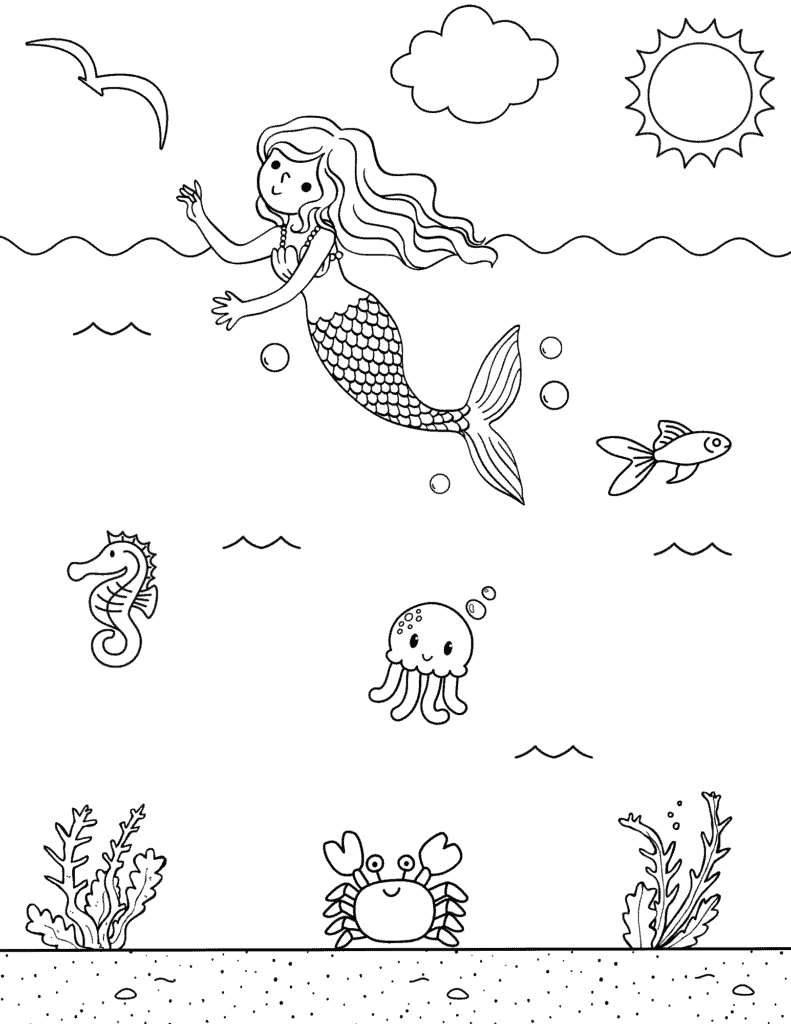 Waving at a Seagull
Explore the beauty of the sea and sky with this one, which shows a smiling mermaid gracefully floating on the water's surface, waving at a seagull overhead. Below her, a vibrant underwater scene unfolds where a fish, seahorse, crab, and jellyfish swim under the water.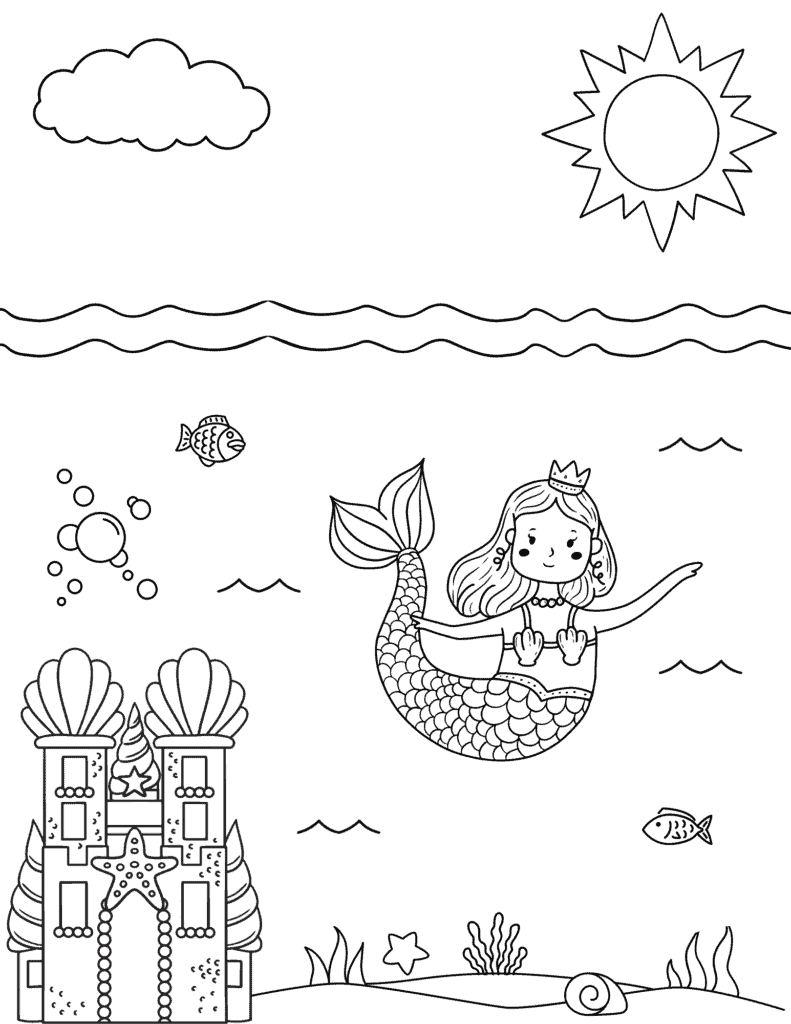 Princess Mermaid and Her Castle
Introduce your child to a magical underwater kingdom with this coloring page, featuring an enchanting scene with a regal mermaid princess with a dazzling crown. Her majestic seashell castle rises in the distance. Your child will be delighted to add color to this sheet!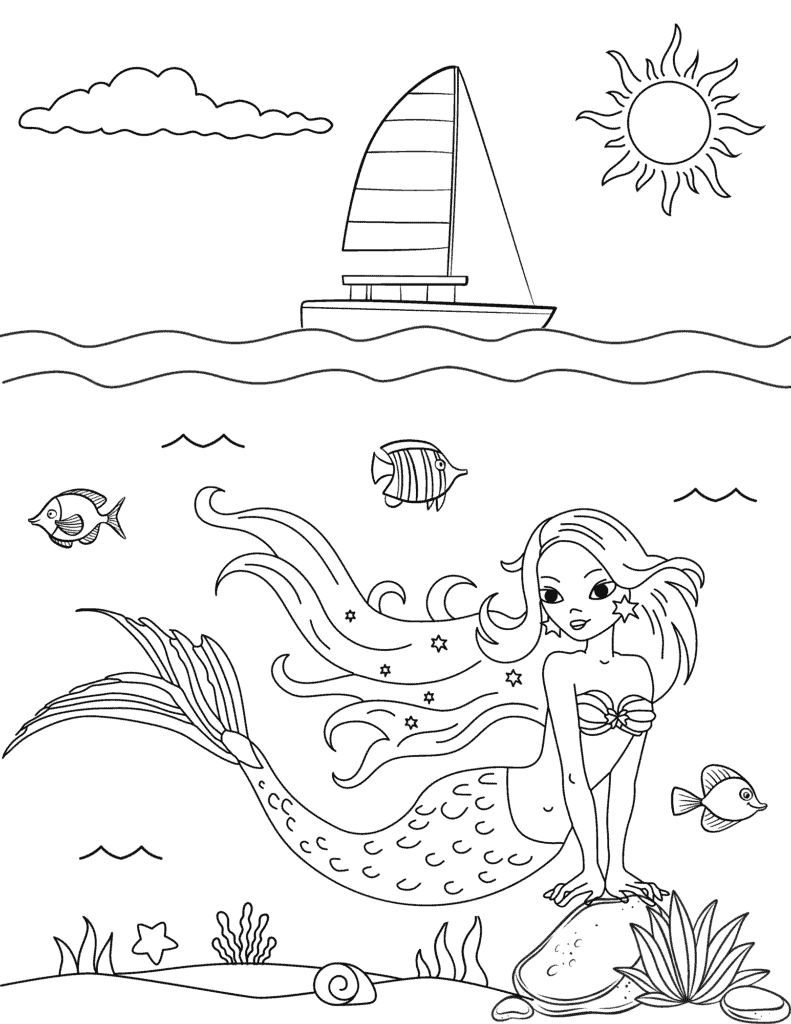 Lounging on a Rock
This beautifully illustrated scene presents a serene mermaid leaning casually against a rock. In the background, a sailboat sails gently on the horizon with the sun and clouds in the distance, adding another layer of elements for children to color in.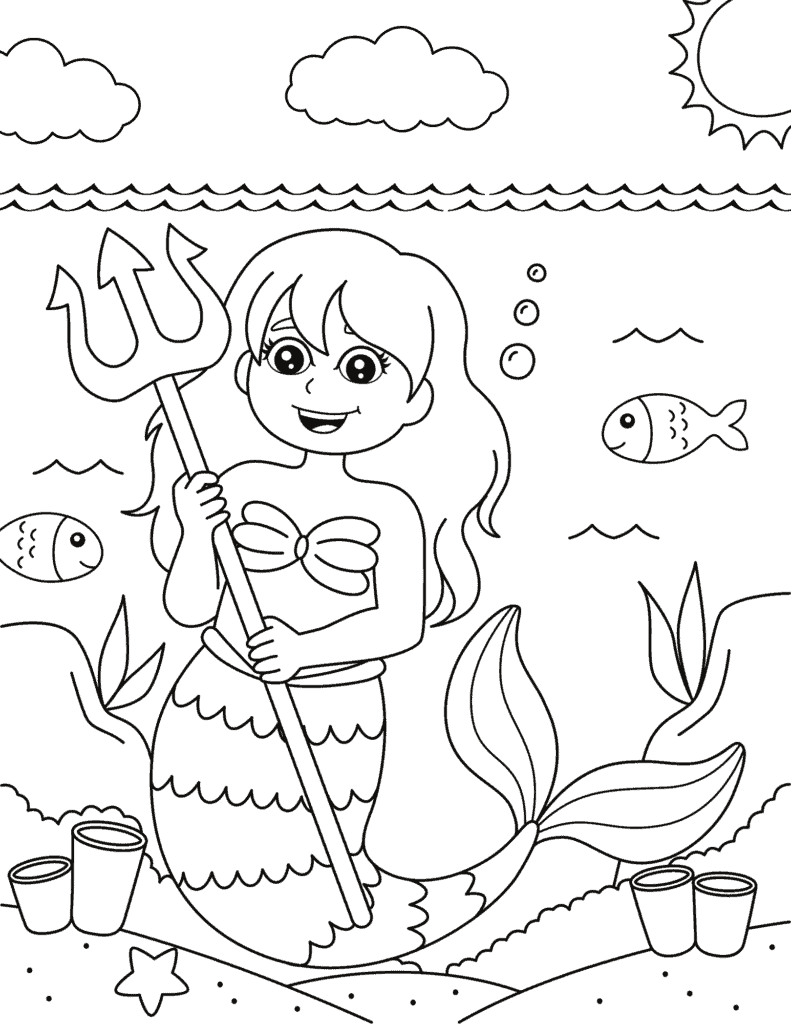 Mermaid's Trident
Dive into a realm of underwater enchantment with this coloring sheet, which features a mermaid holding a mighty trident as a symbol of her oceanic authority. Swimming in the background are various fish. At the bottom of the page is the sandy ocean floor is home to intricate corals, large rocks, and seaweed, each offering different opportunities for vibrant colors and shades.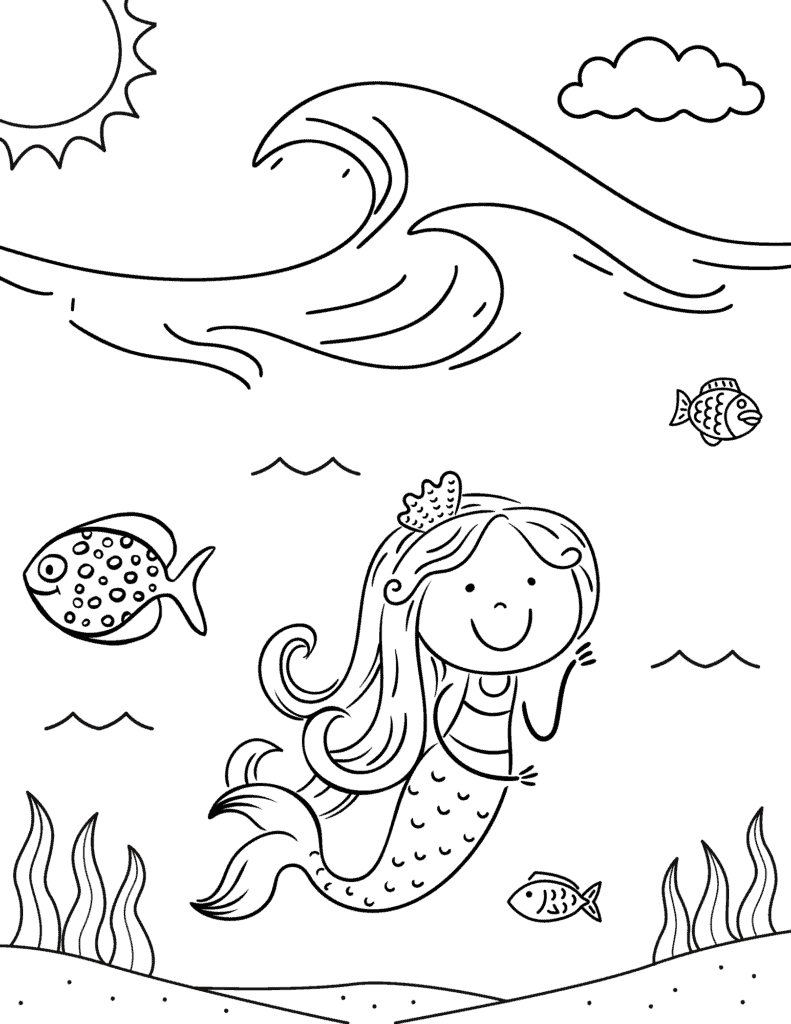 Smiling and Waving
This charming scene takes your child on an underwater adventure with a happy little mermaid, who is happily waving and smiling as she swims with various fish companions. Your children will love adding bright colors to the fish and seaweed in the backdrop.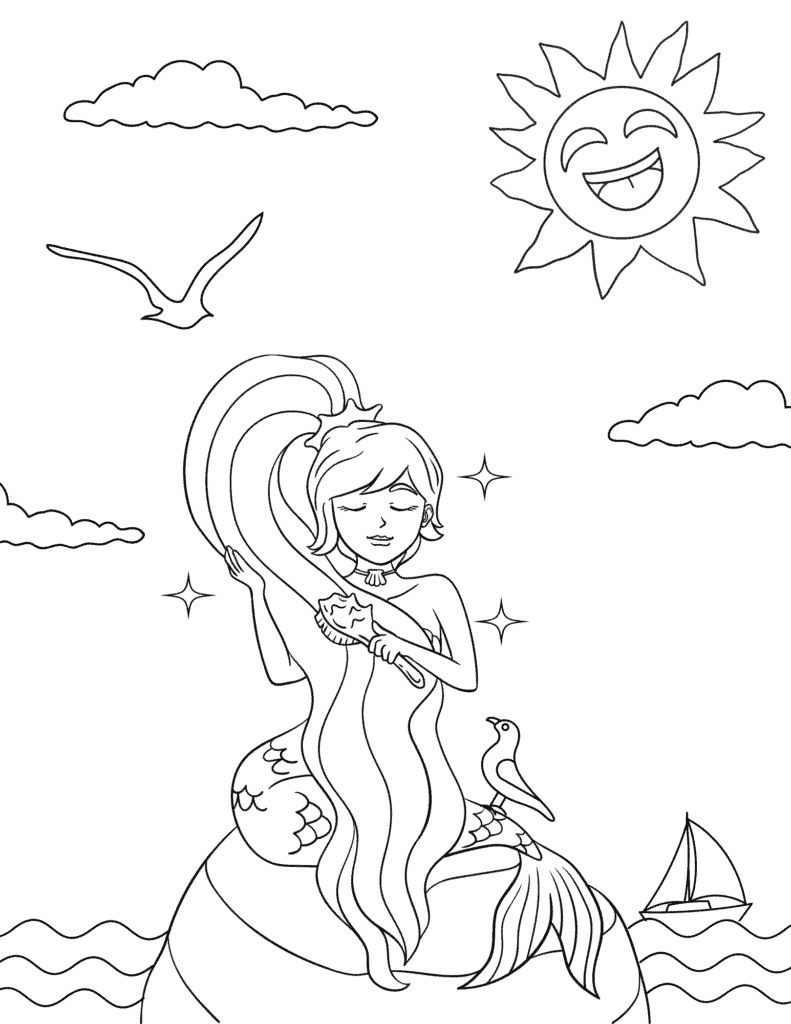 Long-Haired Mermaid Coloring Page
This beautiful mermaid is sitting atop a rock, brushing her long, flowing hair, while birds fly in the tranquil sky and a sailboat sails gently on the distant horizon. Each detail, from the mermaid's flowing locks to the gentle waves, allows your child to explore various seascape color palettes.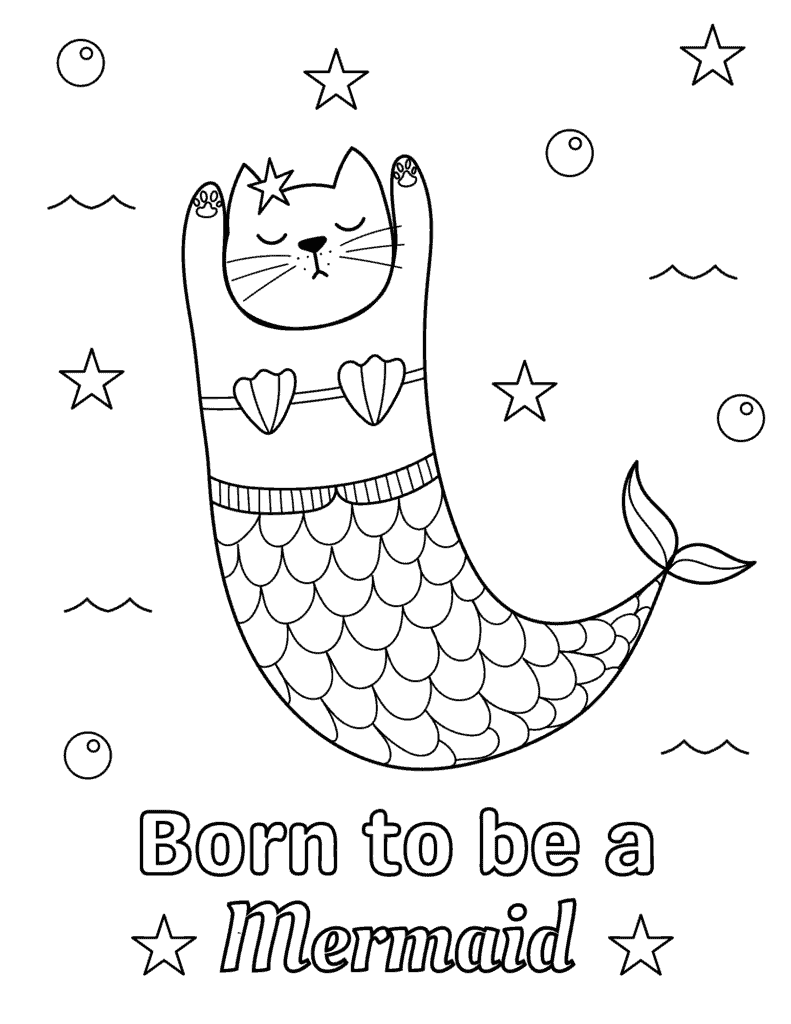 Cat Mermaid
This whimsical and unique scene depicts a cute cat mermaid playfully floating in the ocean. With her feline charm and mermaid grace, she presents an amusing twist on the typical mermaid image that children will find delightful. At the bottom of the page, the playful phrase "Born to be a mermaid" is written, sending a message of individuality.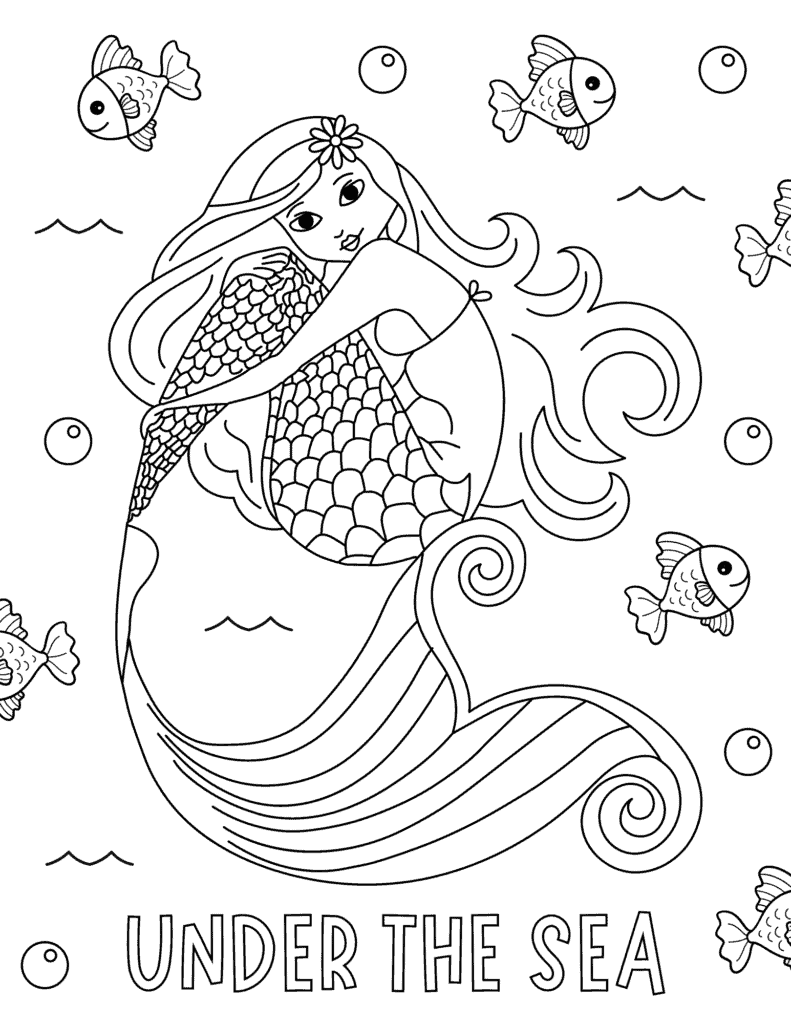 Under the Sea
Let your kids embark on a fun, artistic journey under the sea with this coloring page, which features an elegant mermaid curled up gracefully in the swirling waters of the sea, surrounded by a lively array of fish. The mermaid's scales and swirling tail will allow children to add vibrant colors to bring her to life.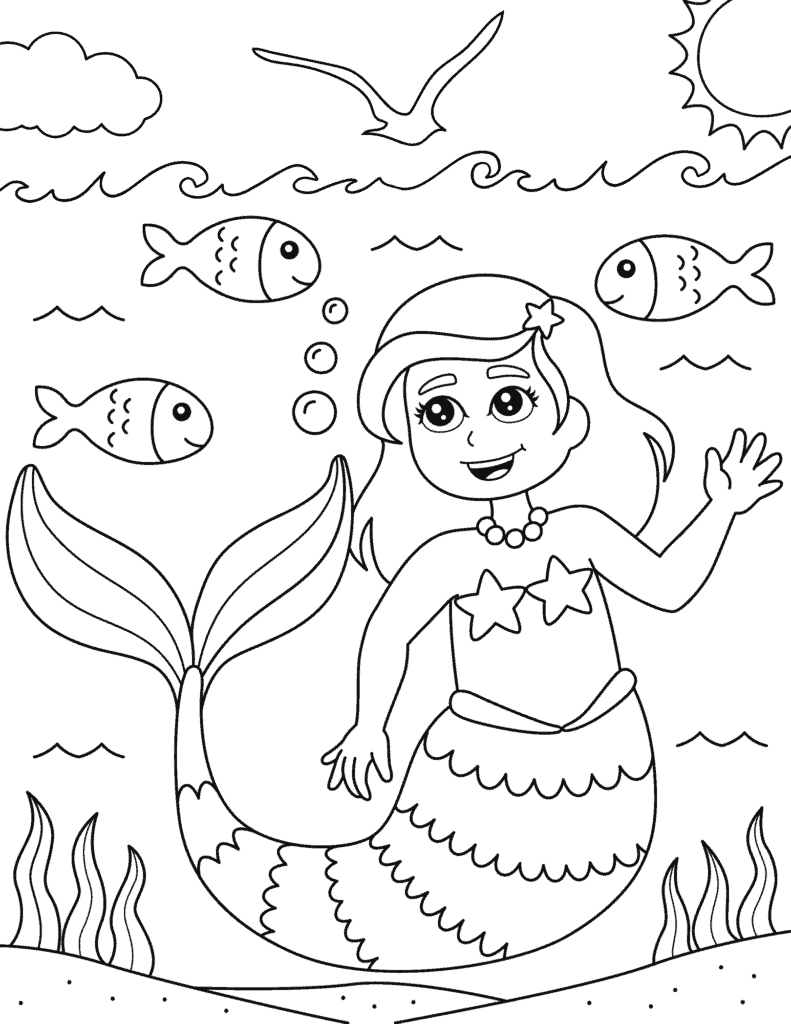 Happy and Smiling Little Mermaid
Bring this aquatic wonderland to life with colors! The centerpiece of this delightful scene is a happy and smiling little mermaid. She is surrounded by a school of fish and various sea life, creating an immersive undersea world to add color to.
Mom and Boy Mermaid
Immerse your kid in an underwater adventure with this coloring page. It features a heartwarming scene of a mom mermaid tenderly holding the hand of her little boy, exemplifying the bond of love between them. There is waving seaweed decorating the ocean floor below them. A playful fish and a gently floating jellyfish create a backdrop for this touching scene.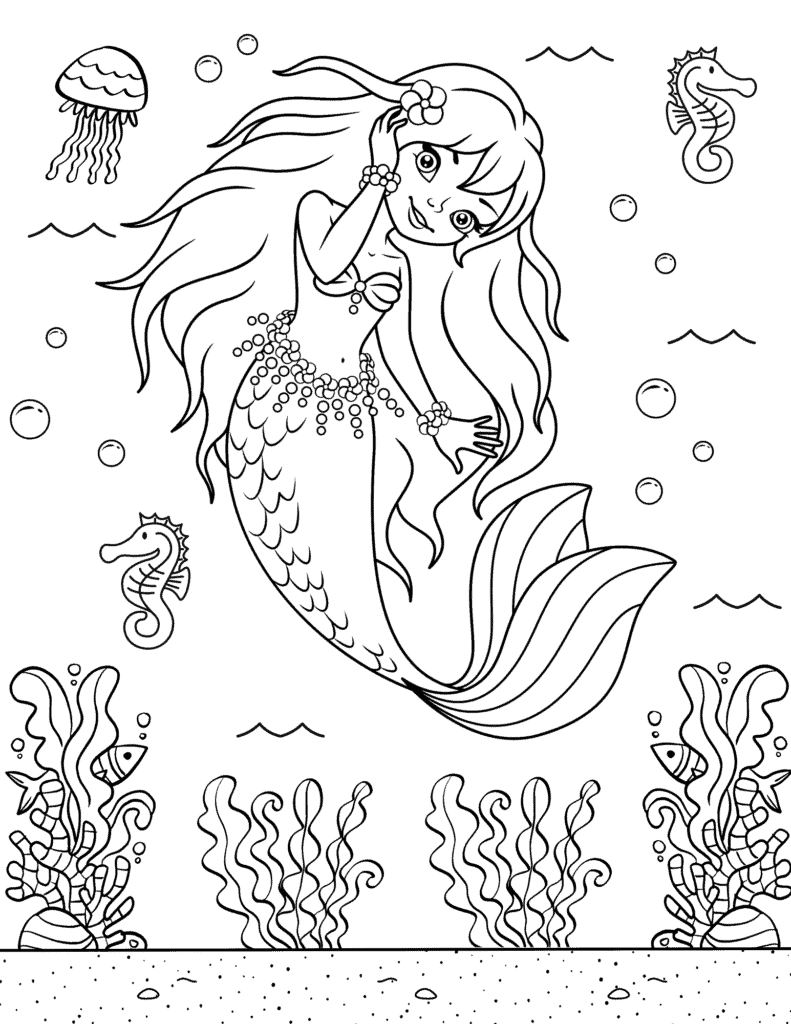 Pretty Mermaid Coloring Page
This engaging scene showcases a beautiful mermaid with long, flowing hair gracefully swimming in the ocean. Her long tail and hair invite your child to bring her to life with bold colors. The sea horses, jellyfish, and seaweed offer a chance for creative expression using different hues and shades of color.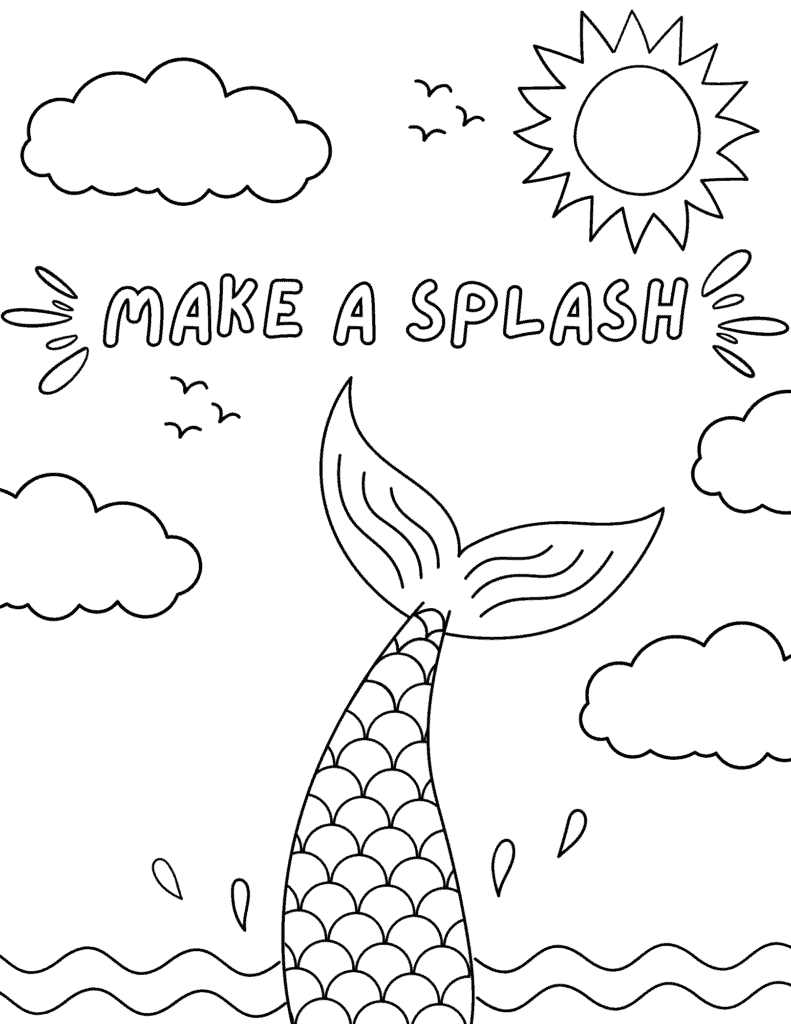 Make a Splash
This coloring sheet features only a mermaid tail, its shimmering scales disappearing under the water, evoking a sense of mystery and wonder. Above the scene, the phrase "Make a Splash" adds a playful element, inviting your child to fill these words with a splash of their favorite colors.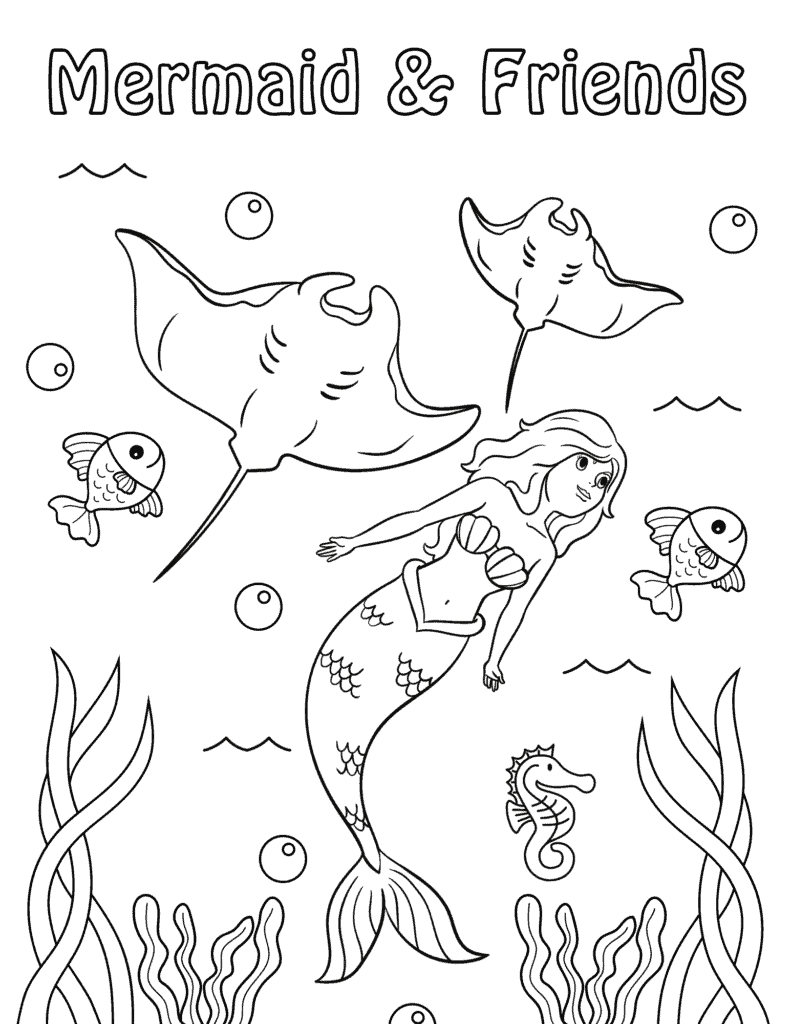 Mermaid's Friends
Immerse yourself in this exciting world of underwater friendships and adventure! The scene portrays a mermaid joyfully swimming with her underwater friends, including majestic manta rays and little fish. The ocean floor is home to waving seaweed, waiting to be filled with an array of colors by your young artist.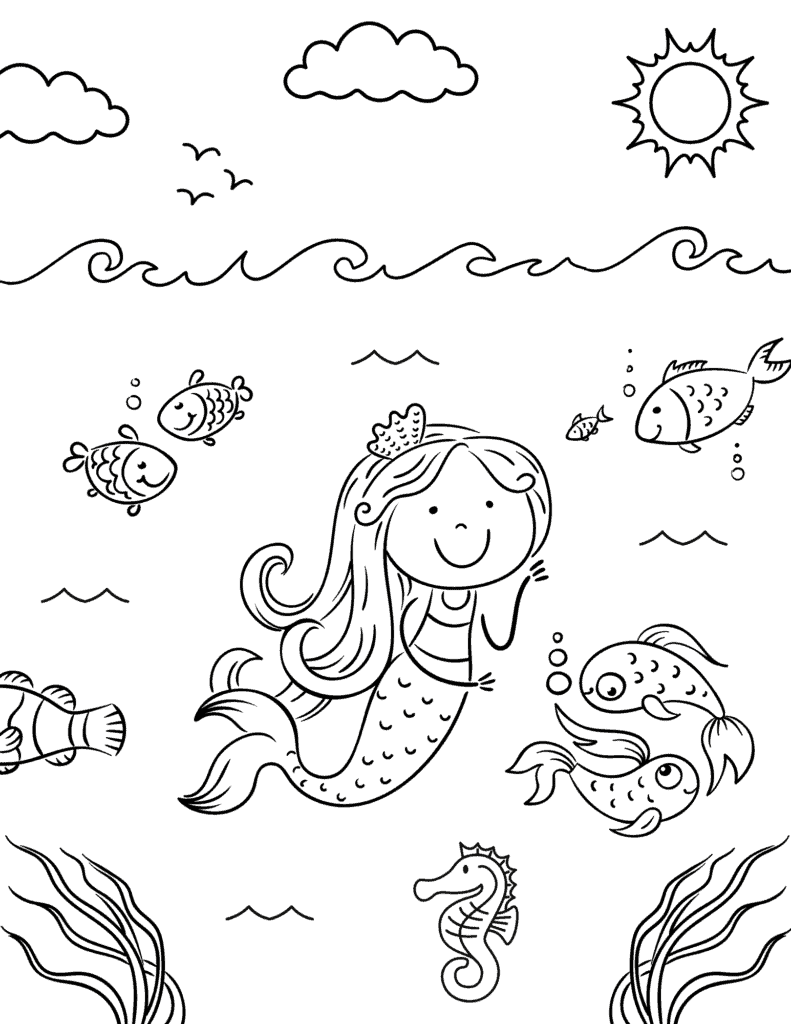 Little Girl Mermaid with Her Fish Friends
Spark your child's creativity with this coloring sheet. The star of this enchanting underwater scene is a little girl mermaid.
Related Coloring Sheets
More Summer Ideas for Kids
Seasonal and Holiday Coloring Pages
Follow me on Pinterest, Facebook, or Instagram for more inspiration on crafts, DIY, free printables, and recipes!
If you tried one of these Mermaid coloring pages or any other coloring pages on my website, please leave a 📝 comment below and let me know how it went!