Looking for a purr-fectly fun activity for cat lovers? Download and print these cute cat coloring pages!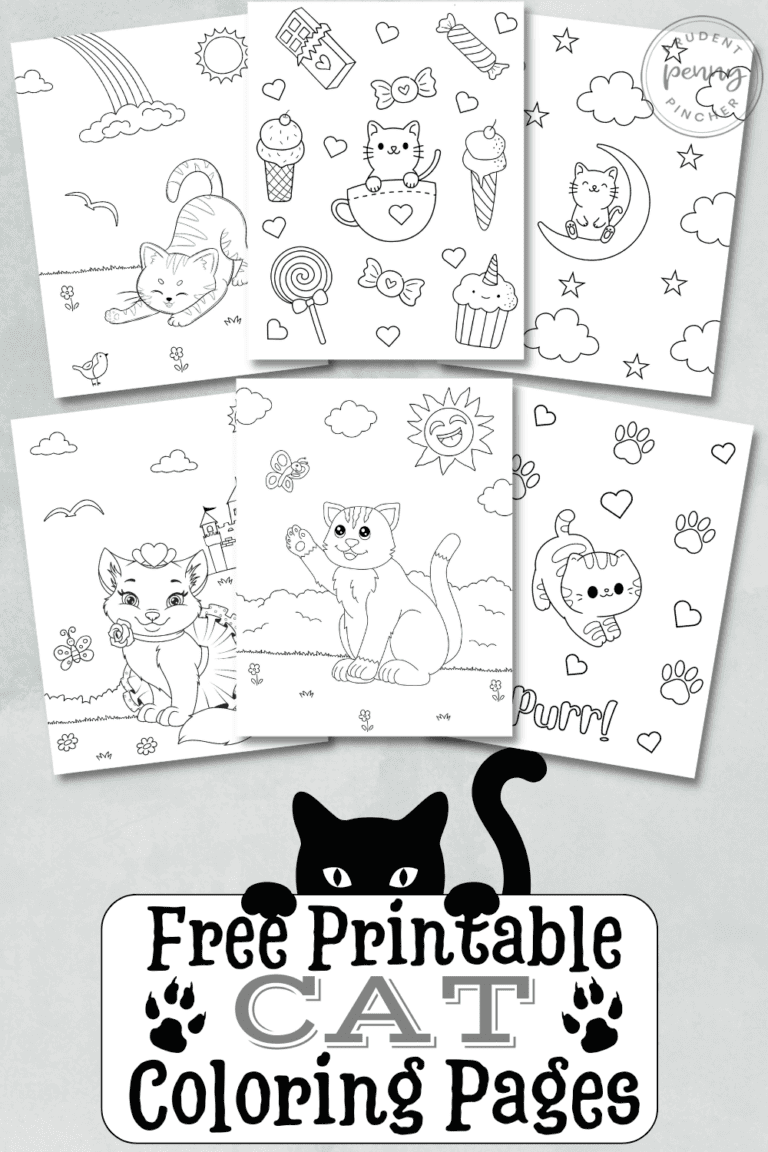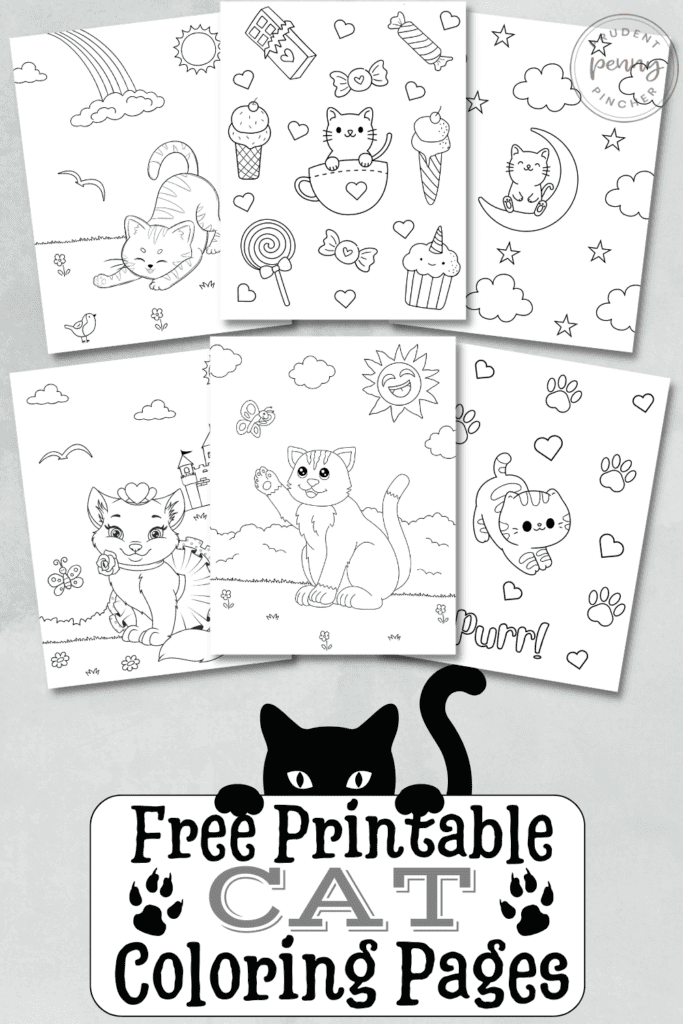 These fun cat coloring sheets are a fun, creative, and stress-relieving activity that can engage adults and kids alike. Whether you are looking for easy kitten pages for toddlers and preschoolers or detailed patterns for older kids, teens, and adults, there are free printable coloring pages for all ages!
From the playful kitty sheets to the majestic cat pages, there are free printables for all skill levels. These cute cat coloring sheets offer an enjoyable pastime for both kids and adults. They are sure to increase creativity, reduce anxiety, promote fine motor skills, and spread pure cat-filled joy!
Jump to: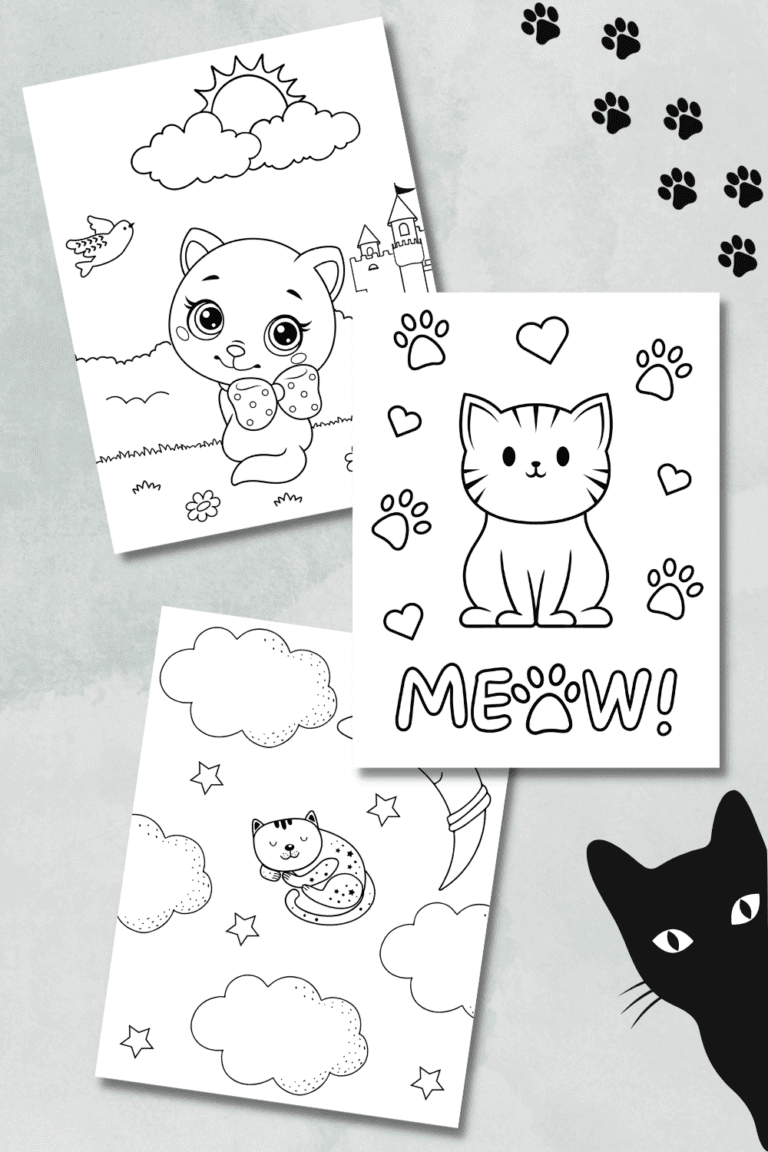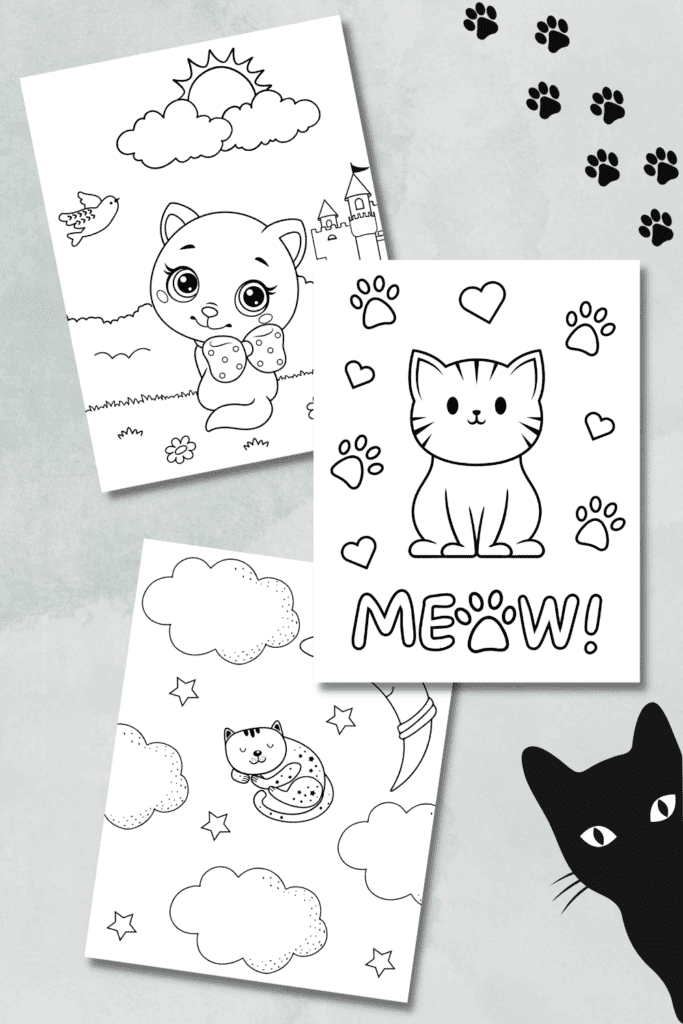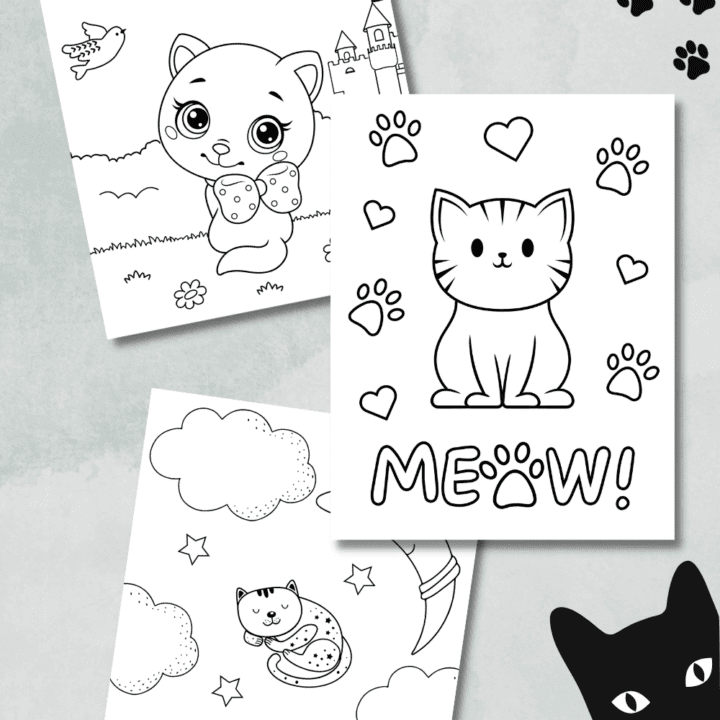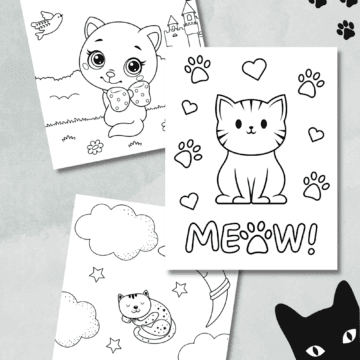 How to Download and Print These Cat Coloring Pages
a tutorial for how to download and print these coloring pages
Equipment
art supplies

crayons, colored pencils, markers, watercolors, etc.

printer
Instructions
How to Download
Download the coloring pages by clicking the link to the one you want to print.

Once it opens, click the download button in the toolbar at the bottom of the screen.

Save it to your computer.

Open the file in Adobe Acrobat or another PDF viewing software.
How to Print
Load the paper into your printer's paper tray.

Go to File –> Print. Open your printer settings or printing preferences. The printing settings will vary based on your printer, but ensure the print quality is set to the "Best" setting before printing.

Select "Fit" from the page sizing settings.

Click the print button.
Cat Coloring Pages for Kids of All Ages
Coloring Sheets for Young Kids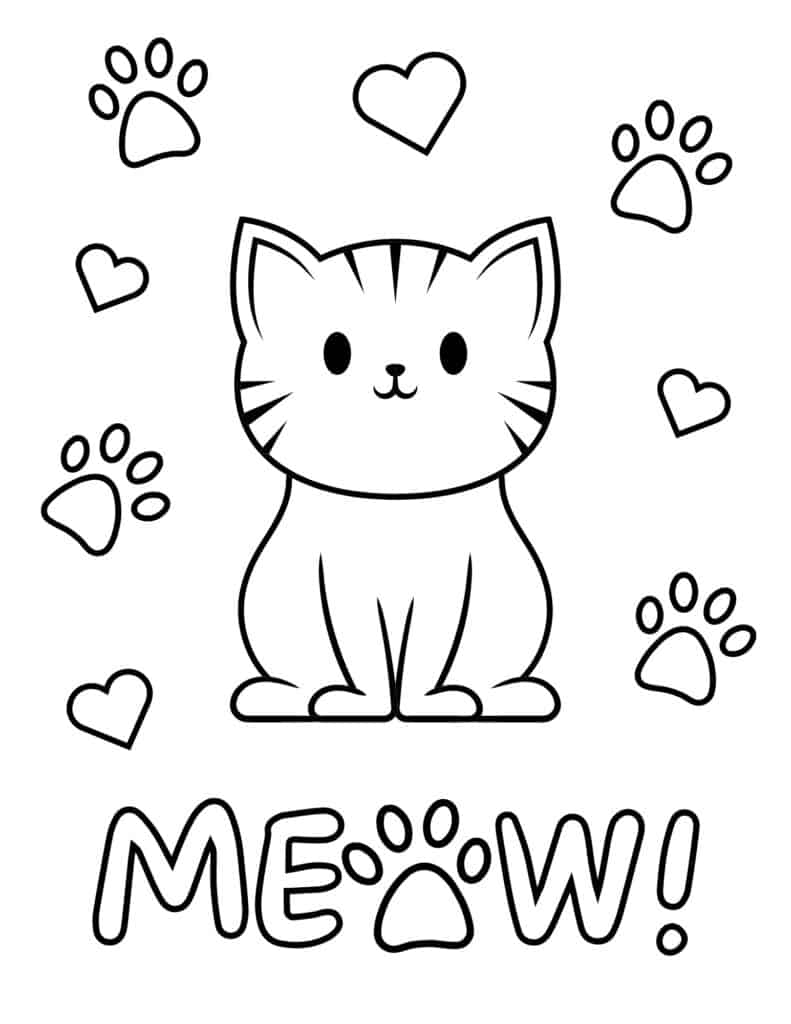 Meowing Little Kitten
This charming page features an adorable little kitten and playful background of hearts and paw prints. The word 'Meow' is at the bottom of the page. It allows kids to learn the onomatopoeic word associated with their favorite furry friends.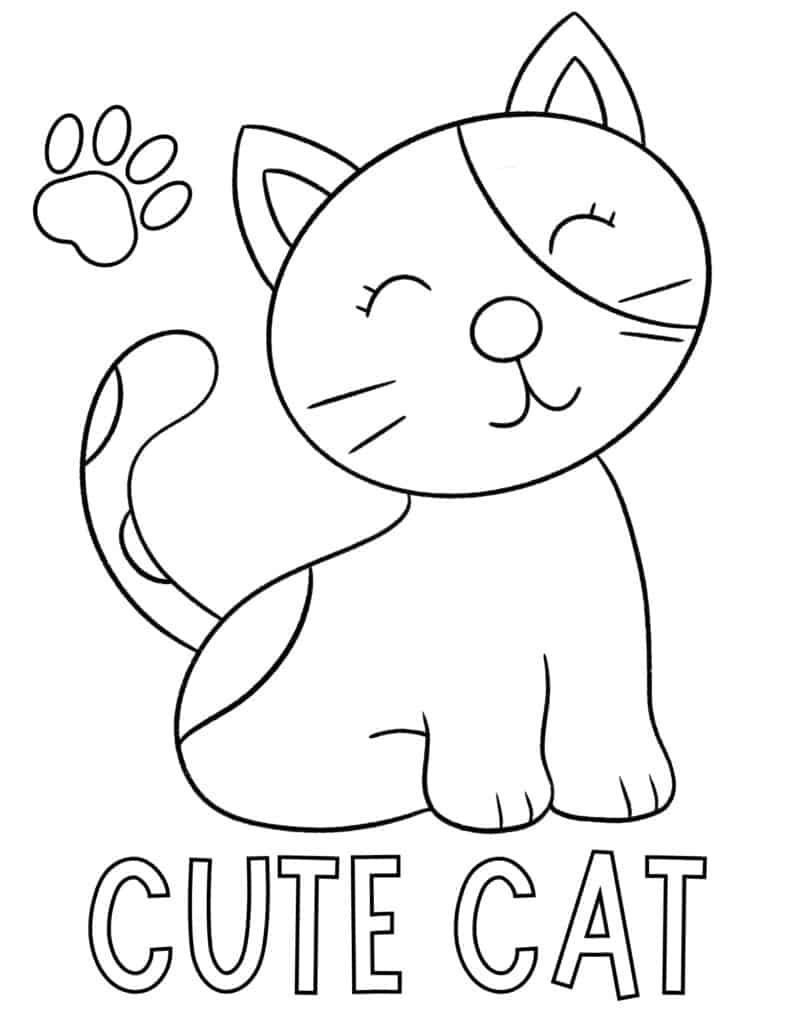 Cute Cat
This kitty, with a sweet smile and its eyes blissfully closed, is the epitome of cuteness. It is bound to appeal to your child's affection for cats. It is a perfect choice for younger children like toddlers and preschoolers due to its large and basic design elements. Your child's creativity, color recognition, and hand-eye coordination will get a boost by coloring in this 'purrfectly' cute scene.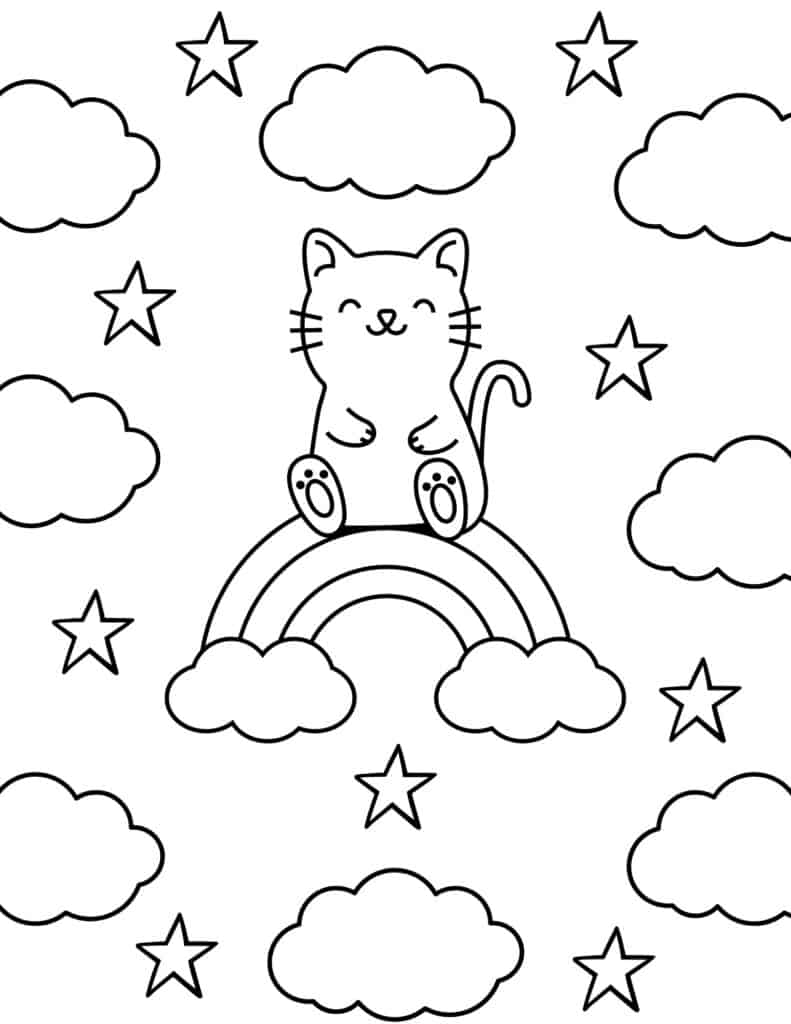 Kitty Sitting on a Rainbow
This one illustrates a whimsical scene of a cute kitty perched on a colorful rainbow in a beautifully depicted sky. Adding to this magical illustration, the background shows stars twinkling amidst fluffy clouds.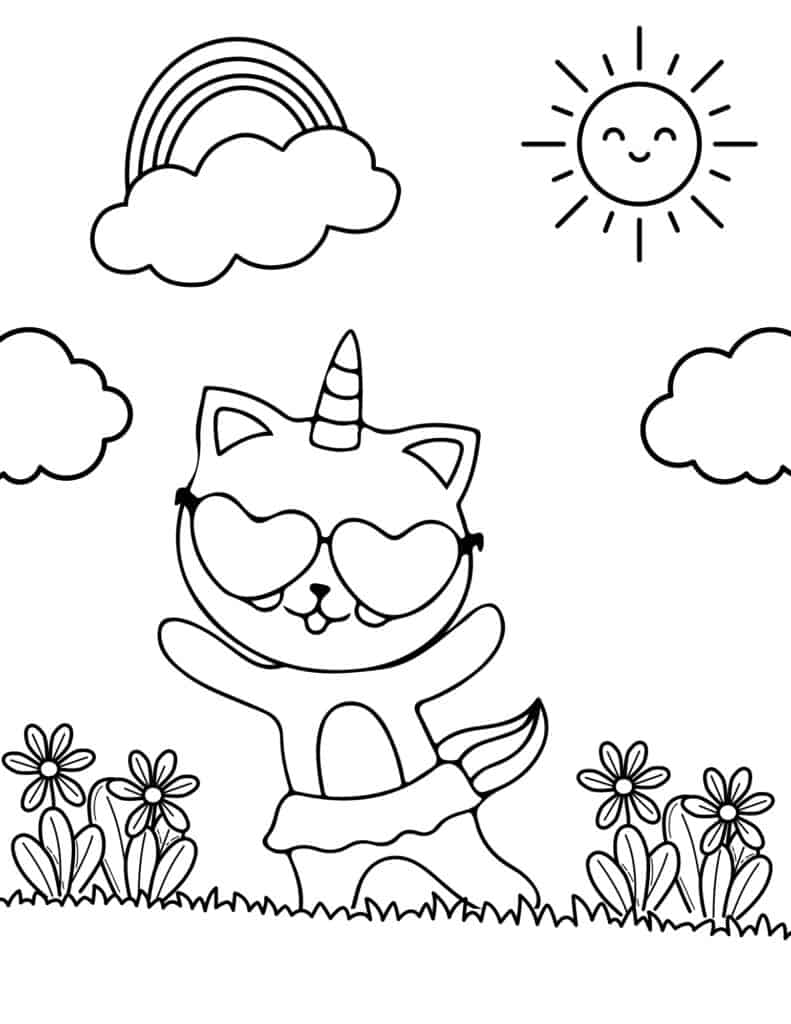 Unicorn Cat
This magical unicorn wears cute heart-shaped sunglasses and dances in a flower-filled field. This whimsical scene promises to engage your little ones in a colorful adventure to enhance their fine motor skills and artistic creativity.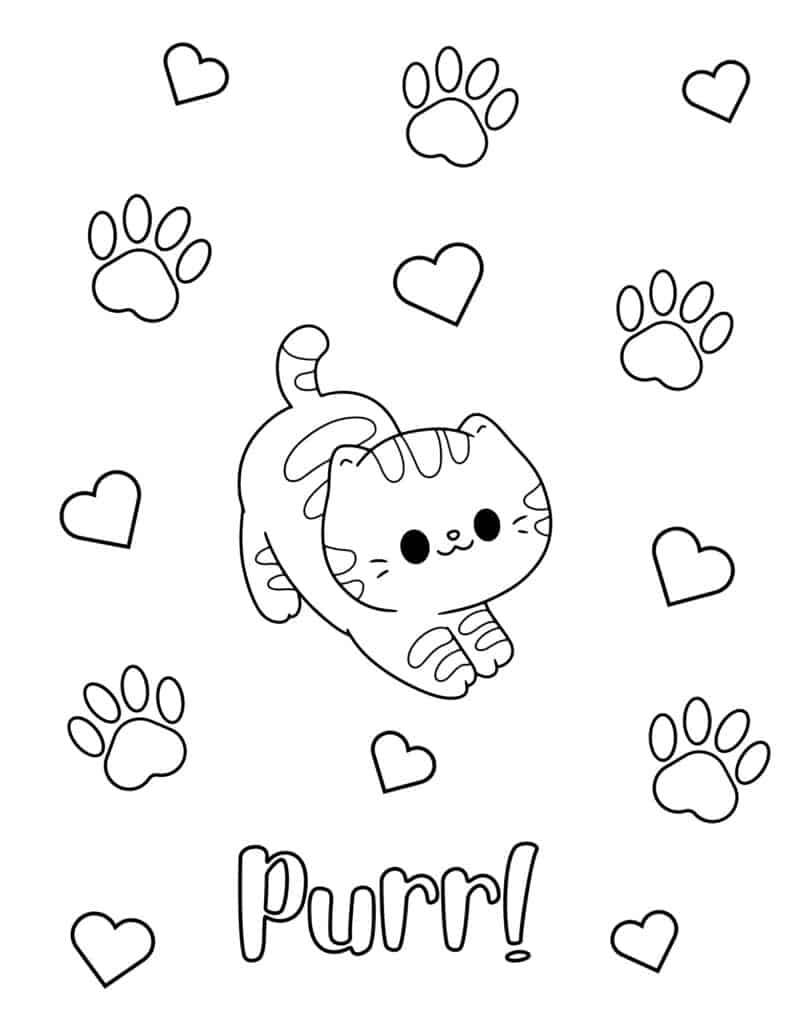 Purring Cat
This one shows a relaxed cat stretching out playfully. The backdrop is sprinkled with playful hearts and adorable paw prints. The simple word 'purr' sits at the bottom of the page for kids to color in.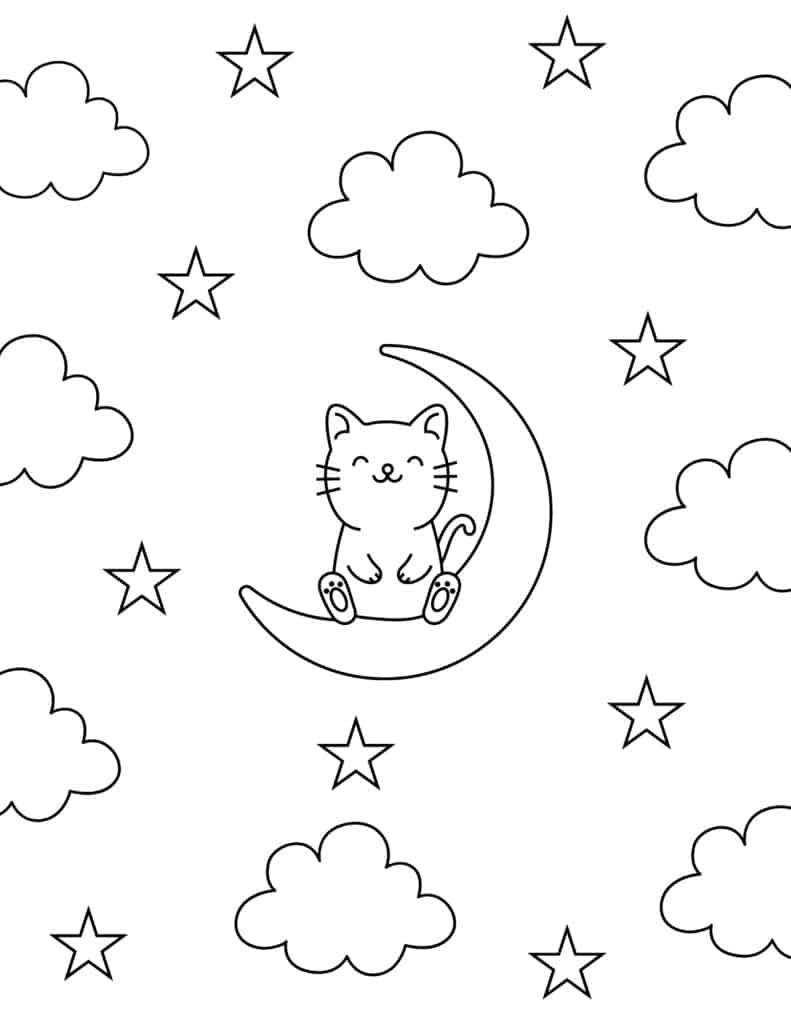 Sitting on the Moon
In this cat coloring page, a serene kitty sits happily on a crescent moon set against a backdrop of a beautiful night sky. This dreamy scene is filled with fluffy clouds and twinkling stars. It offers a fun and calming coloring experience for your little ones.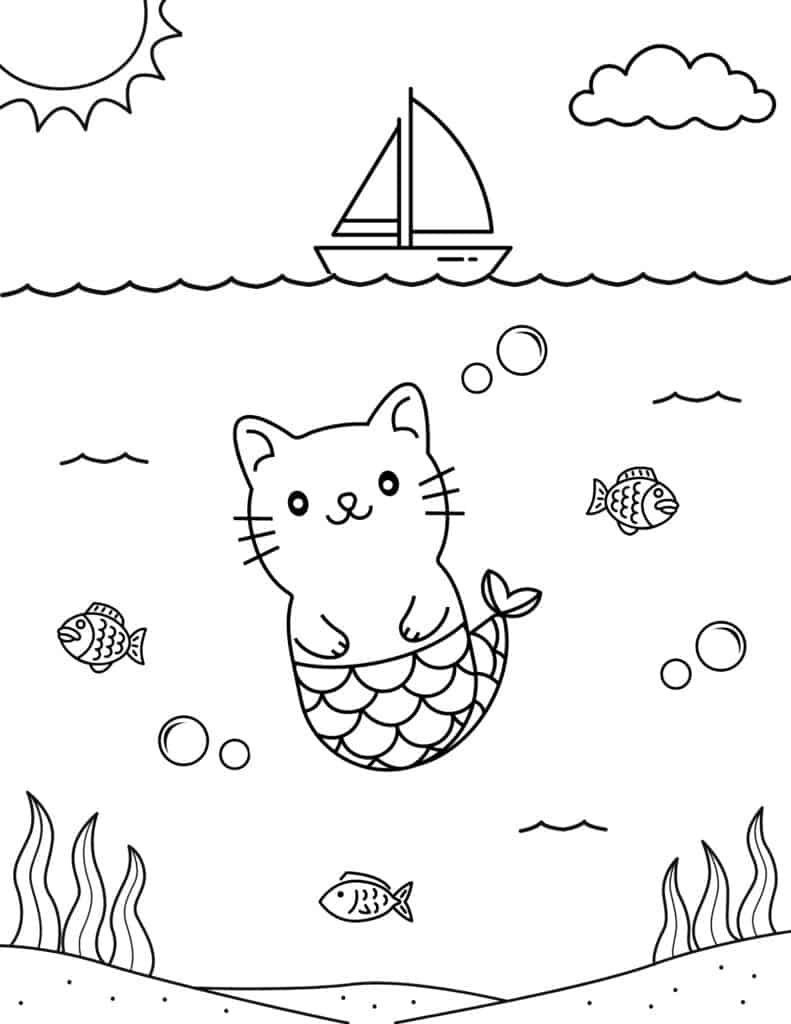 Cat Mermaid
Dive into an underwater world of fun and imagination with this coloring sheet. It shows a whimsical cat mermaid, a "mercat" if you will, floating in the ocean with friendly fish swimming by. This one invites a kaleidoscope of colors!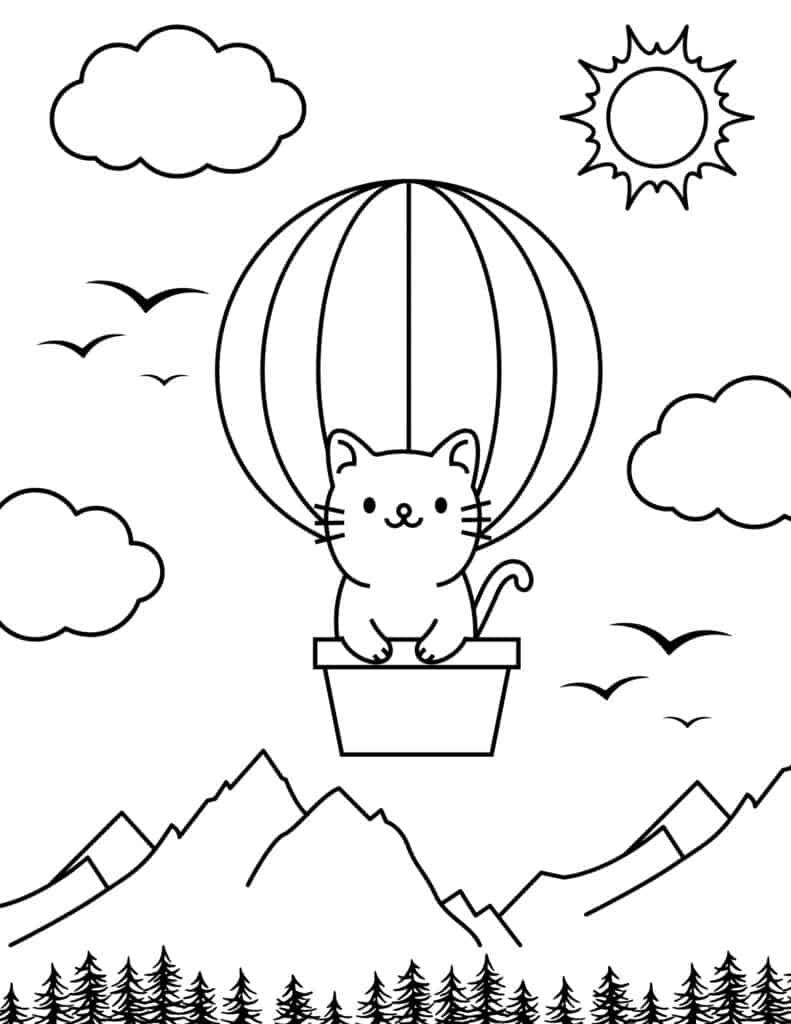 Riding in a Hot Air Balloon
Take your child's creativity on a thrilling skyward adventure with this kitty riding in a hot air balloon. A scenic vista of distant mountains and lush treetops is at the bottom of the page. Each element in this scene creates a fun coloring experience for your kids.
Cat Coloring Sheets for Older Kids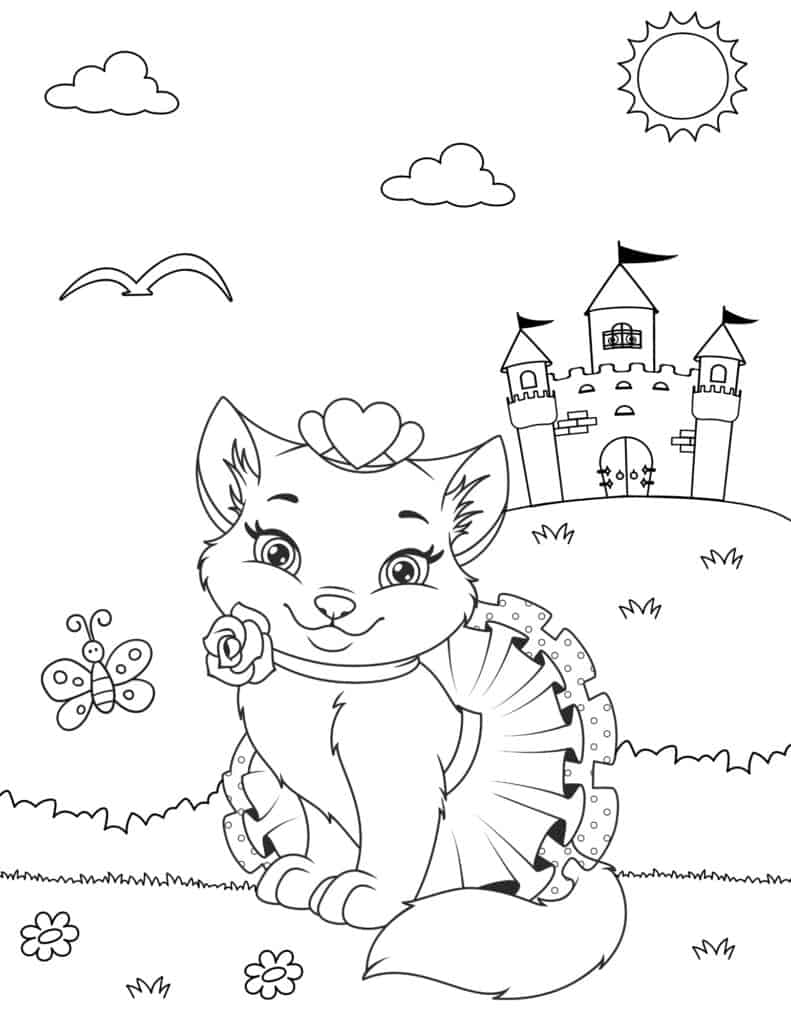 Princess Cat
Immerse your children in a fairy-tale world with this princess cat page. It features an adorable princess kitty in a fluffy tutu and a heart crown, gracefully seated on lush green grass. In the background, a majestic castle stands tall, providing a fitting backdrop for our feline princess. This enchanting scene will captivate your little ones and stir their imagination as they bring it to life with vibrant colors.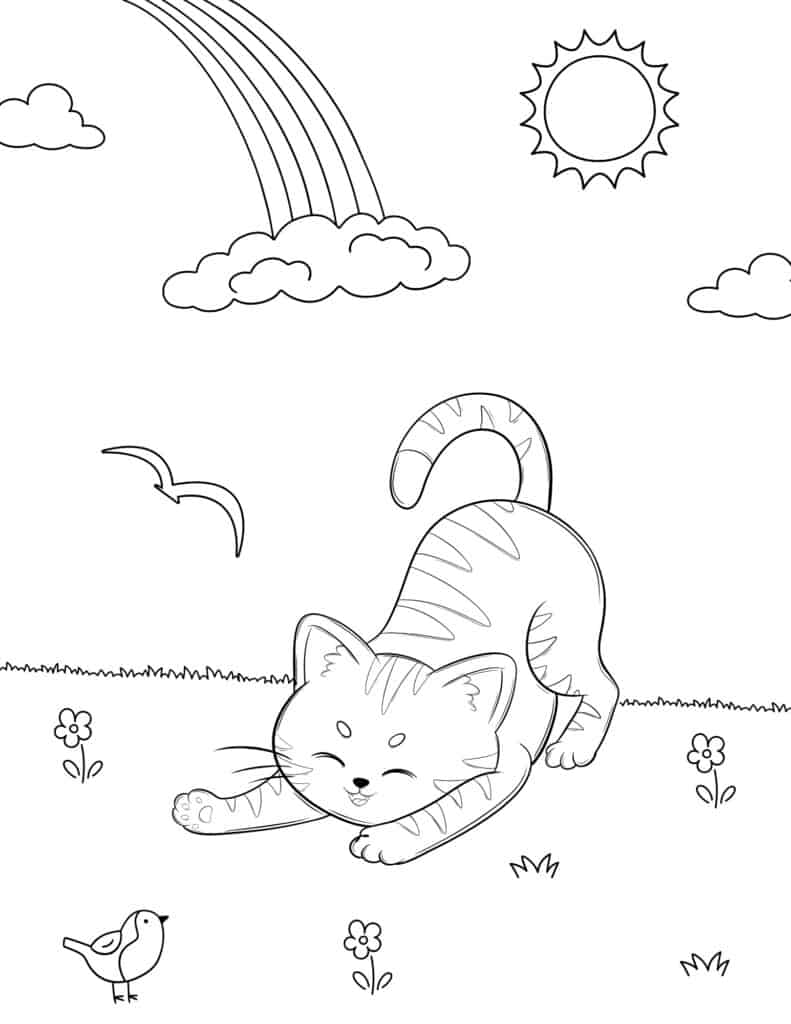 Happy Kitty
Bring the joy of nature and the outdoors into your kids' coloring sheets! This scene perfectly captures a playful and happy cat stretching out on the grass with a curious little bird watching nearby.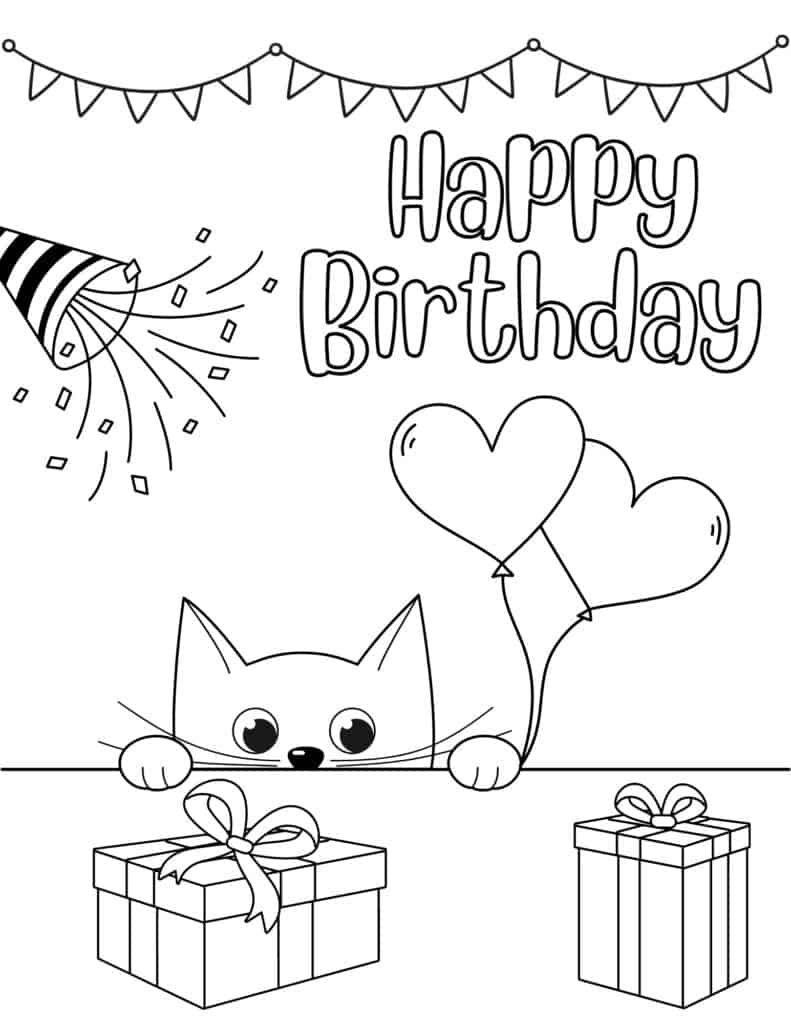 Happy Birthday
Celebrate the joy of birthdays with this festive birthday activity for cat-loving kids! It presents a curious cat holding heart balloons and peeking over a table overflowing with presents. Overhead, a party banner stretches across the scene and the words 'Happy Birthday' are waiting to be adorned with a rainbow of bright colors.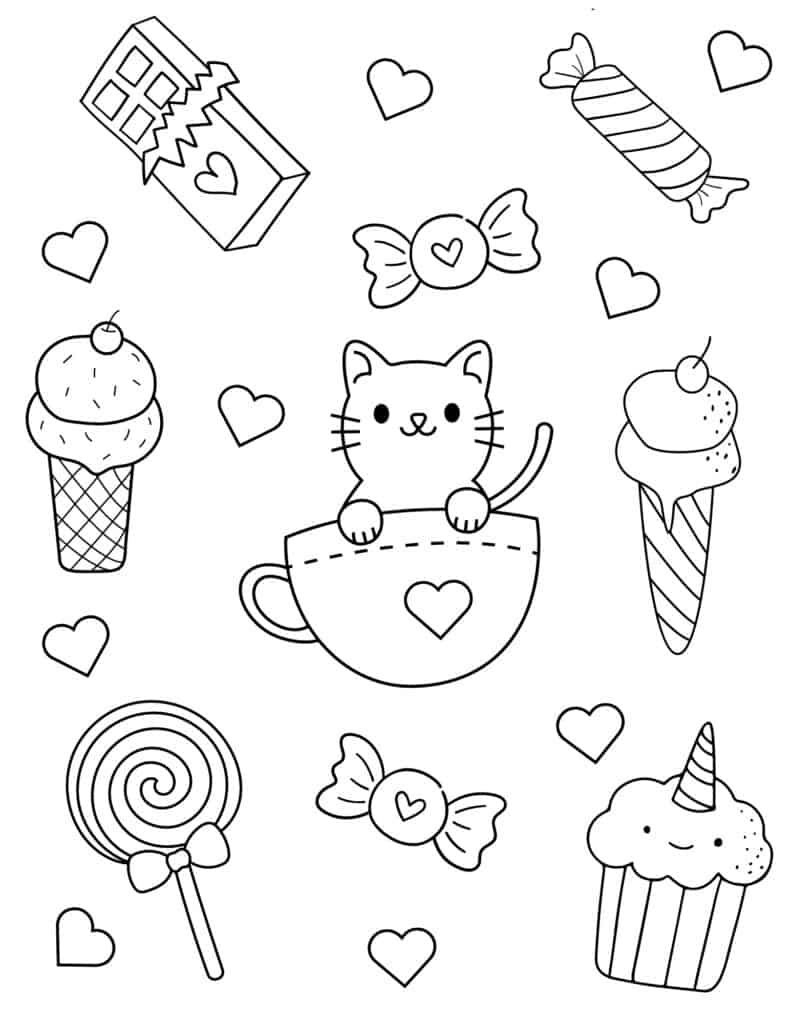 Kitten in a Mug
Indulge in a world of sweetness and whimsy with this charming illustration. It shows a cute kitten sitting in a coffee mug. The background is adorned with sweet treats like ice cream, cupcakes, and candies. This coloring page invites children to use their favorite colors to bring this yummy design to life. This delicious scene is sure to enchant your little ones.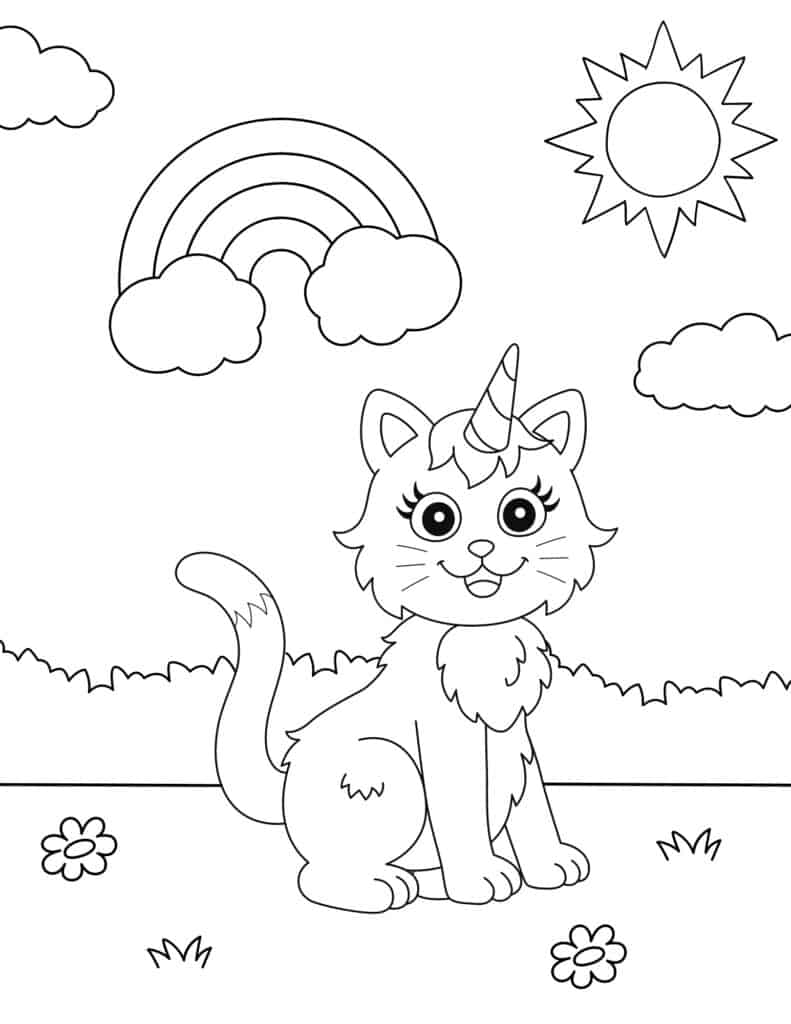 Unicorn Kitten
Join this happy unicorn kitty for a magical coloring journey under the sun! This illustration features a cheerful unicorn kitty sitting in a grassy field with a big rainbow above her. This whimsical design encourages your little ones to express their creativity.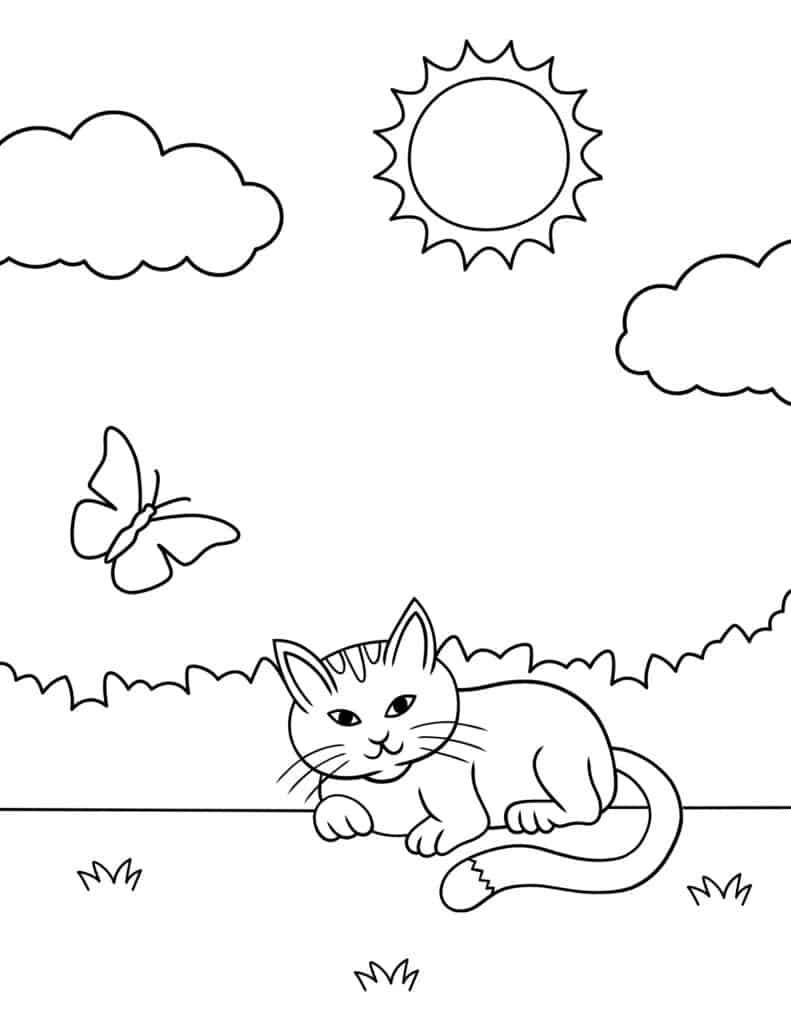 Cat and Butterfly Coloring Page
Immerse your child in the natural world with this coloring sheet! In this one, a smiling cat with a long tail sits comfortably in a field full of grass. Above, a butterfly flutters, adding a whimsical touch to the scene. This beautiful page not only offers an engaging activity for your kids but also sparks their interest in the outdoors.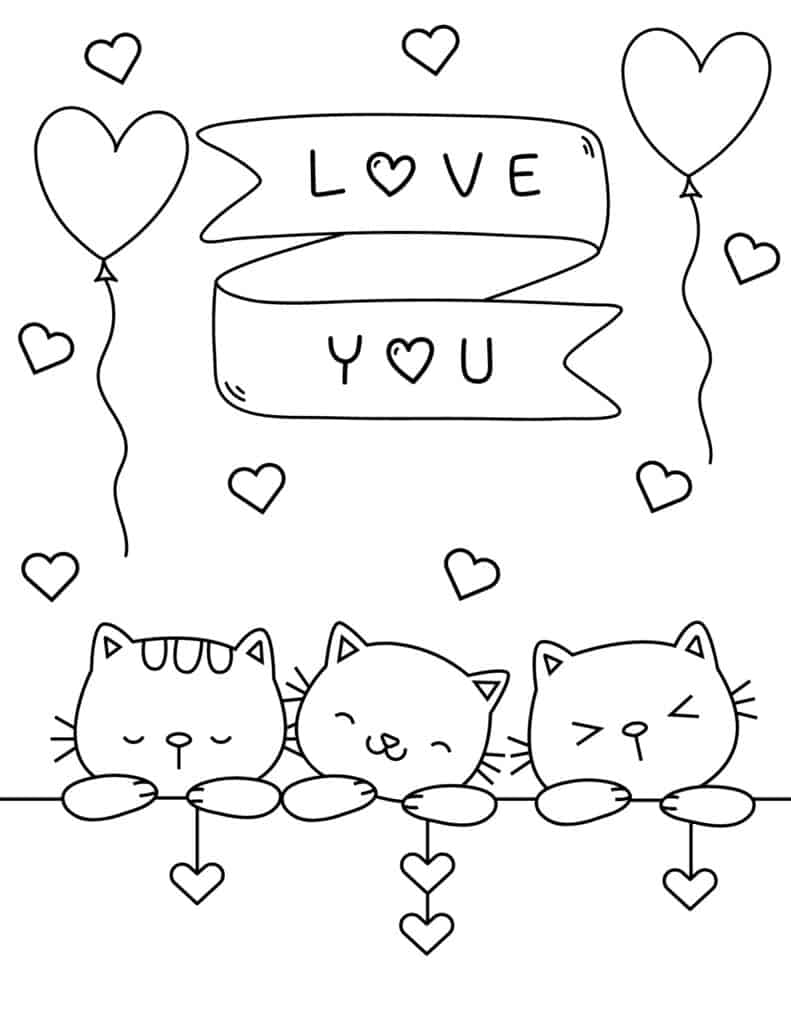 3 Cute Cats
Brighten up your child's day with this illustration, which shows three adorable kittens. Each of them is holding a part of a heart-shaped garland. Heart balloons, a 'Love You' banner, and heart confetti float above them, waiting to be filled with vibrant shades of red and pink.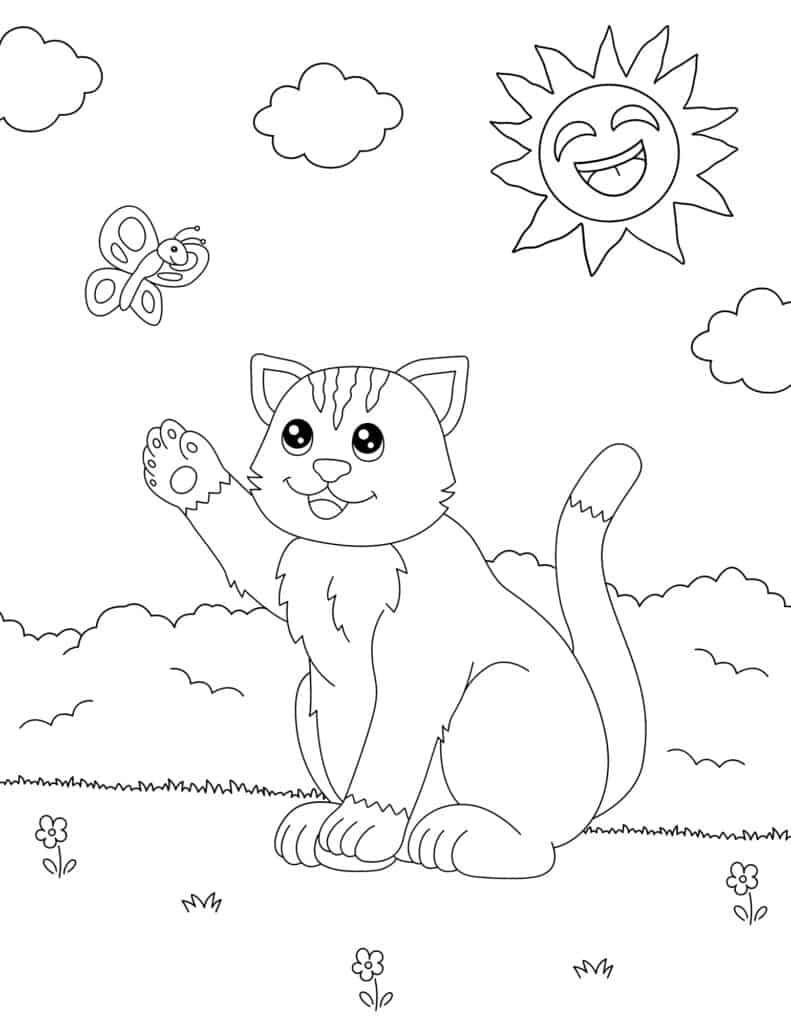 Friendly Cat Waving to a Butterfly
This enchanting scene features a friendly cat sitting in the grass, playfully waving at a passing butterfly, introducing children to delightful interactions in nature. In the background, bushes, and clouds add depth to the scenery. This coloring page encourages creativity, color recognition, and fine motor skills while offering an engaging way for kids to explore nature's beauty.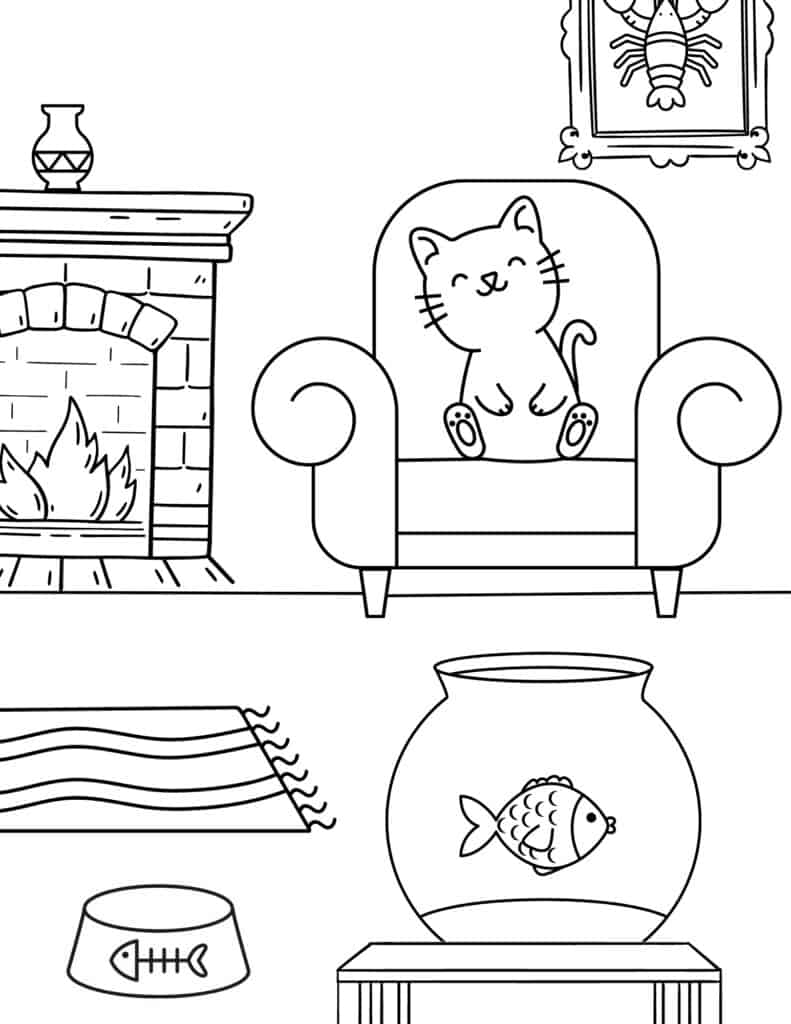 Cat on the Sofa
Cozy up with this free printable coloring sheet that shows a smiling kitty lounging on a sofa, settled comfortably in a living room. A warmly lit fireplace radiates in the background, creating a tranquil setting for your child to color and explore. A fish bowl is on a table nearby, introducing additional details to the scene.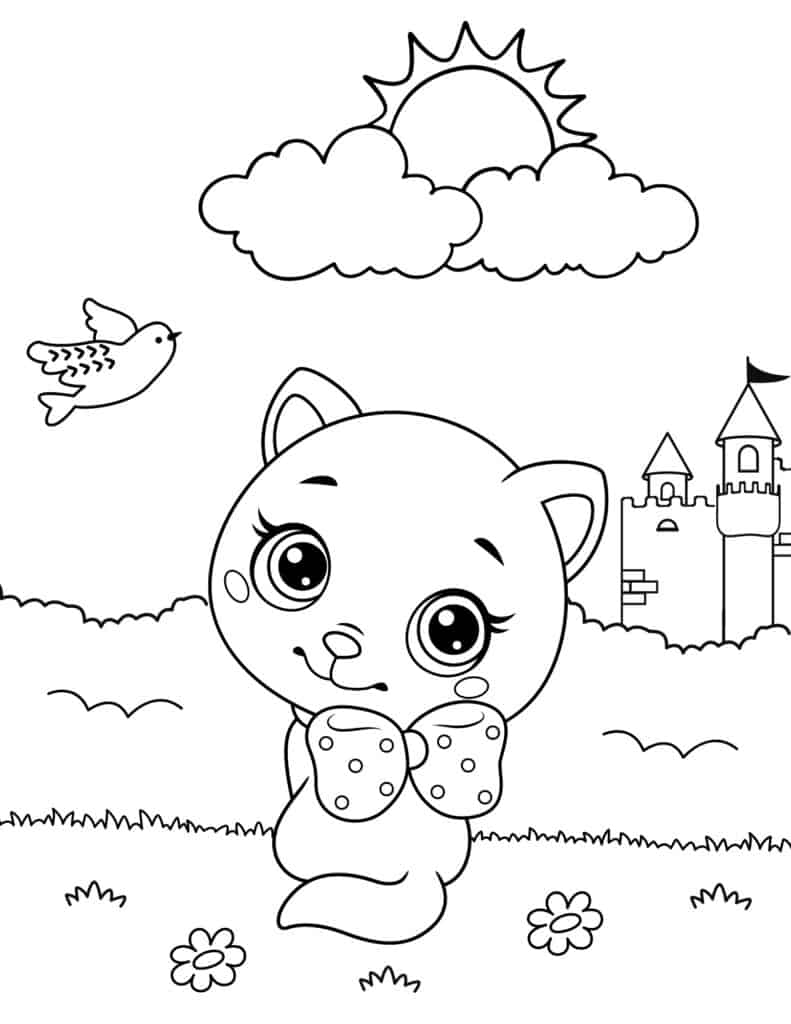 Pretty Kitty
This whimsical scene is straight out of a fairy tale. It features a pretty cat with an adorable big bow gracefully sitting in a blooming field. The magnificent castle, majestically nestled in the background, adds to the magic and charm of the page. This coloring sheet will allow your kids to experiment with a diverse palette of colors. From coloring the kitty's sleek fur to the bow's polka dot pattern, each element adds to the fun and excitement.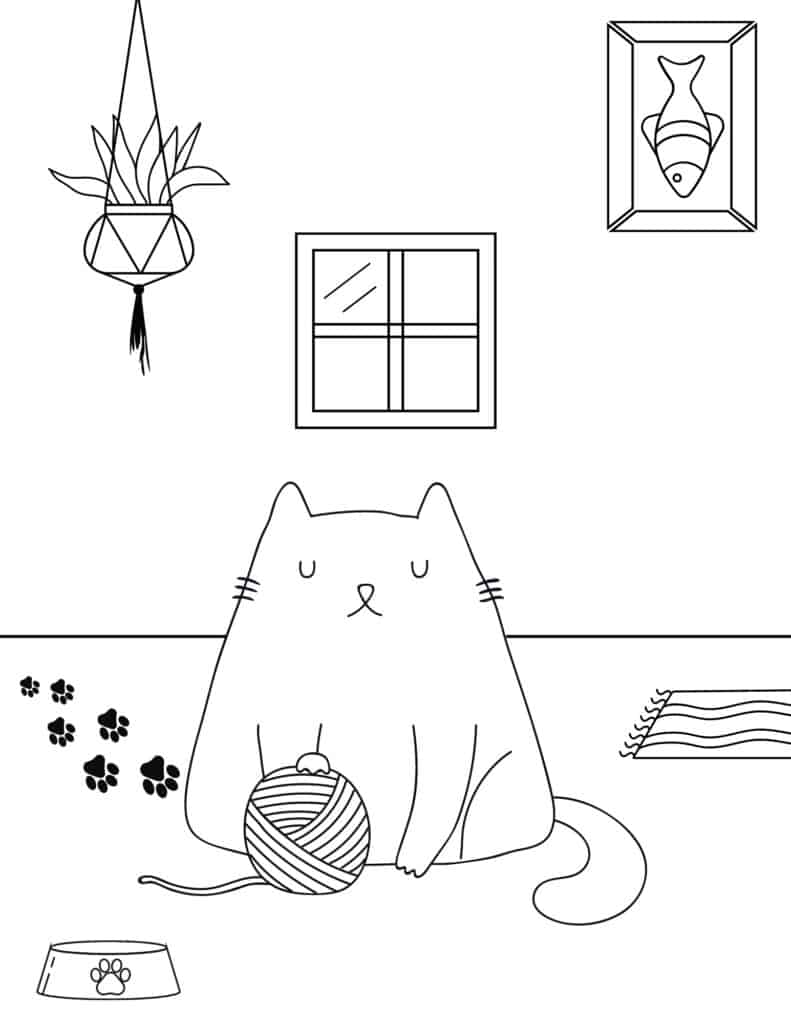 Playing with Yarn
Give your kids an opportunity to inject color into the life of this bored kitty and transform this scene into a vivid masterpiece. In this coloring page, the endearing cat is amusing itself with a ball of yarn. This indoor scene is rich in details, offering plenty for your child to explore and color.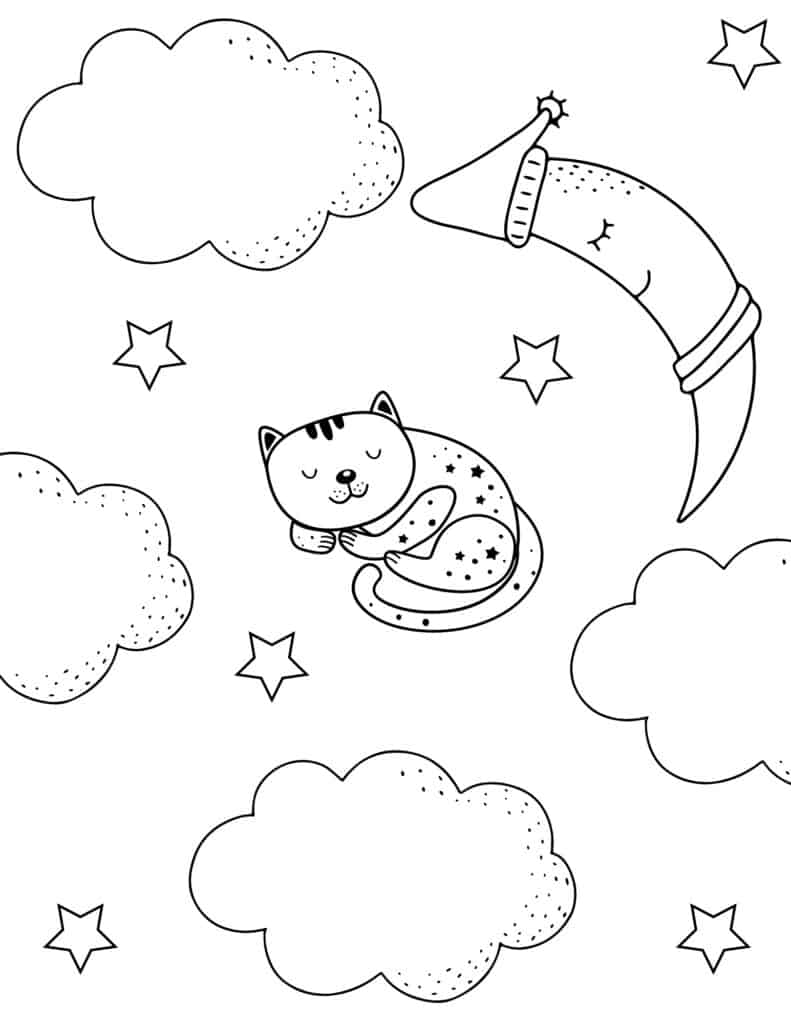 Dreaming Cat
This dreamscape depicts a serene kitty curled up and sleeping peacefully amidst the sky. A sleeping moon wearing a cozy nightcap joins the cat in its slumber. The clouds and twinkling stars in the background add a magical touch, waiting to be brought to life with a splash of nighttime colors. This celestial scene is a doorway to an imaginative journey for kids!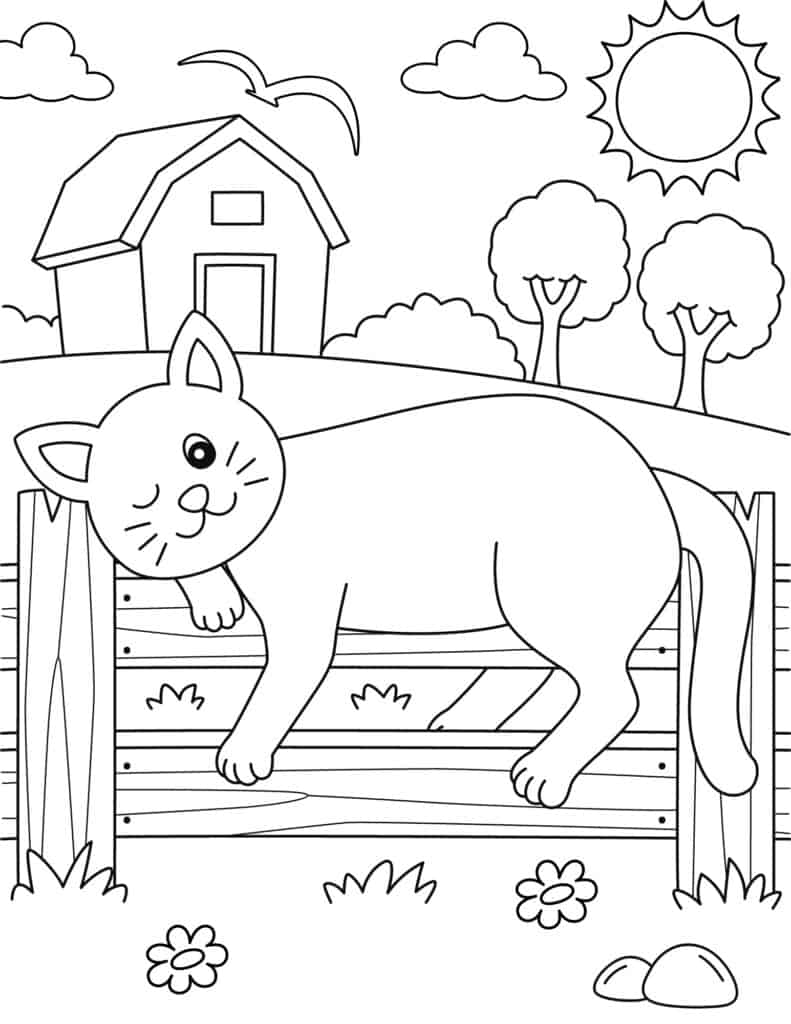 Farm Cat
Introduce your kids to the farm life with this coloring page, featuring a cat blissfully sleeping atop a fence on a farm. The setting presents a lively canvas for a young artist to fill with various colors. The wooden fence, distant barn, lush trees, and bushes add to this sheet's detail and create a sense of serene country life.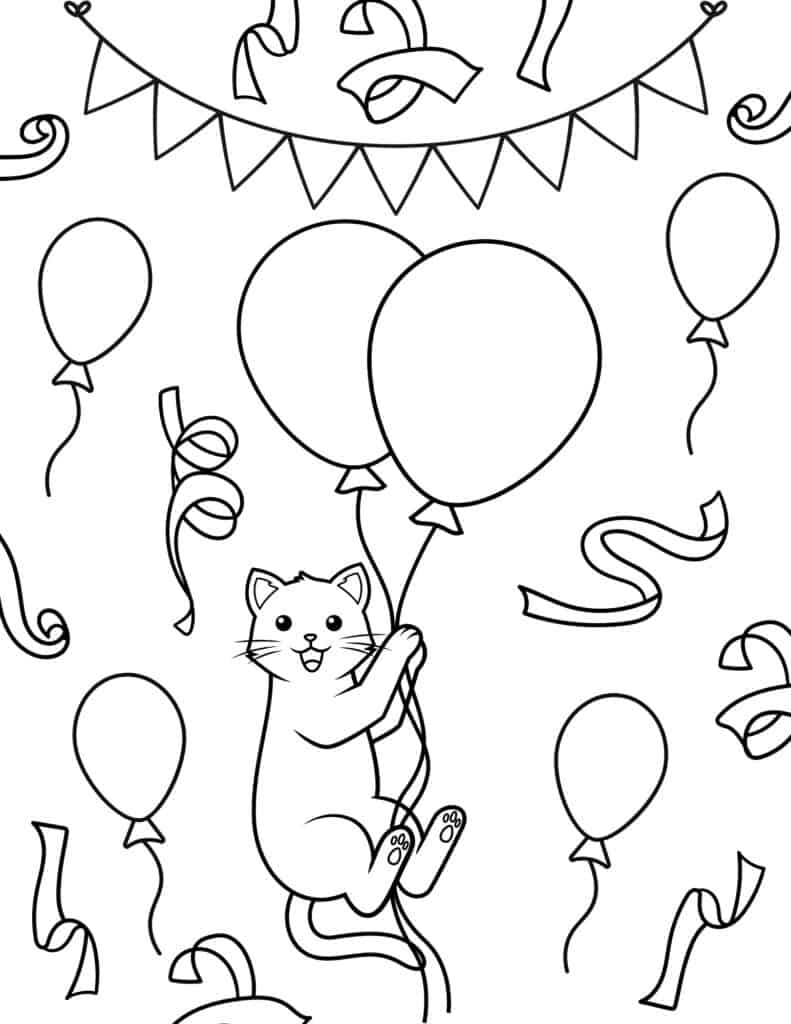 Party Kitty
Take your child's creativity to new heights with this one that shows a cat holding onto a bunch of balloons floating in the air. Adding to the festive atmosphere are even more balloons and swirling party streamers in the background. The image is full of energy, waiting to be brought to life with your child's imagination and choices of colors. From the kitten's excited expression to the festive streamers, there are plenty of ways to experiment with bright and bold hues.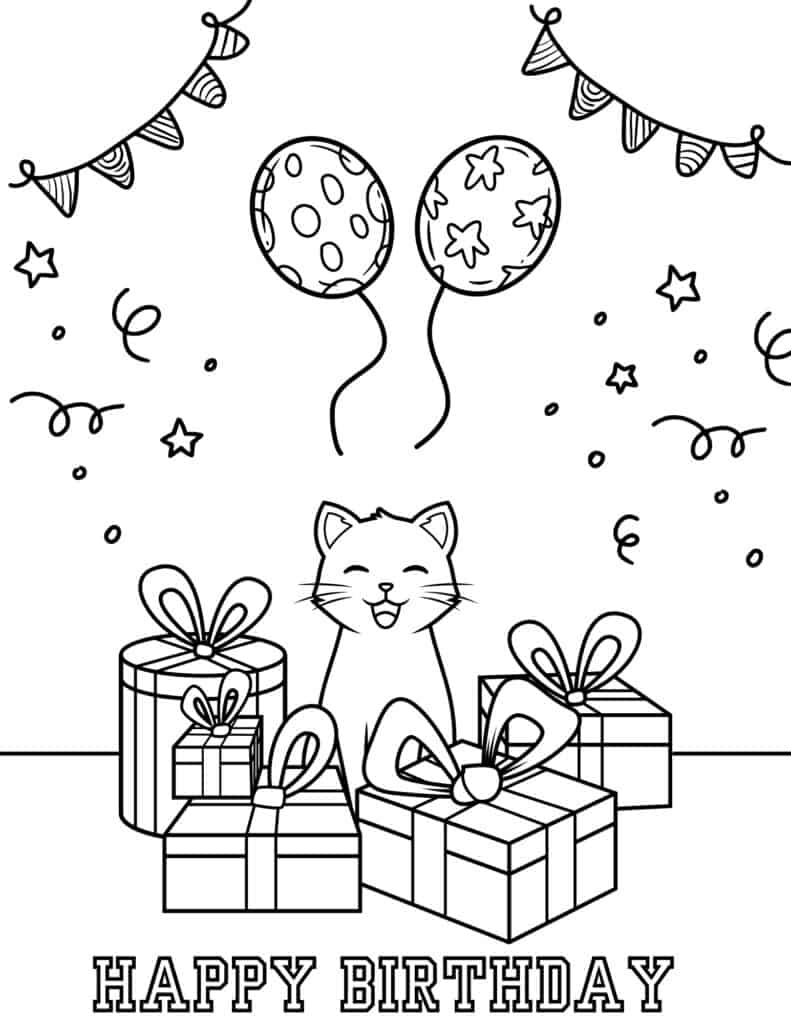 Happy Birthday
Let your child's creativity take center stage at their birthday party with this one, featuring an excited cat surrounded by an array of presents. The cat's enthusiasm is further echoed by balloons, banners, and a flurry of confetti floating overhead, ready to be filled with the most vibrant colors your child can imagine.
Cat Coloring Pages for Teens and Adults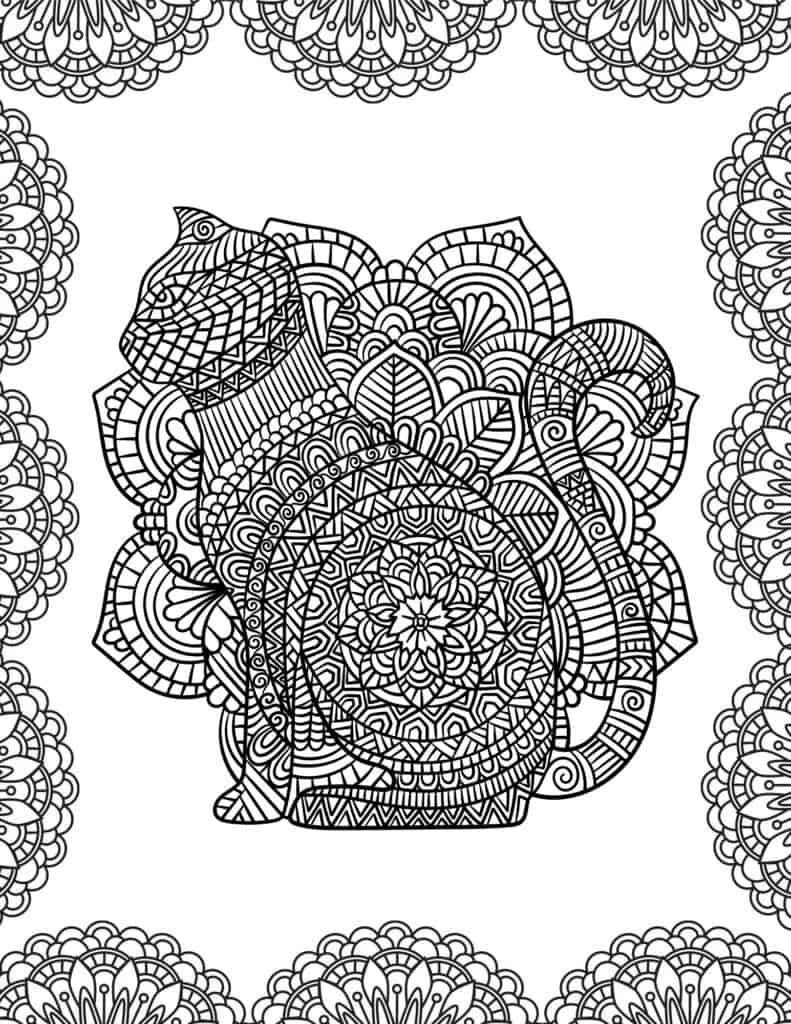 Mandala Flower Cat
This coloring sheet features a beautifully designed mandala cat sitting proudly at the center, surrounded by an intricate mandala border. The lines, curves, and details are intricately woven together. It is perfect for feline lovers, mandala enthusiasts, or anyone seeking a creative outlet that also provides a meditative escape.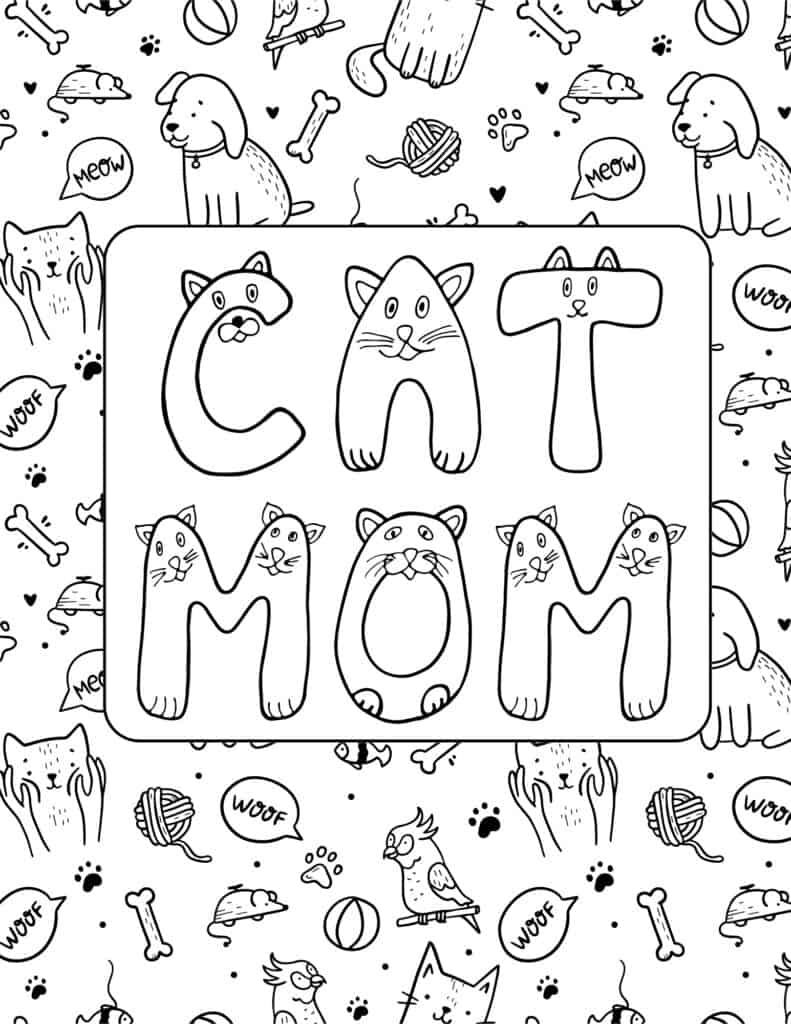 Cat Mom
Show off your artistic flair and your love for your fur babies all at once with this one. It showcases the phrase "Cat Mom," where the letters are whimsically composed of cats. To complement the phrase, there's a cute background teeming with everything cats-related, like yarn, mice, and paw prints. These elements create an immersive, cat-centric world you can customize with your favorite colors.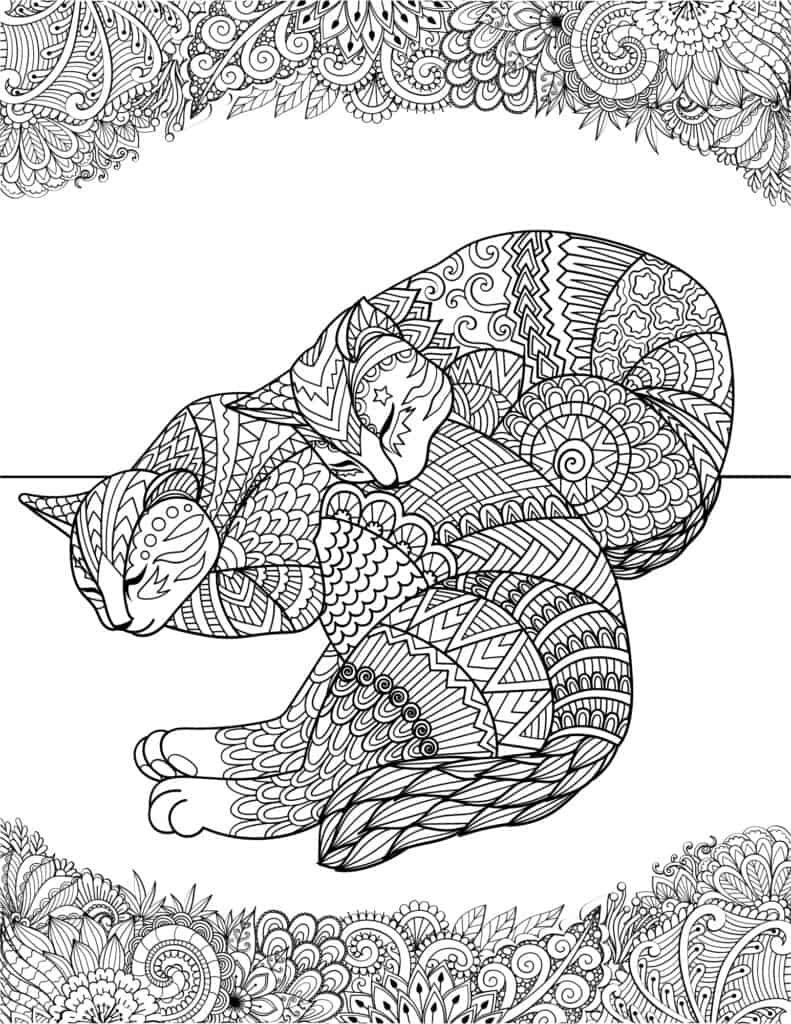 Mandala Cats
This one shows two mandala cats sleeping peacefully cuddling next to each other. These cats, in their intricate mandala design, symbolize unity, balance, and comfort, creating a calming canvas for you to color.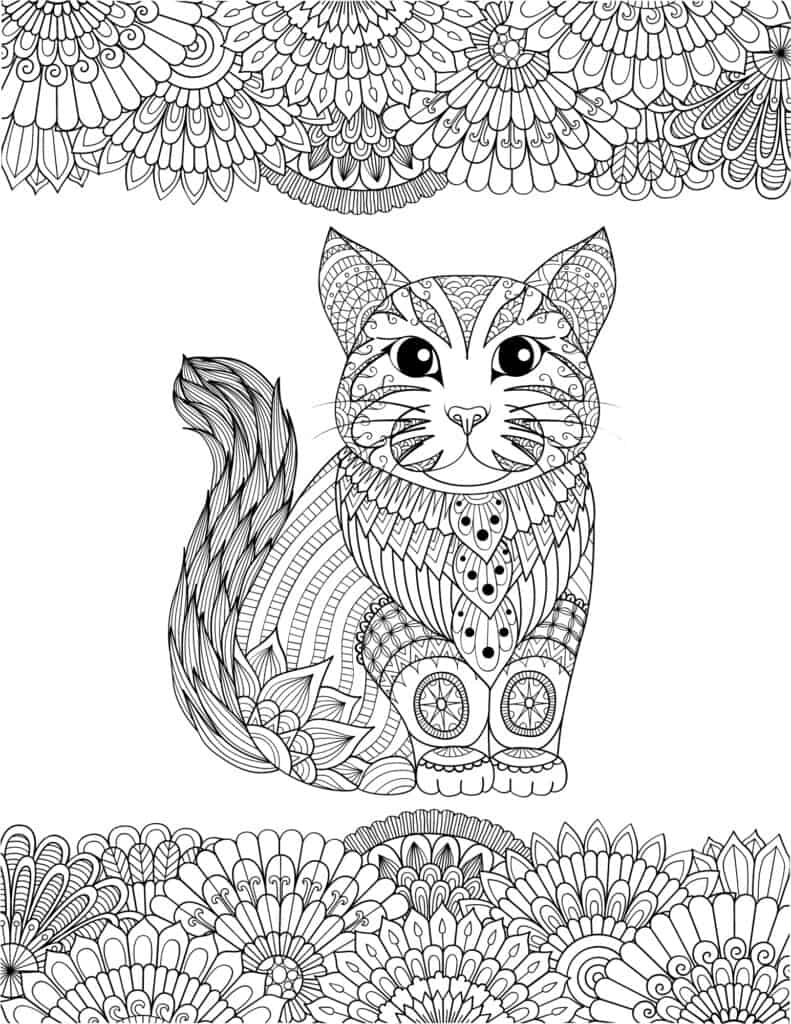 Mandala Kitten
This coloring sheet shows a playful mandala kitten sitting at the heart of the design. It's body is woven with intricate patterns. Accompanying this sweet kitty are mandala borders, meticulously designed along the top and bottom of the page.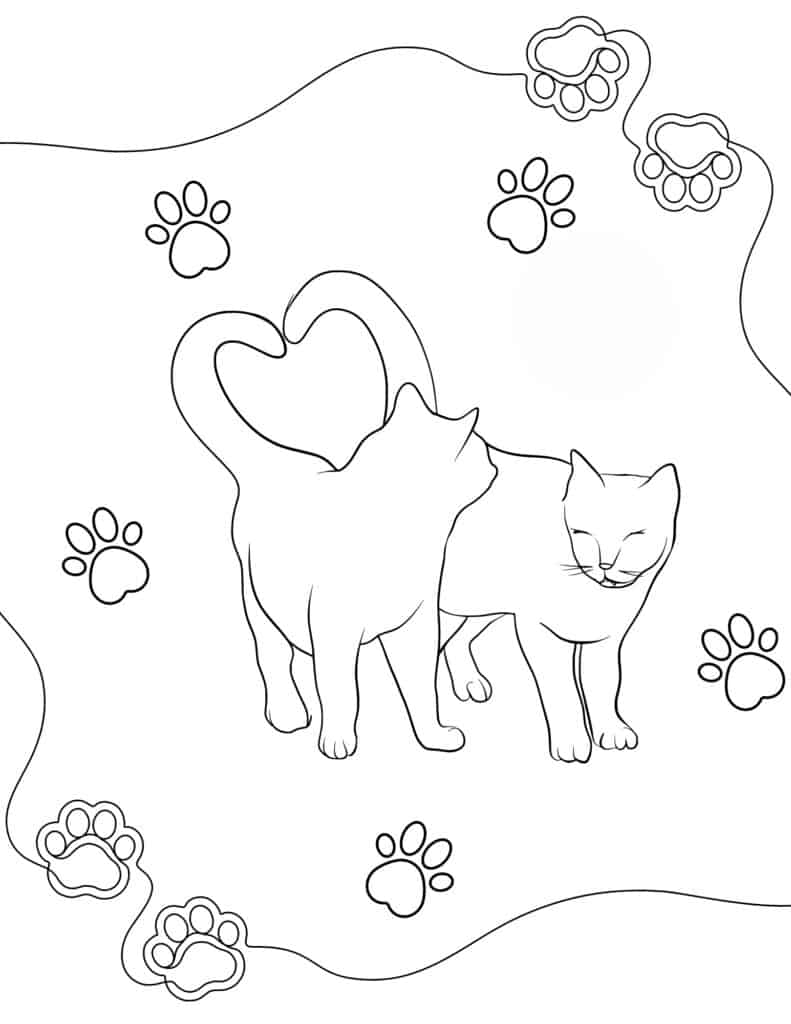 Cat Line Art
This charming design features two adorable cats standing side by side, their tails entwined to form the shape of a heart. Surrounding these feline friends is a delightful flurry of paw prints, creating a playful and endearing background. Transform these black and white outlines into a vibrant artwork with your colored pencils!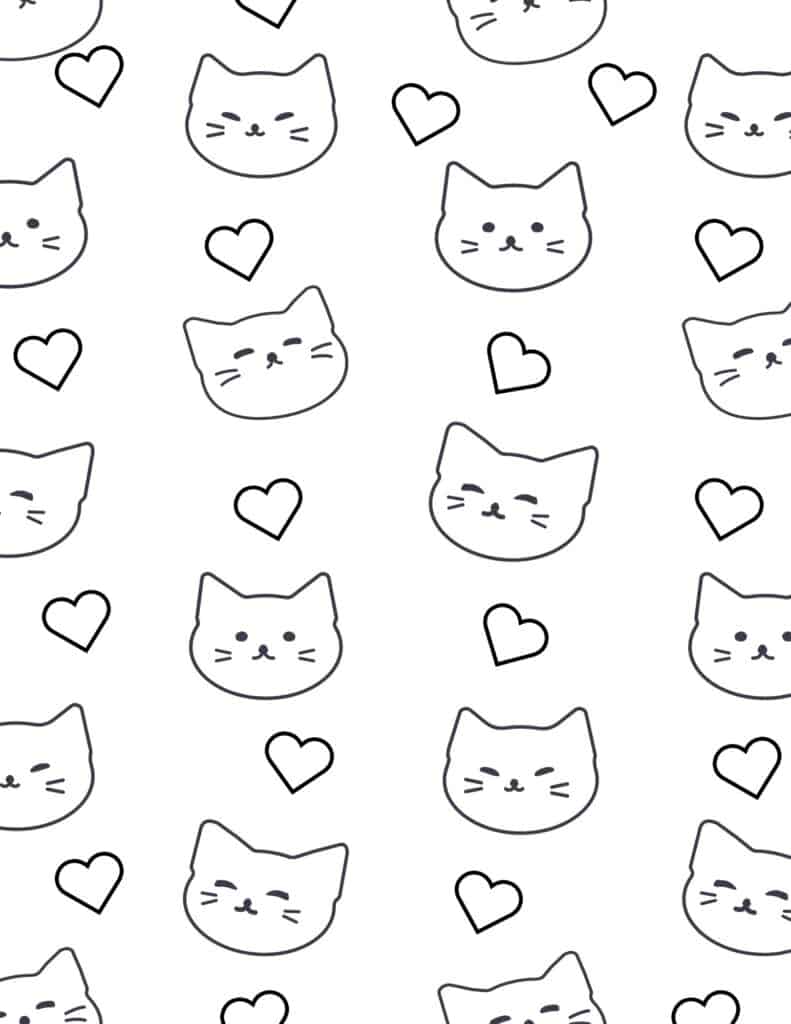 Cats Background
This charming design consists of a delightful array of happy cat faces, each showcasing different expressions of happiness. Amidst these smiling kitties, you'll also find a scattering of hearts, symbolizing the love and warmth that these furry companions bring into our lives.
Other Coloring Pages
Seasonal and Holiday Coloring Pages
If you tried one of these cat coloring pages or any other coloring pages on my website, please leave a 🌟 star rating and let me know how it went in 📝 comments below!
Follow me on Pinterest, Facebook, or Instagram for more inspiration on crafts, DIY, free printables, and recipes!