Add a touch of magic and whimsy to your child's coloring activities with these free printable unicorn coloring pages for kids.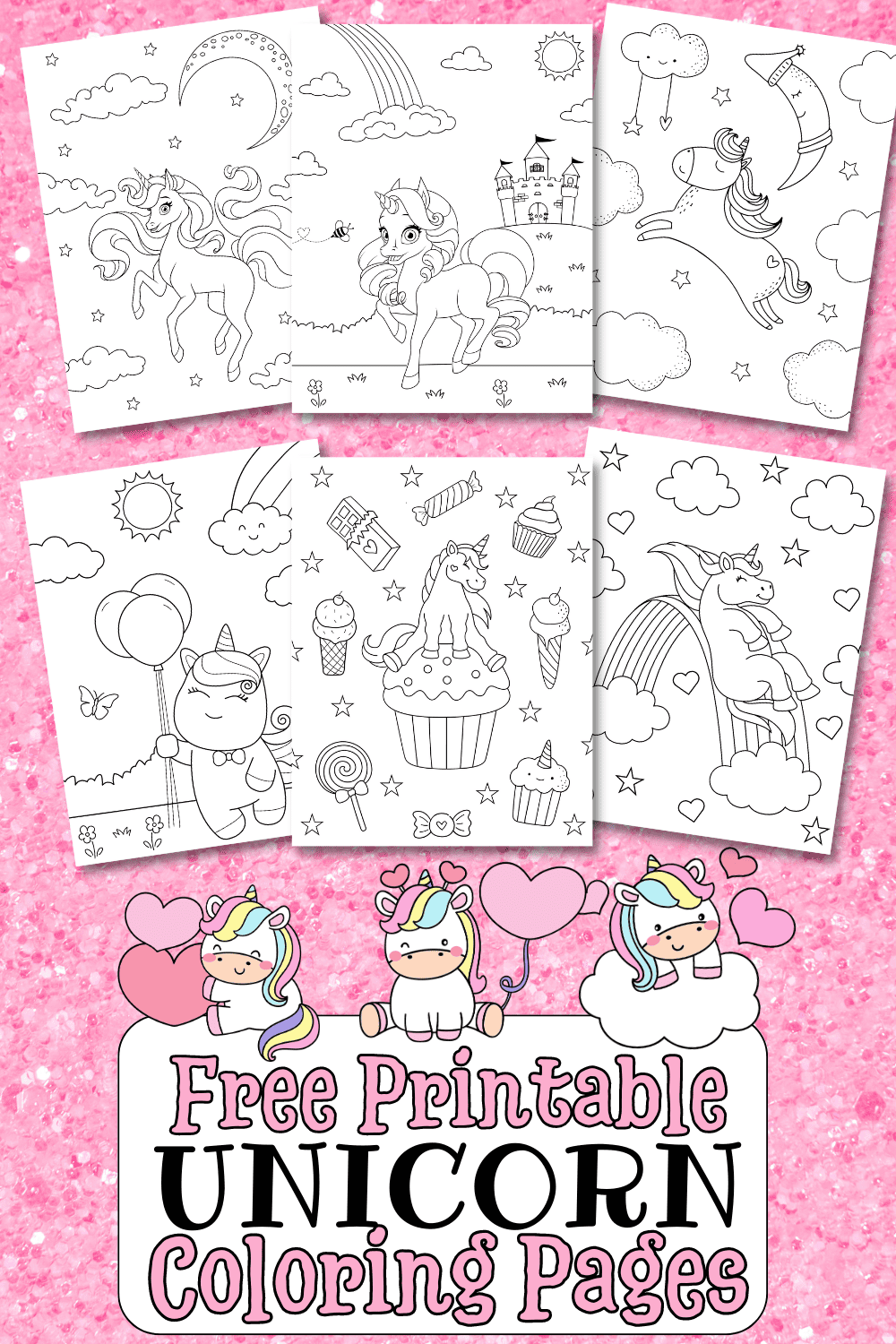 From graceful unicorns frolicking in enchanted meadows to ethereal unicorns soaring through fluffy clouds, there are over twenty free printables featuring these magical creatures with various styles and designs. They make excellent birthday coloring pages for a girl's birthday party!
Unicorn coloring pages are incredibly popular among children of all ages. They offer an excellent outlet for creativity and imagination. Whether your little ones are just starting to explore the wonders of coloring or are already budding artists, there are designs for all skill levels.
There are unicorn coloring sheets for kids of all ages, including toddlers, preschoolers, older kids, and even teens. You will find simple designs for younger kids and more detailed designs for older children.
You can easily download and print these free printable coloring pages from the comfort of your own home, making it a convenient and cost-effective way to keep children engaged and entertained through the summer months.
Beyond the fun and entertainment, coloring has numerous benefits for a child's development. It enhances fine motor skills, promotes hand-eye coordination, and improves concentration and focus. Furthermore, coloring allows children to explore color combinations, experiment with different artistic techniques, and develop their unique artistic style.
Pair these adorable unicorn sheets with these fairy coloring pages for hours of coloring fun.
Jump to: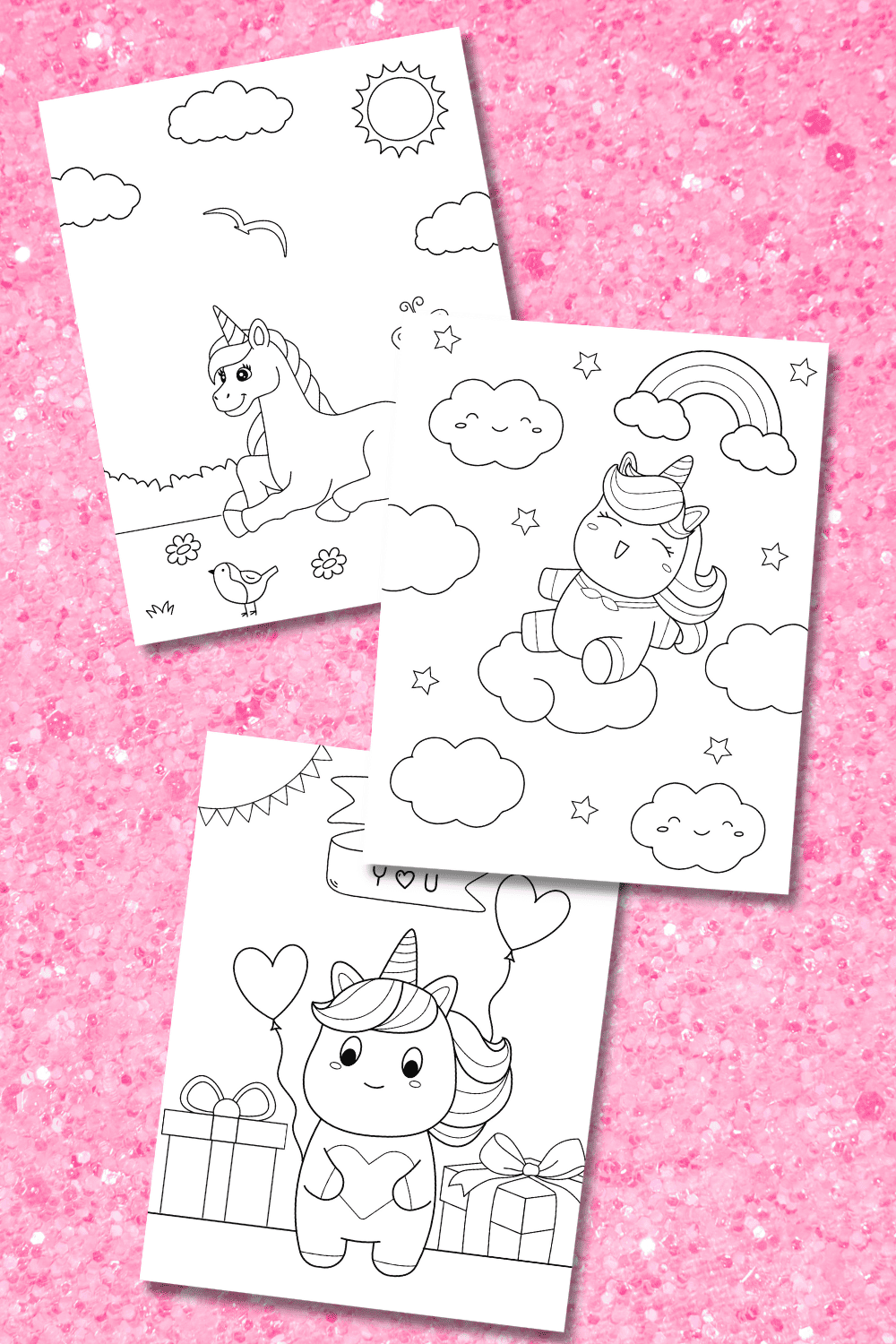 Supplies Needed:
Printer paper
Printer
PDF files to download
Crayons, colored pencils, markers, watercolors, glitter, or whatever art supplies you want.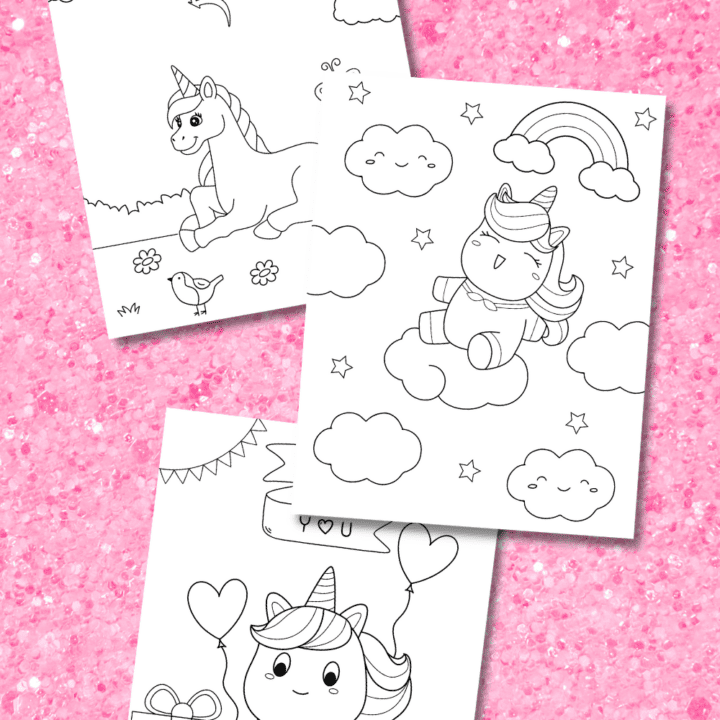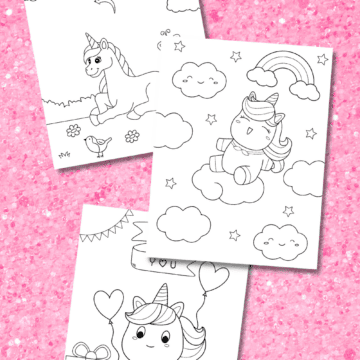 How to Download and Print These Unicorn Coloring Pages
a tutorial for how to download and print these coloring pages
Equipment
art supplies

crayons, colored pencils, markers, watercolors, etc.
Instructions
How to Download
Download the coloring pages by clicking the link to the one you want to print.

Once it opens, click the download button in the toolbar at the bottom of the screen.

Save it to your computer.

Open the file in Adobe Acrobat or another PDF viewing software.
How to Print
Load the paper into your printer's paper tray.

Go to File –> Print. Open your printer settings or printing preferences. The printing settings will vary based on your printer, but ensure the print quality is set to the "Best" setting before printing.

Select "Fit" from the page sizing settings.

Click the print button.
Free Unicorn Coloring Pages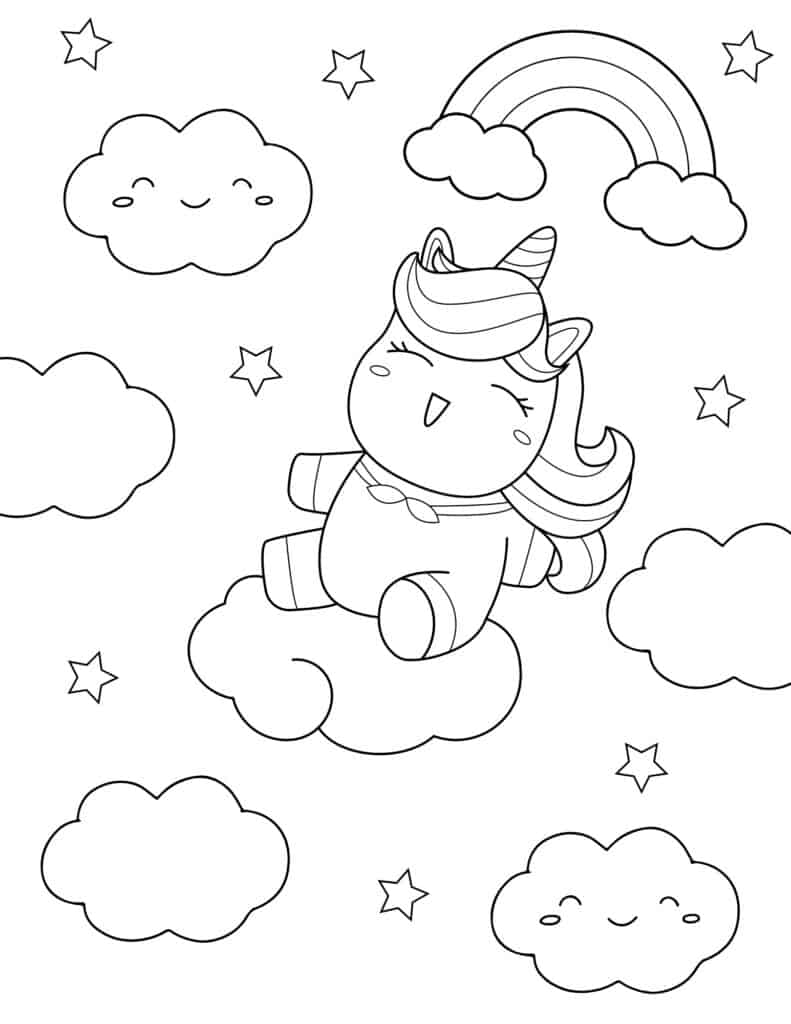 Baby Unicorn on Clouds
This enchanting illustration showcases a cute little unicorn sitting gracefully atop a fluffy cloud, surrounded by a dreamy backdrop of floating clouds and twinkling stars. Bring this magical world to life with vibrant colors!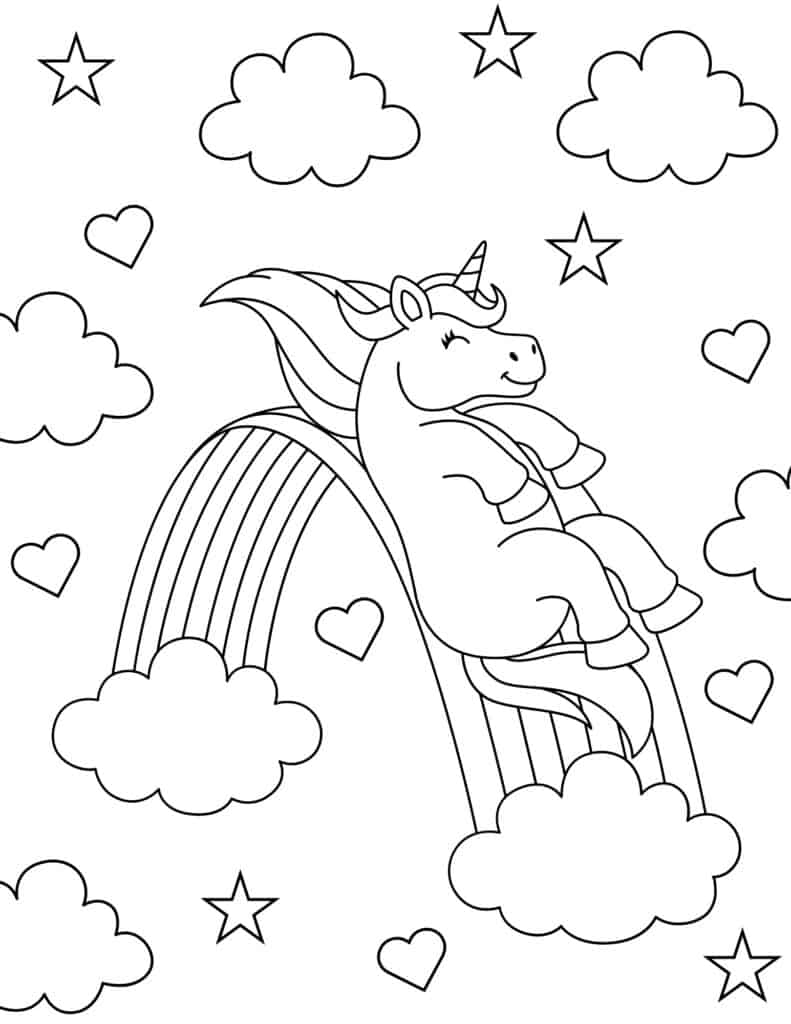 Rainbows in the Sky
Let your child's creativity soar with this cute illustration featuring a unicorn sliding gracefully down a giant rainbow in the sky. Surrounded by fluffy clouds, sparkling stars, and cute hearts, this coloring page creates a fantastical scene for little ones to color. They will love bringing this delightful image to life with brilliant colors.
Princess Unicorn and Her Castle
This enchanting illustration portrays a majestic princess unicorn nestled amidst a magical woodland setting, with a magnificent castle in the background. The princess exudes elegance with her long, flowing mane and graceful posture. Your children will love to bring this magical world to life with their colors.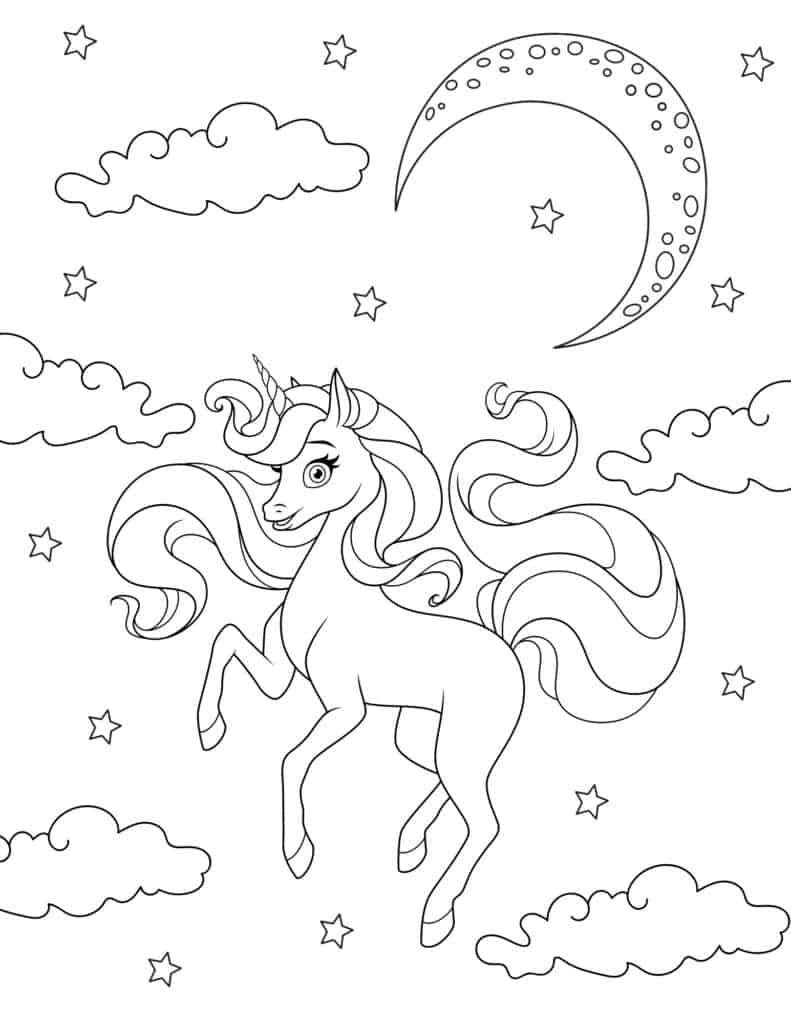 Unicorn in the Night Sky
This coloring sheet features a magical scene of a beautiful unicorn floating in the serenity of the night sky. Her long-flowing mane gives your little artists plenty of opportunity to explore their favorite color combinations. The background sets a perfect stage with a radiant moon and countless stars twinkling, allowing kids to create a stunning nightscape.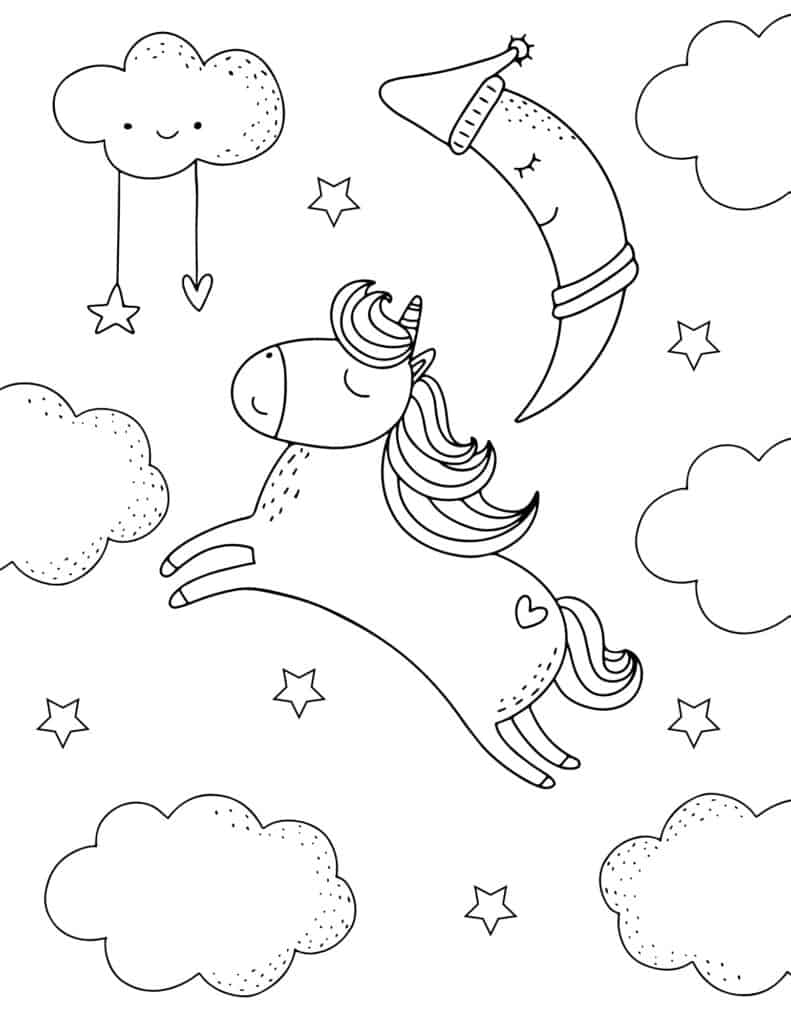 Sleepy Unicorn
This imaginative coloring page beautifully illustrates a sleeping unicorn floating peacefully amidst the night sky. It evokes a sense of tranquility and magic, inviting children to dream and create with a broad spectrum of colors. In the background, fluffy clouds are scattered across the star-studded sky, with an adorable sleeping moon that adds a whimsical touch to the scene.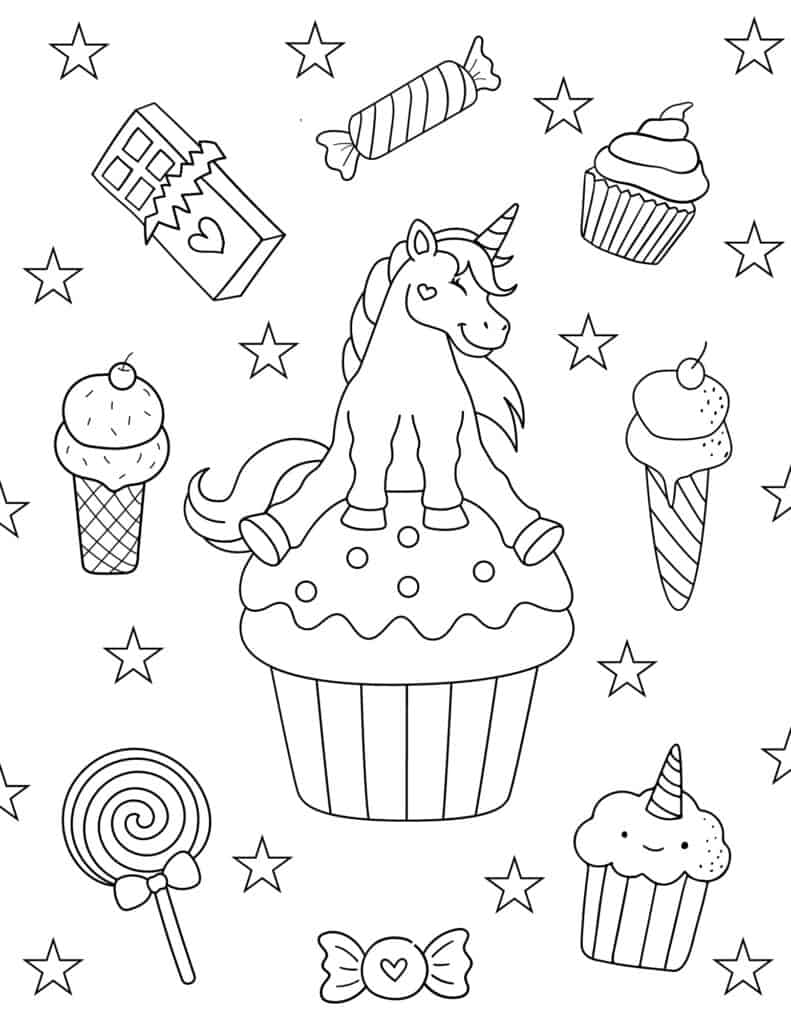 Sweet Treats
Bring this unicorn's candy-coated world to life! This deliciously imaginative coloring page showcases a playful unicorn sitting on top of a yummy cupcake, surrounded by mouth-watering sweet treats. From lollipops to ice cream, there is a smorgasbord of delicious desserts to color in.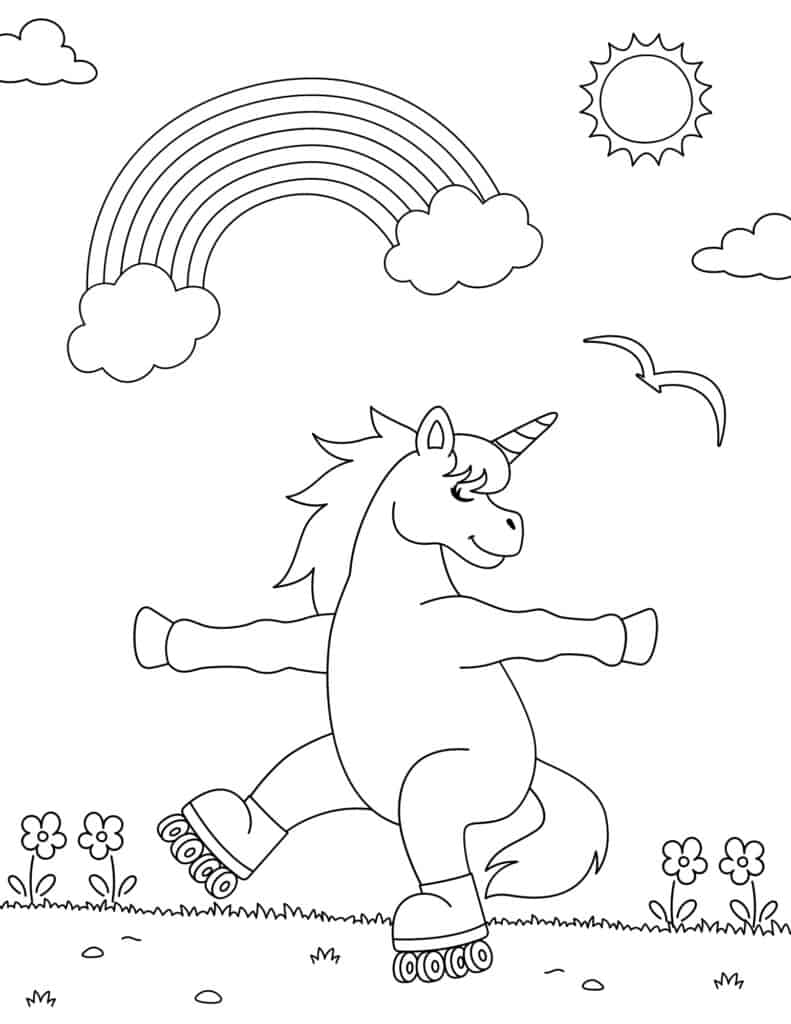 A Unicorn's Roller Skating Adventure
Let your kid's creativity roll with this roller-skating unicorn amidst a floral wonderland! This cute illustration portrays a cheerful roller-skating unicorn enjoying a beautiful sunny day. This large mythical creature, with its beautiful mane and a single horn, gives children ample room to experiment with color palettes, patterns, and shading techniques on its body.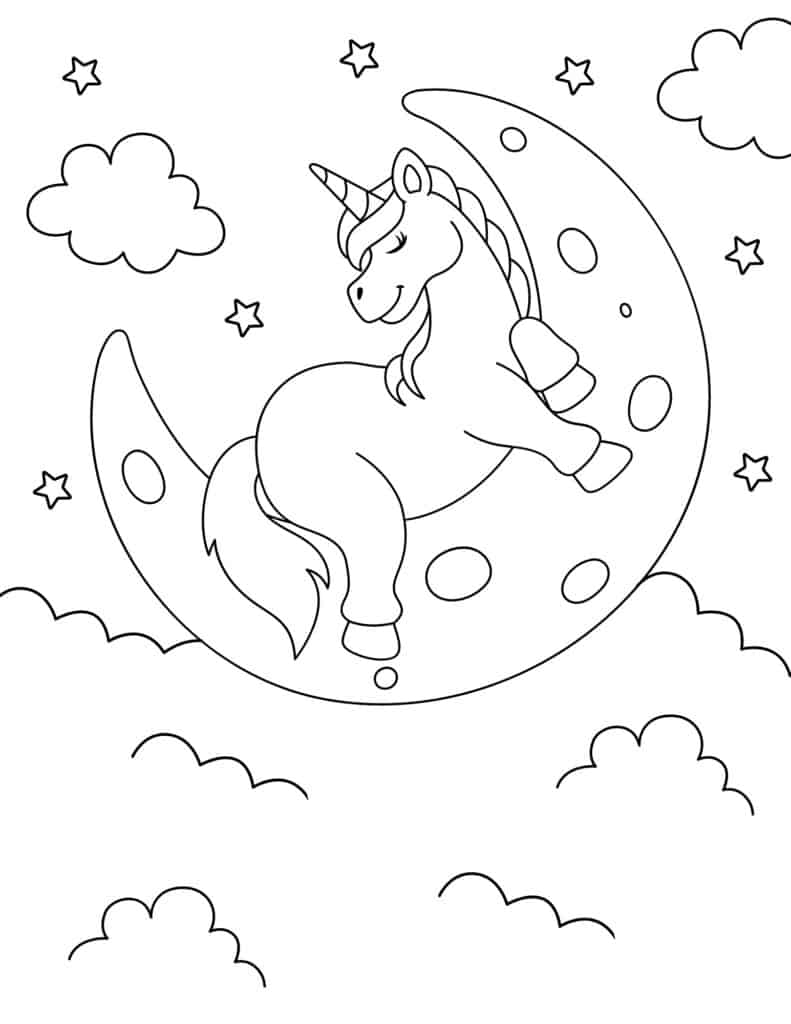 Sleeping on the Moon
Your kids will love venturing on a dreamy coloring adventure with this sleeping unicorn in a starlit sky. The peaceful scene shows a unicorn nestled in the soft curve of a crescent moon. The surrounding celestial scenery, filled with soft clouds and twinkling stars, provides an excellent opportunity for kids to experiment with dark shades of blue and purple.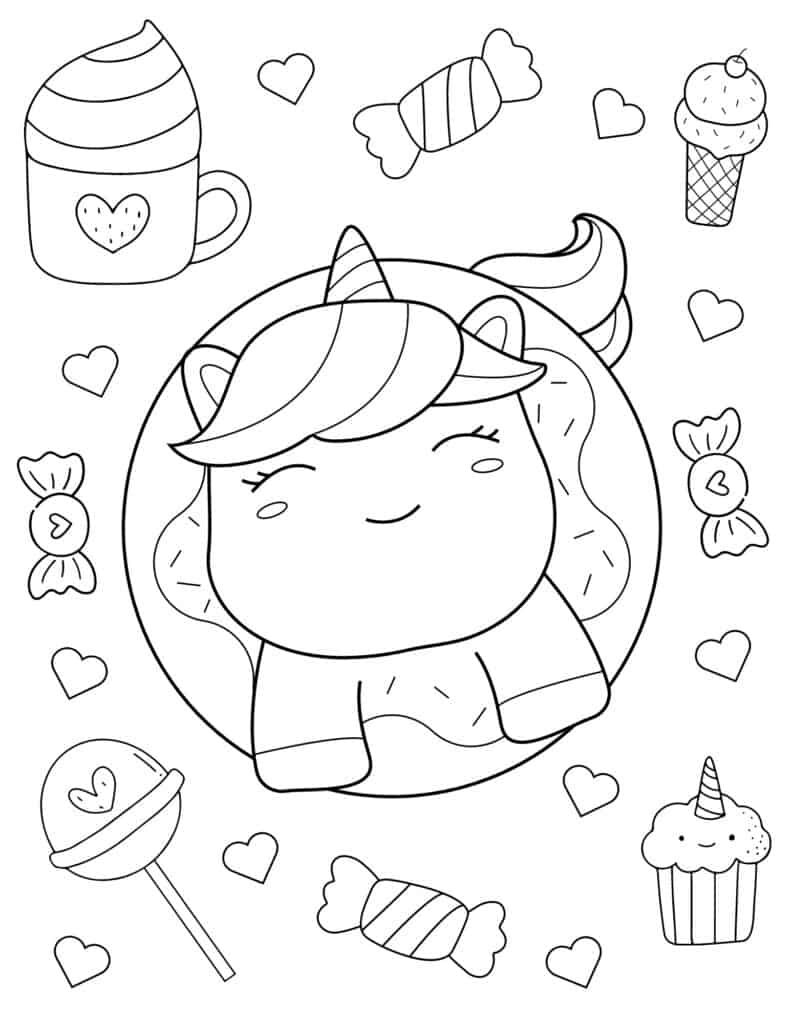 A Unicorn's Candy Wonderland
This delightful coloring sheet features a fun-loving unicorn popping out of a donut, surrounded by an assortment of sweet treats and hearts. The background of candies, cupcakes, lollipops, and heart-shaped decorations adds to the fun, allowing kids to use a kaleidoscope of colors.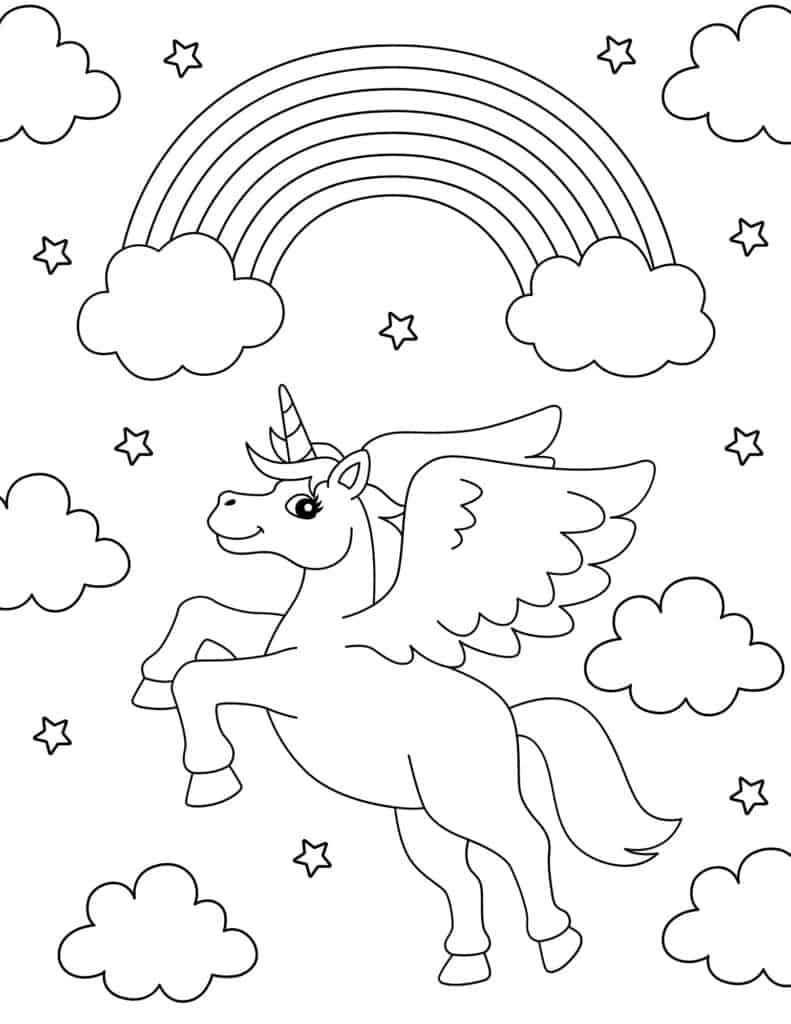 Unicorn Rainbow
Bring this magical unicorn to life with vibrant colors! It showcases a whimsical unicorn soaring high in the sky under a giant rainbow. The unicorn, with its majestic horn and wings, has a backdrop of fluffy clouds and twinkling stars, providing a dreamy canvas that lets children explore different shades and hues.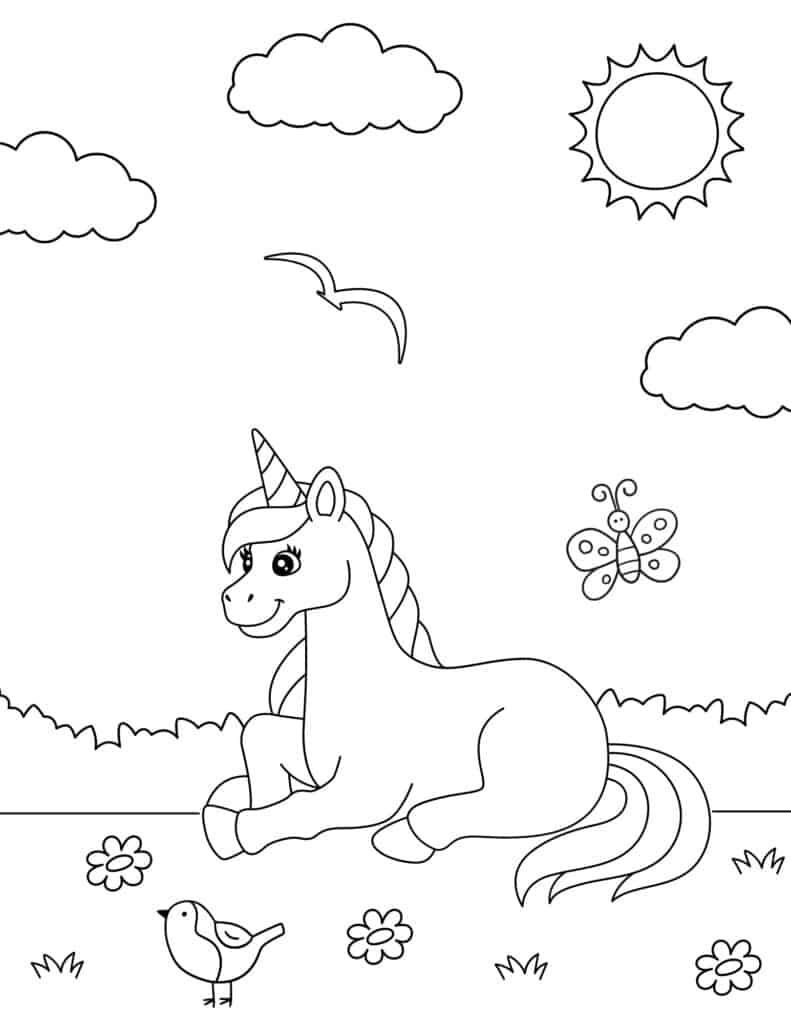 Cute Unicorn Coloring Page
This scenic illustration features a serene unicorn sitting peacefully in a sunny field with soft grass and flowers. Adding to this idyllic scene are the unicorn's friends, such as the baby bird and the cute butterfly. Your kids will spend hours filling this sunny field and its enchanting inhabitants with colors of their choice!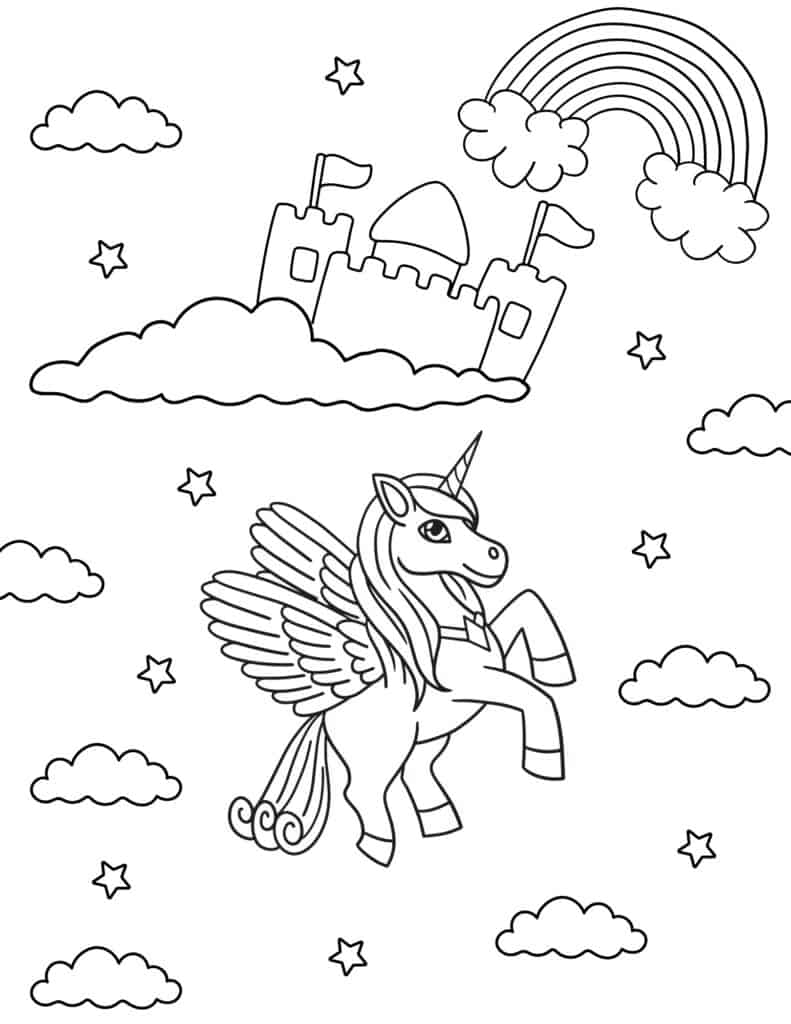 Magical Castle in the Sky
Let your little ones take flight in this fantastical world! It shows a majestic unicorn flying through the sky, with a stunning castle resting on a cloud in the background. The castle and the rainbow in the sky invite kids to imagine and color a dreamy scene, while the surrounding stars offer a chance to add some celestial sparkle to the scene.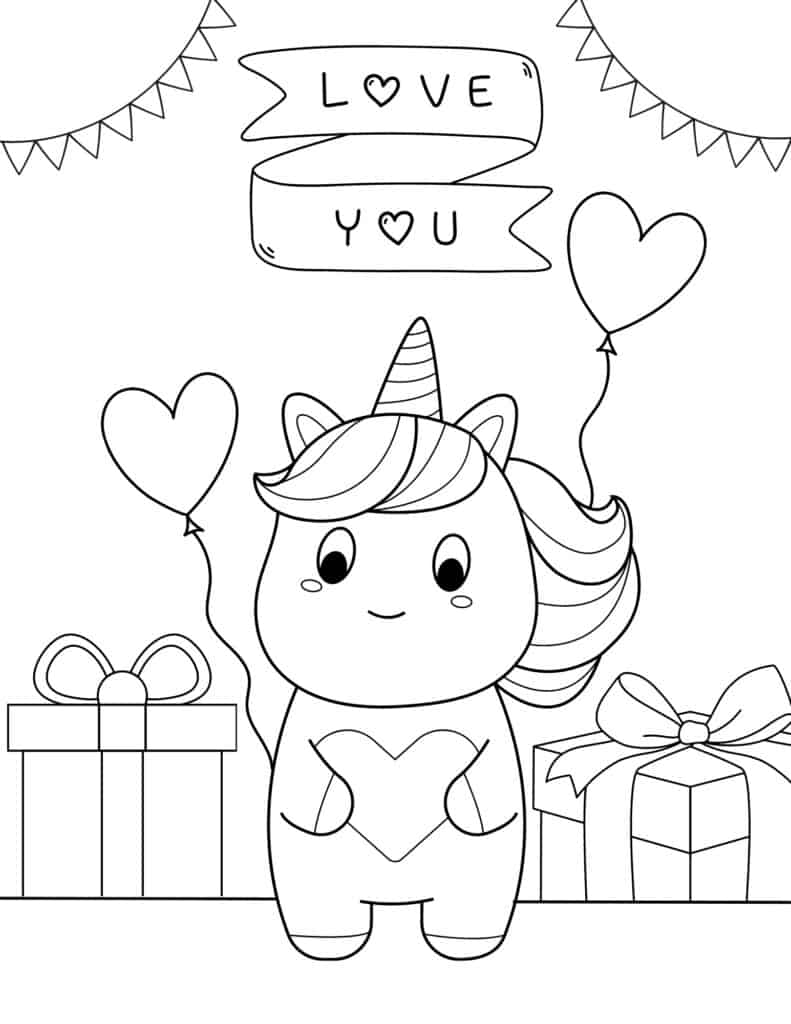 Unicorn's Gifts
Celebrate a special day with this loving unicorn holding a heart for you! On either side of her are neatly wrapped presents, waiting to be colored in bright hues. There are also charming heart-shaped balloons floating above and a heartwarming 'Love you' banner hanging between the balloons. This coloring page is designed to inspire creativity and bring hours of coloring fun while serving as a lovely keepsake for kids to give to their parents, family, or friends.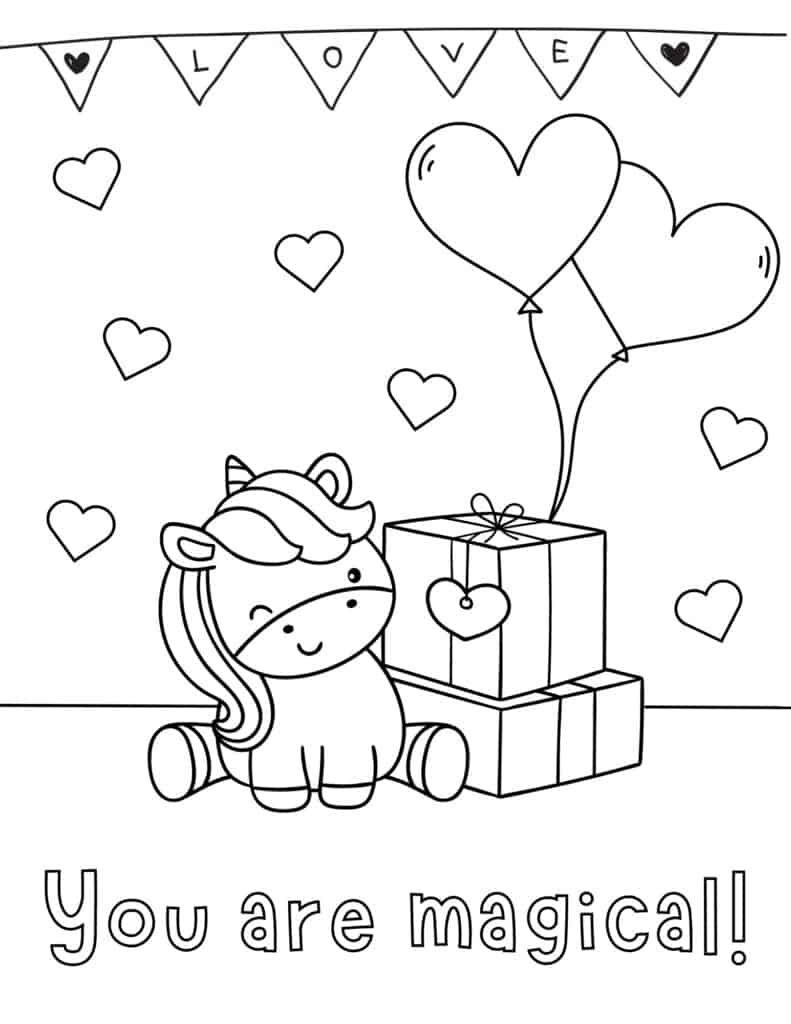 You are Magical Coloring Page
The scene features a charming little unicorn sitting happily beside beautifully wrapped presents with heart-shaped balloons and a 'Love' banner floating above. The encouraging words "You are magical" are written below, waiting to be traced with a rainbow of colors.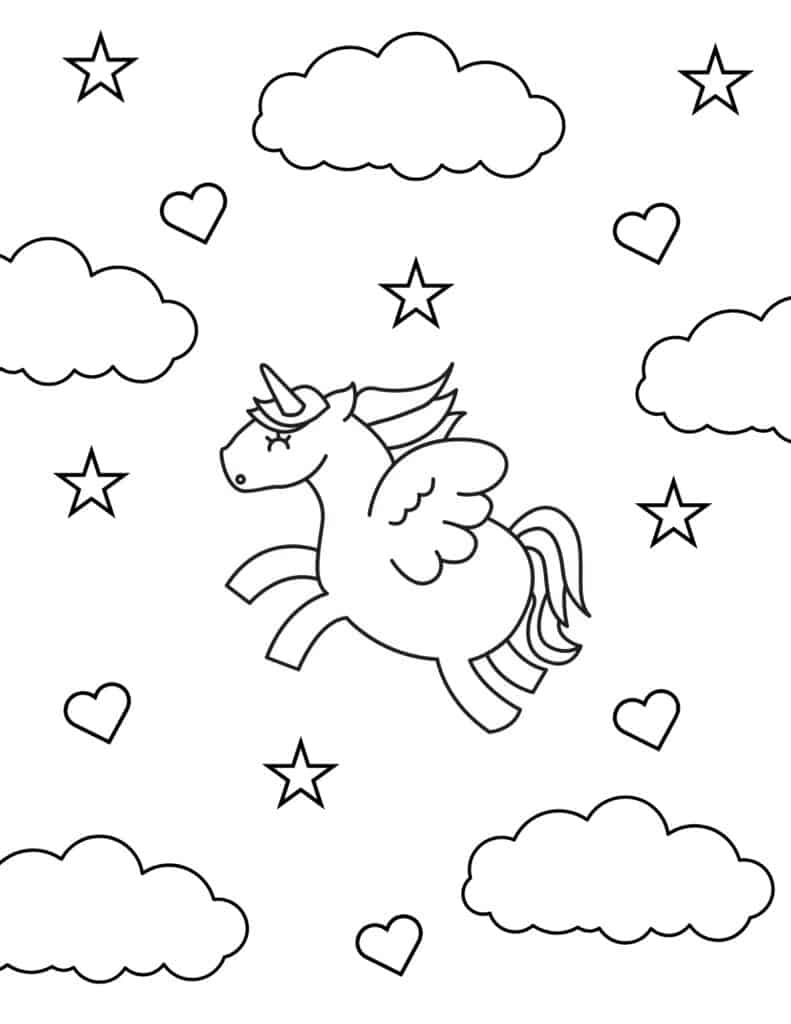 Soaring Through the Sky
This scene shows a winged unicorn, or Pegasus, soaring gracefully among the fluffy clouds. There are twinkling stars, hearts, and fluffy clouds in the background awaiting a sprinkle of color! This coloring page is designed to inspire creativity and wonder, whisking young artists away into a magical realm where unicorns fly freely among the stars.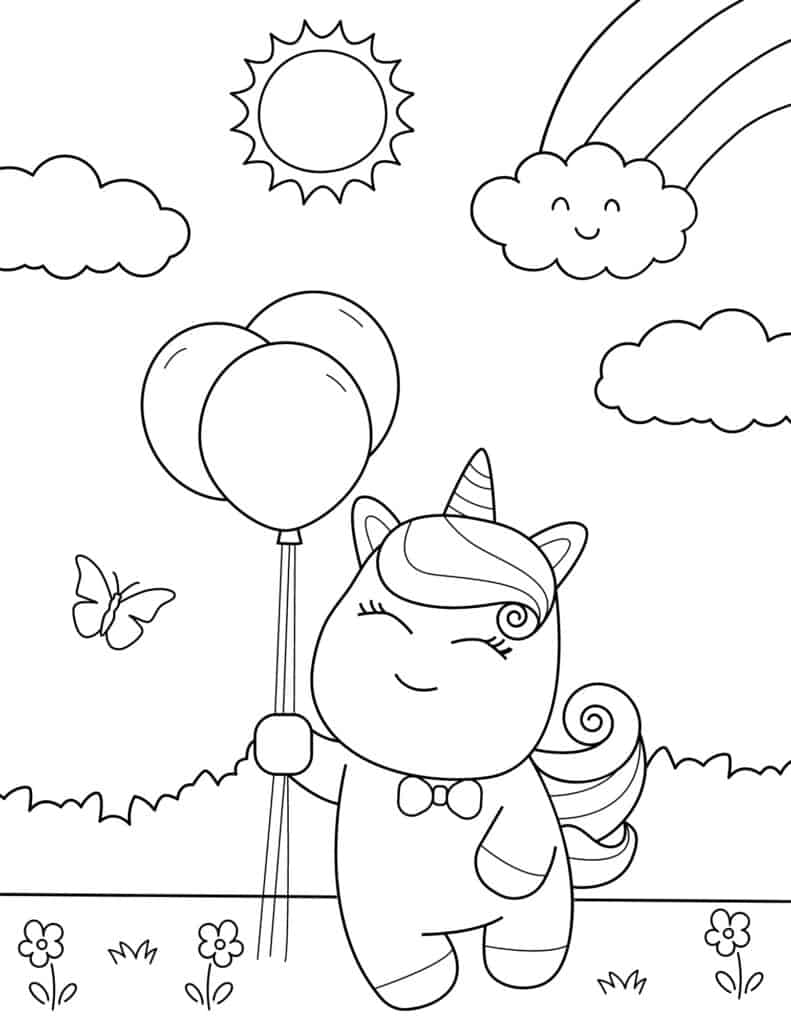 Happy Little Unicorn with Balloons
This cheerful little unicorn is standing in a sunny field adorned with flowers ready to bloom in an explosion of color. The backdrop shows a bright sun, puffy clouds, and a brilliant rainbow. This coloring sheet presents an opportunity to experiment with endless color possibilities.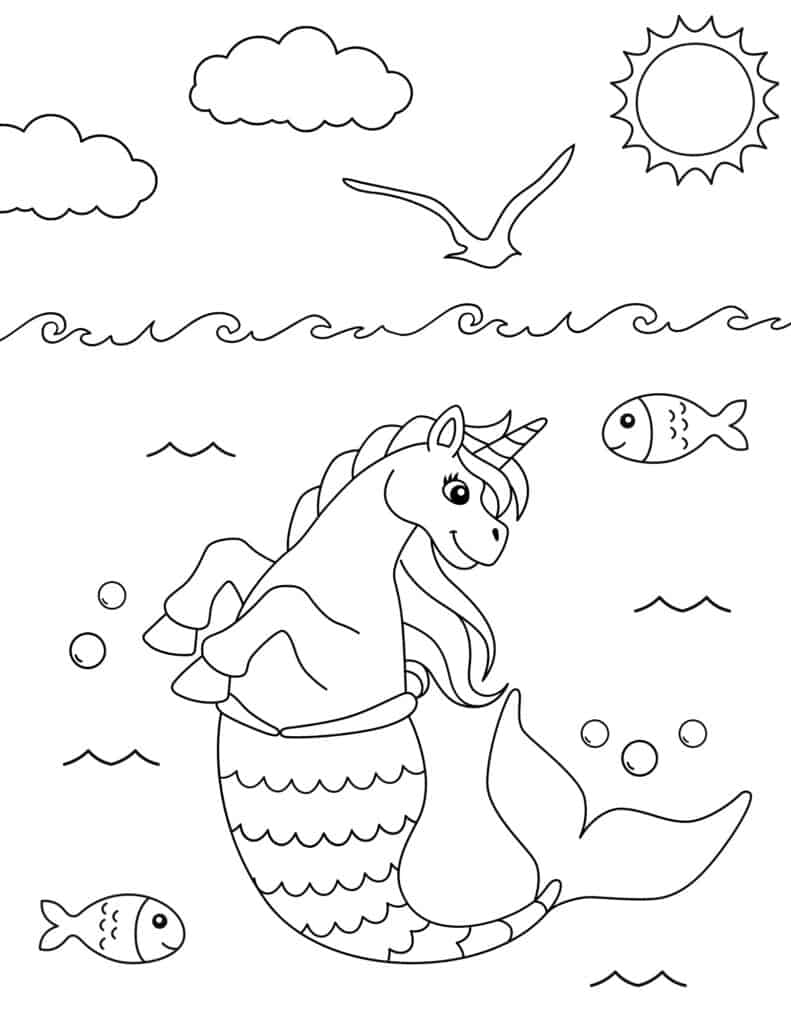 Unicorn Mermaid
This mythical mermaid page features a unique half-mermaid, half-unicorn, or 'mermicorn' creature swimming in the sea surrounded by cute fish. The underwater backdrop provides ample opportunity to add your own drawings, such as dancing seaweeds, shells, and assorted sea life. This one is not only a fun-filled activity but also a gateway to a magical underwater adventure.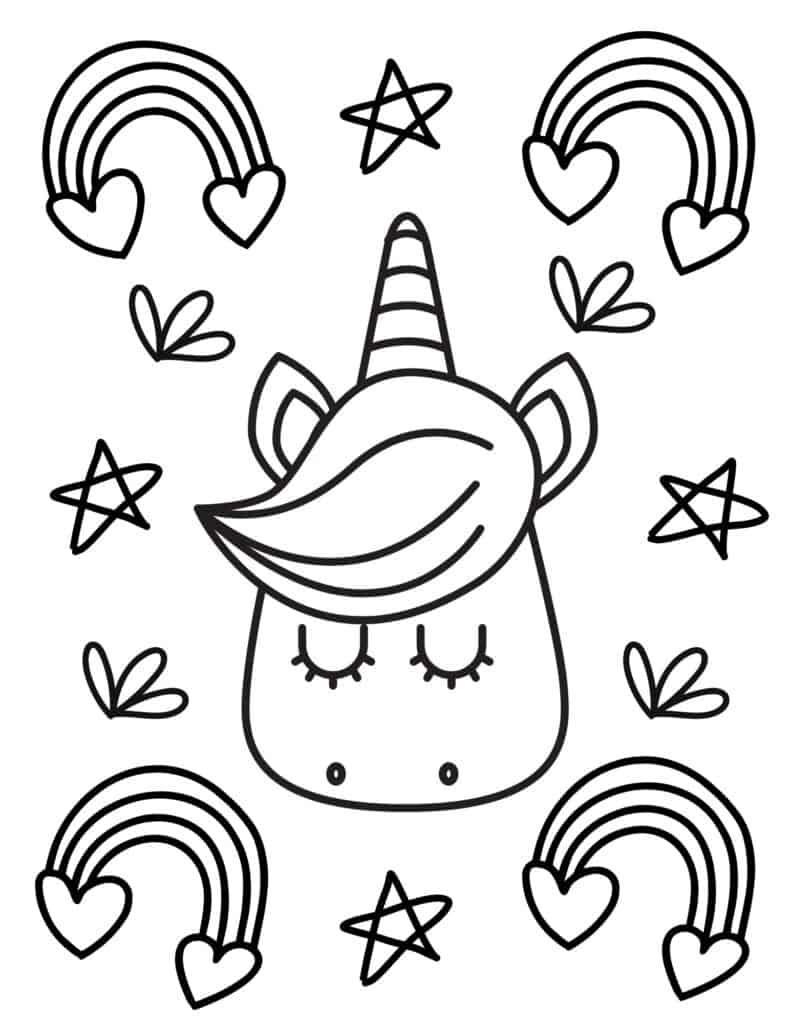 Easy Unicorn Page for Young Children
This one is designed specifically for young children captivated by the magic and wonder of unicorns. The page's focal point is a friendly unicorn face with peacefully closed eyes and a horn just waiting to be embellished with the child's favorite colors.
Long-Horned Unicorn
This unicorn, with its long horn, is ready to be adorned with a range of vibrant colors. The unicorn's gentle eyes and friendly smile add a touch of warmth to the scene. The background is a playful mix of large hearts, twinkling stars, and blossoming flowers. The hearts can be filled with bold, bright colors or subtle pastels, while the stars offer an opportunity to sparkle with metallic hues.
Related Coloring Pages
Holiday and Seasonal Coloring Pages