Bring your fairytales to life and add a touch of magic to your coloring activities with these free printable fairy coloring pages for kids and adults!
These fairy coloring sheets feature fairies with magical powers, pixies, butterflies, mythical creatures, enchanted forests, and much more. Whether you are looking for simple free printables for young kids like toddlers and preschoolers or detailed coloring pages with mandalas and intricate designs for teens and adults, there are plenty of printable coloring sheets for everyone here.
These free fairy coloring pages are an excellent way to introduce children to the world of magic. For kids, they promote creativity and imagination and improve fine motor skills and hand-eye coordination.
If you are looking for more fun activities, make one of these beautiful fairy gardens with your kids, too!
These pages are also therapeutic for adults by helping them relieve anxiety and reduce stress. It's a fun way for them to find solace in the nostalgia of childhood fairytales and is a perfect activity for those seeking a whimsical escape! These sheets cater to various skill levels, from simple, playful illustrations for younger children to detailed scenes for more advanced colorists.
This enchanting selection of free printables is perfect for a relaxing afternoon at home with your children. From mystical elves and gnomes to majestic fairy princesses, these designs will ferry you to a realm of fantasy and wonder. So, grab your favorite art supplies and let your imagination soar as you bring these magical beings to life with a splash of color!
Supplies Needed
printer
printer paper
crayons, markers, colored pencils, or watercolors
free printable PDFs
How to Print and Download The Coloring Sheets
Click the URL to the PDF file.
In the toolbar, click the download button.
Download the image to a file location that you choose.
Open the PDF in Adobe Acrobat or another PDF viewer software.
Go to File —> Print.
Make sure the page size is set to "Fit" in the settings to ensure it will fit within the page.
Load your paper in the printer's tray and press the print button.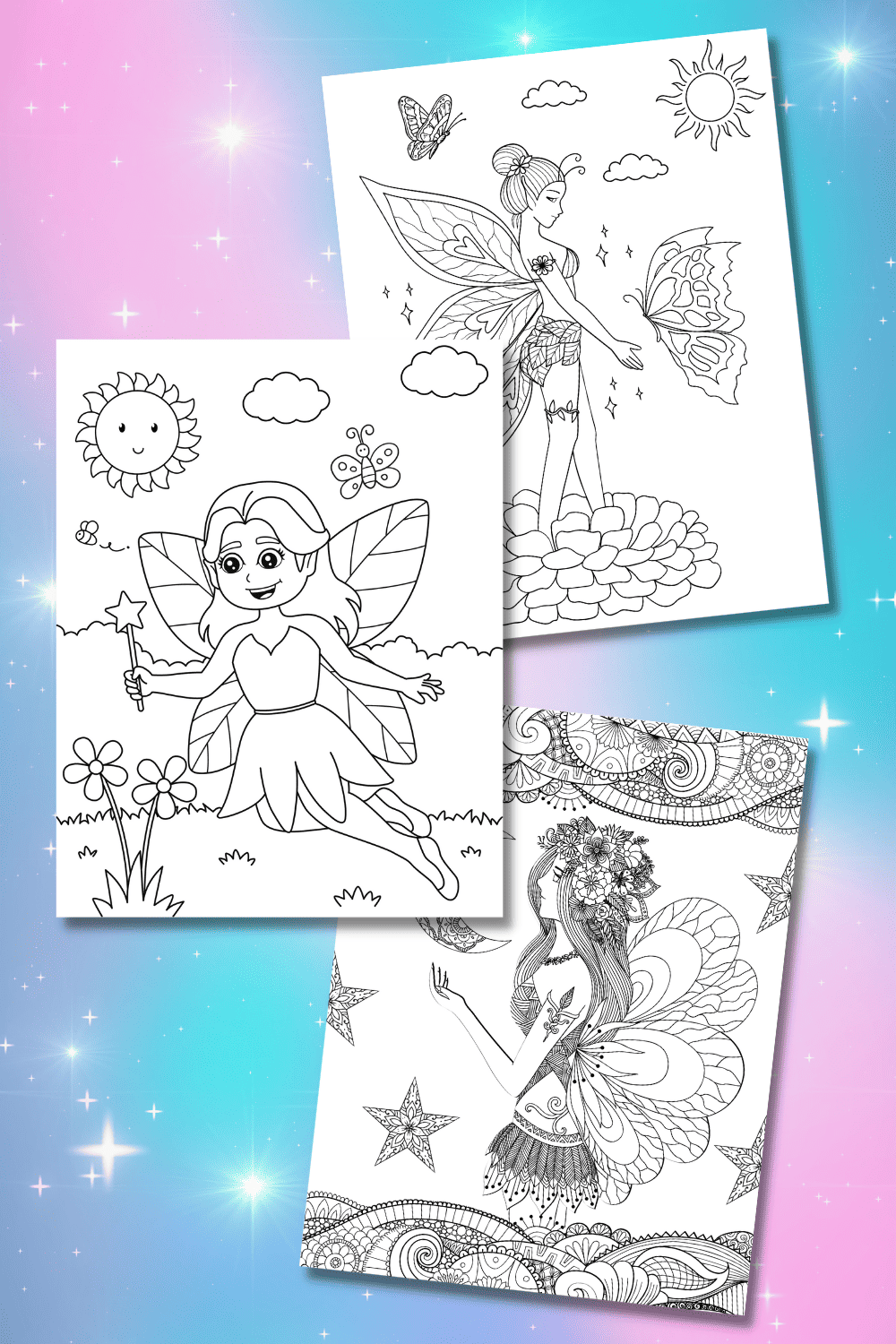 Fairy Coloring Pages for Younger and Older Kids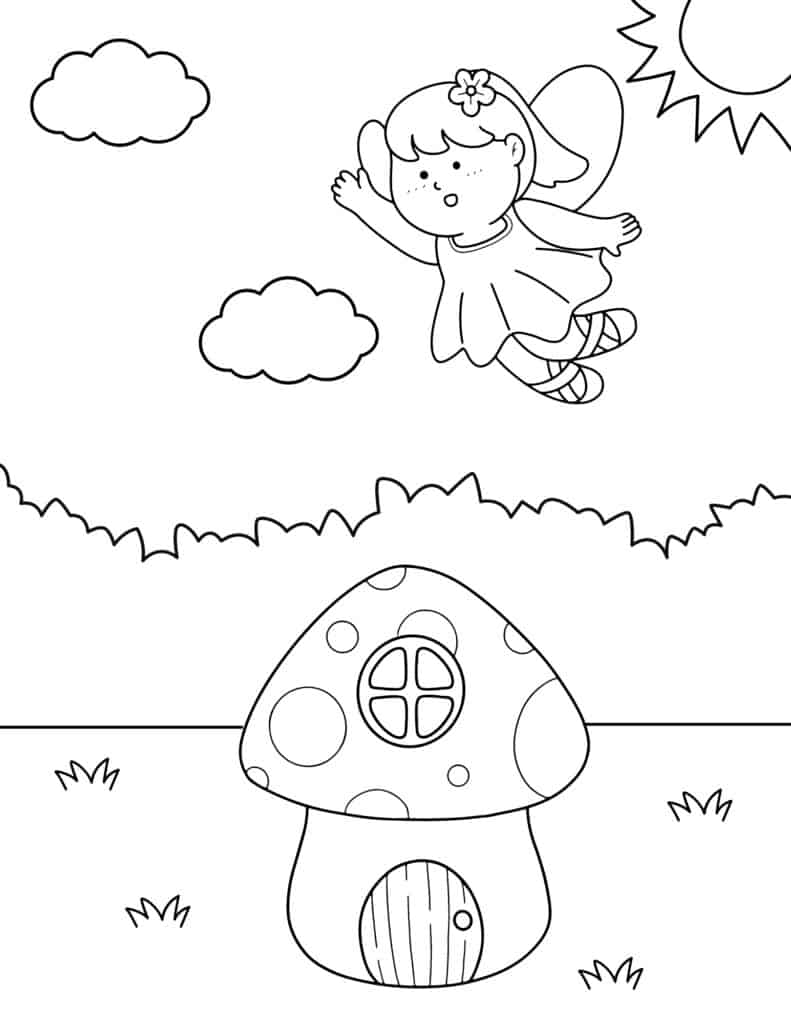 Mushroom Fairy House
In this whimsical scene, a little fairy is floating gracefully over a charming mushroom house in an enchanted forest. As your child brings this magical world to life with their choice of colorful hues, they'll develop a love for both art and the enchanting realm of fairies. This adorable illustration strikes the perfect balance between simplicity and detail, making it a fun activity for children of various skill levels.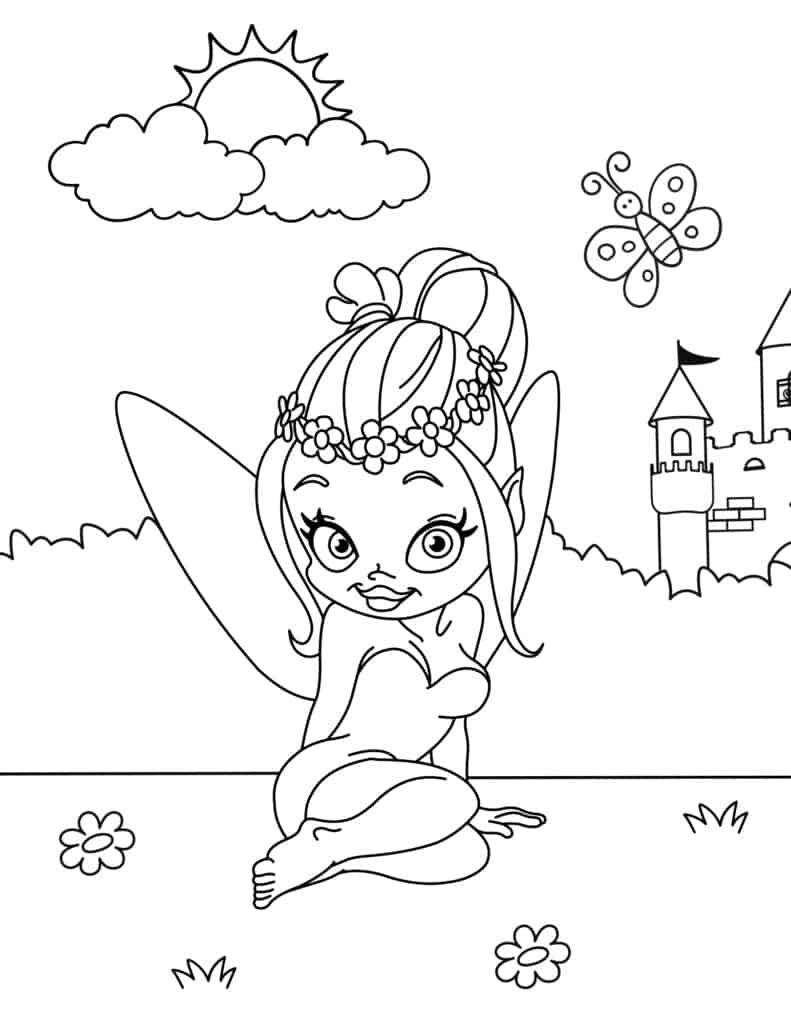 Beautiful Princess
This illustration features a beautiful fairy princess with an awe-inspiring castle looming majestically in the background. This picturesque scene allows young artists to explore their creativity and experiment with colors, textures, and shading techniques. As your child immerses themselves in this whimsical coloring page, they'll develop a greater appreciation for the beauty of nature and the spellbinding charm of fairytales.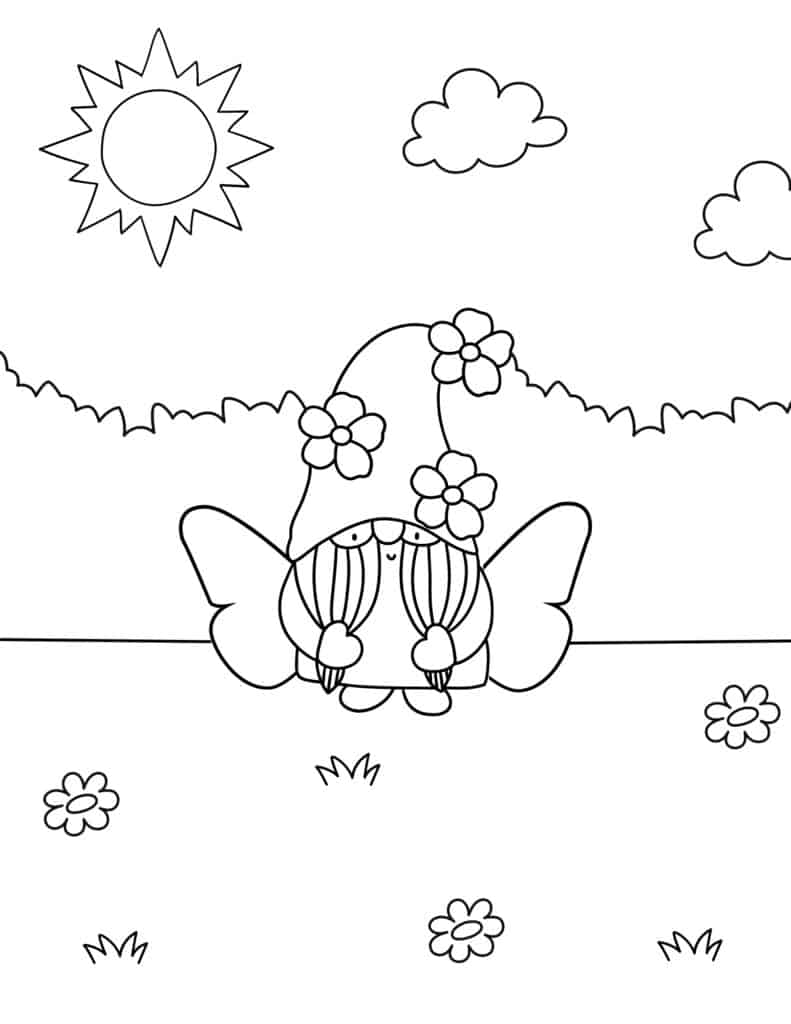 Flower Gnome
This whimsical flower gnome with butterfly wings is a perfect choice for kids to color in. This charming illustration showcases a flower fairy adorned with delicate flower petals and a shy smile. He is standing in a woodland setting.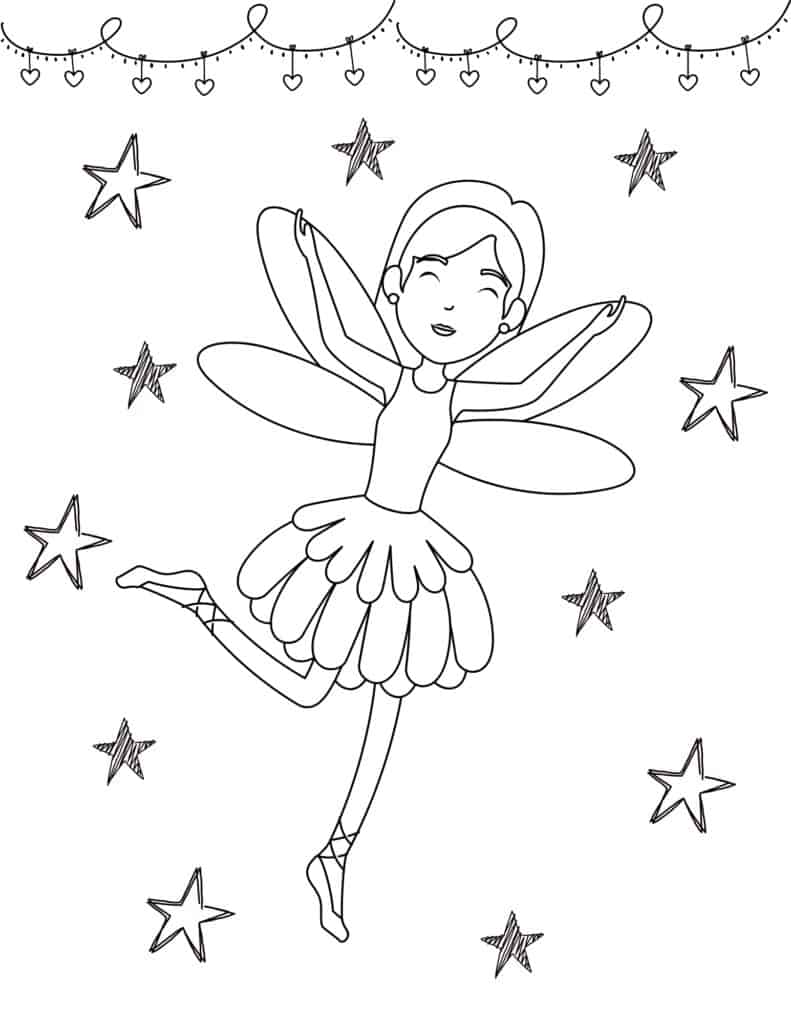 Fairies in the Starry Night Sky
This mesmerizing illustration features a graceful floating fairy in the twinkling night sky, surrounded by an array of hand-drawn stars. Download this celestial sheet and let your child's creativity shine as brightly as these stars in the sky!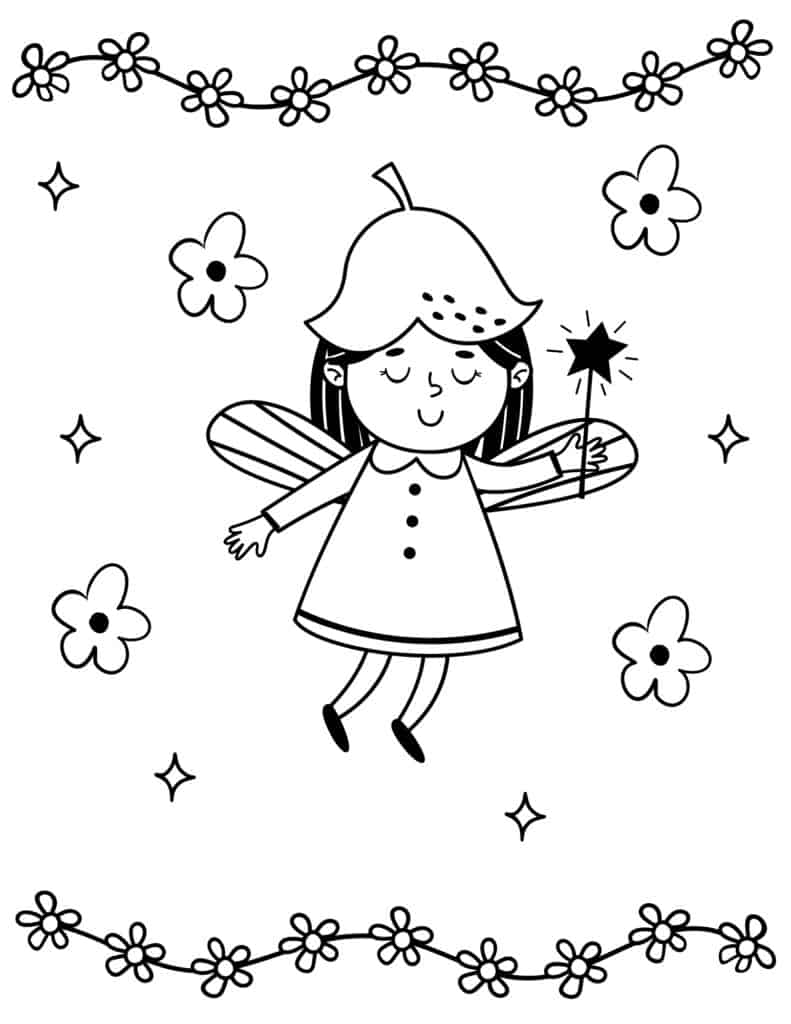 Flower Fairies
Watch your kid's creativity blossom with this coloring page. This delightful illustration will capture your child's imagination with the blooming flowers and shimmering stars in the background. It is a captivating fusion of fantasy and floral splendor. The charming flower fairy child at the scene's center evokes a sense of whimsy and wonder!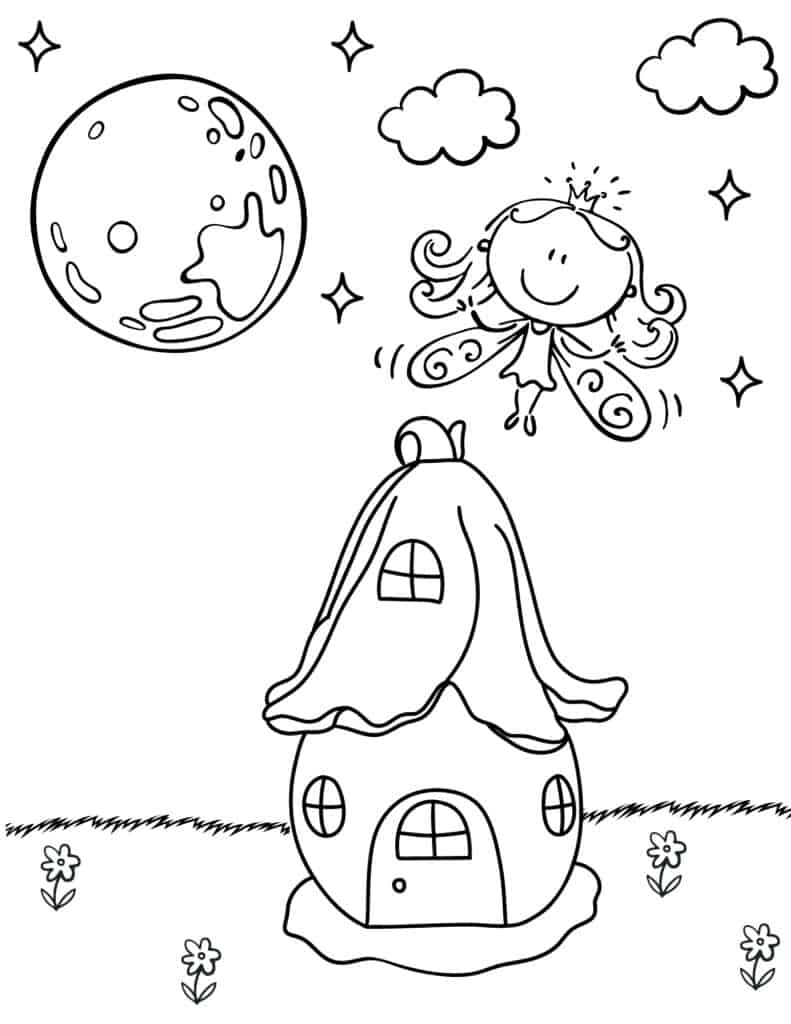 Flower Pedal Fairy House Coloring Page
This one features a smiling fairy soaring through a moonlit sky above a charming flower petal house in the middle of a field of flowers. Your child can bring this magical night-time scene to life with their vibrant color choices and experiment with light, shadows, and color contrasts. This page will help foster their understanding of various artistic techniques.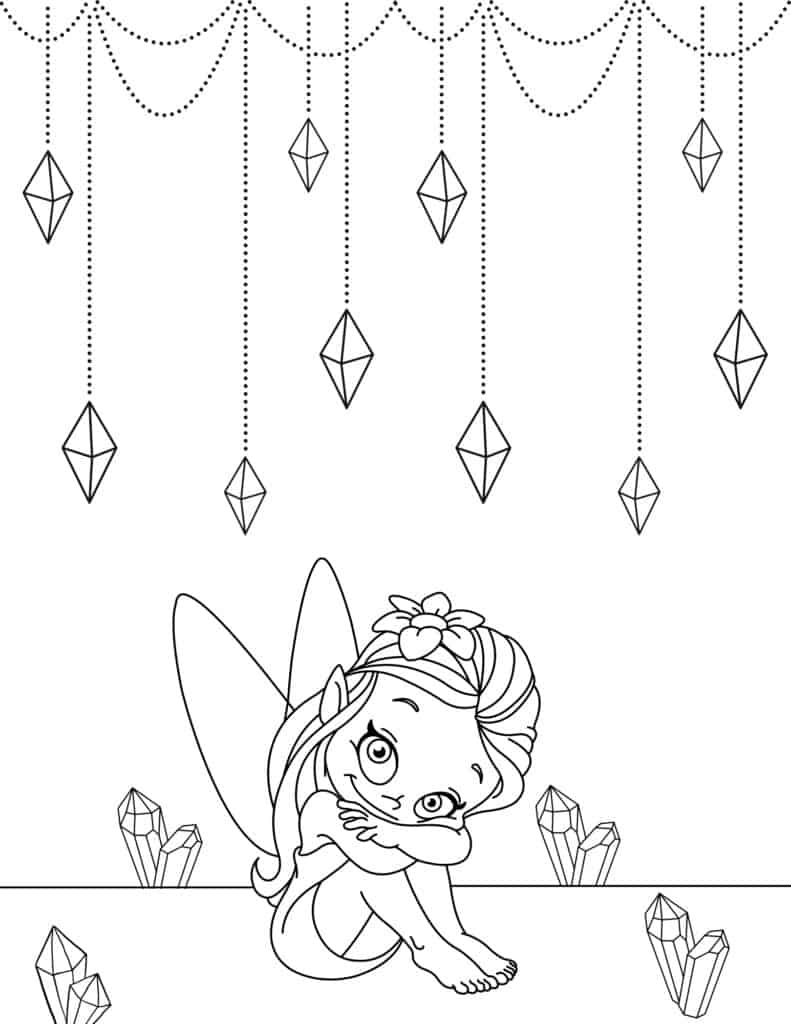 Fairy Princess's Sparkling Realm
This one showcases a beautiful princess who is surrounded by a dazzling array of crystals. This captivating illustration invites children to explore a world filled with the magical beauty of fairies and shimmering crystals. Download this alluring coloring page today and let your child immerse themselves in a world of magic, wonder, and sparkling enchantment.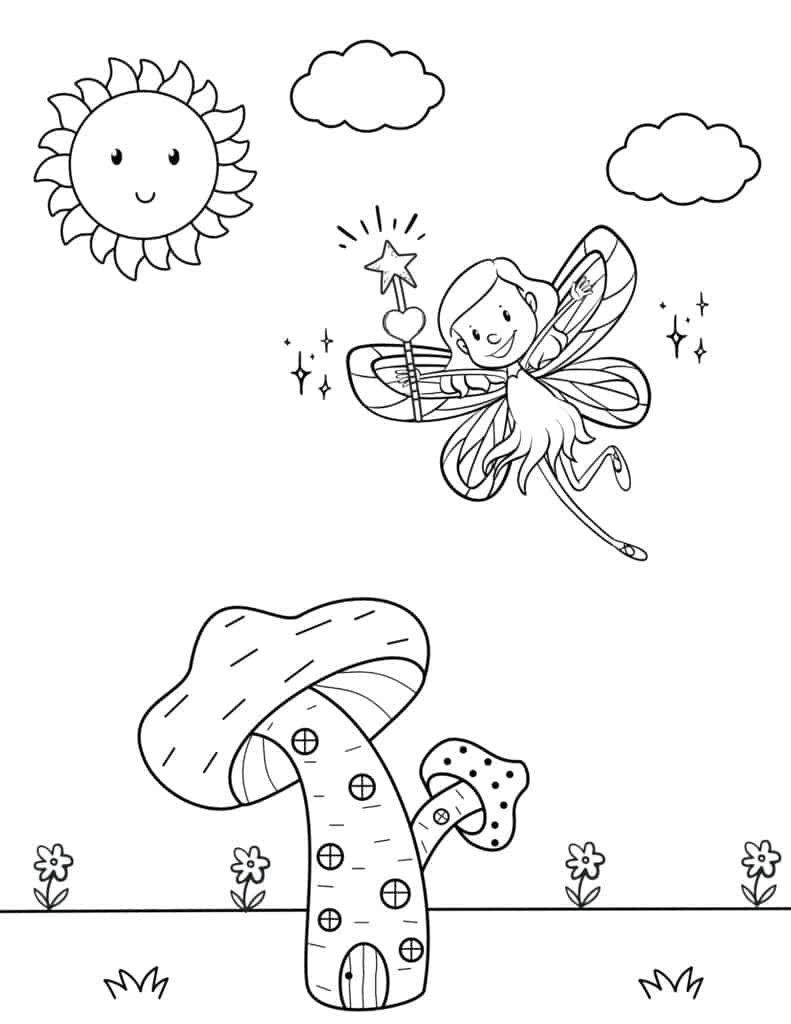 Whimsical Fairy's Realm
This sheet depicts a smiling fairy flying over a whimsical mushroom house in a vibrant flowery field. The heartwarming scene is completed by a beaming sun, showering its radiant warmth and light upon the enchanting landscape. This delightful page offers the perfect canvas for kids to explore their artistic skills. Download this one and let your child's creativity soar in this sun-kissed, enchanted adventure.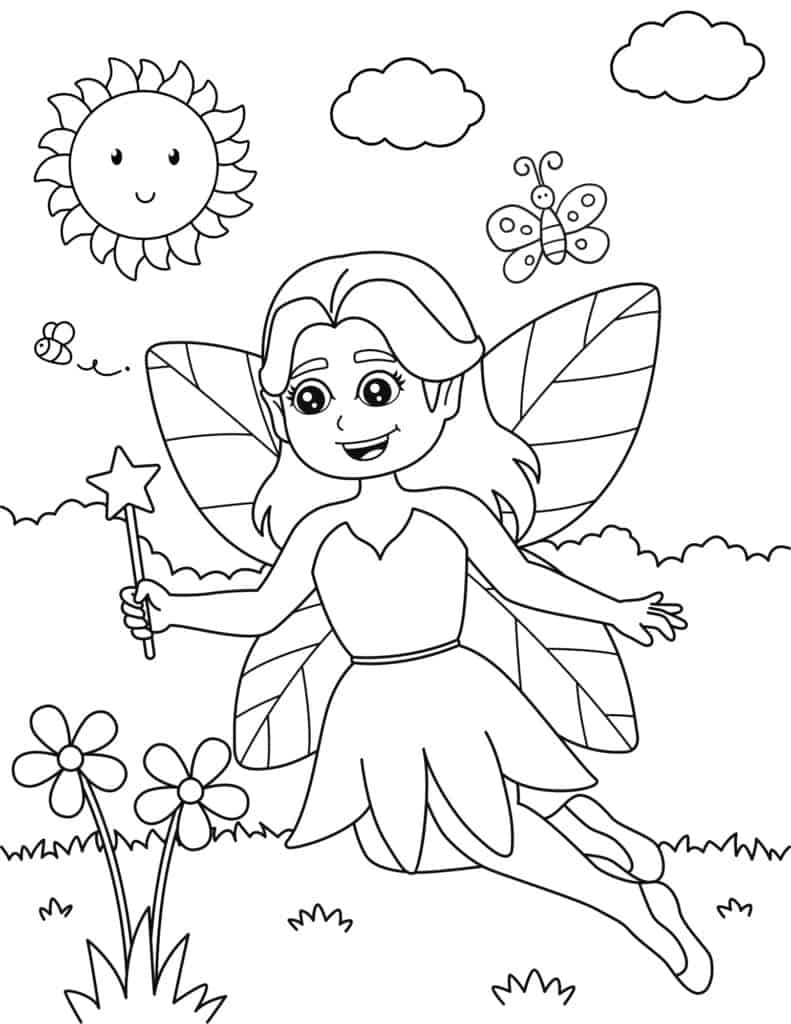 An Enchanted Forest Adventure
Let your child's imagination take flight with this one. It features a happy fairy as she floats above an enchanted forest. The beauty of fairies and the charm of nature's creatures blend together seamlessly in this sheet. As your child brings this illustration to life with their unique color choices, they will not only develop their artistic skills but also foster an appreciation for the relationship between magical beings and the natural world.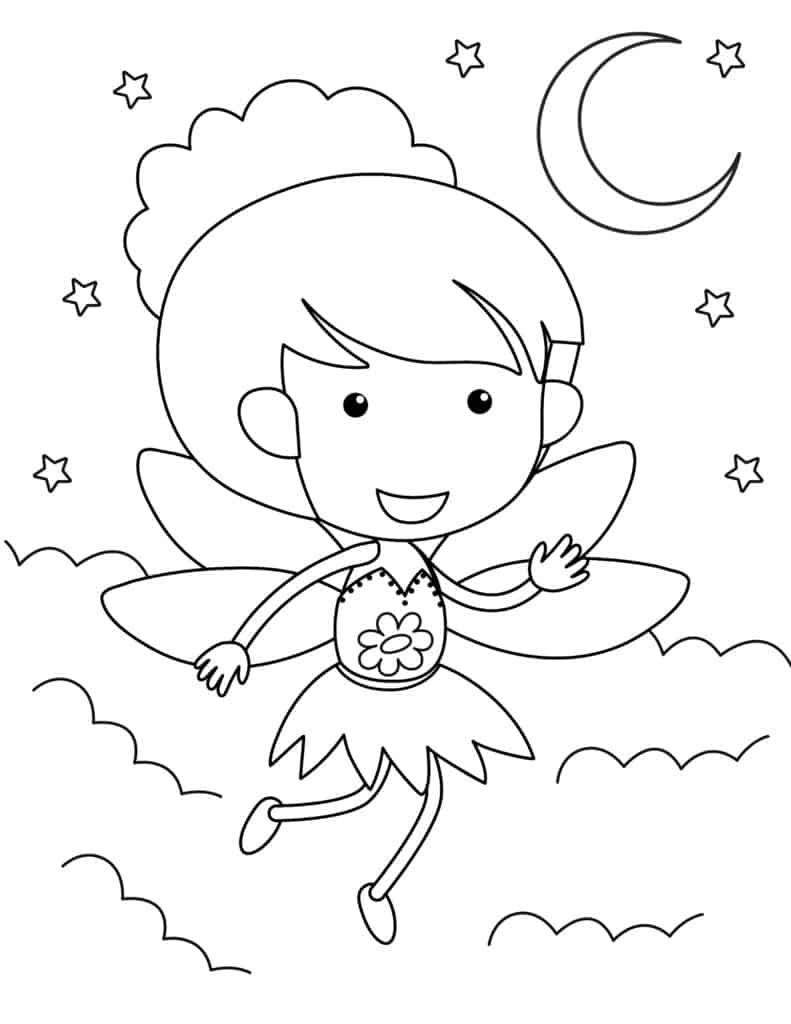 Fairy in the Clouds
Let your child's creativity shine as they delve into this tranquil world of a fairy floating among the clouds and stars. This beautiful page will spark the imagination of young artists. The magical combination of a delicate fairy, fluffy clouds, twinkling stars, and the calming crescent moon is the perfect canvas for kids to explore the contrasting colors of the night sky and the bright colors of the stars and moon.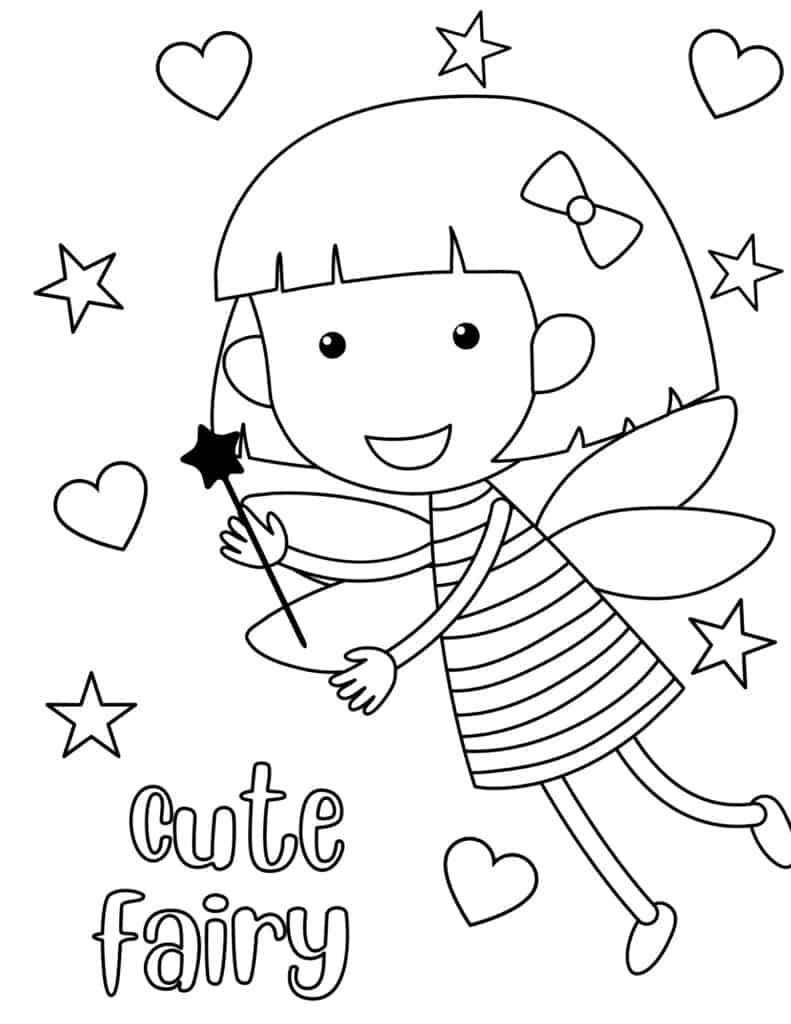 Cute Fairies
This enchanting design features an adorable child fairy gently floating among the stars and hearts as she wields her magical wand to spread joy and enchantment. It is ready to be brought to life with vibrant colors. The words 'Cute Fairy' is written at the bottom of the page in a playfully whimsical font.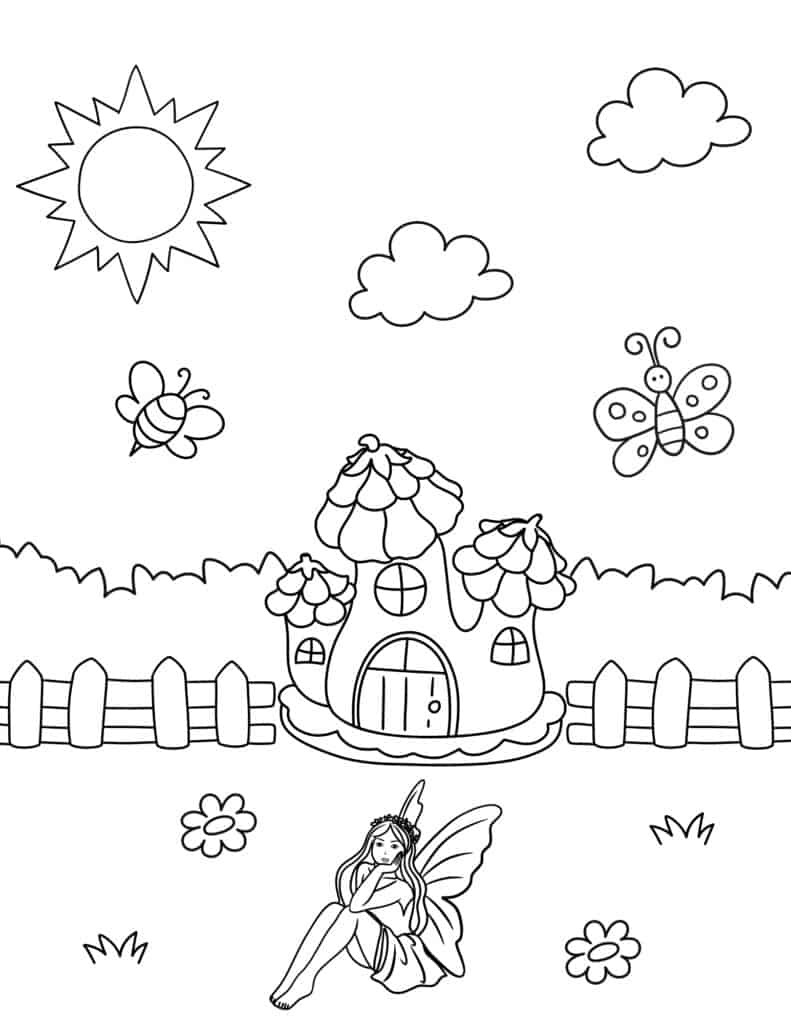 This whimsical design depicts a beautifully detailed fairy house nestled within the heart of an enchanted forest. Adding to the charming details, a tiny pixie can be seen sitting gracefully on the grass in front of the house, inviting your child to join in the fairytale adventure. This picturesque scene will inspire your little one's creativity as they use their favorite colors to bring the magical woodland and its captivating inhabitants to life.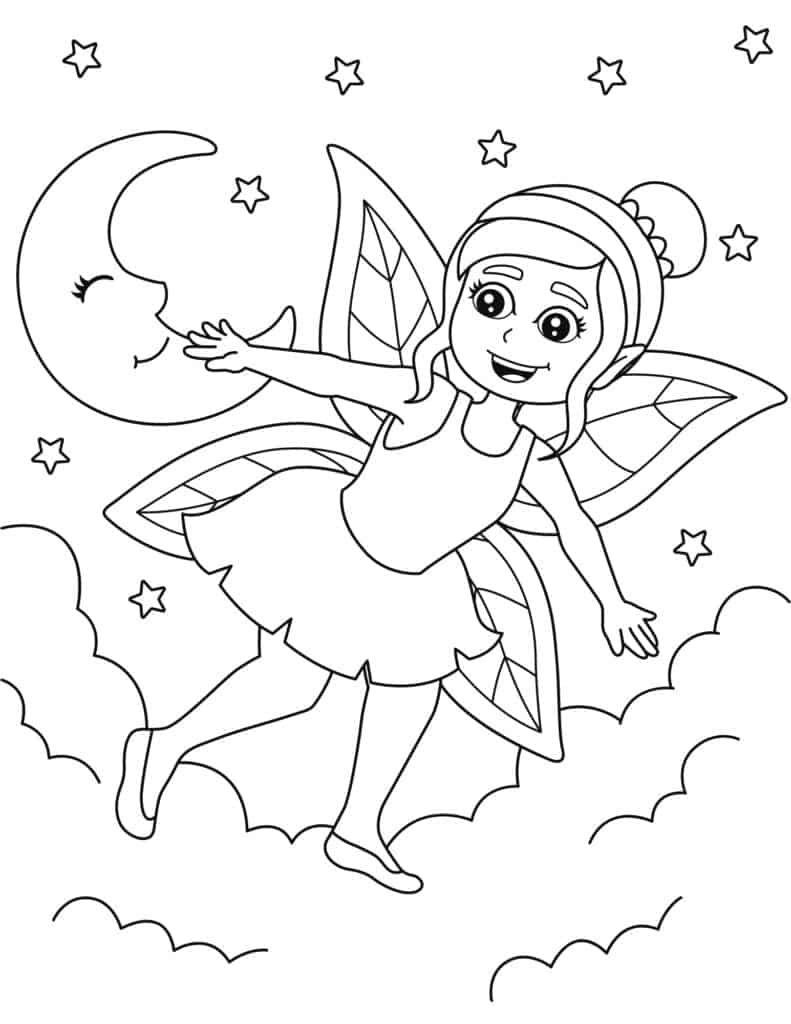 Starry Night Adventure
Let your child's creativity soar with this kids' coloring page, which features a graceful fairy effortlessly floating among the clouds, bathed in the gentle glow of the moon and surrounded by twinkling stars illuminating the night sky.
Fairy Coloring Pages for Teens and Adults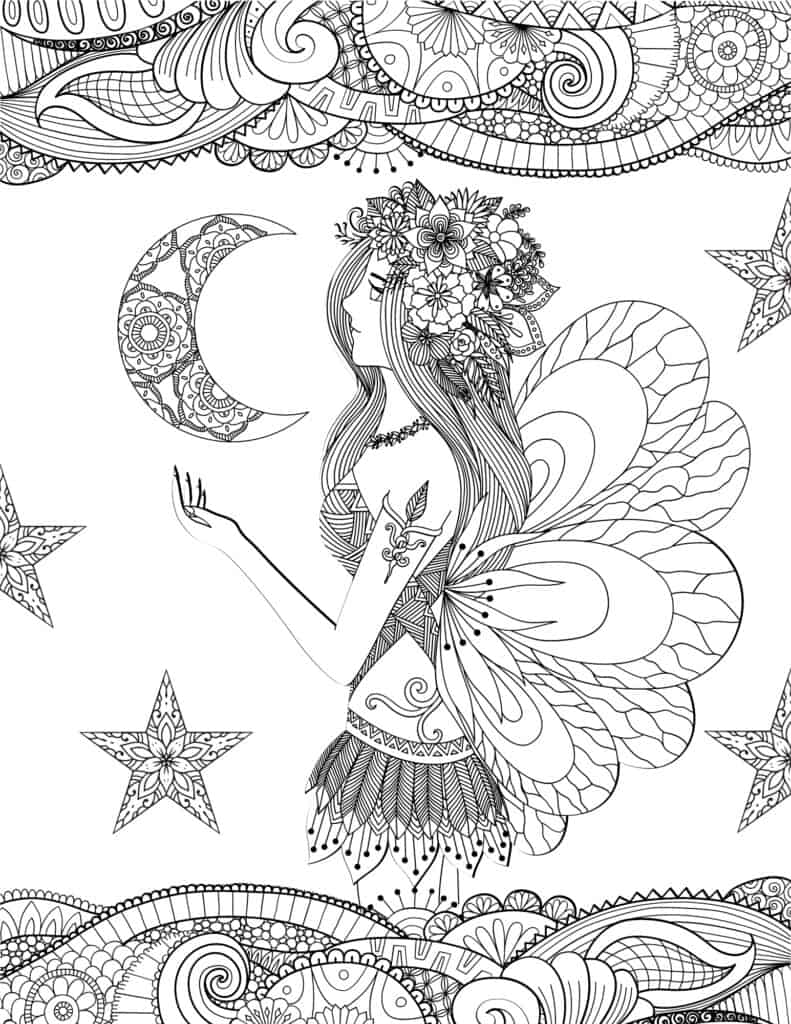 Mandala Fairy in the Night Sky
This mystical page perfectly combines the intricate beauty of a mandala with the ethereal grace of a fairy. At the heart of this celestial design, you'll find a delicate fairy holding a luminous crescent moon, surrounded by a sky full of twinkling stars. Framing this otherworldly scene, a mesmerizing mandala border weaves an intricate pattern, providing endless opportunities to bring vibrant life to each detail with your favorite colors. Immerse yourself in this relaxing activity as you explore your artistic side and color in this captivating scene.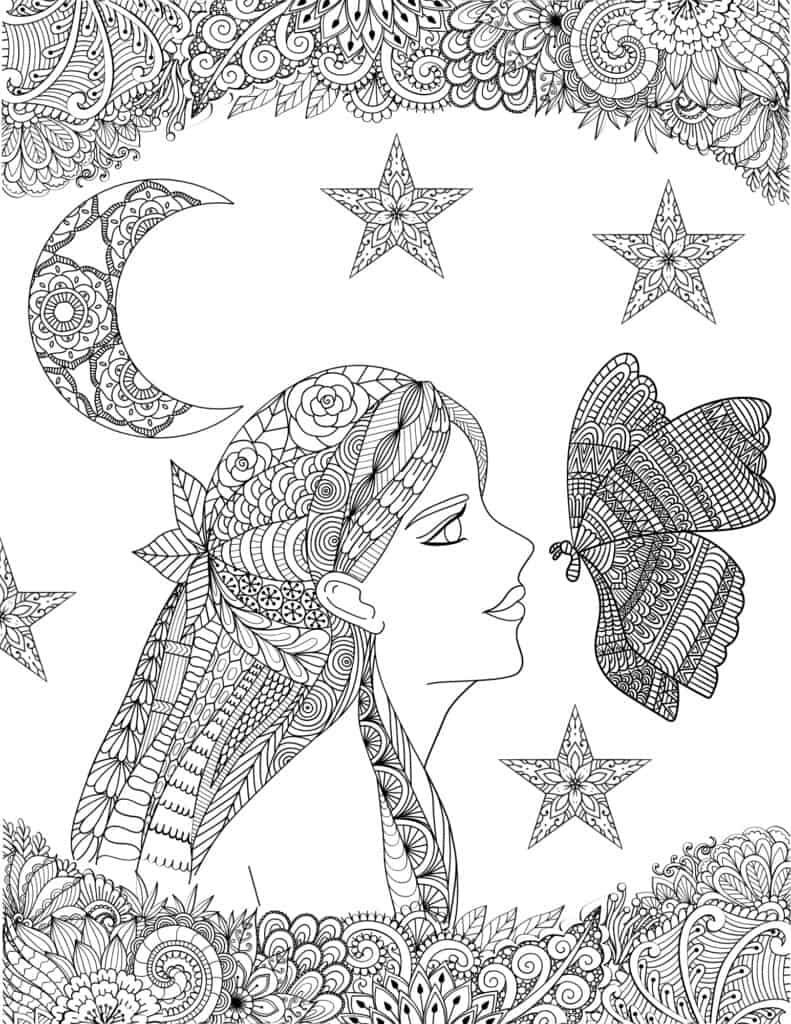 Mandala Coloring Page for Adults
Lose yourself in the enchanting details and swirling colors with this exquisitely detailed illustration. It beautifully combines the mesmerizing intricacy of a mandala with the whimsical charm of a fairy. She gazes in awe at an enchanting butterfly with its wings adorned with elaborate mandala patterns. This delightful sheet offers a fun escape from the hustle and bustle of daily life.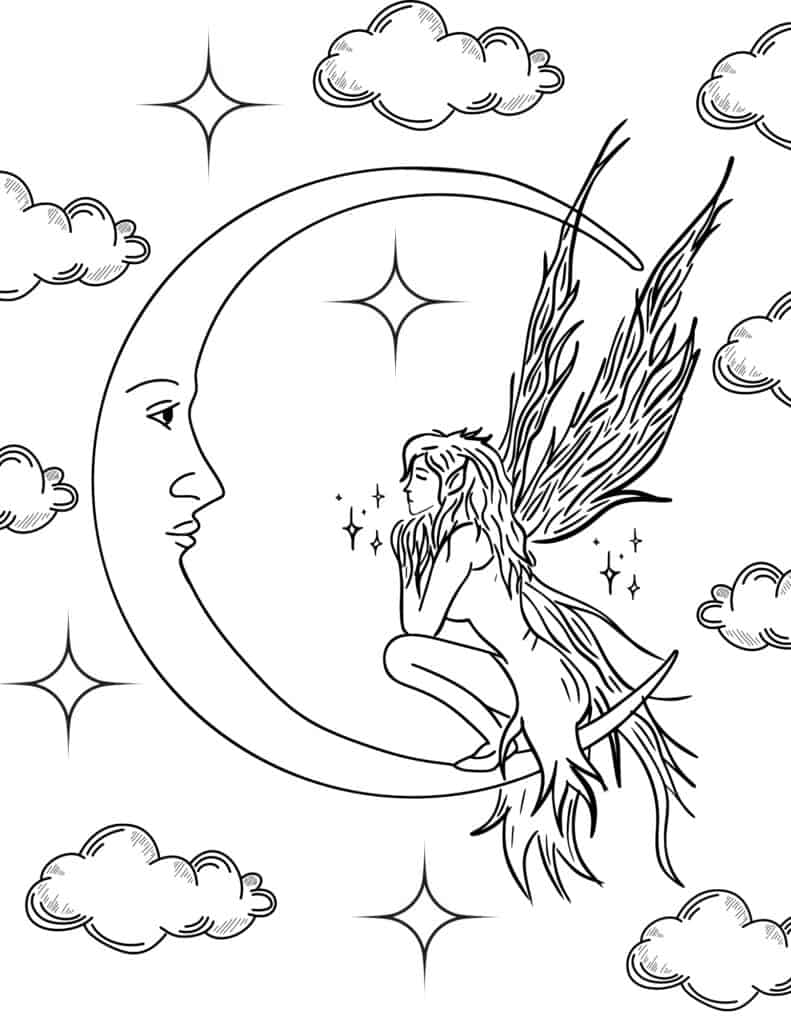 Enchanted Moonlight Fairy
Allow your imagination to soar through the serene, star-filled skies with this captivating page that transports you to a serene dreamscape, where the celestial and the mystical intertwine to create a scene of pure tranquility. The graceful pixie perches upon the brightly gleaming crescent moon, surrounded by a backdrop of twinkling stars and gentle clouds. Immerse yourself in this delightful coloring experience and bring these ethereal details to life!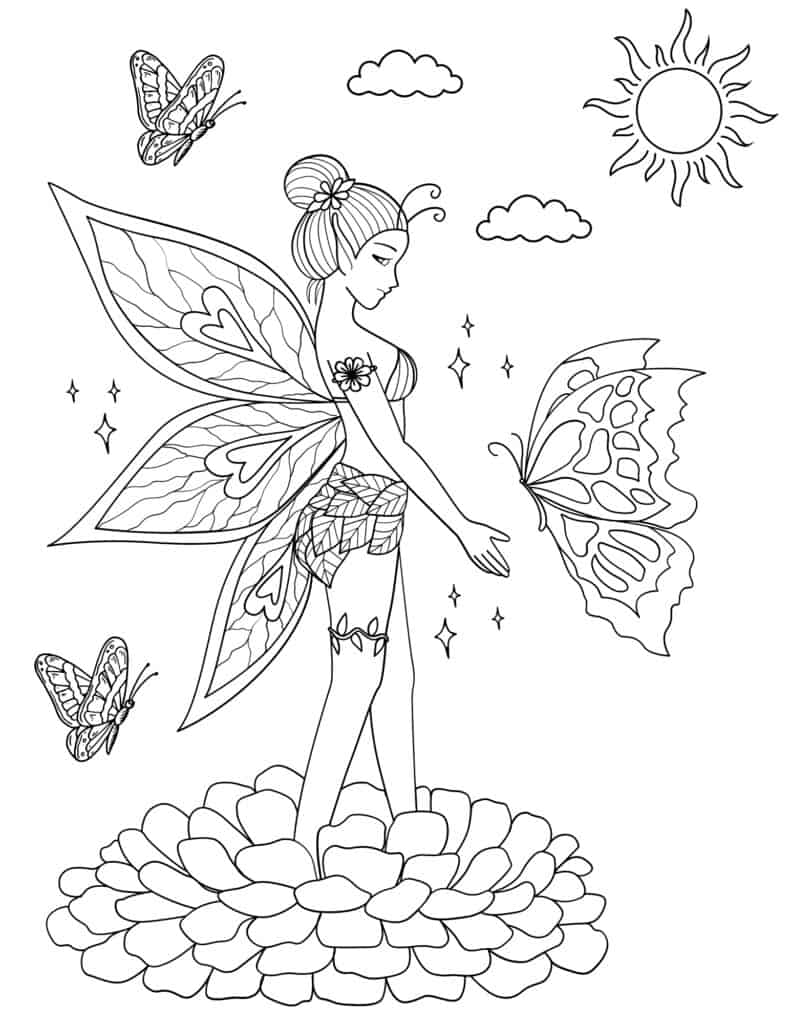 A Fairy and Her Butterfly Companions
Step into a world of magic and beauty with this page featuring a captivating pixie standing atop a flower encircled by a flutter of enchanting butterflies. This scene depicts a celebration of the natural world, where the grace and charm of the fairy perfectly complement the delicate beauty of the flower and the mesmerizing dance of the butterflies. Unleash your creativity as you explore the intricate details of this enchanting scene, from the fine lines of the fairy's wings to the vibrant petals of the flower. As you breathe life into this magical tableau with your choice of colors, lose yourself in the soothing tranquility of this enchanting world, letting it transport you away from the stresses and worries of everyday life!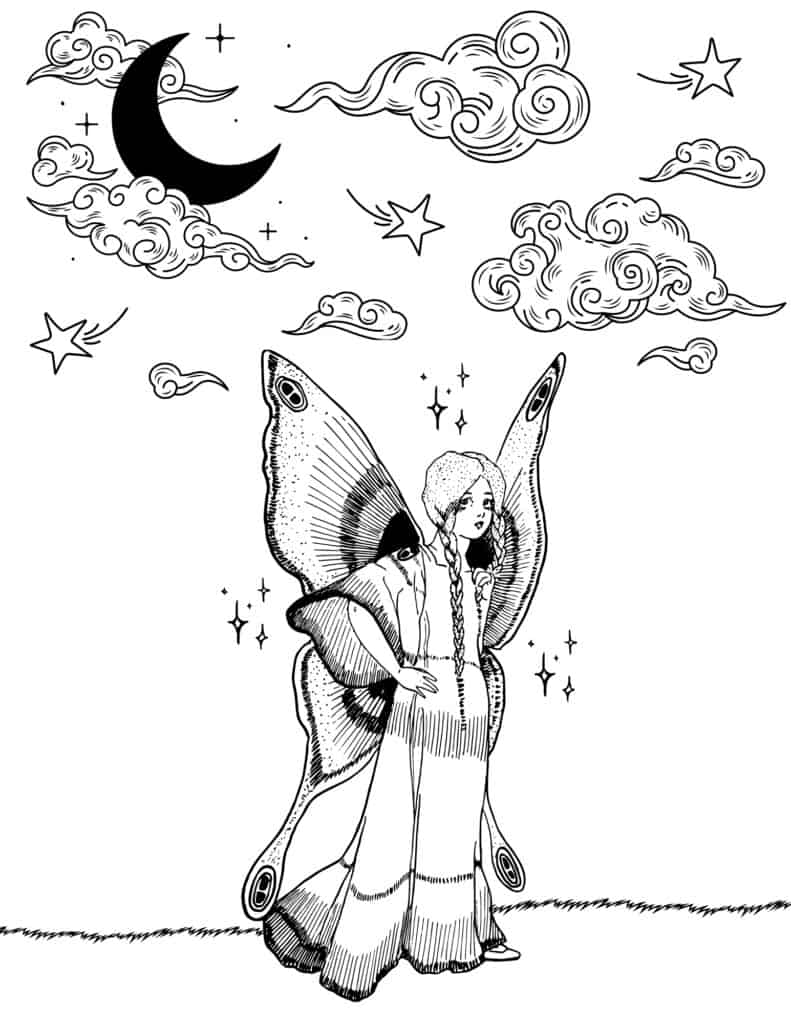 Magical Moonlit Nostalgia
Embrace the charm of yesteryear with this one. It features an old-fashioned fairy with delicate butterfly wings standing in a moonlit field beneath a mystical cloudscape. This captivating illustration takes you back to a simpler era, where the allure of folklore and nature's beauty blend harmoniously. This enchanting scene will allow you to be transported to this charming world.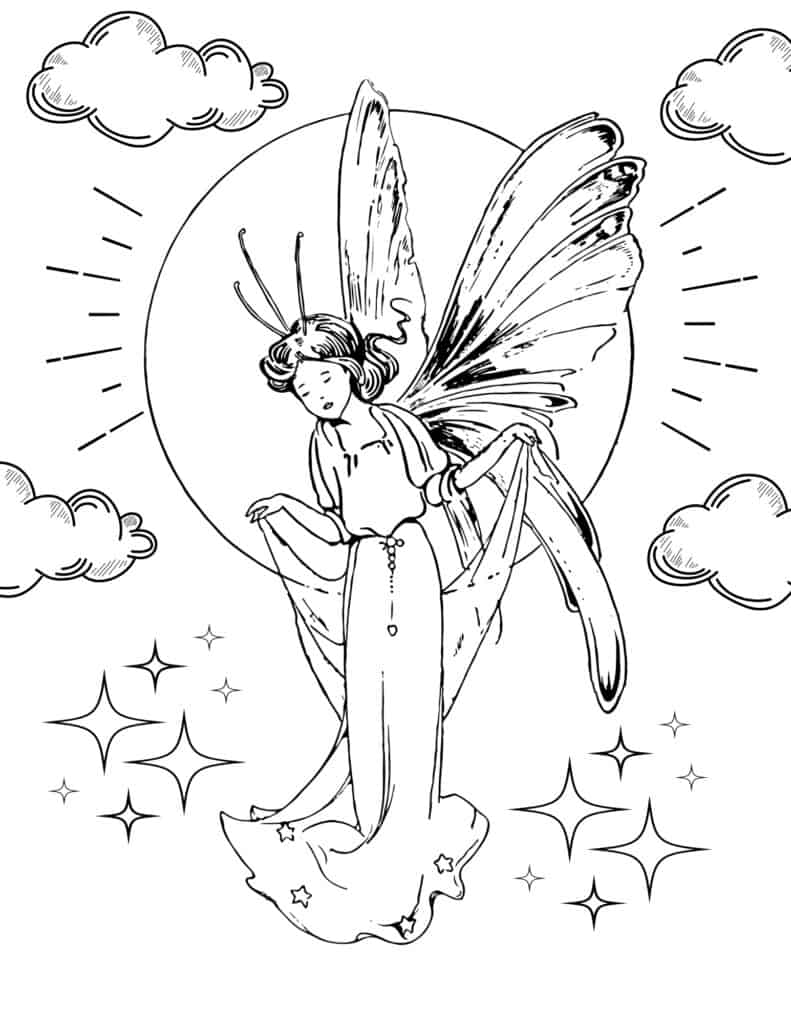 Celestial Dreamscape
Dive into the world of timeless enchantment with this coloring sheet featuring a folktale fairy floating gracefully amidst the clouds with a radiant full moon and shimmering stars forming a celestial backdrop. This captivating sheet invites you to explore this enchanting world of folklore and fantasy that evokes a sense of magic and nostalgia. As you bring this magical scene to life with your choice of colors, let the soothing tranquility of this celestial dreamscape whisk you away!
More Coloring Pages
Seasonal and Holiday Coloring Pages
If you tried one of these fairy coloring pages or any other coloring pages on my website, please let me know how it went in 📝 comments below!
Follow me on Pinterest, Facebook, or Instagram for more inspiration on crafts, DIY, free printables, and recipes!