From vertical herb gardens to DIY container gardens for vegetables and flowers, there are plenty of DIY vertical garden ideas on a budget that are perfect for apartments, patios, small yards, balconies, and more.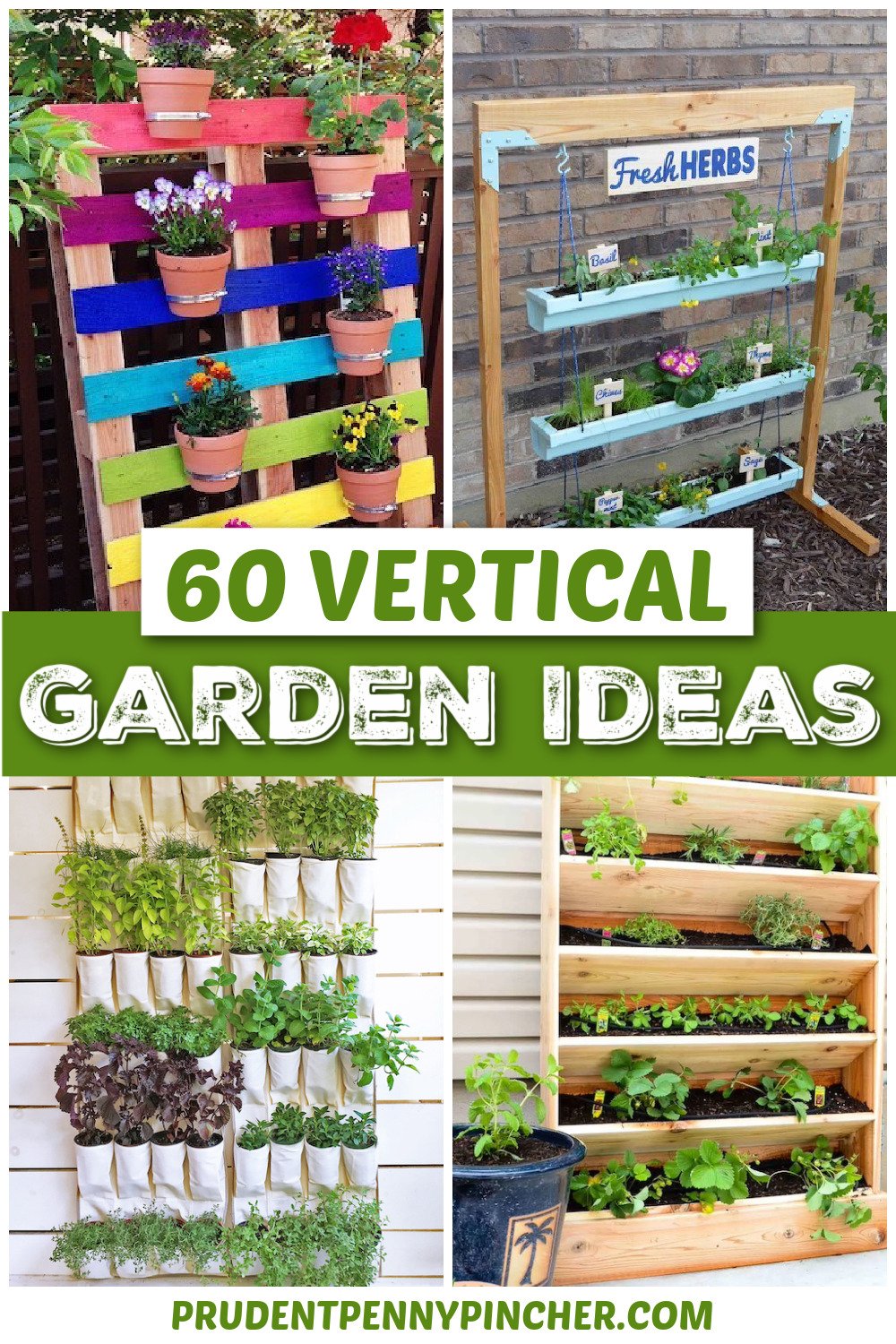 Skip the traditional garden and maximize your indoor and outdoor space with these vertical garden ideas for small spaces like your porch or patio. There are DIY garden projects for trellises, wall gardens, hanging gardens, tiered planters, and more. These DIY garden ideas use less space because they utilize walls and unused space. You will find both indoor and outdoor garden ideas here. Whether you are looking for herb garden ideas or pallet gardens, there are plenty of different types of gardening projects to choose from.
In this roundup, we're thrilled to introduce you to over 50 innovative DIY gardening ideas perfect for small spaces. These ideas combine practicality, creativity, and sustainability, showing you how to create your own slice of paradise regardless of your available space. Whether you're an expert botanist or a budding gardener, you will find an idea that piques your interest and fits your space.
Before we dive into various DIY projects for inspiration, let's first briefly introduce the topic and discuss the basics of vertical gardening for those new to the concept and/or beginner gardeners.
Vertical Gardening Basics
What is a Vertical Garden?
In its simplest form, it is growing plants upward using various support structures rather than spreading them across the ground. This gardening style can include everything from sprawling ivies climbing up a trellis to carefully curated living walls within interior spaces. The key idea is to defy gravity and maximize the use of vertical space.
Benefits
Space Optimization: They allow you to utilize vertical spaces such as walls, fences, or balconies, making them perfect for homes with limited ground space.
Improved Air Quality: Plants naturally filter the air by absorbing carbon dioxide and other pollutants. Having more plants in a vertical layout can improve the air quality in your home or yard.
Aesthetic Appeal: They can transform a drab wall or an unused space into a dynamic focal point, adding color, texture, and beauty to your surroundings. They make great landscaping ideas for your yard.
Increased Biodiversity: These gardens can host a wide variety of plants in a relatively small area, promoting a rich biodiversity.
Temperature Regulation: In urban environments, they help regulate temperature, reducing the heat absorption of walls and helping to keep interiors cooler.
Noise Reduction: These gardens act as a sound barrier, absorbing and refracting sound waves, which is particularly useful in urban environments.
Easy Maintenance: Many of these types of gardens allow for more accessible plant care, with simplified watering and pruning.
Enhanced Privacy: They can act as a green screen, providing privacy.
What can you grow in a vertical garden?
They can host a wide variety of flora. From hardy succulents and aromatic herbs to lush ferns and vibrant flowers, your plant choices are vast and can be customized to your personal preferences and local climate.
flower gardens (annuals and perennials)
annual herbs
strawberries
cherry tomatoes
pole beans
carrots
garlic
onions
salad greens
radishes
peas
squash
succulents
vines and ivy
air plants and other small plants
What do you need to make a vertical garden?
Here are some essentials you will need for most DIY projects:
Vertical Structure or Support
Planters
Quality Soil
Plants
Gardening Tools
Watering System
Hardware for building and/or securing your garden
Fertilizer or Mulch (optional)
Keep in mind, these are general supplies that may be needed. Each specific project will have its own unique list of required materials.
When sourcing your materials, consider re-purposing items or buying second-hand to add an element of sustainability to your project. Not only will this be kinder to the environment, but it can also add a unique and personal touch.
Conclusion
This roundup of gardening ideas is designed to inspire and guide you to create your own garden oasis, no matter how small or unconventional your space may be.
I hope you've found these ideas inspiring and are ready to roll up your sleeves and get your hands a little dirty.
I encourage you to embrace the process, let your creativity shine, and most importantly, have fun with it.
I'd love to hear about your experiences and see the beautiful, thriving spaces you create. Happy gardening!
Vertical Garden FAQs
More DIY Gardening Projects
Follow me on Pinterest, Facebook, or Instagram for more inspiration on crafts, DIY, free printables, and recipes!