From vertical herb gardens to DIY container gardens for vegetables and flowers, there are plenty of DIY vertical garden ideas on a budget that are perfect for apartments, patios, small yards, balconies, and more.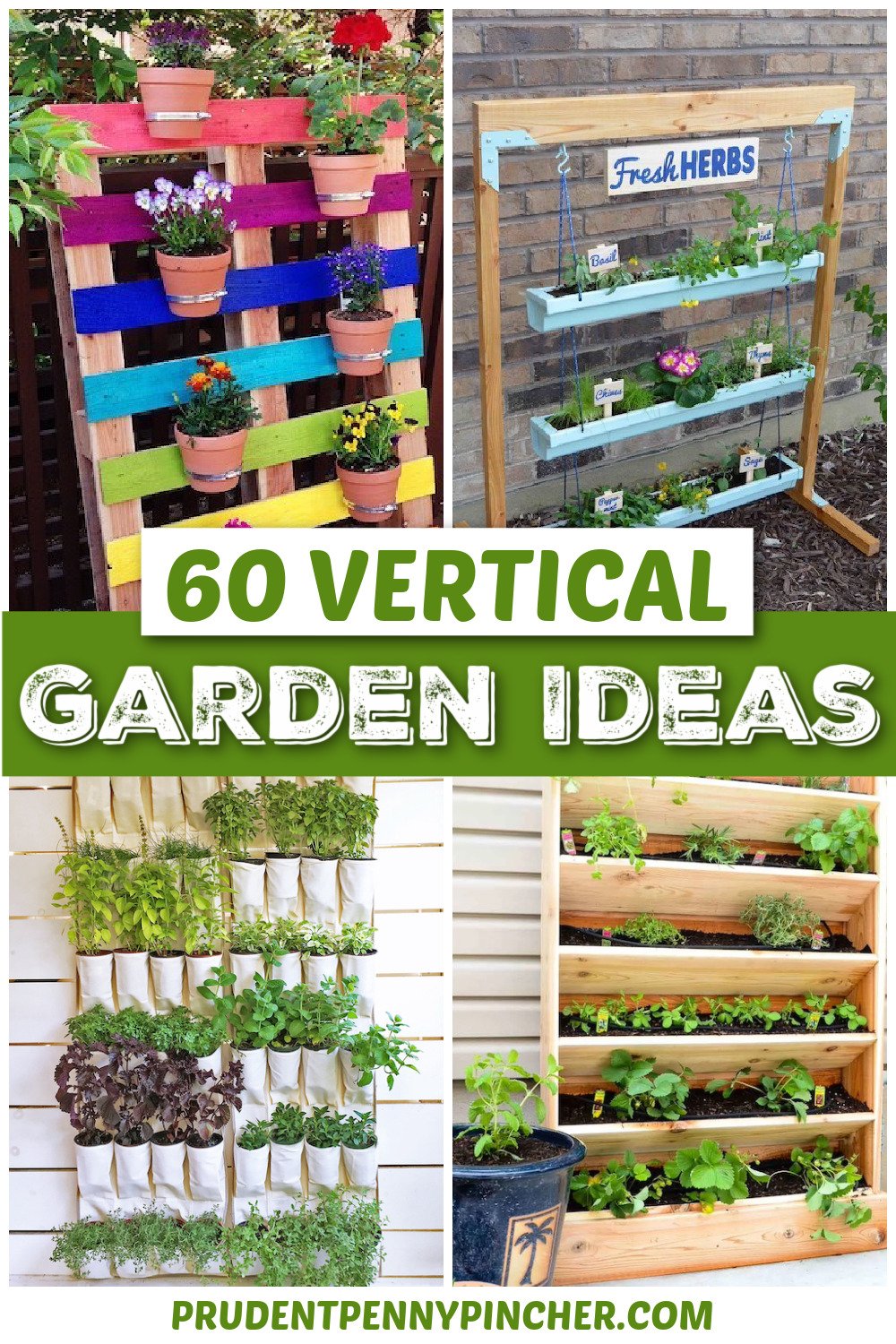 Skip the traditional garden and maximize your indoor and outdoor space with these vertical garden ideas for small spaces like your porch or patio. There are DIY garden projects for trellises, wall gardens, hanging gardens, tiered planters, and more. These DIY garden ideas take up less space because they utilize wall space and unused vertical space. You will find both indoor and outdoor garden ideas here.
What can you grow in a vertical garden?
flowers (annuals and perennials)
annual herbs
strawberries
cherry tomatoes
pole beans
carrots
garlic
onions
salad greens
radishes
peas
squash
succulents
vines and ivy
air plants and other small plants
Pallet Gardens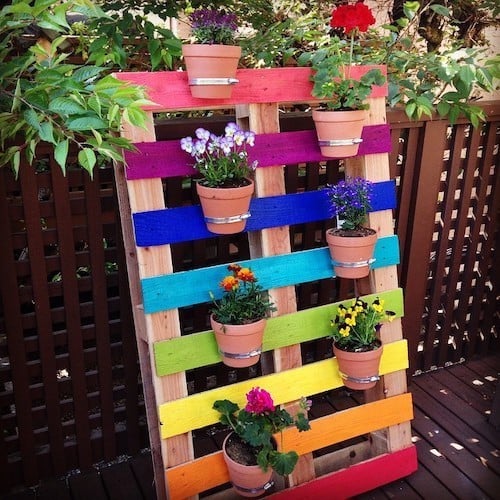 Upcycled Rainbow Pallet Flower Planter from Hello Creative Family
This is a cheap and easy project that only requires pallets, paint, and some terra cotta pots. It's a great choice if you don't have a lot of room outdoors. It would even work for apartments or condos too! Whether you want to add some annuals or turn it into a herb garden, this would work well with a variety of different plants and flowers.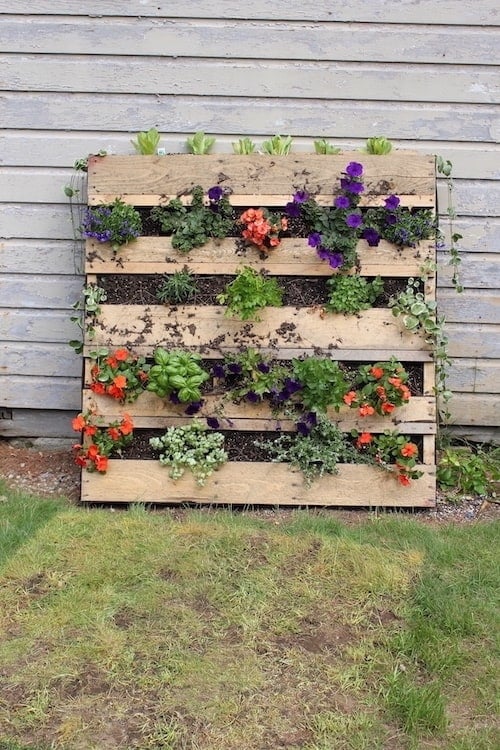 Pallet Flower Garden from 2 Moms and a Startup
Another easy vertical pallet project using weed-blocking fabric and potting soil! This idea would work well for a variety of different types of plants and flowers. They used a mix of flowers and fresh herbs: petunias, begonia, vinca vine, lobelia, rosemary, oregano, basil, mint, and romaine lettuce. The mix of different types of plants creates a lot of visual interest with all the different shapes and colors.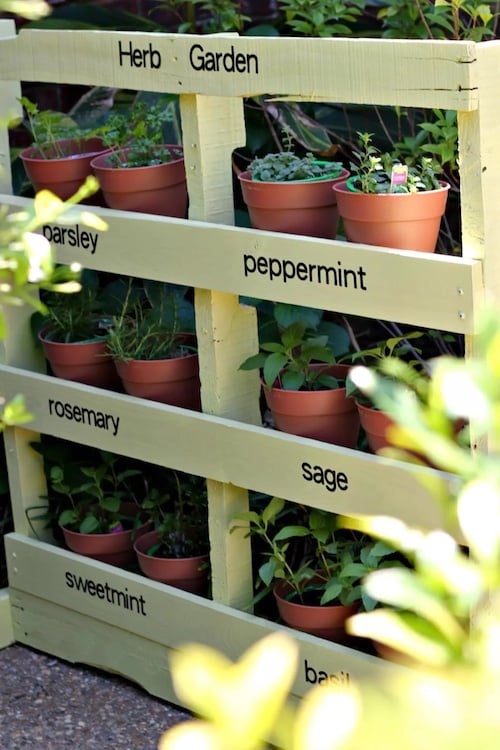 Pallet Herb Planter from Pink When
This planter is so cute and easy to set up. Just paint your old pallet any color you want, add some pretty labels, and your choice of potted plants. You can store a lot of small pots here! It's particularly great for small spaces like patios, porches, balconies, and more!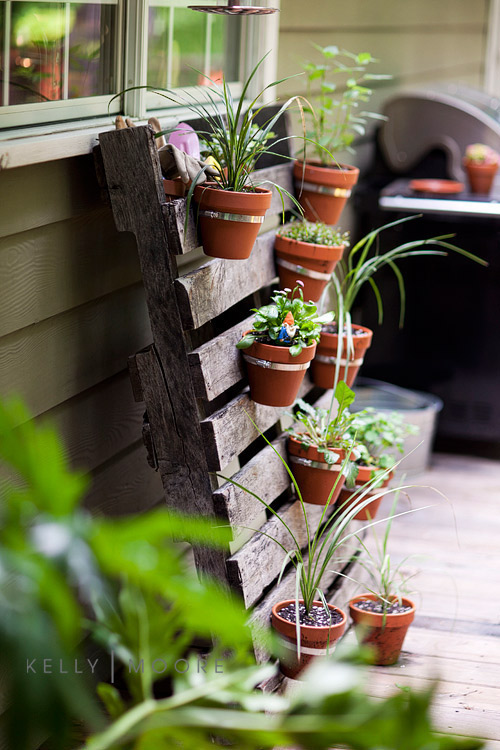 Super Easy Pallet Planter from Kelly Moore
Similar to the idea above, this project can't get any easier. You don't even have to paint it. All you need is a few simple supplies to store a lot of plants or flowers! If you want a pop of color, some vibrantly colored pots would look great too. Also, it would work well with limited space. You don't need a green thumb to make this easy project!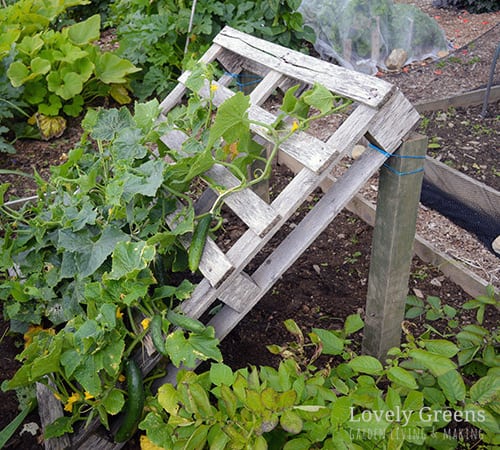 Pallet Cucumber Trellis from Lovely Greens
Transforming a pallet into a vertical trellis is so easy that it doesn't even require any tools! There are a lot of benefits to keeping vegetables like cucumbers off the ground such as eliminating fungus or mold and making them easier to pick when it's time to harvest. This would work with any climbing plants really! You don't need a lot of space for this one either and it allows you to maximize your backyard space since you can plant some greens below the trellis.
Hanging Gardens and Wall Vertical Garden Ideas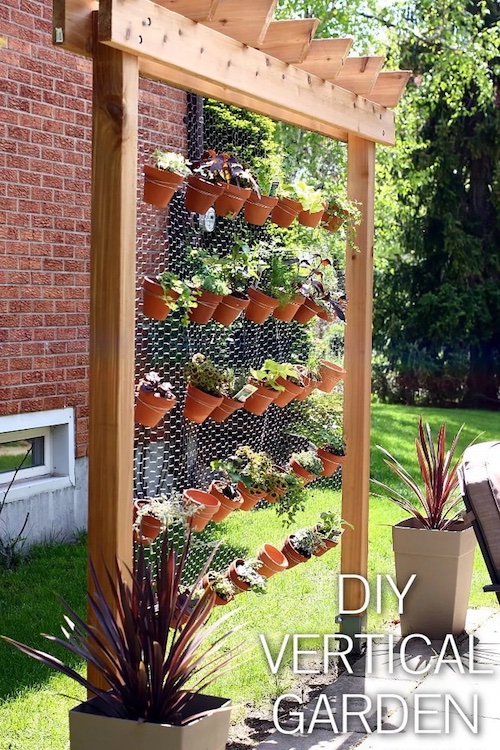 Vertical Wall Garden from Homemade Lovely
This stylish arbor garden is not only a decorative piece but also functional! It works great for areas without much space and makes a perfect backdrop of greenery for your porch or patio area. What makes this project unique is that it is a standalone wall. All you need is some cedar posts and planks along with wire netting and tools! While it does require a bit more effort, this beautifully designed wall garden is well worth it!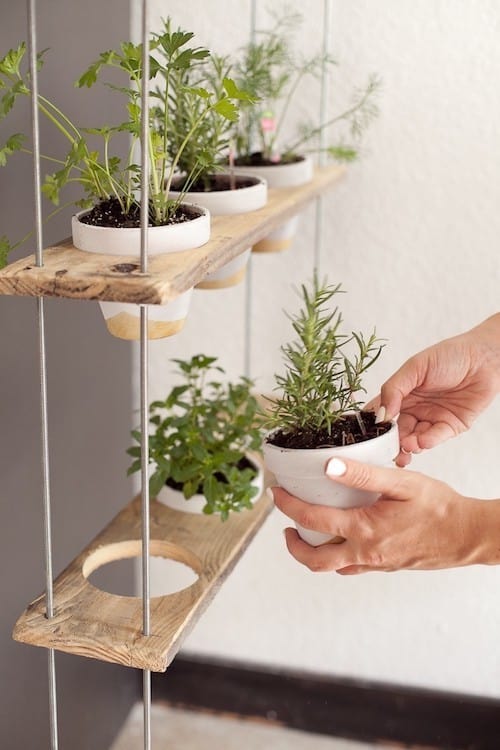 Hanging Herb Garden from Fresh Mommy
These hanging planters would be perfect to hang from a ceiling in your kitchen. It only takes a few hours from start to finish! They are very aesthetically appealing and transform a boring wall into a lively yet natural space with edible greenery. This project would also be a great way to add an edible garden to your porch or small outdoor space.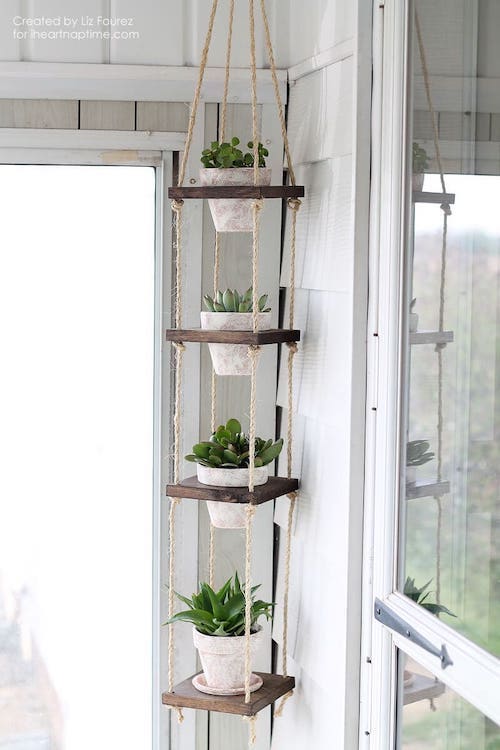 Vertical Plant Hanger from I Heart Naptime
This cute project is an easy way to display your succulents without taking up a ton of room. All you need is some scrap wood, rope, terra cotta pots, and some basic tools. The amazing idea behind these vertically-hanging succulents is that when you are watering, any excess water will drip onto the plant below.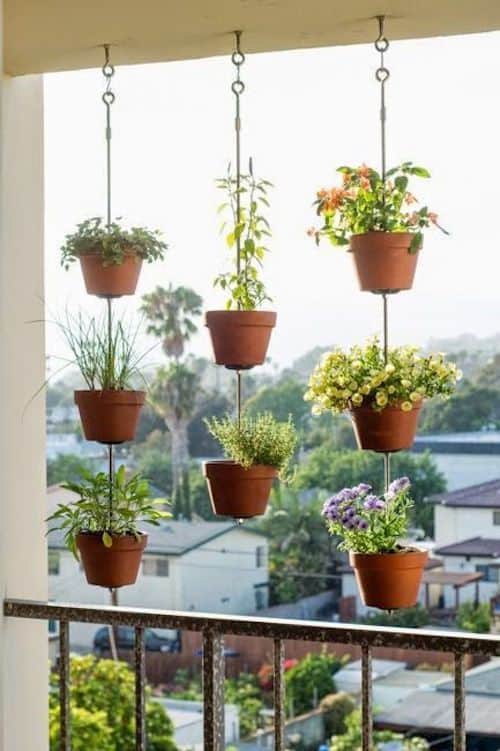 Hanging Clay Pots for the Balcony from The Horticult
Hanging your terra cotta pots just got a lot quicker and easier with this idea! It uses a special hanging kit that goes through the center but still allows drainage. It's a good idea for indoor and outdoor use. Since it's a kit, it comes with everything you need to assemble it. You can make it as big or as small as you want!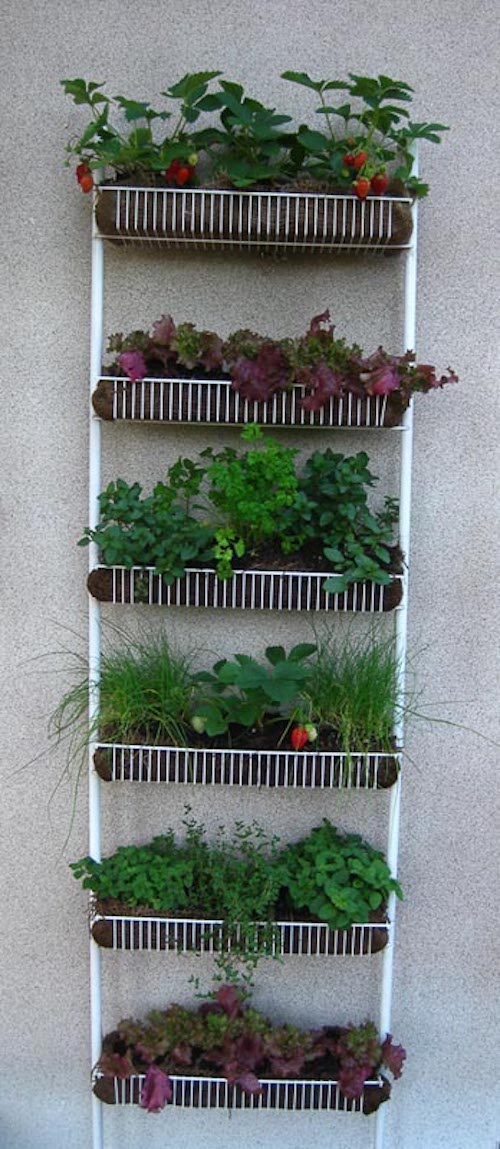 Spice Rack Wall Planter from Laughing Crow
Transform a spice rack into a planter with this creative idea! It's a great way to repurpose an everyday item that you can probably find at a thrift store for cheap! You can hang a variety of vegetables this way even strawberries!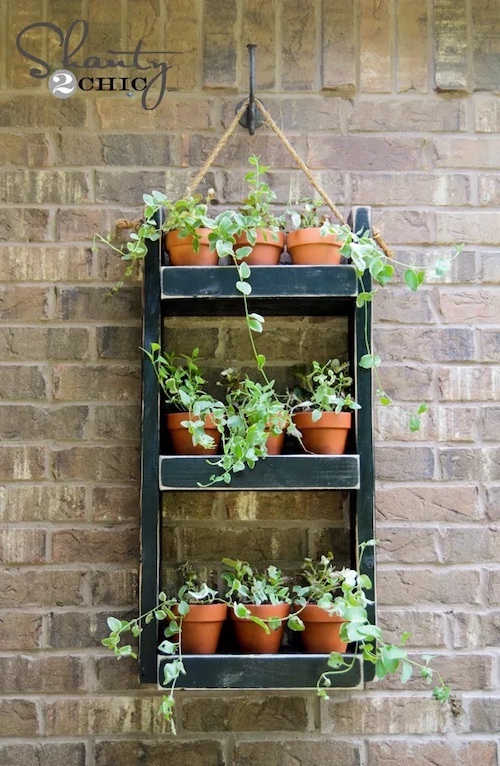 Wood Planter for the Wall from Shanty 2 Chic
Add style to your outdoor space with this vertical wood wall planter. It only takes less than an hour and $20 to make! You only need some pine wood, rope, tools, paint, and pots to make this one! It is a great choice for a little greenery like these Vinca vines or even flowers for a pop of color that will add some visual appeal to a bare wall on your front or back porch.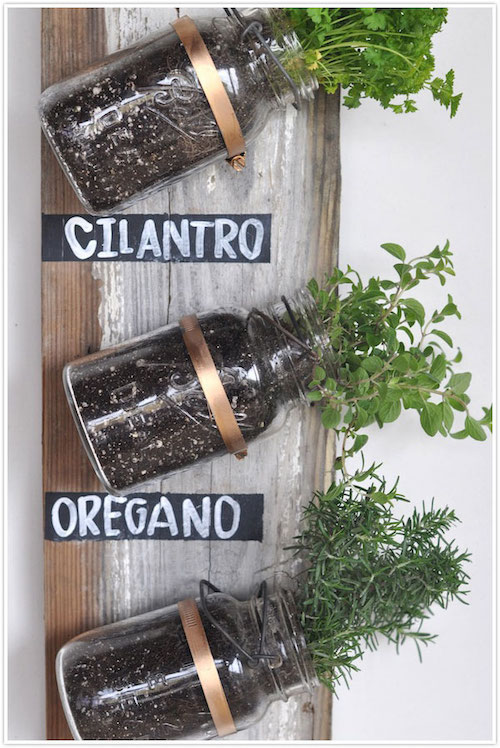 Mason Jar Herb Planters from Camille Styles
Try this adorable and affordable project using mason jars and a wood board. Fill it with your favorite herbs and add it to a sunny wall in your kitchen.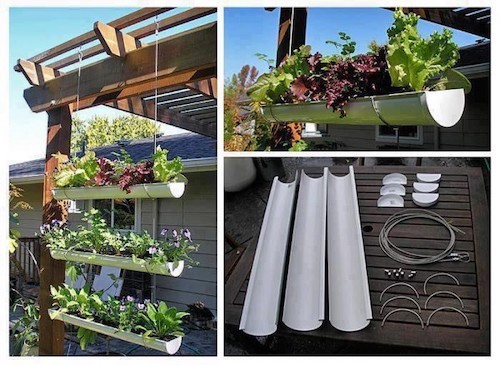 Hanging Gutter Garden from Goods Home Design
Make an affordable garden by repurposing old gutters! It is a great way to take advantage of the vertical spaces around your home to grow all sorts of vegetables and plants. It also makes a stylish and budget-friendly space divider and privacy screen.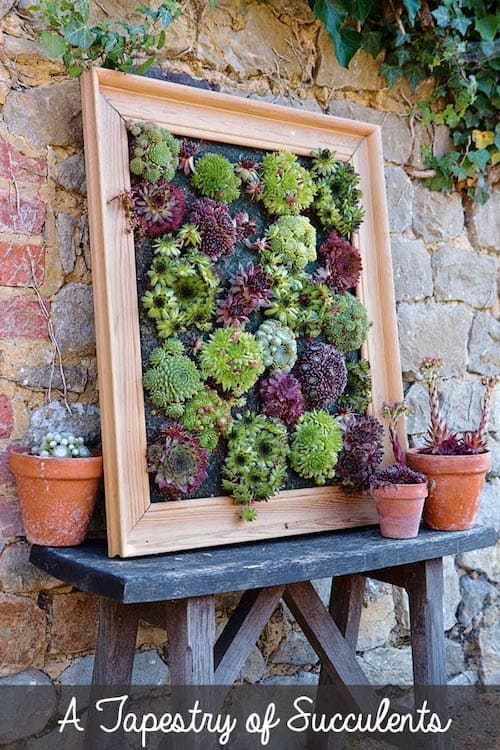 Succulent Picture Frame Wall Planter from Empress of Dirt
Transform old picture frames into a cute wall planter! It's a frugal project that will allow you to make a living wall without spending too much money. You can use succulents, annuals, or other shallow root plants.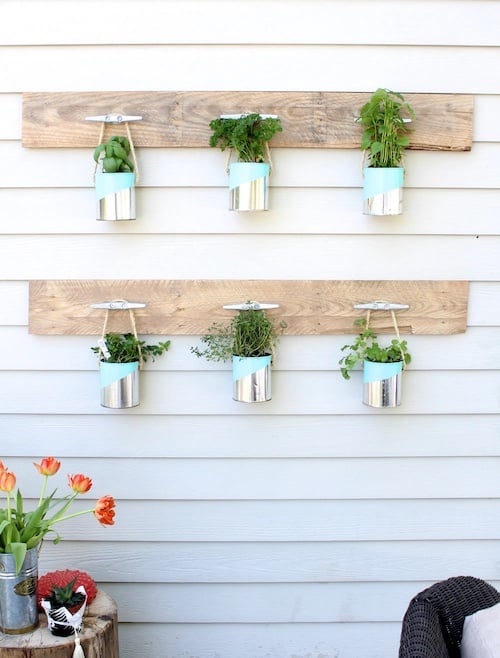 Nautical Hanging Plants from Simple Stylings
Give your exterior wall a nautical makeover with this decorative design by reusing your paint cans! She uses edible plants so it's great for someone without a green thumb and super simple to make and only requires wood board, paint cans, and cleats.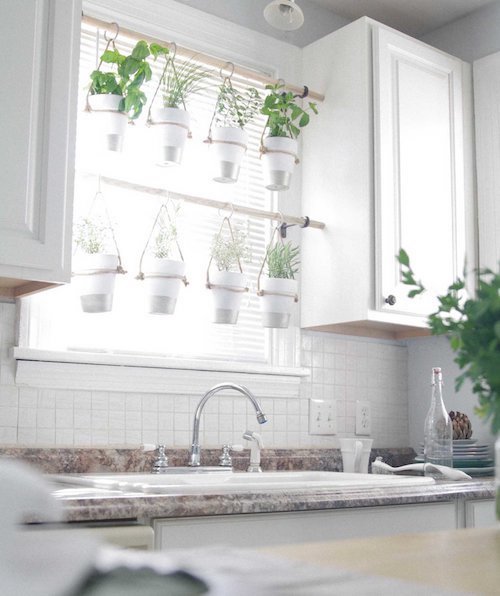 Indoor Hanging Herb Pots from The Bird and Her Song
Not only is this idea pretty but it's also useful to have herbs right next to your kitchen window to pick fresh when you are cooking. It also is a good way to give your plants some direct sunlight while still being indoors!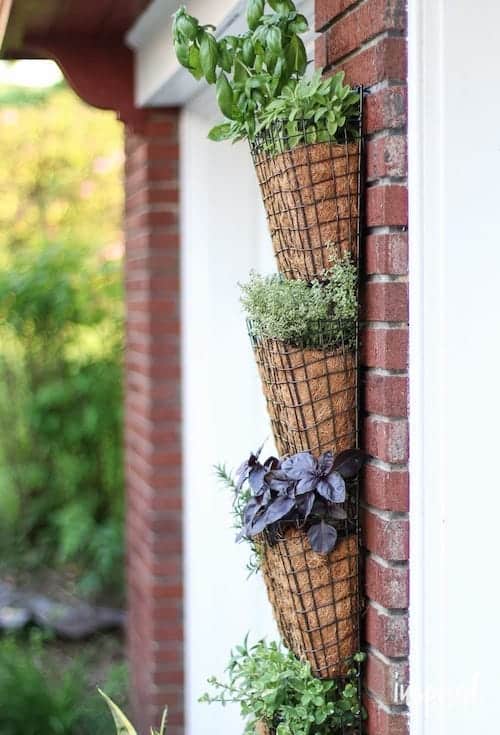 Herb Garden from Inspired by Charm
Create some curb appeal with this outdoor wall garden. It is a super easy project that doesn't require any tools or building and is made with a basic file organizer and coco liners. You can easily customize it with spray paint or labels to give it your personal touch too.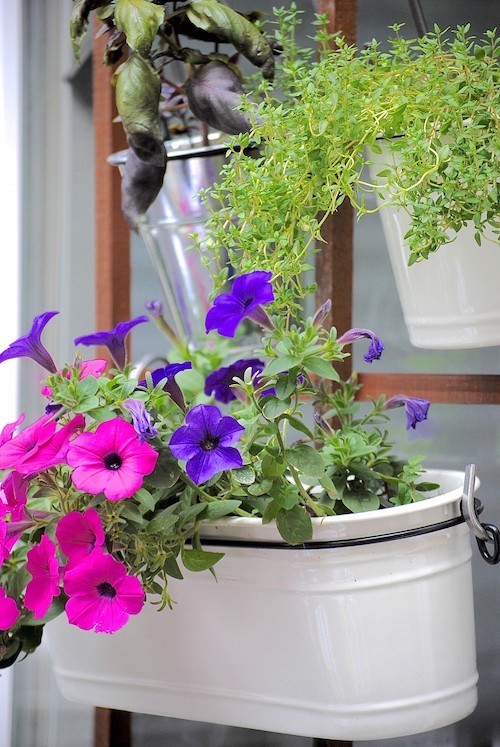 Container Herb Garden from Making Lemonade
Make vertical garden planters in 3 quick and easy steps! It will provide beauty and interest to your deck. All you need to do is hook up these organizer containers to a trellis and add your choice of flowers!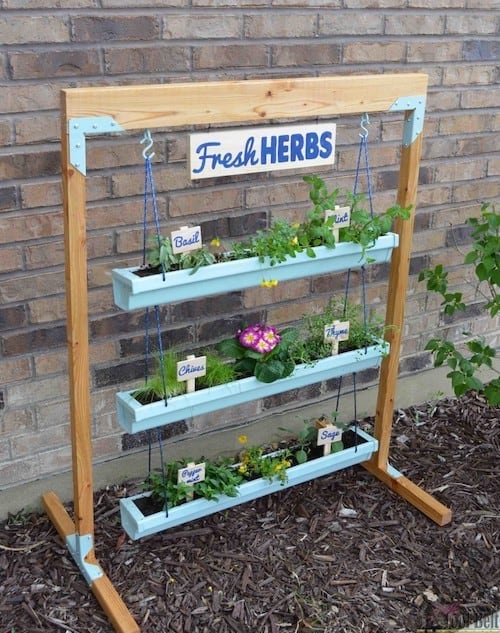 Hanging Gutter Plant Stand from Her Tool Belt
Make a stand for your plants with some gutters and 2x2s. The stand is lightweight and easy to move. Free building plans are included in this step-by-step tutorial. It would make a great privacy screen on the porch and patio too.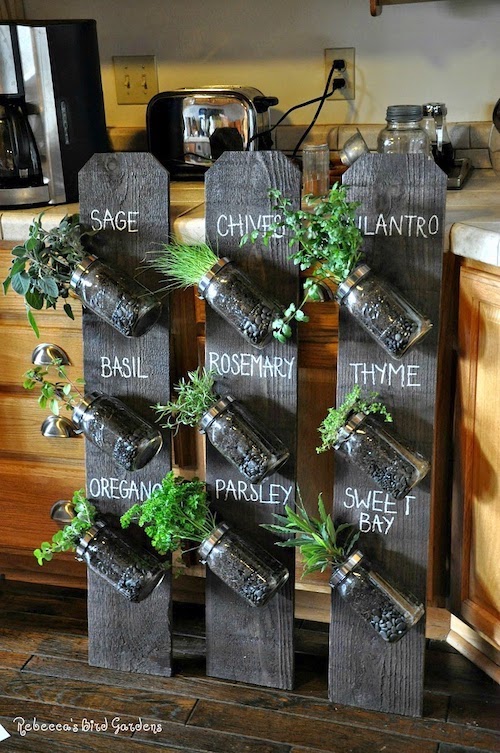 Mason Jar Wall Herb Garden from Rebecca's Bird Gardens
It couldn't be any simpler to make a stunning herb garden with this idea that just needs fence boards, hose clamps, and mason jars. This one definitely has a rustic design that would match country-style home decor if you chose to add it indoors.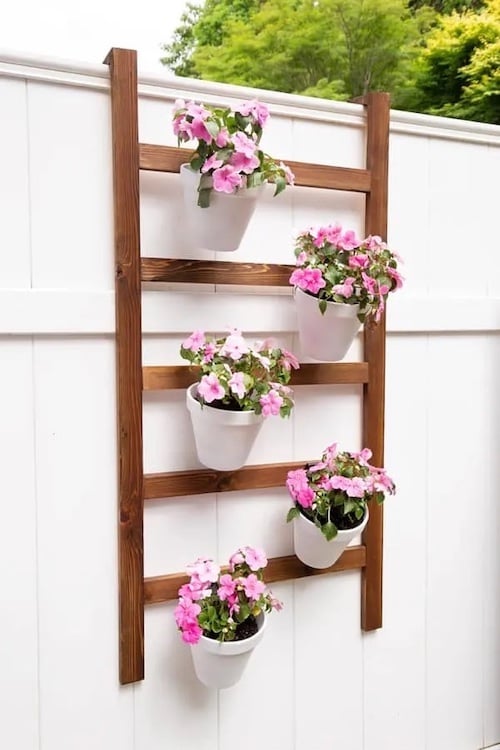 Vertical Wall Planter Ladder from Angela Marie Made
Add some charm to your back patio with this cute little wall planter. It's absolutely simple to build and an affordable project that adds a big wow factor without taking up any floor space.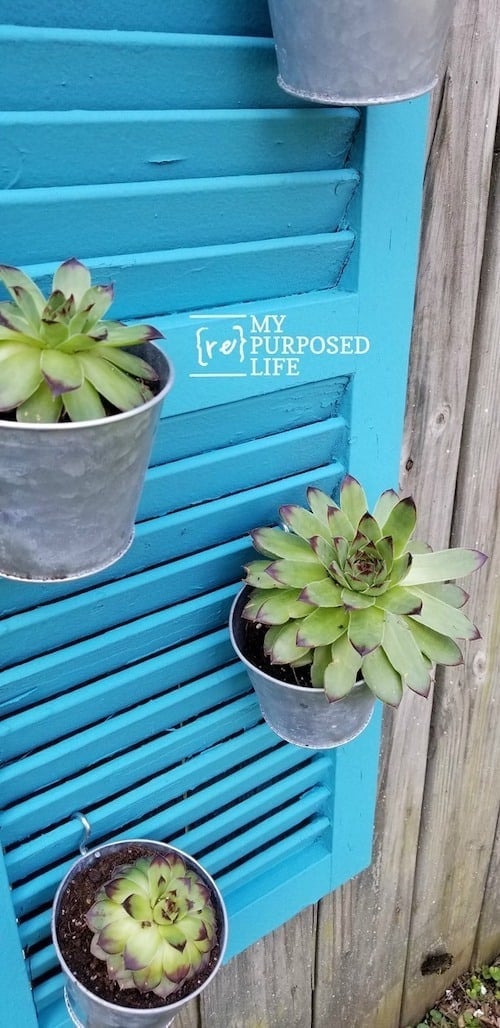 Repurposed Shutter Succulent Wall Planter from My Repurposed Life
Make a vibrant DIY planter by repurposing an old shutter. She uses chalk paint and plaster of Paris to make the colors really stand out. Then, small galvanized buckets of succulents were added to create a farmhouse-styled planter.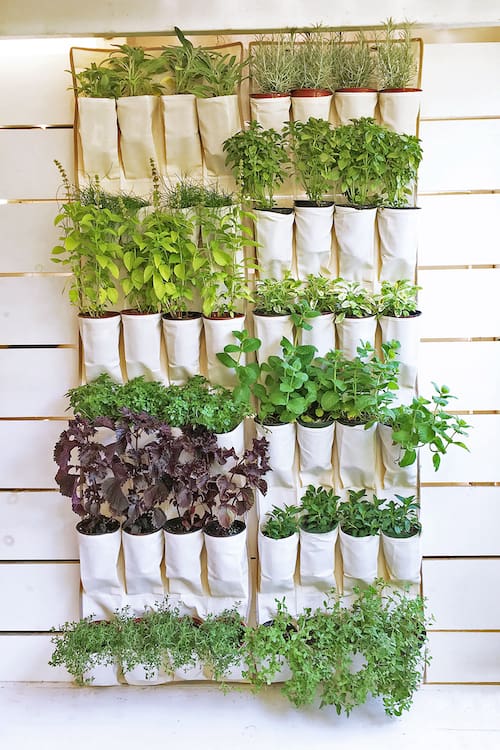 Shoe Organizer Herb Planter from Drinking with Chickens
Using shoe organizers is a cheap way to build a vertical garden wall on a budget. You can just go ahead and fill the pockets with soil and plant directly in them. It doesn't get any easier than that!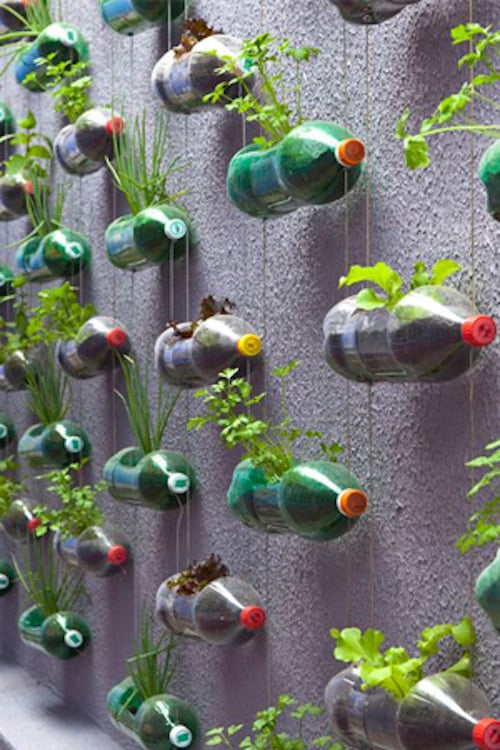 Hanging Soda Bottle Planters from THE DIRT
Turn those leftover soda bottles into a vertical garden with some supplies and DIY skills. It provides a dramatic makeover of exterior spaces on a budget. It is certainly a unique and creative project.
Planters, Trellises, and Other Vertical Garden Ideas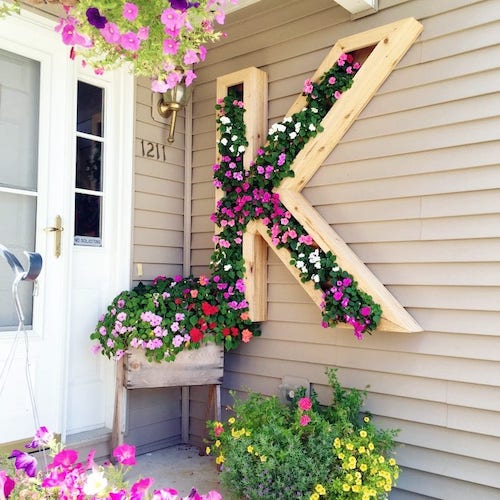 DIY Monogrammed Planter Tutorial from Remodelaholic
Give your front porch some major curb appeal with this one. It includes a step-by-step tutorial and woodworking plans to build this in the initial of your choice. It's a more detailed and costly DIY project but it is definitely quite stunning!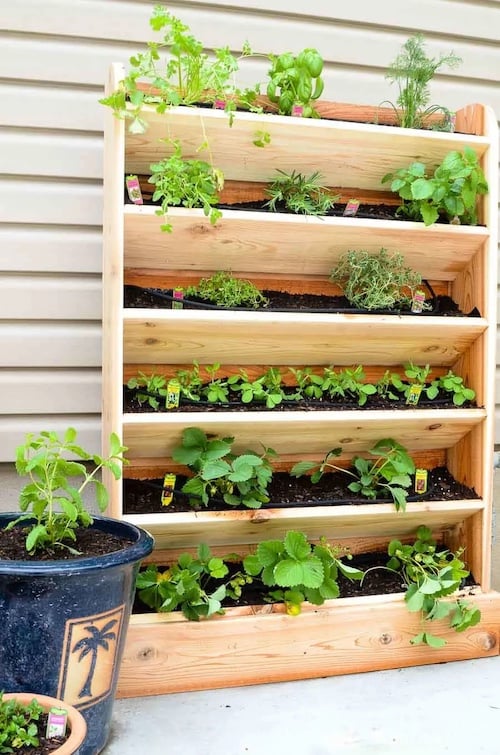 DIY Garden with Drip Watering Irrigation System from Houseful of Handmade
This cedar vertical garden has plenty of to grow your favorite herbs and plants. The built-in drip irrigation system will make watering your vertical garden even simpler.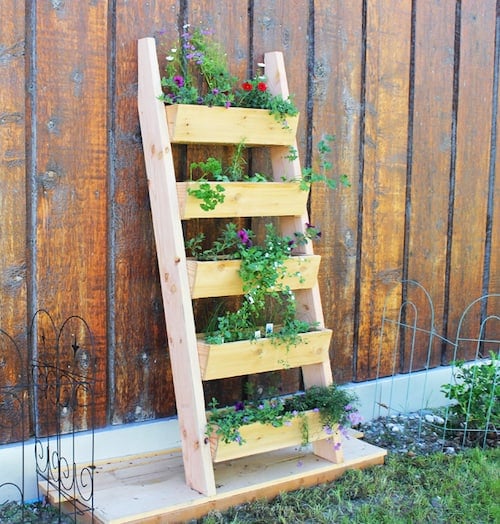 $20 Cedar Tiered Ladder Planter from Ana White
Build your own cedar vertical ladder planter for about $20 using cheap cedar fence pickets. It's perfect for little backyards or patios or balconies – even if you live in a small apartment in the city.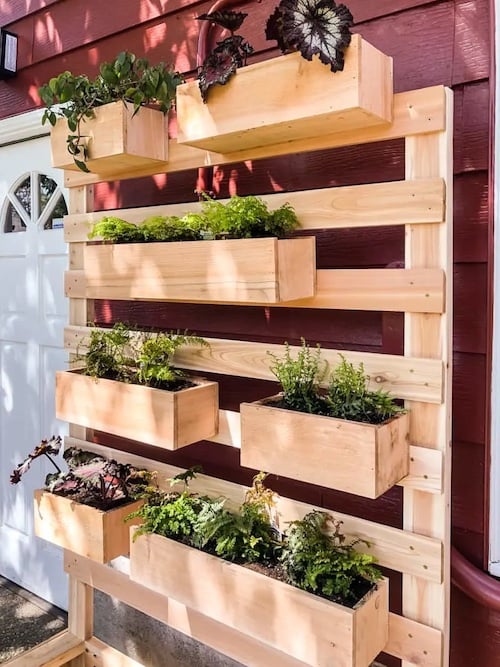 Vertical Wall Planter from The Handyman's Daughter
This is easy to build and fits on a deck or any small outdoor space. It will also hide eyesores like pipes or air conditioner units. The bottom box can be used as an additional planter or for outdoor garden storage!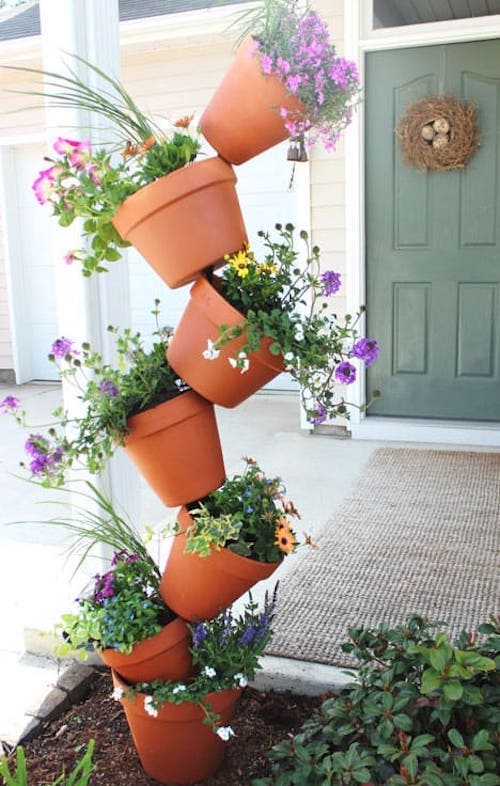 Topsy Turvy Vertical Flower Planter from We Heart This
Make your outdoor space a little whimsical with these topsy turvy terra cotta pots. It is a striking DIY project that you can finish up in an afternoon to add visual drama to your landscape.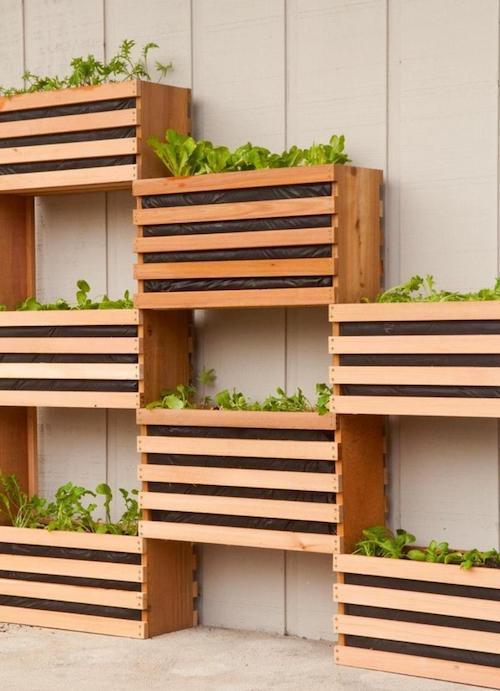 Space Saving Vertical Vegetable Planter from Man Made DIY
The vertical orientation of this lets you grow a whole bunch of veggies, herbs, and flowers in a tiny footprint. It is customizable to fit your space. All you require is a solid wall or fence to attach it to.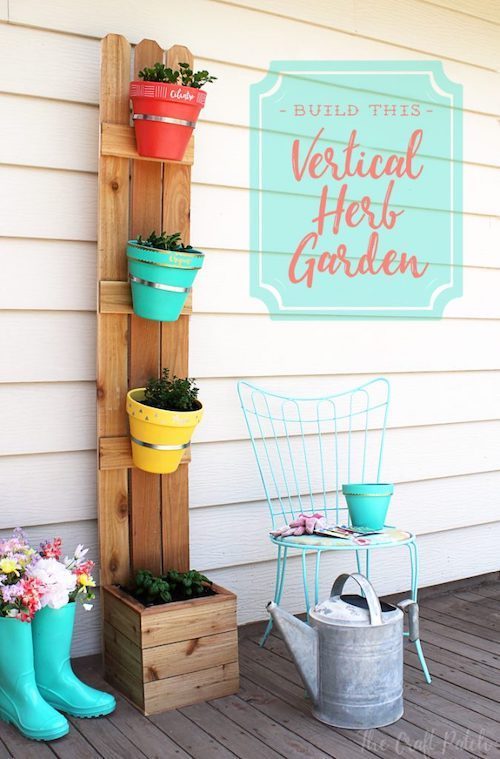 Fence Slats Vertical Planter from The Craft Patch
It is made with cedar fencing and terra cotta pots and is the perfect way to grow herbs or flowers in little spaces or to add some height to the decor on your porch or patio.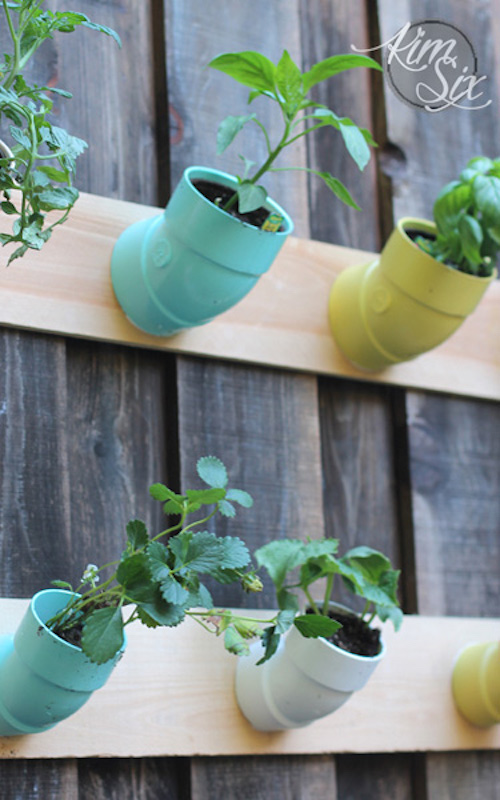 PVC Pipe Garden from The Kim Six Fix
Create an affordable garden by using 2 cedar fence boards and a bunch of PVC elbow joints as planters, which are actually cheaper than flower pots! To jazz them up add some spray paint and voila! a cute garden without needing space to plant anything.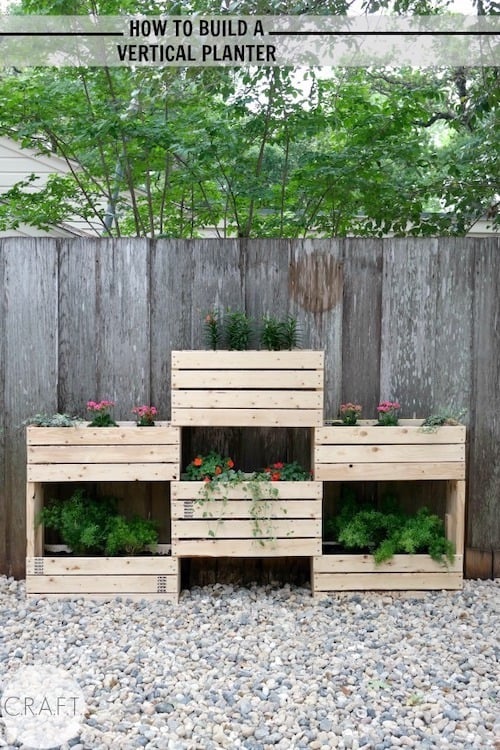 How to Build a Vertical Planter from C.R.A.F.T.
Liven up a blank backyard wall with this project. They look great natural or you can paint each one a different color for some added interest. You could even make the planter with store-bought crates too.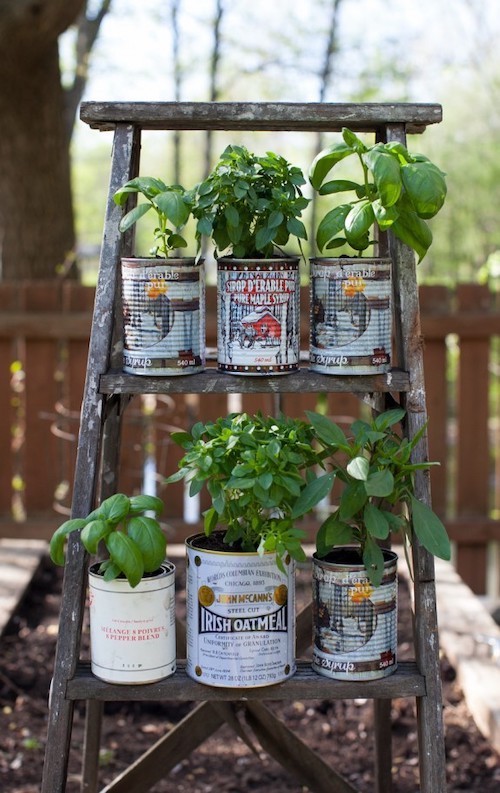 Upcycled Wood Ladder Garden Display from Simple Bites
Transform an old latter and some old cans into a rustic garden display for your summer and spring porch or patio. Other than drilling holes in the cans for drainage, this doesn't require any DIY skills or work.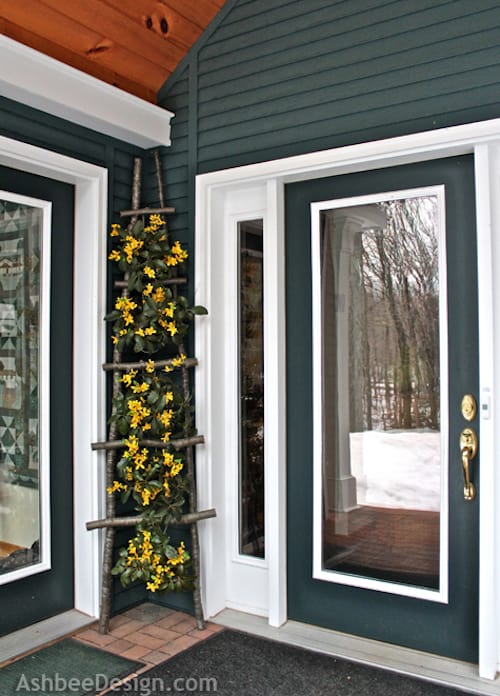 Flower Ladder Trellis from Ashbee Design
Add some curb appeal to your porch with this vertical trellis made out of black birch saplings. It's perfect for corner space and can be modified year-round with different climbing plants for a seasonal look.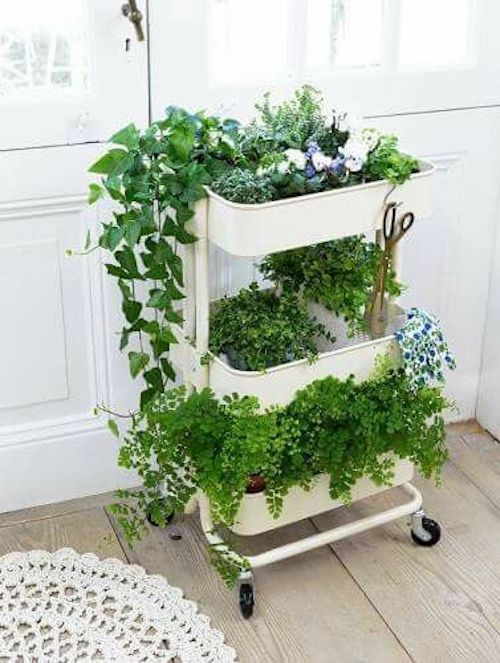 IKEA Cart Filled with Greenery (source unknown)
Get a cheap cart from IKEA and add some potted plants. It doesn't get any simpler than this. It makes a great herb garden and a perfect project for someone who doesn't want to spend time or money on DIYs.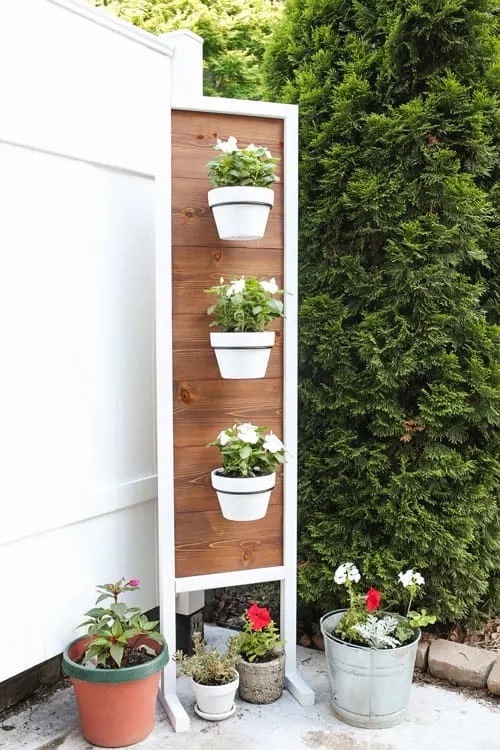 Vertical DIY Plant Stand from Angela Marie Made
Add some privacy to your backyard with this project. Have fun decorating it for different seasons by switching out the plants for fall, spring, and summer.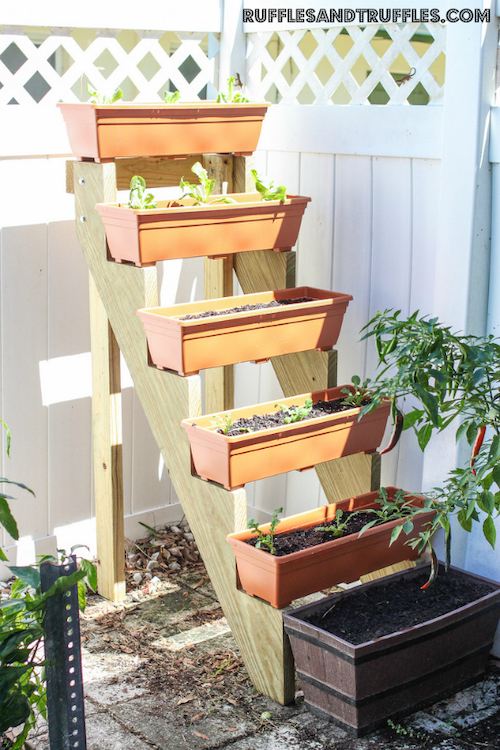 DIY Planter Garden from Helpful Homemade
This project is made from stair risers, planter boxes, and some wood. It's a fairly simple project that will cost less than $100 and take about a day or less.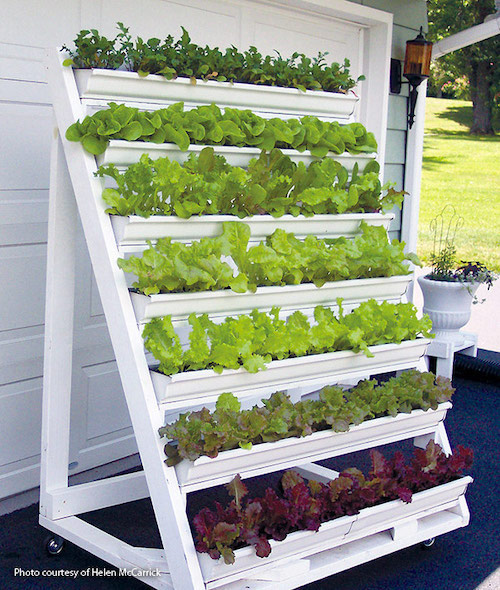 Rain Gutter Movable Vertical Planter from Garden Gate
This movable garden is made out of rain gutters makes it so easy to grow lettuce and other greens. Since it is movable, you can extend the growing season by moving them elsewhere in the colder months.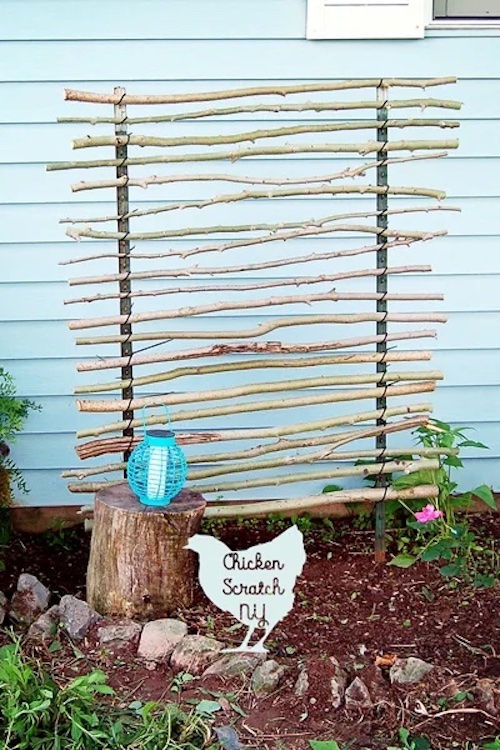 Cheap DIY Trellis from Chicken Scratch NY
This affordable DIY garden trellis is made with a few t-posts, zip ties, and tree branches so you can make this for next to nothing. It has a rustic style and it can be completed in just one afternoon.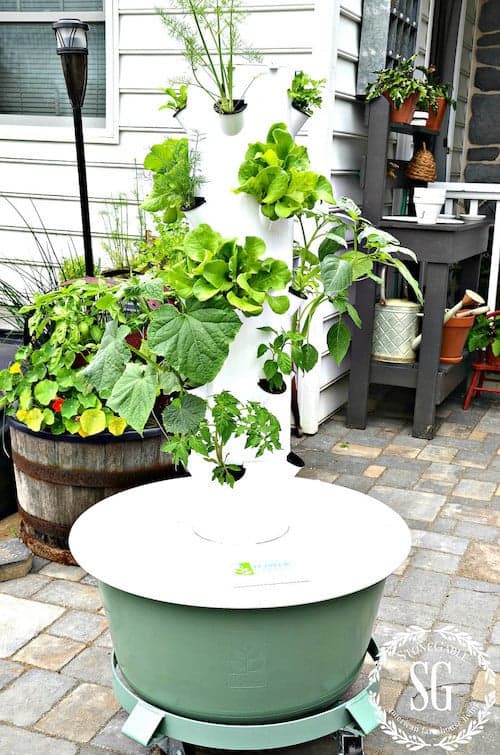 DIY Tower Garden from Stone Gable
Tower Gardens are a wonderful way to enjoy veggies, herbs, and flowers when you don't have the space for a garden or don't want the responsibility of a conventional garden. It grows 30% more plants 30% faster with 98% less water.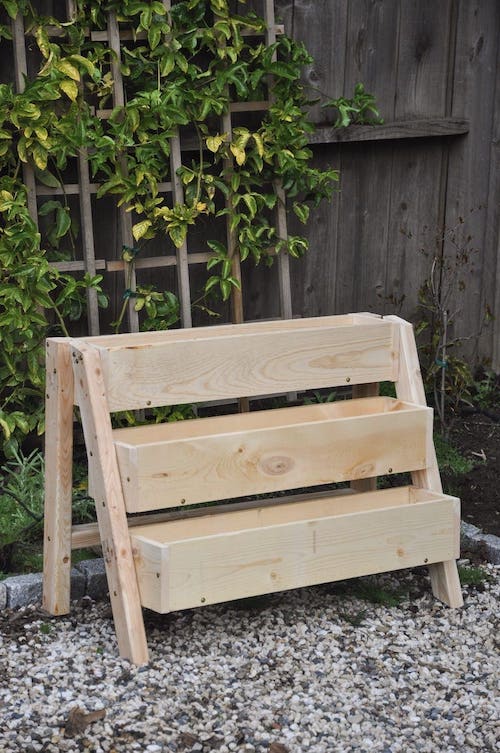 DIY Tiered Strawberry Planter from Hydrangea Tree House
Plant some strawberries with this tiered raised garden bed. With 3 tiers of boxes, you can plant a lot so it's great for small space gardening. If you have a patio or porch but want to grow edibles, strawberry is the best choice!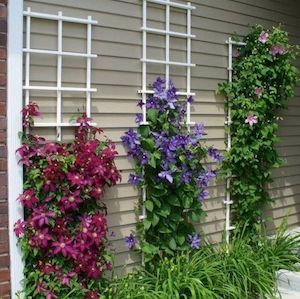 Flower Trellis (source unknown)
Make use of your exterior wall space with this flower trellis. Use a number of climbing plants and flowers for this project that will bring some life to your walls! It is also great for curb appeal too.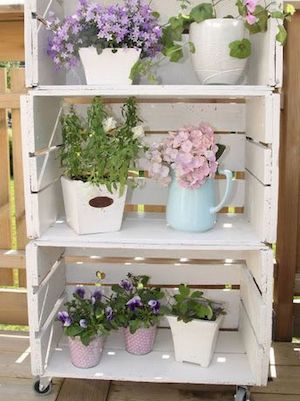 Crate Display for Potted Flowers (source unknown)
Attach two painted crates on top of each other and add some wheels. It doesn't get any simpler than that. It makes a great porch display for spring and summer.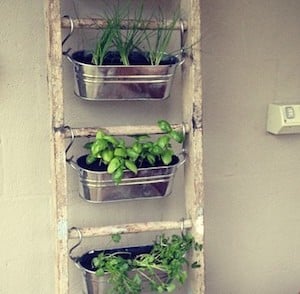 Ladder Herb Planter (no source found)
metal planters with handles + s hooks + ladder
Repurpose an old latter and some metal buckets with this simple vertical garden idea that requires no tools or skills. It's perfect for a beginner DIYer and will go great with farmhouse decor.
Related Posts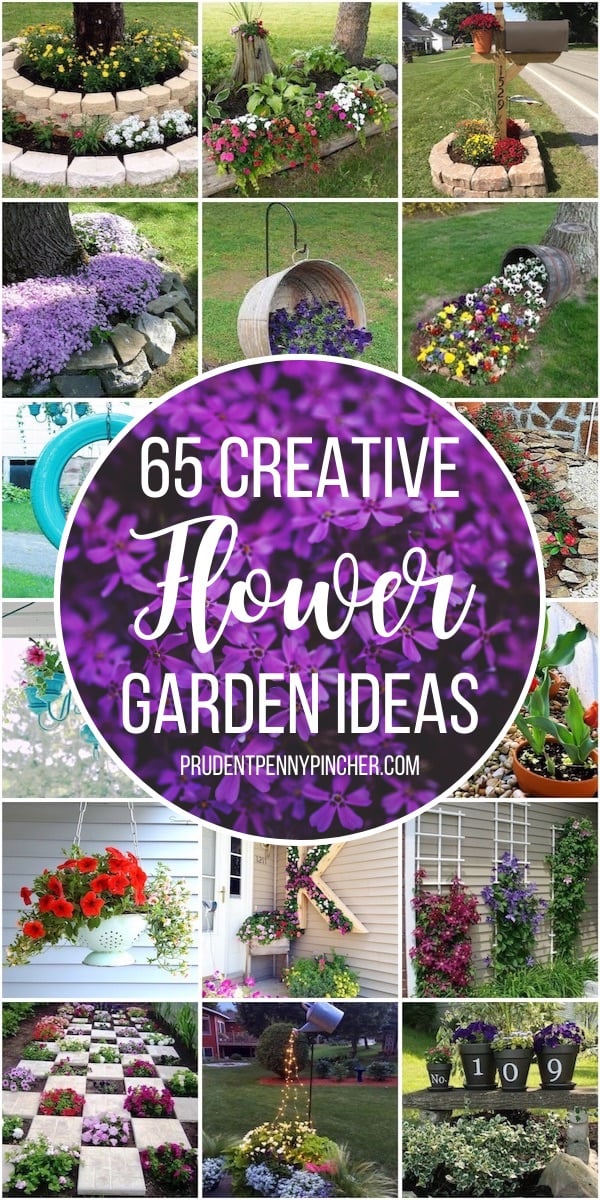 65 Creative Flower Garden Ideas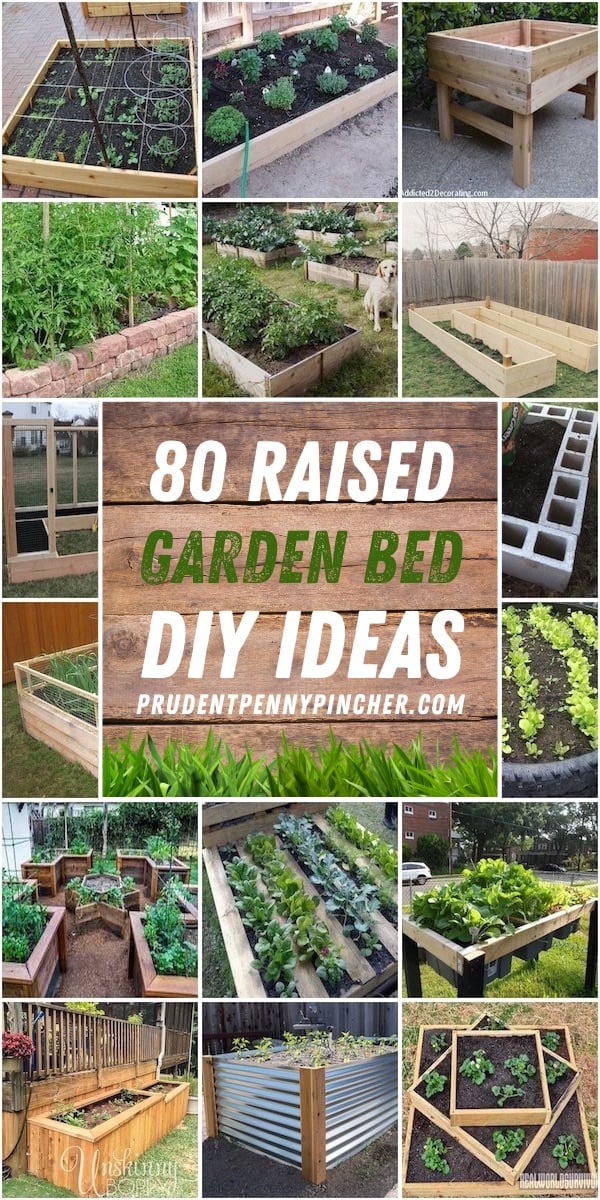 80 Best Raised Garden Beds
Looking for more gardening ideas? Be sure to check out all my garden posts, which include DIY garden projects, garden decor ideas, landscaping, front and backyard ideas, and much more!