Get organized on a budget with these easy DIY Dollar Tree Organization ideas.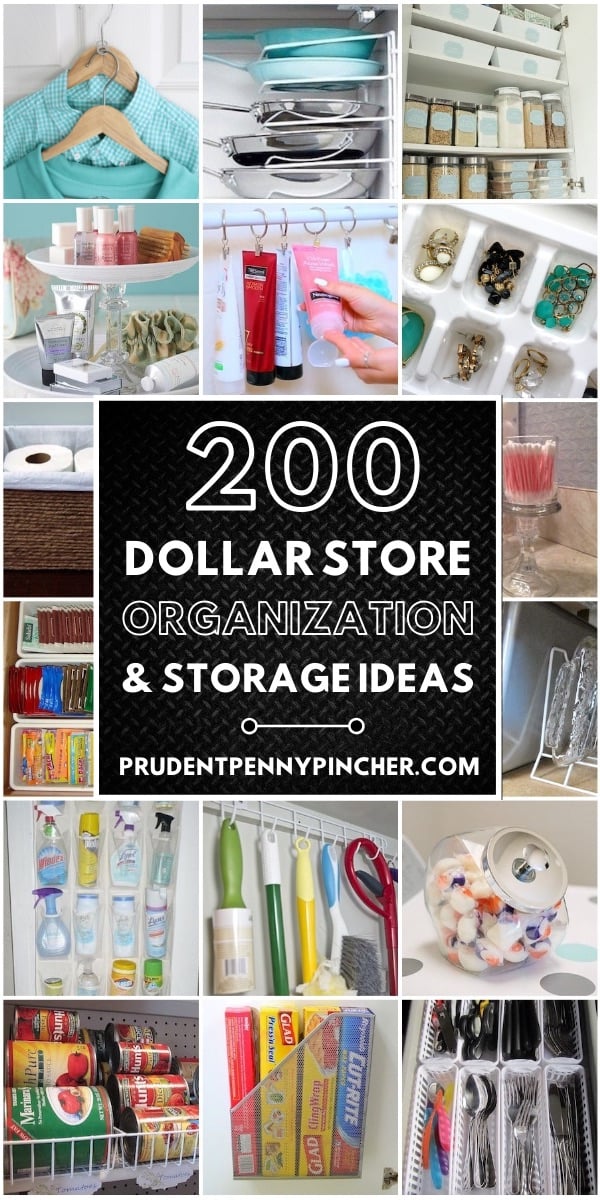 If you're looking for ways to organize your home without breaking the bank, Dollar Tree is the perfect place to start. With its low prices and extensive selection of storage solutions, it's easy to find what you need to get your space in order. These budget-friendly Dollar Tree organization hacks will help keep your belongings tidy and accessible! From plastic bins and wire baskets to storage containers and glass jars, the dollar store has everything you need to get your space in order. There are organizing ideas for every room in your house, including kitchen, bathroom, laundry room, closets, pantry, office, craft room and more!
Whether you're dealing with cluttered closets or messy drawers and shelves, these Dollar Tree organizing projects will help you make your home more organized and functional without spending a ton of money. These DIY ideas are perfect to help you maximize the use of small spaces by utilizing wall space, adding over the door solutions and making use of empty spaces.
Kitchen Dollar Tree Organization Ideas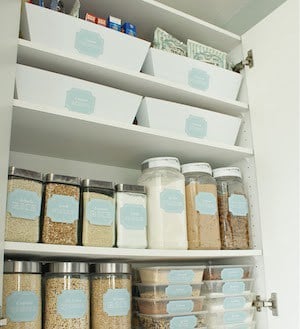 Dollar Store Pantry Makeover from The Social Home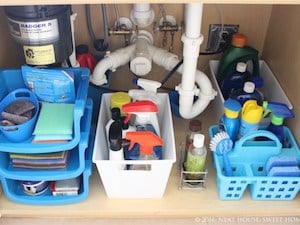 Under The Kitchen Sink Organization from Neat House Sweet Home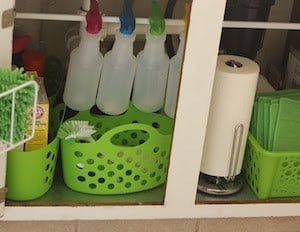 Under The Kitchen Sink Organizing from New Nostalgia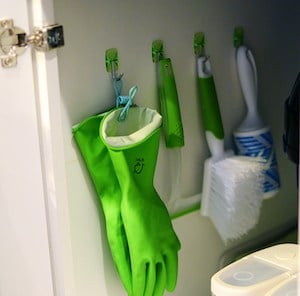 Under The Sink Brush Holders from A Bowl Full of Lemons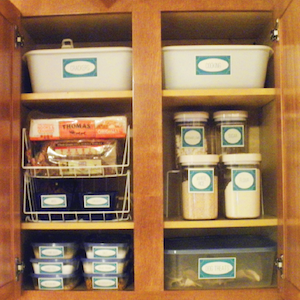 Pantry Organizing from Ashley Creates Things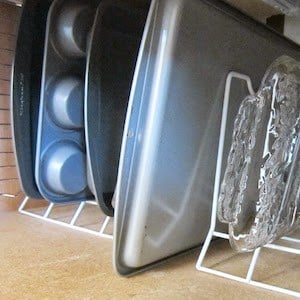 Pans and Pots from Restoration Beauty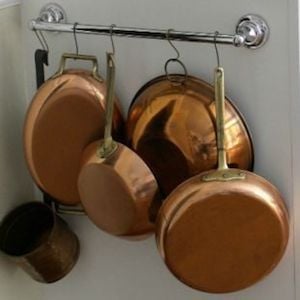 Pot Organizer from Good Housekeeping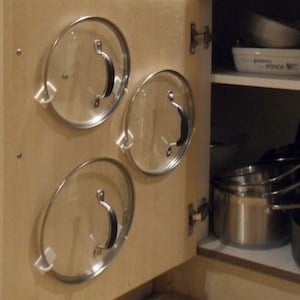 Pot Lid Holder (using command hooks)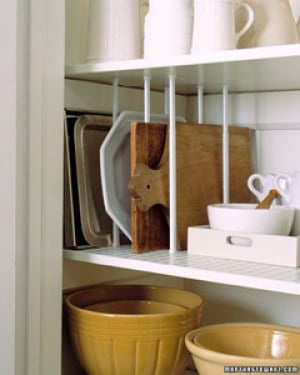 Tension Rod Pantry Shelving from Martha Stewart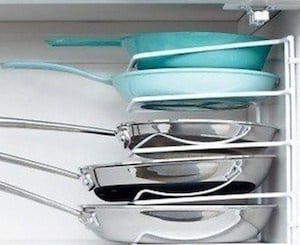 Pan Holder (using a metal file sorter)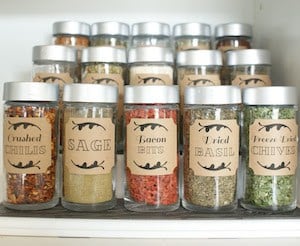 Dollar Tree Cupboard for Spices from The Social Home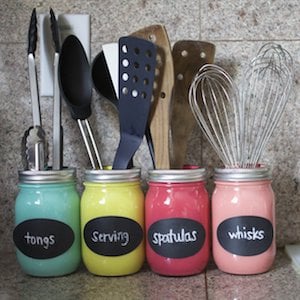 Mason Jar Kitchen Utensil Holders from Popsugar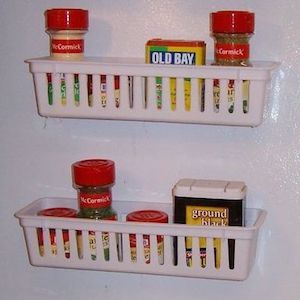 Magnetic Spice Rack for Refrigerator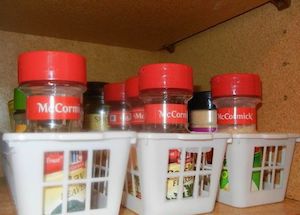 Dollar Tree Spice Baskets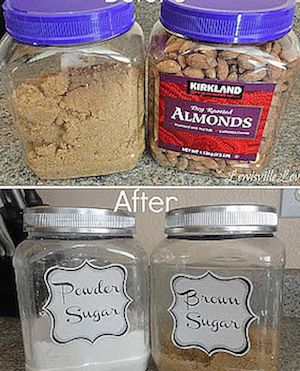 Repurposed Jars for Dry Goods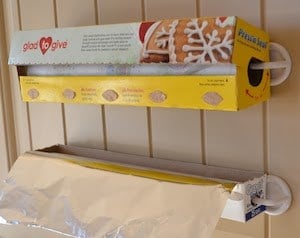 Foil and Plastic Wrap Holder from Ask Anna Mosley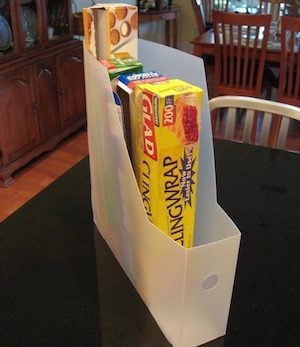 Magazine Holder for Plastic Wrap, Foil and More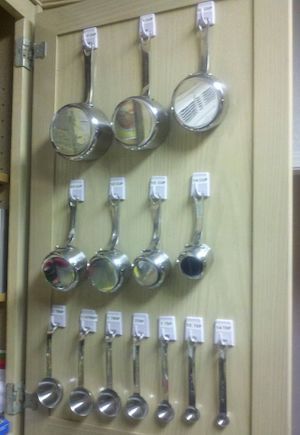 Inside-the-Cabinet Hanging Measuring Spoons and Cups (source unknown)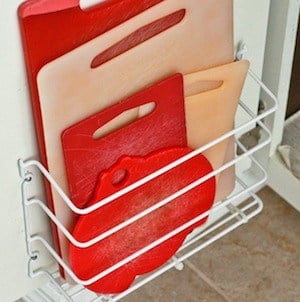 Cutting Board Holder (source unknown)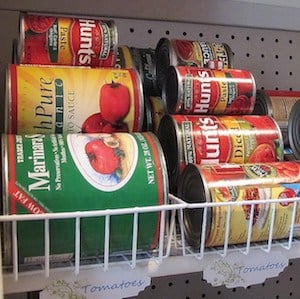 Wire Basket Canned Food Organization from My Uncommon Slice of Suburbia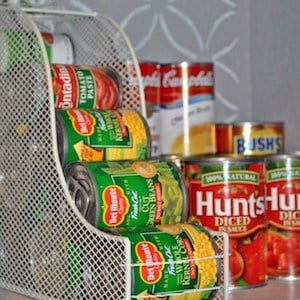 Magazine Holder for Canned Food from PB&J Stories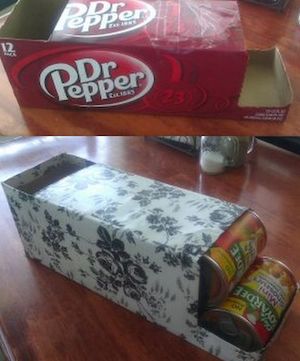 Canned Food Organizing Idea (source unknown)
empty 12 pk soda carton + contact paper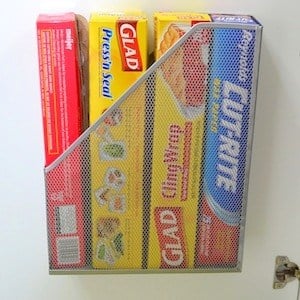 Plastic Wrap Holder from Classy Clutter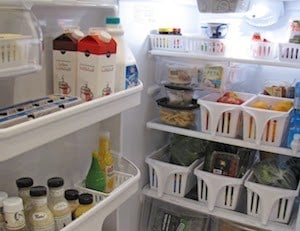 Dollar Tree Organized Fridge from Goodbye House, Hello Home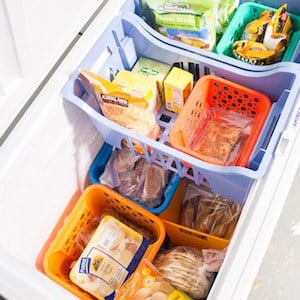 Chest Freezer Organizing System from Practically Functional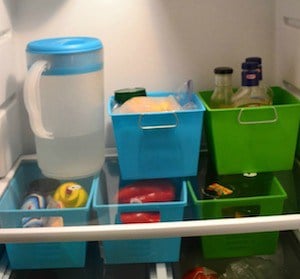 Refrigerator Organizing with Bins from PB&J Stories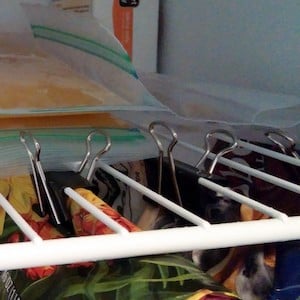 Binder Clips for Freezer Bags from Melina Massie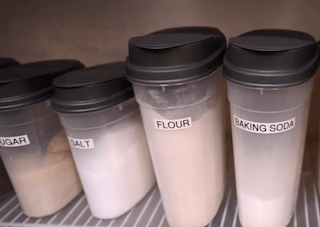 Pantry Dry Goods Containers from Alejandra TV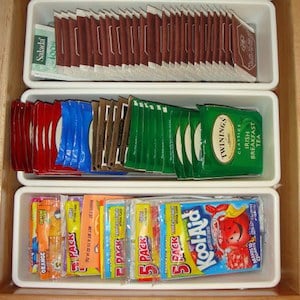 Dollar Store Kitchen Drawer Organizer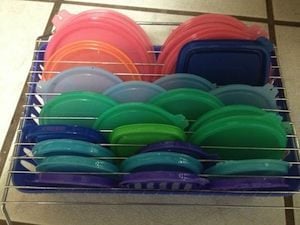 Tupperware Lid Holder (source unknown)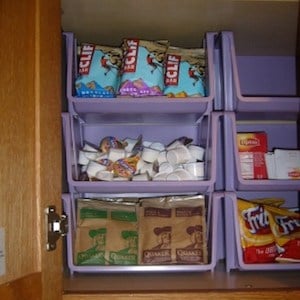 Stackable Plastic Bins for Kitchen Cabinet (source unknown)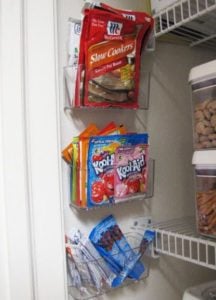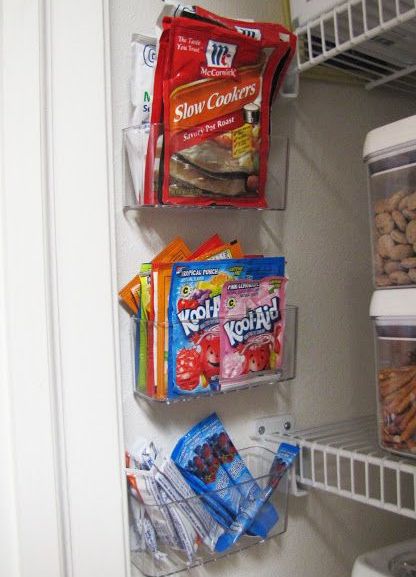 Spice and Gravy Packet Organizing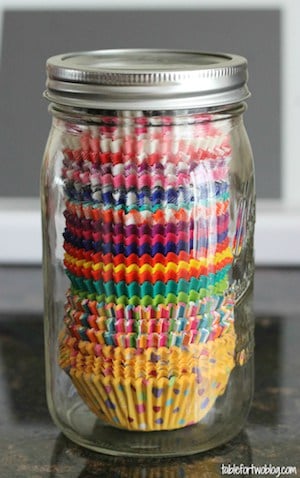 Glass Jar for Cupcake Liners from Table for Two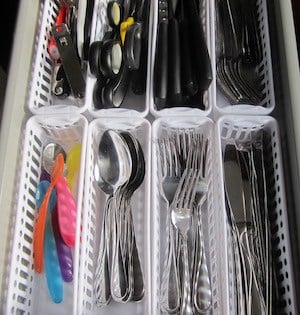 DIY Cutlery Tray
great idea if you have lots of misc. silverware
that won't fit in standard trays or there isn't enough space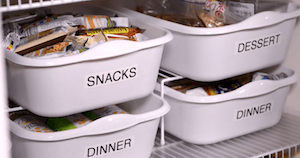 Pantry Organizing with Dollar Tree Bins from Alejandra TV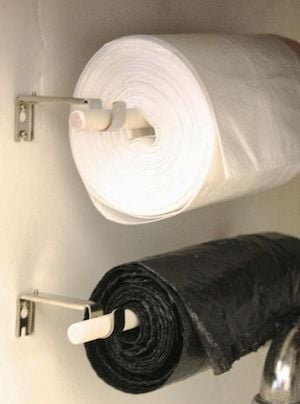 Trash Bags on a Roll from Simply Organized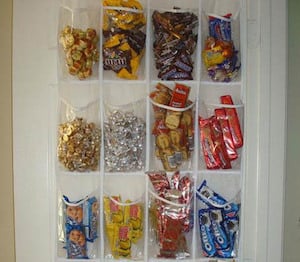 Over-the-Door Snack Organizing (source unknown)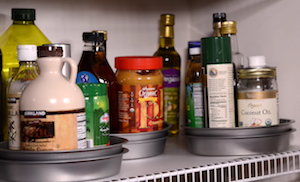 Cake Pan Lazy Susan from Alejandra TV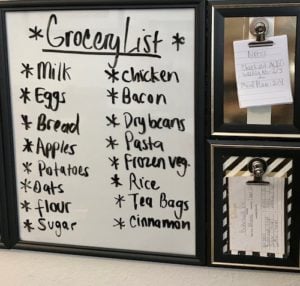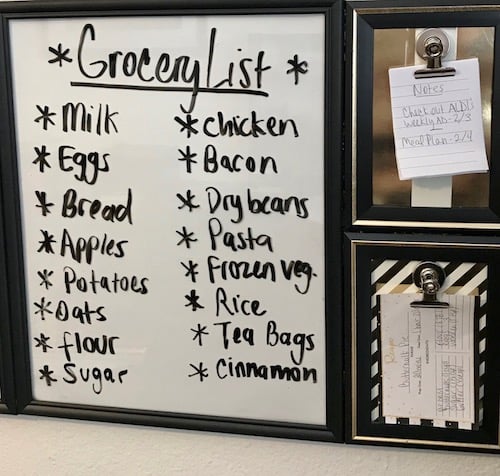 Meal Planning Command Center from Prudent Penny Pincher
Dollar Tree Bathroom Organization Ideas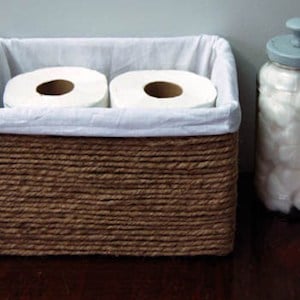 Cardboard Box Basket from Elizabeth Joan Designs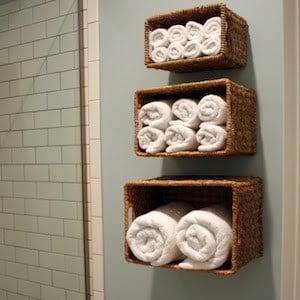 Wall Baskets for Bath Linens from I'm Busy Procrastinating Design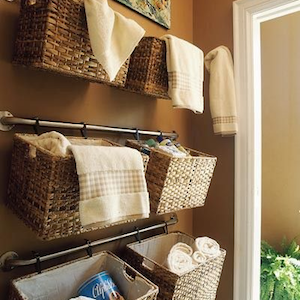 Tension Rod Basket Holders for Towels (source unknown)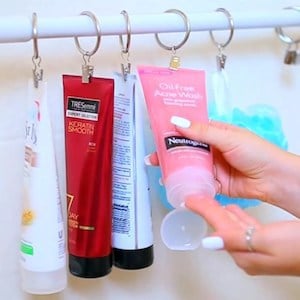 Bath Product Hanger
shower curtain rod + curtain rings with clips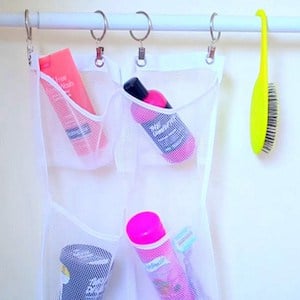 Shower Storage (source unknown)
small mesh over the door shoe organizer + curtain rings with clips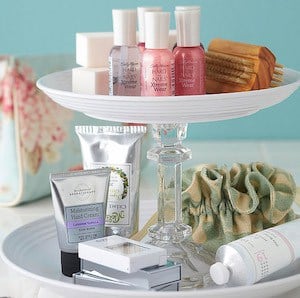 Dollar Tree DIY Tiered Tray
glass taper candleholder + white plate + white saucer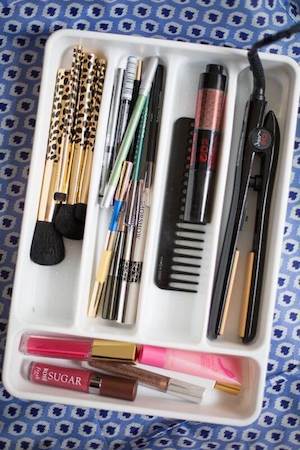 Cutlery Tray Makeup Storage (source unknown)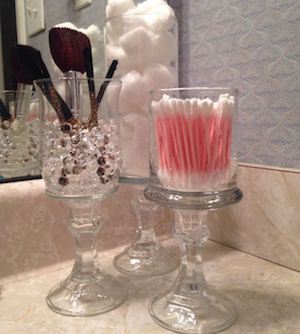 DIY Hurricane Glass Jars
round candleholder + 3 glass taper candleholder + E-6000 glue + urn candleholder + hurricane candleholder
You just have to glue the taper candleholder to the bottom of the other candleholders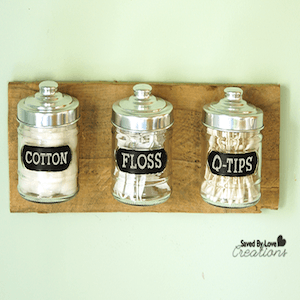 Bathroom Mason Jar Holders from Saved by Loves Creation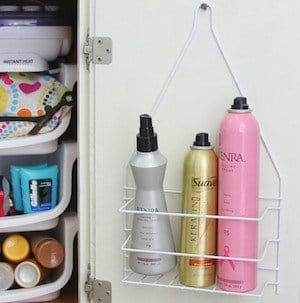 Under the Sink Makeover from 320 Sycamore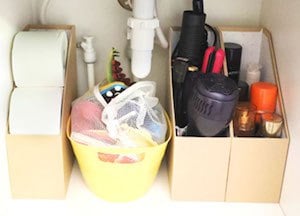 Under The Sink Organization from The Pinning Mama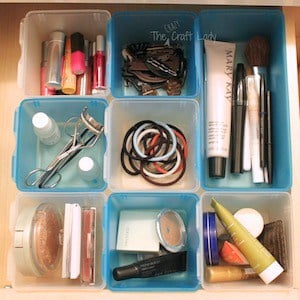 Drawer Makeup Holder from The Crazy Craft Lady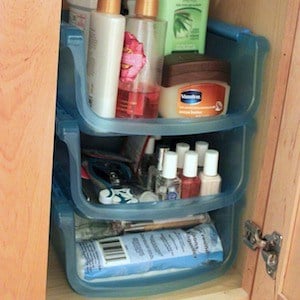 Under Sink Bathroom Organizing from The Crazy Craft Lady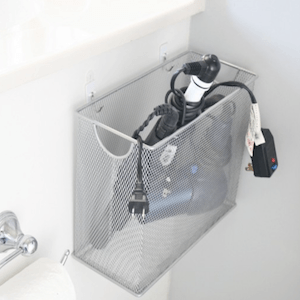 Hair Appliance Holder from Dream Green DIY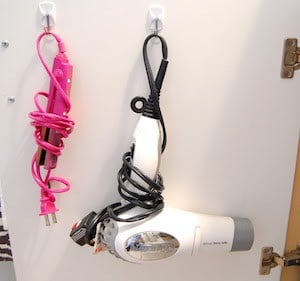 Hair Appliance Storage from My So Called Home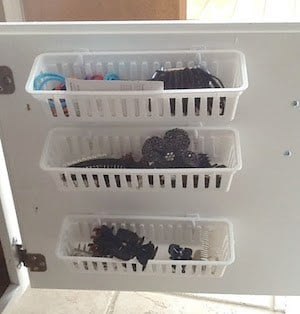 Inside Cabinet Door Storage with Dollar Tree Baskets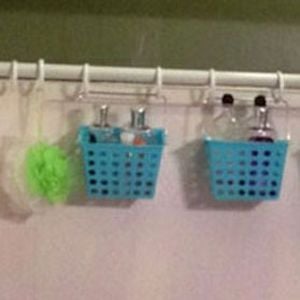 Shower Storage (source unknown)
shower rod + hangable bins or baskets with handles + curtain rings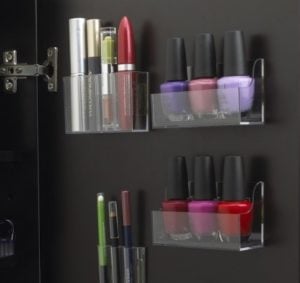 Nail Polish and Makeup Storage
clear plastic organizers + double-sided tape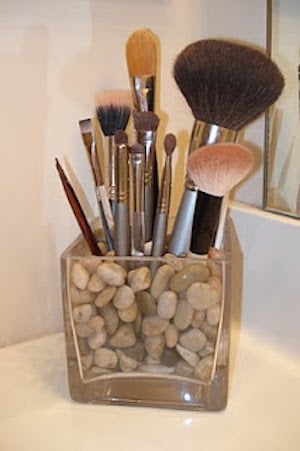 Makeup Brush Storage
makeup brushes + river pebbles + square candleholder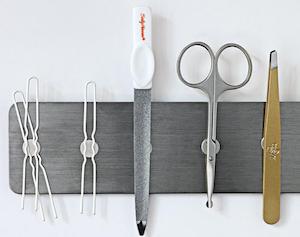 Magnetic Strip for Beauty Tools from Real Simple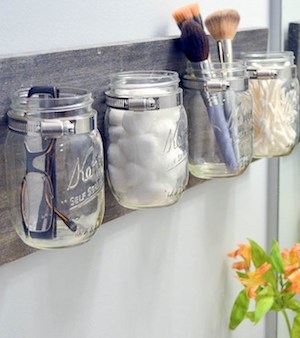 Mason Jar Organizers from The DIY Playbook
Closets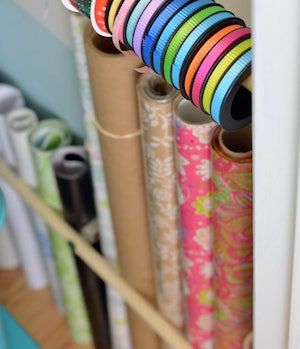 Gift Wrap Organization from Simplicity in the South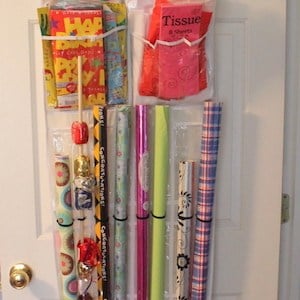 Gift Wrap Storage from The Country Chic Cottage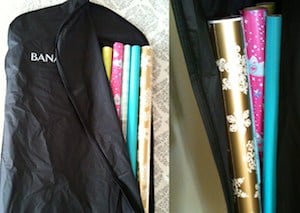 Garment Bag Wrapping Paper Storage from Practically Martha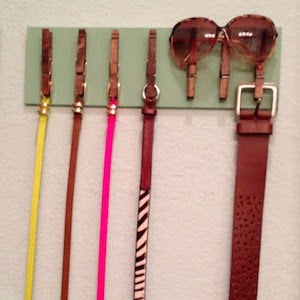 Belt Holder
board + clothespins + glue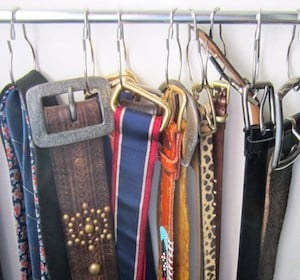 DIY Belt Hanger from Live Simply by Annie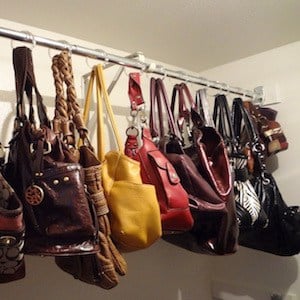 Curtain Rod Purse Storage (source unknown)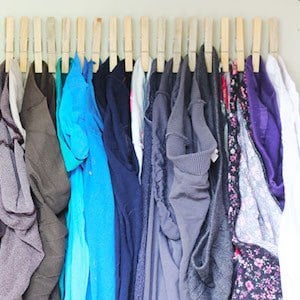 Hanging Tights from Lana Red Studio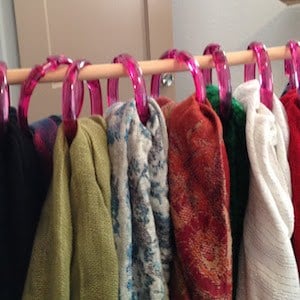 Scarf Holder from From the Desk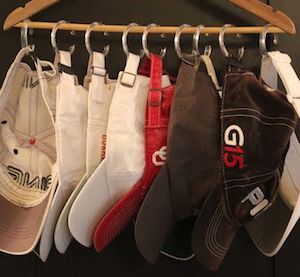 Organized Hats
curtain rings + hanger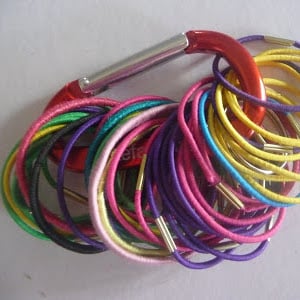 D Ring Hair Tie Holder from Hi, It's Jilly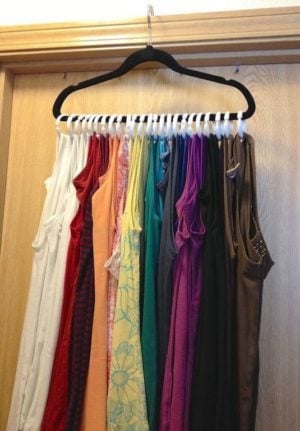 T-Shirts Storage (source unknown)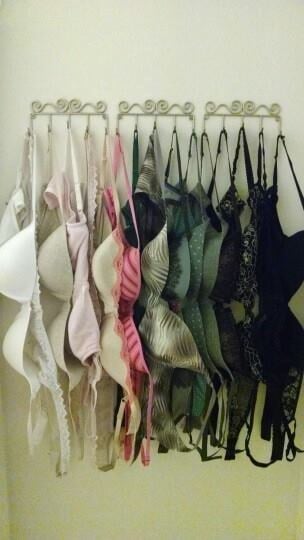 Bras on Hangers
shower curtain rings + hanger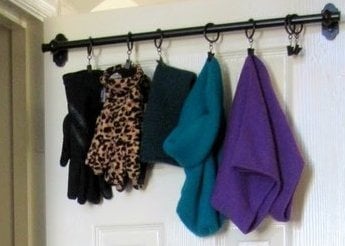 Winter Accessory Organzier (source unknown)
towel bar + curtain clip rings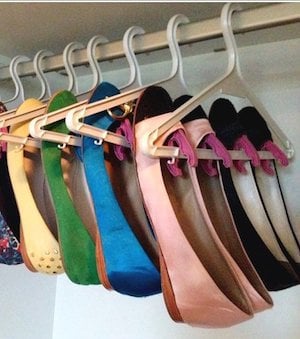 Hanging Flats
plastic clips + hangers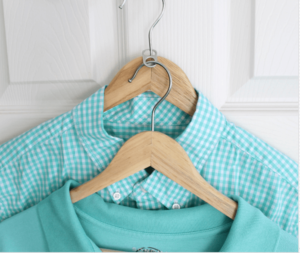 Soda Tab Shirt Stacking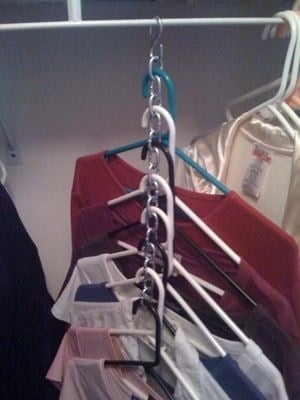 Stacking Shirts with S-Hooks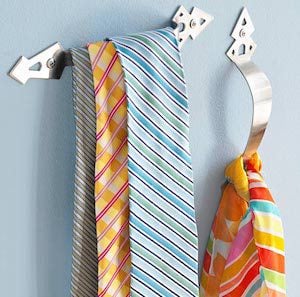 Tie Holder from BHG.com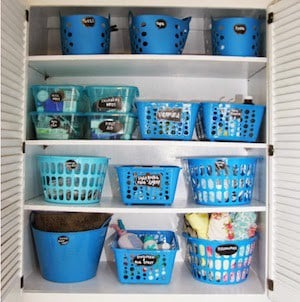 Dollar Tree Closet Makeover from Homemade Ginger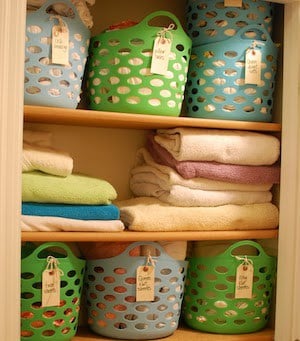 Linen Closet Makeover from A Bird and A Bean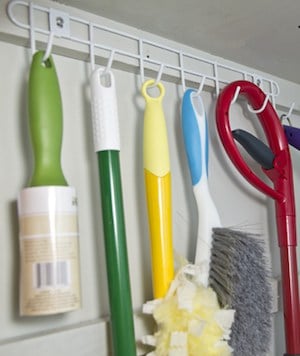 Broom and Mop Wire Rack from Yellow Bliss Road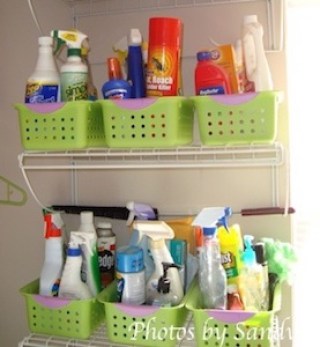 Plastic Bins Cleaning Supplies Storage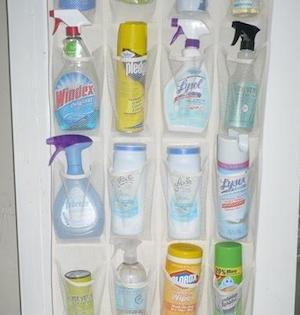 Over the Door Cleaning Supply Organization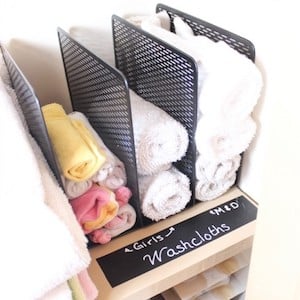 Wash Cloth Organization from Real Coake
Dollar Tree Jewelry and Beauty Organization Ideas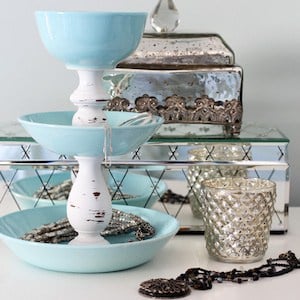 Jewelry Tower from Confessions of a Serial DIYer
These dishes were found at Thrift Stores, but you can also find similar ones at Dollar Tree too.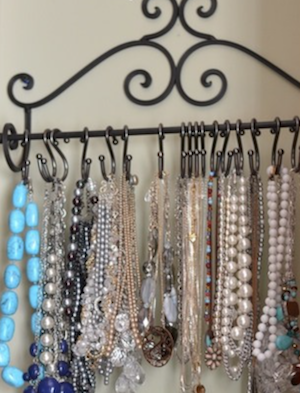 DIY Jewelry Hanger from House on the Way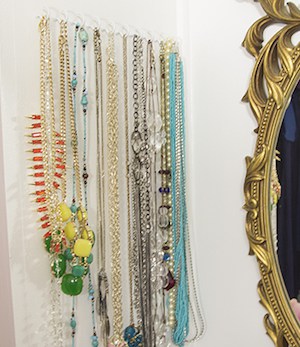 Jewelry Organization from View Along the Way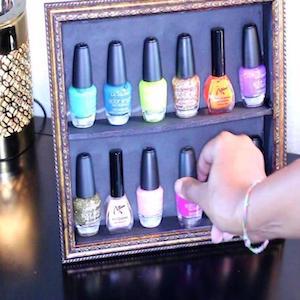 Fingernail Polish Display Stand from Angela East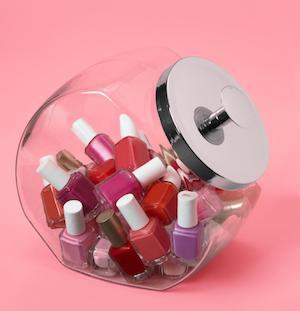 Nail Polish Storage
cookie jar with a metal lid + decorative knob (optional)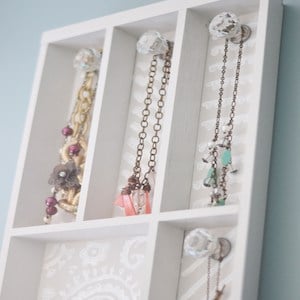 Jewelry Holder from a Cutlery Tray from The DIY Mommy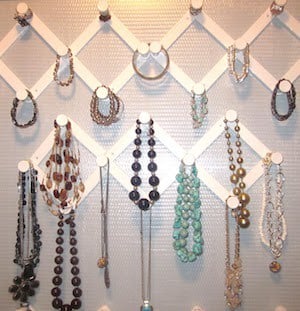 Jewelry Accordion Rack from Adorable Antics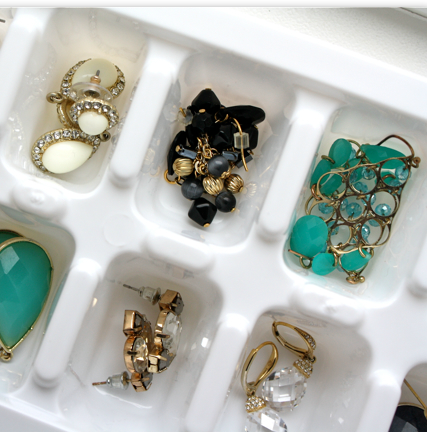 Ice Cube Tray Earring Organizer from Yesterday on Tuesday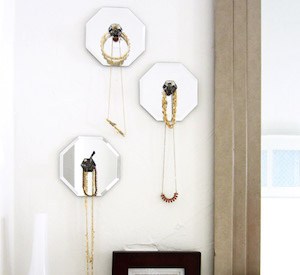 Necklace Hanger from Homey Oh My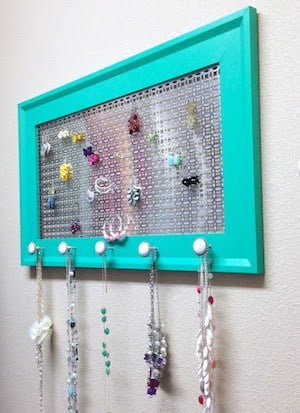 DIY Jewelry Organizer from Landeelu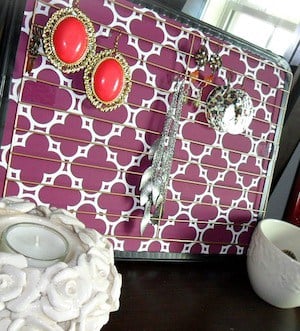 Necklace Holder from Home for Sweet Home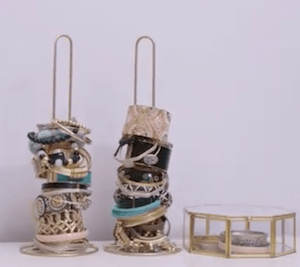 Bracelet Organizer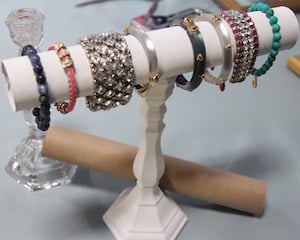 Paper Towel Roll Bracelet Holder
paper towel roll + glass taper candleholder + white spray paint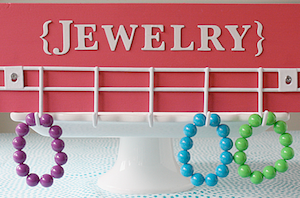 Jewelry Rack from Yesterday on Tuesday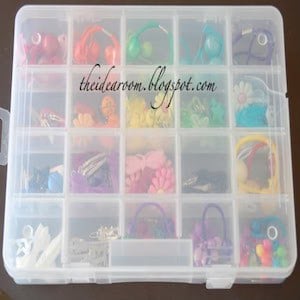 Hair Accessory Organizer from The Idea Room
Dollar Store Bins and Buckets Makeover Ideas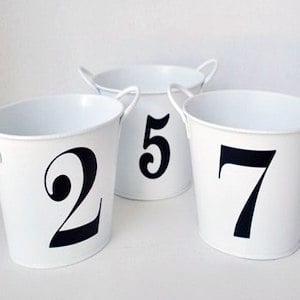 Chic Buckets from Just a Vintage Home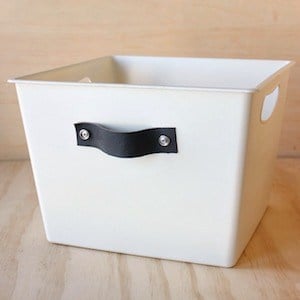 Stylish Bins from Love Create Celebrate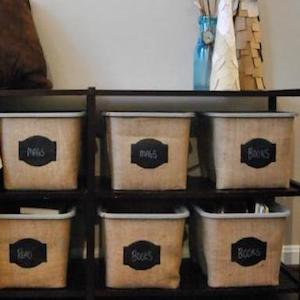 Burlap Dollar Tree Bins from Simple Made Pretty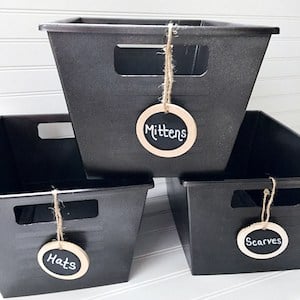 Metal Storage Bins from Lemons, Lavender and Laundry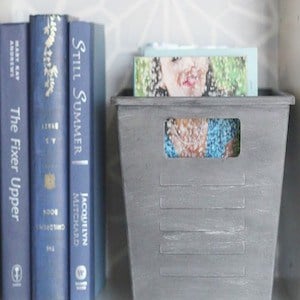 Vintage Storage Bins from Domestically Speaking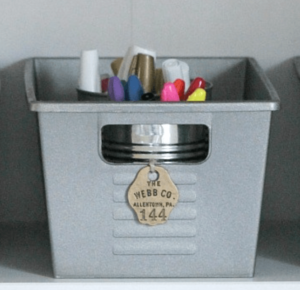 Vintage Locker Bins from Chic California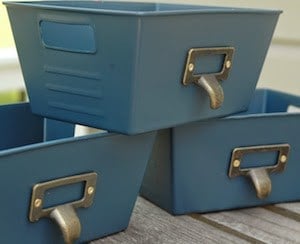 Storage Bin Makeover from Little House of Flour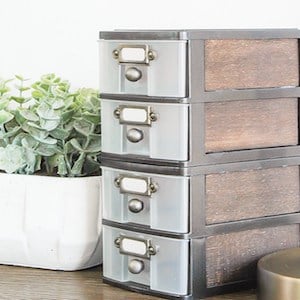 Dollar Tree Industrial Farmhouse Storage Drawers from Little House of Flour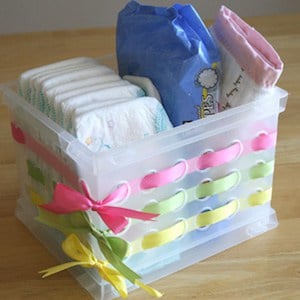 Plastic Container with Ribbon from Makes and Takes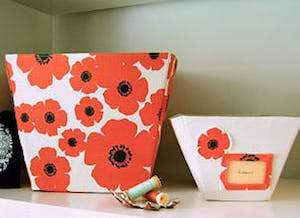 Cereal Box Storage Bins from Apartment Therapy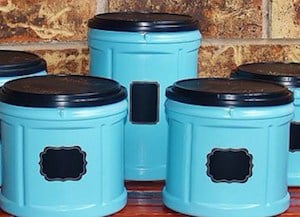 Coffee Canister Storage from Kelli's Kitchen
Office and Craft Room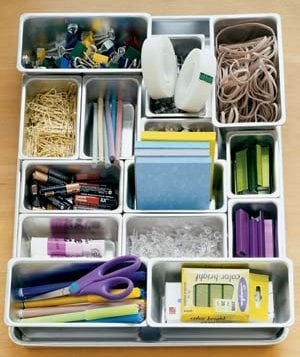 DIY Desk Organizer from Real Simple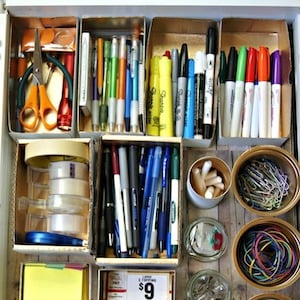 Desk Organization Using Recycled Boxes and Cans from Dwelling in Happiness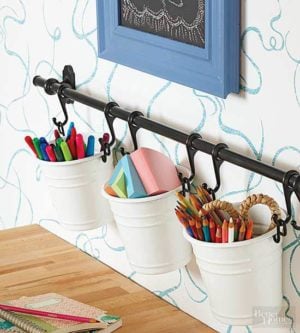 Storage Pails for Writing Utencils
small pails + hook metal rack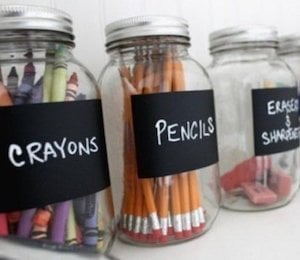 Mason Jar Supply Organizer
mason jars with lids + chalk paint + chalk + large label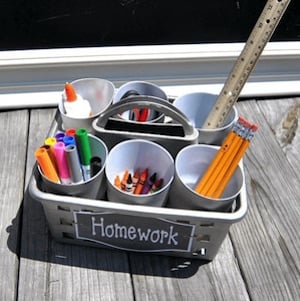 Dollar Tree Homework Caddy from Simple Made Pretty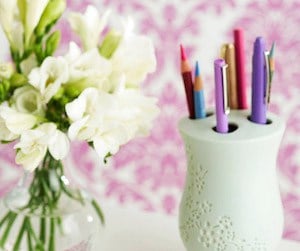 Decorative Pencil Holder using Toothbrush Holder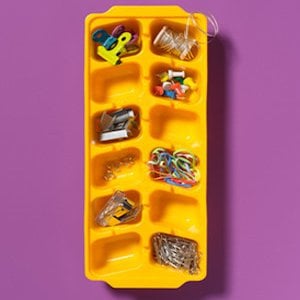 Office Supply Organizer from Real Simple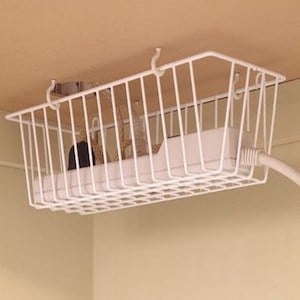 Power Strip Cord Organizer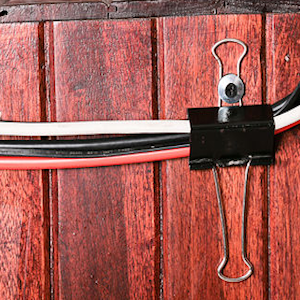 Binder Clip Cord Organizer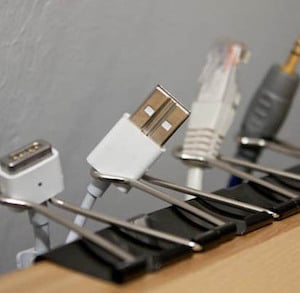 Binder Clip Cable Organizer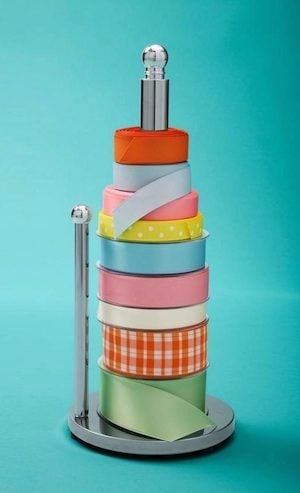 Paper Towel Holder Ribbon Organizer from HGTV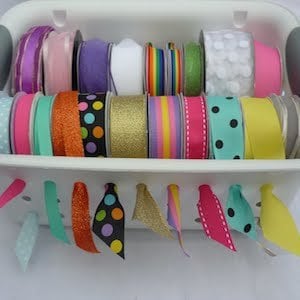 Ribbon Organizer from Minimoz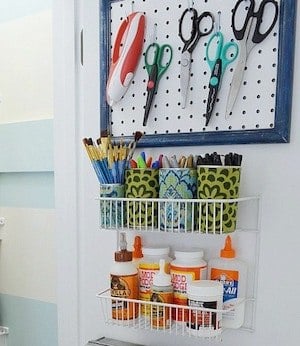 Craft Closet Door from Simplicity in the South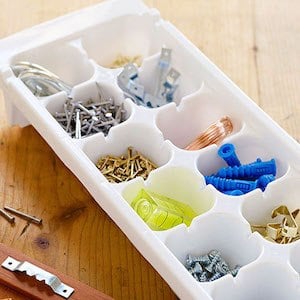 Ice Cube Tray Tool Organizer from BHG.com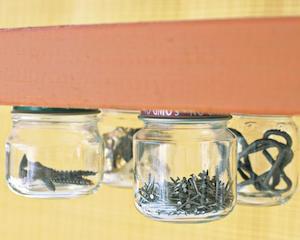 Floating Storage Jars for Nails and Screws (source unknown)
small jars with lids + adhesive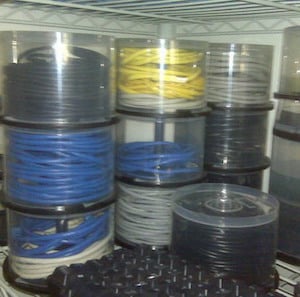 CD Case Cord Organizer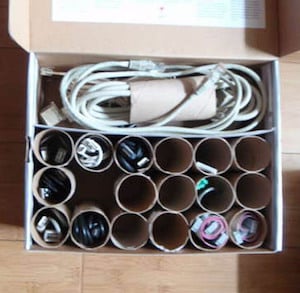 Toilet Paper Roll Cord Storage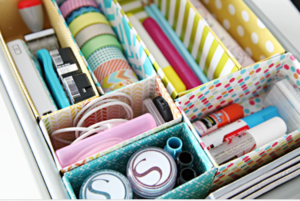 Cereal Box Desk Organizer from Apartment Therapy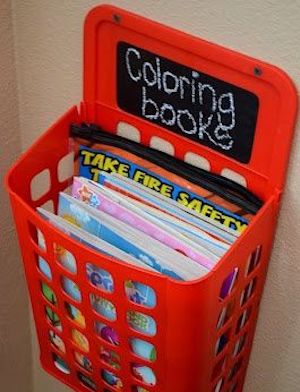 Dollar Tree Trash Can Coloring Book Organizer
Laundry Room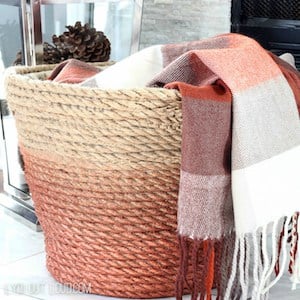 Metallic Rope Throw Basket from Lydi Out Loud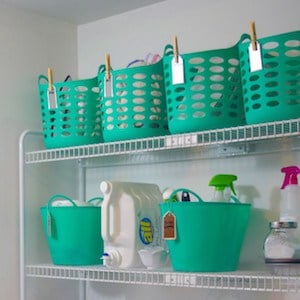 Dollar Tree Plastic Bins Shelving Storage (source unknown)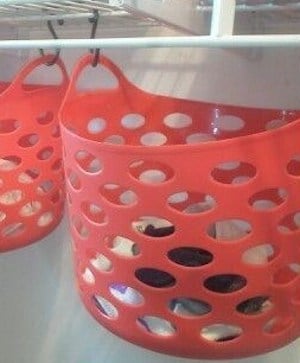 Hanging Laundry Baskets from DIY Energy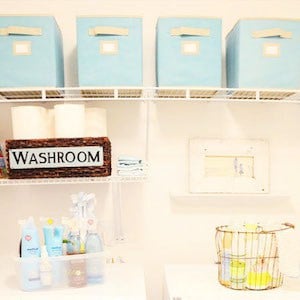 Laundry Bin Organizers from A Bowl Full of Lemons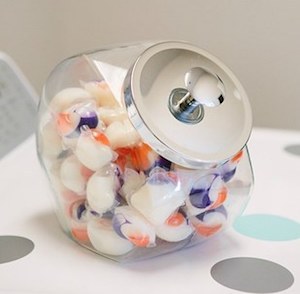 Cookie Jar Laundry Pod Holder (source unknown)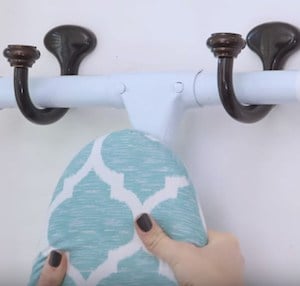 Wall Hook Iron Board Hanger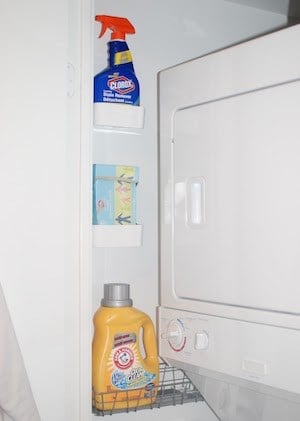 Small Space Laundry Room Organization from Waffling
Car and Travel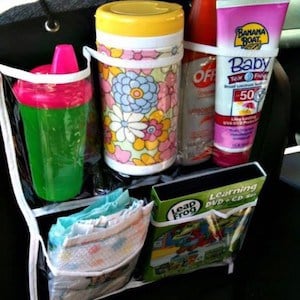 Car Organizer (source unknown)
All you need is a small over the door shoe organizer to hang over the back of the seat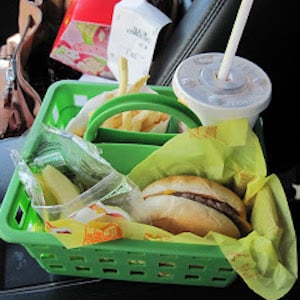 Fast Food Organizer Using a $1 Caddy from Cookie What I Did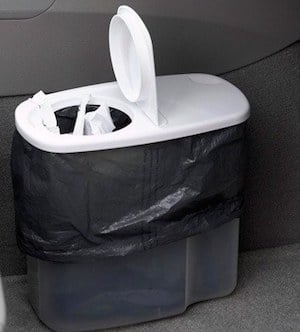 Car Trash Can (source unknown)
cereal container with lid + small trash bags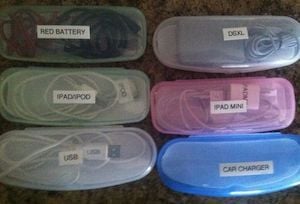 Eye Glass Case Travel Cord Organizer (source unknown)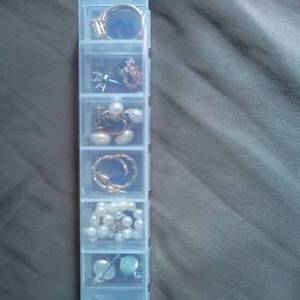 Travel Jewelry Organizer from How to Have it All
Other Dollar Tree Organization and Storage Ideas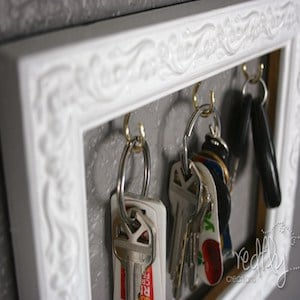 Key Frame from Red Fly Creations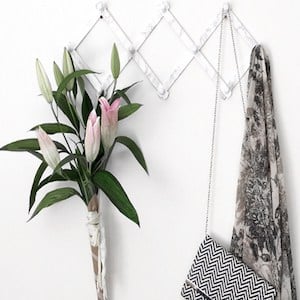 According Rack Organizer for Accessories (source unknown)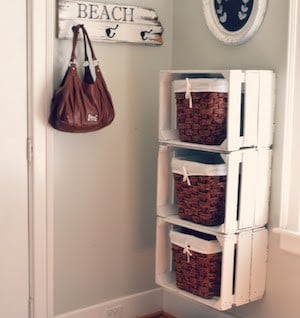 DIY Cube Organizer from Aimme Weaver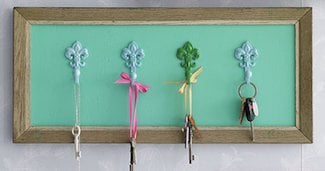 Key Organizer from Real Simple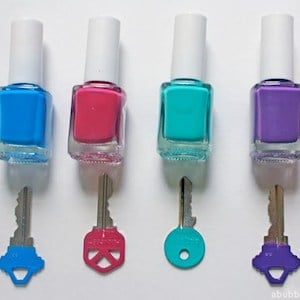 Nail Polish Key Organizer (source unknown)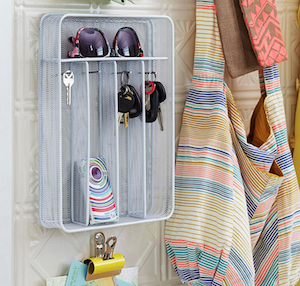 Organization Hub from BHG.com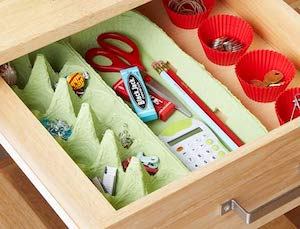 Miscellaneous Desk Organizing from BHG.com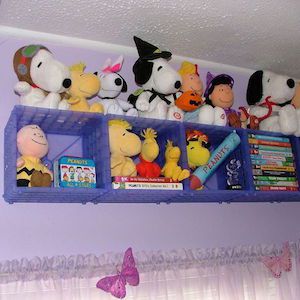 DIY Crate Shelving from Home Talk
More Organization Ideas